These deliciously tangy and crunchy Pickled Red Onions take 5 minutes to make and will become a staple in you refrigerator. Use them to garnish everything from salads, burgers, sandwiches and just about anything else that needs a boost of flavour.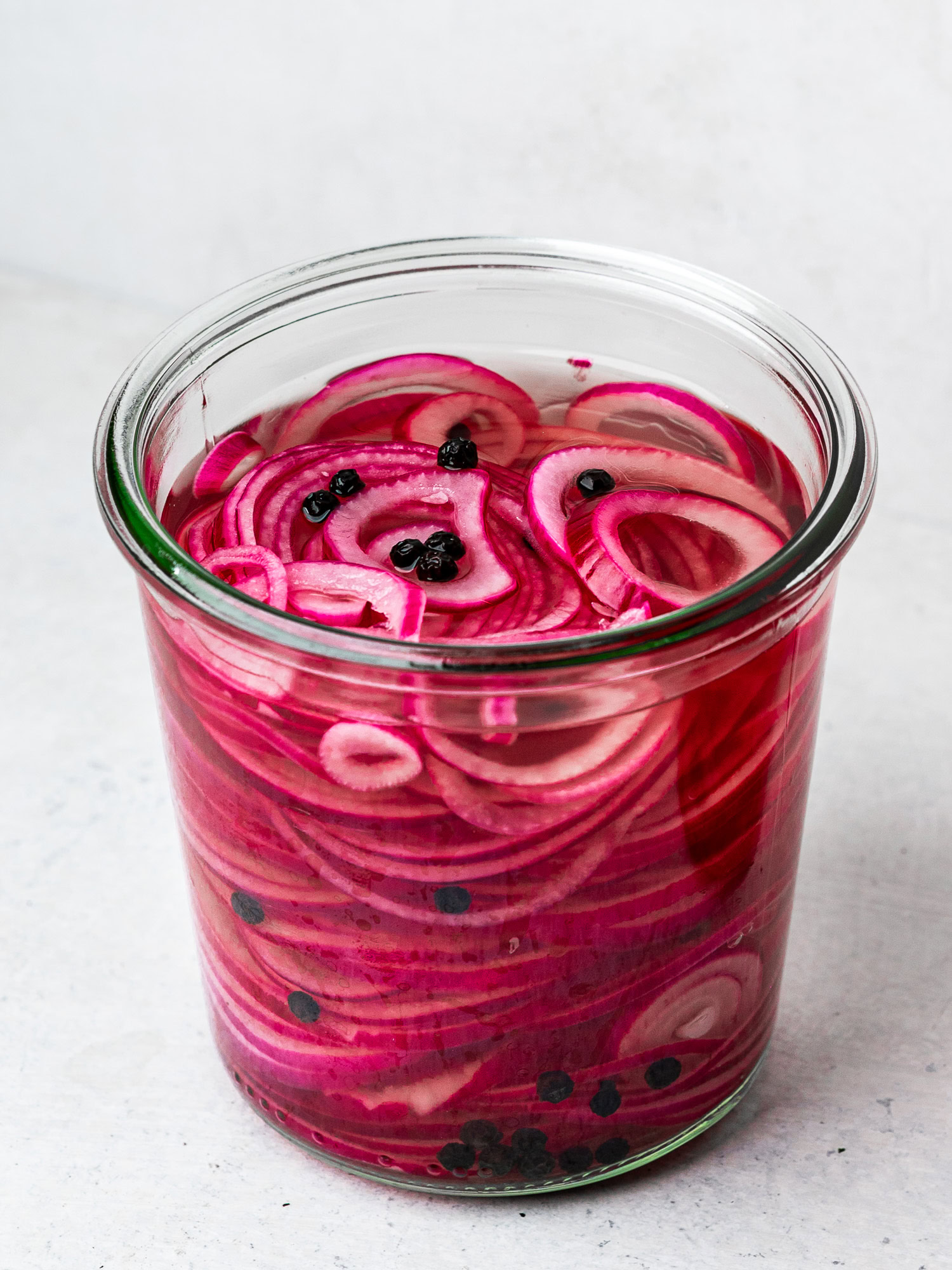 With the exception of bread-and-butter pickles (too sweet for me!), you could say I am obsessed with anything pickled. In my fridge, you can almost always find a jar of pickled red onions. Their zippy tanginess adds spark and another dimension of flavour to just about anything you top with them.
Aside from their gorgeous fuchsia hue and delicious tangy flavour, what I love the most about pickled red onions is that they're quick to make and last weeks in the fridge. Particularly during summer, I use them on everything: burgers, salads, cheese boards, sandwiches, grilled veggies, tacos and so much more.
This simple recipe requires only 5 ingredients and a few minutes of your time. From there, the onions will need just 30-60 minutes to soften and pickle before they are ready to be devoured. So let's make a batch — you're going to love them!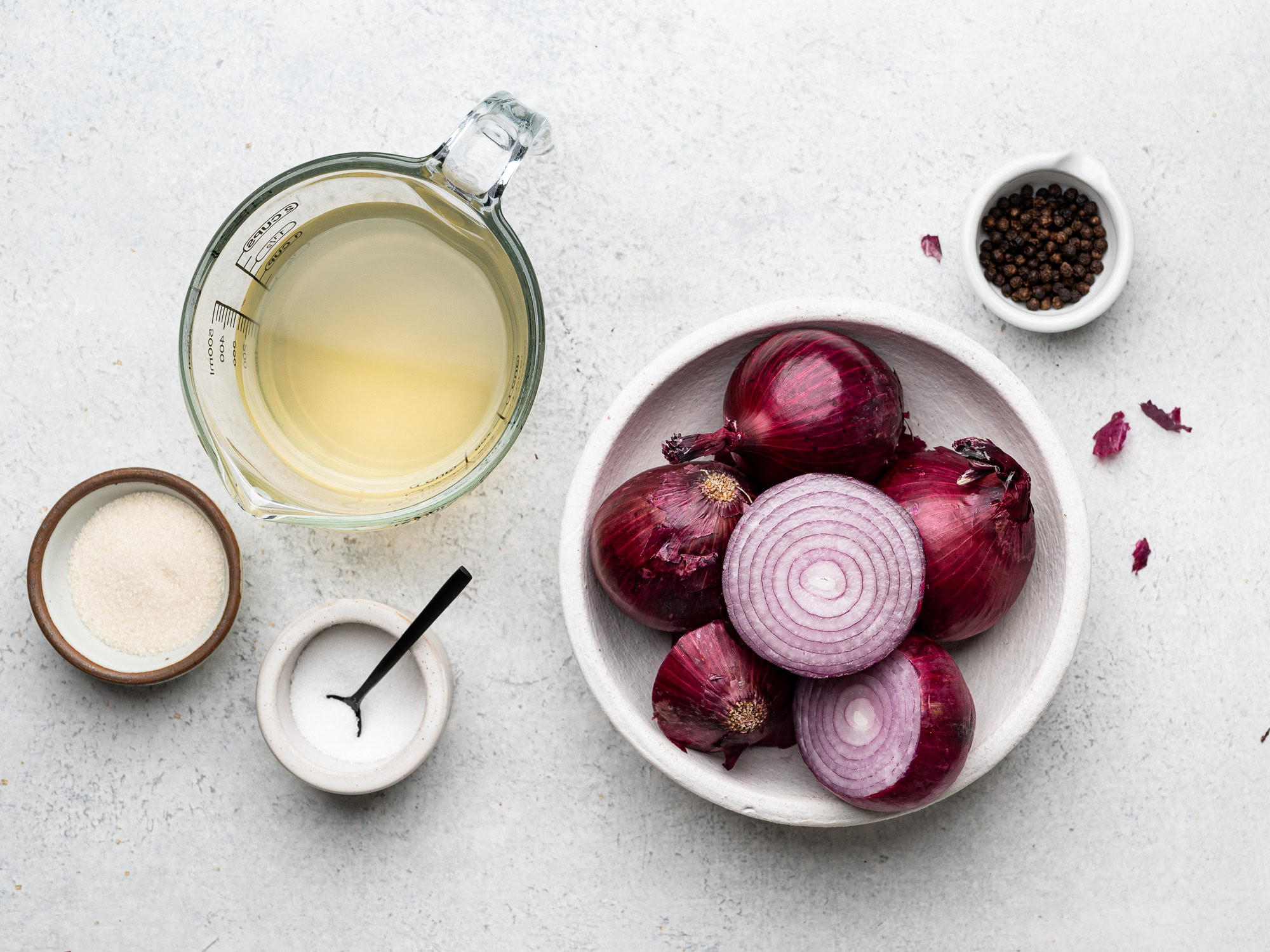 Ingredients And Notes
This is an easy recipe for pickling brine that requires very basic ingredients. Feel free to add other seasonings to taste, if you wish.
Red onion: You will need one large red onion or two small red onions for this recipe. Use a mandolin or sharp knife to slice the onions about 1/8-inch thick.
Vinegar: I use a mix of apple cider vinegar and white wine vinegar. But you could use white vinegar, rice vinegar, or red wine vinegar (or a mix of your choice) if you prefer.
Sweetener: Pickled vegetables need a touch of sweetness to balance the acid. Otherwise, all you taste is vinegar. That said, I use the most conservative amount possible so feel free to add a bit more if you prefer. I like to use white sugar or cane sugar for pickling. Honey or maple syrup will work but keep in mind they will add another flavour to the mix.
Salt: Essential for flavour and also for preserving the pickled vegetable. I use kosher salt but sea salt will also be great.
Water: I use equal parts water and vinegar to pickle red onions. If you prefer more tang, use a 1/4 cup less water. Similarly, for a less tangy brine, use 1/4 cup less vinegar.
Optional: Popular as a seasoning for pickling, black peppercorns release a light fruity, barely-there spicy flavour which I really enjoy. Feel free to leave them out, if you wish.
Variations
Add fresh herbs. Dill, thyme or rosemary sprigs are some common herbs used in a pickling brine.
More seasonings. There are endless options for seasoning the red onion slices. Try adding a bay leaf, smashed fresh garlic, mustard seeds, coriander seeds, or even dried chilies.
Add a little heat. A few pinches of red pepper flakes will add just a hint of heat to the onions.
How To Make Pickled Red Onions
With this quick pickled red onion recipe you can whip together a jar or two anytime the craving hits.
Thinly slice the onions (about 1/8-inch thick). A mandoline makes the job really easy but a sharp knife will work just as well.
Pack the sliced onions and peppercorns into a medium-sized glass jar such as a mason jar or weck jar or similar jar that is heat-safe.
In a medium saucepan, combine the water, vinegar, sugar, and salt. Bring the mixture to a gentle simmer over medium heat, stirring until sugar and salt dissolve. Pour the pickling brine into the jar over the onions. Tip: If the jar that contains the onions has a small opening, transfer the brine to a large glass measuring cup to make it easier to pour.
If necessary, use a spoon to press the onions down into the pickling liquid so they are fully submerged.
Let cool to room temperature, about 25-30 minutes, then cover and transfer to refrigerator for at least 30 minutes.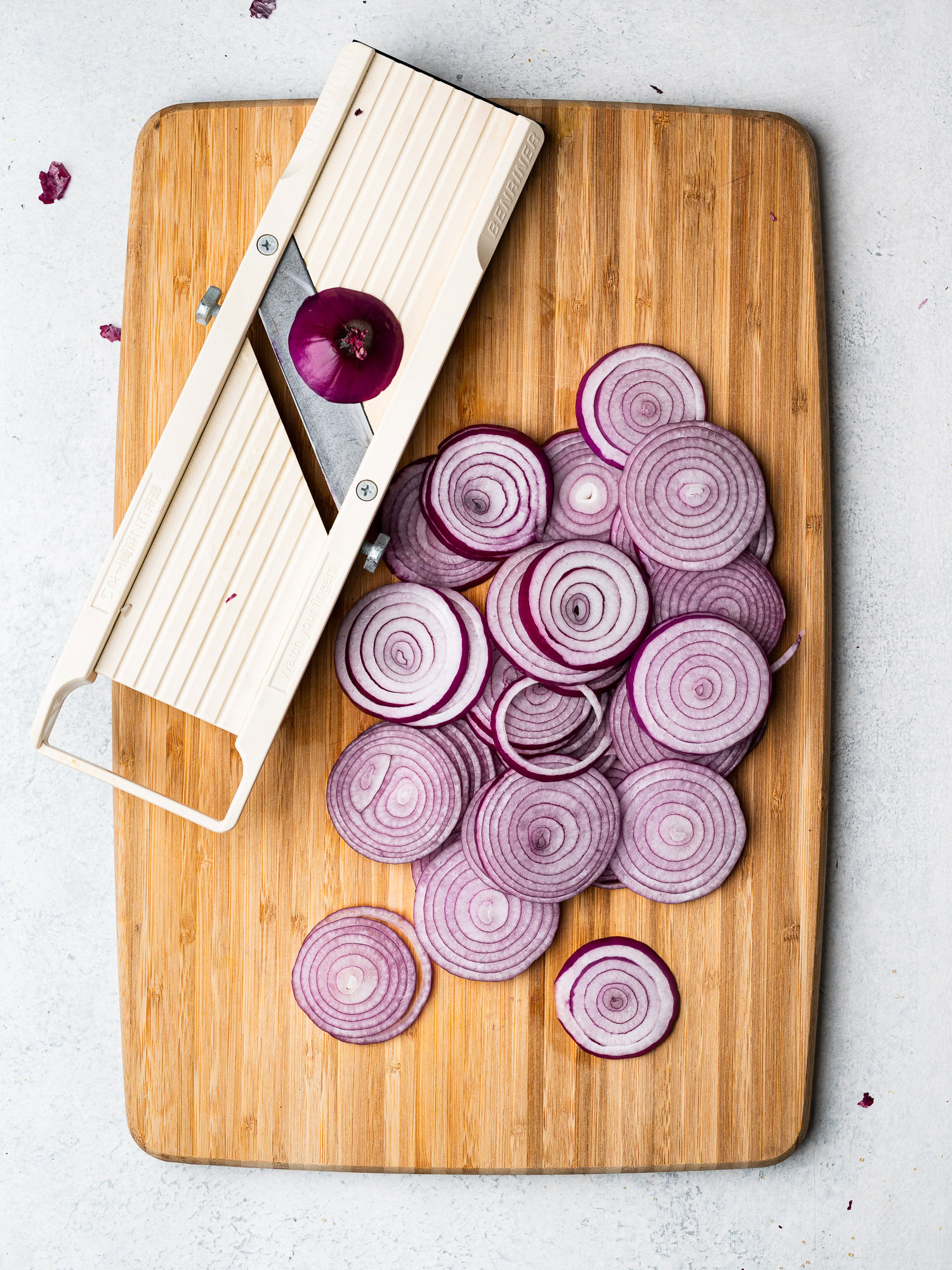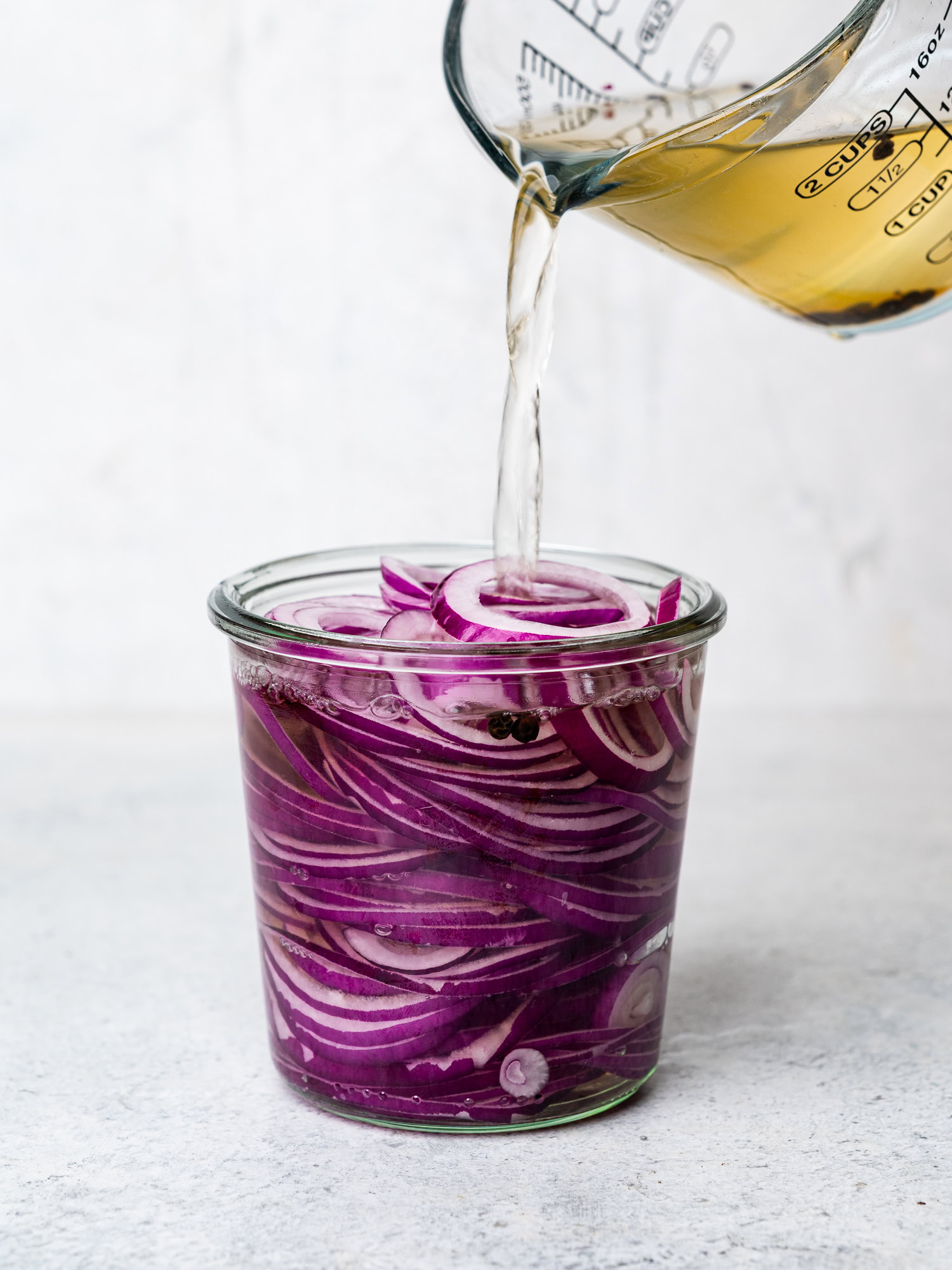 Tips And FAQ's
What is the best vinegar to use for pickling?
White distilled vinegar is most commonly used for pickling, I prefer the flavour of apple cider vinegar or white wine vinegar (or a mix) for these pickled onions. Other vinegars you can use are rice wine vinegar, white balsamic vinegar and red wine vinegar. Sherry and champagne vinegar will work but are quite expensive to use for pickling. Balsamic vinegar would not work for pickling.
Can I add more seasoning to the brine?
You can absolutely add more flavour to your brine by adding more seasoning. Here are some suggestions: garlic cloves, mustard seeds, bay leaves, coriander seeds, fennel seeds, red pepper flakes, and sprigs of any herbs you like.
How long will pickled onions last?
These pickled red onions are preserved by a brine, not fermentation so they will need to be stored in the refrigerator where they will last up to 4 weeks.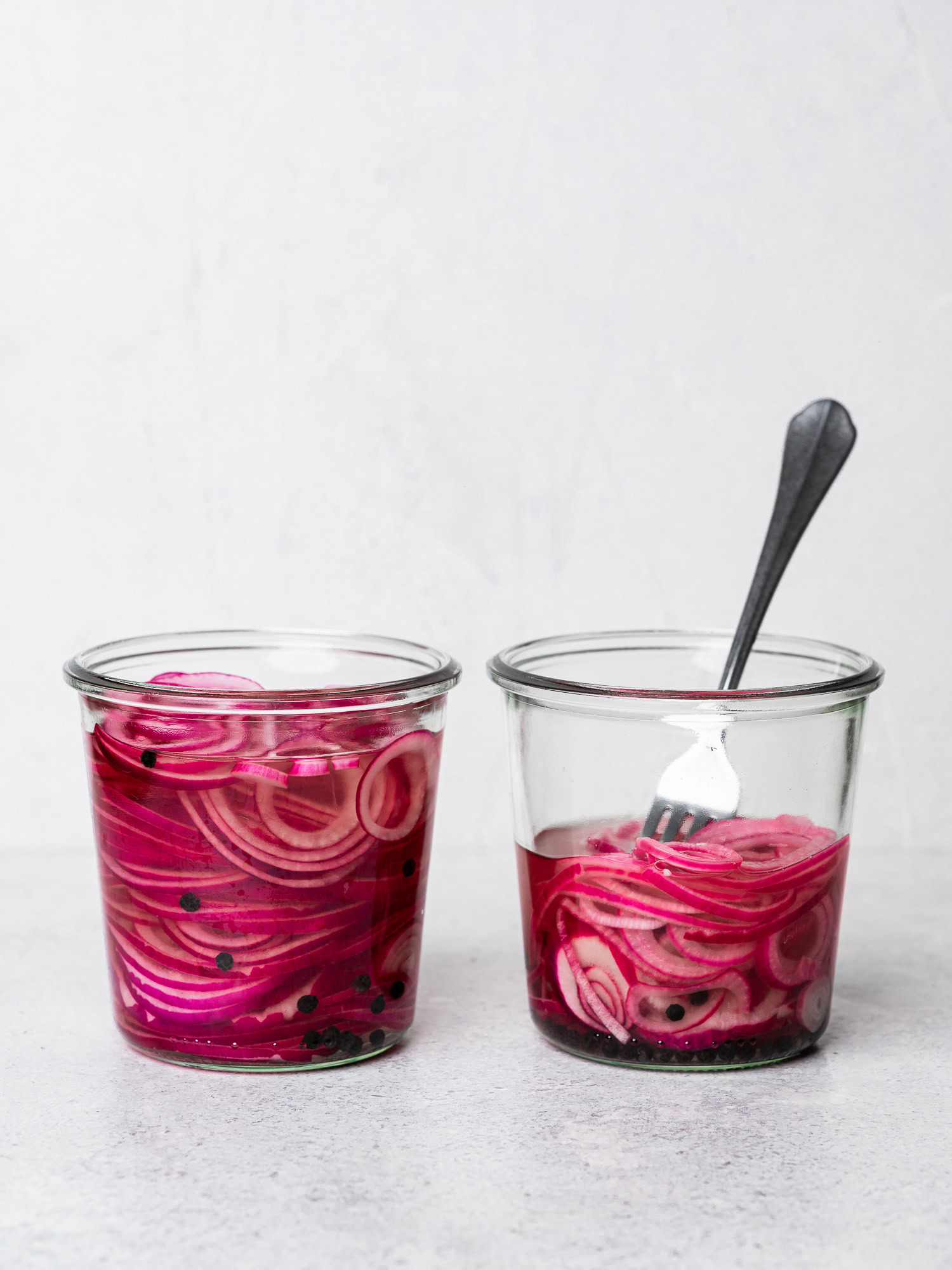 How To Use Quick Pickled Red Onions
Pickled red onions add tang and a pop of color to an endless number of dishes so go ahead and make a big batch. Here are some of our favourite ways to use them:
Add to burrito bowls.
Tucked into tacos or tostadas – Delicious with these mushroom tostadas, chicken tinga tacos, or these fish tostadas.
Avocado toast – An all-time favorite!
With salads – If your salad needs a little boost of flavour top it with something pickled—delish! Try it on this spinach berry salad or a potato salad — so good! Alternatively, chop up the pickled onions and add them to salad dressings.
To top nachos.
In burgers or hot dogs – Delicious in any and all burgers such as these poblano turkey burgers.
With grilled or roasted vegetables – Top a platter of grilled vegetables with pickled onions for an extra pop of flavour.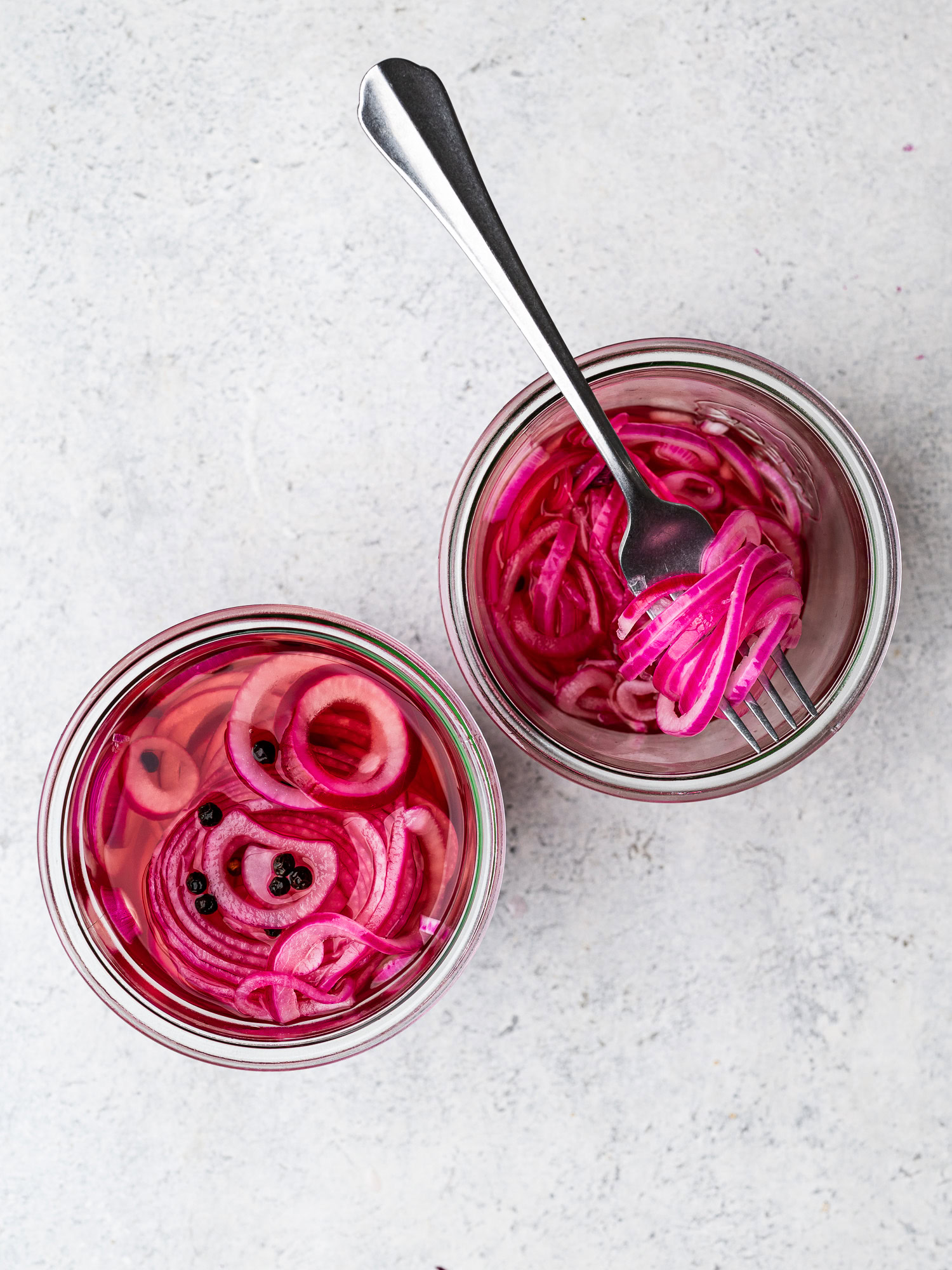 If you enjoy these red pickled onions, make sure to try these outrageously addictive quick pickled jalapeños.
Print Recipe
Pin Recipe
Pickled Red Onions
These deliciously tangy and crunchy pickled red onions take 5 minutes to make and will become a staple in you refrigerator. Use them to garnish everything from salads, burgers, sandwiches and just about anything else that needs a boost of flavour.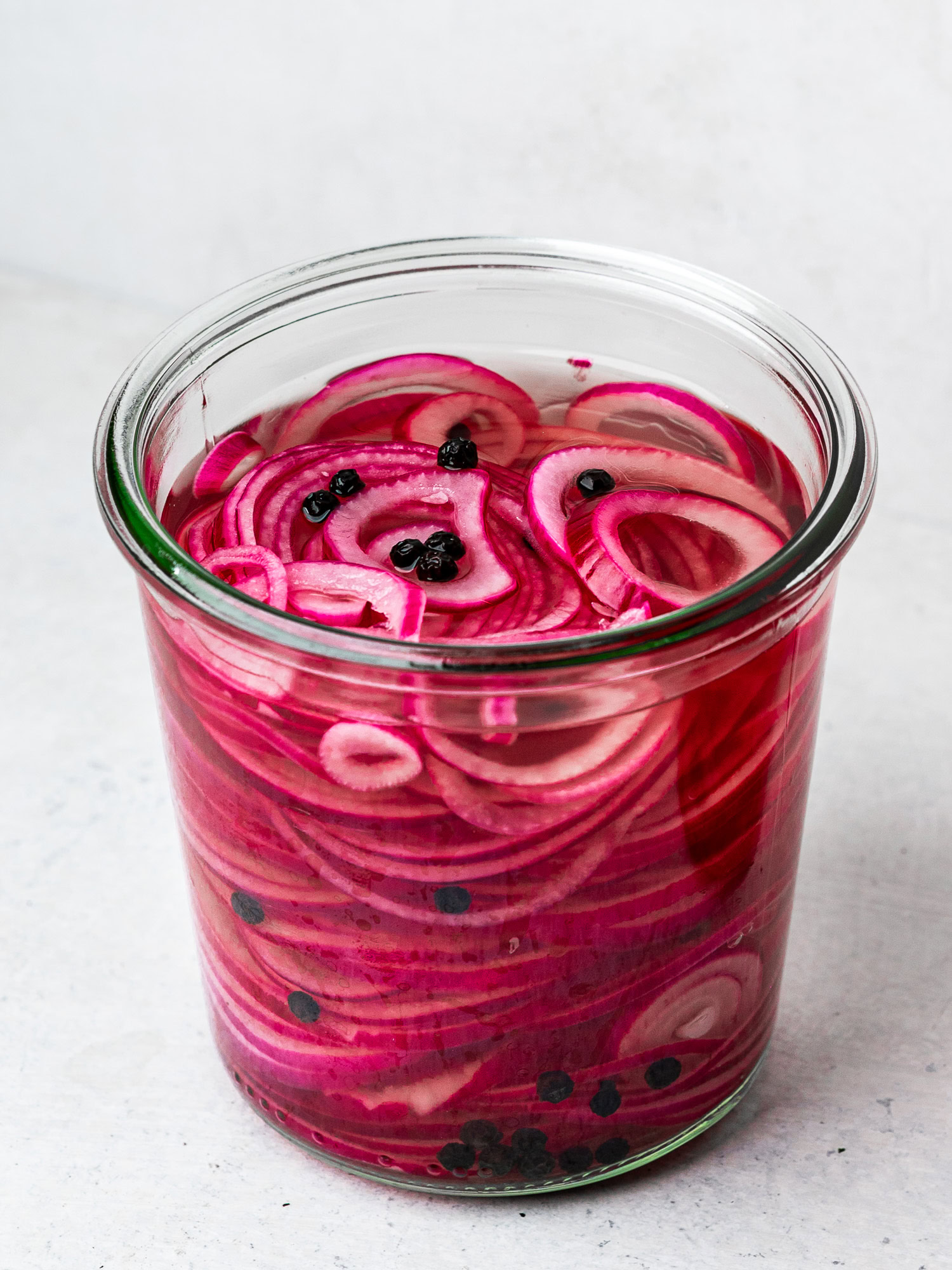 Ingredients
2

small/medium red onions

1 1/2

cups

white wine vinegar

apple cider vinegar, or a mix

1 1/2

cups

water

2

tablespoons

white or cane sugar

2

tablespoons

kosher or sea salt

2

teaspoons

peppercorn

optional
Instructions
Using a mandolin or sharp knife, slice the onions about 1/8-inch thick. Pack the onions into one large (16-ounce) or two small (8-ounce) glass jars, adding the peppercorns, if using.

In a small pot, bring the vinegar, water, sugar, and salt to a simmer, stirring until sugar and salt dissolve. Remove from heat and pour over onions until completely covered. Cool completely before using. For best results, once cooled, cover jar(s) and place in refrigerator for 1 hour or until onions turn a bright pink hue.

Pickled red onions will keep well in the fridge in an airtight container for up to 2 weeks.
Notes
Use maple syrup or honey instead of white sugar, if desired. Add more sugar if you would like the brine to be a bit sweeter.
White distilled vinegar, rice vinegar, or red wine vinegar or a combination will also work. 
Onions need to be fully submerged in brine. If for some reason you don't have enough brine, add equal parts vinegar and warm tap water until the onions are covered. 
Feel free to double or triple this batch for all your pickling urges.