This delightful Spinach Berry Salad flecked with creamy gorgonzola, red onion, and crunchy pistachios comes together beautifully with a tangy-sweet poppyseed dressing. Colourful, fresh and easy, this salad works as a starter or a side to all your summery meals.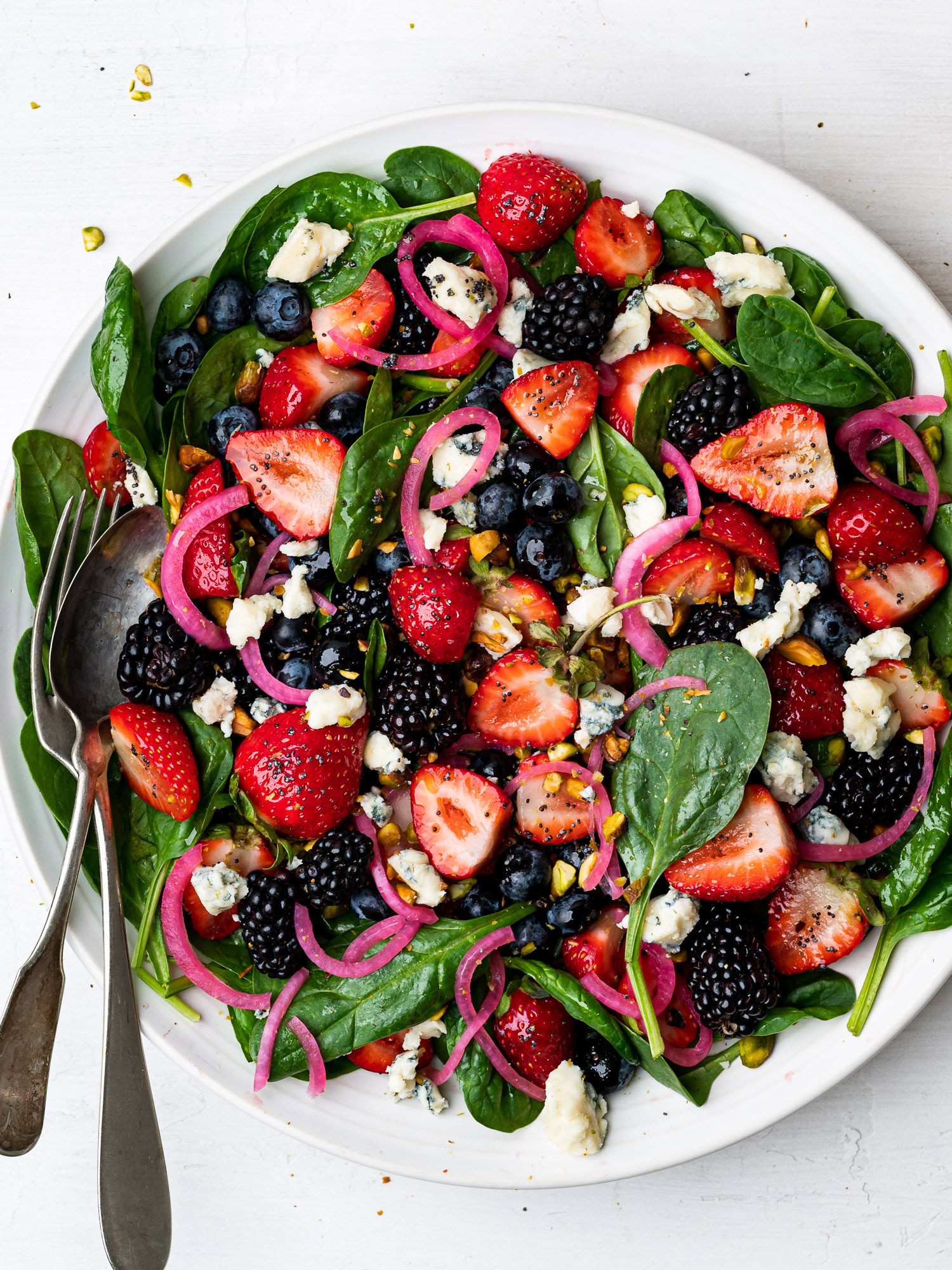 Biting into fresh, juicy berries embodies summer. Great for enjoying plain or in desserts, or as we do here in a savoury salad.
This spinach salad features bursting bites of strawberries, blueberries and blackberries with pistachios for a little crunch and gorgonzola for some luxurious creaminess. A tangy-sweet poppyseed dressing brings everything together beautifully.
This is the kind of salad that is easy to whip up on a weeknight but also fancy enough for entertaining. Serve with grilled fish or a range of similarly summery mains. Fresh, light, healthy and delicious, this salad is sure to be the brightest spot of your meal.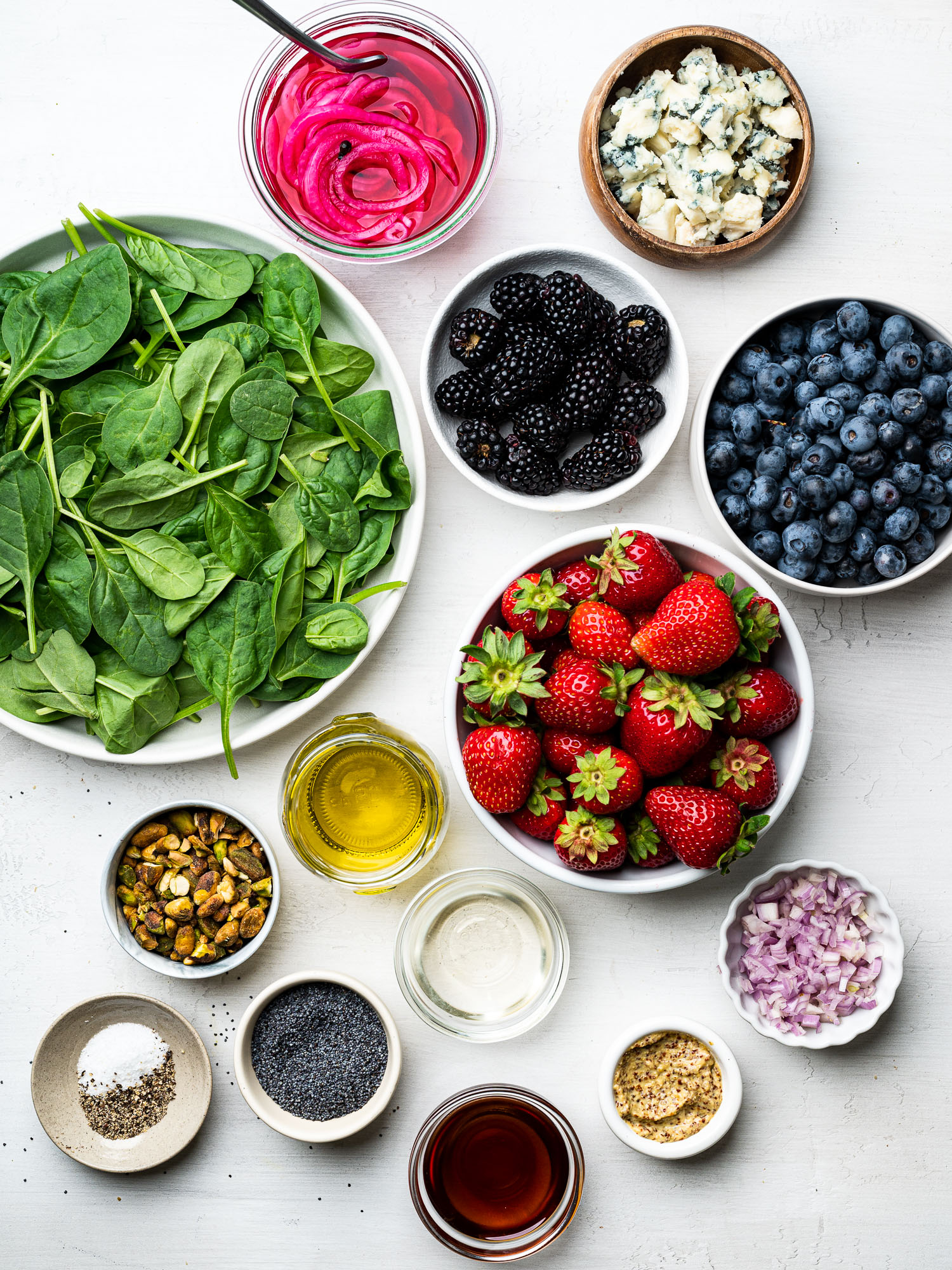 Ingredients And Notes
I am a little late in the season with this salad but if you hurry, Farmer's markets are still filled with summer berries. Once they're gone feel free to use stone fruits for this salad. Peaches, plums and nectarines, would all be delicious.
Berries – Spinach and strawberries are classic together but adding blueberries and blackberries makes this salad even more delicious. Local, fresh berries from the markets will make the tastiest salad, but even imported berries, as long as they are sweet, will work here.
Spinach – I use baby spinach but larger, heartier spinach leaves will be just as good.
Pistachios – The nut you use here barely matters — we're just looking for some crunch. I used shelled pistachios for convenience (they come shelled and roasted) and because we have a slight addiction to pistachios. But use any you have on hand or your favourite; sliced almonds, chopped pecans, hazelnuts or walnuts all work. Just make sure to toast them for a few minutes on a dry skillet to bring out more of their flavour.
Gorgonzola – I could eat the sole of a shoe if you slathered it with gorgonzola. I simply love its assertive aroma and intense, sharp flavour. Picante is always my choice but use dolce if you prefer. Any other creamy cheese such as goat cheese or feta will also work beautifully.
Pickled or plain red onions – Sliced red onions are great in this salad but if you have a jar of my delicious pickled red onions in your fridge use them here. So good!
Poppyseed Dressing
There is something about a poppyseed dressing that makes a wonderful classic pairing with a spinach berry salad. This one has the perfect balance of tangy and sweet and I find it completely irresistible. Best of all it uses simple ingredients and takes less than 5 minutes to whip up.
Aside from poppyseeds, the ingredients for this dressing are white wine vinegar, honey, finely chopped shallot, grainy mustard, olive oil, salt and pepper. Feel free to add a few tablespoons of mayo if you prefer it a bit creamy.
If you have any dressing leftover, it will last up to 5 days in the refrigerator. It also makes a fabulous marinade for chicken.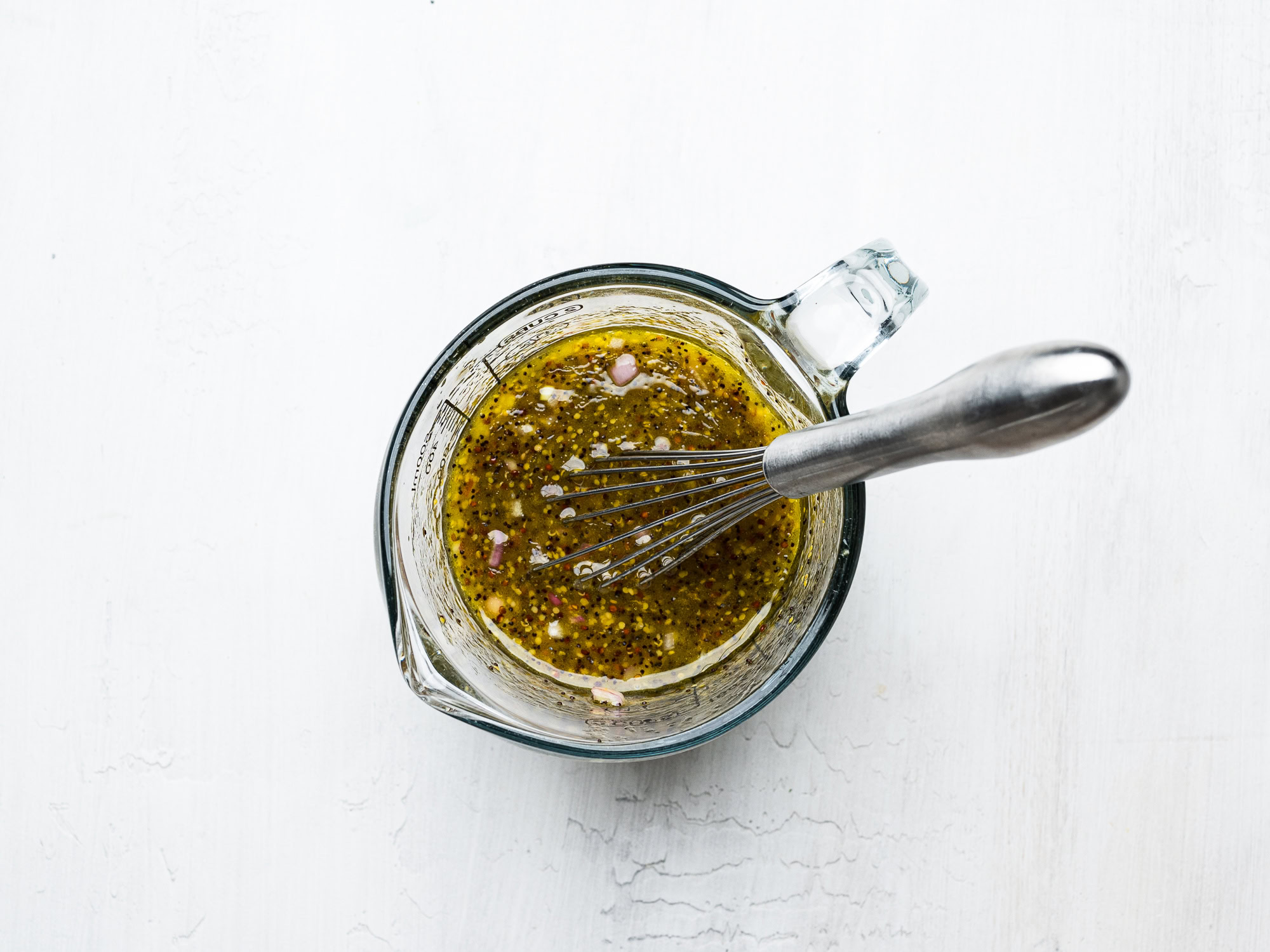 How To Make Spinach Berry Salad WIth Poppyseed Dressing
If you aren't using roasted pistachios, make sure to toast your nuts before using them (see section below for how I like to toast them).
Add the spinach to a bowl. Drizzle some dressing over top and toss gently. It's best to add just enough to coat the leaves without drenching them. You can always add more later.
Add the berries and give it another gentle toss. Top with cheese, red onions, and nuts and drizzle with a bit more dressing, if desired.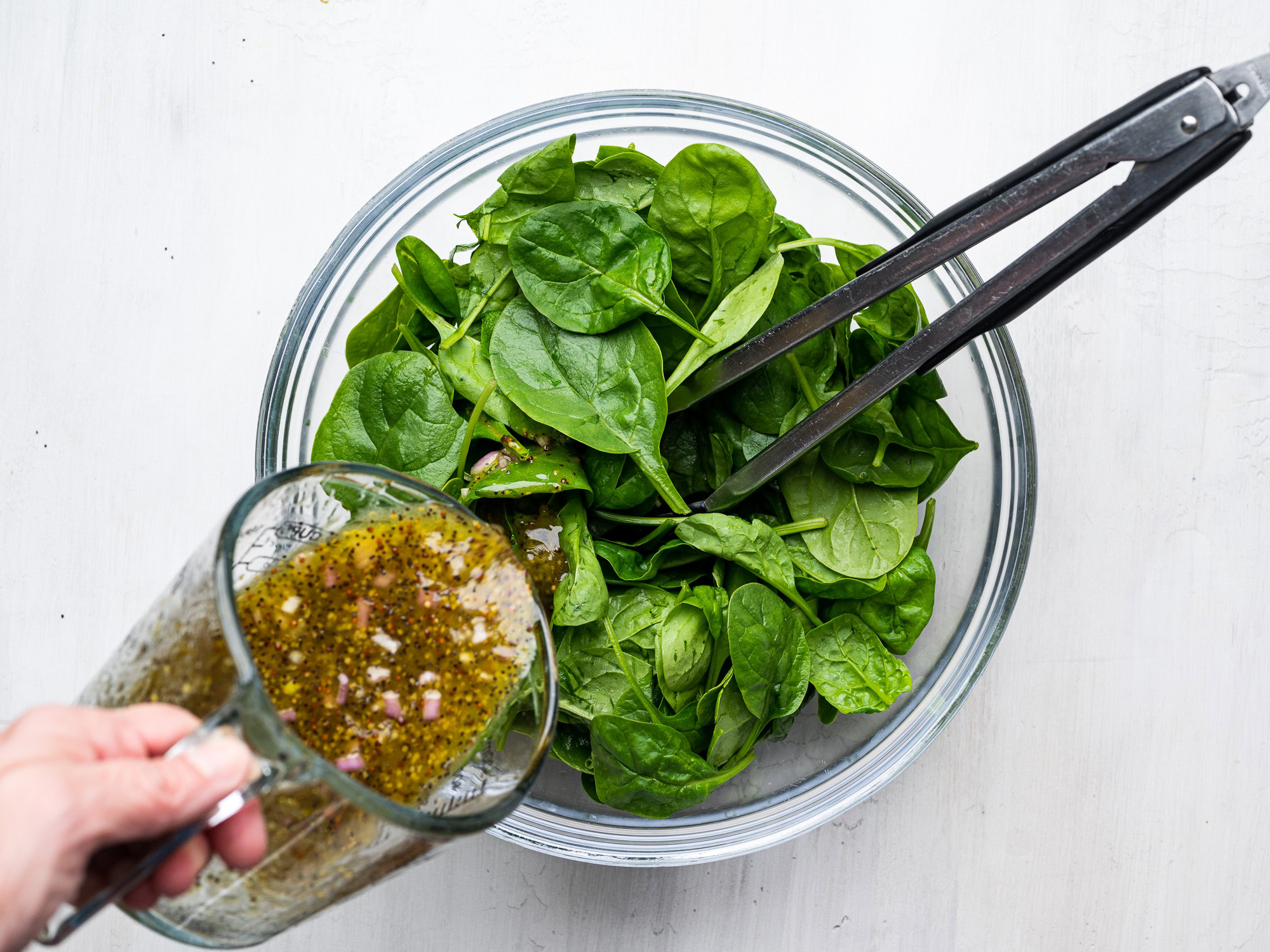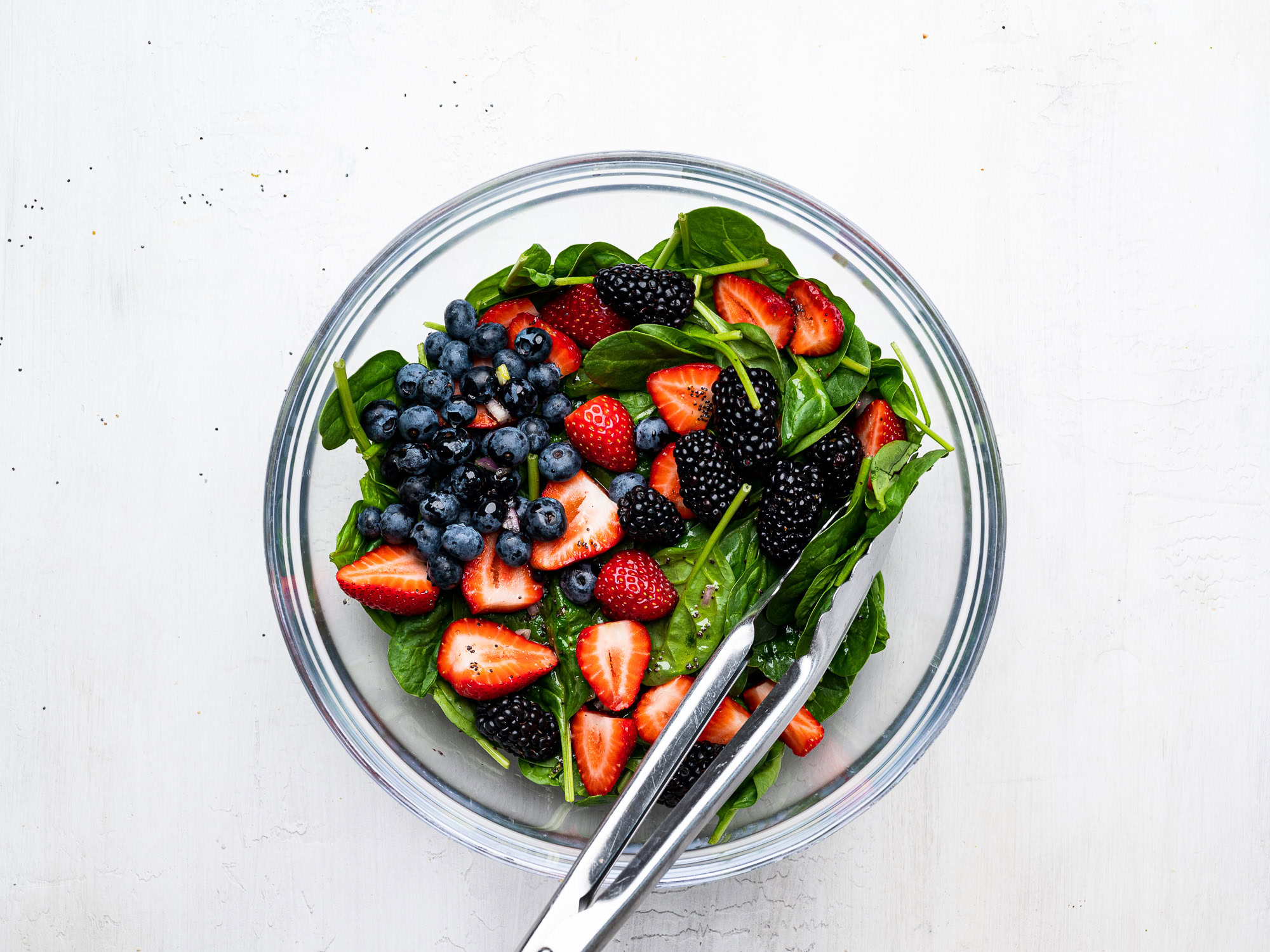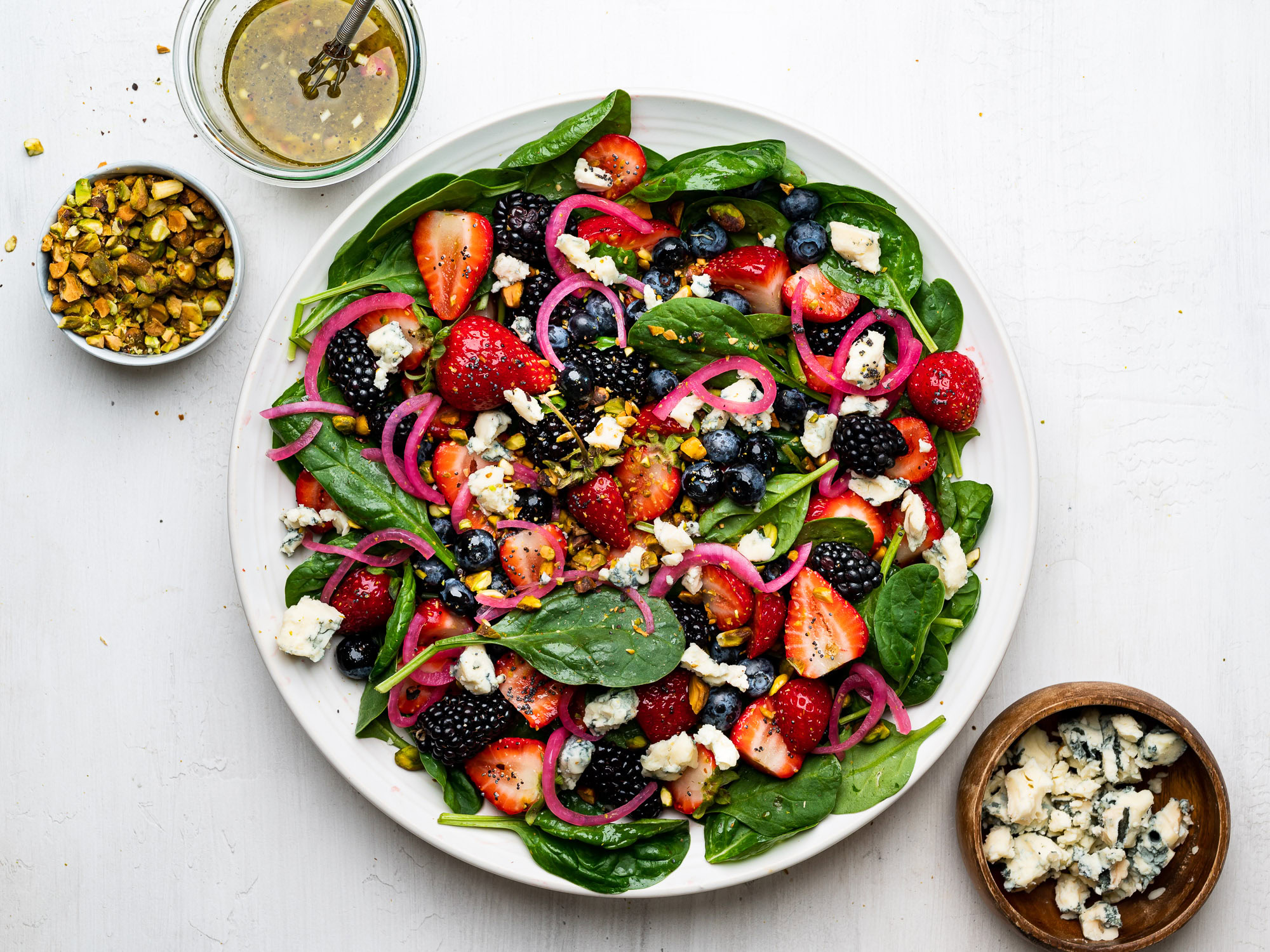 How To Toast Nuts
With the exception of store-bought roasted pistachios which are delicious as is, I like to buy raw nuts and toast them myself. Toasting nuts is an extra step but it takes very little effort and the pay-off is huge.
You can toast the nuts in the oven or on the stovetop. Toasting nuts on the stovetop is pretty quick but toasting them in the oven results in more even browning and there is less chance they will burn.
Oven method: Preheat oven to 350ºF. Spread the nuts out in an even layer on a sheet pan. Sliced or softer nuts like walnuts and pistachios will take about 6-8 minutes to toast. Large, or harder nuts like hazelnuts and macadamias will take about 8-10 minutes.
Stovetop method: Place a heavy-bottomed skillet over medium heat. Add the nuts in a single layer and toast, stirring occasionally for 2-4 minutes until nuts are slightly golden brown.
Tip: Whether you toast the nuts in the oven or stovetop, be sure to transfer them to a plate or bowl immediately or they will continue to toast.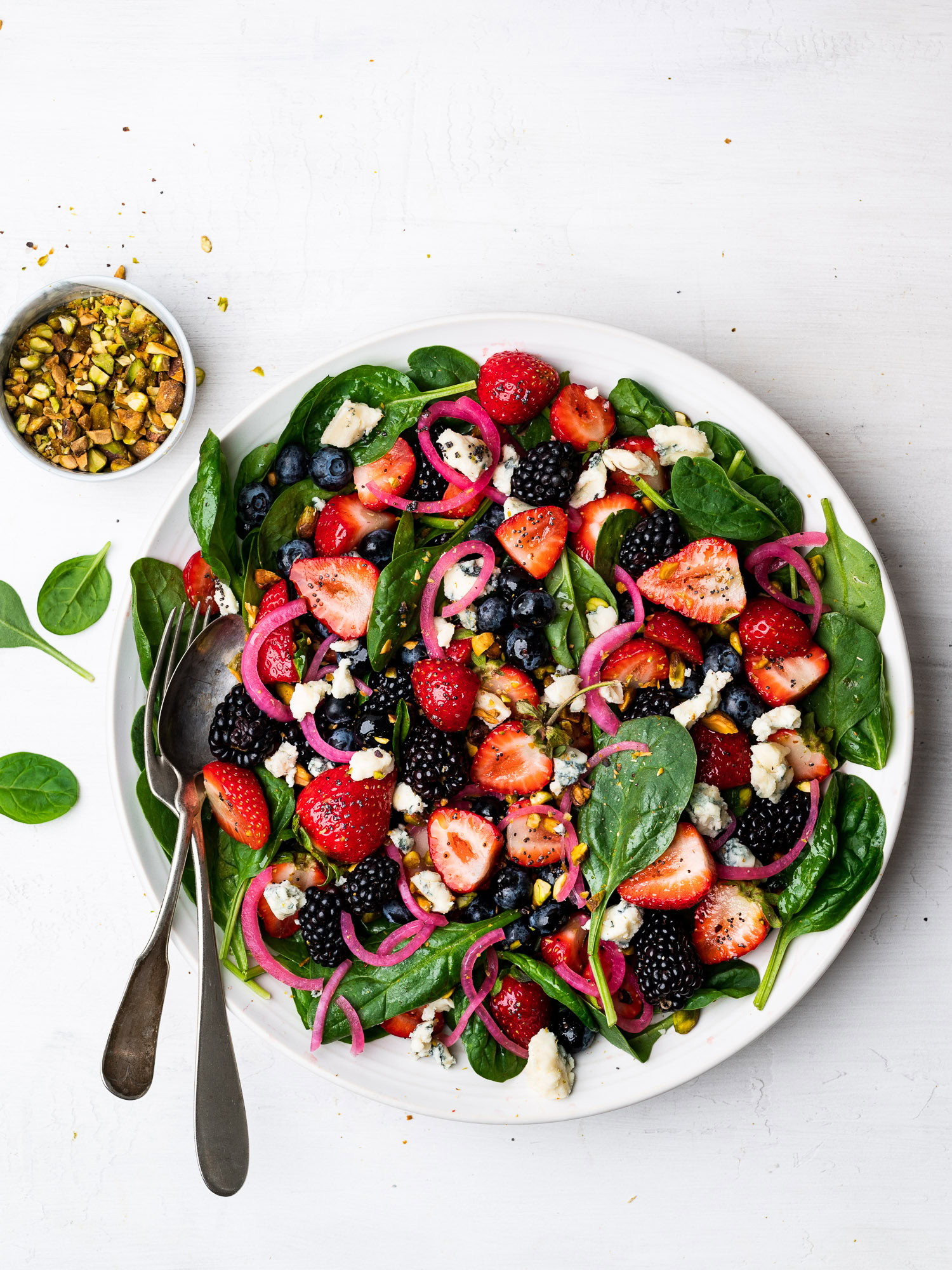 Serving Suggestions
This berry spinach salad makes a lovely side to grilled or roasted fish, chicken, or veggies. Try it with these grilled chicken breasts, or these salmon kabobs.
You can make a meal out of the salad by topping it with chopped rotisserie chicken, chickpeas, and/or some hefty grains such as farro or quinoa.
Storage Tips
Because of the berries and soft spinach leaves, this salad doesn't take kindly to being left to sit around. If you need to assemble it ahead of time, leave it undressed, covered tightly in the refrigerator for no longer than 1 hour. Dress when ready to serve.
If you have some leftovers, store them covered in the refrigerator. The spinach and berries will soften but they will be good tossed with some grains or even soba noodles.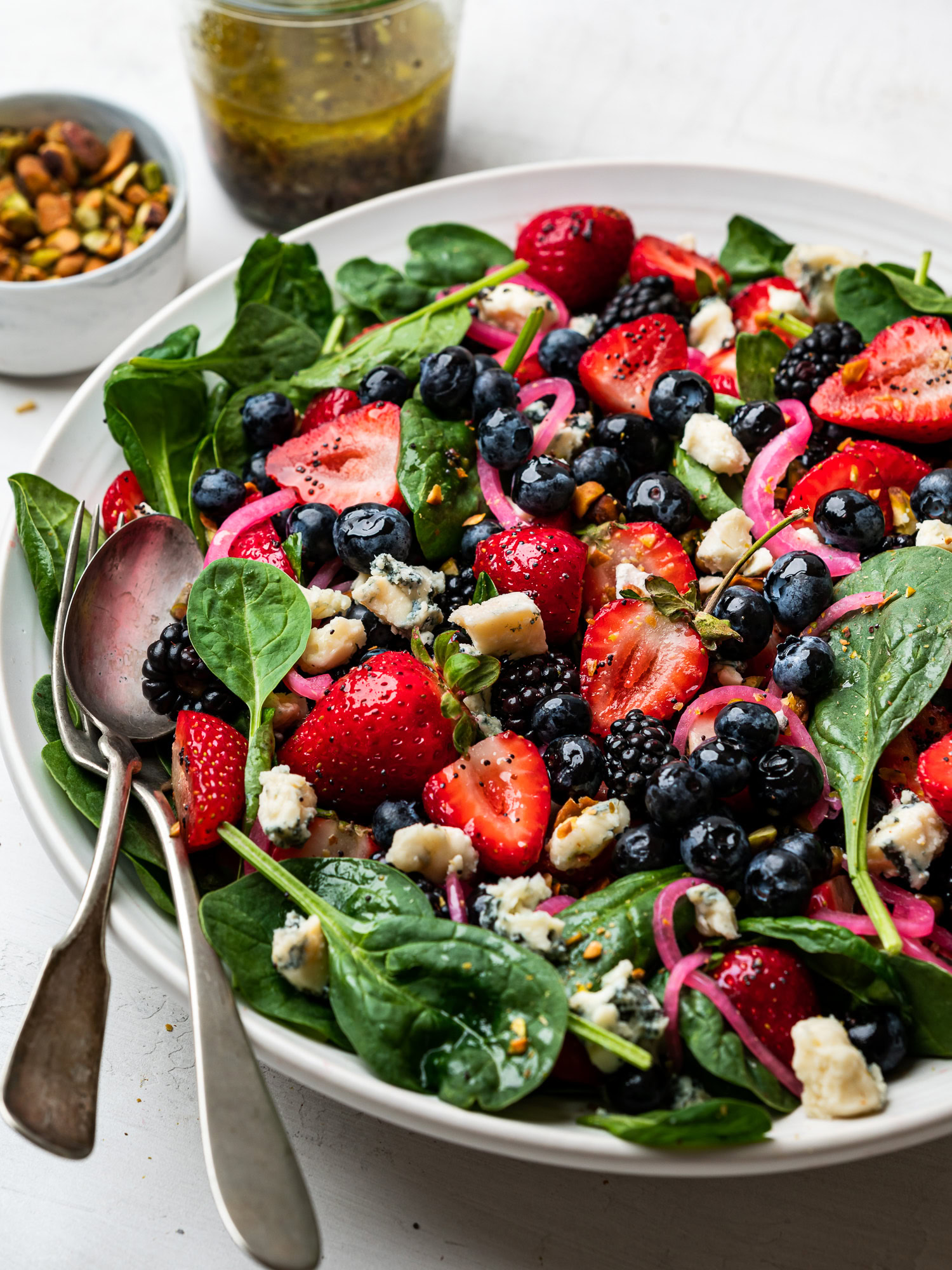 More Summer Salads To Try
Print Recipe
Pin Recipe
Spinach Berry Salad with Poppyseed Dressing
This delightful Spinach Berry Salad flecked with creamy gorgonzola, red onion, and crunchy pistachios comes together with a delicious tangy-sweet poppyseed dressing. Colourful, fresh and easy, this salad works as a starter or a side to all your summery meals.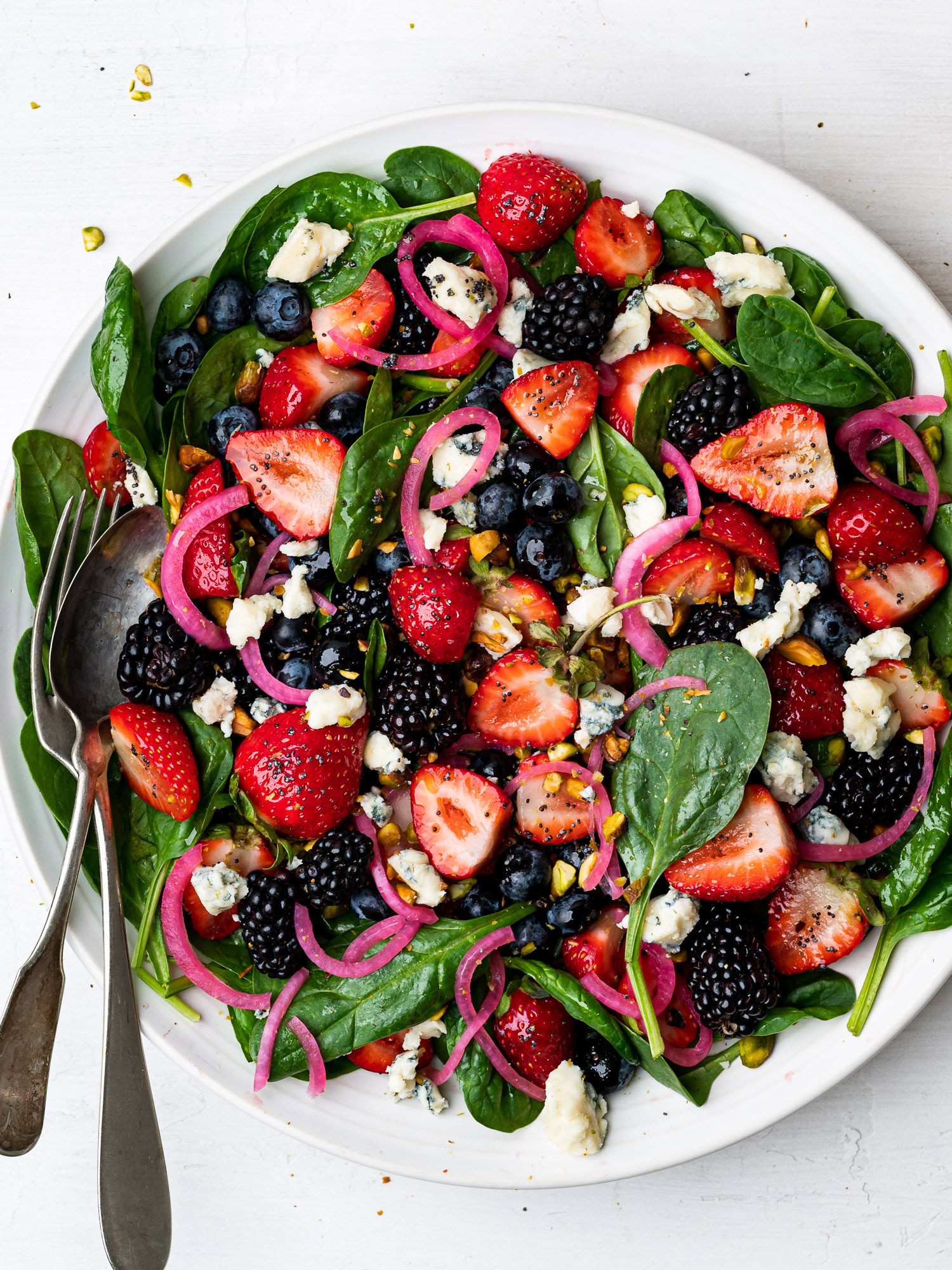 Ingredients
For the salad
5-8

ounces

baby spinach

3

cups

mixed berries such as strawberries,

blueberries or blackberries

2-3

ounces

crumbled gorgonzola

or goat cheese or feta

1/3

cup

shelled pistachios, roughly chopped

(*see notes if using any other nut)

1/2

small red onion

thinly sliced (I used pickled red onions linked in notes)
For the poppyseed dressing
1/4

cup

white wine vinegar or white balsamic vinegar

2

tablespoons

maple syrup

or honey or white sugar

1 to 1 1/2

tablespoons

poppy seeds

1/2

teaspoon

ground mustard

or regular dijon

1/2

teaspoon

Kosher or sea salt

1/4

teaspoon

freshly ground black pepper

1

small shallot

very finely diced

1/2

cup

olive oil
Instructions
In small bowl or liquid measuring cup, whisk together the vinegar, maple syrup, poppy seeds, mustard, shallots, salt and pepper until well combined. Whisking continuously, pour the olive oil into the dressing in a slow stream. Continue whisking until completely combined.

Place the spinach in a large bowl and drizzle with a few tablespoons of the dressing. Toss gently to coat the leaves. Add the berries and drizzle with a little more dressing, tossing gently to combine. Assess if the salad needs more dressing; The leaves should be well coated but not drenched with dressing.

Add the gorgonzola, pistachios and onions. Toss lightly to combine. Serve immediately, with extra dressing on the side, if desired.
Notes
Nuts: I use roasted pistachios here but if I'm using any other nuts I like to toast them first. To toast nuts: 

Preheat the oven to 350ºF. Spread the nuts in a single layer on a dry (un-greased) baking sheet. Bake for 8 to 10 minutes, or until lightly golden-brown and fragrant. Immediately transfer to a plate or bowl or they will continue to toast and may burn. 

Poppyseed dressing keeps well, tightly covered, in the refrigerator for up to 2 weeks. 

The oil will solidify when chilled so allow to come to room temperature before using.