This visually inviting Grilled Chicken Fajita Bowl has a flavourful combination of vegetables, protein and toppings that complement each other deliciously. A lovely summer meal any day of the week.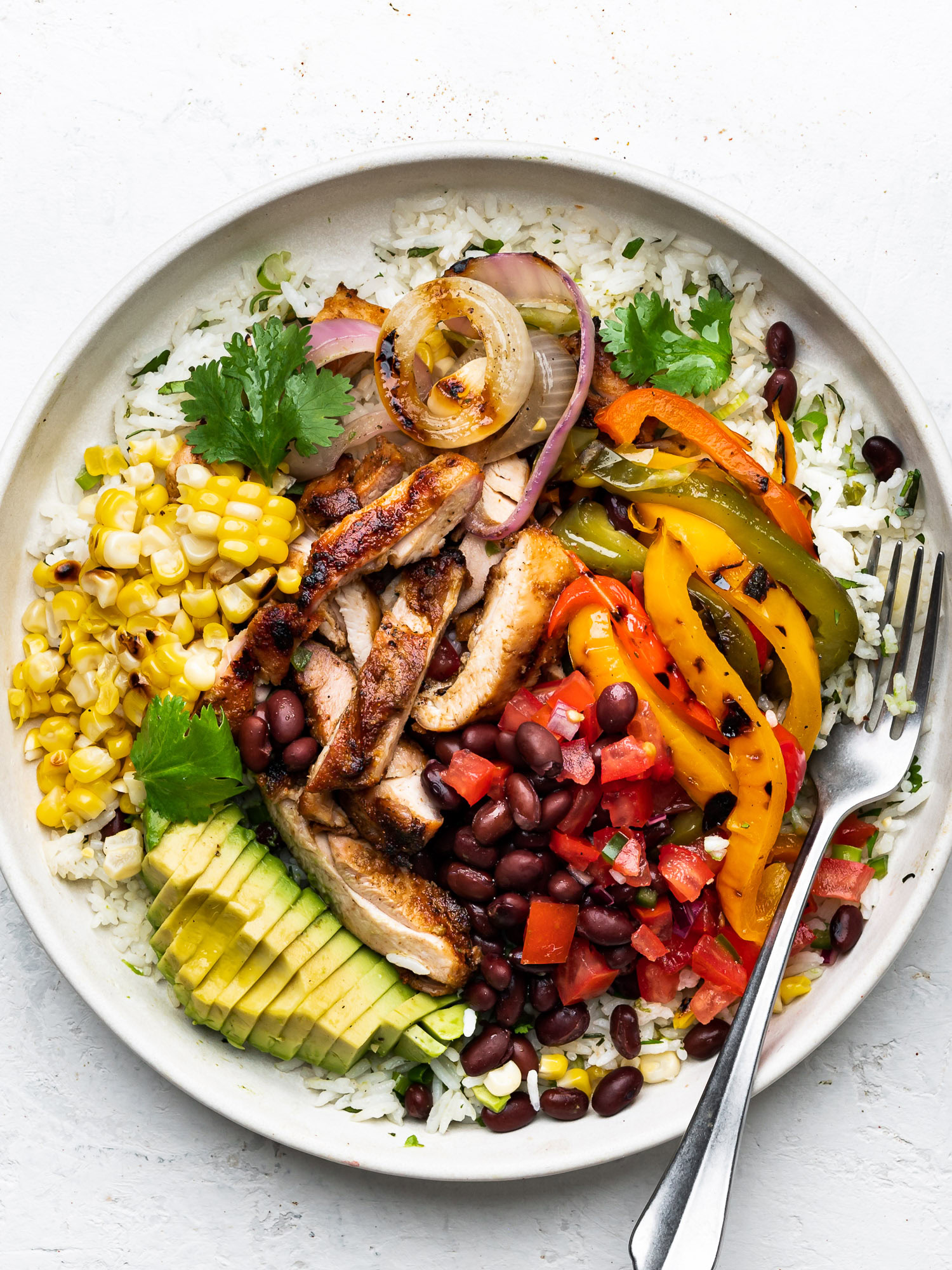 If you love burrito bowls, this one is going to delight you. Mexican-seasoned chicken thighs, onions, bell peppers and corn sear on the grill until everything is nicely charred and full of delicious smoky flavours. Place all that goodness on a bed of cilantro lime rice, top with avocados, fresh tomatoes, and black beans and it's everything you love about fajitas piled high into a bowl!
Why You Will Love This Burrito Bowl
Hearty and filling: With veggies, protein, and carbs from the rice, you will feell completely full and satisfied with this meal.
Customizable and kid-friendly: Easy to adapt to what you have on hand. Kids can pick and choose what they would like to pile into their bowl.
Equal parts nutritious and delicious: Filled with good-for-you veggies, this chicken fajita bowl is also outrageously delicious.
Great for meal prep: Easy to make ahead and have ready for busy weeknights. Or, double the recipe and use for fabulous lunches throughout the week.
Fun weeknight dinner: This grilled chicken fajita bowl is not the quickest weeknight meal you can make but on a slow evening it is very doable. So delicious and fun, it is worth the bit of extra effort.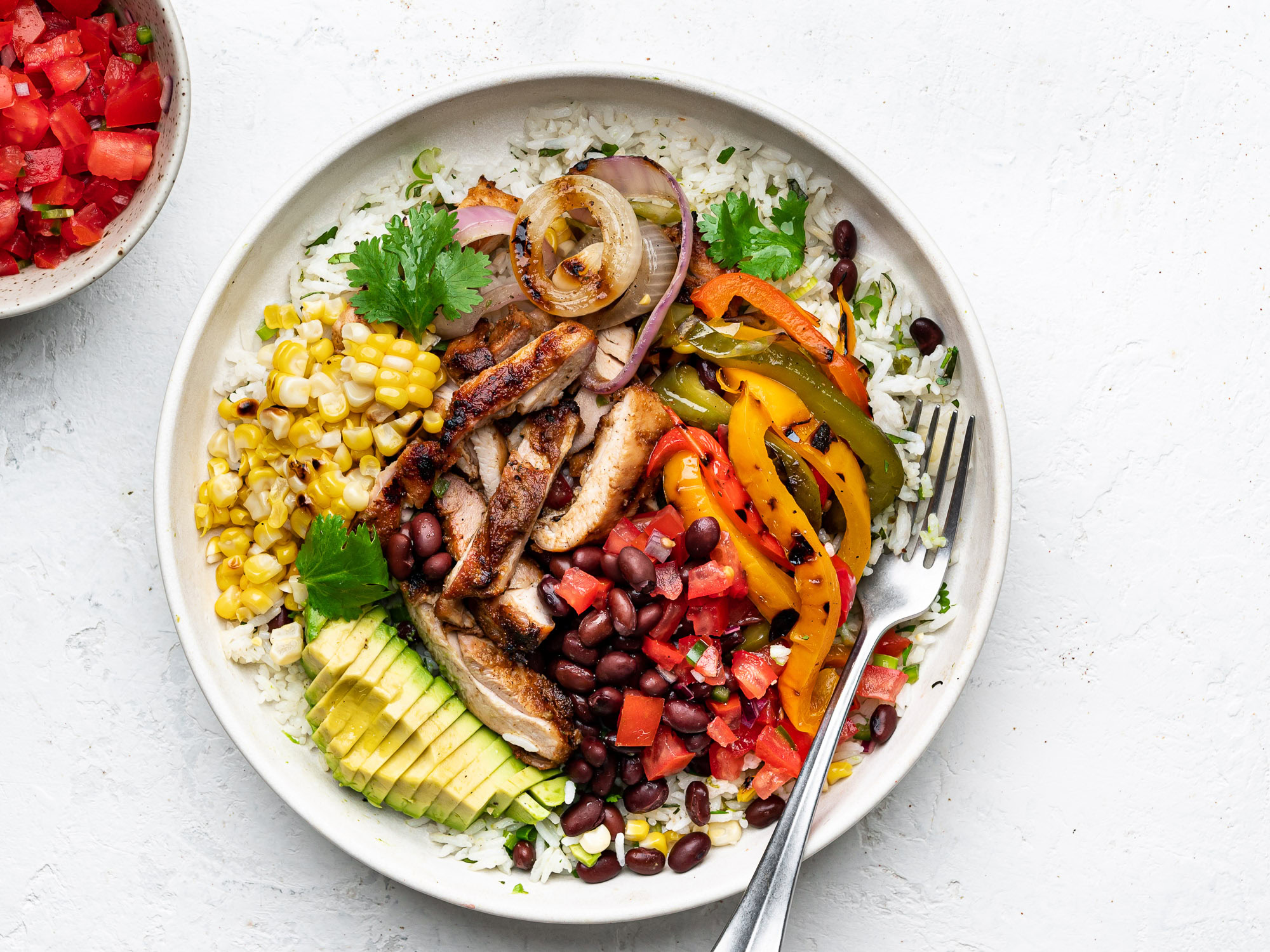 Chicken thighs – Boneless skinless chicken thighs are almost always my choice when it comes to grilling chicken. They're thinner than breasts, so they cook more evenly, and the higher fat content makes them difficult to overcook. If you need to use chicken breast, read this post for my tips on grilling chicken breast.
Grilled vegetables – Bell peppers, onions, and corn are easy to grill and taste wonderful in a fajita bowl. They're also in season and exploding at Farmers' markets right now so it's a great time to make this dish! You can also use mushrooms, green onions, and even zucchini if you wish.
Cilantro lime rice – This flavourful rice makes a delicious base for a fajita bowl. Prepare it a day in advance or cook it while you're grilling the chicken and veggies. You could also use any other base you like such as plain rice, quinoa, brown rice, or cauliflower rice.
Black beans – I can't imagine a burrito bowl without beans. Use pinto beans or refried beans if you prefer.
Corn – I like to grill some fresh corn on the cob for this fajita bowl. If corn is not in season, feel free to use frozen. Just sauté it in a bit of oil or butter.
Tomatoes – Tomatoes are in season right now and make a great addition to this fajita bowl. Roma tomatoes are meatier and contain less juice so they won't water down the flavours in the fajita, but any tomatoes would be great. Add them diced or make a quick Pico de Gallo for even more flavour.
Avocado – Again, can't imagine a burrito bowl without it. Add slices of avocado or make this delicious guacamole.
More optional toppings – Cotija cheese or quest fresco, sour cream, diced raw onions, jalapeños, and thinly sliced radishes.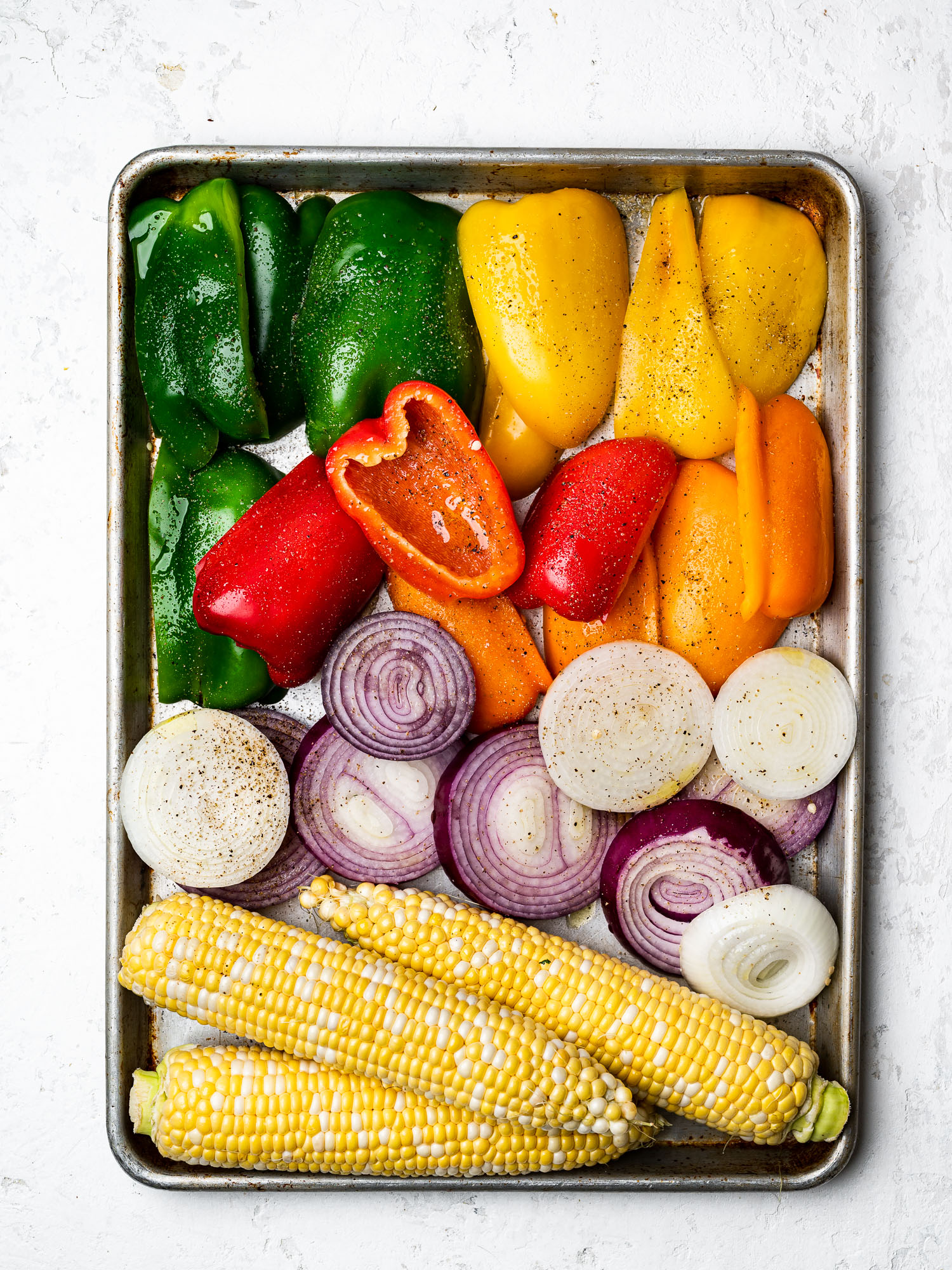 The Best Chicken Fajita Flavours
This grilled chicken fajita burrito bowl is ultra-flavourful thanks to a very simple but tasty fajita marinade. All you need is olive oil, lime juice and some fajita seasoning.
I make fajitas very often so I like to prepare my own fajita spice mix to achieve the ultimate complex flavours with minimal effort. If you want to skip the making the spice blend, the chicken will be just as delicious with these few spices; garlic powder, chili powder, paprika and a generous amount of cumin.
The chicken will not have to marinade for long, either. Just let it sit while you cut and grill the veggies.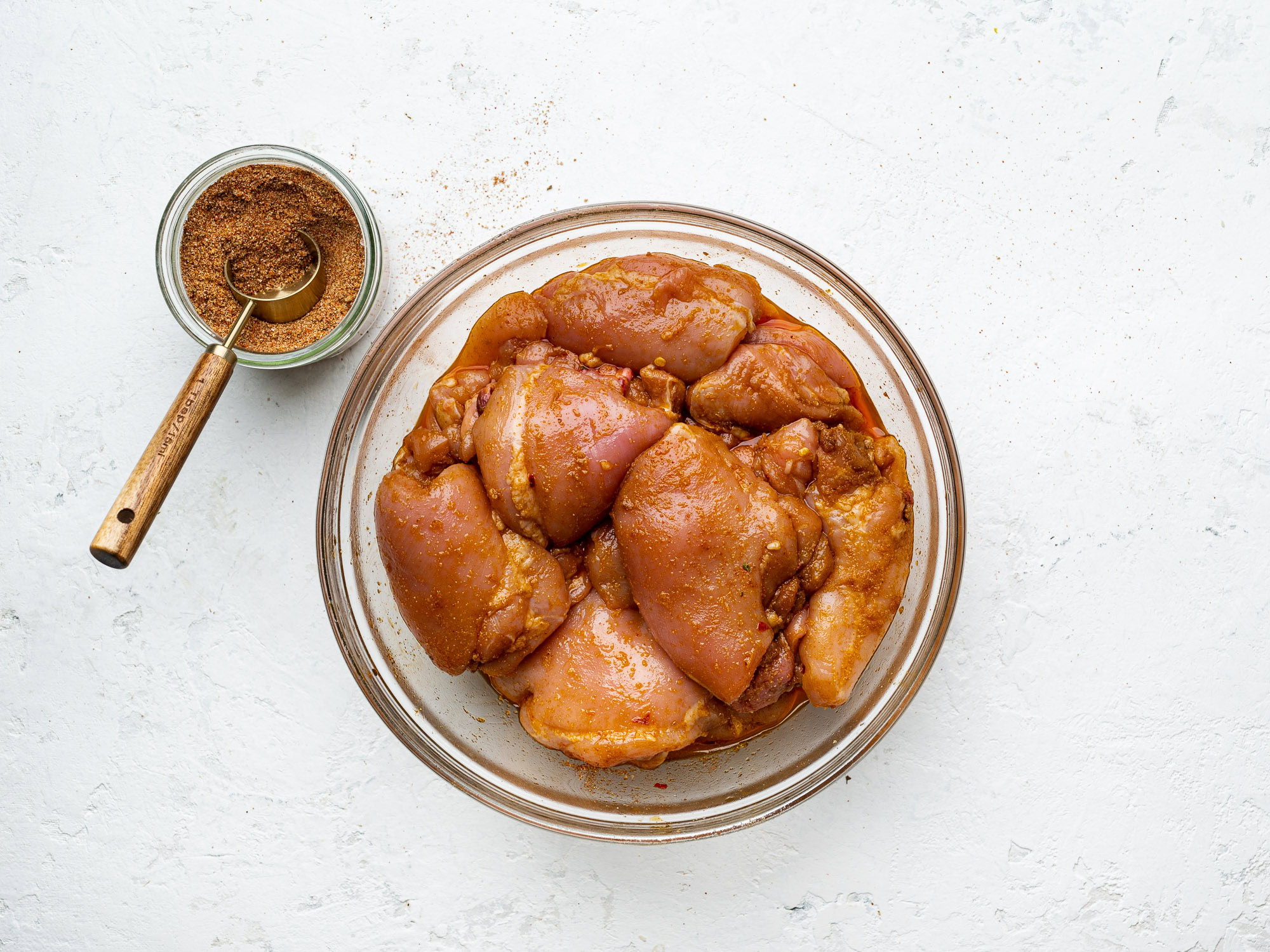 How To Make Grilled Chicken Fajita Bowls
Start by making the cilantro lime rice, or any other base you're using. The rice will take about 25 minutes to be ready so it's a good idea to get a head start.
Add olive oil, lime juice and spices to a large bowl. Mix to combine. Add the chicken thighs and toss to coat. Set aside.
Preheat the grill to medium-high and oil the grates.
Cut and prep all the veggies. Brush the corn and veggies lightly with olive and season with salt and pepper.
Grill the corn and cut vegetables directly on the grates, turning them as needed. If you are doubling the vegetables, cook in batches if necessary to not overcrowd. Cook until they are lightly charred, watching them carefully and moving them around the grate so they cook evenly, 10 to 15 minutes, depending on the vegetable. Transfer grilled vegetables to a large sheet pan or platter.
Grill the chicken until browned and cooked through, and it releases easily from the grates, 5 to 7 minutes per side. For a gas grill, close the lid between flips, but stick around to occasionally check for flare-ups. Transfer the chicken to a cutting and let rest for 5 to 20 minutes.
Cut chicken, onions and peppers into thin strips (sometimes I don't bother cutting the onions). Use a sharp knife to cut down the side of the corn to release the kernels into a bowl.
Assemble bowls: Spoon rice into a bowl and top with chicken, vegetables, corn, beans, tomatoes, and any other toppings of your choice.
Note: If your grill is large enough, feel free to cook the chicken and vegetables at the same time. Just make sure and remove the vegetables sooner than the chicken, if needed.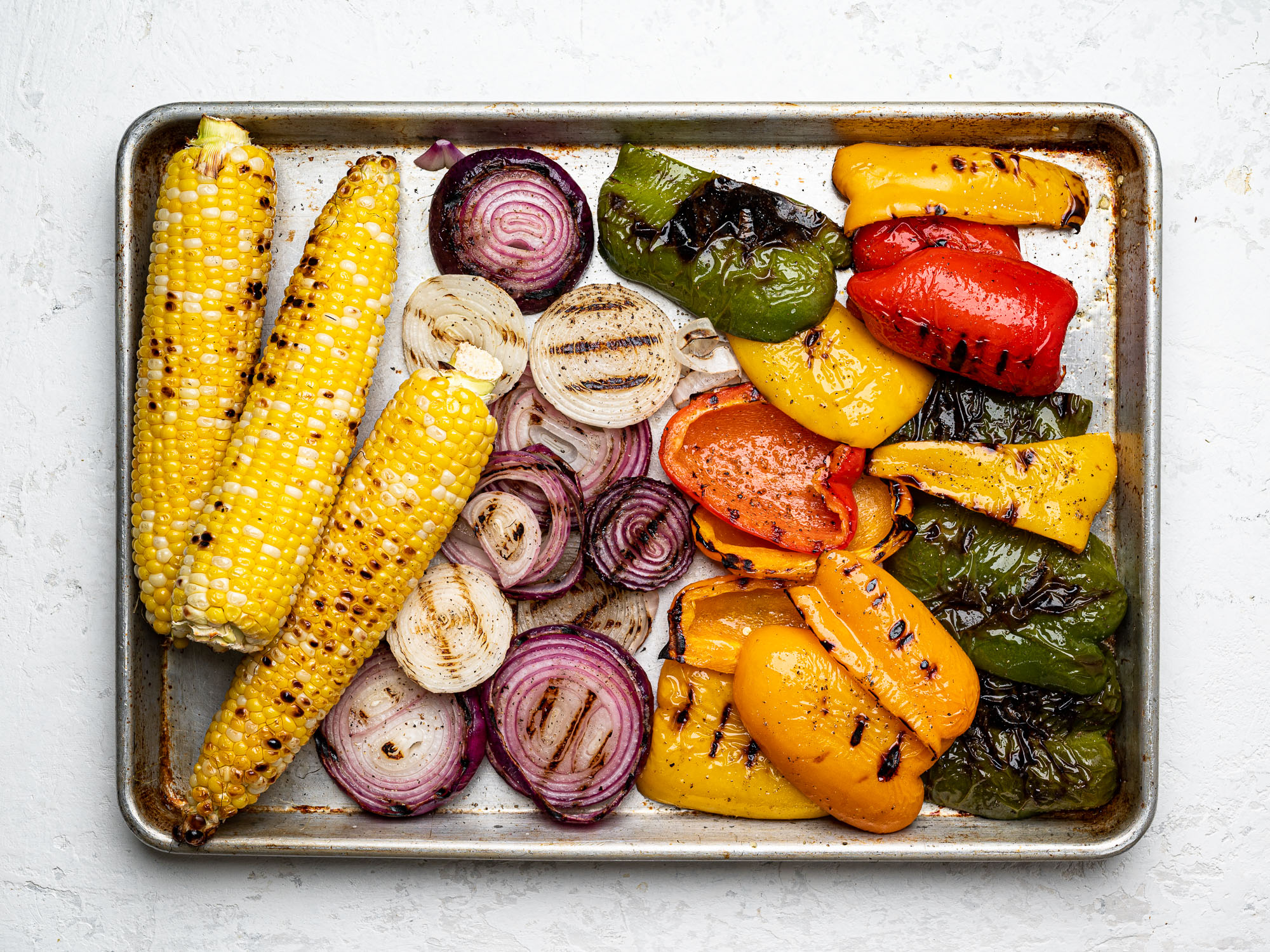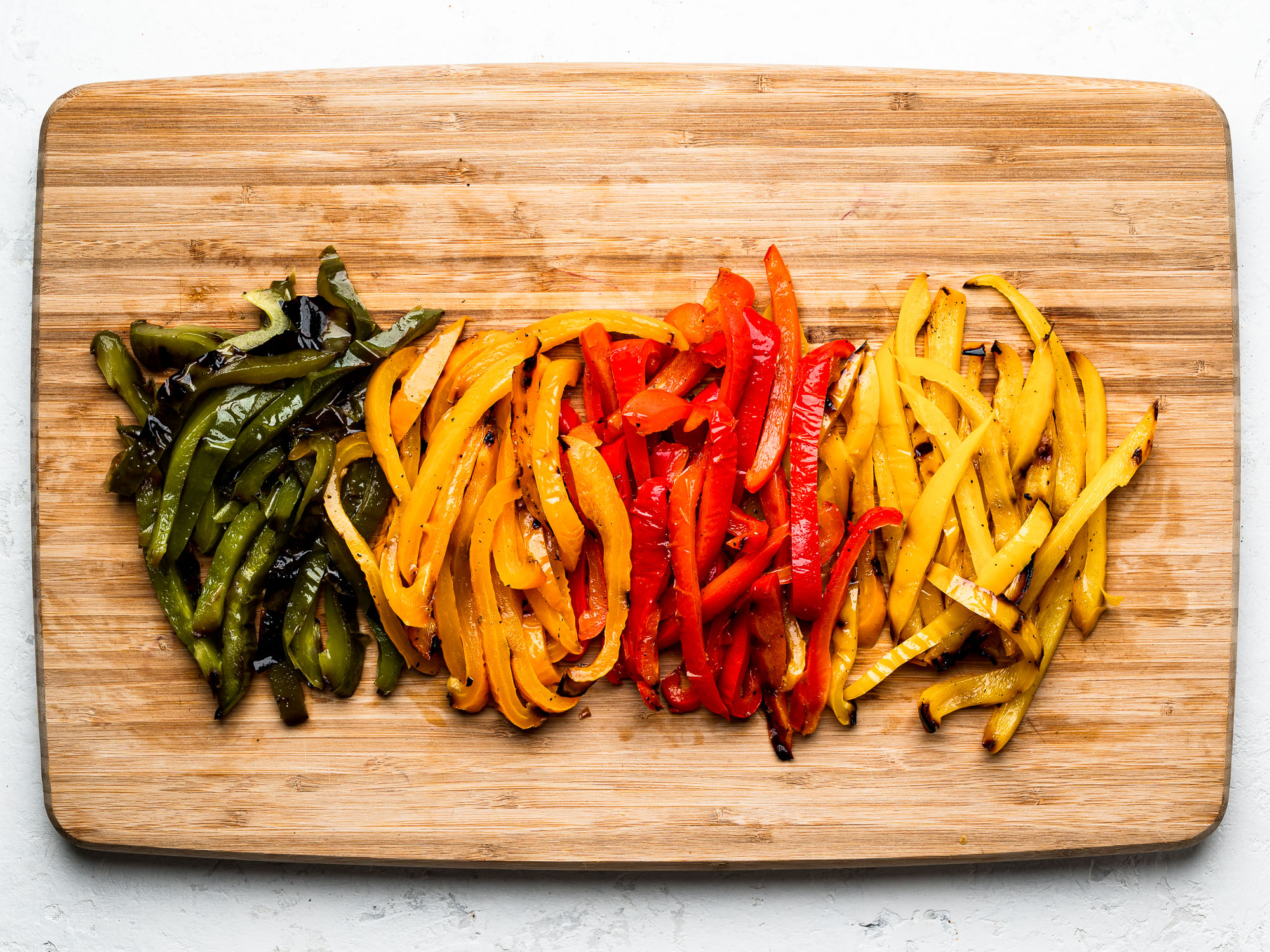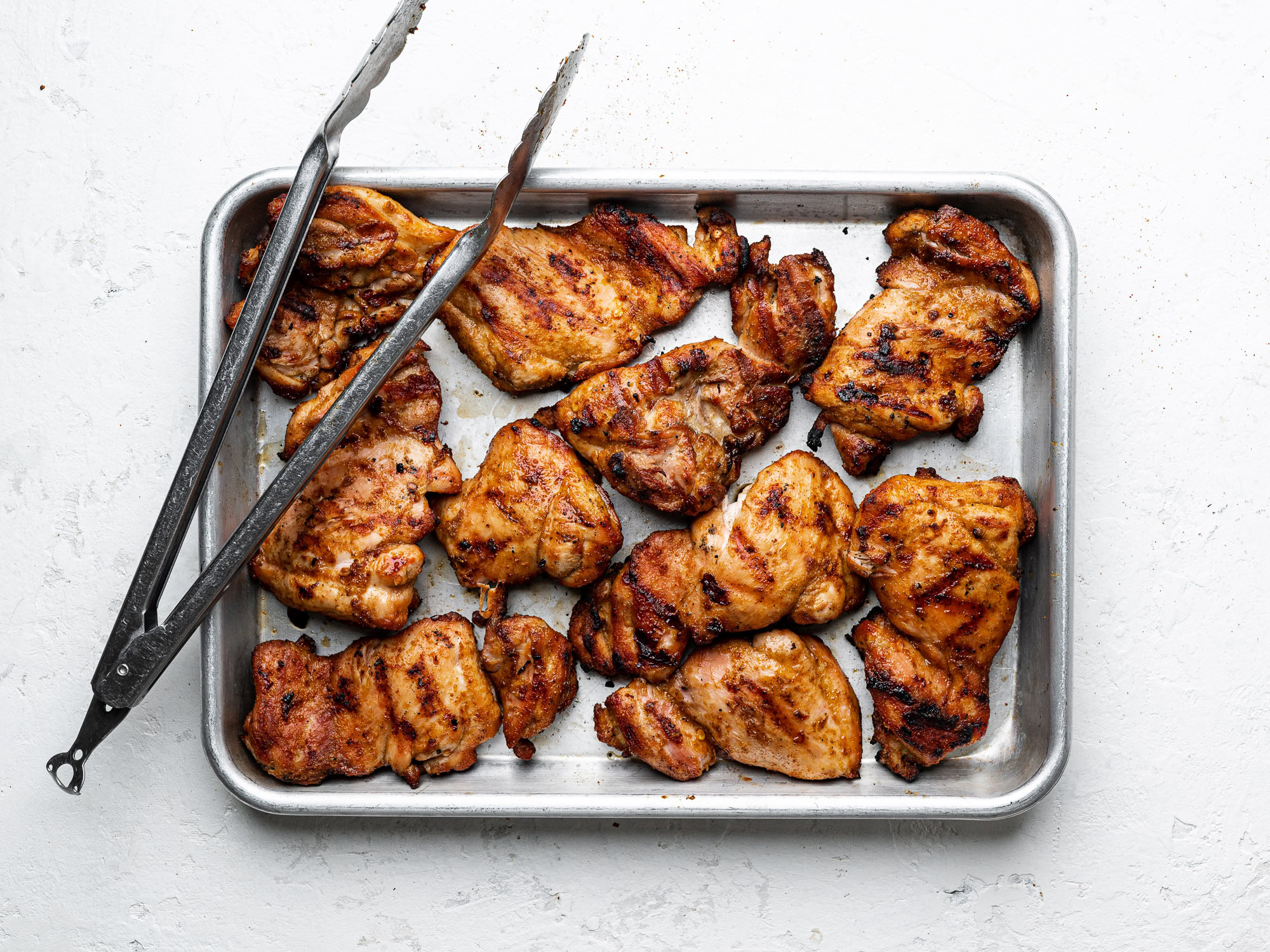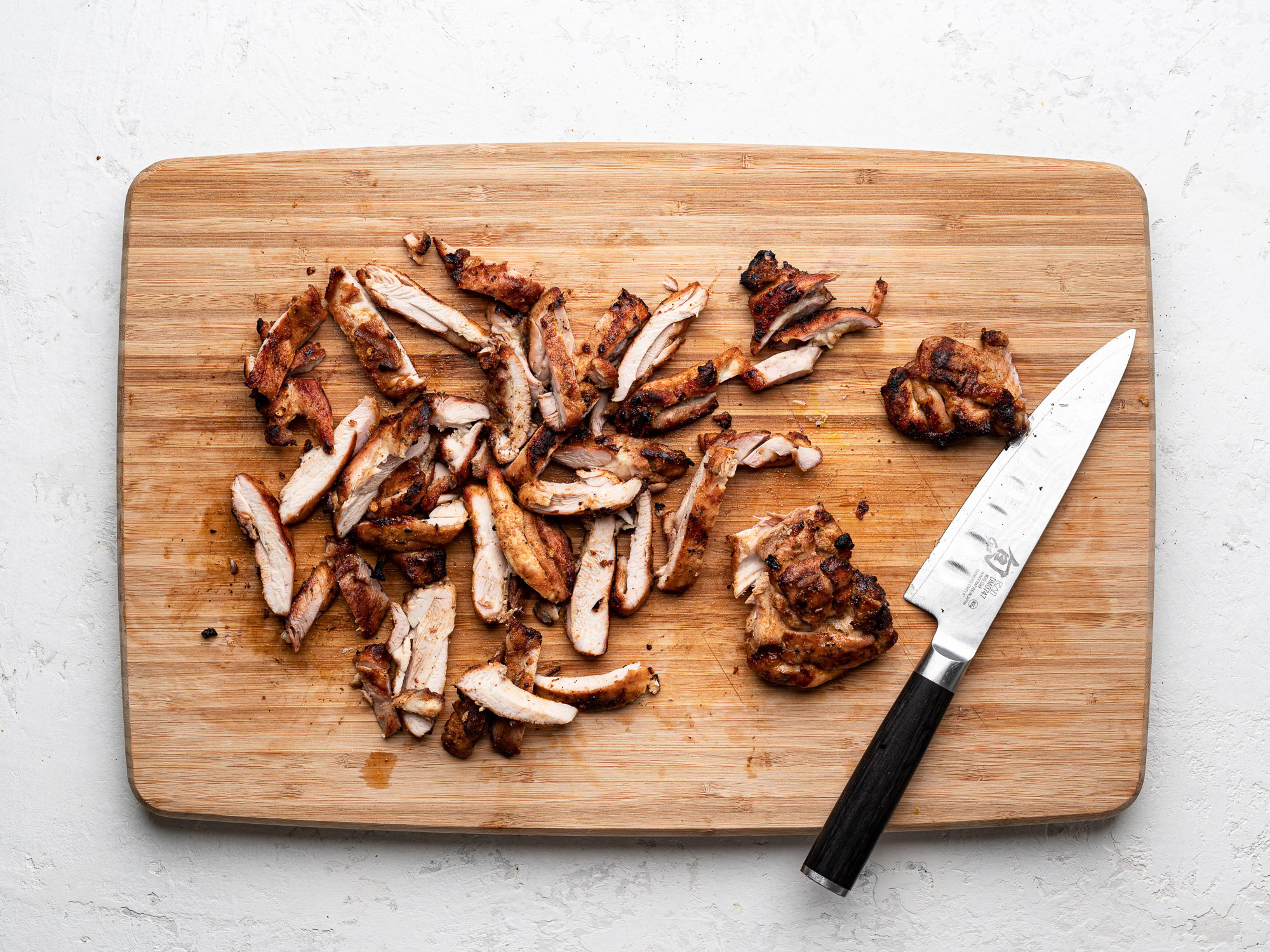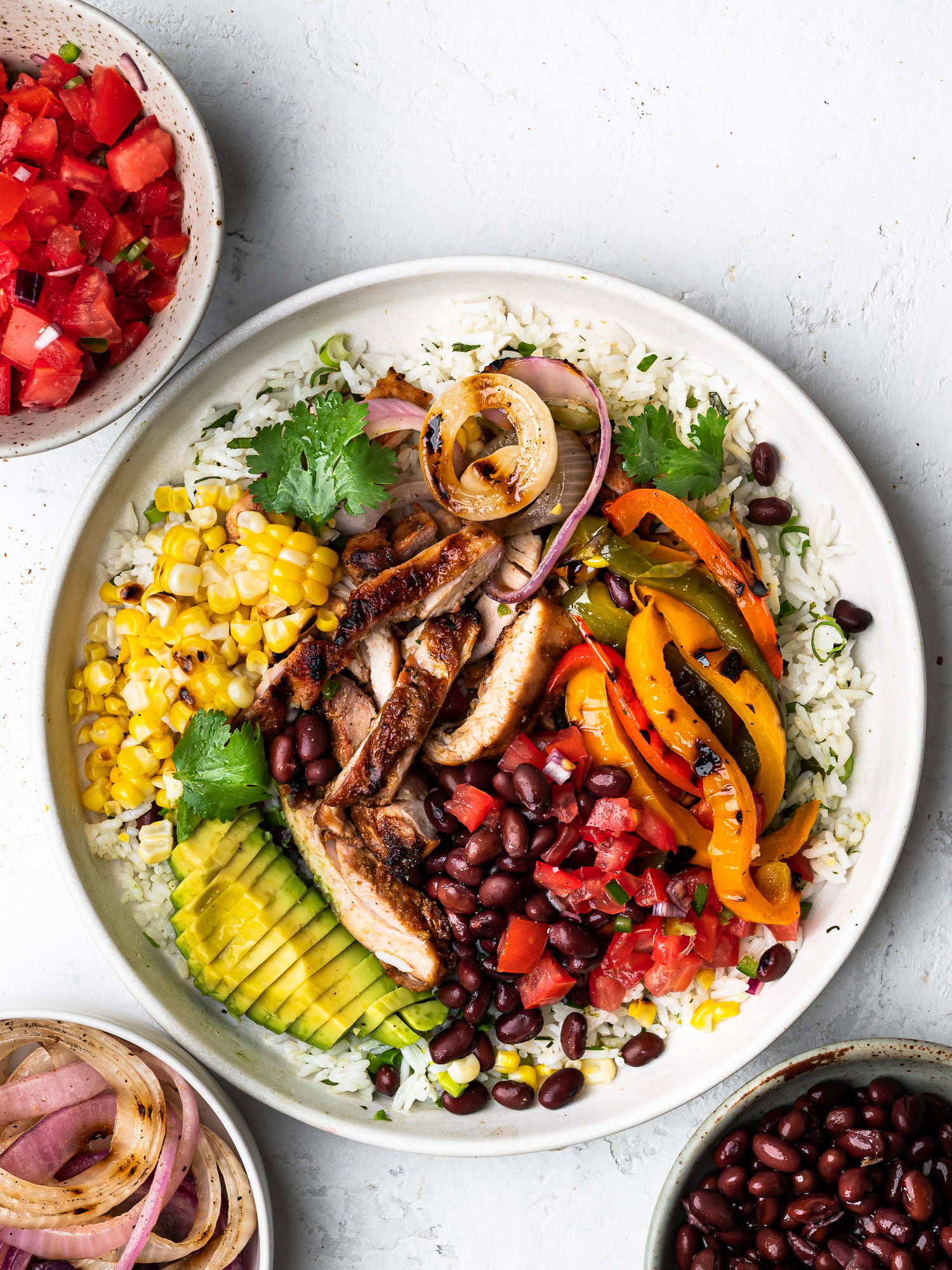 Make Ahead And Storage Tips
Make-Ahead: Make the Cilantro Lime Rice up to 2 days ahead and store tightly covered in the refrigerator. Make sure to check out my tips on reheating rice. Marinate the chicken up to 1 day ahead and store, tightly covered, in the refrigerator. Chop all of the veggies up to 2 days in advance and store in an airtight container in the fridge. You can also grill the veggies, chicken and corn up to a day in advance; store tightly covered in the refrigerator and follow instructions below for reheating.
Store leftovers: Store all the fajita components separately and refrigerate for up to 3 days.
Reheat: Check the cilantro lime rice post for my best tips on reheating rice. The chicken and vegetables can be reheated in a skillet on the stovetop over medium heat until warmed through.
More Mexican-Style Recipes To Try
If you give this Grilled Chicken Fajita Bowl recipe a try, please feel free to leave a comment and/or a star rating below. We appreciate and welcome all your feedback. Thank you!
You Might Also Like: