These poblano and corn fritters with cilantro yogurt sauce are perfect as appetizers or make a great lazy summery brunch. The combination of sweet fresh corn with the smoky poblano pepper works brilliantly together.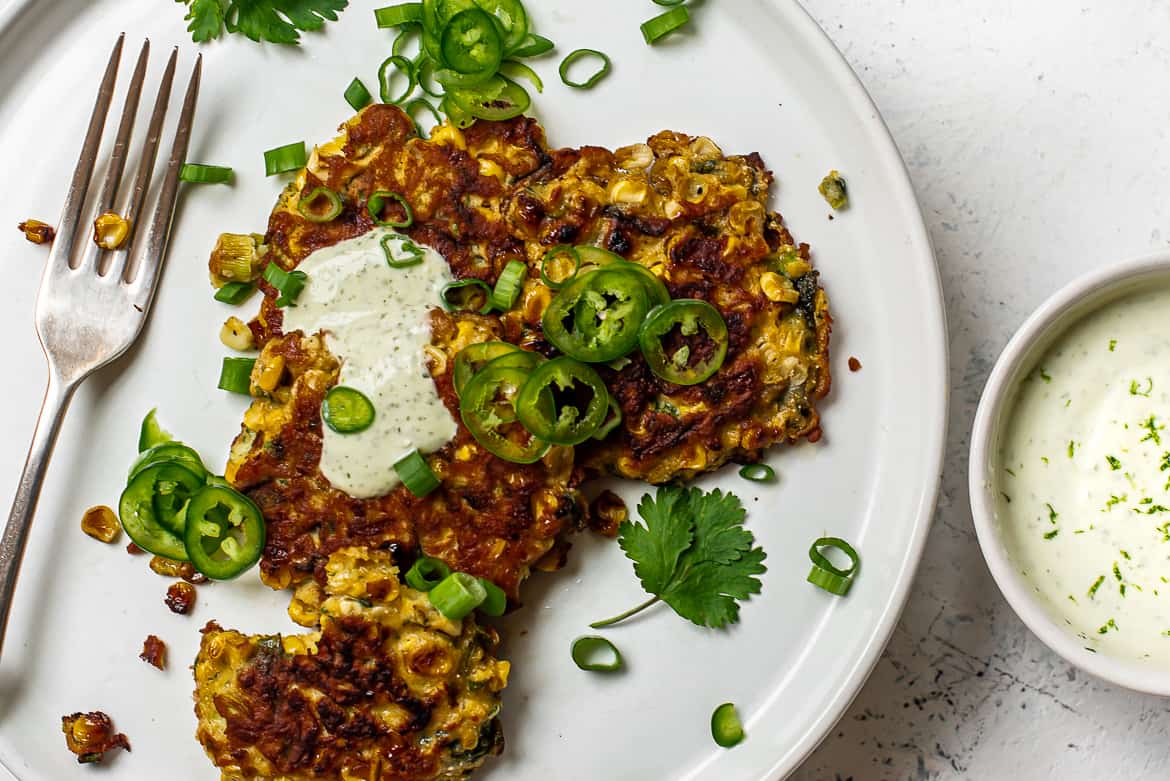 I realize I'm pushing my luck here. Asking an already sweaty you to sweat a little more and pan-fry these poblano and corn fritters. But hear me out, it is just so worth it — these are made with kernels sliced from the cob, given a smoky complexity from the poblano and topped with a luscious cilantro yogurt sauce. Crisp on the outside, soft and tender on the inside, these fritters are unreservedly delicious little bites.
The recipe, which is barely a recipe, is super simple and infinitely adaptable. Once you have the batter down you can play with the ingredients using any herbs or spices you like. If the poblano pepper sounds like a futzy extra step, leave it out and use a jalapeño instead.
WHAT IS A POBLANO PEPPER
Poblano peppers are mild to medium-hot peppers originating from the state Puebla, Mexico. Roasting them brings out their unique special flavour. Dried, poblano peppers are called ancho chiles. Luckily, you can find them now at most large grocery stores and the farmers market when peppers are in season late August. In my area I find them here all year long. I love throwing them into chilies and stews and they also make the best chiles rellenos (stuffed peppers).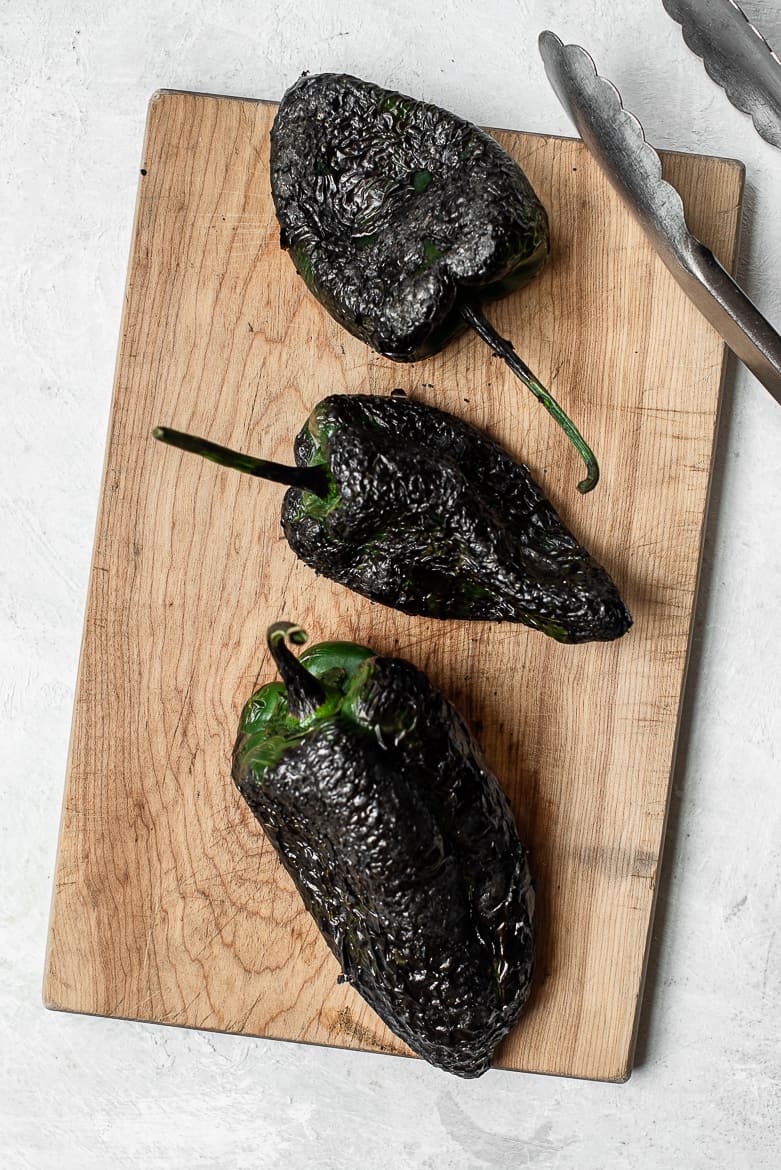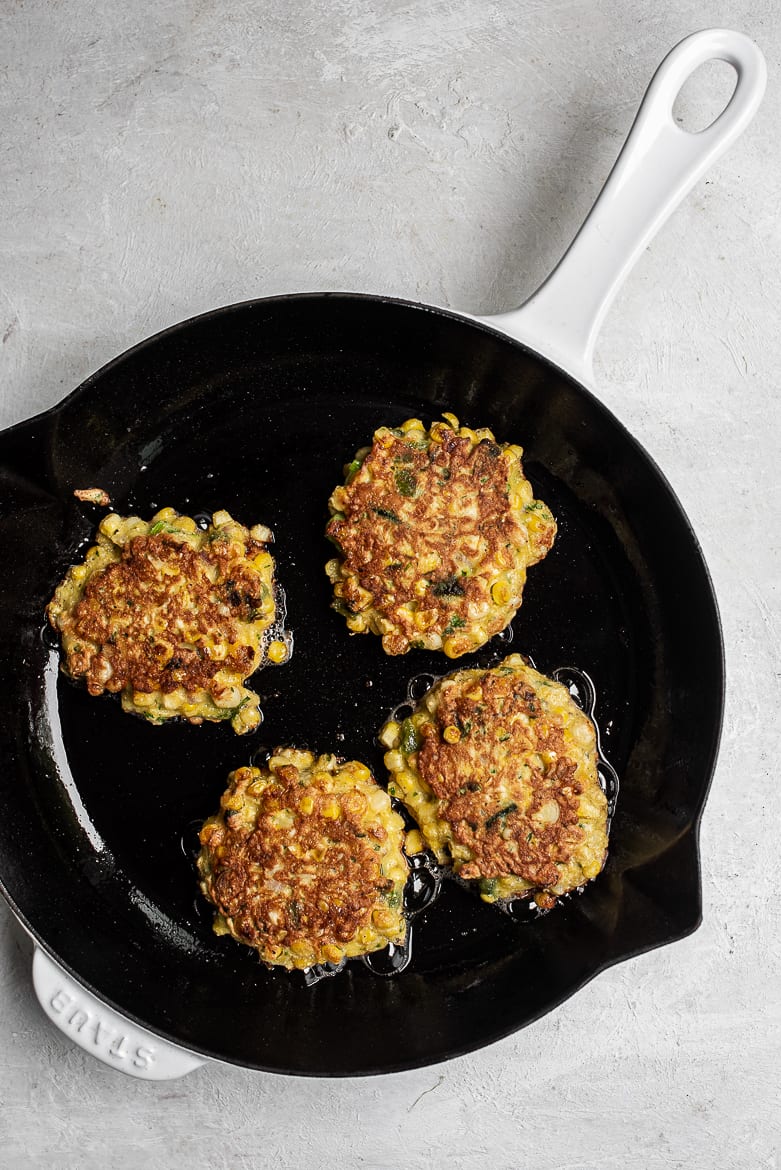 POBLANO AND CORN FRITTER VARIATION
For fun, I kept these fritters gluten-free by using corn flour — not to be confused with cornstarch. Corn flour can be found anywhere (I like Bob's Red Mill) and the flavour works well here. Use all-purpose if that is easier for you.
To up the veggie factor, add some grated zucchini. For a completely different flavour profile, add curry powder to the batter and serve with a mango chutney. Make them Thai-ish by serving with a nuoc cham sauce – in which case lock the doors, you won't want to share. Anyhoo, you get the point.
FRESH OR FROZEN CORN
I have nothing against using frozen corn to make these poblano and corn fritters. However, and you must have known this was coming, it is corn season and they are SO much better with fresh corn. Leave the frozen corn in the freezer till the Fall, you won't regret it.
Lastly, let's be clear on one thing. We are not making little pancakes here with a few corn kernels thrown in. The corn kernel ratio is high compared to the batter which makes the fritters crunchier and lighter. I like it when there are so many kernels that they pop out of the fritter as you are taking a bite and you have to chase them down with a fork.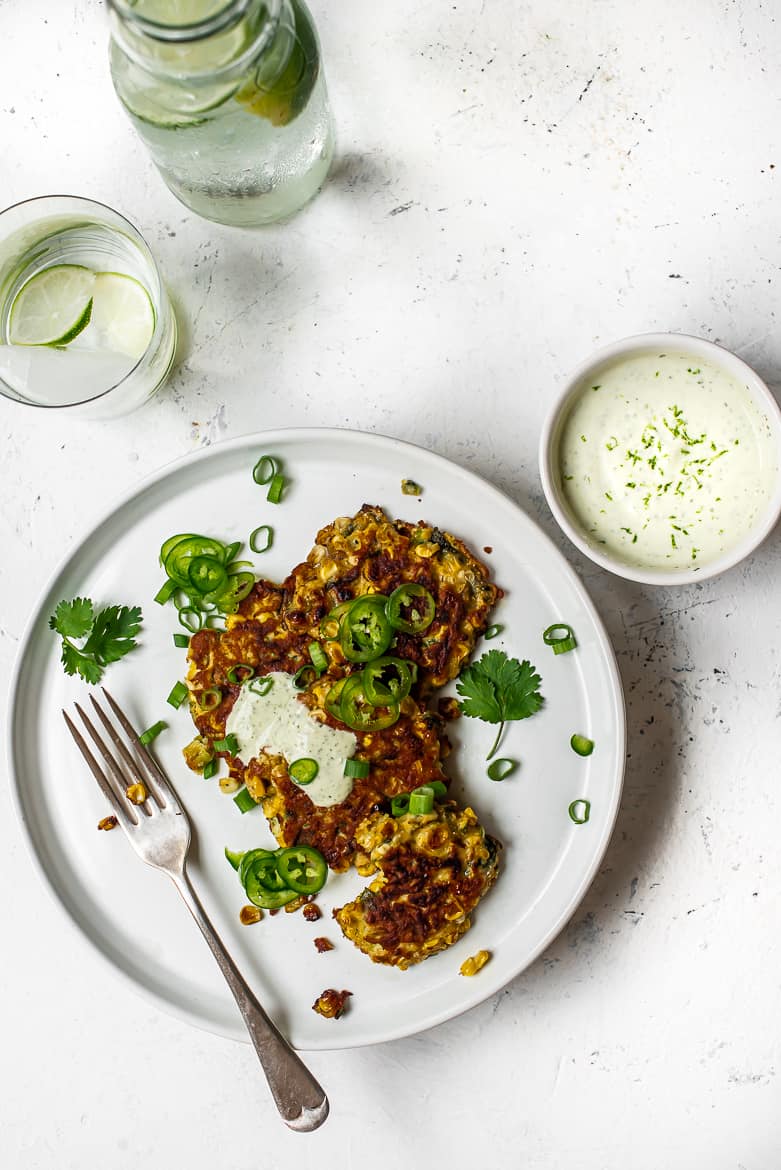 OTHER CORN RECIPES YOU MIGHT LIKE
Creamy Spicy Coconut Corn Recipe
Ingredients
For the Cilantro Yogurt Sauce:

1

cup

plain

full-fat yogurt

1/2

shallot

diced (or 2 Tablespoons red onion)

1

cup

cilantro

finely chopped

1

lemon

zested and juiced

pinch

of kosher salt

For the Fritters:

2

poblano peppers

5

medium ears of corn

shucked (this will yield about 3-4 cups)

4

scallions

white and some green, finely chopped

1/2

cup

cilantro

finely chopped

1/2

cup

all-purpose flour

plus 1/4 cup more if needed (I used corn flour*)

1

teaspoon

kosher salt

freshly ground black pepper

to taste

3

large eggs

lightly beaten (plus 1 more if batter seems dry)

Unrefined olive oil

or a neutral oil for frying (I used avocado oil)

Optional toppings:

Flaky salt to finish

sliced jalapeños, sliced scallions, diced avocado
Instructions
Make the Cilantro Yogurt Sauce:
In a medium bowl combine all the ingredients. Cover and chill until ready to use.
Make the Fritters:
Prepare a baking sheet lined with paper towels or a kitchen towel. Set aside.

Char the poblano pepper directly over a gas flame or 6 inches under the broiler until just blackened on all sides. Place in a bowl and cover tightly for 15 minutes. Peel the skin off with your hands, seed and finely chop.

With a sharp knife cut the corn kernels from the cobs into a large bowl and scrape the stripped cobs with the back of a knife to release the "milk" juices into the bowl.

Mix the poblano peppers, scallions, cilantro, flour, salt and pepper with the corn. Add the eggs and mix just to combine. Your mixture should hold it's shape nicely, if it doesn't add 1/4 cup more flour. If it seems too dry, add 1 more egg.

Place a large skillet over medium heat until warm. Add just enough oil to cover the bottom, and heat until sizzling hot, but not smoking.

Working in batches to avoid crowding the pan, carefully drop scant 1/4 cupfuls of the batter into the skillet, then press down on them lightly to gently flatten.

Cook until the bottom side is crisp and golden brown, about 4 minutes (the corn will have a tendency to pop in the hot pan, so be careful; you may want to use a splatter guard or lid to shield yourself). Fritters can darken quickly, so keep an eye and reduce the heat to medium if needed. Flip the fritters and cook until browned on the other side, 2 to 3 minutes longer.

Transfer fritters to the prepared baking sheet. and sprinkle with flaky salt, if using. Repeat with remaining batter, keeping the pan well-oiled as you go.

Serve fritters warm, with a dollop of cilantro yogurt sauce on top and other optional toppings.
Notes
*This batter works well with most flours so feel free to mix them up. I like to use corn flour but do not confuse it with cornstarch. In England, cornstarch is referred to as cornflour.