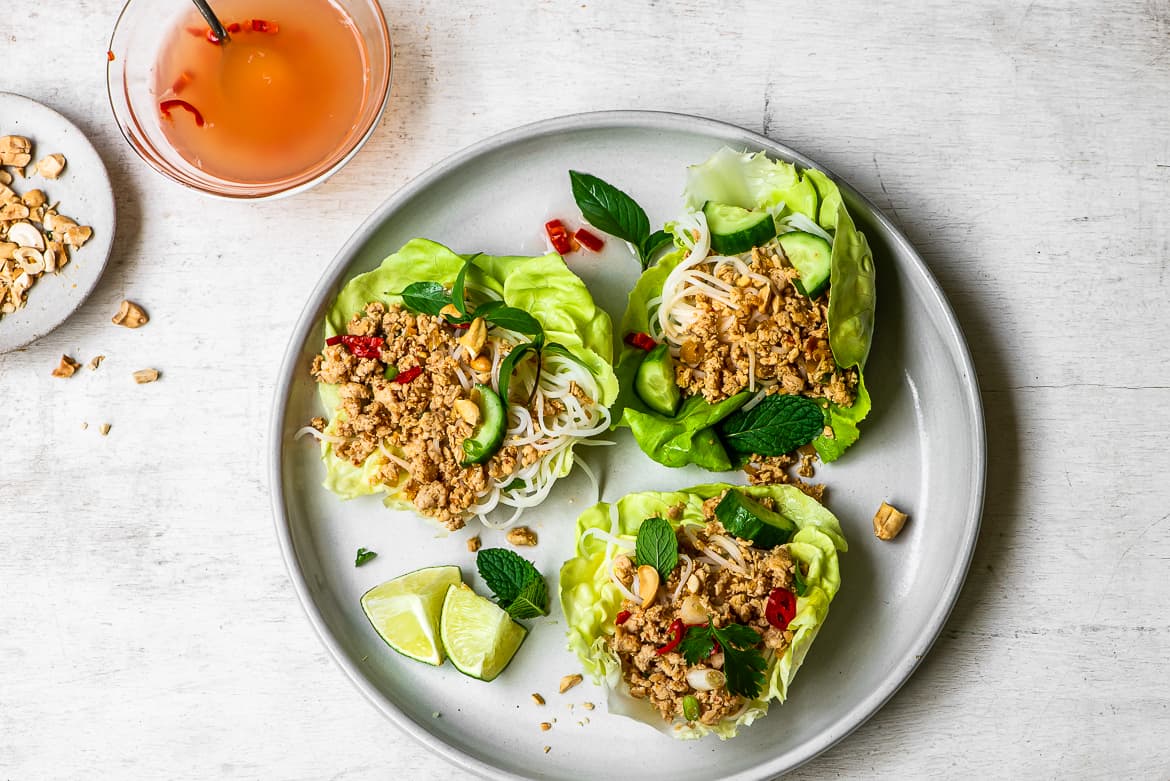 I know that right about now, with the heat wave days we're having (not complaining – I love it), we are all looking for the simplest recipes that allow us to enjoy the sunshine. Chicken and noodle lettuce wraps with nuoc cham are a family favourite, great to serve outside taco-style and crazy fast to make. I love that these are cool and light, healthy, easy, and most importantly deliciously addictive.
I serve these lettuce wraps with rice noodles because otherwise I do not find them filling enough. Plus, I love rice noodles. Fluffy jasmine rice would also work, but the noodles take less than 5 minutes to cook. I like to make extra to have with the leftover meat. If serving the wraps as an appetizer, or very light meal, go ahead and omit the noodles.
WHAT IS NUOC CHAM
Nuoc cham is a zingy Vietnamese sauce that consists of a mixture of water, sugar, lime juice, and fish sauce. A super simple sauce, yet so rich and complex it will exceed your expectations. In some cases, garlic and red chiles are added which I personally like and never leave out. The sweet, salty, and sour flavour of this sauce is absolutely fantastic with these chicken lettuce wraps so please don't skip it.
If you don't feel like making your own, Chef Thompson Tran, who lives in the Kitchener-Waterloo area, makes and sells a fantastic, award-winning, bottled Nuoc Cham. It has very clean ingredients and it is delicious. I use so much of it I always run out which is why I had to start making my own. If you live in this area you can find it here and here.
Nuoc cham is also excellent for dipping Vietnamese spring rolls or dumplings, and to drizzle over grilled meat and fish.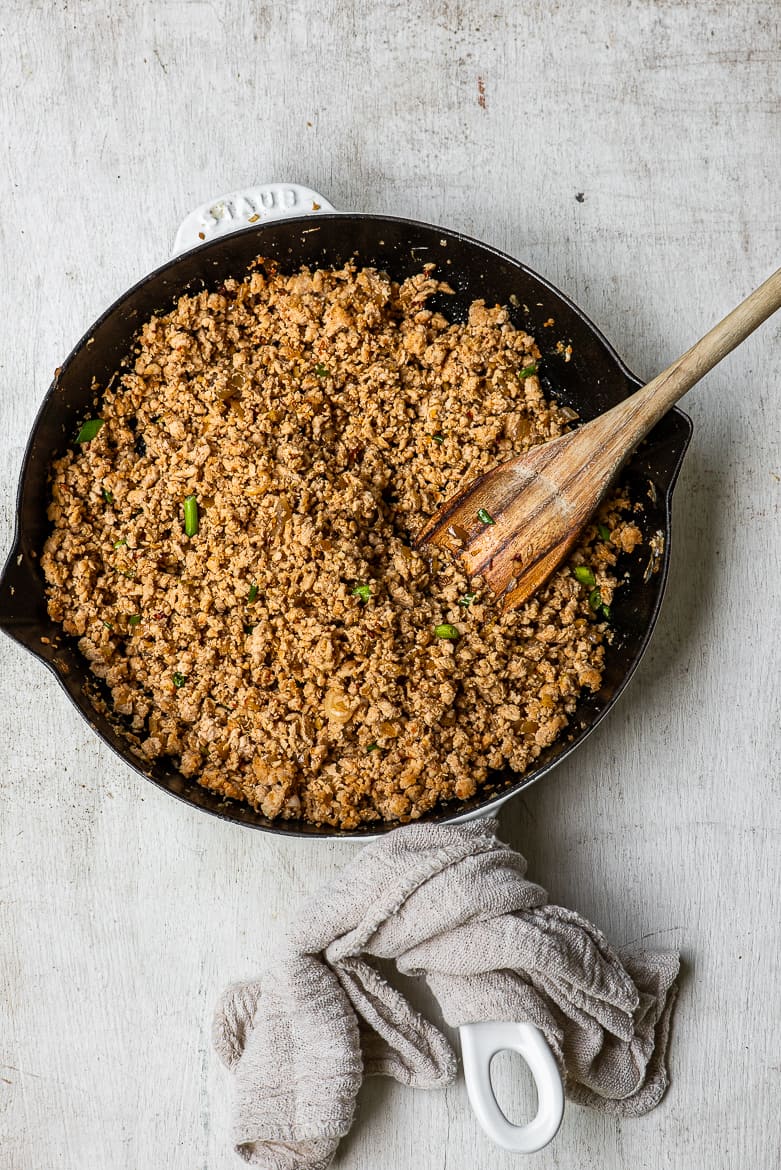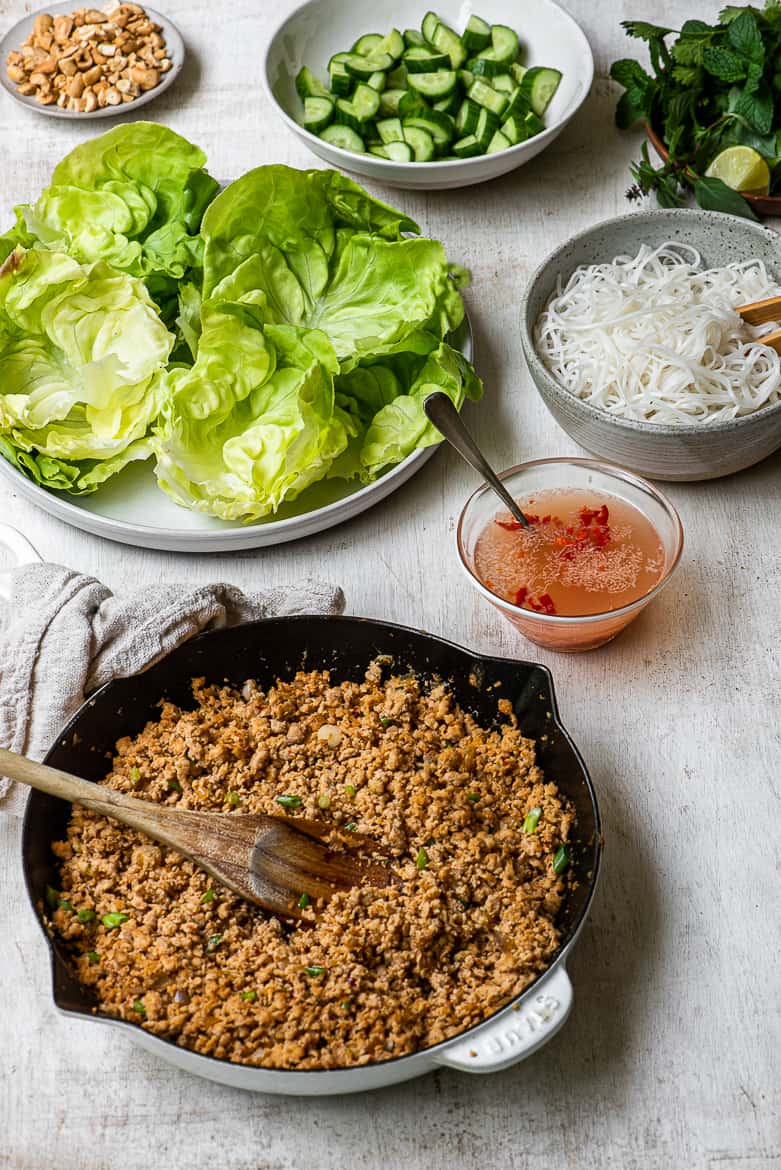 CHICKEN FILLING
Ground chicken is mild in flavour so it makes a great base for this dish. Ground turkey would also work great. You could use whole chicken breast or thighs as well, but I like to cut a couple corners and not have the added step of cutting or shredding the meat. Also, as opposed to whole chicken breast or thighs, ground chicken cooks in minutes absorbing flavours very quickly without any need to marinade.
Shallots, scallions and ginger add fantastic depth and flavour to the meat, but it would also taste great with just garlic if that's all you had.
FISH SAUCE
Let's talk about it. If you don't love it yet, please keep trying it. Undoubtedly, it takes a bit of getting used to and I would advise you not to smell it straight from the jar. However, once cooked, the smell dissipates, the funky note lifts, and leaves a distinctive, and hard to resist, salty-umami savouriness. It really does heighten the flavour of everything it touches. Personally, I find it to be indispensable for this dish so do your best not to leave it out.
It is important to note that not all fish sauces are created equal. Ideally, you are looking for a fish sauce with only anchovies and salt. Red boat brand is one of the best but hard to find. I have found it online here, and though certainly not inexpensive, if you enjoy asian dishes it is worth the splurge.
LETTUCE WRAPS
Boston lettuce, also known as butter lettuce, make the best wraps. They have soft but sturdy leaves that hold the filling without breaking apart too easily. Thankfully, the farmers markets have gorgeous ones right now but you can also find them at most supermarkets.
A small head of romaine lettuce will work but the crispy leaves will not fold as easily and likely crack as you bite into your wrap. Not a big deal, just have forks around to pick up all the runaway filling.
WHAT TO SERVE WITH CHICKEN AND NOODLE LETTUCE WRAPS
I like to serve the chicken and noodle lettuce wraps with the following, almost not optional, toppings; sliced cucumbers, thai basil, cilantro, mint leaves, and chopped roasted cashews for extra crunch and flavour. Peanuts are also great.
Other great garnishes and fixings: sliced radishes, water chestnuts, diced avocado, julienned carrots and peppers.
All in all these wraps take about 20 minutes to make start to finish. I hope you go ahead and make a huge summer feast with these delicious lettuce wraps – they make a fantastic spread to serve to a crowd or perfect for a super quick weeknight meal.
OTHER RECIPES YOU MIGHT LIKE
Soba Noodles with Shitake Mushroom Stirfry
Thai-Style Chicken Burger with Thai Salad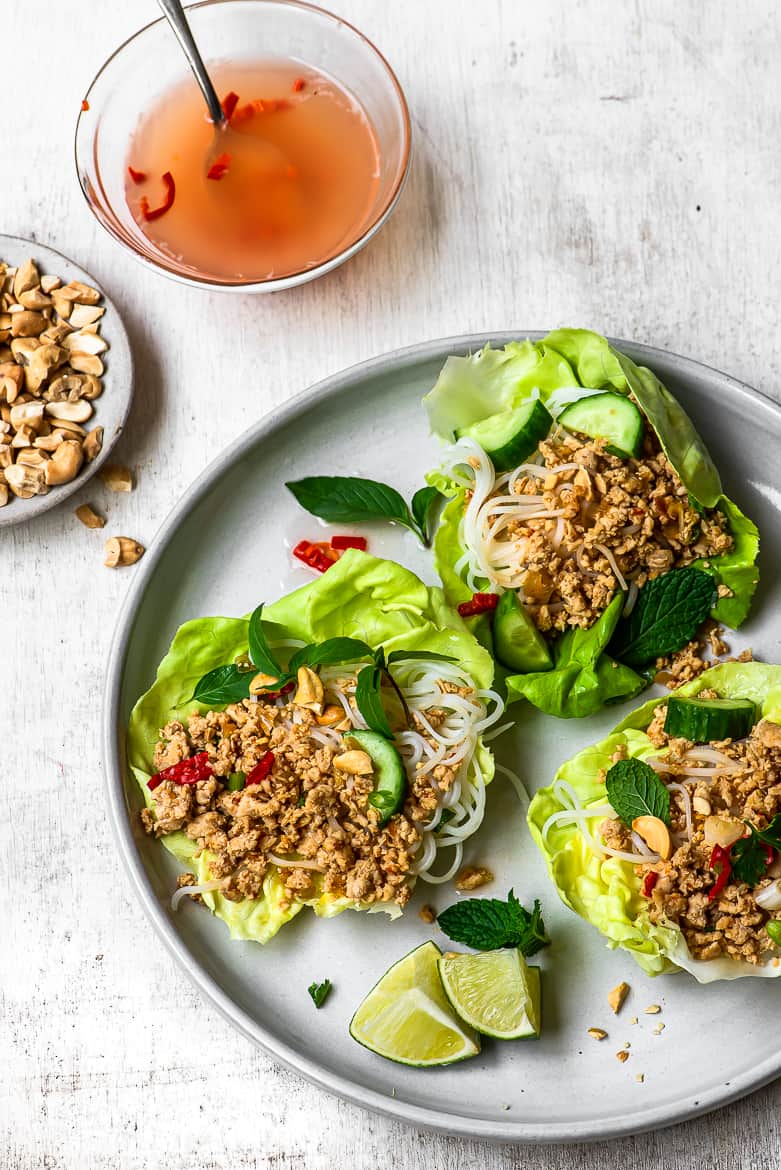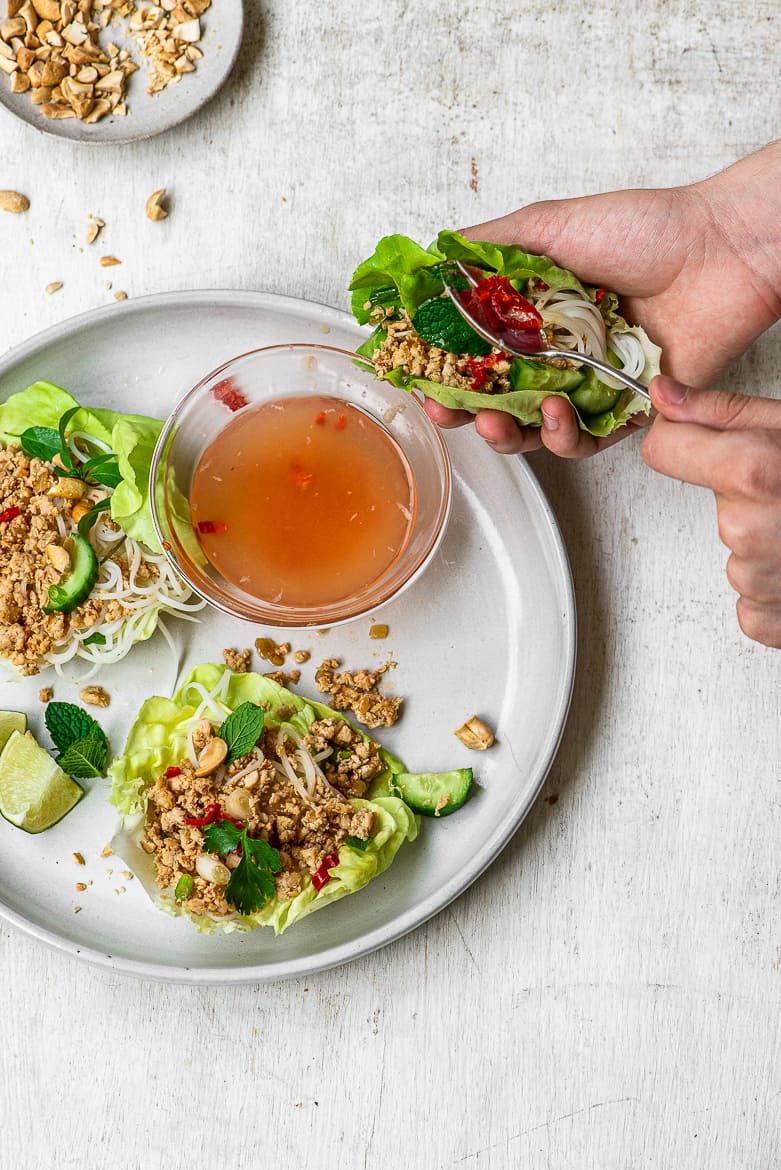 Ingredients
Nuoc Cham Sauce:

2

teaspoons

sugar

1/4

cup

warm water

¼

cup

lime Juice

1

Tablespoon

fish sauce

1

garlic clove

grated or finely minced

1

Thai red chile

finely chopped, or 1 tsp sriracha (more if you like heat)

Chicken Filling:

2

Tablespoons

low-sodium soy sauce

1

Tablespoons

dark brown sugar

2

Tablespoons

fish sauce

I like this one

1

Tablespoon

Sriracha

plus more for serving

1/4

cup

water

2

Tablespoons

vegetable oil

such as avocado or coconut

1/2

small red onion

finely chopped

2

garlic cloves

minced

1

Tablespoon

fresh ginger

minced

1

pound

ground chicken

3

scallions

white and pale green parts only, thinly sliced

Lettuce wraps:

6

ounces

small round rice noodles

roughly half a package

10-13

Boston lettuce leaves

or romaine, rinsed and dried gently with tea towel

1

small english cucumber

peeled, halved lengthwise, and cut into half moons (optional)

1

handful of cilantro

thai basil and/or mint, roughly chopped

1/4

cup

roasted cashews

roughly chopped (optional)
Instructions
Make Nuoc Cham:
Mix the sugar, water, and lime juice until sugar dissolves. Stir in the fish sauce, garlic and chile and mix well.
Make Noodles:
Bring a large pot of water to a boil and add the noodles, cook for 2-3 minutes. Drain noodles in a colander in the sink and then rinse under cold water. Shake off excess water completely and place on a platter, separating and fluffing strands with chop sticks so they don't stick.
Make Chicken Filling:
In a small bowl, whisk together soy sauce, brown sugar, fish sauce, Sriracha, and water. Set aside.

In a large skillet heat oil over medium-high heat. Add ground chicken and cook until browned, about 5 minutes, breaking up the chicken as it cooks.

Stir in onion, garlic, and ginger and cook 2-3 minutes or until onions become soft. Pour in soy sauce mixture and cook a few minutes more until sauce thickens slightly. Stir in scallions and remove from heat.
Serve Lettuce Wraps:
Have everyone build lettuce wraps with noodles, chicken, and optional garnishes. Drizzle lettuce wraps with sauce.