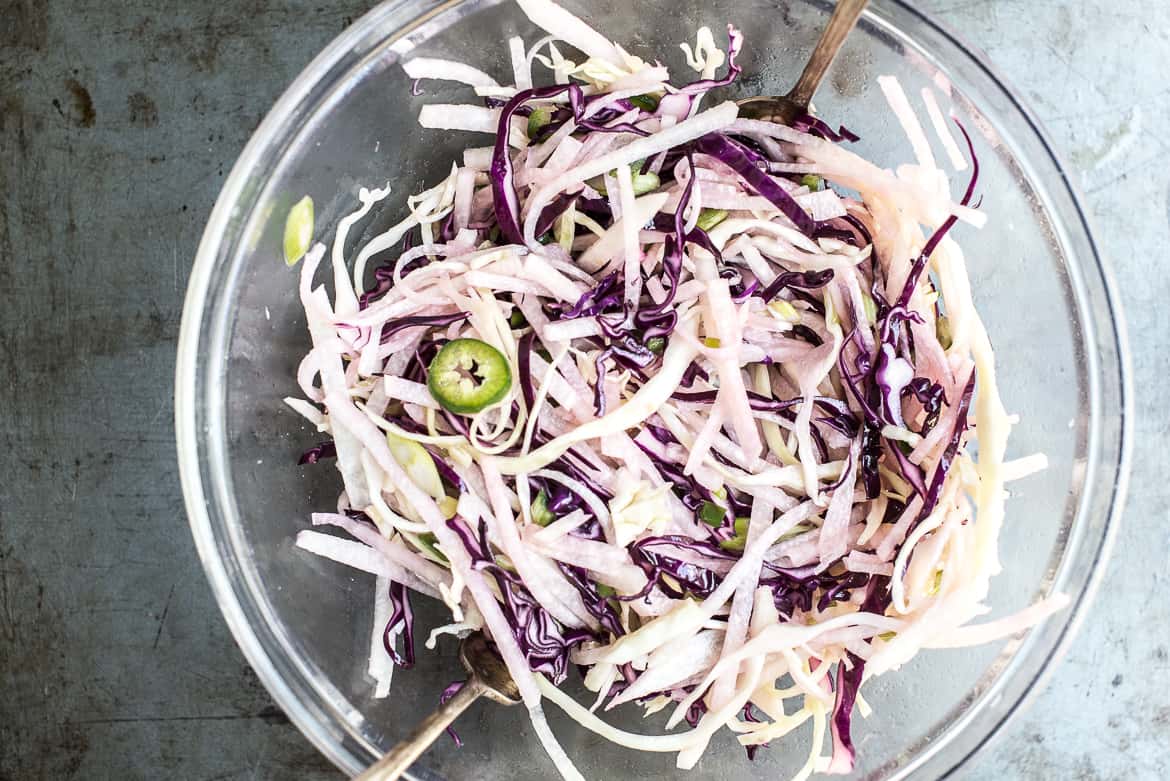 A Slaw Salad To Love
Sure, a creamy slaw is loved by many but have you ever tried a slaw that is light, refreshing, and tangy and isn't drenched in mayonnaise? This one is cool and crunchy with a little sweetness coming from the jicama. It is perfect to pair with anything coming off the barbecue and lasts for days in the refrigerator making it a great side dish to make ahead.
More than just a side, this jicama slaw is also wonderful tucked into a sandwich or any version of a wrap or taco. So light and refreshing, I think it's one you'll be making over and over this summer.
What Is Jicama
I feel like Jicama needs an ambassador. Much like Ottolenghi did for cauliflower, the little-known and under-appreciated jicama needs someone to stand up for it and bring it out of the shadows.
Jicama is a root vegetable that is native to Mexico and has a unique taste and texture, a bit like a savoury apple, that is tangy and sweet and will not turn brown after being cut. The natural sweet flavour of raw jicama is enhanced when sprinkled with acidic juices from limes, oranges or vinegars, so it is perfect for any kind of salad, including creamy slaws and salsas.
The bonus of it's beautiful creamy-white flesh is that it won't turn dull or lose it's crunchiness even after sitting out for hours. It is also delicious cooked and served alongside other vegetables, as well as great in a stir-fry.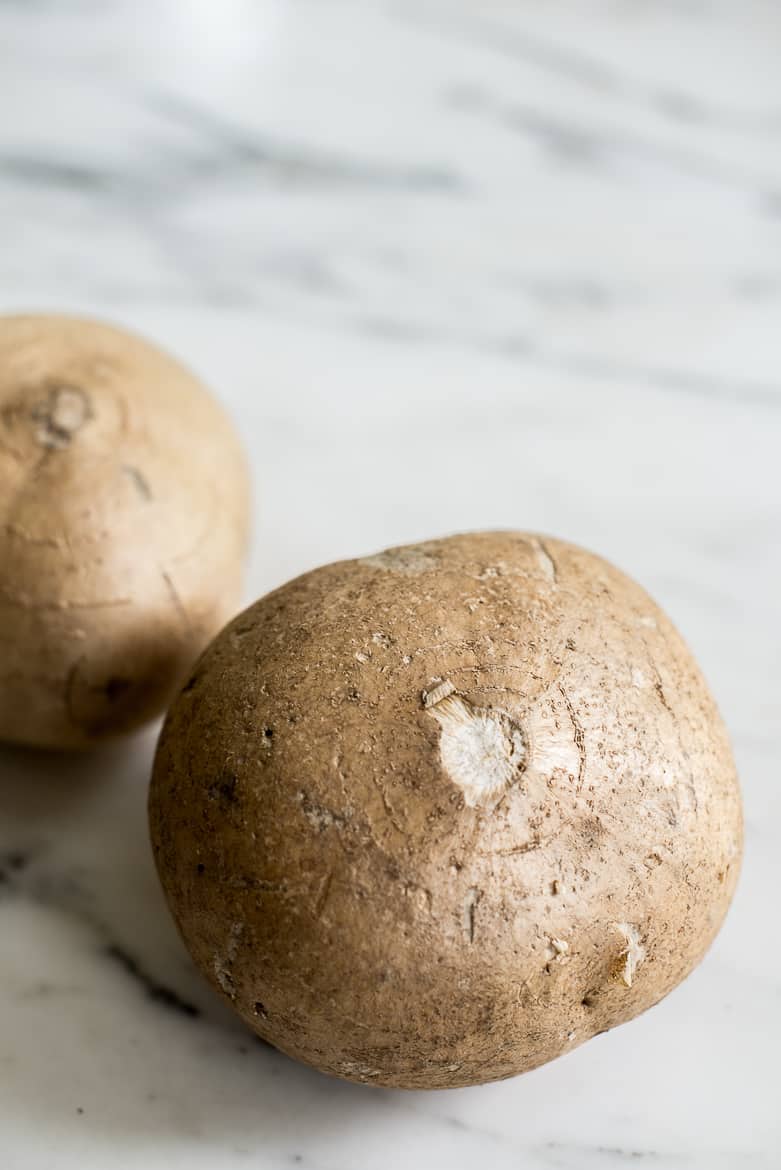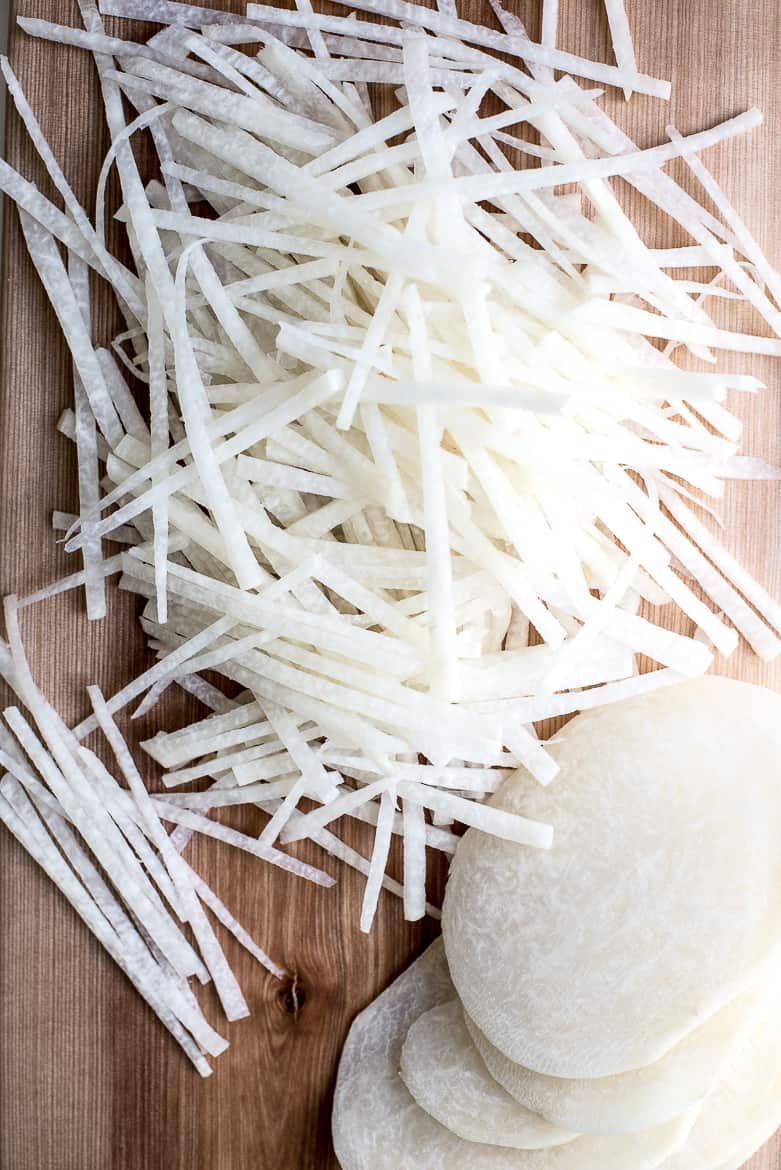 Is Jicama Healthy?
What makes jicama even more fantastic, is it's exceptional nutritional value. Very low in sugar, starch and carbs, and an excellent source of antioxidants, vitamins and minerals, it is also very high in fibre with one cup providing 25% of your daily fibre needs. Jicama root fibre also contains a beneficial prebiotic called oligofructose inulin, which improves digestion and stimulates the immune system.
Important to note: the thin skin on jicama needs to be removed since it can be toxic and is inedible. The best way to do this is by cutting off the two flat ends of the jicama and then using a vegetable peeler or a knife, to remove all the skin.
Where To Find Jicama
I try and eat local, seasonal foods as much as possible and jicama certainly will never qualify, but neither does our beloved avocado so I figure we can give jicama the same break.
Specialty produce stores, Asian markets, and large supermarket chains that cater to more international customers, is where you will likely find jicama. It might be a little hard to hunt down, but I promise this little tuber will reward you ten-fold.
Ingredients And Notes
Like all slaws, this recipe will benefit from advance preparation which allows the acidic juices to marinate the jicama and cabbage.
Aside from the jicama, all you need is cabbage, and scallions to form the base of this salad. The mild hit of crunchy spice from the jalapeños is something I really enjoy, and I always add them to my slaws, but feel free to leave them out if you wish.
The zippy, citrusy dressing, made with both orange juice and lime, omits all the dairy making it a great salad that can sit out in the sun for hours.
If you haven't tried jicama before, do give it a try. Once you bite into this juicy, fresh, crunchy tuber you will be thrilled you took the time to hunt it down.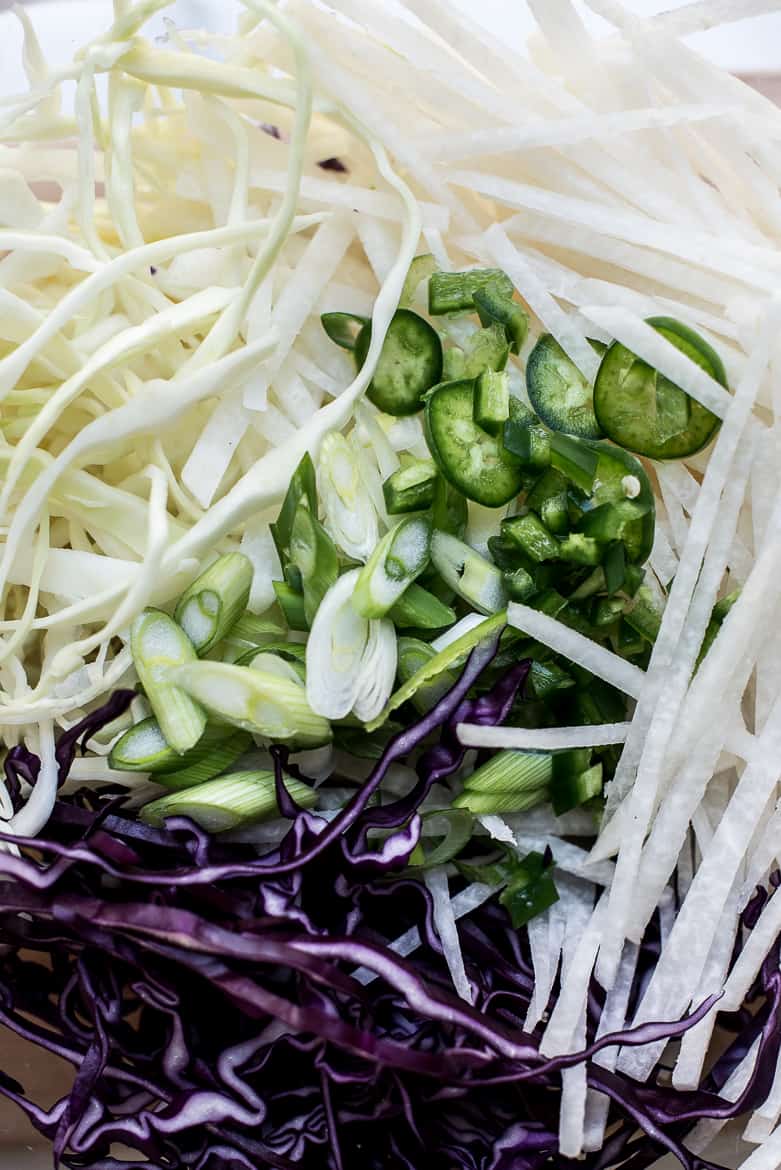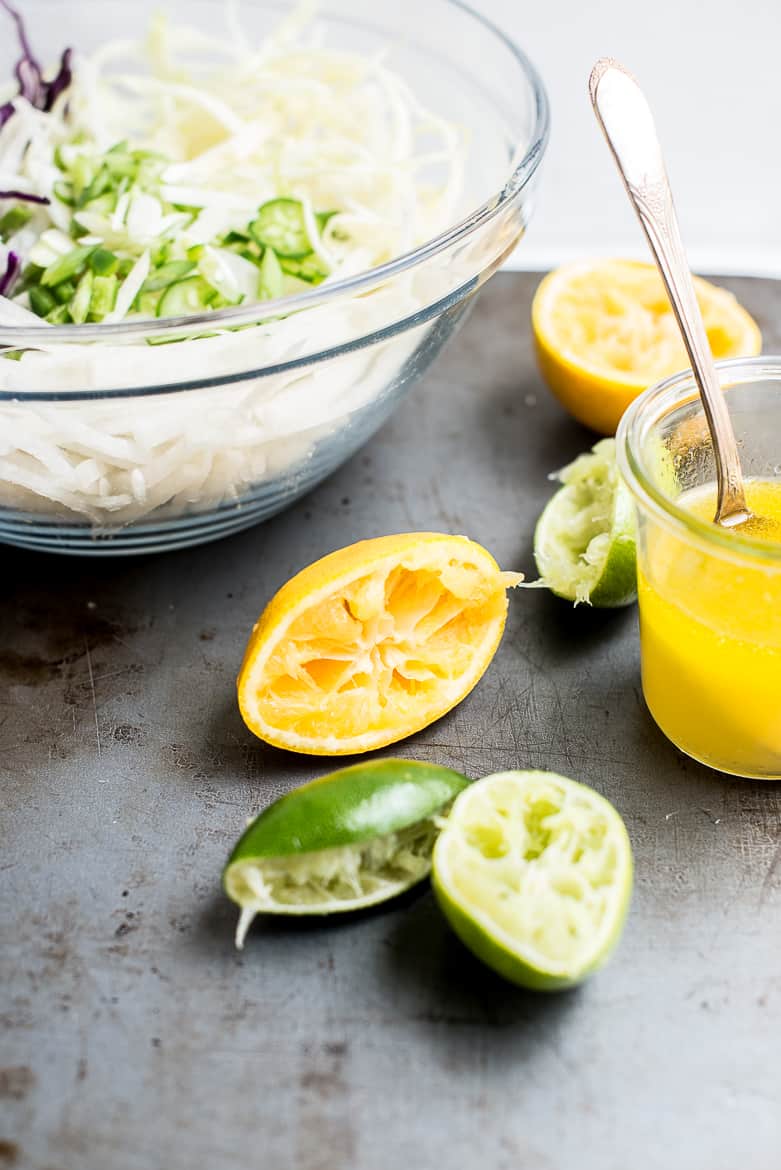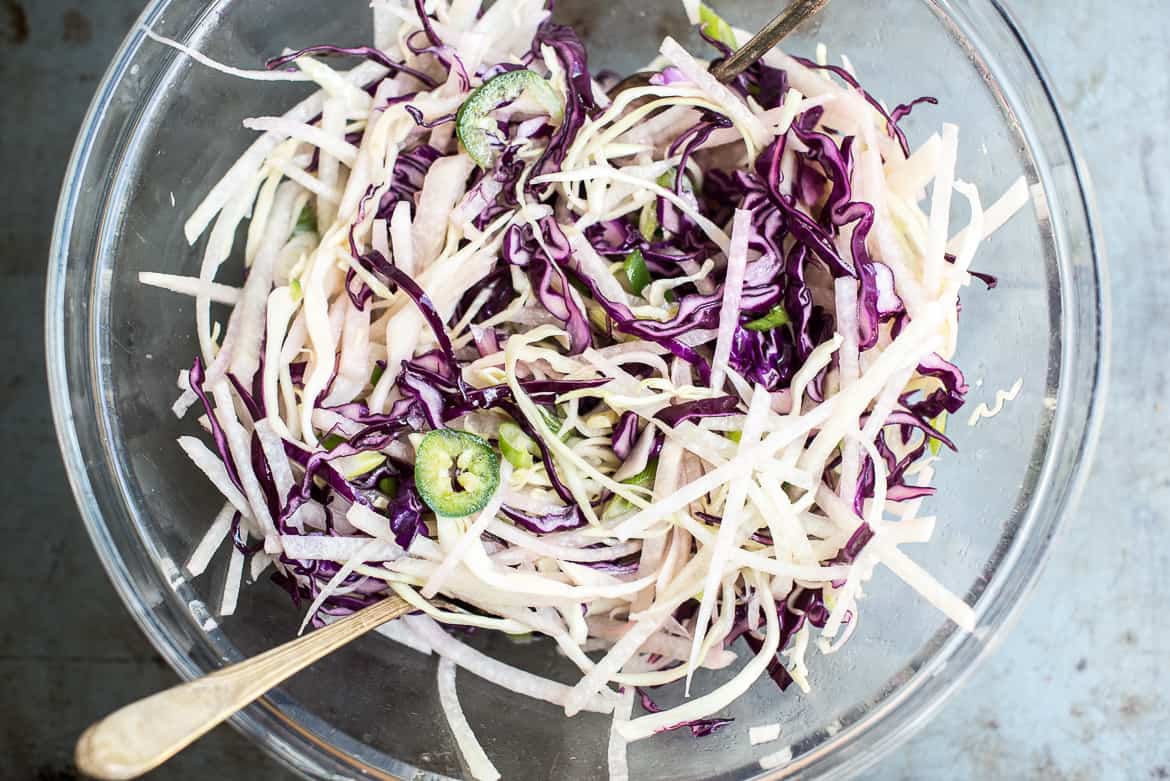 Print Recipe
Pin Recipe
JICAMA SLAW
This jicama slaw is a total crowd-pleaser and leftovers are wonderful even days later. Enjoy!
Ingredients
2

pounds

jicama

1 medium size or 2 small, peeled and cut into thin matchsticks (you can also use a box grater)

4

cups

shredded green and/or red cabbage

1

jalapeño

seeded and finely chopped

2

scallions

thinly sliced

zest of 1 lime

4

Tablespoons

lime juice

from 2-3 limes

4

Tablespoons

fresh orange juice

4-6

Tablespoons

extra virgin olive oil

2

teaspoons

raw honey

1/2

teaspoon

salt
Instructions
In a large bowl, whisk together lime zest, lime juice, orange juice, olive oil, honey and salt. Add the jicama, cabbage(s), scallions, and jalapeño and toss well.

Cover and refrigerate for 20-30 minutes before serving, or overnight.
Notes
The dressing for this slaw is easily adaptable. You can omit the orange juice and add a few more tablespoons of lime juice or apple cider vinegar. If you like a creamier slaw, add a few tablespoons of sour cream, mayo (or vegenaise) or yogurt of your choice.