You will need the best, in-season, sweet and ripe tomatoes to make this knock-out Summer Tomato Panzanella Salad. Colourful tomatoes and crunchy bread cubes are tossed with red onions and a simple garlicky dressing. Addictive and delicious, each bite is like a burst of summer in your mouth.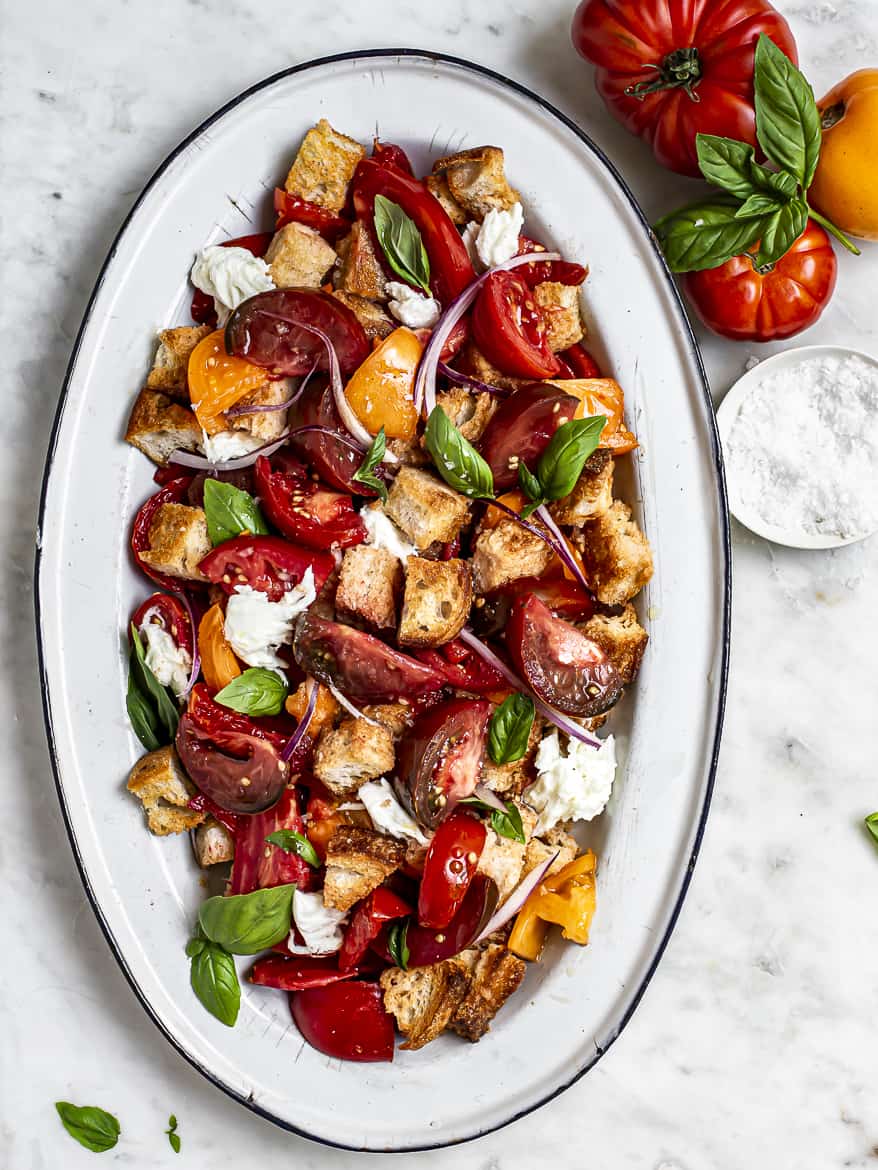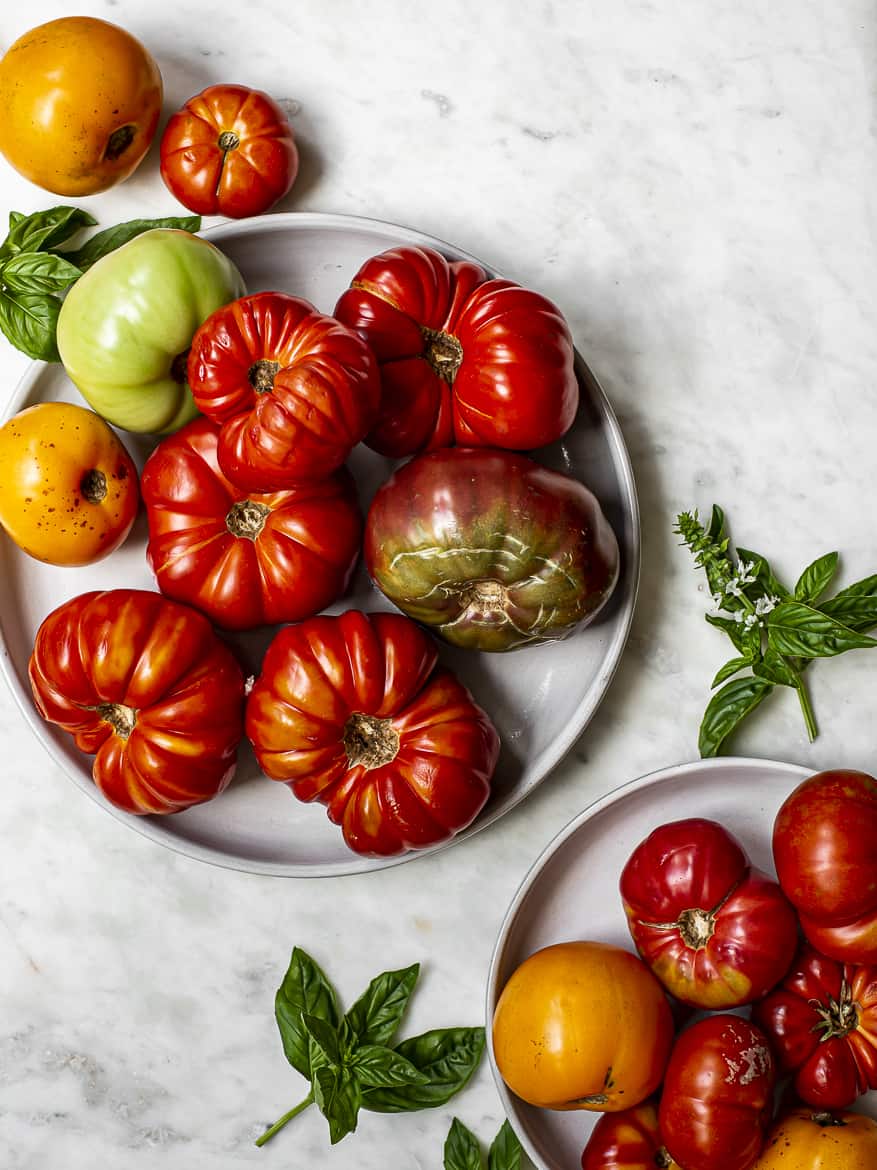 A few days ago, a dear friend sent me a picture of her gorgeous tomato panzanella salad. She had used this recipe. For some crazy reason, I had not yet made a tomato panzanella this summer (which I LOVE) and her photo made me run to the kitchen the next day to make one. As luck would have it, I had about 3 large bowls of gorgeous heirloom tomatoes that had been destined for a tart that never happened (long story).
I already have a winter panzanella recipe here, but I had to share the magic of this summer tomato panzanella with you immediately while tomatoes are still around.
What is panzanella salad
Panzanella is a rustic Italian bread salad made from day-old bread, tomatoes, and other fresh in-season vegetables. This much-loved salad, once referred to as a poor man's dish, tosses crusty bread with juicy tomatoes, red onions, and an olive oil and red wine vinegar dressing. So fresh and cooling I could honestly eat it everyday when tomatoes are at their peak.
To be sure, you will find many variations of this salad but the one constant should always be good country bread. Aside from that, this salad is all about the good quality of the ingredients. The tomatoes need to be ripe and sweet, and the extra-virgin olive oil the best you can get your hands on.
A classic panzanella salad recipe might call for soaking stale bread in water. With guidance from the fabulous folks at Serious Eats, I instead go the route of toasting bread in the oven or grill. A much better way to go. This also eliminates the need to use stale bread since a fresh loaf will become perfectly crunchy.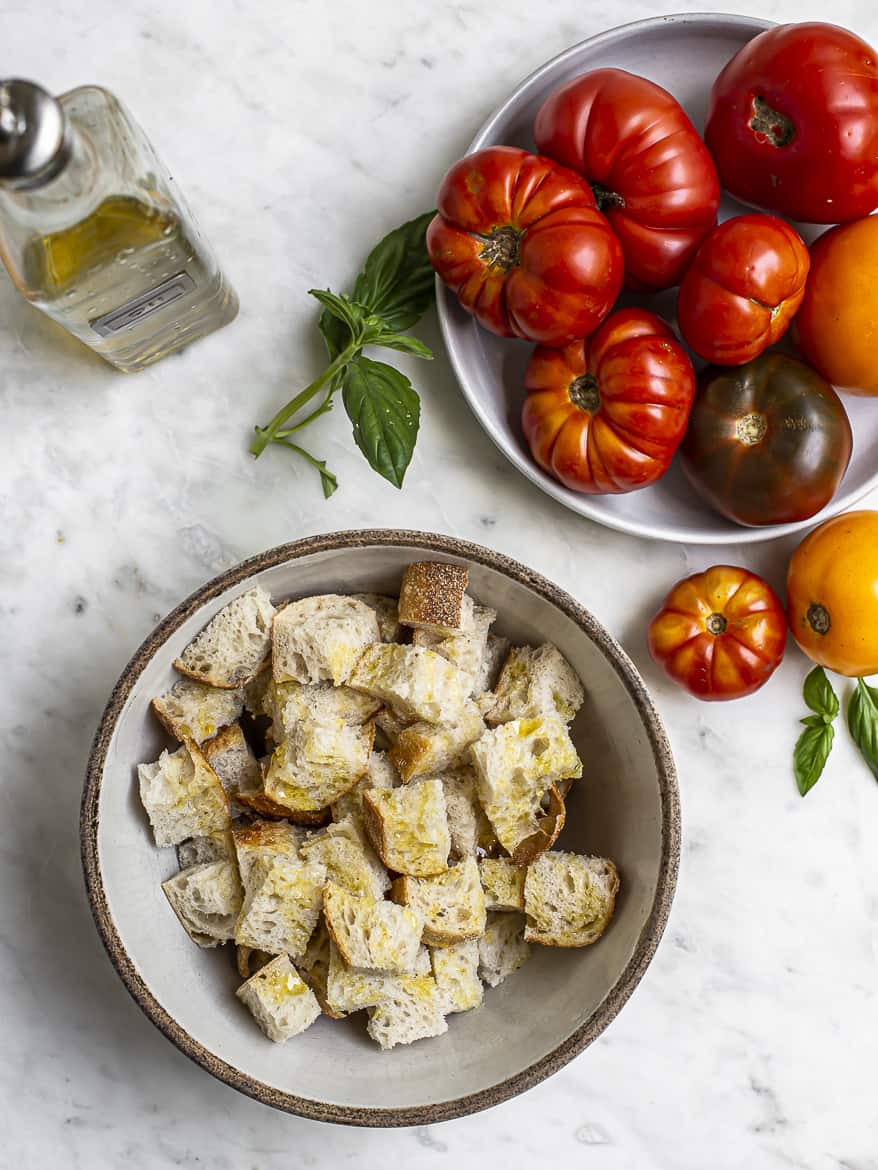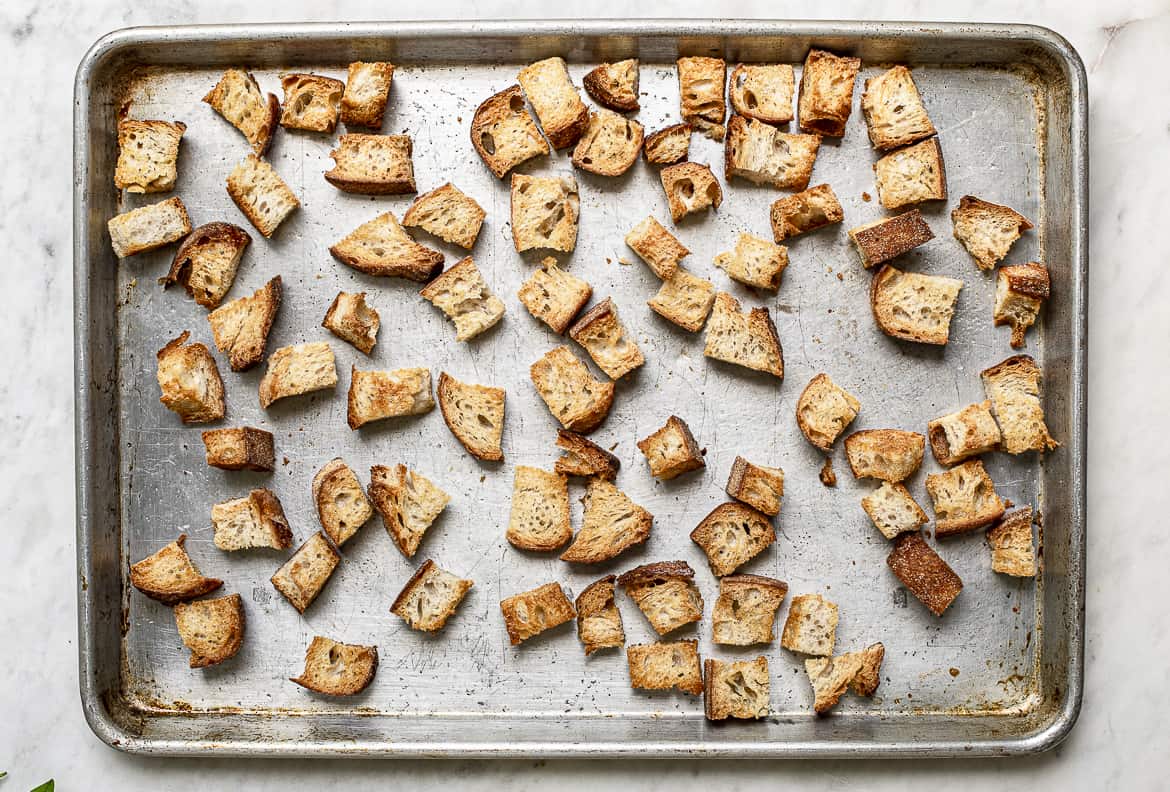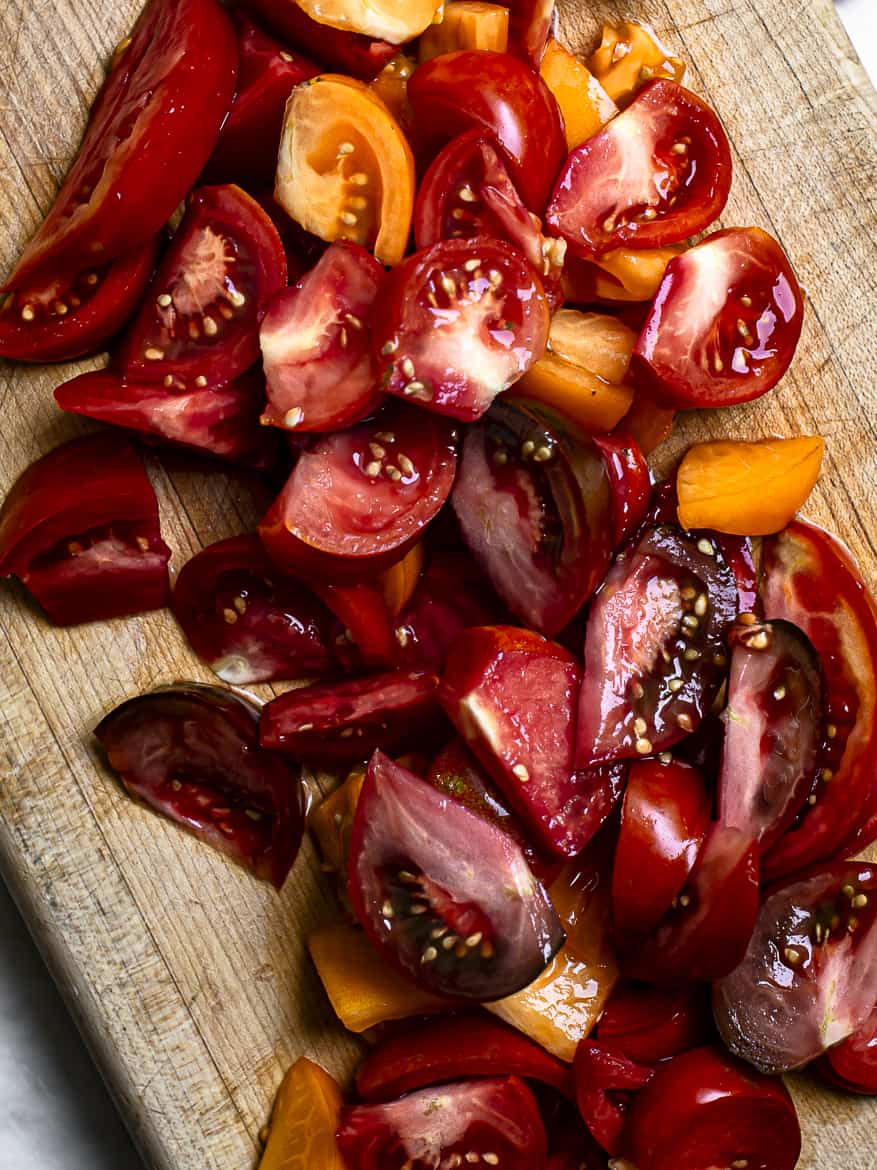 To salt or not salt the tomatoes
The recipe I provide you with today is the one I have always used which is adapted from Serious Eats. It is very similar to Food 52's (and most panzanella recipes) in that both recipes call for salting the tomatoes before assembling the salad. The idea behind this is that when tomatoes release their juices, it concentrates their flavour. The released juice is then used to flavour the vinaigrette, or simply tossed back in the salad. I omit this step.
After making many tomato panzanella salads, I find that letting the assembled salad sit for about 30 minutes, has the same results. The tangy-sweet tomato juices are contained in the salad bowl, mingling perfectly with all the other ingredients for the freshest salad flavour you'll ever taste. Just hold back the basil and mozzarella cheese (if using) until just before serving.
Ingredients for summer panzanella salad
This summer tomato panzanella highlights the flavour and vibrancy of summer tomatoes beautifully and is so rewarding for so little effort. A cinch to prepare, even the least experienced cook can make it fabulous.
Here is the simple ingredient list:
Tomatoes: Raw tomatoes are at their best when they have been left to ripen on their vine while being kissed by the sun all day. These juicy, sweet-salty tomatoes, in any shape, colour, or size, are the ones you will want to seek out for this salad.
Bread: Any good crusty loaf of bread will work for this tomato panzanella. I like ciabatta, or a rustic sourdough.
Red onions: To me, onions make an exquisite pairing with tomatoes. In this salad, they add a fantastic crunch and punchy flavour. Shallots also work.
Extra-virgin olive oil: A key ingredient in this salad so you will notice when you use one that is good-quality. That being said, don't let a mediocre oil stop you from making this fantastic salad. It will still be delicious.
Red wine vinegar: You almost don't need to make a separate dressing for this salad as the tomato juices and olive oil make a sort of vinaigrette. But I do love a little more acid in the salad and red wine vinegar is what is commonly used for a panzanella. Feel free to use white wine vinegar or even a champagne vinegar, if you prefer.
Garlic: For years I have been making tomato salads with a garlicky vinaigrette. Not necessary to include here but I do love the extra punchy flavour it lends to the salad.
Basil: Tomatoes love the fresh spicy flavour of basil. I can't imagine leaving it out.
Fresh Mozzarella cheese: Not traditional in a panzanella salad, but delicious nonetheless. Feel free to leave it out for a dairy-free salad.
Salt and flaky salt: Tomatoes love, and can take, a lot of salt. Flaky salt is optional, but a delicious finishing touch.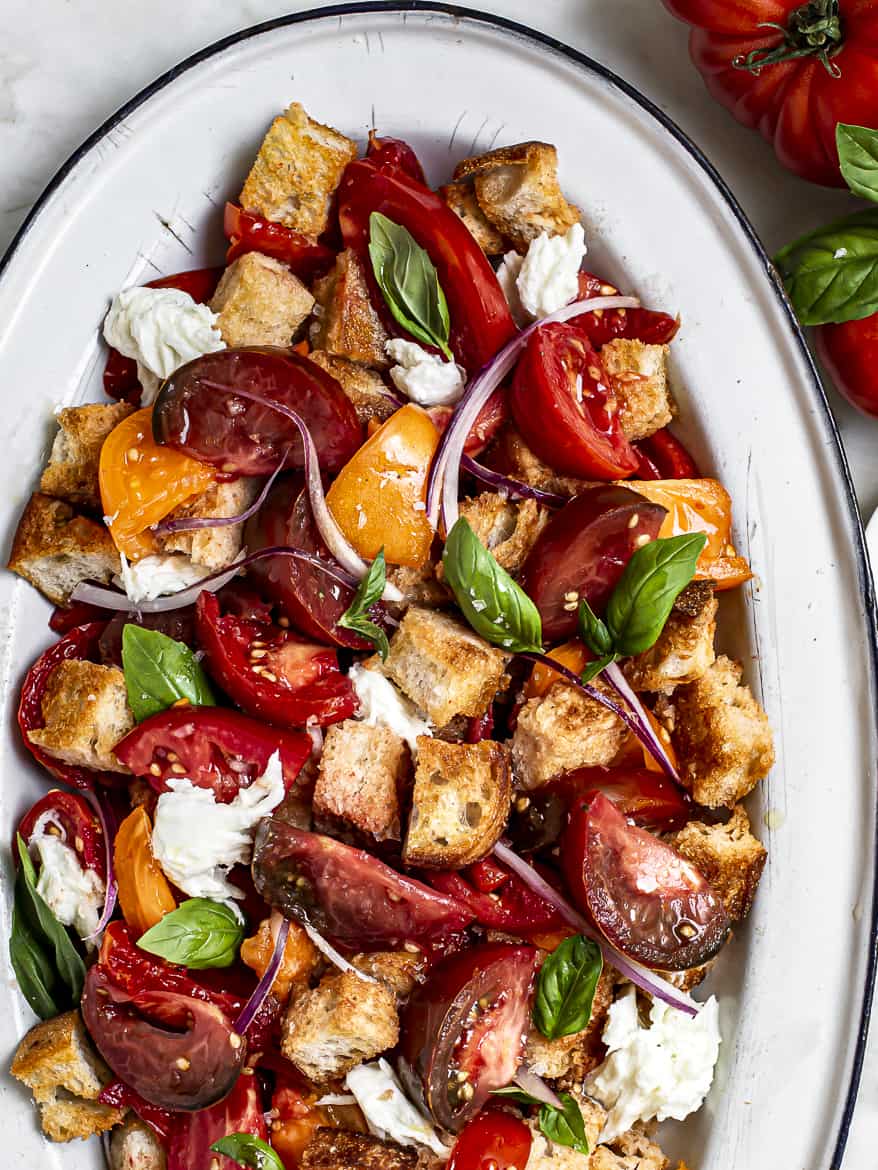 Make-ahead panzanella salad
Panzanella benefits from resting for a little while before serving. However, it will get too soggy if left sitting for too long. If you need to make it further ahead, leave the toasted bread on the counter for up to 4 hours. Refrigerate the tomatoes, keeping everything separately, then let come to room temperature and assemble when ready to eat.
What to serve with panzanella
Panzanella salads are robust enough to serve as a light meal. For a more satisfying meal, serve alongside your favourite grilled meat or fish. We also love it with a simple and fresh lemony pasta. So good.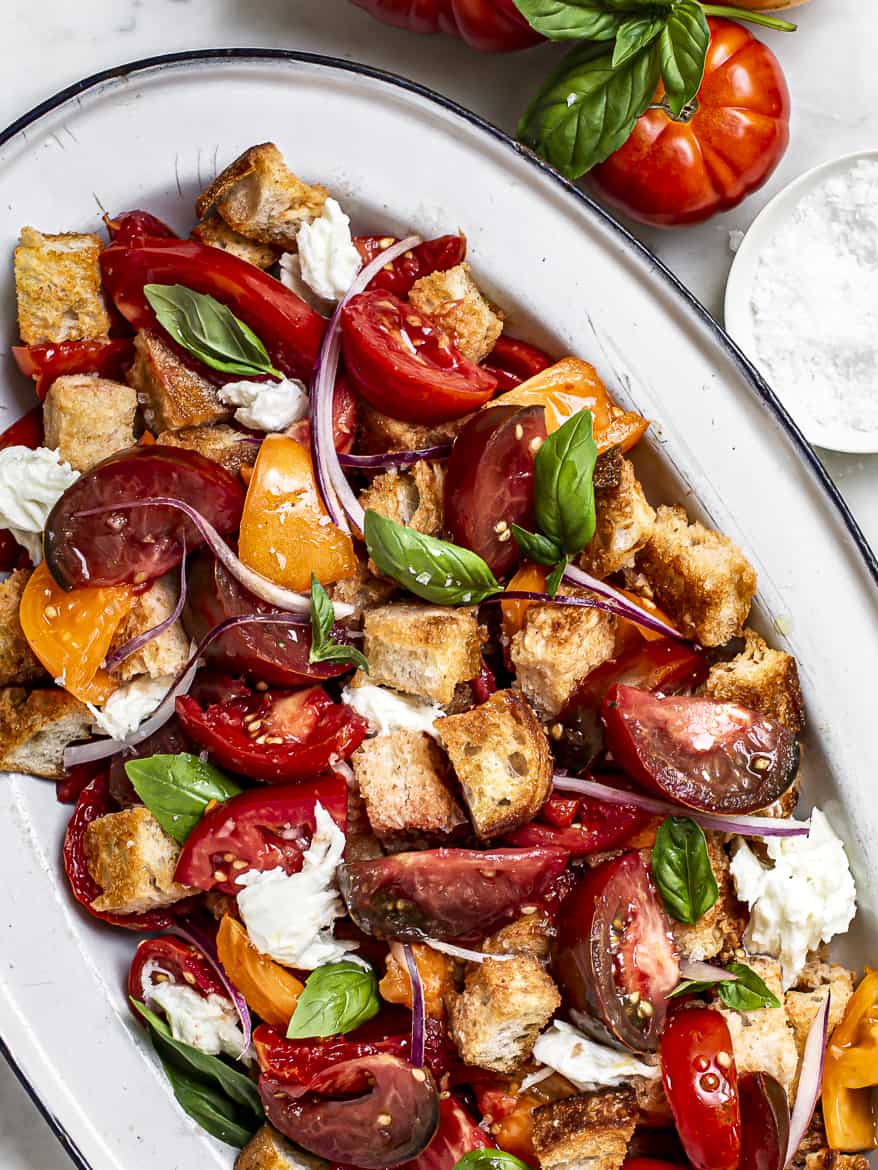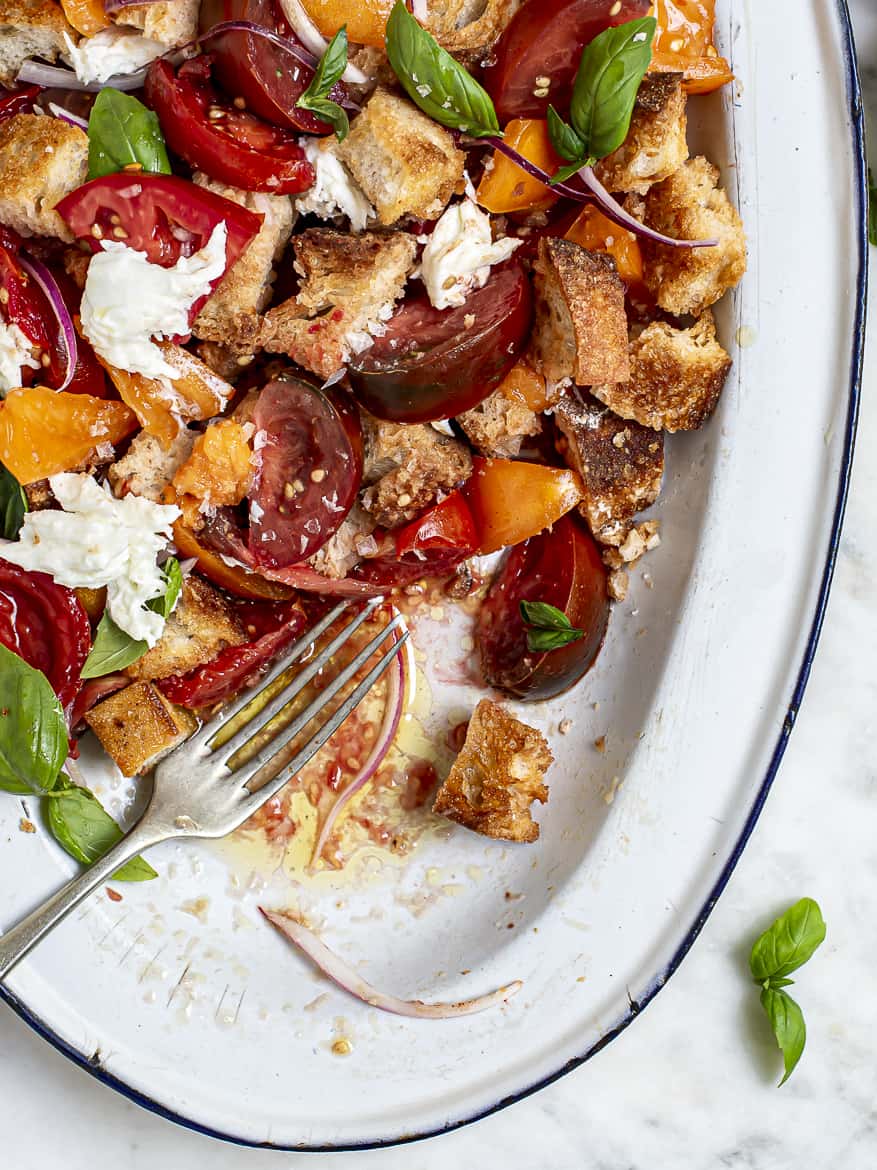 Similar recipes you might enjoy
Print Recipe
Pin Recipe
Summer Tomato Panzanella Salad
You will need the best, in-season, sweet and ripe tomatoes to make this knock-out Summer Tomato Panzanella Salad. Colourful tomatoes and crunchy bread cubes are tossed with red onions and a simple garlicky dressing. Addictive and delicious, each bite is like a burst of summer in your mouth.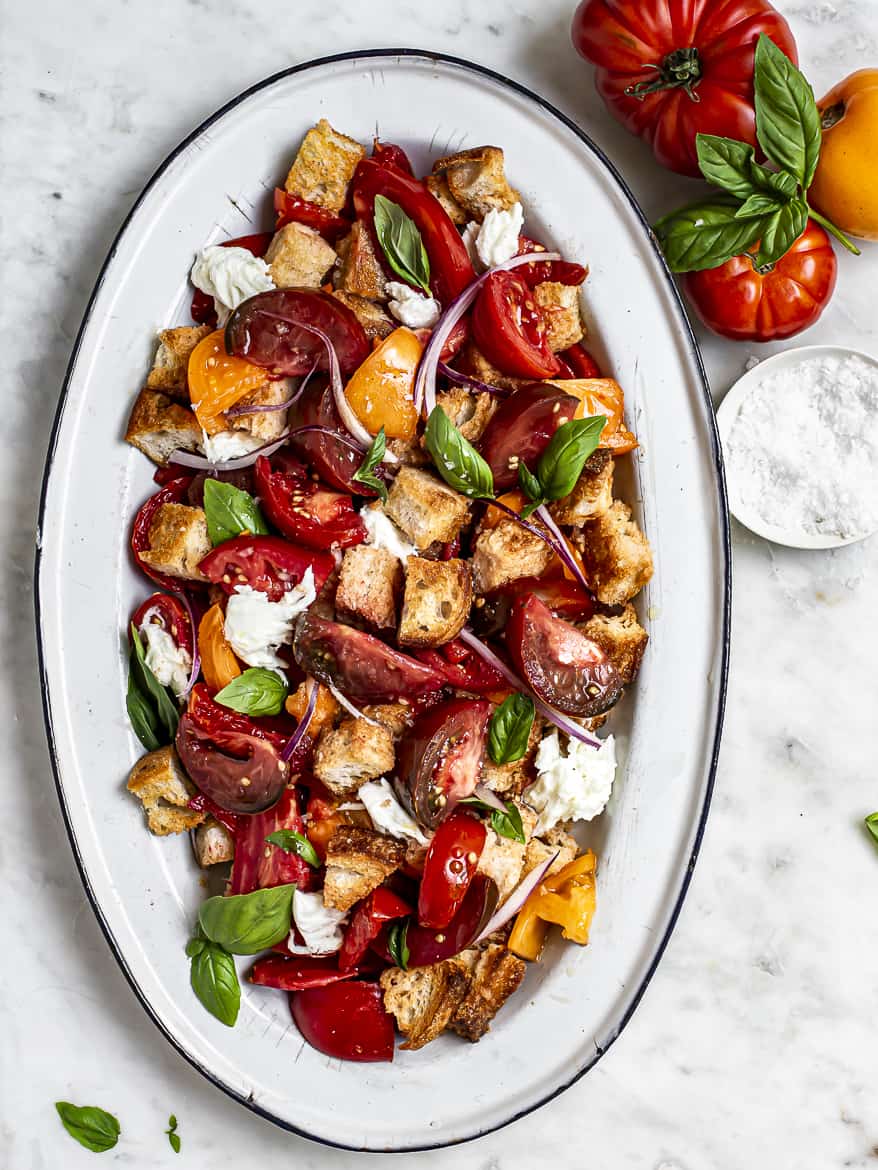 Ingredients
1

loaf of fresh, or day old, crusty bread

cut into bite-sized pieces

1/3

cup

extra virgin olive oil, divided

plus more for drizzling

Kosher salt

freshly cracked black pepper

2 1/2

lbs

ripe, in-season tomatoes

sliced in wedges or bite-sized pieces

1/4

red onion

thinly sliced

¼

cup

red wine vinegar

1

large garlic clove

grated or minced

½

cup

fresh basil leaves, roughly chopped

plus more for garnish

4

oz

fresh mozzarella, torn into bite size pieces

optional

falky salt, to finish

optional
Instructions
Preheat oven to 375 degrees.

In a large bowl, toss together the bread cubes with 2 tablespoons olive oil and a pinch of salt. Transfer to a rimmed baking sheet and lay out evenly. Bake until crisp on the outside but still slightly soft on the inside, about 10-12 minutes. Remove from oven and allow to cool.

In a large bowl, toss together the tomatoes, red onions, 2 teaspoons salt, and a few cracks of fresh pepper.

Once the bread has cooled, add to the tomato bowl and toss gently to combine.

In a small bowl, whisk the red wine vinegar, garlic and remaining extra-virgin oil. Pour over the tomato mixture and toss again gently until everything is combined. Let rest for 20-30 minutes, tossing once or twice.

To serve, stir in the basil and top with fresh mozzarella, if using. Transfer to a serving platter and drizzle a little olive oil over top. Garnish with a few more basil leaves, and sprinkle with flaky salt, if desired.
Notes
Although the salad benefits from a 30 minute rest before serving, if pressed for time, just toss the salad really well and serve immediately.
This is the flaky salt I use.