This tasty Chicken and Chickpea Shawarma dish delivers authentic flavour with very minimal effort and ingredients.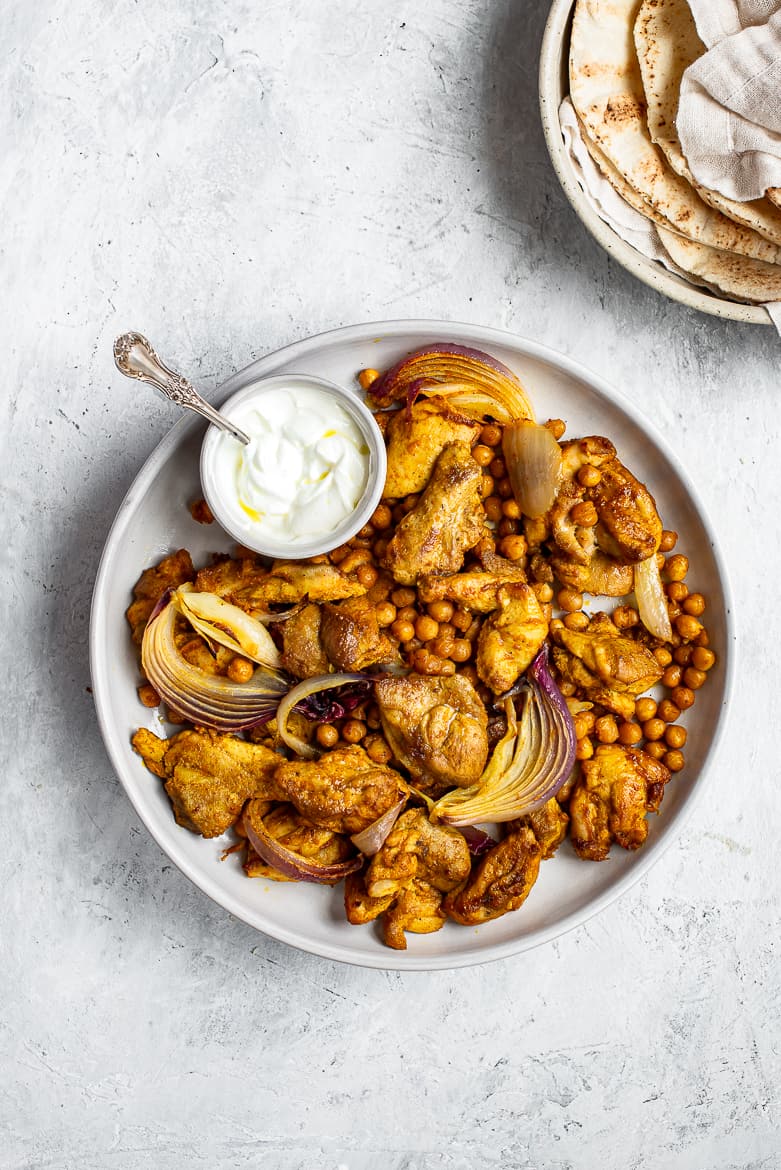 Hi everyone, I hope this finds you well and safe and holding your loved ones a little closer. More than ever, I understand what a  great privilege it is to have a comfortable home to be self-isolating in. To have a well-stocked (but not over-stocked) fridge and freezer to get us through this. To be healthy and to have a healthy family. I can't imagine that I will take any of these things for granted ever again.
Whenever the gravity of this situation is becoming unbearable, I think of those who do not have the luxury to stay home. The ones who continue to face the battle day in and day out; healthcare workers, first responders, grocers, truck drivers delivering food and necessities, air transit workers, small business owners trying to keep their businesses from crumbling, the list goes on and they are all heroes in our communities. It's a very small gesture, but when I have had to venture out to buy anything, I make sure to say thank you to each and every person I encounter that is still out there working to facilitate things for us. Even to the cranky ones. It's the little things that will get us through this.
Feel inspired
I feel very conflicted about whether I should continue posting recipes and pretty photos of food when I know so many are suffering. But my blog has never had more traffic and I have been receiving a lot of messages from people that are letting me know how much they are enjoying making my recipes right now. So for as long as I can, and for as long as it feels right, I will continue to post recipes that I think may inspire, and be useful to you.
I do encourage you, however, to cook with what you have and avoid going out to purchase specific ingredients. This chicken and chickpea shawarma recipe I share with you today, for example, is so much easier than you think and open to many variations. If you don't have chicken thighs, make it with whatever chicken you have on hand. If you don't have any chicken, or you are avoiding meat, make it only with the chickpeas which are super flavourful and robust. If you are missing any one of the spices for the shawarma spice-mix, that's ok. The dish will still be delicious.
I assume everyone is more than well stocked with cans of chickpeas right now, but if you prefer to use something else, try veggies such as cauliflower, broccoli, or sweet potatoes.
What is shawarma
Shawarma is a Middle Eastern street food dish of lamb or chicken typically roasted on a vertical spit which cooks slowly for hours. The tender meat is then thinly shaved and served folded into pitas and/or with rice. The shawarma spice mix is made up of spices you almost for sure already have; cumin, cinnamon, paprika, turmeric, coriander and for a little optional kick, cayenne.
To be sure, toasted whole spices have a lot more flavour than pre-ground. But these are stressful times and we are going for minimal effort. For this recipe, ground spices more then do the trick – they are fantastic.
   
How to make chicken and chickpea shawarma
Most of us, of course, do not have a vertical spit in our homes so here we will switch to using the high heat of the oven.
To start, make a marinade with lemon juice, olive oil, the shawarma spice mix, and salt and pepper. Marinate the chicken pieces with most of the marinade for 30 minutes or overnight. Toss the chickpeas with some red onion wedges in the remaining marinade then place the chicken, chickpeas and onions on a large sheet pan. Roast in a hot oven for 30 minutes until the chicken and onions are caramelized and the chickpeas are golden-crispy.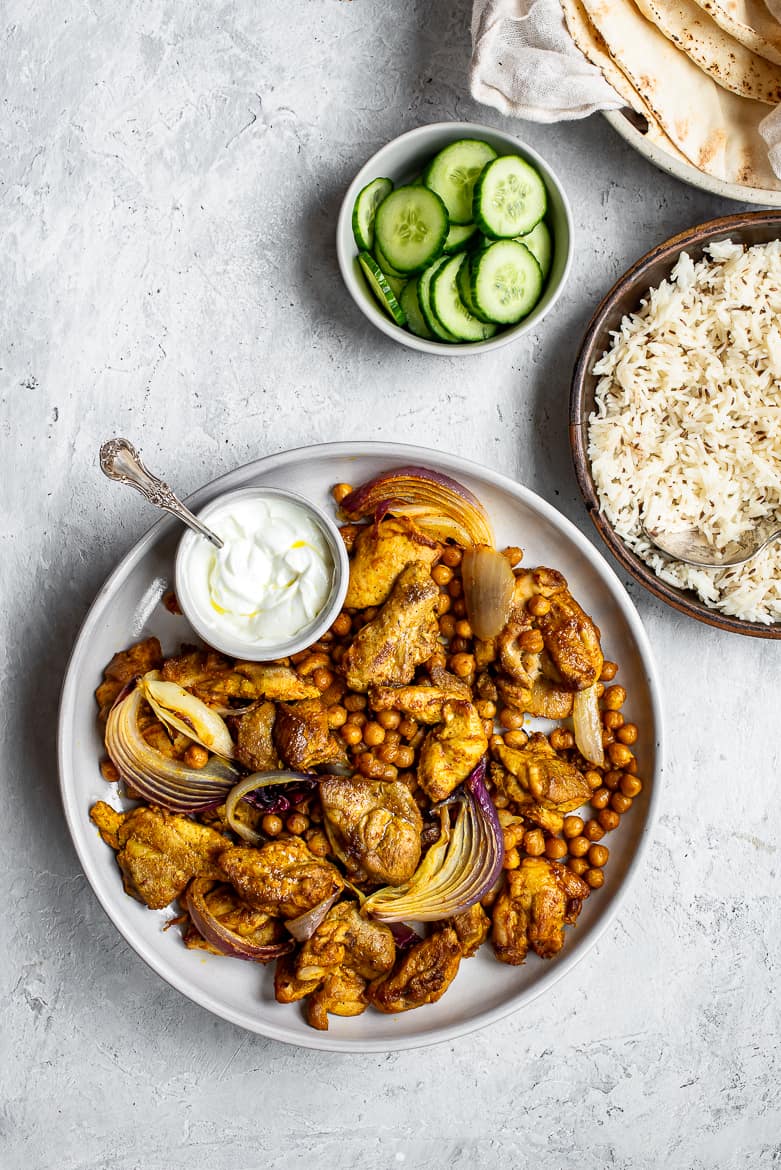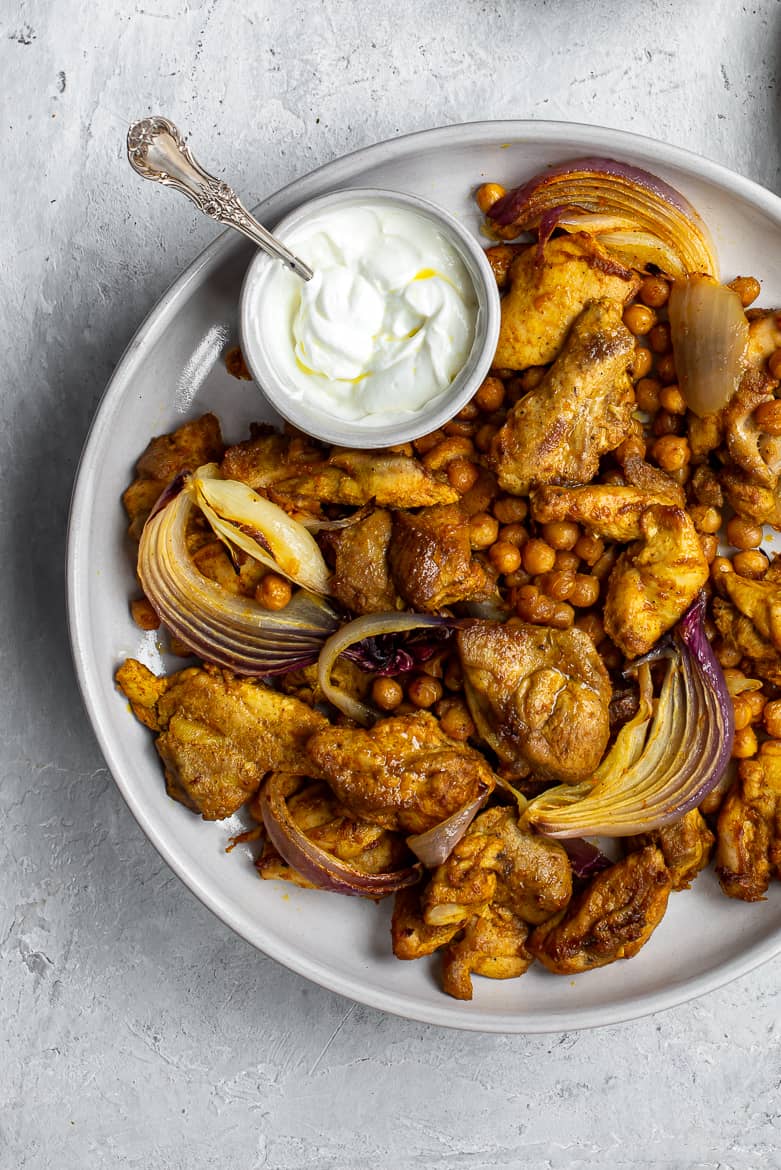 To serve
If times were different, I would suggest you serve this with a homemade hummus, feta cheese, and/or a lovely fattoush salad. For now, let's keep it simple. Serve the meltingly-tender chicken and chickpeas with basmati rice, pita bread and a cooling lemony yogurt sauce. So easy, so good.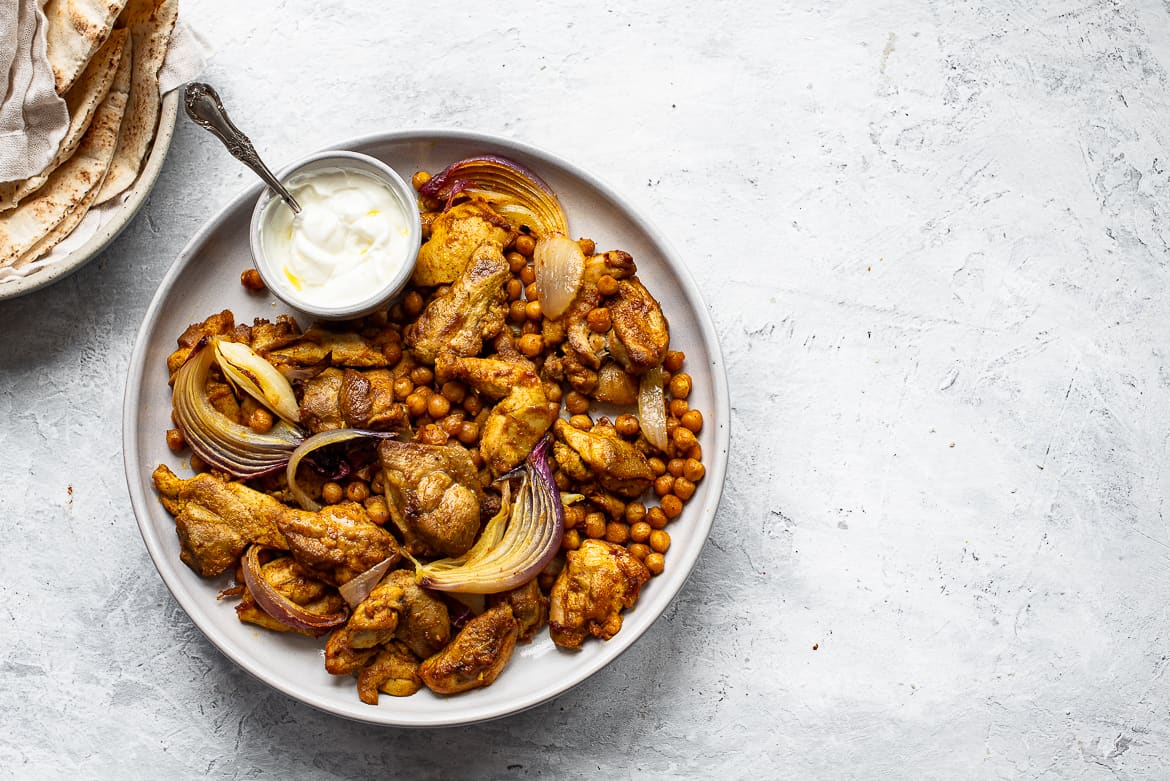 This is definitely not the time to take cooking too seriously — get creative, have fun with it, ask me for suggestions — I would love to help.
Print Recipe
Pin Recipe
Shawarma Spiced Chicken and chickpeas
This recipe calls for boneless skinless chicken thighs. You can easuly substitute with chicken breast, or bone-in pieces, and I have provided the different cooking times in the notes.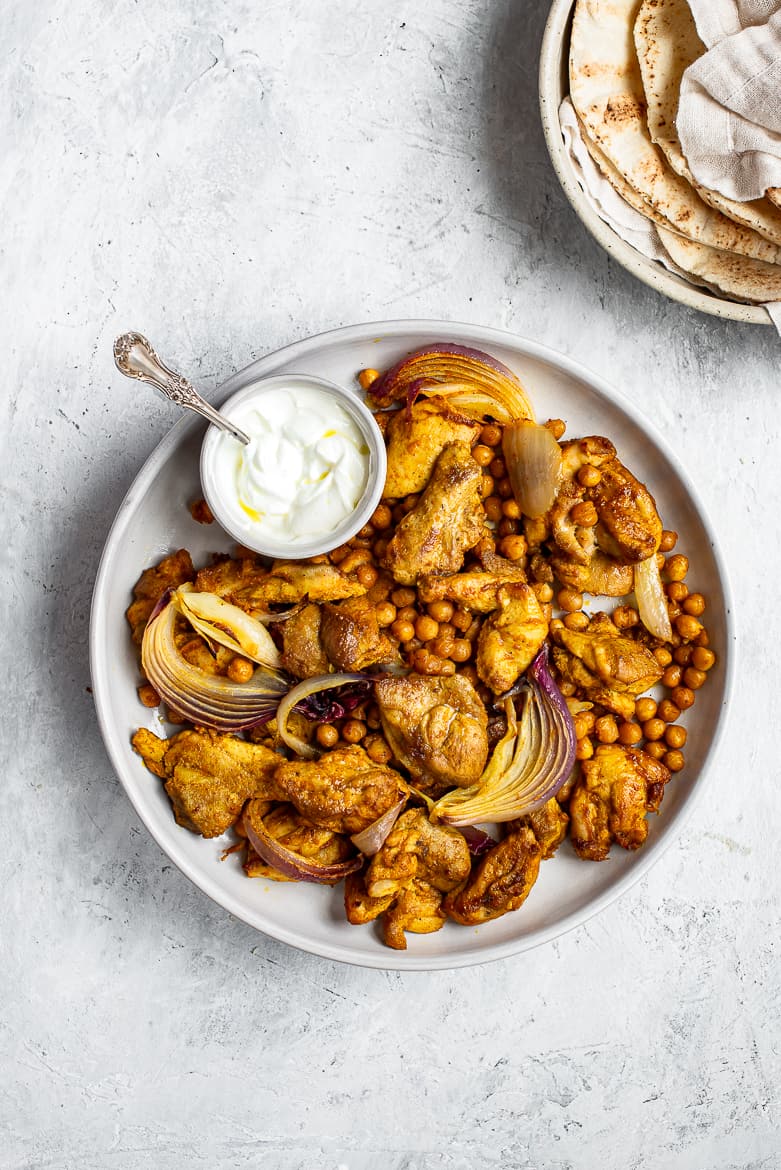 Ingredients
4

Tablespoons

lemon juice

from about 1 large lemon

2

Tablespoons

ground cumin

1

Tablespoon

ground coriander

2

teaspoons

ground turmeric

1

Tablespoon

sweet paprika

(not smoked)

1

teaspoon

ground cinnamon

1/2

teaspoon

cayenne pepper

(or more or less to taste)

1/4

cup

extra-virgin olive oil

2

teaspoons

kosher salt

Freshly cracked black pepper

to taste

8

boneless, skinless chicken thighs

cut each thigh in half, or 3 pieces

1

19-ounce

can chickpeas

drained and rinsed well

2

small red onions

sliced in thin wedges
For the Lemon Yogurt Sauce:
1

cup

Labneh, or plain whole Greek yogurt

1

garlic clove

grated or minced

1

Tablespoon

fresh lemon juice

1/4

teaspoon

salt

1

Tablespoon

extra-virgin olive oil
Other suggested accompaniments:
flatbread, such as naan or pita

basmatti rice

sliced cucumbers
Instructions
Make the marinade: In a small mixing bowl combine the lemon juice, cumin, coriander, turmeric, paprika, cinnamon, cayenne, olive oil, salt, and a few grinds of pepper to taste. Whisk to combine.

Place the chicken in a large bowl and the chickpeas and sliced red onions in another bowl. Add a little more than half of the marinade to the chicken, tuning to coat each piece in the marinade. Mariante for 30 minutes on the counter, or in the fridge for 1-2 hours or overnight. Add the remaining marinade to the chickpea/onion bowl and toss to coat. Set aside.

When ready to cook the chicken, preheat the oven to 425°F and line a large sheet pan with parchment paper.

Arrange the chicken pieces on the sheet pan, leaving behind, and discarding, any extra marinade. Scatter the chickpeas and onions around the chicken pieces, spreading everything evenly across the pan.

Bake for 25-30 minutes or until the chicken is browned and slightly crisped and cooked through.

Meanwhile, make the Lemon-Yogurt Sauce: In a small bowl, stir together all the ingredients. Taste and adjust with more lemon juice, if necessary. Refrigerate until ready to use.

Serve the chicken and chickpeas with lemon-yogurt sauce and any other desired accompaniments.
Notes
For boneless, skinless chicken breast: Cut the chicken breast into 3" pieces. Cook for 10-15 minutes, or until cooked through.  
For skin-on, bone-in chicken pieces: Cook until skin is crispy and chicken is cooked through, 35-40 minutes.