Grain-free and low carb, this Picadillo Stuffed Acorn Squash is the ultimate in comfort food and makes an utterly delicious option for lunch or dinner.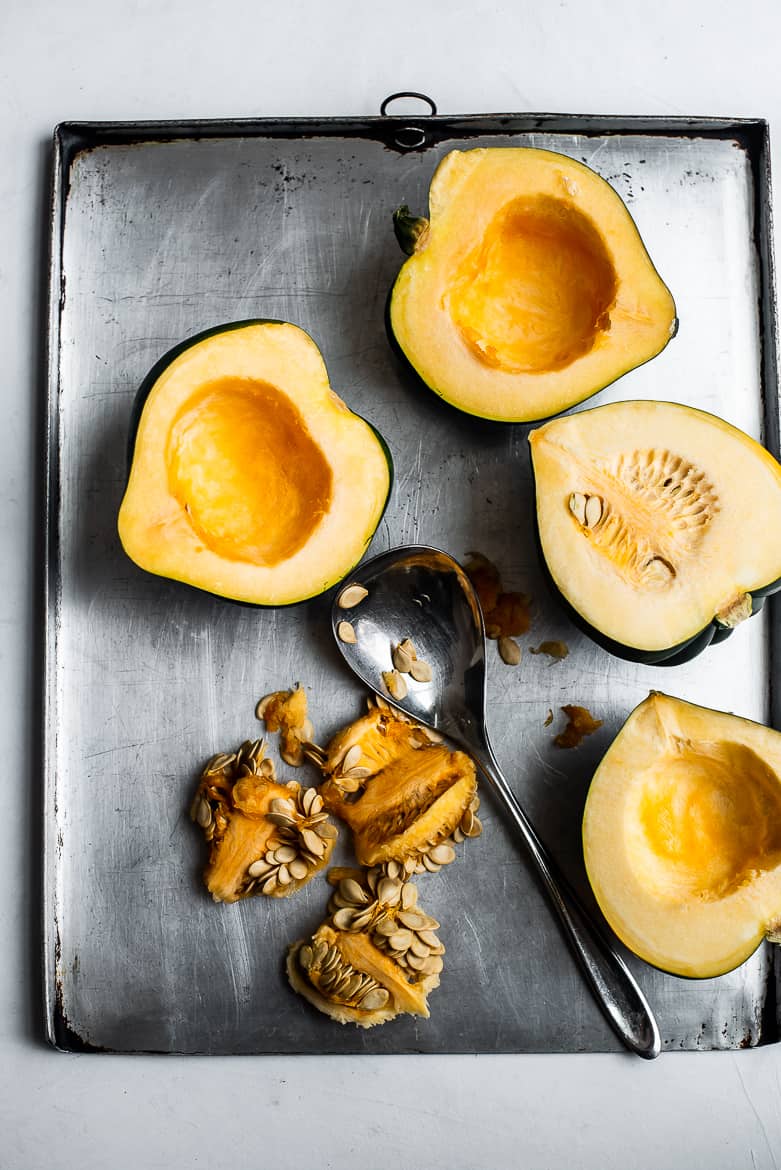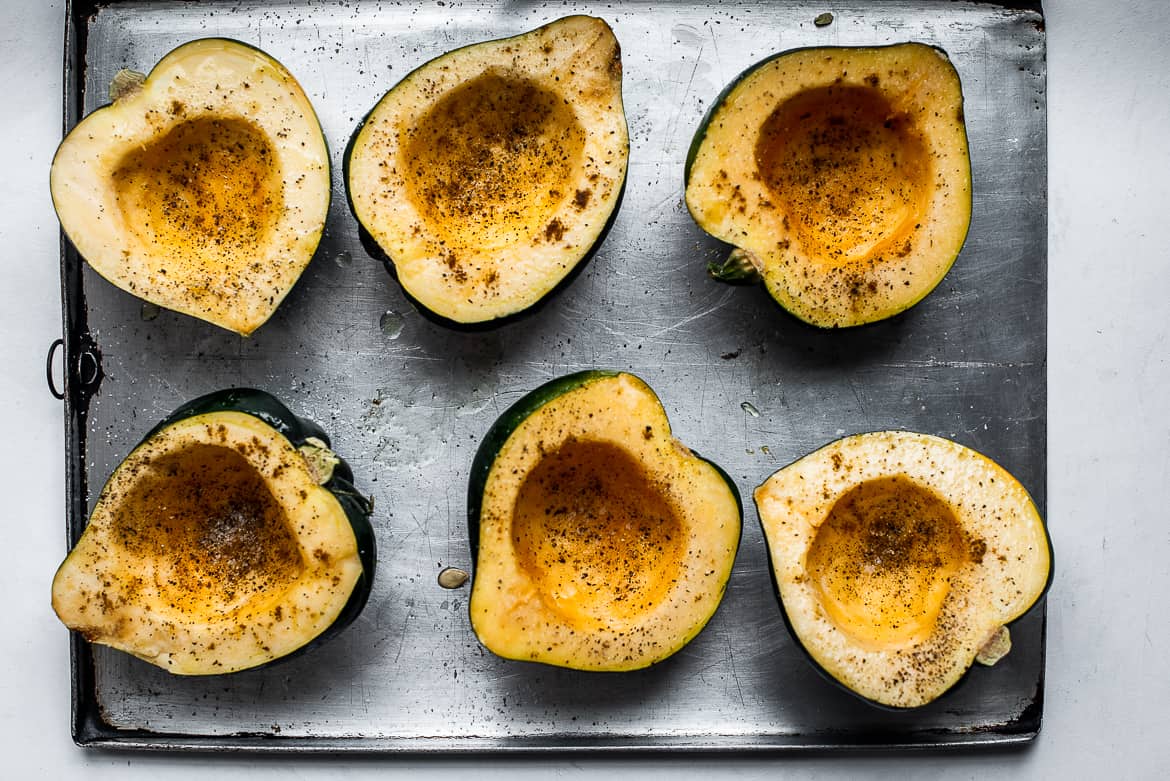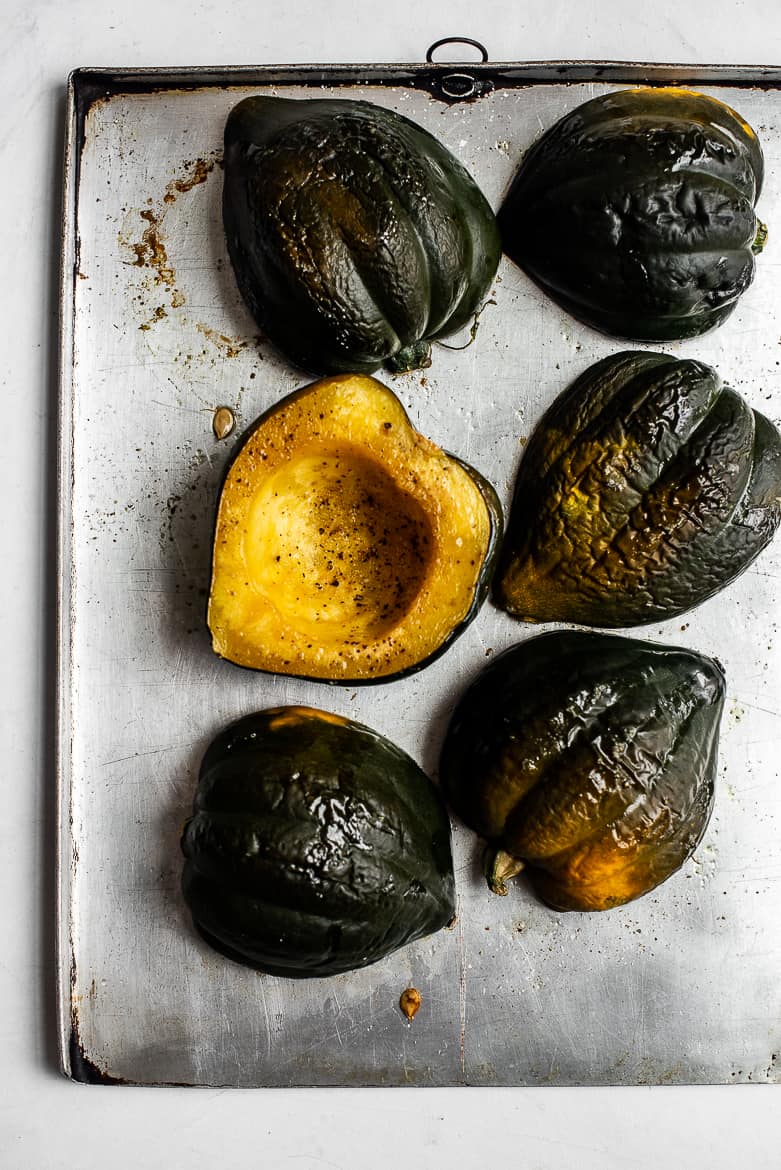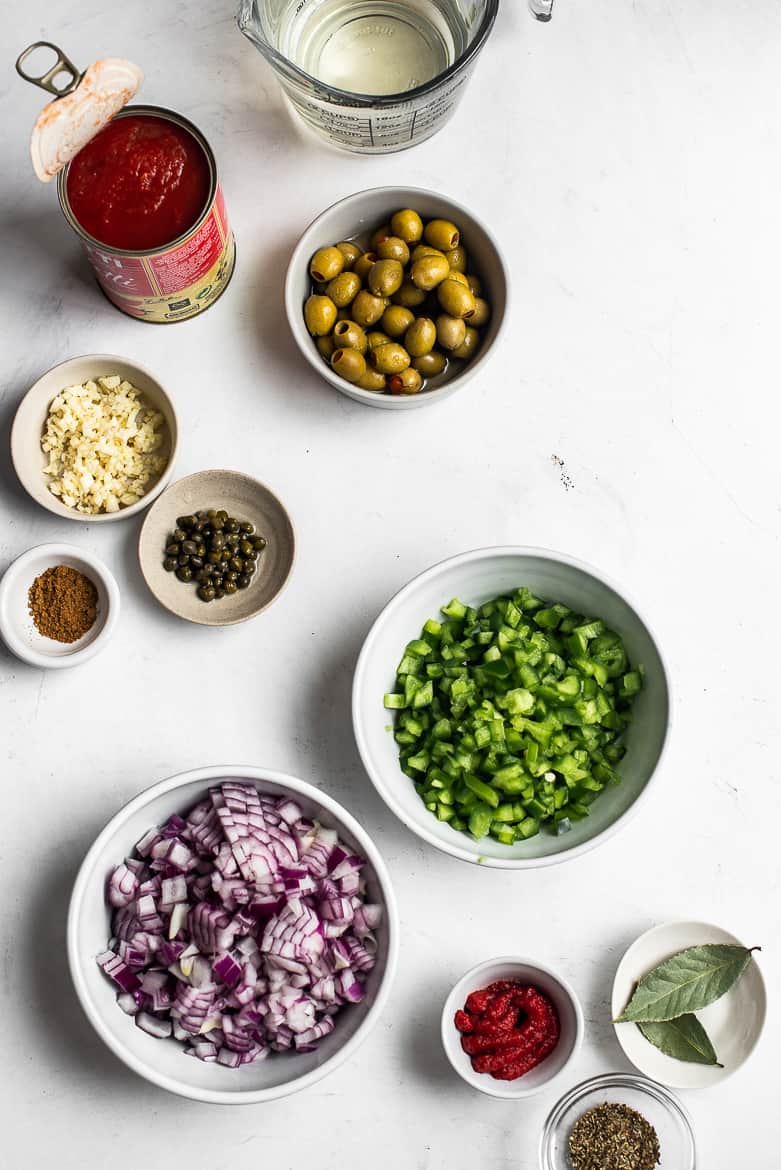 I will forever wish I had paid more attention to my mother's cooking. Her picadillo, to me, was always exceptional. You would think something as simple as a ground beef hash would take little to no skill, and while it doesn't really, there are many variations of this dish across Latin America and it took me a while to nail down the flavours of the Dominican-ish version I grew up with and love. I say Dominican-ish because I believe my version blurs a little into the Cuban version which perhaps my mother's did too. I did a lot of research on this dish and I still cannot confirm which version is truly Dominican, Cuban or Puerto Rican. Let's just say the recipe I present to you today is a much-loved Latin American dish with complex flavours that will surprise you and you'll absolutely fall in love with.
What Is Picadillo?
Picadillo is a type of hash traditionally made with ground beef and a heavily seasoned tomato sauce. Though many versions exist throughout Latin America, olives, capers, and raisins are almost always added which makes for a spectacular briny, mildly sweet, and slightly saucy stew. If you'd like to make it a little healthier, you could definitely use ground chicken or turkey but be aware it will not be quite as good. A blend of beef and pork is also commonly used.
What To Serve With Picadillo?
My preferred accompaniment to picadillo, and the most traditional one, will always be black beans and rice with ripe plantains. In Puerto Rico, and other Latin American countries, they often add fried, diced potatoes, to the picadillo and serve it with white rice — a heavenly double-starch combo that is not for everyone but I occasionally will indulge in.
Picadillo is also delicious with mashed potatoes or this less carb-y cauliflower purée. You can stuff warm flour, or corn, tortillas with picadillo for instant tacos, or even use it as a filling for empanadas. Here, for a little variety, I stuffed acorn squash with the picadillo. It makes a relatively quick and easy meal and the mild sweetness of the acorn squash works brilliantly with the briny, intensely savoury, beef hash.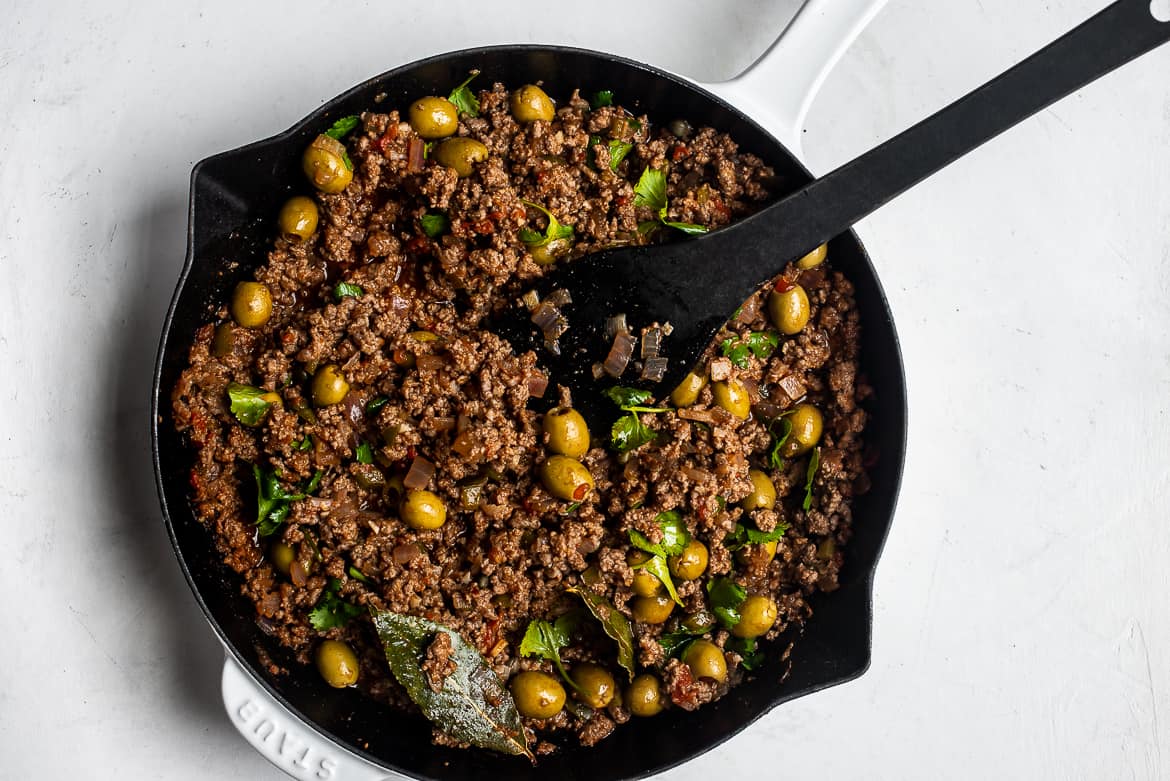 Substitute For Olives And Raisins
Unlike the capers which are optional, I can't imagine picadillo without the pimento-stuffed olives — they add the distinct Andalusian influence to the beef hash — but if you absolutely must leave them out, add a generous splash of red wine vinegar once the picadillo is cooked. The addition of raisins is the most polarizing (my household included) so I leave them out, but it would be wise not to serve pastelitos to a Dominican without them.
Note that because I am using this picadillo as a stuffing, I kept the mixture on the drier side. For serving alongside rice and beans, however, picadillo is always best a little saucier which I address on the recipe notes. Picadillo is not traditionally spicy but we sometimes enjoy it with a tad bit of heat by adding jalapeños or a generous pinch of red pepper flakes.
Serve the stuffed squash with a simple salad and/or some fluffy white rice. Enjoy!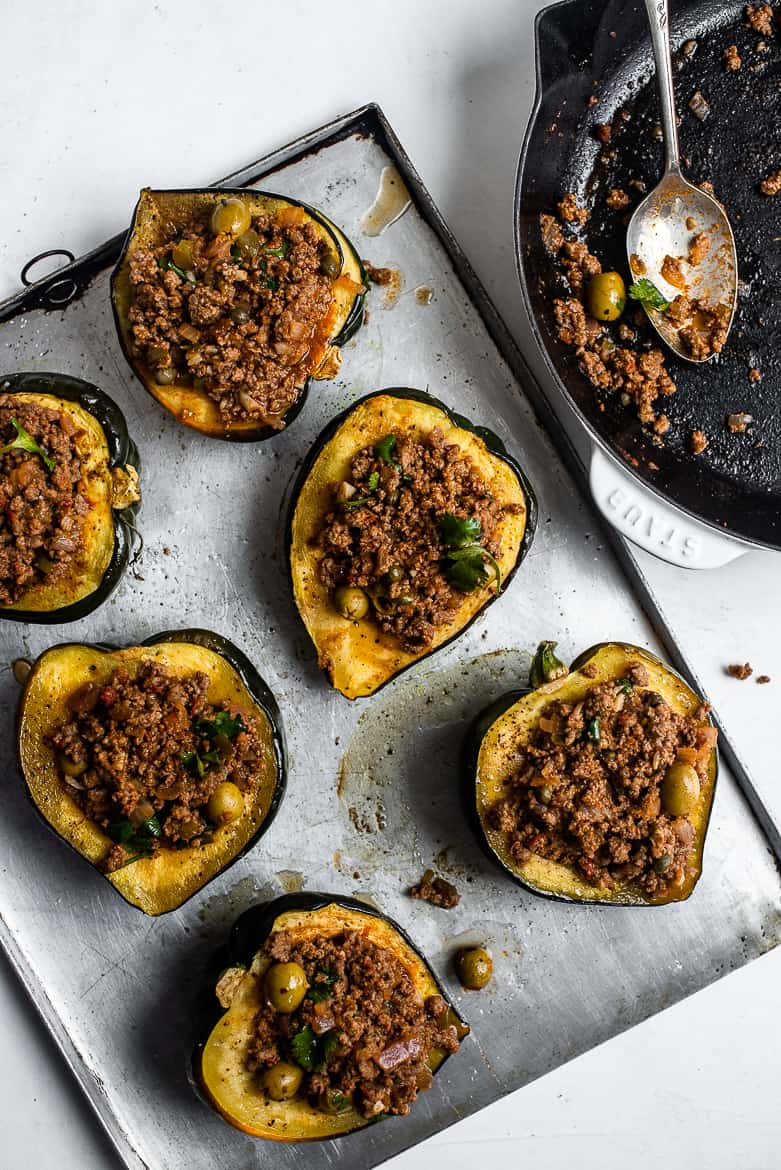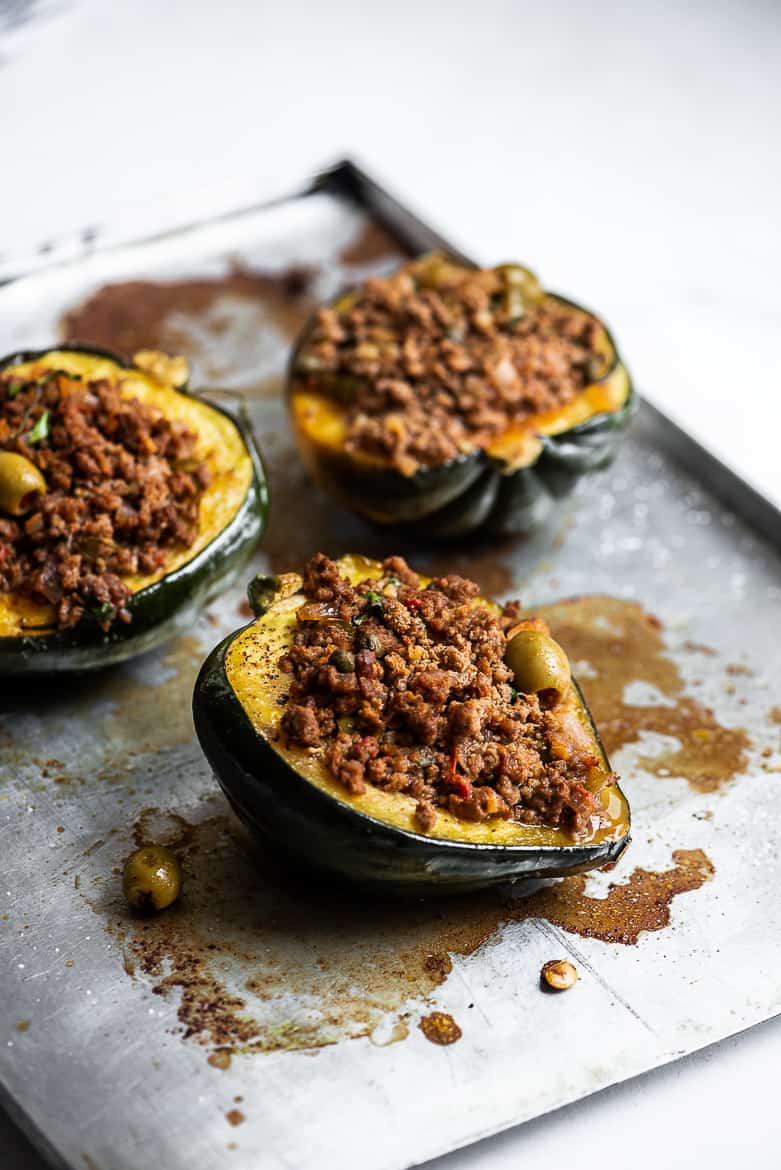 *This recipe has been updated for more ease of preparation. 
Print Recipe
Pin Recipe
PICADILLO (GROUND BEEF HASH) STUFFED ACORN SQUASH
Grain-free and low carb, this Picadillo Stuffed Acorn Squash is the ultimate in comfort food and makes an utterly delicious option for lunch or dinner.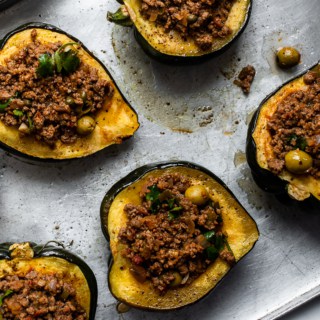 Ingredients
For the acorn squash:
3

small-medium acorn squash

1

Tablespoon

extra virgin olive oil

1

teaspoon

kosher salt

1/2

teaspoon

freshly ground black pepper

1/2

teaspoon

ground cumin

optional
For the picadillo:
2

Tablespoons

extra virgin olive oil

1

large red onion

finely chopped

1

green pepper

cored, seeded, and finely chopped

4

cloves

garlic

minced

2

Tablespoons

tomato paste

2

teaspoons

dried oregano

1

teaspoon

ground cumin

2

bay leaves

1/2

teaspoon

red pepper flakes

optional

2

pounds

good-quality lean ground beef

2

teaspoons

kosher salt

1

teaspoon

freshly ground black pepper

1

cup

tomato sauce

I use passata, or crushed tomatoes

1/2

cup

dry white wine

optional

1/2

cup

water*

1/2

cup

pimento-stuffed Spanish olives plus 2 tablespoons brine

2

Tablespoons

capers

optional, but delicious

1/4

cup

chopped cilantro

plus more for garnish (optional, but delicious)
Instructions
Preheat the oven to 400 degrees Fahrenheit and line a large, rimmed baking sheet with parchment paper for easy clean-up.

Use a sharp chef's knife to slice through the squash from the tip to the stem. Use a large spoon to scoop the seeds and stringy bits out. Place the squash halves cut side up on the parchment-lined pan. Rub the olive oil into the cut sides of the squash and sprinkle with the salt, pepper and cumin, if using. Turn them over so the cut sides are against the pan. Bake until the squash flesh is easily pierced through by a fork, about 25 to 30 minutes. Leave the oven on.

While the squash is roasting, make the picadillo: Heat 2 tablespoons oil in a large skillet with lid over medium-high heat. Add onion and green pepper and cook until the onions are translucent, about 5-7 minutes. Stir in the garlic, tomato paste, oregano, cumin, bay leaves, red pepper flakes (if using), salt and pepper and cook until tomato paste darkens, about 1 minute.

Add the ground beef, stirring and crumbling up the chunks, until browned and no longer pink, 5 to 7 minutes.

Stir in the tomato sauce, wine (if using), and water and bring the mixture to a low boil. Reduce heat to medium-low, cover, and simmer the picadillo for 20 minutes, stirring occasionally.

Remove the bay leaves and add the olives with brine, capers, and cilantro. Taste and adjust seasonings. Cover and cook 10 minutes more, until the meat has absorbed all the juices.

Turn the cooked squash halves over so the cut sides are facing up. Divide the picadillo mixture evenly between the squash halves with a large spoon. Return the squash to the oven and bake for 10 to 15 minutes.

Garnish the stuffed squash with extra chopped cilantro and serve immediately.
Notes
*If you are not using the picadillo as a stuffing, add another 1/2 cup of water (or wine) to the mixture.