We are closing out the year with this lightly sweetened, not too intoxicating, winter spiced sangria. Infused with warming winter spices and splashes of cointreau and St Germain, it is the cocktail you want to drink.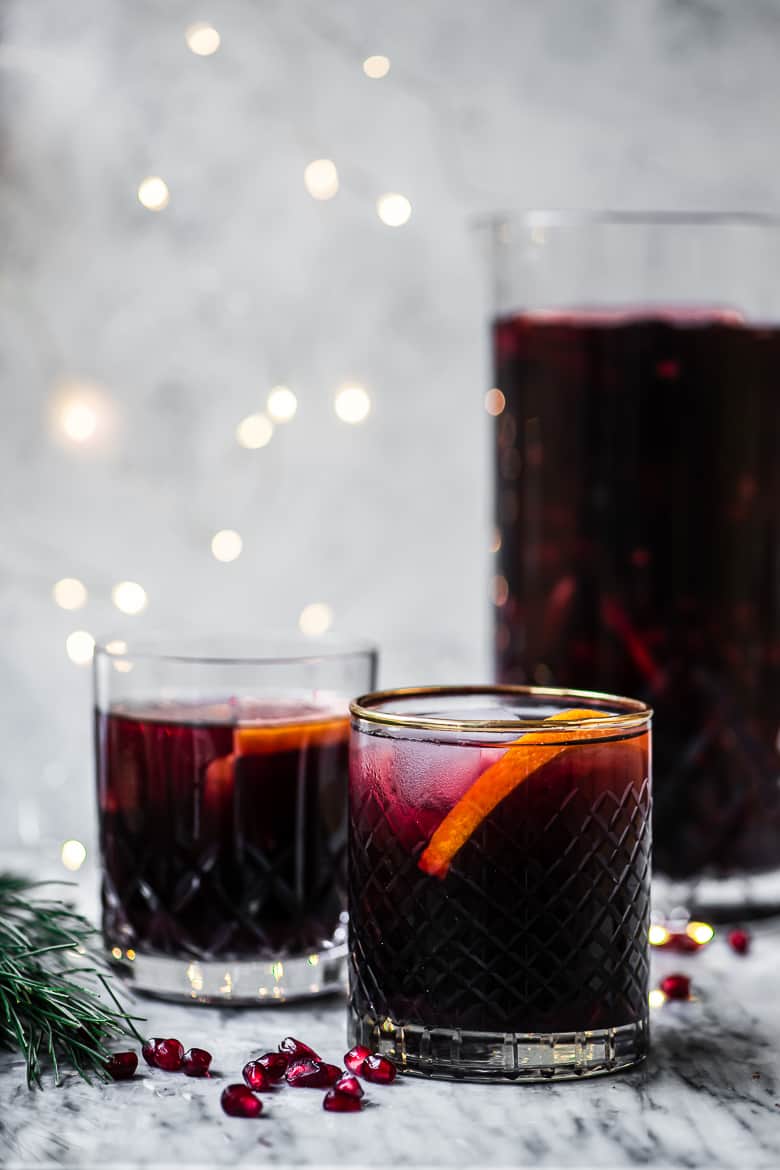 Typically, I don't care very much for cocktails, or punch for that matter. I am happiest when I stick with my glass of red wine or rosé. But! It's New Years, and if you are celebrating at all, festive drinks need to make an appearance. Can it get more festive than this sangria? I think not. And let me tell you, this is the sangria I want to drink – not too sweet, not too boozy (but pretty boozy), and loaded with seasonal fruit. It's a crowd pleaser and a looker and I think you'll love it too.
HOMEMADE WINTER SPICED SANGRIA
I am always hesitant to order sangria at a restaurant. Too often they are disappointingly bland, or watered down, or the wine tastes heavy. But you can whip up an exquisite sangria at home in no time to welcome guests or to treat yourself. Having said that, there are a few tricks to getting it right. A good sangria is all about balance and getting the flavours right. Read on as I outline a few tips to keep in mind when stirring up the perfect sangria.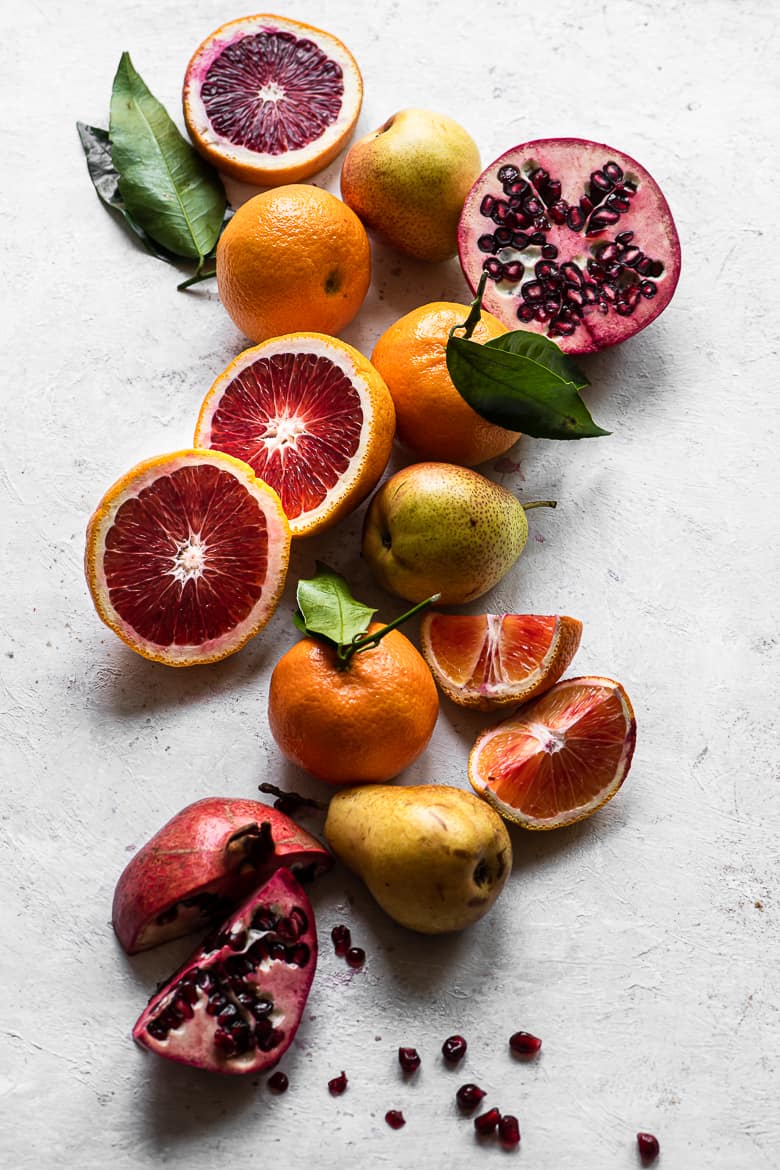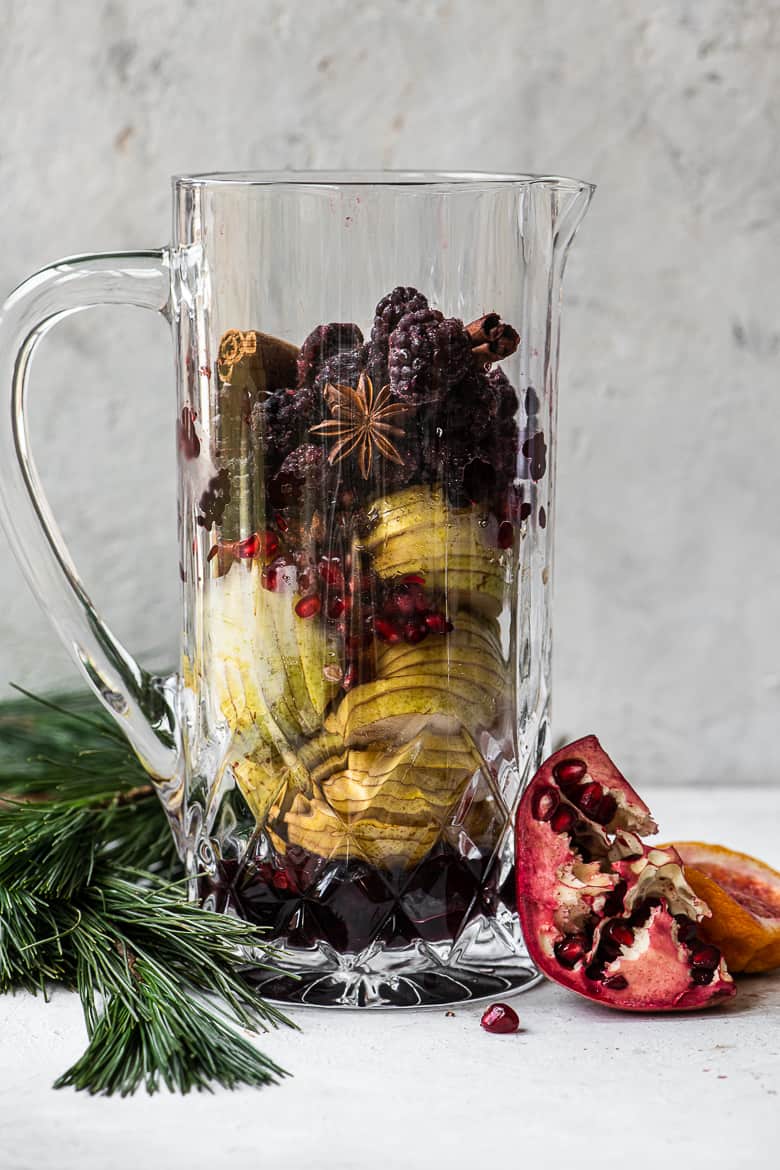 WHAT IS SANGRIA?
Sangria is a Spanish cocktail that has wine, liquors such as brandy, citrus juice, and fruit as a base. The type of wine may vary though traditionally sangria is made with red wine. Not as traditional, sweeteners, bubbly drinks, and other non-alcoholic mixers can also be added.
CHOOSING WINTER SPICED SANGRIA INGREDIENTS
Use this winter spiced sangria recipe as a guideline and feel free to adapt it to suit your taste, or to what ingredients you have easily available to you.
I am really fond of a white wine, or rosé, summer sangria. But for me, this classic red wine winter sangria with seasonal fruits takes the prize. Pears and blood oranges are beautiful this time of year so that is what I used. If you can't find blood oranges, try cara cara, or regular naval. I had a bag of frozen blackberries so just before serving I added those too. Totally optional, but to give the sangria extra depth of flavour, I infuse the simple syrup with a few cinnamon sticks and star anise. This sangria also has pomegranate juice and for an even more festive vibe it is garnished with pomegranate arils.
As for the liquors, brandy is traditionally added to sangria but I like to mix it up with flavoured liqueurs. Cointreau, St Germain, and Triple sec, are all great options.
Other seasonal fruits you can use:
Apples (any variety)
Cara Cara oranges, or plain oranges
Grapes (red or white)
Frozen cranberries (or fresh)
Plums

WHAT IS THE BEST WINE TO USE FOR SANGRIA
The traditional wine for sangria is a red Spanish wine such as Tempranillo or Grenache. You don't have to splurge on an expensive bottle of wine but a good-quality wine, that you would like to drink on its own, is recommended. I am partial to Spanish wines in general but any wine that is not too heavy, or too sweet, will work here. I really enjoy this Rioja which is delicious and a good value.
Other options are any wine with light fruity flavours such as Shiraz, or a red Zinfandel.
TIPS TO MAKE THE BEST WINTER SPICED SANGRIA
Use what is in season: You certainly don't have to stick to this rule but for a summer sangria fruits such as strawberries, peaches, pineapples, will complement a white wine sangria beautifully. For a winter spiced sangria, use a mix of any of the fruits mentioned above.
Use ripe fruit: You will want to snack on all the boozy fruit that is in that pitcher so make sure the fruit you add is ripe and delicious. I like to scoop out the fruit from the pitcher with a large wooden spoon and add it to the glasses.
Let the sangria rest before serving: This is an important step. The sangria will taste flat if you don't allow enough time for the flavours to meld. A few hours in the fridge is plenty, but overnight is even better. I add only half the fruit if leaving it overnight, and the other half before serving so it maintains some crunch.
Don't make it too sweet: Sangria should not be overly sweet. If you have used sweet fruits, and a good quality wine, you will not need to add too much of a sweetener. A small amount of simple syrup should be enough. If you wish, you can also sweeten, and tone down, the sangria with some tonic water.
Add spices: Especially for a winter sangria, I like to infuse a simple syrup with warming winter spices such as cloves, cinnamon, star anise, and even cardamon. I also add the spices to the sangria mix. These spices get along famously with the winter fruit and will bolster the flavours in the sangria.
HOW TO SERVE WINTER SANGRIA
Sangria is typically served chilled. I serve this winter spiced sangria chilled from the fridge with 1 or 2 ice cubes in each glass. Do not add ice to the pitcher as it will water it down too quickly. You can also ditch the ice and serve the sangria slightly chilled or room temperature.
Many sangrias are topped with something bubbly just before serving. I prefer my winter sangria without the bubbles but if you enjoy it bubbly you can add Prosecco, club soda, or tonic water.
A few years ago I gave away my punch bowl and now I truly regret it. If you have one, use it because it makes it easy to mix and serve sangria. A pitcher is great, but never big enough to hold that much fruit and liquid so I mix the sangria in a large bowl, then scoop it into the pitcher when ready to serve.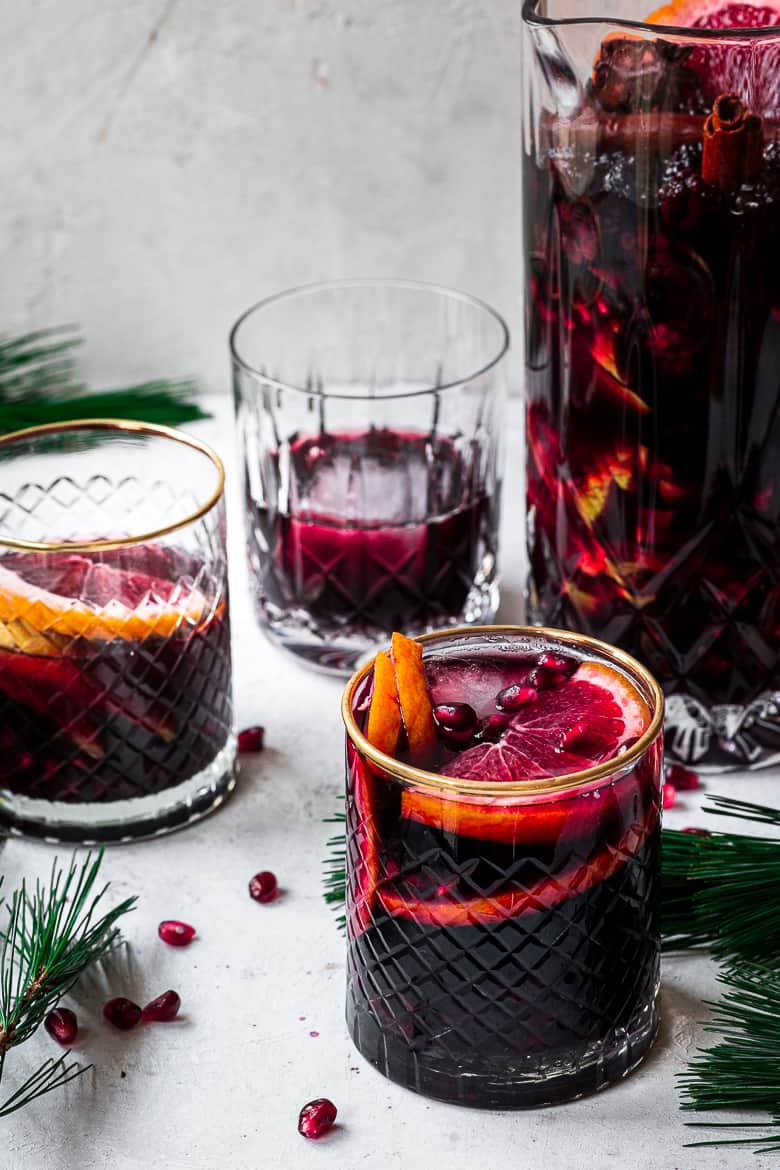 If a punch bowl, crowd-pleasing, holiday cocktail is on your radar, consider giving this winter spiced sangria recipe a go. In my opinion, fewer drinks are more inviting, or crowd pleasing, than this one. Happy New Year, dear friends!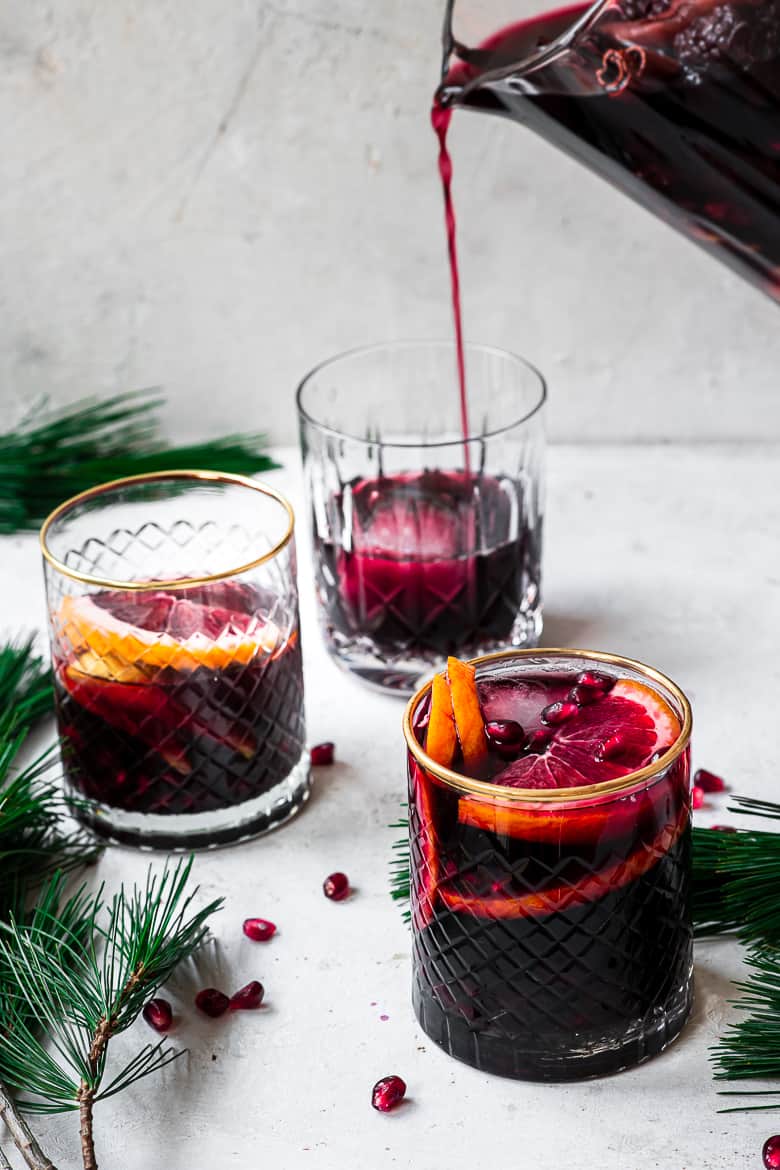 Ingredients
For The Spiced Simple Syrup

1/2

cup

water

1/2

cup

sugar

I use cane sugar

2

cinnamon sticks

3

whole star anise

For the Sangria

3

cups

medium-bodied red wine

I use a Temperanillo, or Grenache

2

cups

pomegranate juice

1/2

cup

Cointreau*

1/4

cup

St Germain*

1/4

cup

spiced simple syrup

4

blood oranges

or any orange

2

small ripe pear

cored and sliced (or cubed)

1

cup

any frozen fruit

blackberries, raspberries, cranberries

1/2

cup

pomegranate arils

for garnish (optional)
Instructions
For The Spiced Simple Syrup

In a small saucepan, over high heat, combine the water, sugar, cinnamon and star anise. Bring the mixture to a light boil then reduce the heat to low and simmer for 5-10 minutes. Remove from heat and let the syrup steep and cool to room temperature. For this recipe, you will only use 1/4 cup of the simple syrup. The rest will keep covered, in the refrigerator, for up to 3 weeks.

Assemble the Sangria

Pour the wine into a large bowl or pitcher. Add the pomegranate juice and liqueurs and mix well.

Juice two of the oranges (you should have about ½ c of orange juice). Add the juice to the wine along with 1/4 cup spiced syrup. If desired, add 1 cinnamon stick and the star anise from the simple syrup. Mix well.

Thinly slice the other orange and add a few slices to the serving bowl or pitcher, reserving some slices for serving. Add the sliced pear and half of any other fruit you are using.

Cover the bowl or pitcher and refrigerate the sangria for at least 2 hours or overnight to let the flavours blend.

When ready to serve, garnish the sangria with the remaining fruit, and the pomegranate arils, if using. Pour the sangria into glasses and serve.
Notes
*Swap out the liqueurs for 1/2 cup brandy if desired. Or use any other fruity liqueur you have on hand, or a mix of brandy and liqueurs.