This immune boosting super green soup is great for batch cooking on the weekend – it freezes well, or take it to work for a deliciously light, but sustaining lunch.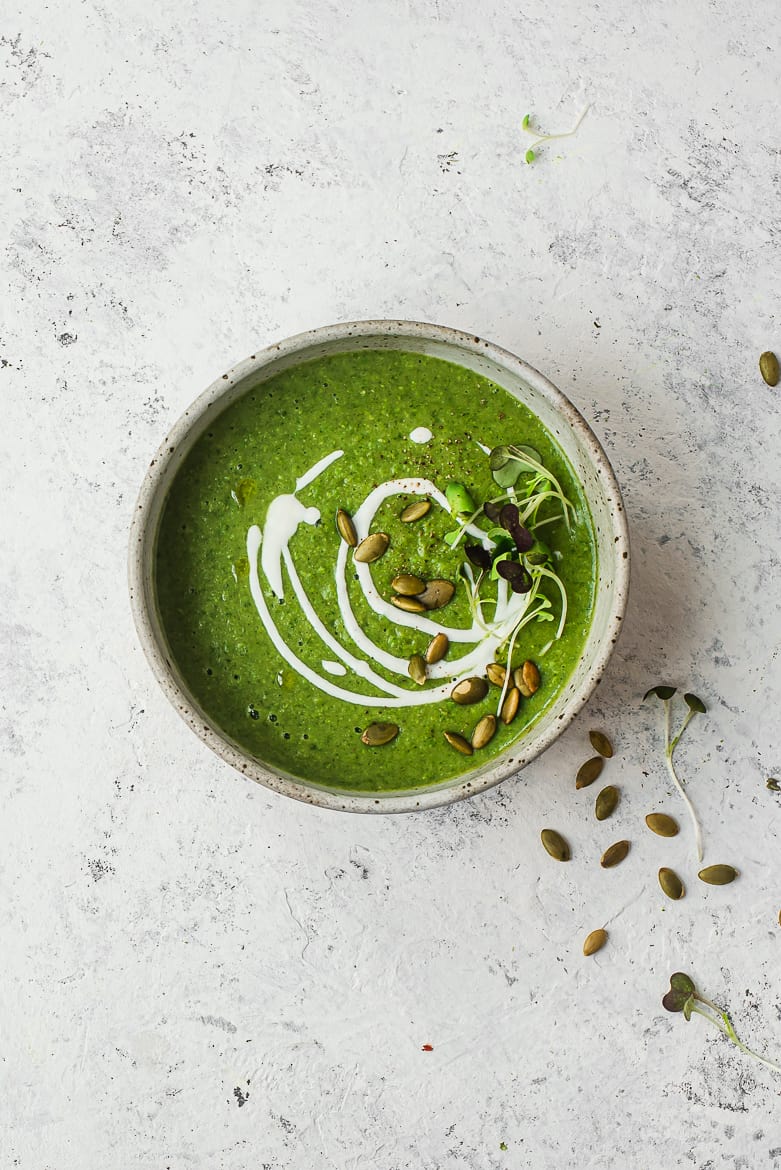 Well hello, Happy New Year, and welcome back for 2020! Hope you had a lovely holiday and relaxed and indulged to your hearts content. I did both, x 100. I'm not much for New year's resolutions, and since I generally eat healthy, I don't believe in restricting myself much when it comes to food. But friends, my jeans are tight. Not only that, but I'm certainly not feeling my best. We were fortunate to have been invited to many dinners and parties over the holidays and it appears everyone has been stepping up their game in the cooking department. So much good food. So little will power.
Now, I need to get my act together and do a little reset. This one-pot, super green soup is a perfect start. Loaded with immune-boosting ingredients — broccoli, spinach, mushrooms, parsley (yes parsley is immune-boosting) — it is incredibly easy to make. As with most soups, you start by sweating onions. Toss in a few sliced mushrooms which not only boost the nutrition but help thicken the soup. Add the rest of the ingredients, a liquid, and let it all bubble away before blitzing. An optional swirl of lemony yogurt, or a squirt of lime, before serving, will brighten this soup tremendously.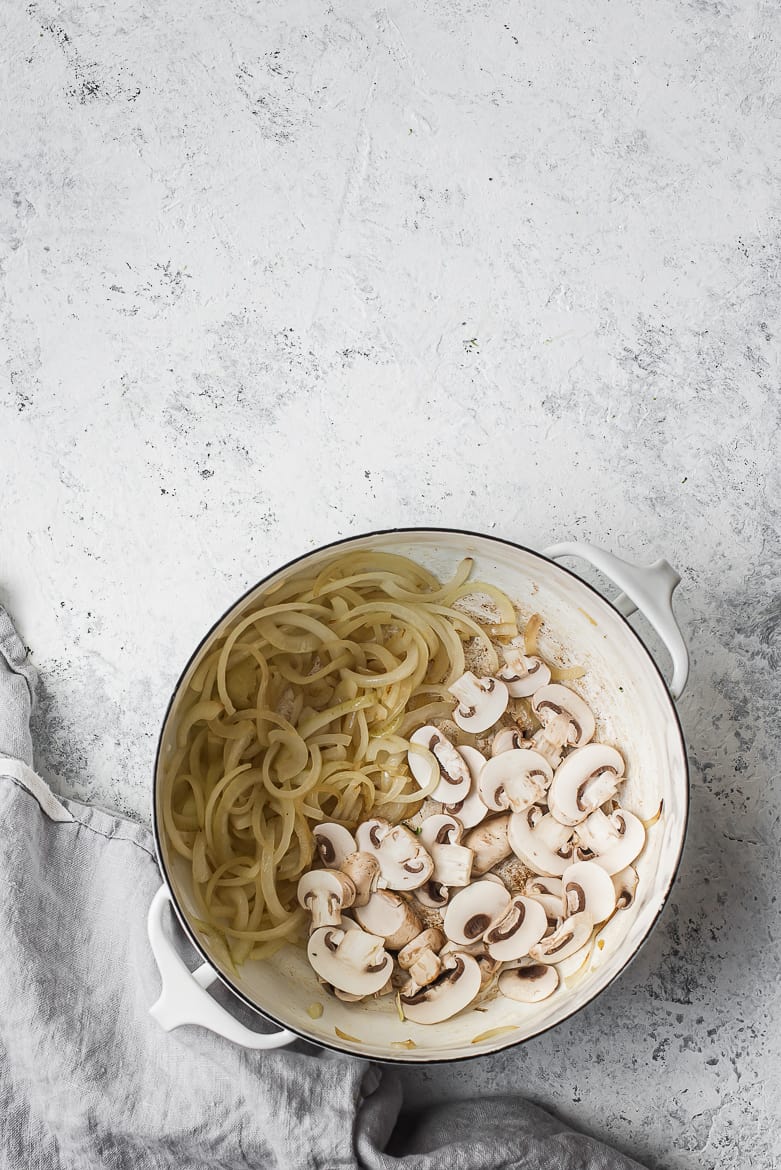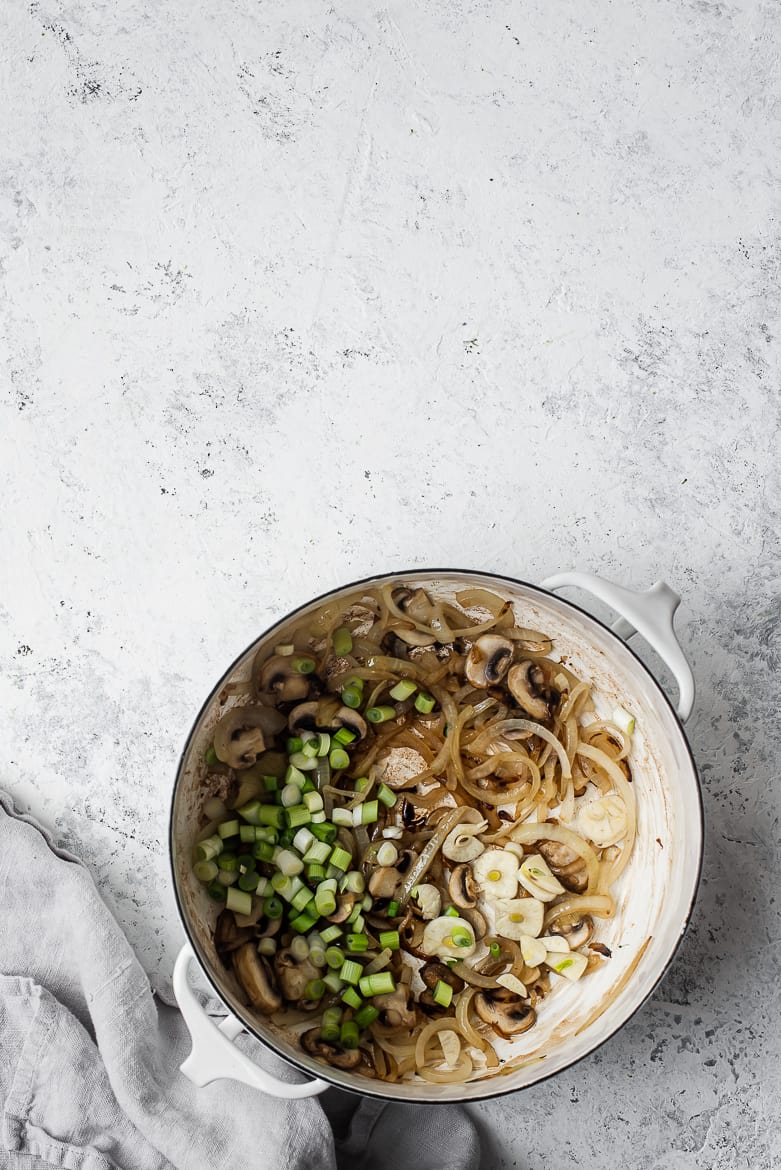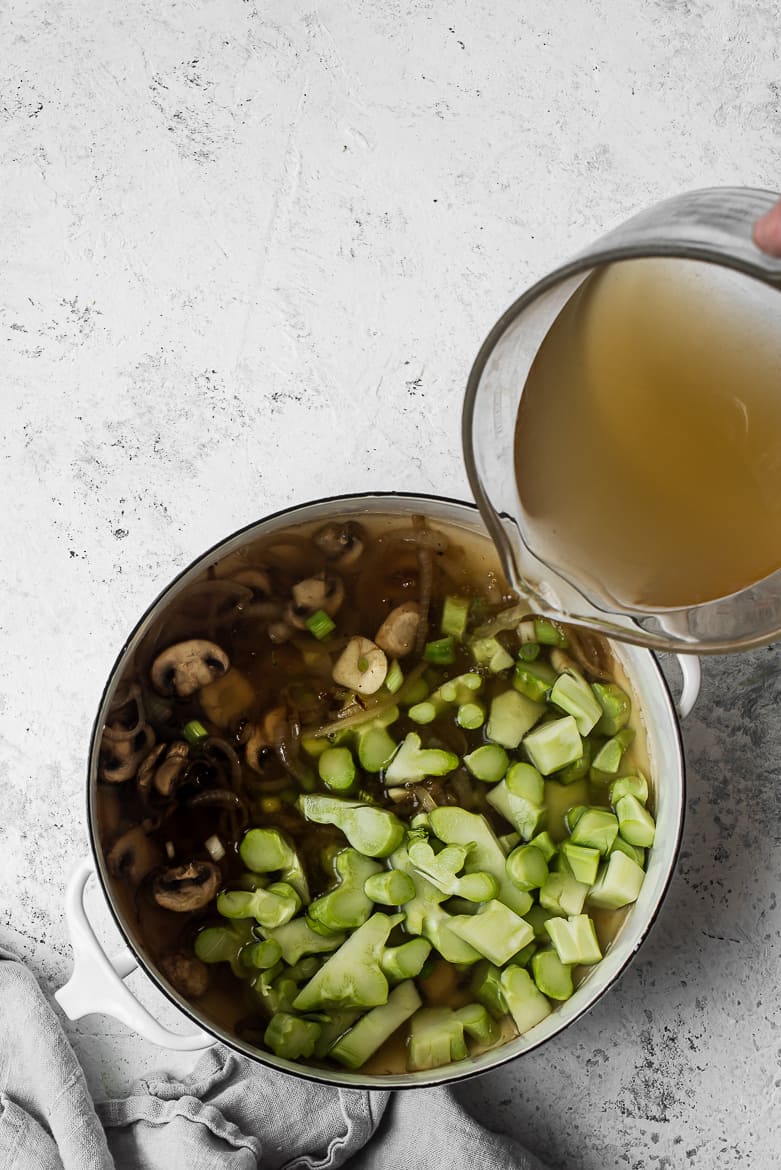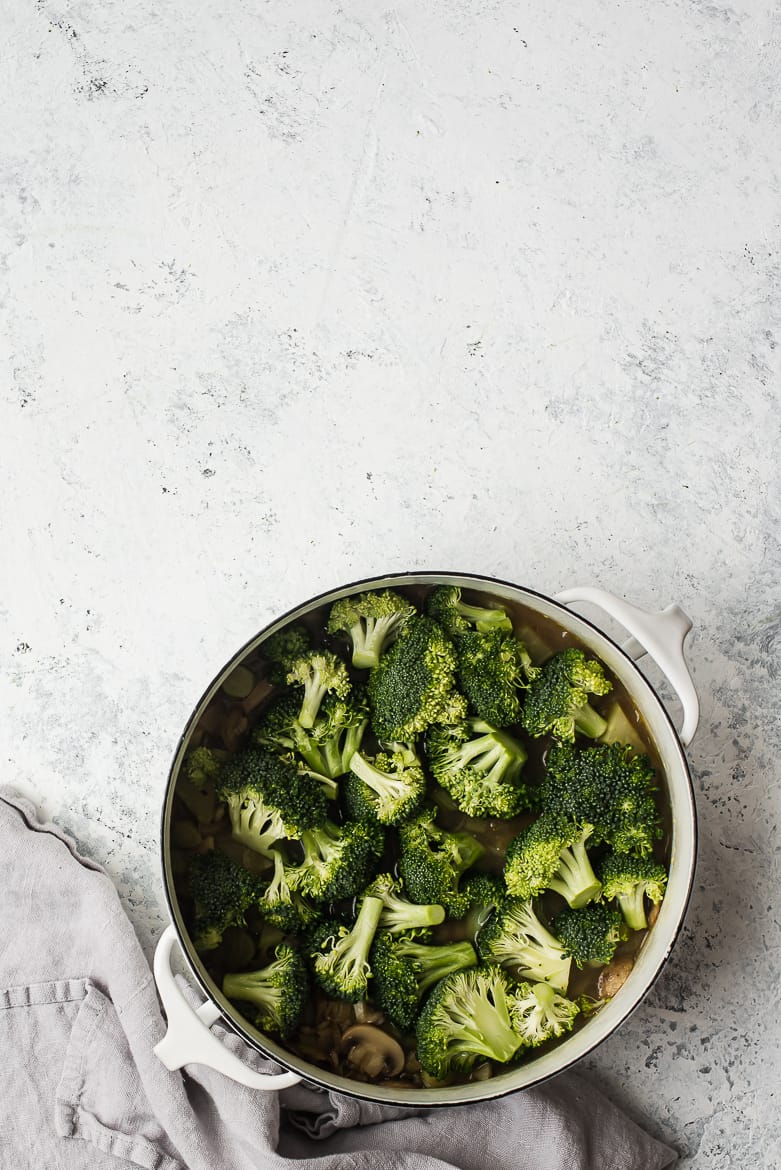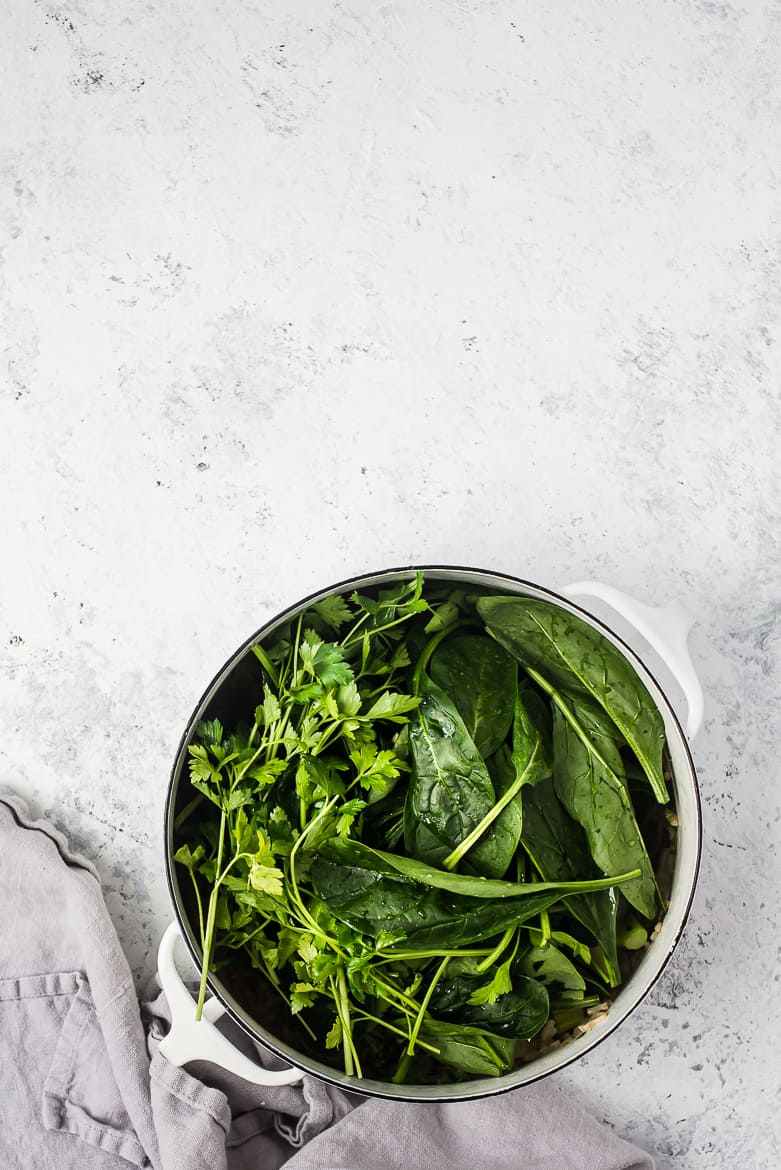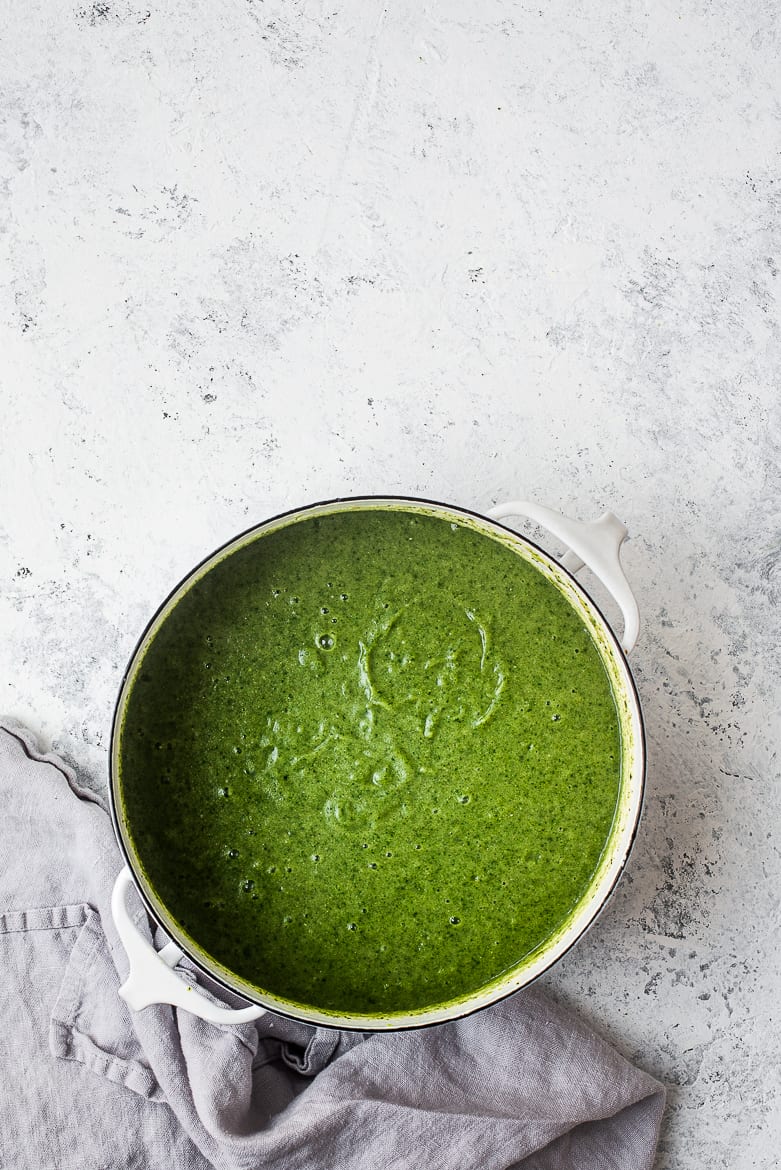 Ingredients for immune boosting green soup
Simple and delicious, the nutritional value of this vibrant super green soup is boosted by many healthy ingredients, most of which you will already have on hand.
Here is a little information on the ingredients:
Broccoli: Broccoli is an excellent source of both calcium and vitamin K,  which are important for bone health and prevention of osteoporosis. Broccoli is also full of other nutrients like magnesium, zinc and phosphorous. Definitely a vegetable to load up on!
Spinach: Iron-rich spinach is also an excellent source of folate which our bodies need to aid in the production of blood cells. Spinach is also high in Vitamin C and antioxidants that fight infections.
Mushrooms: Aside from acting as a thickener for the soup, mushrooms add a rich umami flavour and are powerful antioxidants. Mushrooms also feed the good bacteria in your gut and act as an anti-inflammatory.
Yukon gold potato: I wanted this soup to be on the smoother, lighter side, with a creamy consistency. In place of cream or dairy, a small potato thickens the soup, makes it creamy, and adds heft.
Garlic: I won't bore you with the incredibly long list of the powerful nutrients found in garlic. Just know that it is one of the most powerful immune boosters to fight cancer and cardiovascular diseases. Garlic is also a good source of vitamin C and B6. This is all great news since I use garlic in copious amounts.
Onion: Fun fact; onions are included in the World's Healthiest Foods list. High in antioxidants, they are also rich in Vitamin C and B vitamins.
Parsley: You may not know that parsley has long been considered a superfood. Parsley is incredibly rich in iron, calcium and Vitamin C. Packed with essential oils and nutrients, it is also loaded with an abundance of chloropyhll and digestion-aiding enzymes.
Green onions: Not only do they taste great but have a lot of nutritional value. They are an excellent source of vitamin K and vitamin C, and a very good source of vitamin A as well. Green onions are also known to aid digestion.
Vegetable broth: I have said this many times before, homemade stock is best. However, this soup has enough veggies and nutrition that a store-bought, low-sodium, version is totally acceptable. Use all broth, water, or a mix. Lately, I have been enjoying this brand of low-sodium vegetable stock.
Cayenne Pepper: Optional, but it contributes a bit of a kick in your soup, and for sinus-clearing purposes, I always add a shake or two. Cayenne is also a powerful antioxidant.
Lemon or lime: Known to get your digestive tract moving, lemons and limes also assist in liver function.
Yogurt swirl: Optional and purely for taste. Leave it out if you wish, the soup will be delicious either way.
Toppings: I don't like to go too crazy on the toppings for this soup. That said, a little crunch from seeds or nuts is always welcome in a soup.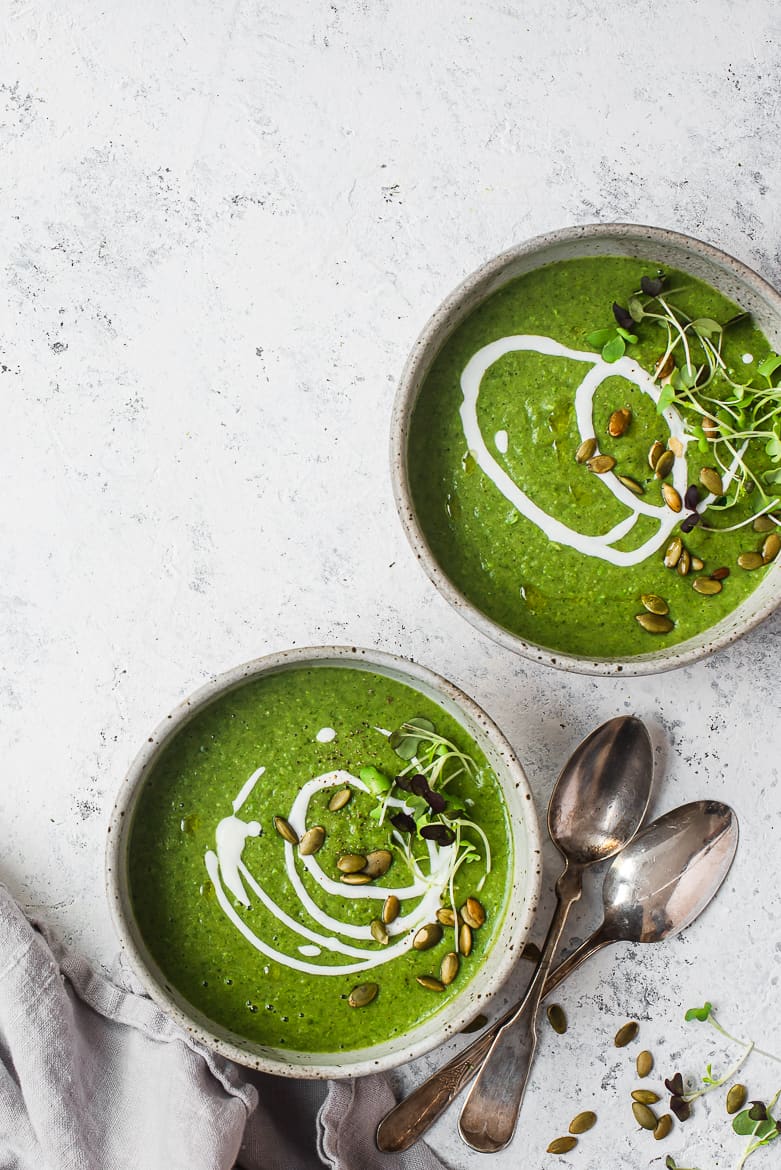 VARIATIONS
Feel free to use this soup recipe as a base, then omit or add ingredients to your liking. In place of spinach you can use kale and/or swiss chard. Shallots or leeks can replace the onions. Other herbs such as mint and cilantro would be fantastic in this soup.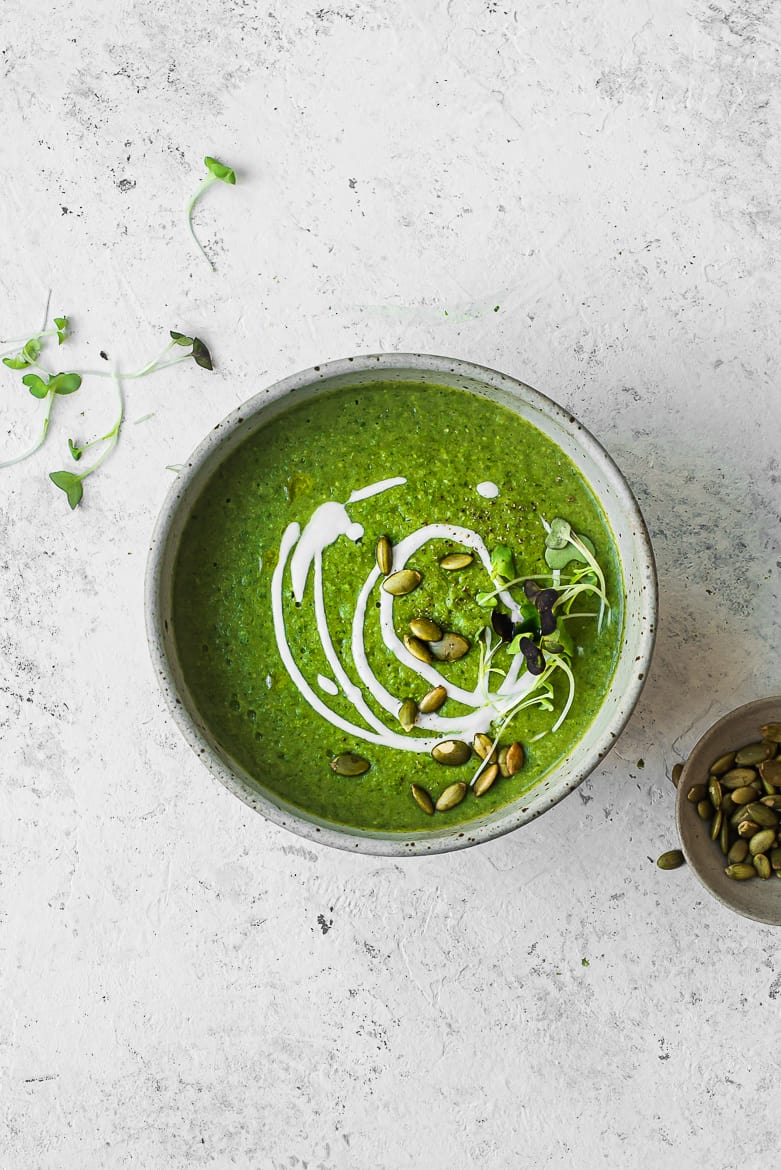 I find a large bowl of this soup very satisfying on it's own for dinner. But if I had a very light lunch, I will top it with avocado or have it alongside a small, healthy main. Make this soup because it will make you feel good. But more importantly, make it because it is delcious. I hope you give it a try and love it as much as I do!
Other recipes you may enjoy
Instant Pot Barley Minestrone Soup
Instant Pot Cuban Black Bean Soup
Homemade Chicken Stock and Chicken Soup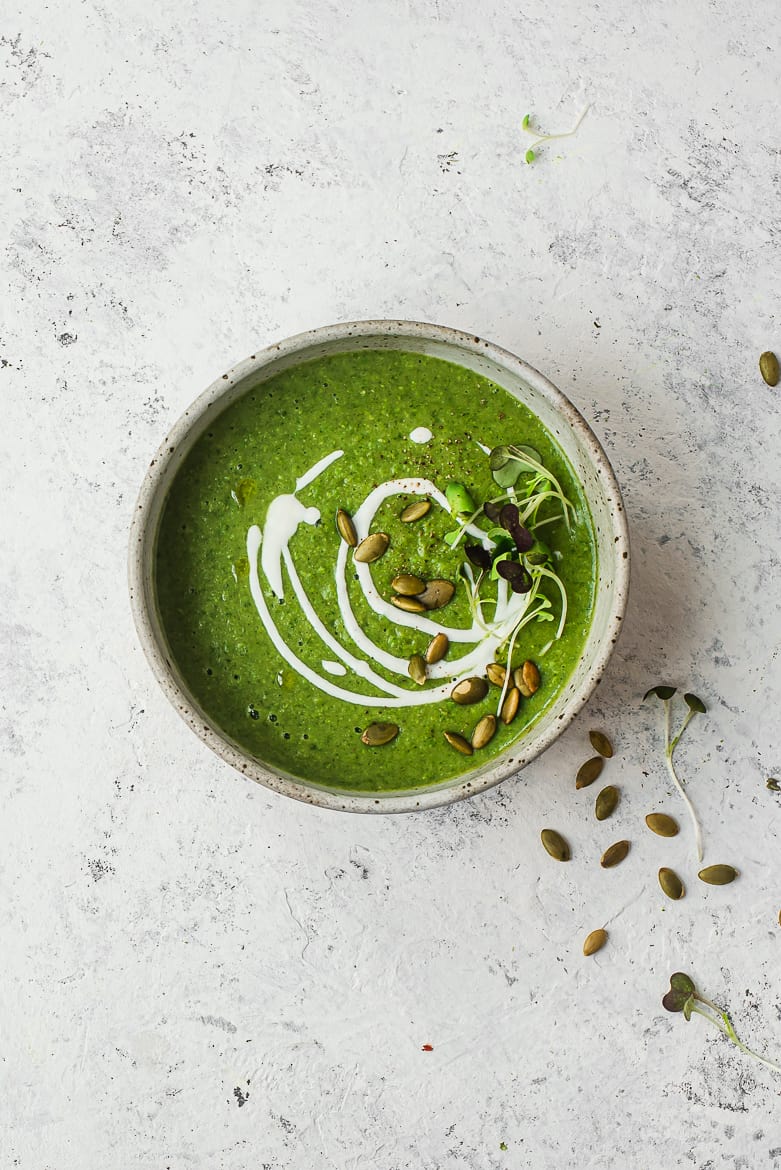 Ingredients
1

Tablespoons

extra-virgin olive oil

salt and freshly ground black pepper to taste

1

medium yellow onion

chopped

4-6

white

or brown mushrooms, sliced

3

cloves

garlic

smashed and chopped

4

green onions

white and green parts, chopped (optional)

1

medium

yellow potato, diced

1

small head broccoli; finely chop florets

coarsely chop stems, keep stems and florets separate

4

cups

low-sodium vegetable broth

3

cups

baby spinach

3/4

cup

parsley leaves with tender stems

1

cup

water

if necessary to thin soup

1/4

teaspoon

cayenne pepper

or less to taste

2

Tablespoons

lemon juice

more if desired
Optional Garnish:
Toasted pepita seeds

Microgreens

Sliced avocado

1/4

cup

yogurt thinned with a little milk for drizzling
Instructions
Heat 2 tablespoons olive oil in a large heavy pot over medium-high. Add the onion and season with 1 teaspoon salt and 1/2 teaspoon pepper. Cook, stirring occasionally, until onion is soft about 5-7 minutes. Add mushrooms and cook for 3 more minutes. Stir in the garlic and green onions and cook for 30 seconds. Increase heat to high, add the diced potato, broccoli stems, and vegetable broth and bring to a boil. Reduce heat, and simmer, stirring occasionally, for 10-15 minutes.

Stir in broccoli florets and cook for 5 minutes. Add spinach and parsley and cook a further 3 minutes. If soup seems too thick, add 1 cup water. Remove from heat and add the cayenne and lemon juice. Use an immersion blender to mix until smooth. Taste and adjust seasoning if necessary. Alternatively, working in batches, process soup in a high speed blender until smooth.

To serve, ladle soup into bowls and top with optional garnish.