---
These light and crunchy, not-too-sweet, chocolate dipped almond biscotti, make a great gift, or special treat for the holiday season. Dunking is optional, but so delicious.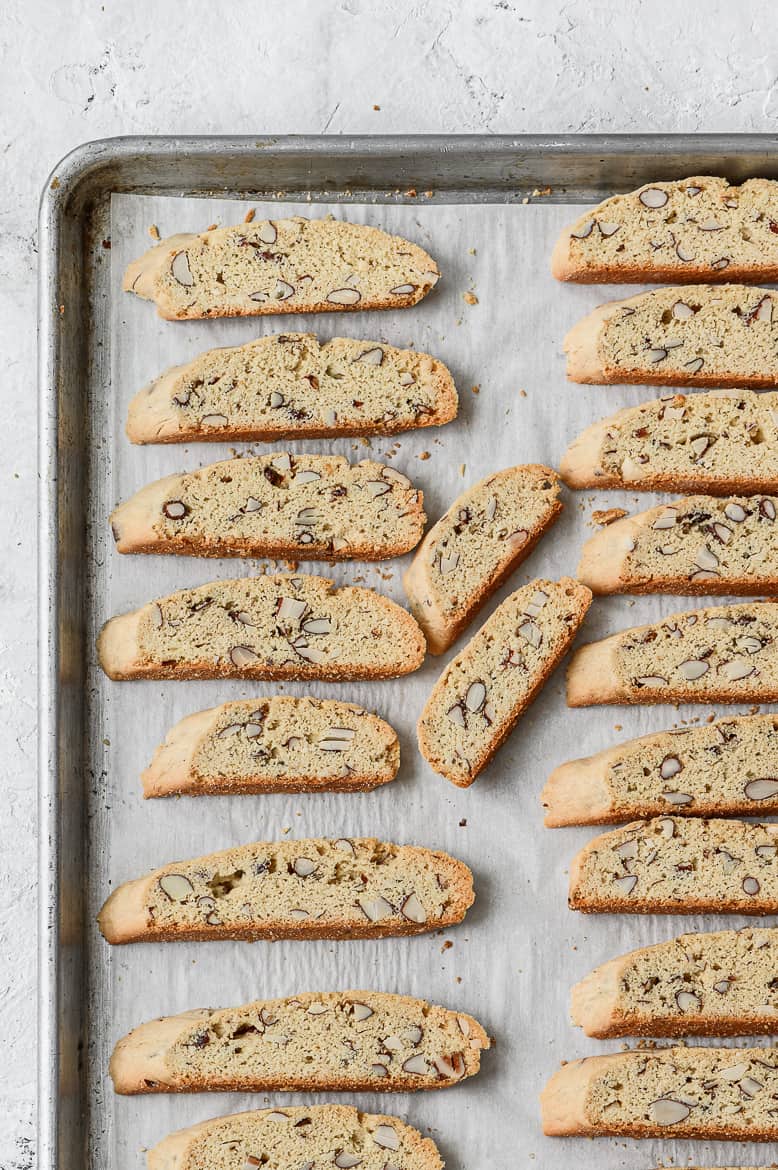 I know everyone is up to their eyeballs right now with holiday madness and baking may be the last thing on your mind. But maybe not? Maybe, (unlike me) you have crossed everything off your list and are looking forward to a little baking. If that's the case, consider making these delicious chocolate dipped biscotti. Biscotti are the most perfect cookies to wrap up and gift — they last long, travel well, and everyone loves them.
Here, I am providing you with a base recipe but biscotti are infinitely versatile and you can play with an endless combination of flavours and add-ins. Try adding lemon or orange zest, chocolate chips, dried cherries or cranberries, cinnamon, or even candied ginger for a great festive flavour.
What is a Biscotti?
Biscotti are cookies that originated in Italy and get their name from being baked twice. Traditionally, the cookies are made with no butter or oil which gives them their notorious hard texture. Almonds and pine nuts were most commonly used in biscotti but now infinite variations are found — walnuts, pistachios, dried cranberries, dipped in both dark and white chocolates, etc.
The lack of fat in a classic biscotti means they are very dry and will not get stale quickly. Dunking is a must if you are eating a traditional biscotti or you may crack a tooth. Though I would never turn away a rock hard biscotti, I prefer the "Americanized" version with added butter. This allows the biscotti to retain some crunch, but remains soft enough to be enjoyed without a dunk. The shelf life of the biscotti is a little shorter with this version, about a week. This is not a problem since these cookies tend to disappear almost as soon as they come out of the oven.
How To Make Almond Chocolate Dipped Biscotti
Biscotti are quite simple to make but do take a bit of time due to the twice-baking method they require.
Make the dough. Biscotti dough is made with very simple ingredients; butter, sugar, eggs, vanilla, flour, baking powder, and a pinch of salt. I like to use my stand mixer to blend the butter and sugar but you can simply mix by hand if that is your preference. Once the butter and sugar are mixed well, add the eggs, vanilla and dry ingredients.
Add-ins. From here, you can add your preference of nuts (or seeds), dried fruits, etc. I keep it simple with chopped almonds but I have also made them with dried cherries and pistachios — a combo you should definitely try.
Shape. Shape the dough into two logs. Note that the dough will be softer than you might expect. Lightly flour your hands if the dough is too sticky to handle or chill for about 30 minutes, if possible.
Bake. Bake the logs until just shy of done, about 25-30. The baked logs will then need to cool down for about 10 minutes before you slice them into cookies and place on a baking sheet for the second bake. The second bake takes about 20 minutes or slightly more or less, depending on how crunchy you like them.
Chocolate dip. I usually leave the almond biscotti plain but for fun, and because 'tis the season, I dipped some in melted bittersweet chocolate and sprinkled them with a bit of crushed pistachios. So good.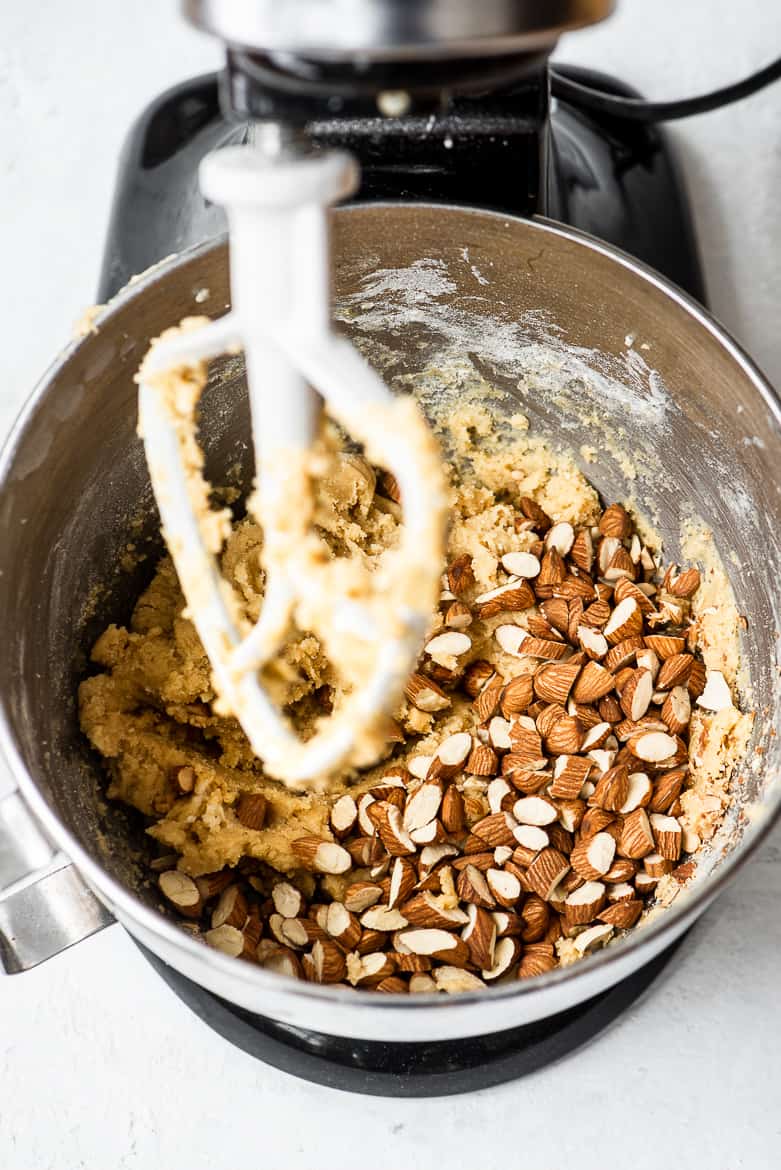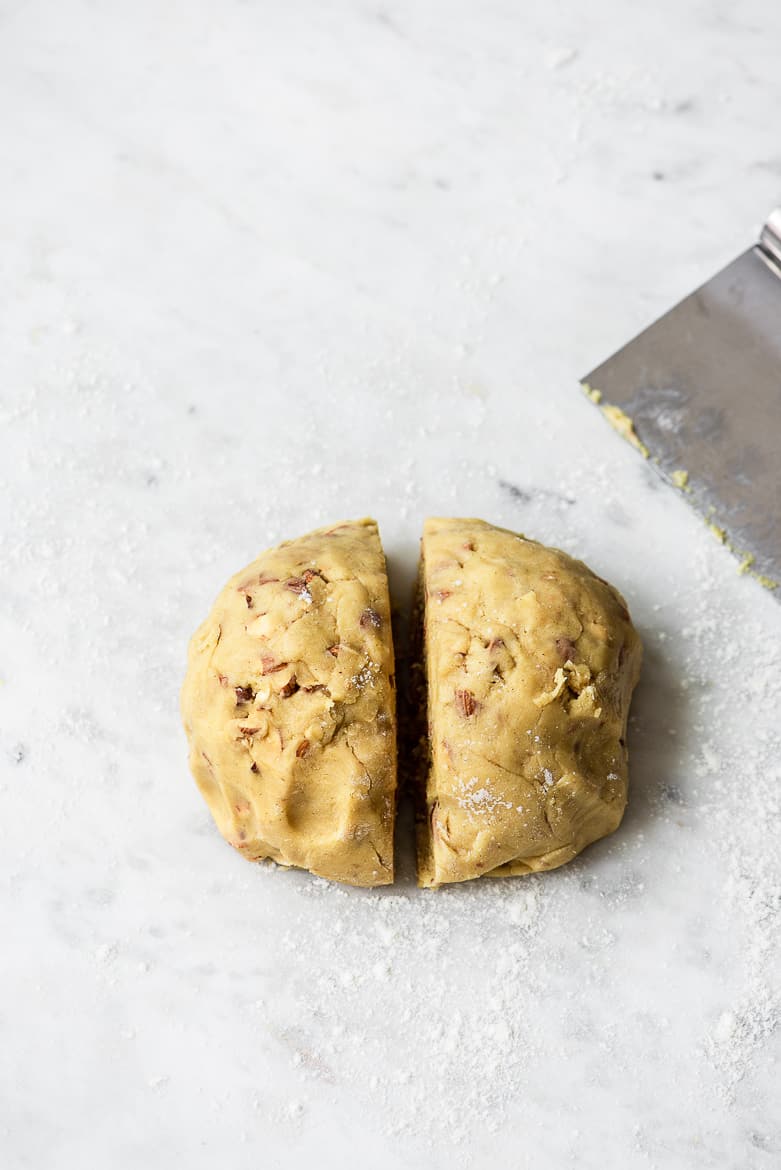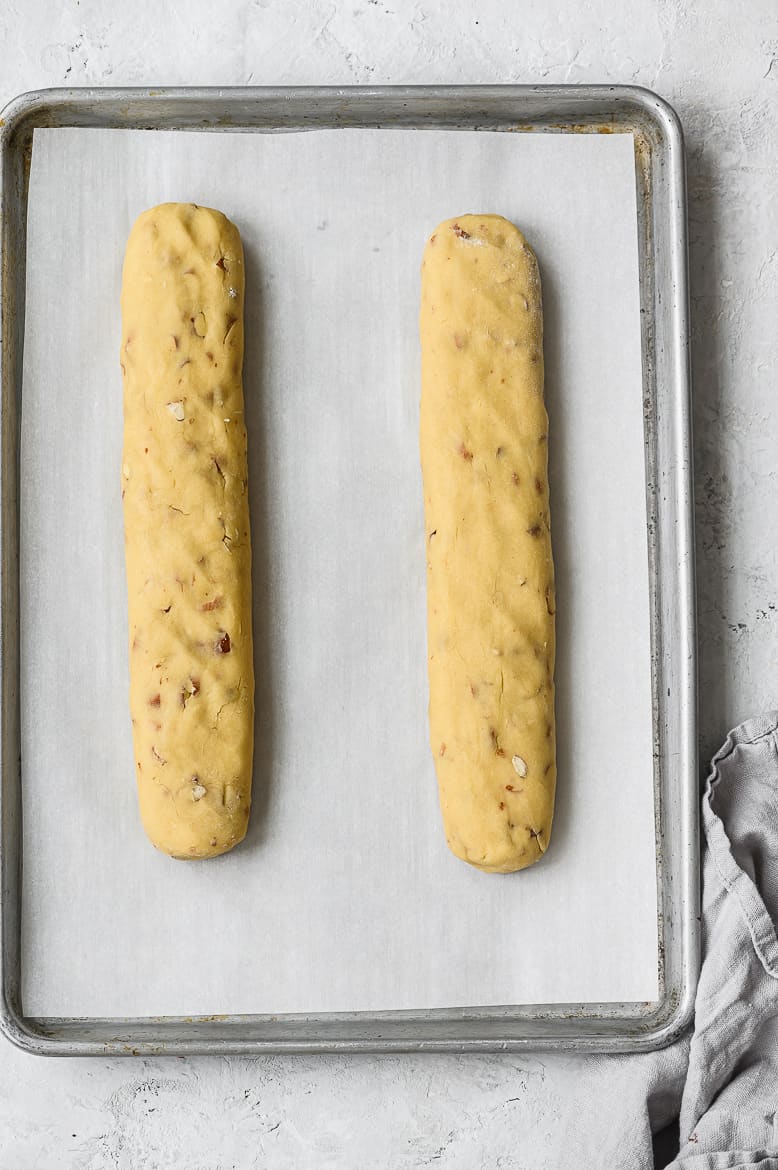 Tips 
Making the biscotti dough is super simple but here's a few tips that will help you make the perfect biscotti:
Room temperature ingredients: The standard baking rule of room temperature butter and eggs is a good one to heed here.
Toast and chop the nuts: Nuts are the most common addition to biscotti. If using, toasting the nuts enhances their flavour so I highly recommend you don't skip this step. Coarsely chopping the nuts, as opposed to leaving them whole, will make slicing the biscotti a lot easier.
Do not place the logs too close: The logs will spread a lot when baking so make sure you place them at least 3 inches apart on the cookie sheet.
Bake at a lower temperature: The logs tend to crack on top during the first bake which is not a huge deal, but will crack less if baked at a slightly lower temperature. I find 325 degrees F works well.
Allow the logs to cool slightly: If you cut the logs while they are too hot, the slices will crumble. Unfortunately, slicing when the logs have completely cooled, and hardened, will also cause the slices to crumble. I find letting the logs cool 10-15 minutes works perfectly.
Use a serrated knife to slice the logs: A gentle sawing motion with a serrated (bread) knife will cut the smoothest, clean slices. If you don't have a serrated knife, make sure you use a very sharp knife.
The second bake: Bake the sliced biscotti for about 20 minutes, flipping half way through to ensure even browning. The cookies should look slightly golden-coloured and dry.
If dipping in chocolate: To achieve a shiny appearance with melted chocolate that will stay shiny and flawless after drying, you have to temper it. This means slowly heating and then cooling the chocolate. I am usually a little too impatient to temper chocolate so I just melt it and hope for the best. If you are interested, in properly tempering chocolate, read here for a genius, easy way to do it. Let biscotti cool completely before garnishing with chocolate or icing.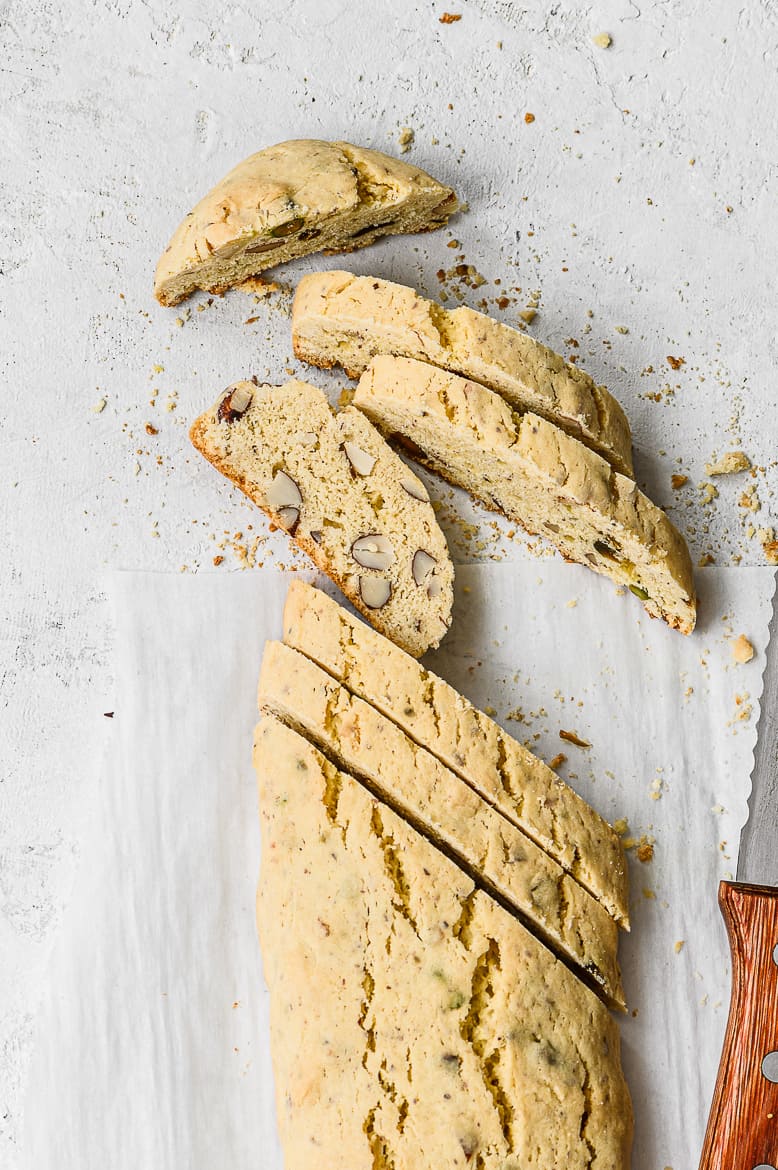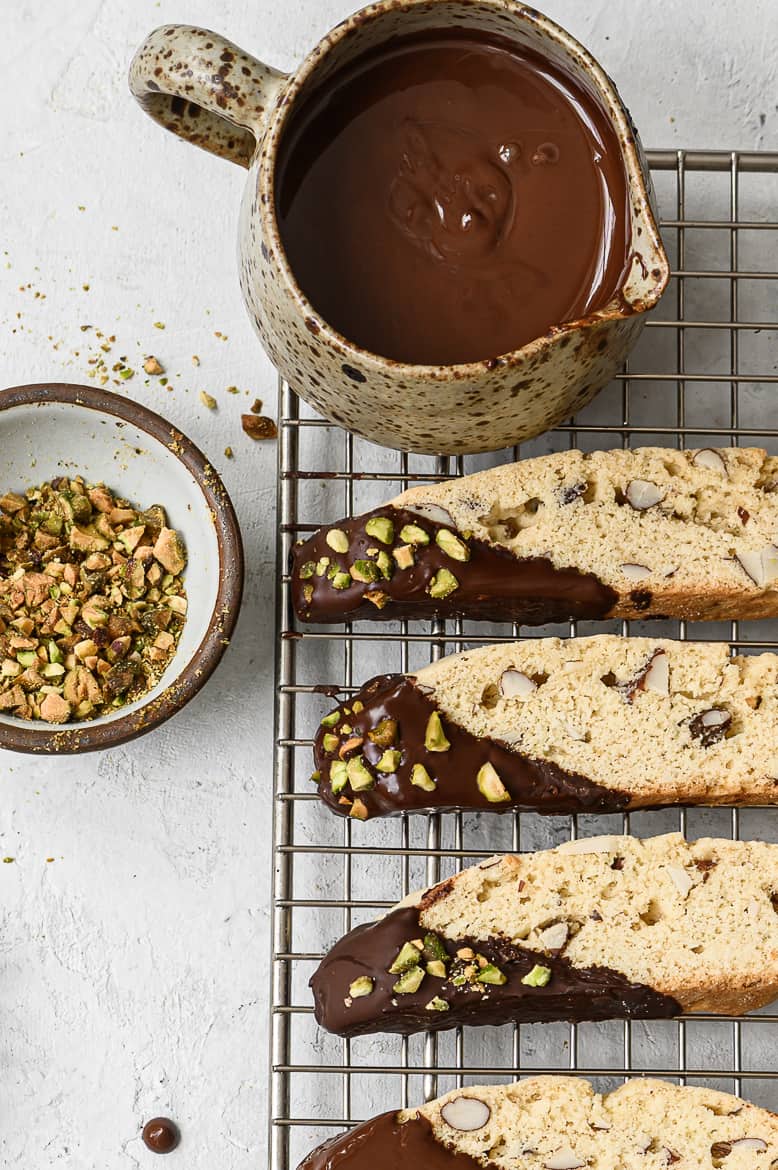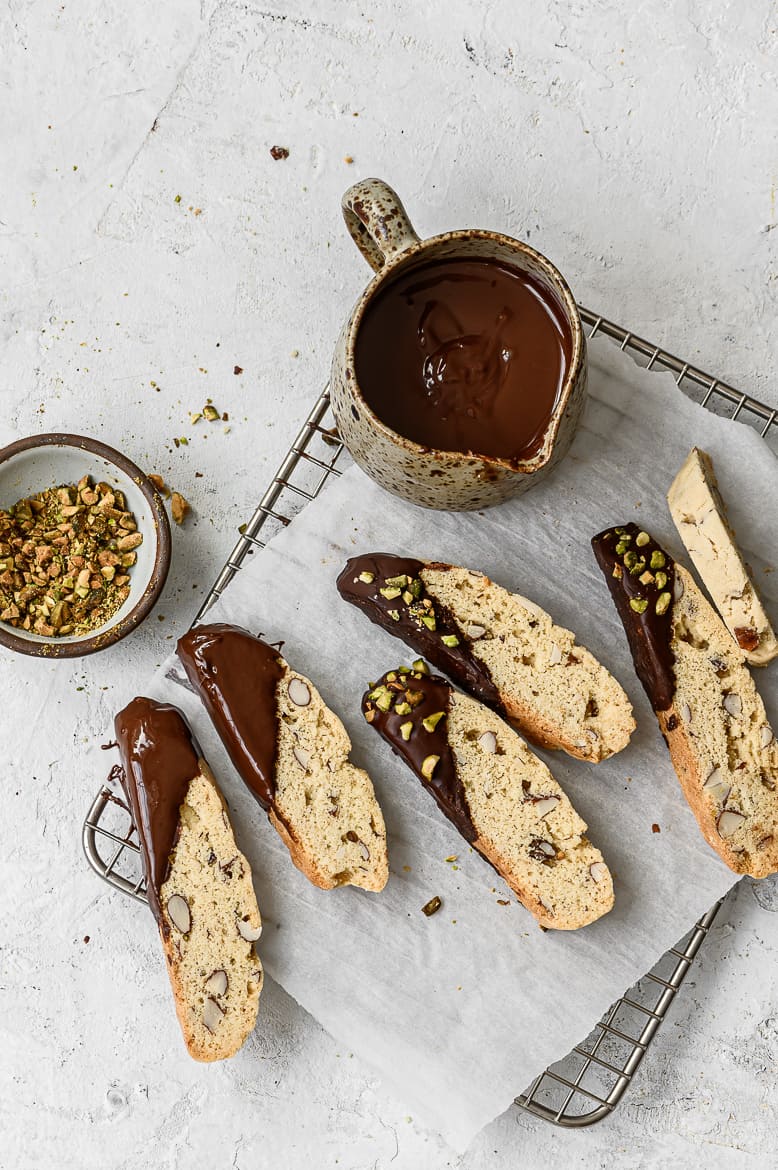 How To Freeze And Store Biscotti
For storing and freezing biscotti, keep these tips in mind:
Cool biscotti completely before storing, preferably in a glass jar or metal tin, which will help maintain crispness.
When storing decorated biscotti, place them between sheets of parchment paper.
Biscotti are perfect for freezing for up to 3 months. I like to slice them and freeze them before the second bake. Then simply bake them, from frozen, and enjoy!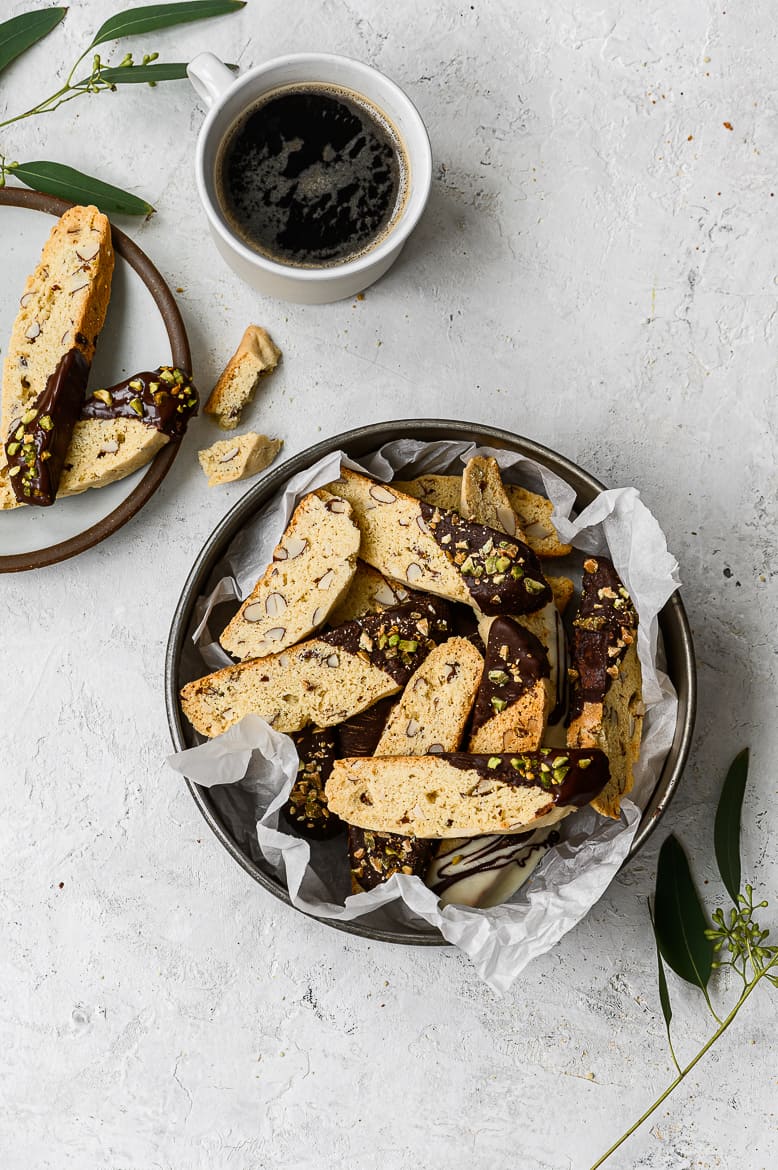 I hope you find yourself assembling these light and crunchy, gorgeous biscotti treats this holiday season. You will love how easy they are to bake and how delicious they are with your morning coffee (or evening wine – no judgement).
On a side note, in closing what was at times a wonderfuI, at times a difficult, year, I would like to thank you, my dear readers for all your support. And I hope you'll keep following because I have lots and lots more goodness coming your way. Wishing everyone a safe, peaceful and happy Christmas!
Other Holiday Treats
Print Recipe
Pin Recipe
Almond Chocolate Dipped Biscotti
These double-baked crisp biscotti are crammed with nuts, and dipped in chocolate for an extra treat. Perfectly crunchy, yet soft enough to eat without dunking, they also make a great gift to make for Christmas.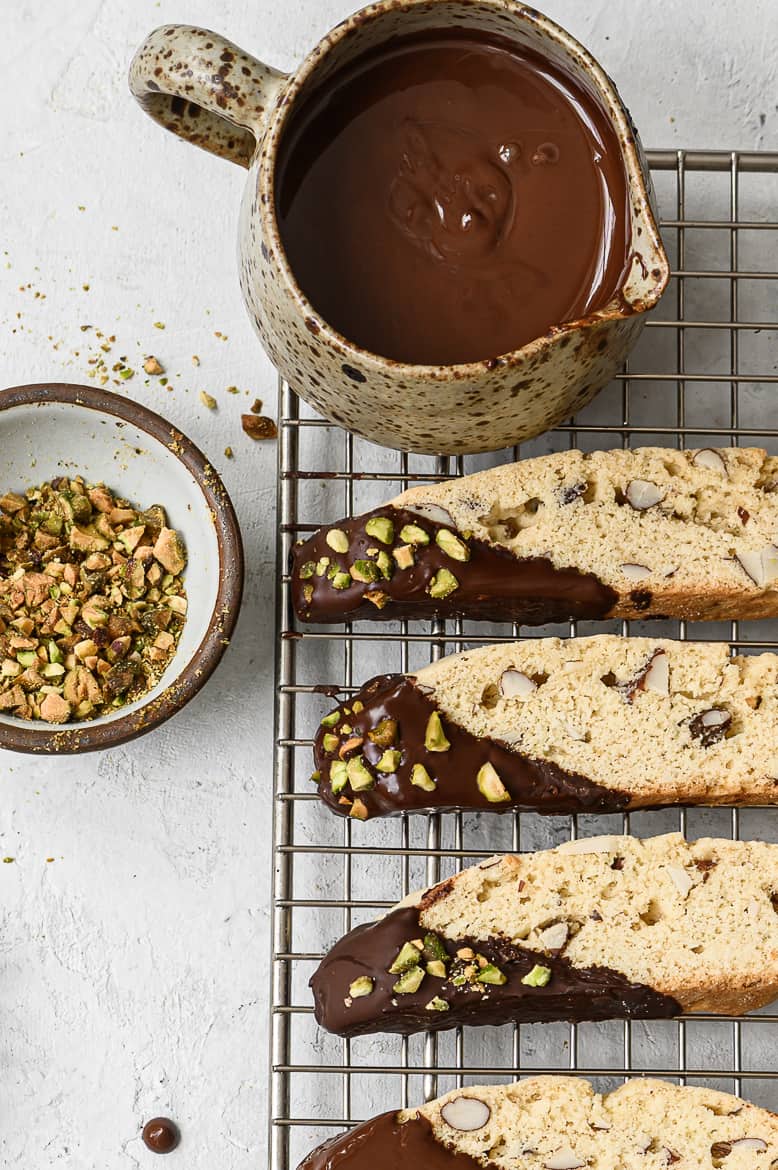 Ingredients
8

Tablespoons

1 stick unsalted butter, softened

3/4

cup

sugar

2

eggs

1

teaspoon

vanilla extract

2

cups

all-purpose flour

1

tsp

baking powder

1/2

teaspoon

kosher salt

1

cup

raw almonds

coarsely chopped

8

ounces

bittersweet chocolate

coarsely chopped (optional)

1/4

cup

shelled pistachios

finely chopped
Instructions
Preheat oven to 325 degrees F. Line a cookie sheet with parchment paper and set aside.

Using a stand mixer or an electric hand mixer, beat together butter and sugar until creamy and well-combined.

Add eggs, one at a time, mixing well after each addition. Stir in vanilla extract.

In a separate, medium-sized bowl, whisk together flour, baking powder, and salt.

With mixer on low, gradually add half of flour mixture into butter mixture, then the other half, until just combined. Stir in almonds.

On a lightly floured surfaced, and using lightly floured hands, divide dough into two equal pieces. Form dough into two separate logs approximately 12" long by 2" wide and transfer to prepared cookie sheet. Make sure to space them at least 3" apart as biscotti will spread. Bake 25-30 minutes or until logs are lightly golden brown. They should still be springy when touched.

Remove from oven and allow biscotti to cool for 10-15 minutes. Leave oven on.

Once cooled, use serrated knife to slice loaves diagonally, or straight, into slices about 1 1/2" thick Place biscotti cut-side down on parchment paper lined cookie sheet. You may need to use an additional baking sheet for this.

Return to oven and bake for 10 minutes. Flip each biscotti over gently, and then bake another 10 minutes. Biscotti should be lightly golden brown when finished baking. Allow to cool completely.

At this point, you can store the cookies in an airtight container for up to two weeks. Or, if desired, melt the chocolate to dip the biscotti; In a small pot, bring two inches of water to a boil. Place the chocolate in a small metal bowl and place on the pot. Mix gently until chocolate is melted. Remove metal bowl from pot and keep mixing gently, every so often, until ready to use.

Dip the cookies halfway into the chocolate allowing any excess to drip back into the chocolate bowl. Place the chocolate dipped biscotti on a baking sheet with parchment. Sprinkle with chopped pistachios, if using. Allow the chocolate to cool and set before storing or serving.