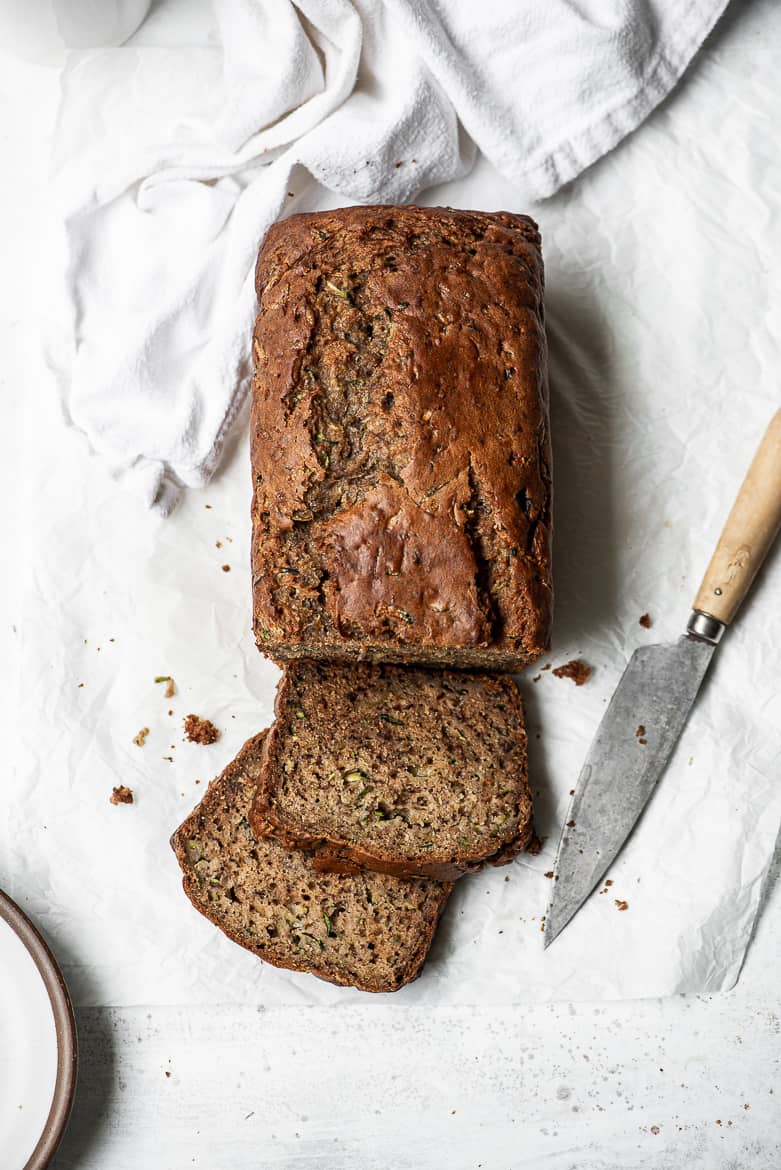 Does the pinterest world really need another zucchini banana bread recipe that promises to be the easiest, best ever, most moist, most healthiest, most addictive, most delicious? I mean, have you googled it? Don't. Unless you have an hour.
Despite the lack of originality, however, I would like to think that yes, pinterest could make room for one more. My recipe does  not offer any unexpected twists, nor life-changing surprises. But you do get a recipe that is simple, with timings and ratios that can be depended on, and one that produces a reliable, super moist, delicious quick-bread. You know, in case pinterest didn't have one you liked.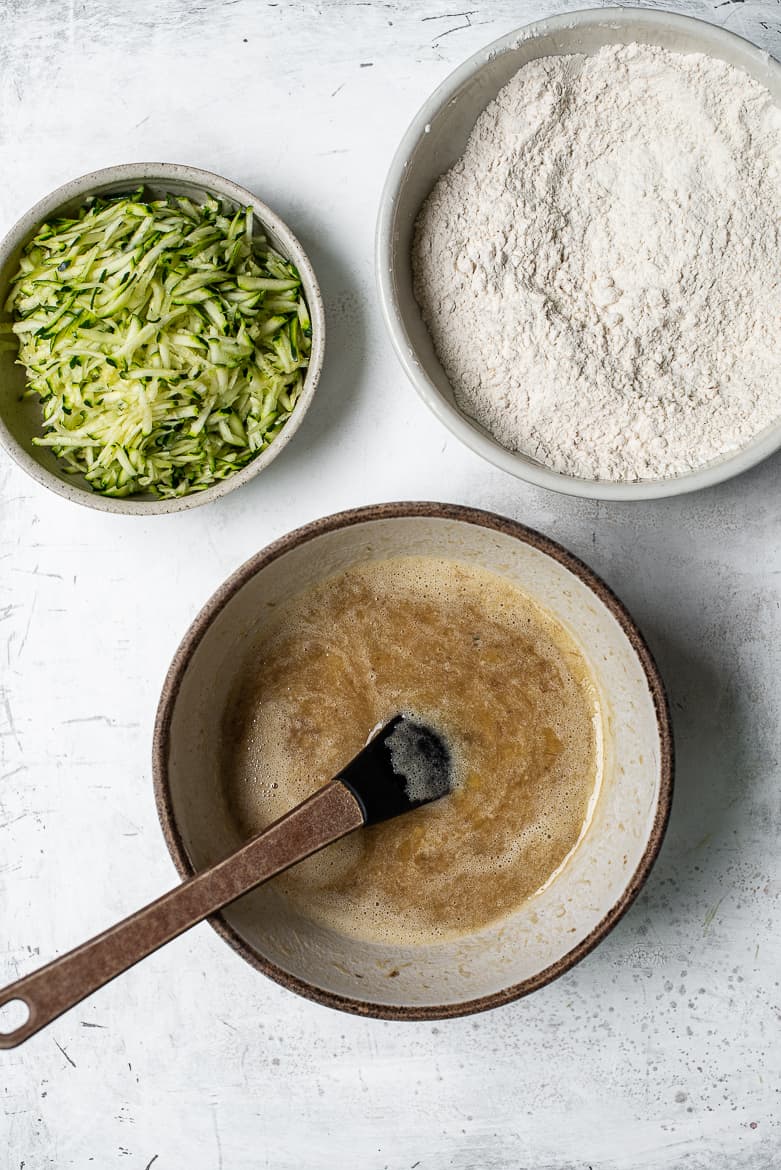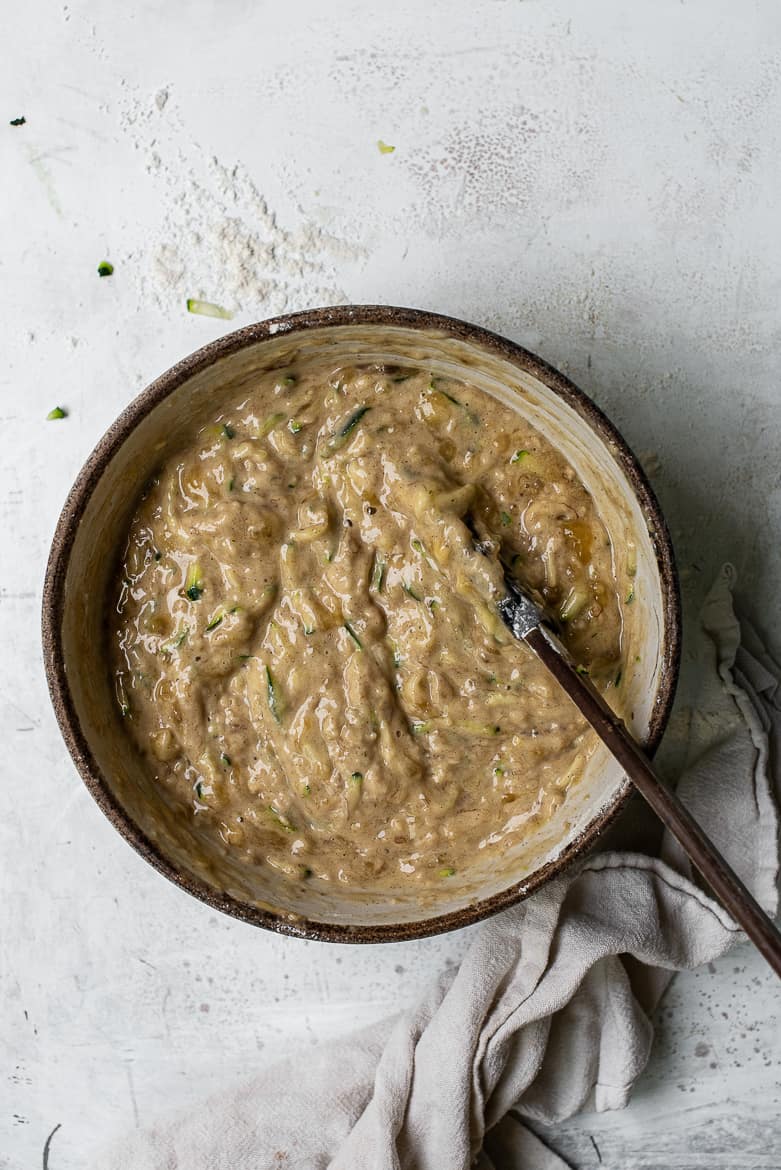 ABOUT THIS SUPER MOIST ZUCCHINI BANANA BREAD RECIPE 
What I love about this recipe is that it takes a standard banana quick-bread and makes it great by simply adding grated zucchini. Not just a bit of zucchini. A lot. Two whole cups of grated zucchini. Though not overly virtuous in the nutritional spectrum, the defining characteristic of a zucchini is that it is moisture-packed. When cooked, it releases the juices and adds moisture, body and a subtle flavour to sweet, and savoury, baked goods. This means your zucchini banana bread will be deliciously tender, keep well for days, and freeze perfectly if you would like to double the recipe.
Generally speaking, and whenever possible, I like to bake desserts with less white flour and no white sugar to sneak in a little nutrition. For this zucchini banana bread, I use a mix of maple syrup and cane sugar to sweeten the bread. The raw cane sugar adds a nice subtle molasses flavour that plays well with the banana and zucchini. The maple syrup adds more moisture to the bread and a delicious flavour that white sugar does not.
This recipe also calls for a mix of whole wheat pastry flour (I like this one) and white unbleached flour. Whole wheat pastry flour lends baked goods a wonderfully tender crumb, while retaining the nutrients found in whole wheat flour. Feel free to use all white flour, or all whole wheat, if that is what you prefer.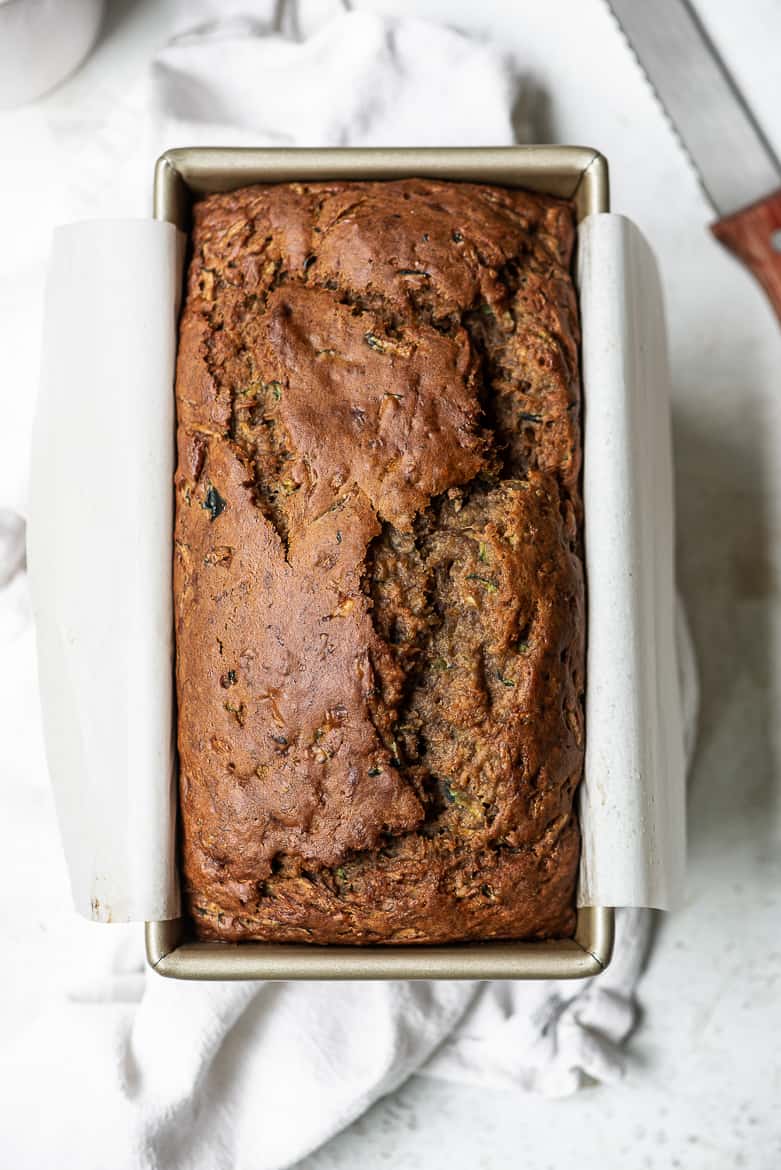 ABOUT THE BANANAS
It is true that the flavour of banana intensifies as it ripens. Therefore, most banana bread recipes will tell you the bananas should be nearly black for maximum flavour. To me, an almost rotting black banana tends to bring on the gag – especially when frozen in this state, ew. I use, or freeze bananas that are very soft, over-ripe, but before they get black and oozy.
If your bananas are not ripe at all, watch this quick video on how to ripen your bananas in 15 minutes. I haven't tried it yet but it seems pretty genius.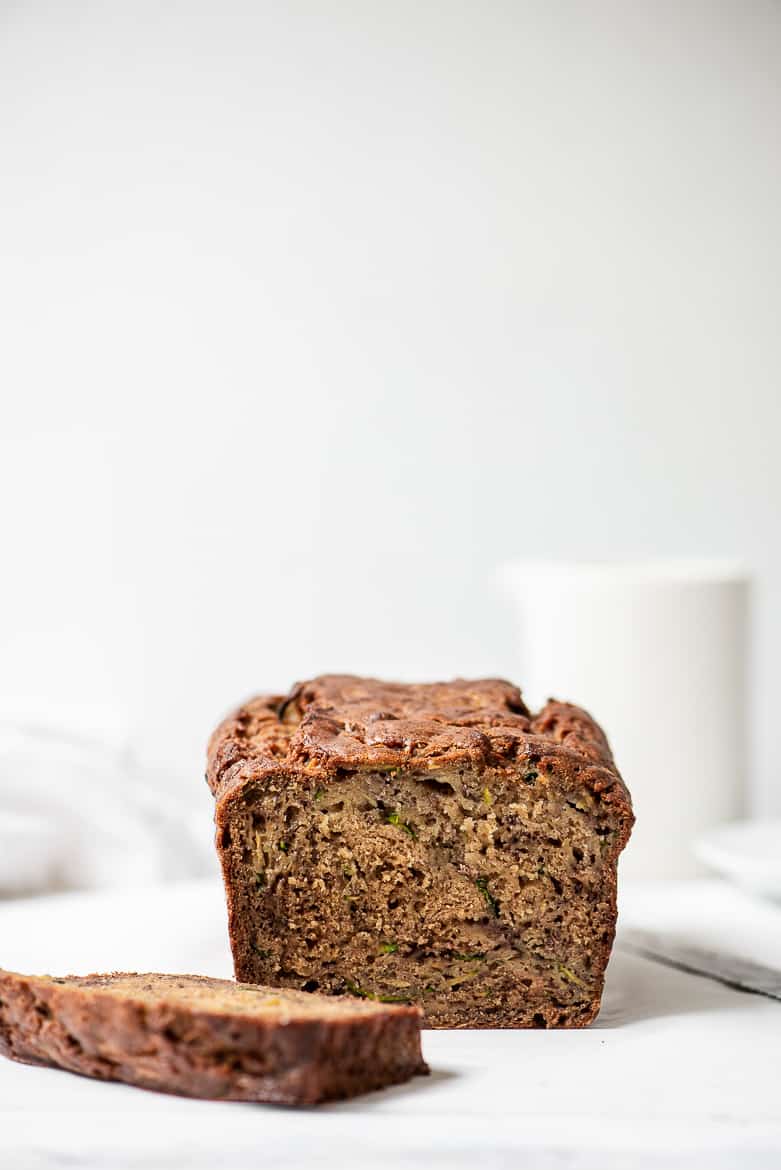 ZUCCHINI BANANA BREAD RECIPE TIPS
Use ripe bananas. The bananas should be well-spotted, and over-ripe (not black) for a sweeter, more intense flavour.
Do not overmix. Overmixing the batter could cause your bread to sink in the middle or make it dense. For a light and airy crumb, mix only until everything is combined.
Let rest for 1 day before eating. I know, that's a tough one. Unfortunately, it is true that with zucchini bread in particular, the texture and flavour improve when eaten the next day. We rarely ever wait, but you might have more will power than we do.
Variations: Add semi-sweet chocolate chips, walnuts or raisins to taste.
HOW TO STORE ZUCCHINI BANANA BREAD
This loaf will keep in an airtight container, or wrapped in plastic, at room temperature for several days or in the fridge for up to 1 week. You can also wrap the loaf in foil, whole, or sliced, & store frozen for up to 3 months. To thaw, set on the counter overnight or in a warm oven for 20-30 minutes.
I hope you give this zucchini banana bread recipe a go! Chances are you have some ripe bananas kicking around. If you don't have a zucchini or two, then knock on your neighbour's door — I'm willing to bet they are dying to get rid of some. Oh, and more one thing. Definitely save a few slices to toast for breakfast the next day – such a treat. And if you love it a ton, perhaps consider pinning it 🙂
Similar recipes you might enjoy: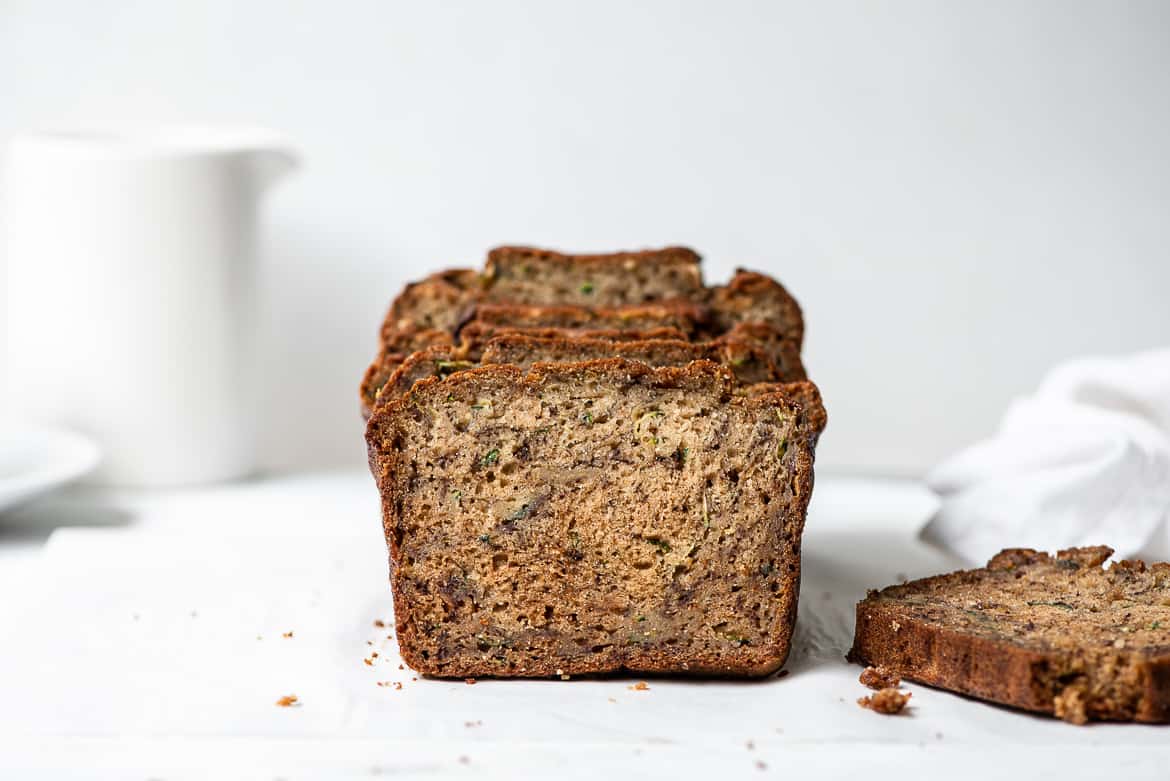 Ingredients
1

cup

mashed

ripe bananas - about 2-3 medium

1/4

cup

pure maple syrup

1/2

cup

cane or coconut sugar - or brown sugar

1/2

cup

vegetable oil - I use avocado

1

teaspoon

pure vanilla extract

2

large eggs

1

cup

whole wheat pastry flour

1

cup

unbleached

all-purpose flour

1/2

teaspoon

baking powder

1

teaspoon

baking soda

1 1/2

teaspoons

ground cinnamon

1/4

teaspoon

ground nutmeg

optional

1

teaspoon

kosher salt

2

cups

grated

unpeeled zucchini - about 2 small zucchini (I use the large holes on a box grater)
Instructions
Preheat oven to 350 degress F.

Lightly grease the bottom and sides of a 9x5-inch loaf pan and line with a sheet of parchment paper leaving a 2-inch overhang on the two longer sides.

In a large mixing bowl, whisk together the mashed bananas, maple syrup, sugar, oil, vanilla, and eggs until well combined.

In a medium bowl, whisk together the flours, cinnamon, nutmeg, baking soda, baking powder, and salt.

Fold the dry ingredients into the wet ingredients and stir only until just combined. Do not overmix.

Stir in the grated zucchini and pour the mixture into prepared loaf pan.

Bake until toothpick inserted into center of loaf comes out clean, about 60 - 75 minutes*. If needed, tent loaf with foil at about 45 minutes to prevent excessive browning on top. Cool in loaf pan for 10 minutes, remove from pan and let cool completely on a rack before slicing.
Notes
*This recipe makes one large loaf so I find it almost always needs at least 60 minutes, but more like 70 to finish baking. Since ovens vary, start checking for doneness at 55 minutes.