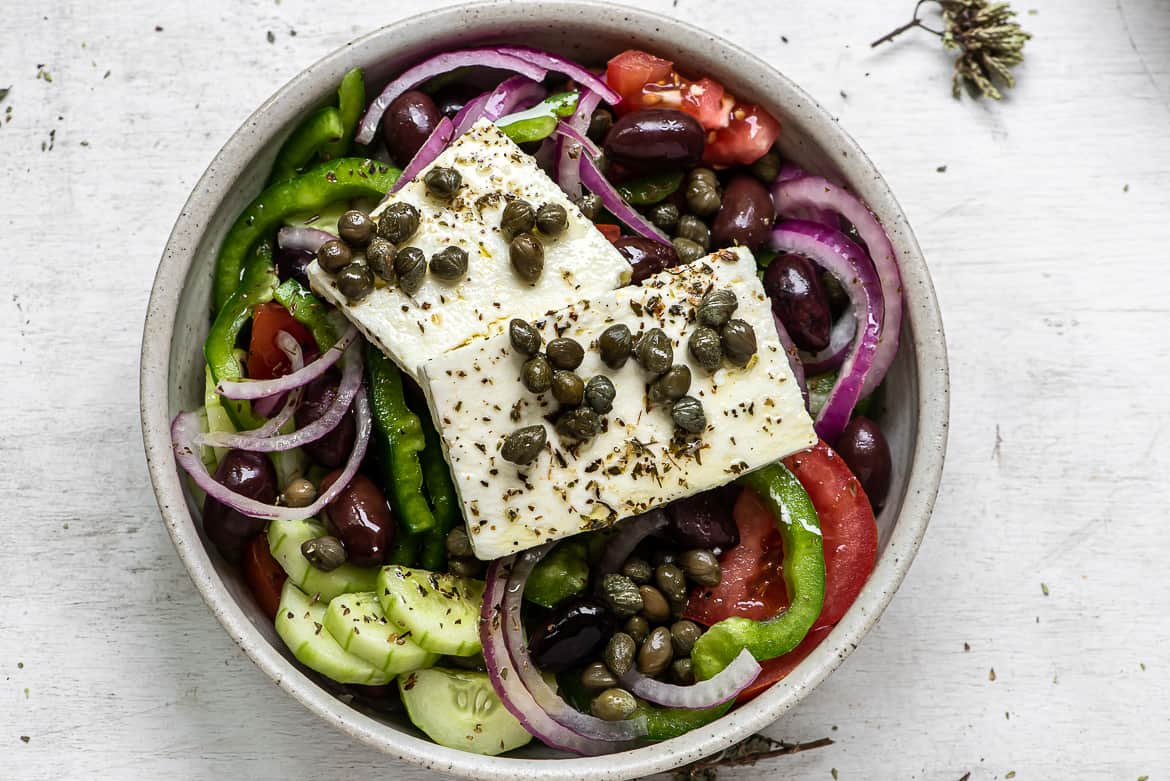 Oh September. How quickly you arrived. I do welcome a little bit of routine back in our lives but getting back to business as we say adios to summer lazy days can be so bitter-sweet. On the plus side, we can still enjoy summer eating just a wee bit longer. Zucchini's, cucumbers, peppers, and tomatoes are still going strong. I should be hauling bucket-fulls of cherry-red Romas from the market and madly cooking batches of delicious sauces. Somehow, right now, perhaps in an effort to cling to summer-fresh food a little longer, I rather be throwing them raw into all kinds of salads. Like this Greek Horiatiki salad that I'd like to champion today.
A while back, while my niece was travelling in Greece, she posted a photo of her salad bowl. The massive amount of feta sitting atop the salad seemed ridiculous yet irresistibly mouth-watering. The other ingredients — large chunks of juicy tomatoes, crispy cucumbers, un-pitted kalamata olives, red onion slices, green bell peppers, and capers (capers!) with a shower of dried oregano — nearly made me fall off my chair. A quick google search and I soon discovered she was having a delicious, and gloriously summery, horiatiki salad.
WHAT IS A HORIATIKI SALAD
In Greece, a Greek salad is called horiatiki, meaning of the village. It is the traditional, simple summer salad enjoyed all over Greece. The salad combines sun-ripened tomatoes, cucumbers, red onions, and kalamata olives and is then topped with slabs of creamy, salty Greek feta. Though not as common, capers are added to the salad in the Greek islands. An optional ingredient which adds a super delicious, sour saltiness to the salad.
Simply seasoned with salt and a dusting of wild mountain oregano, horiatiki salads do not require a vinaigrette. A generous drizzle of extra virgin olive oil is all you need. Often, it is served with bread (not pita) to dunk into the delicious leftover juices.
This salad would be delicious served with any grilled fish or meat, such as this chicken souvlaki, or just on it's own with crusty bread as a light lunch or dinner.
WHAT NOT TO INCLUDE IN A HORIATIKI SALAD
There is no lettuce in a traditional horiatiki salad. No red or yellow peppers and no cherry tomatoes. You will also not find lemon juice or any other acid. However, a sprinkle of red wine vinegar seems to be somewhat acceptable.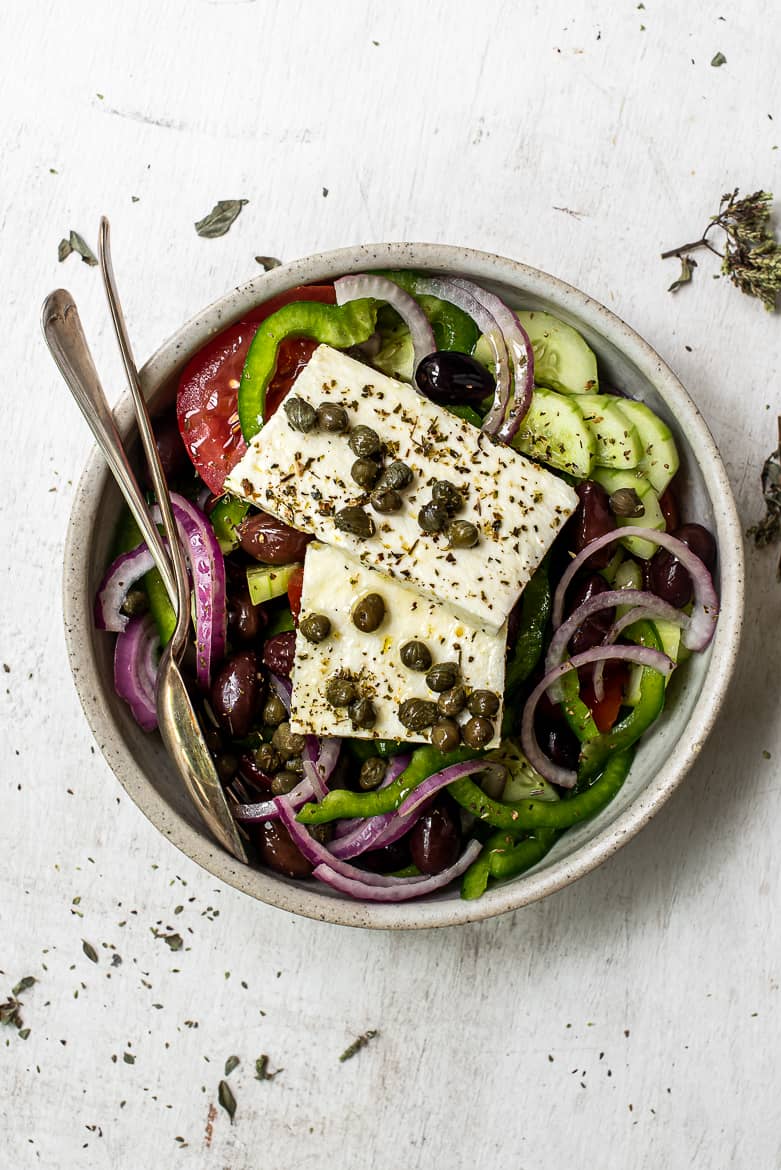 TIPS TO MAKE A TRADITIONAL GREEK, HORIATIKI SALAD
I already have a greek salad recipe on my site, but I decided this one had enough new tweaks to deserve its own post. As mentioned above, an authentic Greek salad does not include lettuce. However, here are all the  non-negotiable specifics I have since discovered, or confirmed, to make the best horiatiki salad:
Omit the lettuce in a horiatiki salad.
Other than from your own garden, the best tomatoes will be from the farmers market. Supermarket tomatoes, or winter tomatoes, will not work for this salad.
Chop the tomatoes and cucumbers into large pieces, not small cubes.
There is no vinaigrette for a horiatiki salad. A simple, albeit generous, drizzle of reliably good olive oil, and perhaps a sprinkle of red wine vinegar, is all the dressing this salad requires.
Use un-pitted Kalamata olives. This ensures they stay plump and firm.
To add a little more juice and acid to the salad, cut the tomatoes over the bowl you are serving it in.
Stick to making this salad only during the peak-season summer months when the produce is pristine and still warm from the sun.
A poor-quality feta will ruin this salad in a heartbeat. Make it when you find authentic Greek feta, preferably with a sheep and goat's milk combination. I like this one. As previously mentioned, serve the salad with sliced, not crumbled feta (though if you prefer it crumbled, I won't tell).
Olive oil is the finishing star of this salad. Use the best you can find and afford.
Despite the somewhat bossy guidelines above, once you gather your ingredients, the execution of this horiatiki salad is extremely simple. Such a bonus that it is also seasonal, healthyish, and insanely good.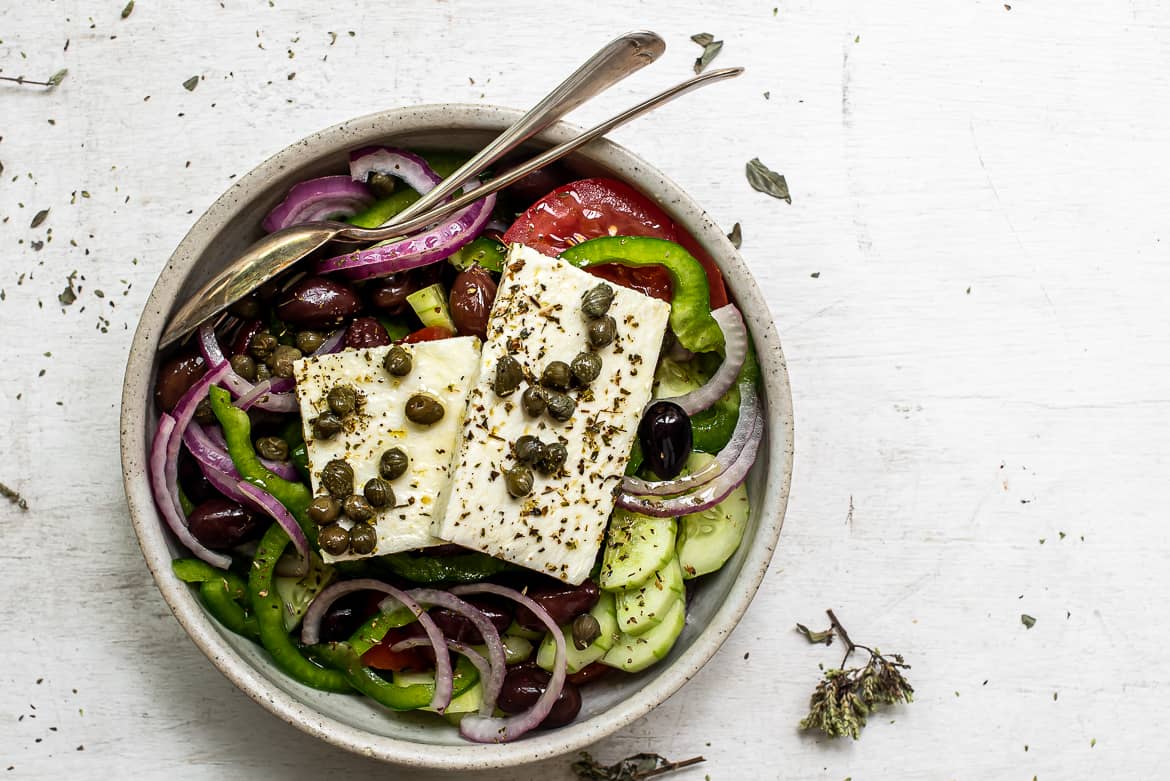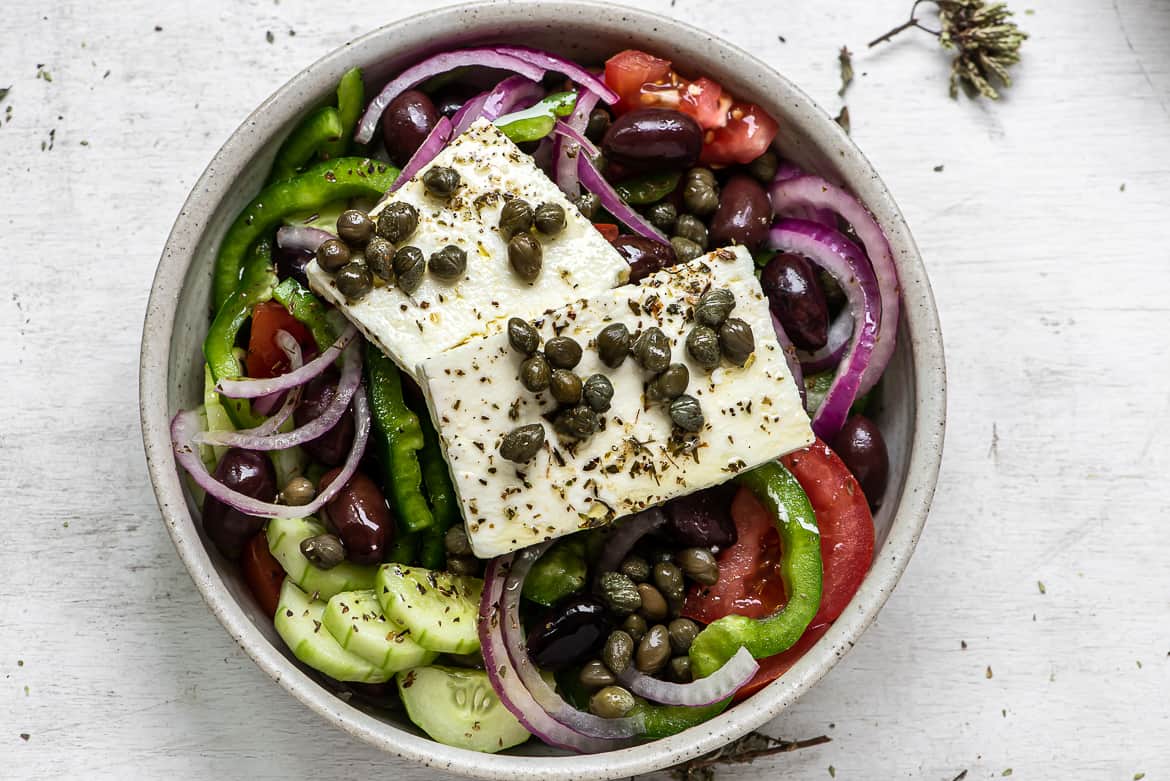 Ingredients
3

medium ripe tomatoes

1/2

teaspoon

kosher salt

1

large cucumber

preferably seedless

1/2

small red onion* thinly sliced

1

small green bell pepper

seeds and stem removed and sliced

1/4

cup

Kalamata olives

not pitted

4

Tablespoons

extra virgin olive oil

or more to taste

1

Tablespoon

red wine vinegar

(optional)

2

teaspoons

dried oregano

divided

4

ounces

Greek feta

cut into slabs

2

Tablespoons

capers

optional

Sea salt

to finish
Instructions
Cut the tomato in wedges over a shallow serving bowl or platter, to catch all the juices. Sprinkle the tomatoes with kosher salt and let sit for 5-10 minutes.

Meanwhile, peel and cut the cucumber into large rounds or chunks.

Add the chopped cucumbers, onion, green peppers, and olives to the tomatoes. Drizzle with most of the olive oil and a splash of red wine vinegar, if using. Sprinkle 1 teaspoon dried oregano over top. Toss gently but do not over-mix.

Top with feta slabs, the remaining teaspoon of oregano, and the capers, if using.

Drizzle the salad with a little more olive oil and a pinch of sea salt, to taste.

Serve immediately with crusty bread, if desired.
Notes
*If you find raw onions too pungent, soak the sliced onion in cold water for 10-15 minutes.