You need these chicken enchiladas verde on your dinner table! Tender shredded chicken in a smoky green sauce, wrapped with soft corn tortillas, and baked with jack cheese and queso fresco — easy to assemble and so, so good!!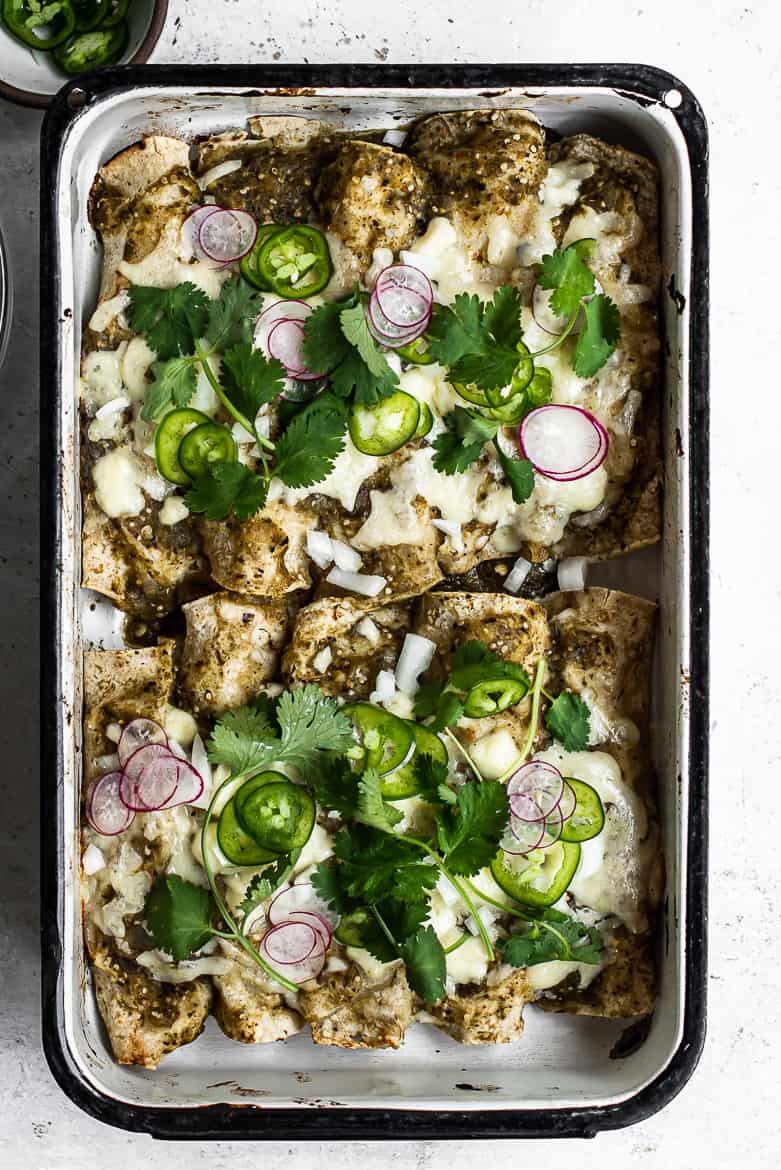 Hola! Let's make chicken enchiladas. I have never been to Mexico but like the rest of the planet, I seem to always be craving Mexican food. Luckily, ingredients to create your own Mexican feast at home are now widely available at most grocery stores. Enchiladas verde — shredded chicken wrapped in corn tortillas with a delicious smoky tomatillo and chili green sauce — may sound intimidating and like a huge project, but I promise they are not. Even better, I'm going to tell you how this chicken enchilada recipe can be week-night friendly.

How To Make Enchiladas Weeknight Friendly 
Because corn tortillas have no gluten and little fat, they can be stiff and crack when folded. Therefore, a truly authentic enchilada is made by frying corn tortillas in hot oil, then dipping them in sauce before stuffing and rolling. This technique both softens the tortilla and prevents it from becoming soggy and falling apart once cooked. However, this can all be a very messy project and too much extra work. No gracias. For my version of chicken enchiladas verde, we are skipping the frying. It may be a little less authentic but if we're going for a week-night friendly recipe, frying is out.
Though not as foolproof as frying, I find that heating the tortillas on a dry skillet softens them quickly and makes them resilient to breaking when rolling and filling. Alternatively, and especially if making a large amount, you can wrap the tortillas in aluminum and heat them in the oven.
Any shredded chicken will work to fill your enchilada. You can use leftover braised chicken or quickly poach, then shred, some chicken breasts. To make it even more week-night friendly, grab a rotisserie chicken from your favourite market. Simply remove all the skin and bones and shred the meat.
Lastly, your enchiladas will need a good sauce and at a risk of sounding like a broken record, homemade will always be better. Red enchilada sauce is also delicious but I am partial to the green smoky chili-tomatillo sauce with bright, fresh, flavours. If you've got the time, make it ahead and keep it on hand, in the fridge or in the freezer, and enchiladas will be a great, go-to weeknight meal. Having said that, I understand hunting fresh tomatillos down can be somewhat exhausting depending on where you live. No hay problema. There are some pretty good jarred sauces out there. This one is my favourite which you can find at most large grocery stores or Latin American markets. In my area you can find it here.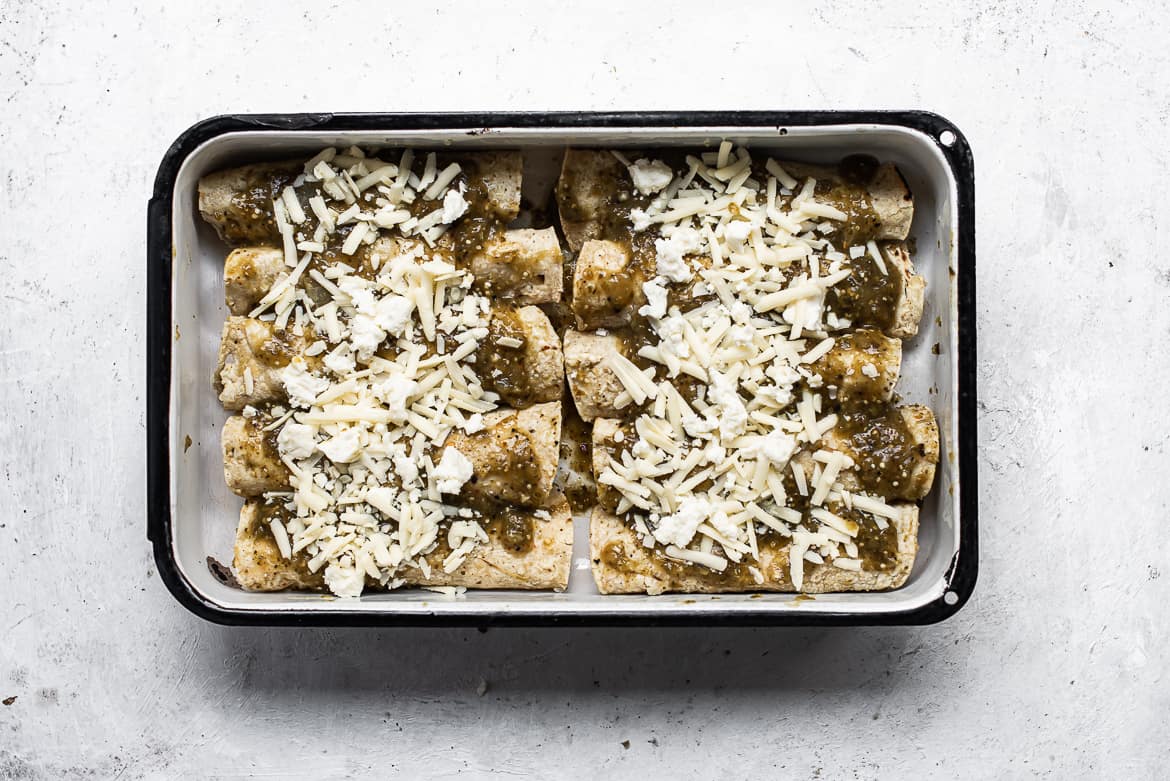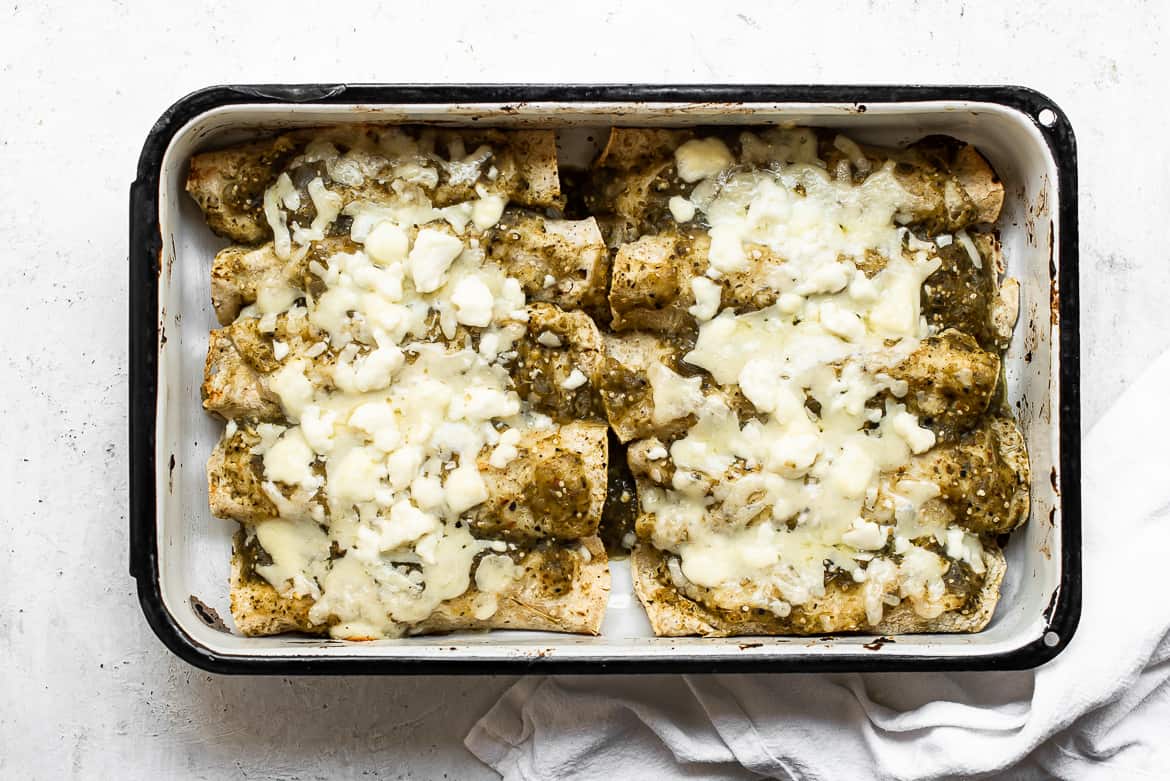 Corn Or Flour Tortillas
Enchiladas are traditionally made with corn tortillas. I am usually on the side of there-are-no-rules in cooking, but readers, please listen. Even if you typically prefer flour tortillas over corn, as I do, here I encourage you to refrain. Stick to tradition and always use corn tortillas for your enchiladas. Corn tortillas are a little more fiddly to work with, they fall apart and tear easier, and because they are smaller, you will need more to feed your crowd. BUT! Corn tortillas lend a hearty fragrant taste to your enchiladas that a flour tortilla just does not.
Flour tortillas also become soggy in a dough-y kind of way. I have made enchiladas using both and there is no comparison. Leave the flour tortillas for quesadillas, burritos, tacos and flautas. You won't be sorry.
Variations 
Salsa verde enchiladas are my absolute favourite but once you have the enchilada technique down, you can make endless adaptations to your enchiladas. Top the enchiladas with a red sauce instead of green, make veggie filled enchiladas (will post a recipe on this soon) or, fill enchiladas with this picadillo mixture– so good.
Breakfast enchiladas with scrambled eggs and black beans are another huge favourite.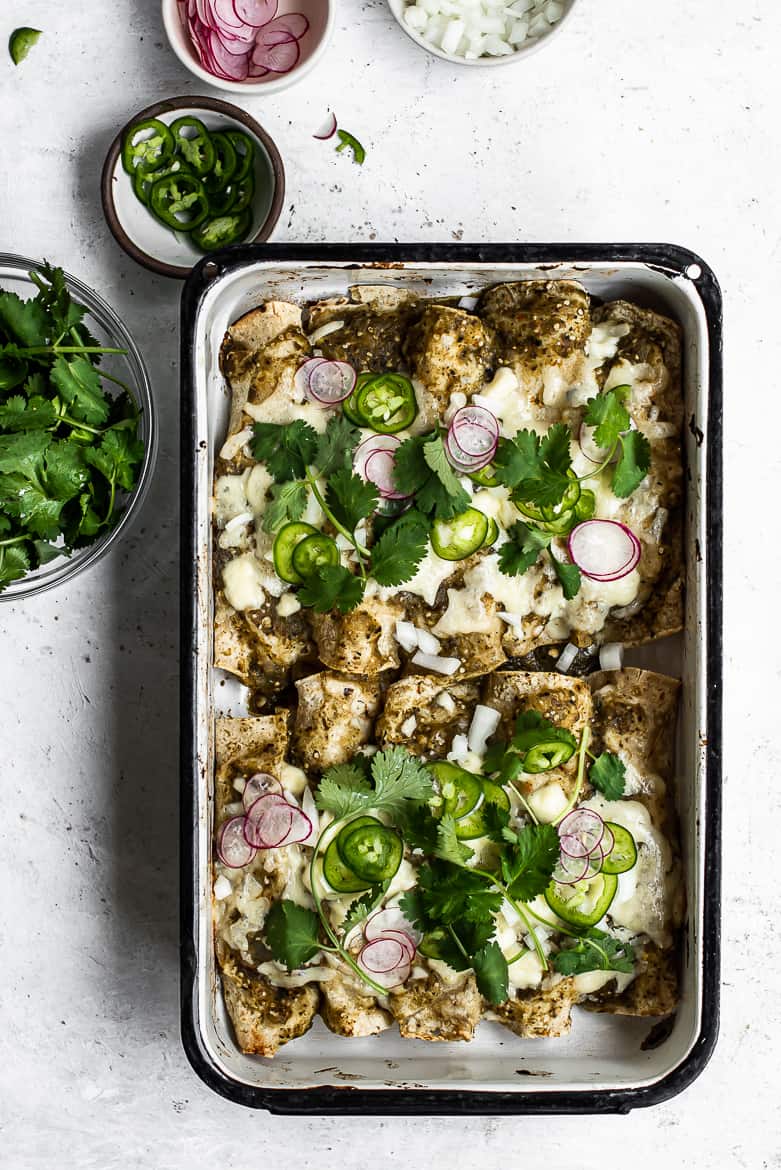 Tips To Make The Best Enchiladas 
Don't overstuff the tortilla. You want about 1/4 cup filling per tortilla. More than that and your tortilla will be hard to roll.
Use a homemade sauce if possible. The sauce is pretty important in your enchiladas. Making your own salsa verde is dead simple but when pressed for time, look for a good quality enchilada sauce with clean ingredients.
Use a thicker corn tortillas. A thin tortilla will tear easier.
Don't overload the enchilada with cheese. You want to taste the delicious sauce and enchilada, not just a gloopy cheese mess. A layer of grated mozzarella, or Jack, spread across just the center of each row is plenty. Queso fresco is available at Latin american markets and is also delicious crumbled over top of the enchiladas.
Cover the casserole dish with foil. This ensures the enchiladas have time to heat through without drying out and the cheese will melt without burning. Remove the foil 5-10 minutes before cooking time is done.
Leave some bare tortilla peeking out on each side of the sauce and cheese. This way the edges will get brown and crunchy.
How To Serve Chicken Enchiladas Verde
Enchiladas are best served hot with optional toppings such as diced onions, sliced radishes, chopped cilantro and jalapeños. We also love it with creamy avocados and sour cream on the side. Enchiladas are perfectly acceptable, and filling, as a one-pan meal. But if I'm in the mood for a true Mexican extravaganza, I will also serve it up with rice and beans. And to cool things down, consider serving this super simple avocado lime ice cream. Buen provecho!
I hope you throw your own Mexican feast soon — and if you do, I'd love to hear about it.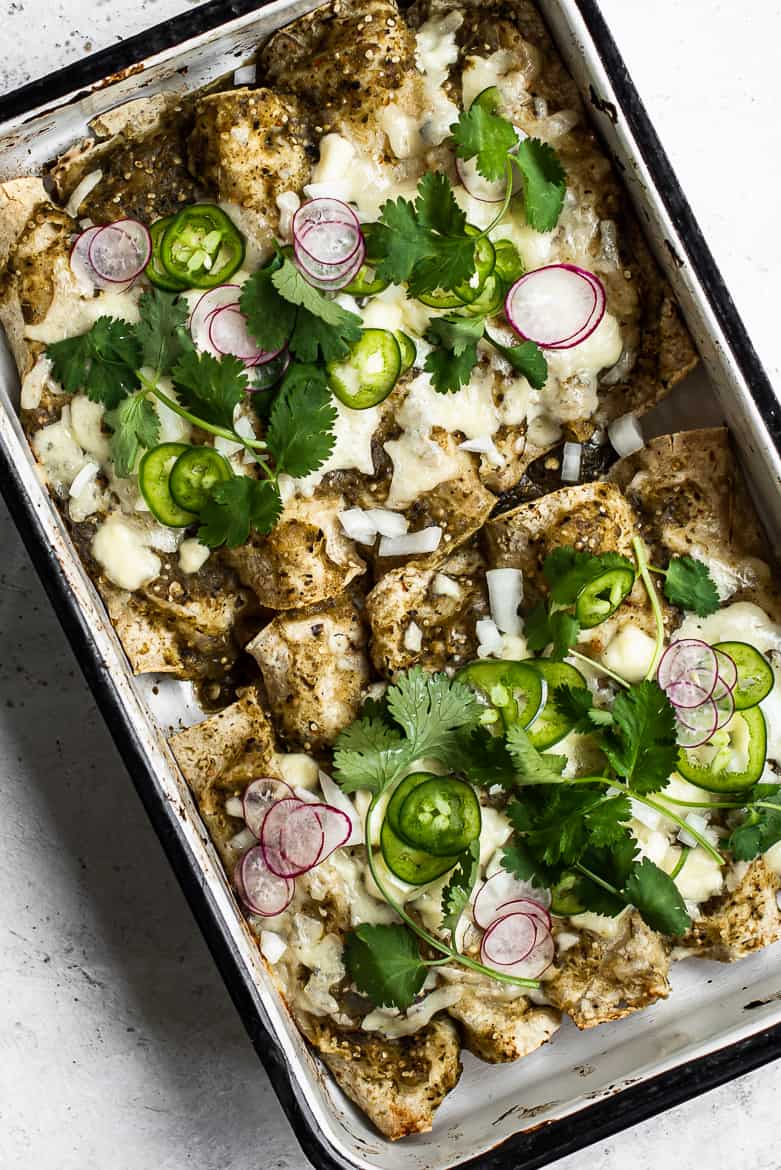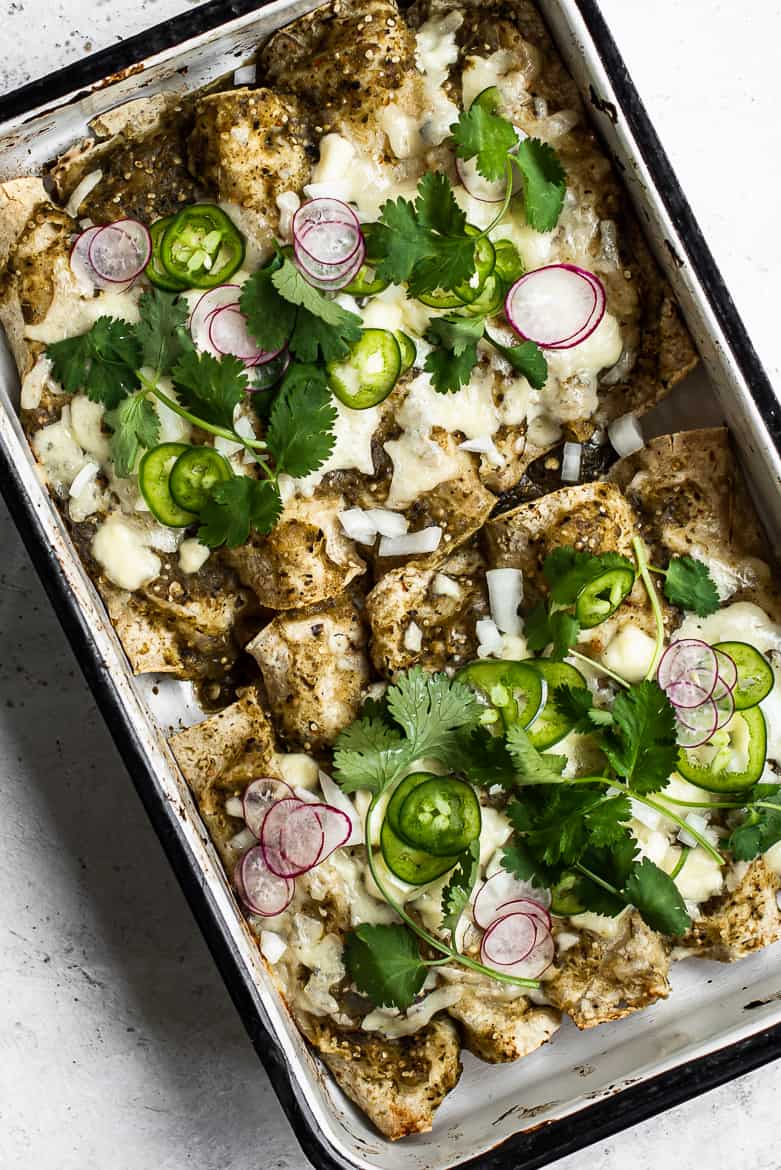 Ingredients
4

cups

cooked

shredded chicken (from a rotisserie chicken, or poached chicken)

1

teaspoon

ground cumin

1/4

teaspoon

red pepper flakes

or more to taste

2

cups

salsa verde

homemade or store-bought, divided

1/2

teaspoon

kosher salt

1

cup

shredded cheddar

or monterey jack, cheese, divided

8 6-

inch

corn tortillas

1

cup

queso fresco

plus more for serving (optional)

1/2

cup

sour cream

to serve (optional)

Optional toppings: sliced radishes

sliced jalapeño, diced onion, sliced avocados, cilantro leaves
Instructions
Pre-heat oven to 375 degrees. In a large bowl, toss the shredded chicken with cumin, red pepper flakes, 1/2 cup salsa verde, and 1/2 teaspoon salt.

Warm the tortillas on a griddle or skillet on both sides until softened keeping them warm in a cotton kitchen towel as you go along.

Lightly grease the bottom and sides of a 13 x 9-inch or 12 x 8-inch baking dish with olive oil.

Spread 1 cup green sauce lengthwise down the center of the baking dish.

Place about ⅓ cup of chicken mixture down the middle of a tortilla and roll tightly. Place seam-side down in the baking dish. Repeat with each tortilla. Cover the rolled tortillas with remaining sauce. Sprinkle the remaining cheese down the middle of the tortillas so the edges get brown and crunchy. Do the same with the queso fresco, if using.

Cover and bake until heated through and cheese is melted, about 20 minutes. If you want the cheese to lightly brown, put back in oven uncovered for another 5 minutes.

Serve immediately with desired toppings and sour cream on the side.