This beet, blood orange, and baby kale salad pairs brilliantly with creamy ricotta and a garlic pangrattato topping. The salad is delicious and looks beautiful and festive — perfect for this time of year!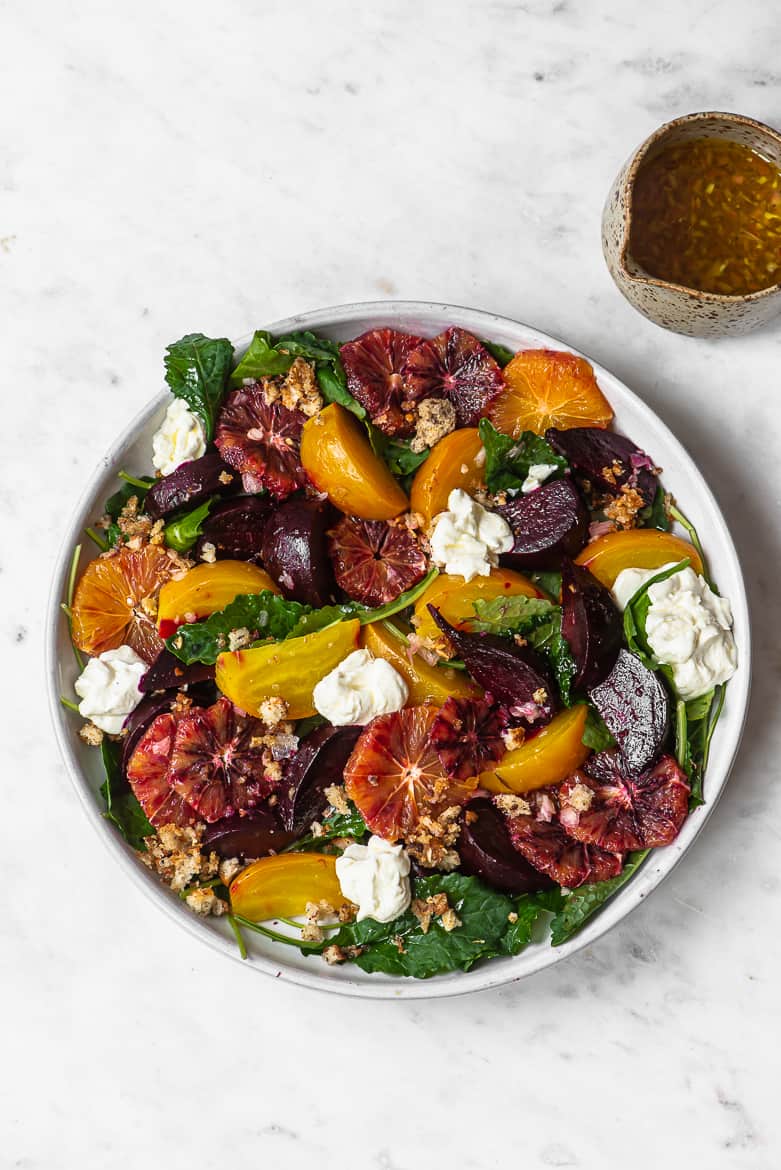 Blood oranges are here, friends! I had that in caps but didn't want you to feel yelled at so I changed it :)) Winter blood oranges are my Summer tomatoes, my Spring asparagus, my Fall delicata squash; I wait all year and when they arrive, I go a little manic. We love to snack on blood oranges with the sweet purple juices dripping down our arms, but my favourite way to eat them is tossed into winter salads.
Not long ago we enjoyed a roasted beet and baby kale salad at a restaurant that was served with creamy ricotta cheese and a garlic pangrattato topping (garlicky toasted breadcumbs). It was crazy good. I used that exact base and added the blood oranges with a citrus vinaigrette — even more crazy goodness. The sweet earthy beets pair beautifully with the juicy, acidic blood oranges. So festive and gorgeous this salad should be a true contender to add to your holiday meal or dinner party.
Admittedly, there are a lot of components to this salad and because the beets take long to roast, it is not a salad you can throw together quickly. However, everything can be made ahead of time and put together right before serving. Because there is enough going on in the salad with just the beets and blood oranges, you could certainly leave a few things out, such as the garlic pangrattato. If vegan, the salad is still wonderful without the ricotta, or use a vegan ricotta.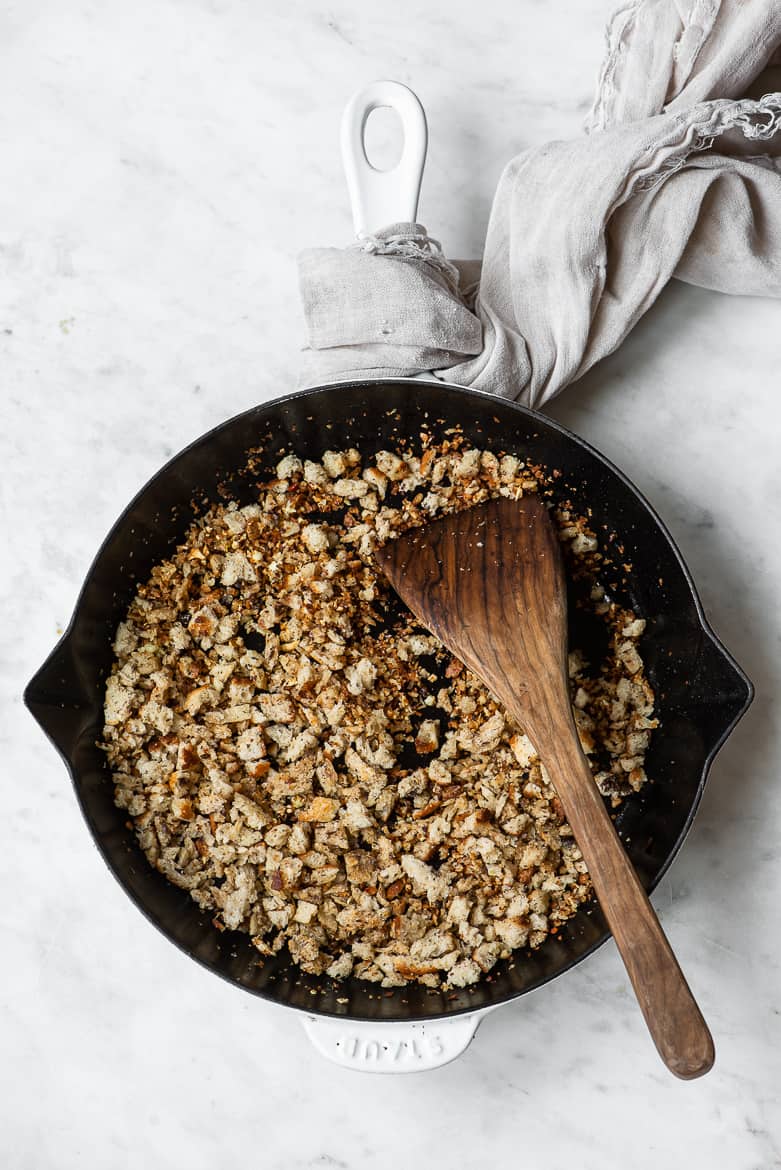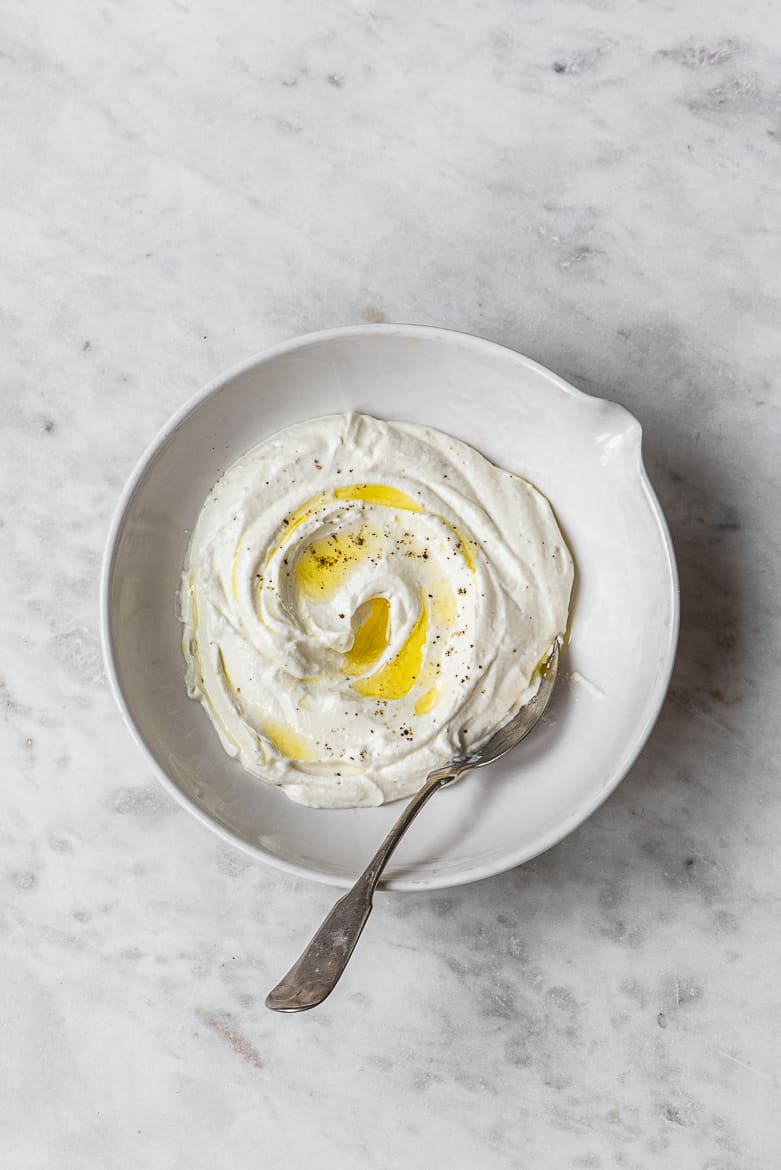 BEET, BLOOD ORANGE, AND BABY KALE SALAD, KEY INGREDIENTS
Beets: I know beets are not for everyone, a fact I find somewhat perplexing. Nonetheless, if beets are not your bag, this could be the salad that makes you come around. The sweet blood oranges temper the earthiness and bold flavour of the beets as does the creamy ricotta. I like to use both golden and red beets for more contrast but use only one variety if you prefer.
Blood oranges – how and where to buy them: Blood oranges are harvested in winter so you're most likely to find them from December into April in the U.S., and from mid-December into February in Canada. Most large supermarkets will start carrying them right before the holiday season and in my area I have been finding really nice ones here. Keep in mind, not all blood oranges are "blood" coloured inside. Some are yellowy orange and some are brilliant, bloody-red, inside. There are no guarantees, but if you prefer the scarlet-coloured flesh, try and find the ones with a darker purplish skin, or with a bit of a rippled blush colour. The orange should feel heavy for it's size to ensure it is nice and juicy when peeled.
Ricotta: Creamy, whole milk ricotta is super delicious with beets. I like to mix the ricotta with a little milk and olive oil to make it a little smoother. Try and buy a good quality ricotta without gums and stabilizers, it really makes a world of difference. I like this brand, which is Canadian, has won awards, and is described by the Globe and Mail as "refined and balanced in flavour, finishing full and sweet – as if you've had a sip of light cream". I 100% agree. Find it at Costco or Loblaws. In my area, the fresh ricotta sold here is delicious.
Baby kale: A wonderful, and super healthy, salad green. Baby kale is mild in flavour and a lot more tender than mature, curly kale. Similar to arugula, it holds up well to the addition of bold flavours, looks beautiful in salads, and is ready to serve right out of the container (if pre-washed). It makes the perfect base for this assertive beet salad but if you have a hard time finding it, use arugula instead. If you live in my area, I find it here and here.
Garlic pangrattato: Pangrattato sounds fussy and fancy but it is essentially a simple breadcrumb topping used for topping casseroles, soups or pastas. To be sure the pangrattato is a little extra but the crunchy bits add a wonderful complexity to the salad. However, don't let it be a deal breaker for making this salad. You can omit the pangrattato from the recipe and the salad will still be gorgeous and delicious.
Vinaigrette: To dress the salad, I use the base of my favourite simple vinaigrette — minced shallots, white balsamic vinegar, olive oil, salt and pepper — then add blood orange juice for more sweet and tangy deliciousness. Feel free to use other white coloured vinegars for the dressing. But note that white balsamic is slightly sweet so you may want to add a little honey to the vinaigrette if using a different vinegar.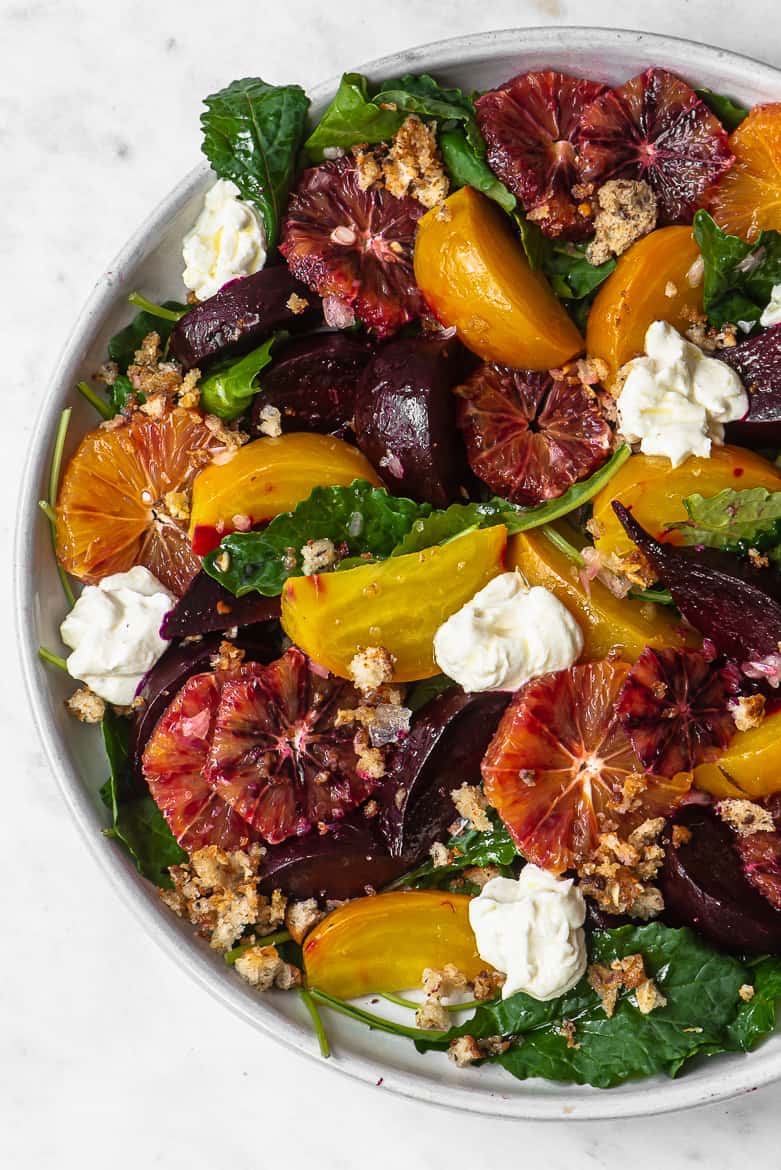 HOW TO ROAST BEETS
Roasting beets takes a good chunk of time (at least 1 hour roasting time) so you really do have to plan ahead. I often cook beets in the Instant Pot which cuts the time in half (see recipe notes for Instant Pot instructions). Unfortunately, I miss the concentrated flavour the beets develop when roasted in the oven so if not too pressed for time, I prefer to roast them.
Preheat the oven to 400 degrees Fahrenheit.
Rinse the beets to remove any dirt and cut the stems of the beets, leaving approximately 1 inch attached.
Place the beets in a single layer in a baking dish. Add 1/4 cup water to the dish, cover tightly with aluminum, and roast until very tender, about 45-75 minutes. Test for doneness with a small pairing knife -the roasting time will vary greatly, depending on the size of your beets.

Remove the beets from the oven. Once cool, trim the tail and stem off the beets, and rub the skin off with your hands.
HOW TO SERVE BEET, BLOOD ORANGE AND BABY KALE SALAD
Important to note; The salad will become a huge ugly mess if tossed. It is best to assemble all the components on a platter, or bowl, and drizzle the dressing all over when ready to serve.This is a magnificent salad that is completely satisfying on its own. It makes the dreamiest lunch for a crowd, no other accompaniments needed. For a meal, it would be delicious with a grilled oily fish like salmon or roasted chicken. The next day, it won't look as pretty, but the flavours will be even better so get past the ugly and enjoy it.
Beautiful, festive, and vibrant this beet, blood orange, and baby kale salad would be impressive as part of a holiday spread or dinner party. And so delicious, I guarantee people will rave about it.
MORE SALADS:
Print Recipe
Pin Recipe
Beet, Blood Orange, and Baby Kale Salad
The creamy ricotta and garlic pangrattato topping could be considered components that are a little "extra" in this salad. I admit it, they are. But this time of year isn't it fun to go a little extra?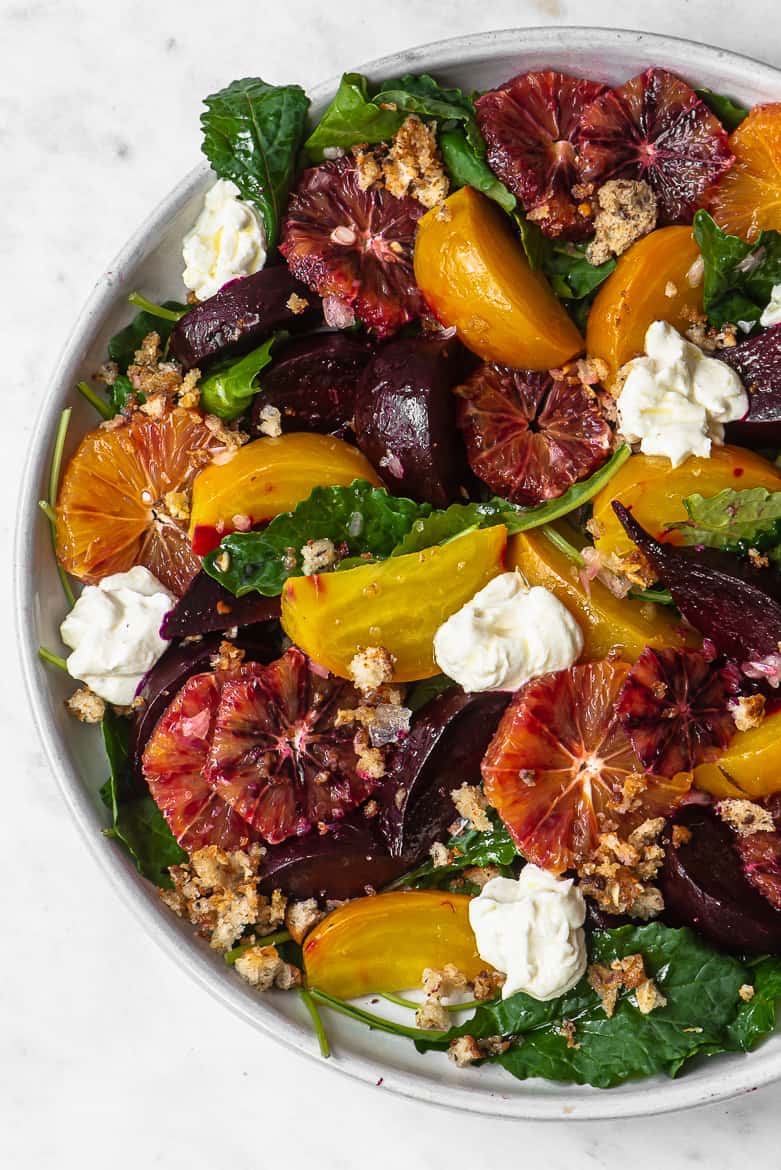 Ingredients
1 1/2

pounds

beets

mixed colours, if desired

1/2

teaspoon

salt

3

blood oranges

3

cups

baby kale

1

cup

whole milk ricotta cheese

2

Tablespoons

milk

1

Tablespoon

extra-virgin olive oil

optional
For the Vinaigrette:
1/2

small blood orange

juiced

1

small shallot

finely chopped

2

tablespoons

white balsamic vinegar

or other light coloured vinegar plus 1 tbsp honey

1/2

teaspoon

kosher salt

a few grinds freshly cracked black pepper

1/2

cup

extra virgin olive oil
For the garlic pangrattato:
2

tbsp

olive oil

1/2

cup

fresh breadcrumbs

see notes to make breadcrumbs

1

teaspoon

red chilli flakes

optional

1/2

teaspoon

kosher or sea salt

2

cloves

garlic

finely minced
Instructions
Preheat the oven to 400 degrees F.

Place the beets in a single layer in a large baking dish. Sprinkle with 1/2 teaspoon salt. Tightly seal the dish with foil and roast until the beets are completely tender when pierced with a knife. Depending on the size of the beets, this could take 45 minutes to 1 hour.

Meanwhile, whisk the ricotta and milk until smooth and drizzle with 1 tablespoon olive oil. Set aside in the fridge until ready to use.

While the beets are roasting, make the vinaigrette and garlic pangrattato.

Make the vinaigrette: In a medium bowl mix the blood orange juice, shallot, and vinegar. Let sit for 5 minutes. Season with salt and pepper and whisk in the olive oil.

Make the garlic pangrattato: In a medium pan, warm the olive oil to medium-hot, but not smoking. Add breadcrumbs, chilli flakes and a sprinkle of kosher salt and sauté for about 5 minutes, or until breadcrumbs are lightly golden. Add garlic and cook for another minute. Transfer to a serving bowl and set aside.

When the beets are cool enough to handle, remove the skin by peeling it off with your fingers. Cut the beets into wedges. If using different coloured beets, keep the red and gold beets separate or their colours will bleed together. Keep warm.

Using a sharp knife, cut all the peel and white pith from the blood oranges. Slice the blood oranges crosswise in ¼-inch-thick rounds.

Just before serving, arrange the baby kale on a platter. Add the beet wedges and blood orange slices. Spoon a generous amount of dressing over the top. Nestle in dollops of the ricotta cheese and sprinkle with the garlic pangrattato.
Notes
To make the breadcrumbs: Tear about 1 cup of a good loaf of sourdough, or rustic white bread, into 1-inch pieces. Pulse in a food processor until crumbs are coarse.