Full of warm Fall flavours, these delicately spiced super moist pumpkin muffins have crispy tops and a deliciously moist and tender crumb.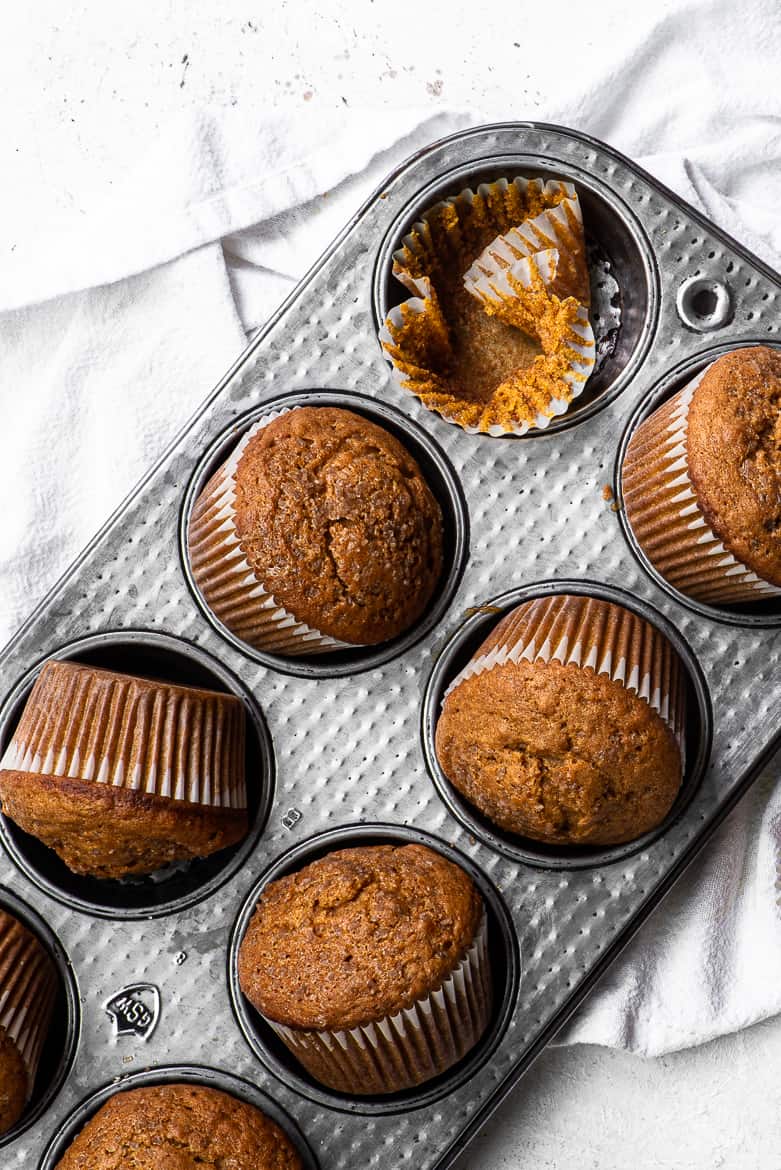 I made these muffins on the eve of Halloween. A holiday that now goes by pretty much uncelebrated in our household. Not complaining, much to my kids dismay, I have never been a halloween enthusiast. I do not miss the stress of running around trying to find the sold-out "it" costume of the year, but I do miss the jack-o-lanterns on my front door steps.
In a feeble attempt to bribe the no-longer-kids kids to tackle the 3-4 hour pumpkin carving endeavour, I baked and offered these pumpkin muffins. Blended with pumpkin purée, tangy buttermilk, and full of warm spices the muffins have crispy edges and tops, with a super soft and moist crumb. They were devoured in seconds but alas, the front steps are still void of jack-o-lanterns. Sigh.
So as I happily bid adieu to all things halloween, the season still screams for all things pumpkin and spice. These easy pumpkin muffins fit the bill and in case you don't already have a recipe up your sleeve, this is a great basic and delicious quick one. You likely have a can of puréed pumpkin lurking in your pantry. The rest of the ingredients are standard enough that you will likely have them on hand as well. Easy to throw together, these muffins will be a delightful autumnal treat for friends and family.

Easy Pumpkin Muffins
Like most muffins, this muffin recipe could not be simpler to make. No mixer required, simply mix the wet ingredients with the dry without over mixing. The muffin batter will become dense if over mixed. To finish, mix a few tablespoons of raw turbinado sugar with a tiny bit of cinnamon. Once you fill the muffin liners, sprinkle the turbinado mixture to the top of the each muffin before they get baked. This adds a nice texture and crunchy factor but feel free to omit this step if you wish.
Next, you simply bake these beauties for a mere 17 minutes or so and done. So easy, so good.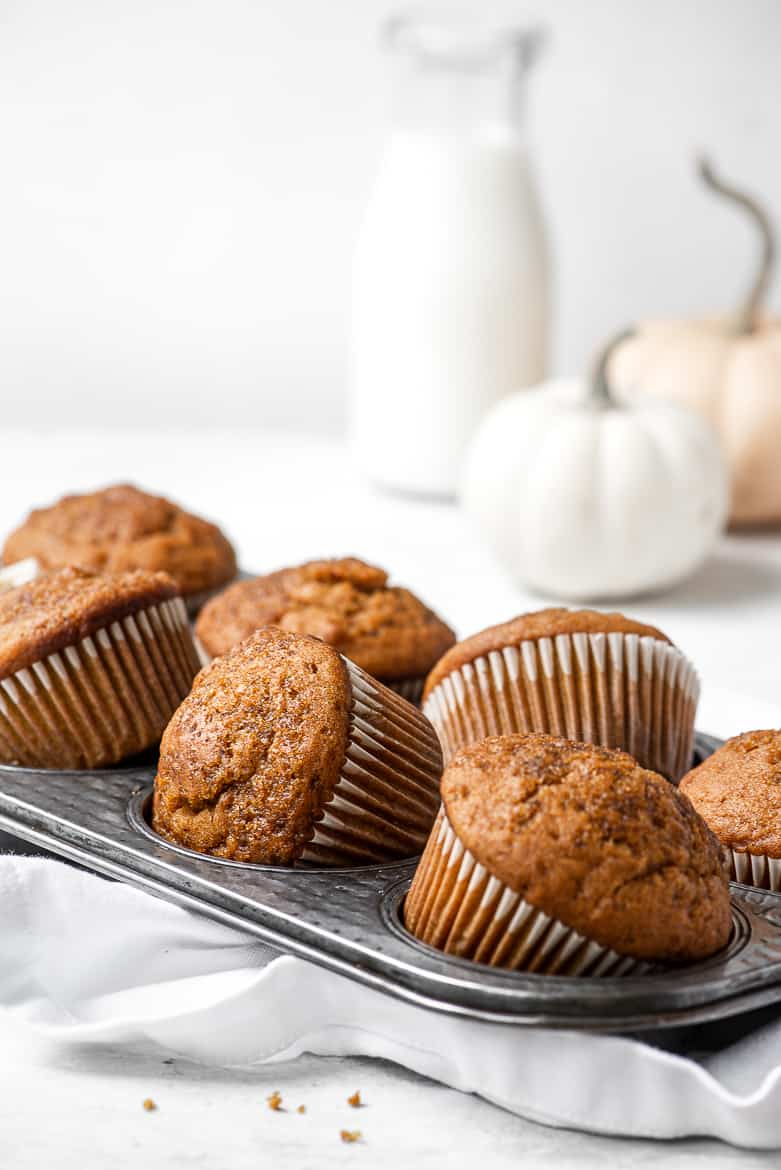 Tips for Super Moist Pumpkin Muffins
Pumpkin purée: The high water content and low starches in a pumpkin purée help make these muffins super moist. Use at least 1 whole cup of purée for a very tender and moist crumb. In Canada, most grocery stores stock only large cans of pumpkin puree. A little annoying when you only need 1 cup and then have all that leftover pumpkin purée to deal with. My solution is to make a double batch of muffins — the oil keeps the muffins moist and tender for days. The muffins also freeze beautifully. Alternatively, freeze the leftover purée to use at a later date.
The fat: Oil has more fat than butter so muffins made with oil will be extra moist and keep longer. Any light neutral oil will work here. I even like to use coconut oil which adds a subtle coconut flavour. Butter does add a nice nutty flavour so if you prefer to go that route, make sure you melt the butter first.
Sugar: I like to go easy on the amount of sweetner with all my baked goods. Unfortunately, a good amount is needed to liven up pumpkin's mild sweetness. Here, I stick to the traditional 1 part oil to 2 parts sugar for quick breads. I use a mix of brown sugar and maple syrup which add a nice caramelly-flavoured factor and moisture, respectively, to the pumpkin muffins. To keep the muffins as pumpkin-y coloured as possible, I like to use light brown sugar as opposed to medium or dark brown. You could use all white sugar if that is what you prefer. If you only have dark brown, that is fine as well.
Do not over-mix the batter: Once the wet and dry ingredients are combined, mix as little as possible. A few quick folds is all it takes to mix the batter and it is fine if you still see a few streaks of flour. If you over-mix, the batter becomes dense and you will not have a moist tender crumb.
The Spices
I don't enjoy hyper-spiced pumpkin anything. So these muffins, for me, are perfectly spiced. If you like your spices more assertive, by all means go big and add more to suit your taste. Pre-made pumpkin spice blends will differ greatly in flavour so it is best to add your own individual spices for best control. That being said, I am a fan of this brand. It has the perfect balance — not heavy on the ginger or the cloves, the two strongest ingredients that turn a lot of people off. See my notes for the amount I recommend if using a pre-made pumpkin spice blend.
How to Achieve Bakery-Style, Muffin-Domed Muffin Tops
For purely aesthetic reasons, you can bake muffins that have a beautiful domed top. You can achieve this by allowing the batter to rest for 15-30 minutes (or longer if possible). When ready to bake, place the muffin pan in a preheated 425 degree oven. After about 7-8 minutes, reduce the heat to 350 degrees (without opening the oven!) and continue to bake for 10-12 minutes. Magically, the initial blast of high heat lifts the batter to create the beautiful domes.
I hope you give these pumpkin muffins a try. With the right amount of sweet, and perfectly spiced, they are a wonderful seasonal treat. And maybe, just maybe, they might keep your hands out of the leftover trick-or-treaters treats.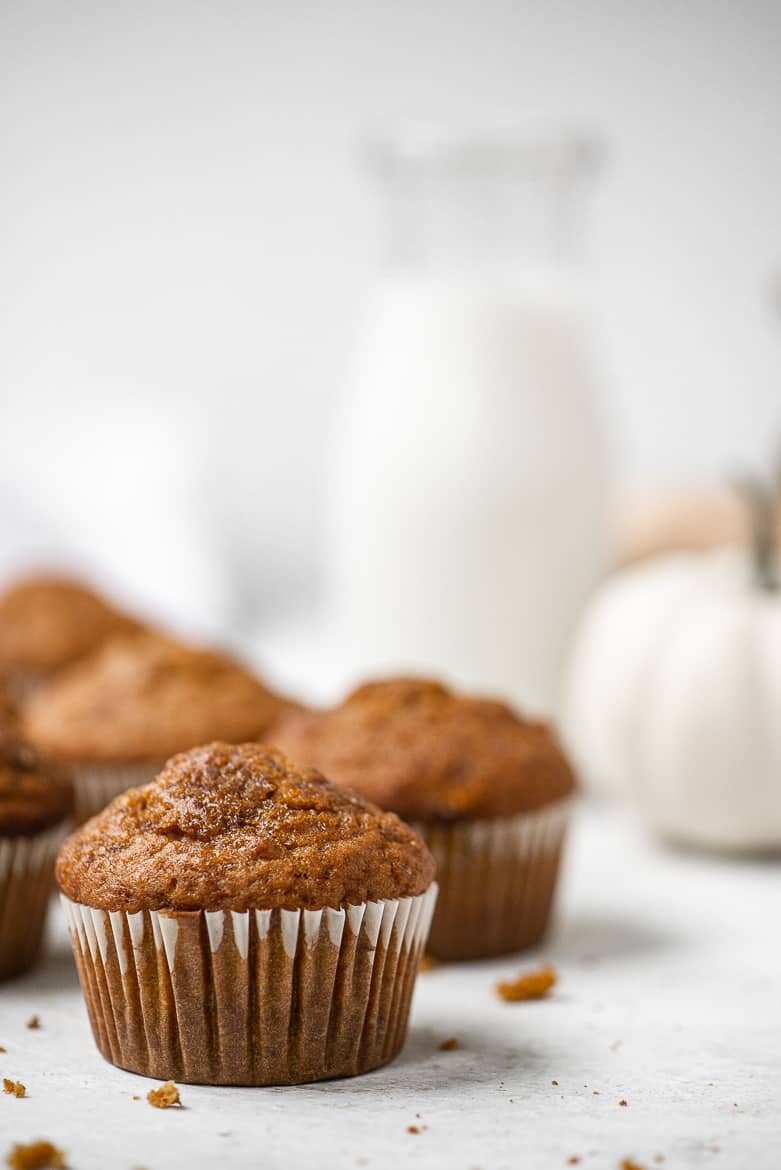 For more similar recipes, check out this;
Ingredients
1½

cups

all-purpose flour

I use 1 cup all purpose flour and 1/2 cup whole wheat pastry flour

1

tsp

baking powder

3/4

teaspoon

baking soda

½

teaspoon

salt

1/2

teaspoon

ground cinnamon

1/4

tsp

ground nutmeg

¼

tsp

ginger

A small pinch of ground cloves

3/4

cup

light brown sugar

1/4

cup

pure maple syrup

½

cup

vegetable oil

I use avocado or coconut oil

1

cup

canned pumpkin purée

not pumpkin pie filling

2

large eggs

¼

cup

buttermilk

or milk, or dairy-free milk

Optional for topping:

2

Tablespoons

raw turbinado sugar

1/4

teaspoon

ground cinnamon
Instructions
In a large bowl, whisk together flour, baking powder, baking soda, salt, and all the spices.

In a medium bowl, whisk together brown sugar, maple syrup, vegetable oil, pumpkin purèe, eggs, and buttermilk until well combined.

Pour wet mixture into the flour mixture and gently fold together until just combined. Do not over mix.

Cover bowl and let sit at room temperature for 15 - 30 minutes to one hour.*

Preheat the oven to 425 degrees F and line a 12 cup muffin pan with muffin liners.

In a small bowl, mix the turbinado sugar with the cinnamon, if using. Set aside.

Divide the batter evenly between the muffin cups. Sprinkle the tops with turbinado mixture, if using.

Transfer to the oven and bake for 7-8 minutes then immediately turn the oven's temperature down to 350 degrees F (without opening the door!).

Bake for an additional 10 to 12 minutes, or until the tops are nicely browned and domed and toothpick inserted on top comes out clean.

Let the muffins cool in the pan for 10 minutes then remove and allow to cool on a cooling rack.
Notes
*If you would like to let the batter rest for longer than 1 hour, you can cover the bowl and place in the fridge for up to overnight.
If you have pumpkin spice, replace the spices in the recipe with 1 teaspoon pumpkin spice plus 1/2 teaspoon ground cinnamon.