These unfussy and relatively healthy Apple Crisp Muffins will have you feeling woozy from the warm cinnamon and baked apple aromas. Perfect to snack on and great for breakfast with some plain, whole-milk yogurt – YUM!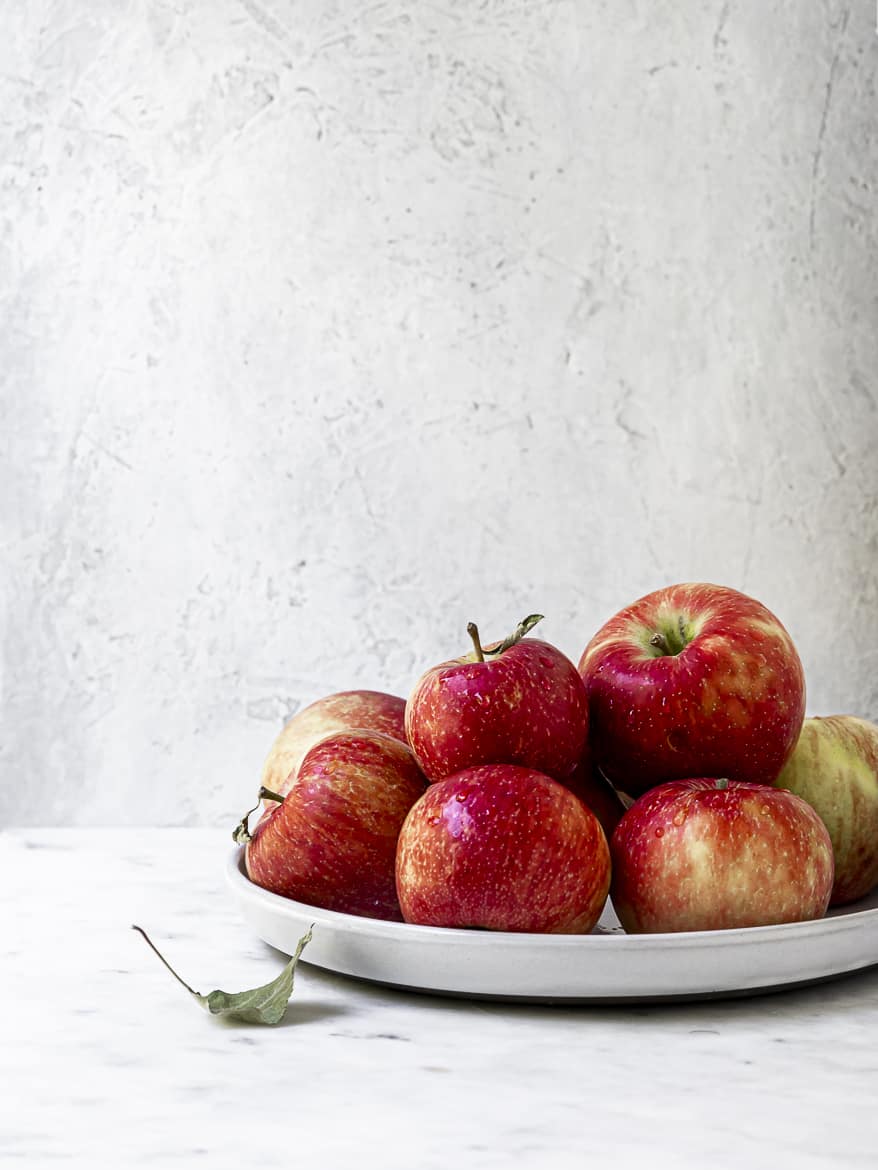 I am not in full-out denial that Fall has arrived, but I am leaving the pumpkin spice at the back of the spice drawer for just a wee bit longer. Freshly plucked apples by the bushel, on the other hand, are hard to resist right now and plenty have been coming home with me. I have been tossing them into salads and slicing them into melty-cheese sandwiches (so good!) and of course, baking up dozens and dozens of these easy, super-tasty, apple crisp muffins.
These muffins are gently spiced with cinnamon, loaded with grated apples, and tinged with just the right amount of sweetener and oil to keep them super moist and tender for days. The crisp topping is optional. But because these muffins are lightly sweetened – it's how I like them – you get a little more sweetness from the crumb topping – which is how everyone else likes them.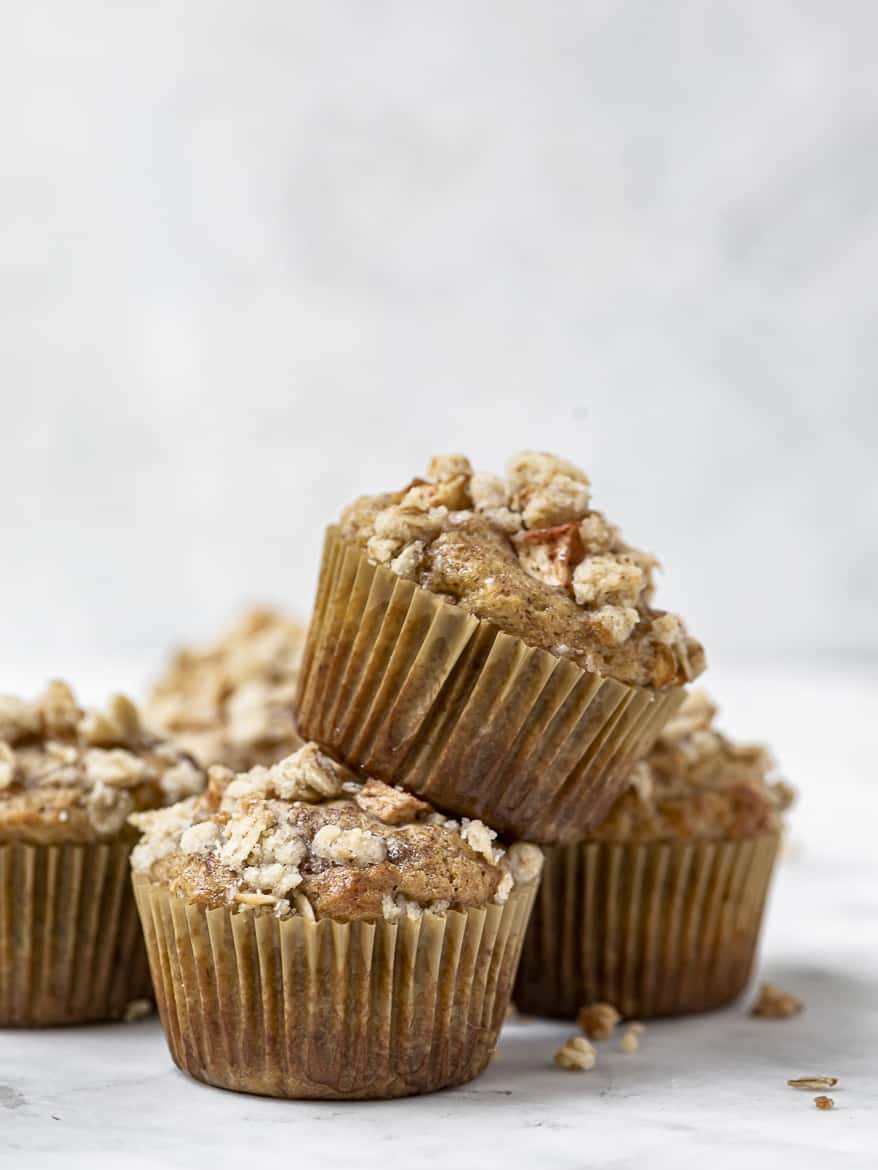 The best apple crisp muffins
These muffins are as comforting and familiar as apple pie. I can say with confidence you are going to love them and here is why:
They are easy to whip up and use mostly pantry ingredients.
These apple muffins are not too sweet so they are perfect for chilly fall mornings and afternoon snacks.
They have no nuts, are naturally sweetened, and have whole wheat flour making them the ideal snack for your school-bound (or home-bound) student.
The craggy, golden-topped crumble makes them completely irresistible.
Leftovers freeze beautifully so you can have them at the ready when the craving hits.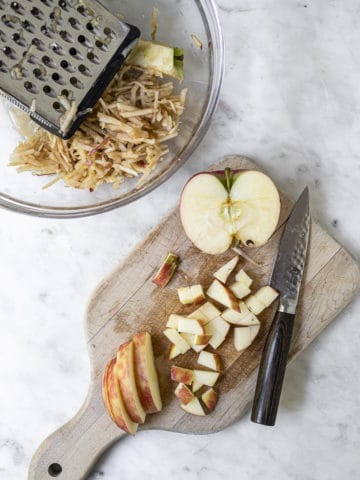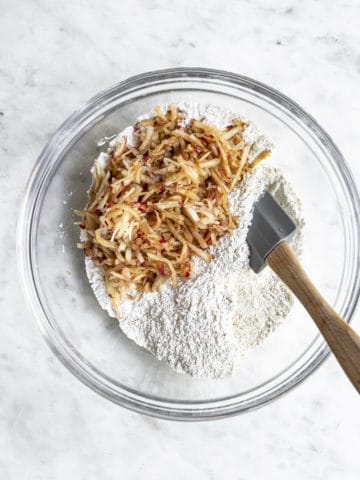 Tips for baking perfect apple muffins
If you bake muffins regularly, you will notice the ingredients and technique for these apple muffins are pretty classic and straightforward. But here's a few tips for muffins that will be worth making, and more importantly, worth eating.
The Flour – As always, whenever possible, I like to use a combination of whole wheat flour and all-purpose flour to give my baked goods a bit of a wholesome twist. Feel free to use only all-purpose, but I have not tested it using all whole wheat which might make the muffins a little drier. In addition, it is best to always weigh your flour, or use the spoon-scooping method, to get the proper flour measurement. This ensures your muffins will be nice and light.
The Apples – For these muffins, I love using the super-sweet Honeycrisp apples. They bring a sweetness to the muffins without having to add a lot of sugar to the batter. But with so many beautiful varieties out there, feel free to use your favourite. In this recipe, we use two fairly large apples and I prefer to grate them as opposed to cutting them into small pieces. The grated apples makes the batter really juicy and moist and I also prefer the smoother texture. I do, however, dice one half of the apples to top the muffins which keeps things interesting, and delicious. If you prefer a chunkier muffin, feel free to dice the apples instead. Tip: Sprinkle a tiny bit of sugar and cinnamon on the diced apples (not the grated) to keep them extra juicy.
Do not over mix the batter – Nothing new here. You probably hear this over and over. But it's so true. You need to fold, rather than vigorously mix, the batter to keep it light and avoid tough muffins.
For domed topped muffins – To get the muffins to cook with a nice domed top, I use the same technique as in these pumpkin muffins. Simply rest the batter for about 30 minutes, start with a super hot oven, then immediately reduce the temperature for the remaining cooking time. Works like a charm.
Use unrefined Coconut oil – Butter-flavoured muffins are delicious but in this recipe I wanted the flavour of the apples to really shine. To me, the flavour of unrefined coconut oil is not very strong when I use it in my baked goods. However, lately I have been using refined coconut oil which has a neutral flavour and no coconut odour. Once melted, it also doesn't seem to re-solidify as easily when mixed with cold ingredients. This is a great article if you wish to learn more about refined and unrefined coconut oil.
Use maple syrup or brown sugar – Not only are they a tad healthier than white sugar but they also add more flavour and moisture to the muffins.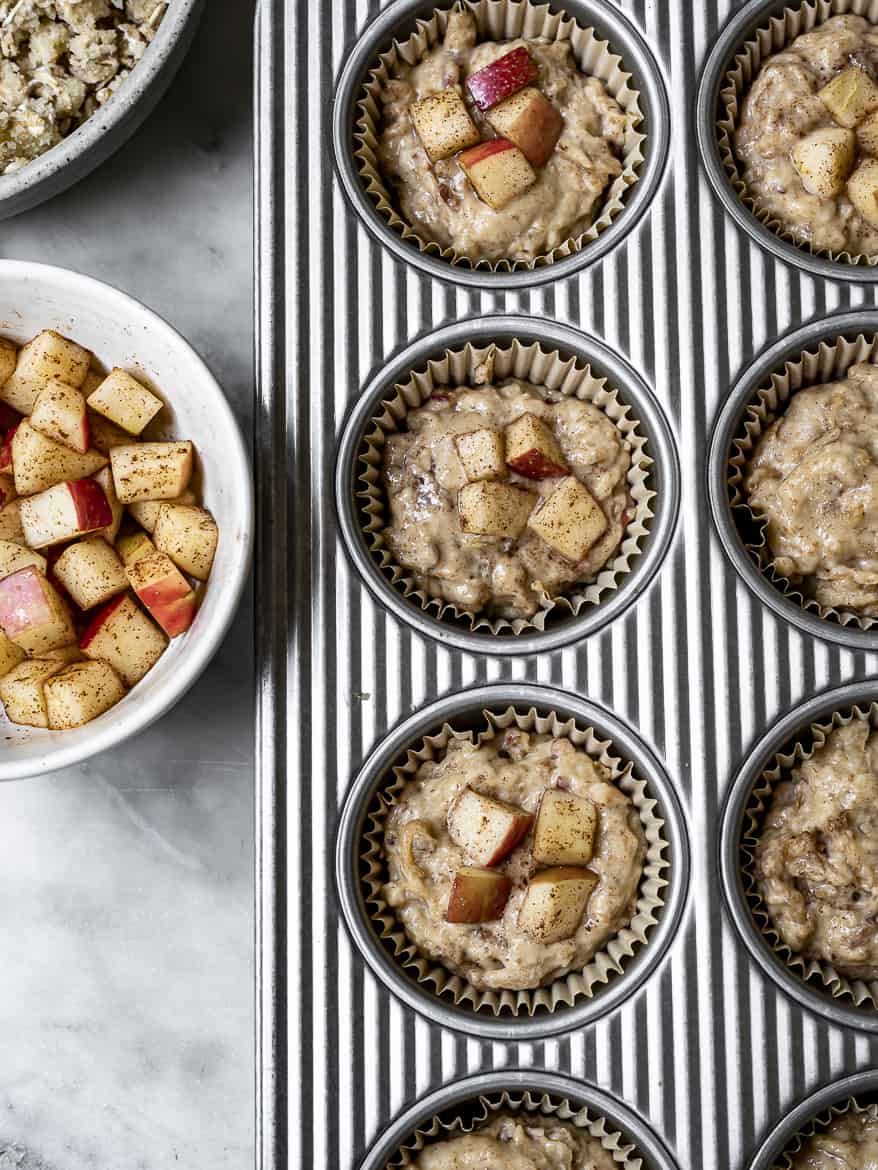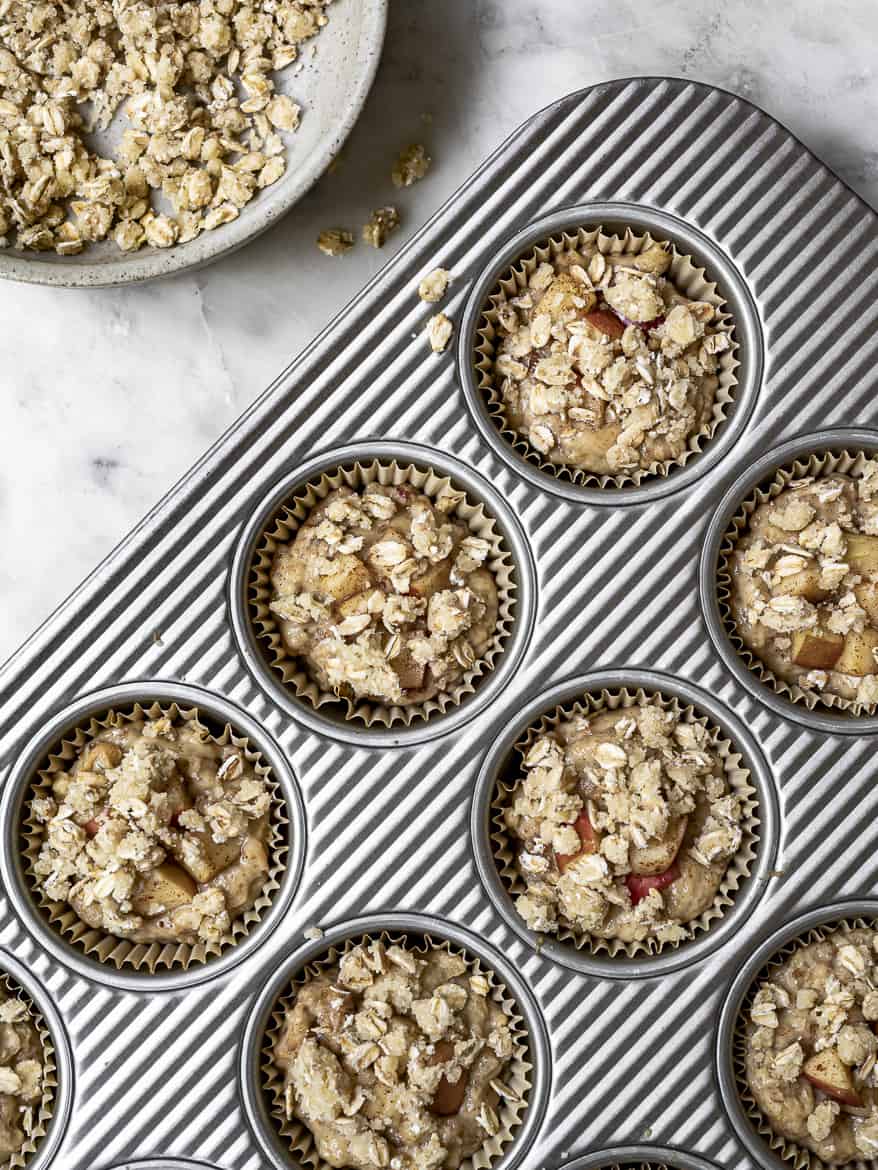 A few crisp topping tips
The crisp topping makes these muffins extra special. It is optional, but it creates a delightful textural contrast between topping and tender fruit and I highly recommend it.
Keep the crisp topping chilled. Prepare the topping first and place it in the fridge while you make the muffins. A cold crumble won't melt as fast in the oven and will remain crunchier.
Press the topping into the batter. This ensures the crumble will not roll off the muffins during baking.
Freeze the leftover topping. You might not use up all the topping. Keep the leftovers in a storage container in the freezer to use the next time you need a crisp topping.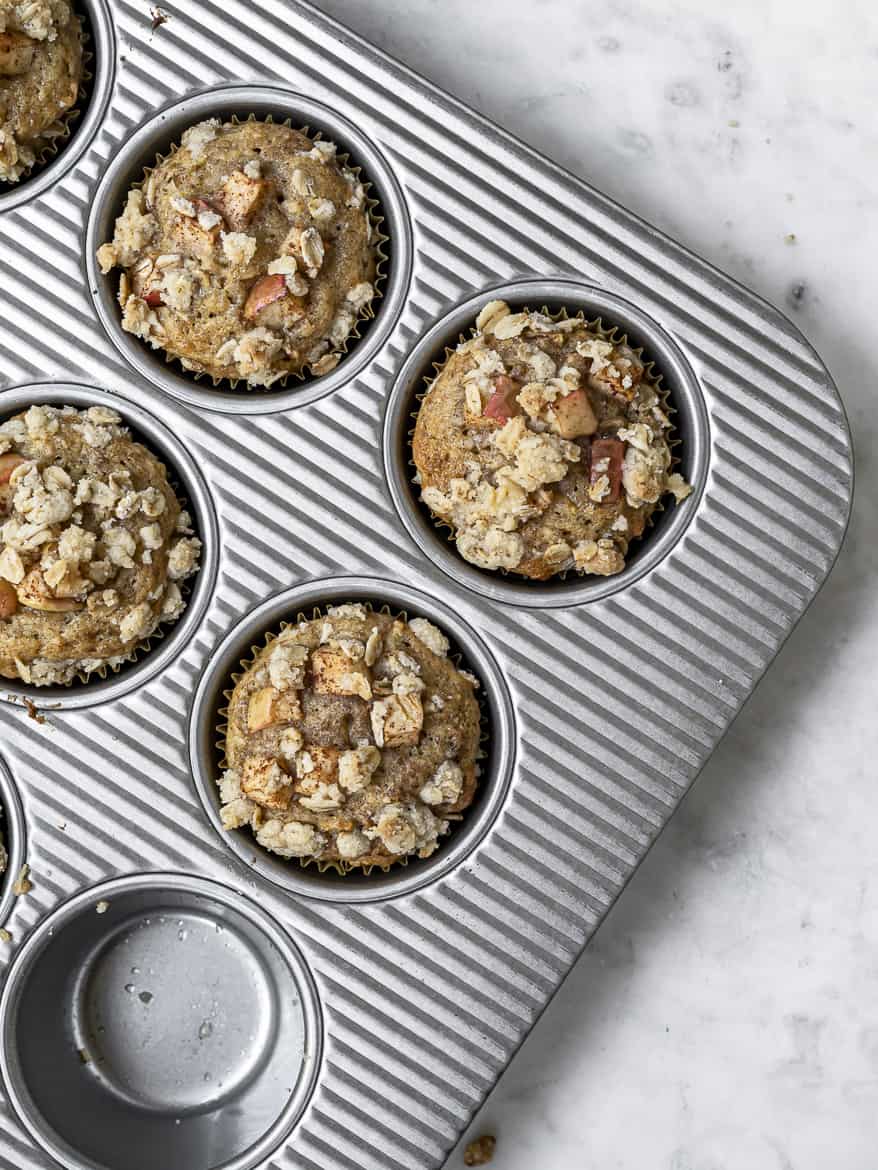 Variations
You could take these muffins in a lot of different directions. I keep the spice addition really simple with just cinnamon but you could add a little nutmeg, or even all spice. Lemon, or orange zest work well with apples and you could always add some walnuts to the topping if you like a little extra crunch.
I haven't tried making them gluten-free but I'm sure this popular Bob's Red Mill gluten-free flour would work. For dairy-free, replace the yogurt with apple sauce or a dairy-free yogurt.
Leftover apple muffins
Leftover muffins can be covered, and stored at room temperature for up to 2 days. Or place in the refrigerator for up to 4 days. Note, if you are in a very warm climate, I recommend refrigerating the leftover muffins once cooled.
If you enjoy this muffin recipe, be sure to give these Super Moist Pumpkin Recipes a try!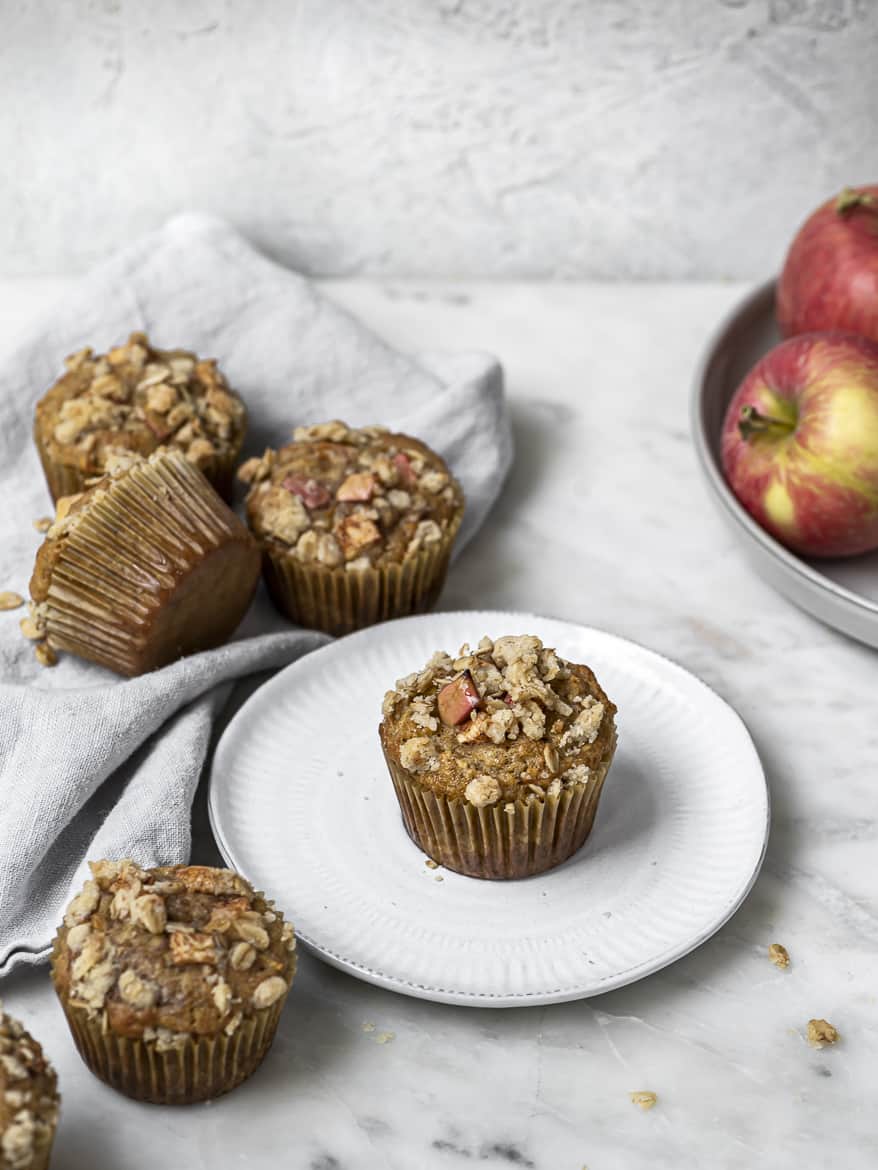 Print Recipe
Pin Recipe
Apple Crisp Muffins
These muffins are soft and fluffy and packed with apples with a crispy topping to make them even more irresistible. Make a double batch to freeze and you won't regret it.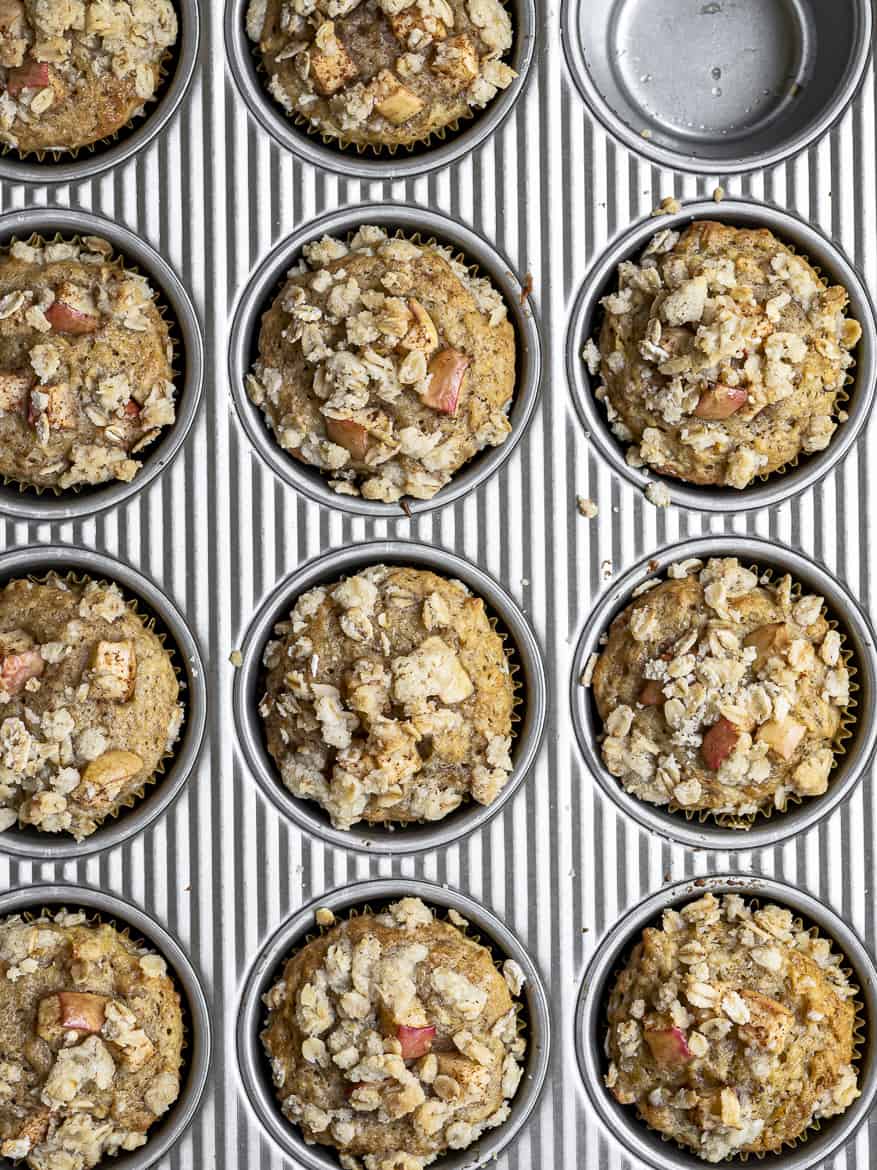 Ingredients
For the topping:
3

tablespoons

whole wheat flour

or all purpose

1/4

cup

rolled oats

certified gluten free, if necessary

3

tablespoons

sugar

I use cane

2

tablespoons

cold salted butter cut into ½-in chunks
For the muffins:
1

cup

all purpose flour

1

cup

whole wheat flour

or all purpose flour

1

teaspoon

baking powder

½

teaspoon

baking soda

1 1/4

teaspoon

ground cinnamon, divided

½

teaspoon

salt

2

medium-large apples

I use Honeycrisp

1/2

teaspoon

sugar

for srinkling diced apple (I use cane)

⅓

cup

melted coconut oil or avocado oil

½

cup

maple syrup

or brown sugar

2

eggs

preferably at room temperature

½

cup

plain yogurt

full-fat is best (you could use sour cream)

1

teaspoon

vanilla extract
Instructions
To make the topping, mix together all the dry ingredients then add in the butter. Rub the butter into the flour with your fingertips until you have a crumbly, coarse mixture. Place in the fridge to chill while you make the muffins.

Preheat the oven to 425°F and line a muffin tin with 12 liners.

In a large mixing bowl, whisk together the flours, baking powder, baking soda, 1 teaspoon cinnamon, and salt.

Using a box grater, grate 1 1/2 apples and add to the flour mixture along with all the juices. Stir well to combine. Cut the remaining half apple into 1/4-inch pieces. Place in a small bowl and toss with 1/2 teaspoon sugar and remaing 1/4 teaspoon cinnamon to keep them juicy. Set aside.

In a medium bowl, combine the melted coconut oil and maple syrup and beat together with a whisk, until well emulsified. Beat in the eggs until smooth then stir in the yogurt and vanilla. Pour this into the dry ingredients and using a spatula fold gently until just combined.

Scoop the batter into the lined muffin tins, each 3/4 of the way full. All the batter should be used up. Top each muffin evenly with the diced apple pieces.

Take the topping mixture out of the fridge and place a generous amount on top of each muffin, crumbling it between your fingers to break it up. Make sure you really press the topping into the muffin batter so it doesn't roll off the muffins.

Transfer to the oven and bake for 7-8 minutes then immediately turn the oven's temperature down to 350° F (without opening the door!). Bake for an additional 10 to 12 minutes, or until the tops are nicely browned and domed and a toothpick inserted on top comes out clean. Let the muffins cool in the pan for 10 minutes then remove and allow to cool on a cooling rack.
Notes
Tip for domed top muffin:
Baking the muffins by starting at a high temperature and then lowering it will cause the muffins to rise a little more. If you want even more of a dome top on your muffins, let the mixed batter rest covered in the bowl for 30-60 minutes before scooping into the muffin tins. 
To Freeze the Muffins: 
Cool the muffins completely on a rack. Once cooled, place the muffins back in the muffin tin and transfer to the freezer for 2 hours. Now transfer the muffins to a freezer-safe container and freeze for up to 3 months. 
To Thaw Frozen Muffins:
Leave them out at room temperature until they're completely thawed. Warm them in a up 250 degree oven for about 5 minutes. Alternatively, place frozen muffins in the microwave for a few seconds until thawed and warm. 
Leftover muffins can be covered, and stored at room temperature for up to 2 days. Or place in the refrigerator for up to 4 days. Note, if you are in a very warm climate, I recommend refrigerating the leftover muffins once cooled.