Baked turkey meatballs are what you need for quick weeknight meals or for your holiday festivities. Served with two different explosively flavourful sauces, they might just be the best meatballs you've ever had.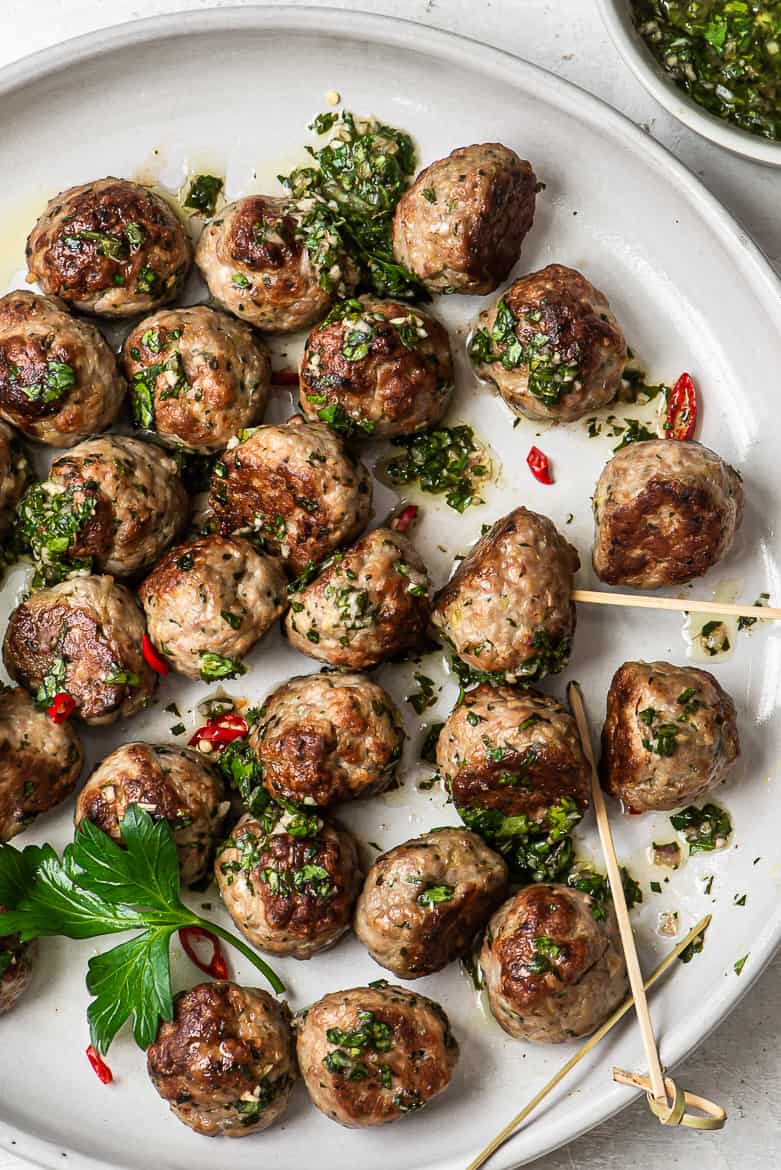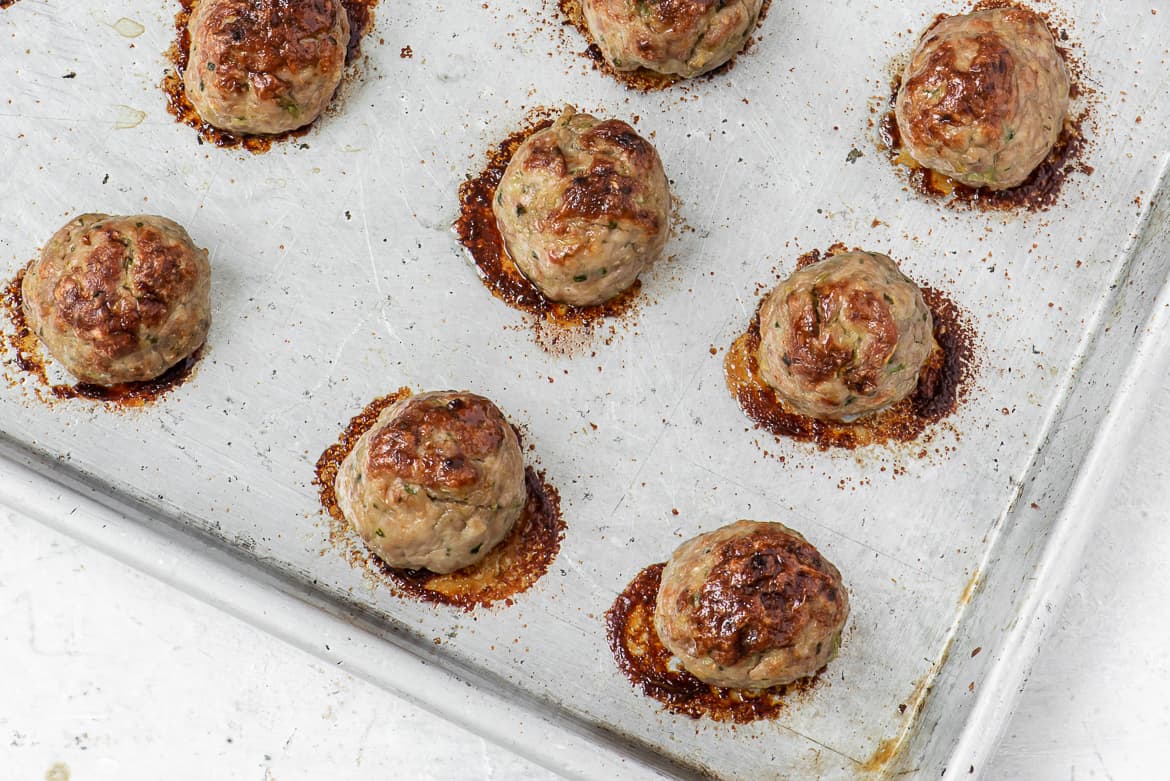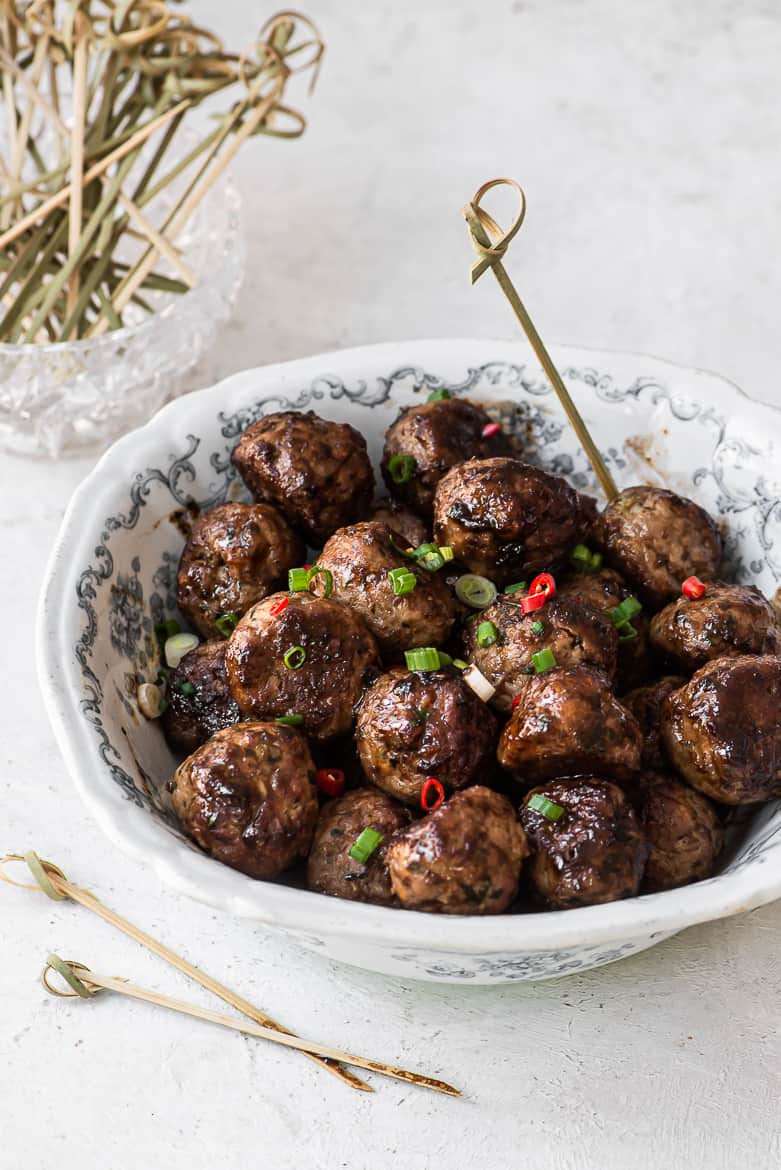 It usually takes me a little while to start embracing the Christmas holiday season. Mostly, because it's such a crazy busy time of year and it creeps up on me every time. But mainly, because the pangs of nostalgia, and memories of lost loved ones, can become unbearable this time of year. It may be cliché, but thankfully, food always brings me around. Feeding friends and loved ones will always comfort and gladden my heart.
This doesn't mean I go bananas cooking and baking during the holiday season — the days of multiple cookie batches and edible Christmas tree decorations are long gone around here. For all my holiday main meals, I stick to tradition and almost always cook the same thing every time. Easy and no pressure, it's what the family craves, and I am not going to make it problematic for myself by disrupting any of it.
Entertaining during the holidays, however, is a different beast. Exhausted from all the chaotic-related seasonal stresses, the festivities can quickly lose their appeal for me. To keep it enjoyable I have been coming up with some easy meals and appetizers that I think you too will find helpful.
With simple ingredients, minimal mess and fuss, these baked turkey meatballs are just that. They are great for a quick, mid-week meal, when things are getting harried. And if entertaining, dole these out, watch them disappear, and accept all manners of accolade.
MAKING GREAT, BAKED TURKEY MEATBALLS TWO WAYS
The base mix for the meatballs is nothing more than ground turkey, shallots, garlic, chopped herbs, and a little oil. Once rolled up, they bake, or broil, so quickly you won't have time to even check your instagram. And if you're wondering if they can possibly bind, or be tender, without eggs and breadcrumbs, they do and they are!
With or without any sauce, the meatballs are ideal for an easy weeknight meal when served over rice, or any other grain. Or tuck them into pitas, or serve with any noodles. Make double batches because they freeze beautifully.
For a crowd-pleasing party appetizer I give you two very simple, yet explosively flavourful sauces that make the meatballs just a little more special. Both so delicious I'm not sure I could pick a favourite.
Baked Turkey Meatballs with Chimichurri Sauce
Chimichurri sauce does wonders for everything it touches and these turkey meatballs are no exception. Herby, garlicky and bright green, the sauce also makes the meatballs look incredibly festive. Not traditional to chimichurri sauce, but to amp up the festive feel I also add a few bits of chopped red chilis. We love the spice but do leave them out if spicy food is not your thing.
Important to note, chimichurri sauce is not to be heated. Simply pour the sauce over slightly warm, or room temperature baked meatballs.
Baked Turkey Meatballs with Soy-Ginger Sauce
This soy-ginger sauce has the typical salty-sweet, umami notes with a spicy addition from the chili peppers. Here, I urge you not to leave out the chilis. Not only do the red specks look pretty and festive but, in my experience, the bit of spice is what makes them uber-popular.
You can use the soy-ginger sauce as a dip but I prefer to glaze the meatballs with the sauce. Simply warm the soy-ginger sauce in a large skillet then add the meatballs and cook for a few minutes until they develop a shiny glaze.
VARIATIONS
I used ground turkey and baked the meatballs for a healthier alternative. However, any ground meat, or combination of ground meats, will work. 
Play around with the spices and herbs to your liking. Add into a spaghetti sauce and serve them with pasta. Serve them folded in lettuce wraps (so good!). And let me tell you that left sauce-less and served in a brothy soup, would be a really good idea.
This is a basic meatball recipe you can easily adapt to your taste. The possibilities are endless!
HOW TO MAKE AHEAD
As previously mentioned, these meatballs freeze beautifully. Once out of the oven, simple let cool then store in freezer for up to 3 months. Reheat the meatballs in a skillet over medium heat until warm. Alternatively, reheat the meatballs in a sauce of your choosing until warmed through.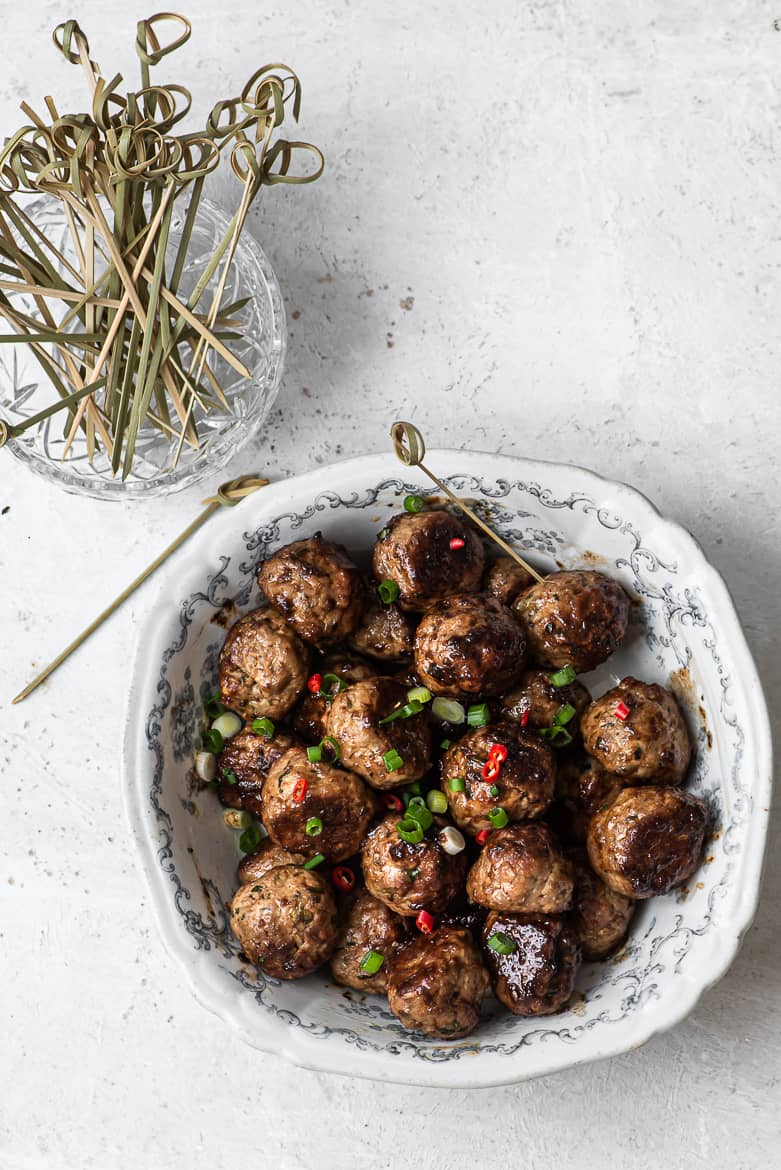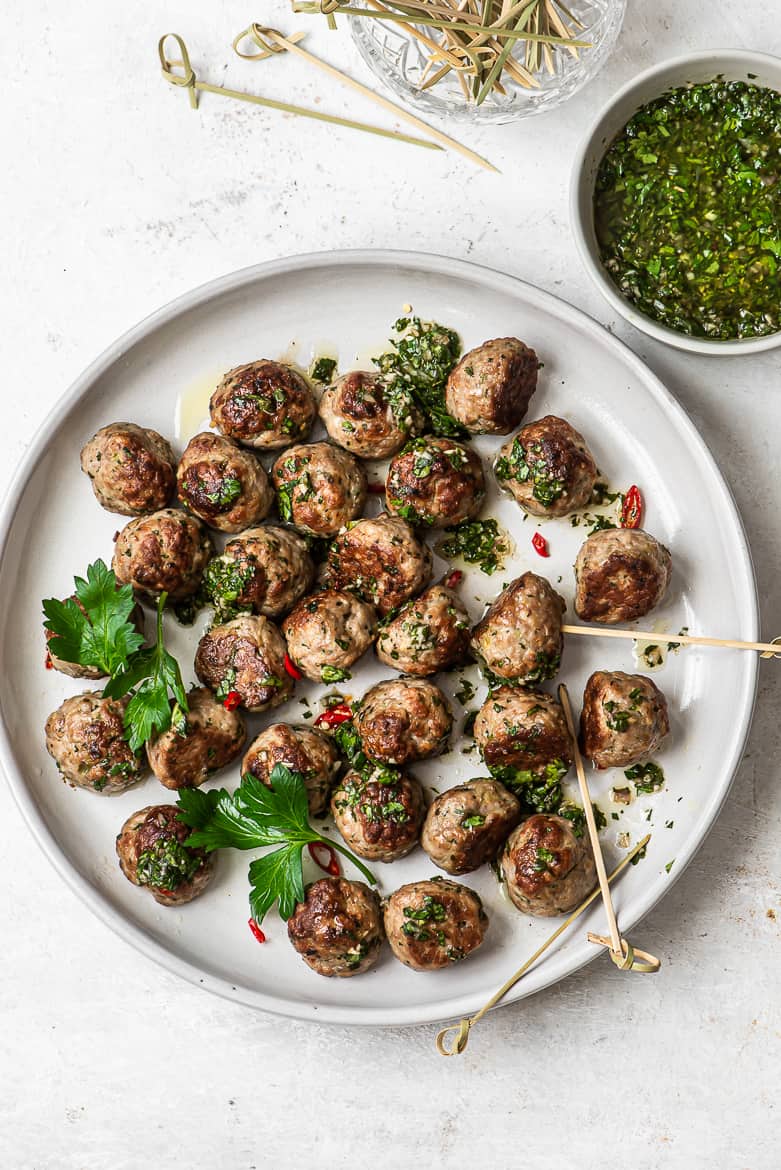 There is something so comfortingly old-fashioned about meatballs as appetizers. Have you noticed they are always the first thing to go at a party? They just never get old. If you are throwing a soirée or simply need a quick meal during the holidays, do give these crowd-pleasing meatballs a try.
OTHER SIMILAR RECIPES YOU MAY ENJOY: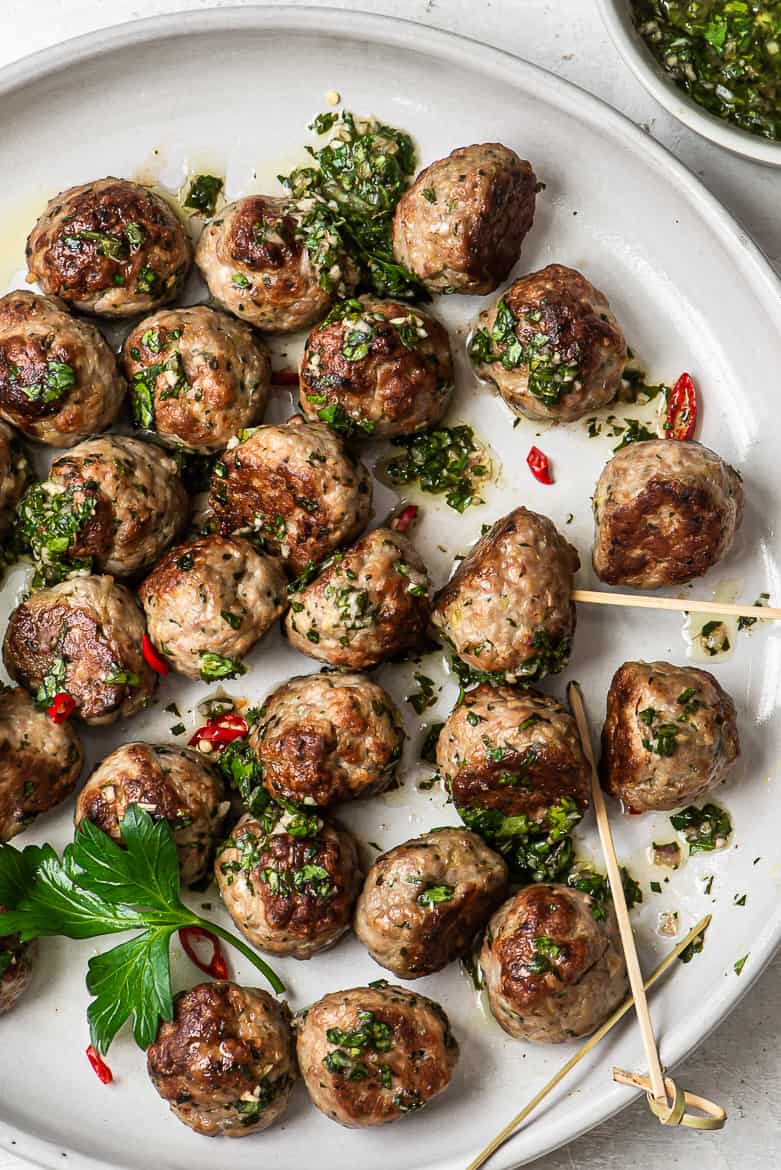 Ingredients
For the Meatballs:

2

Tablespoons

olive oil

1

small shallot

finely chopped

2

garlic cloves

grated or minced

1/2

cup

very finely chopped parsley

1

teaspoon

dried oregano

2

teaspoon

kosher salt

1

teaspoon

freshly ground black pepper

2

pounds

lean ground turkey

For the Chimichurri Sauce:

1

shallot

finely chopped

3

garlic cloves

minced

1

large red chili

deseeded and finely chopped (optional)

1/3

cup

red wine vinegar

1

tsp.

kosher salt

plus more

½

cup

finely chopped cilantro

1/2

cup

finely chopped flat-leaf parsley

1/2

teaspoon

dried oregano

1/2

cup

extra-virgin olive oil

For the Soy-Ginger Sauce:

1/2

cup

low-sodium soy sauce

2

Tablespoons

honey

2

Tablespoons

rice wine vinegar

2

Tablespoons

water

1 2-

inch

piece fresh ginger

peeled, and grated or minced

1

garlic clove

grated or minced

1

large red chili

deseeded and finely chopped (optional)

1

teaspoon

toasted sesame oil

2

scallions

thinly sliced, for garnish
Instructions
Make the Meatballs: Preheat oven to 450 degrees. Using your hands, rub 2 Tablespoons olive oil on a large baking sheet. Set aside.

Gently mix all the meatball ingredients in a bowl. With wet hands (this makes rolling the balls easier) form 1 1/2-inch balls and place on baking sheet, one inch apart. Place in preheated oven and cook for 10 minutes. Set the oven to broil and cook 1-2 minutes longer or until meatballs are golden-brown.

Make Chimichurri Meatballs: In a medium bowl, combine shallot, garlic, chile, vinegar, salt, cilantro parsley, oregano and olive oil. Let sit 10 minutes to allow flavours to meld. Place cooked meatballs on a large platter or bowl and drizzle with chimichurri sauce. Serve with toothpicks on the side.

Make the Soy-ginger meatballs: In a small bowl, combine the soy sauce, honey, vinegar, water, ginger, garlic, red chili, and sesame oil. Place a large skillet over medium heat. Add the sauce and bring to a simmer. Cook gently until slightly thickened, about 2-3 minutes.

Add the baked meatballs to the sauce and cook for 1-2 minutes, stirring to coat evenly. Transfer them to a serving platter or bowl, garnish with sliced scallions and serve with toothpicks on the side.