These sweet and tangy roasted root vegetables with maple sherry glaze are so good you will want to eat them every night. A dish for the everyday, yet stellar enough for any holiday table.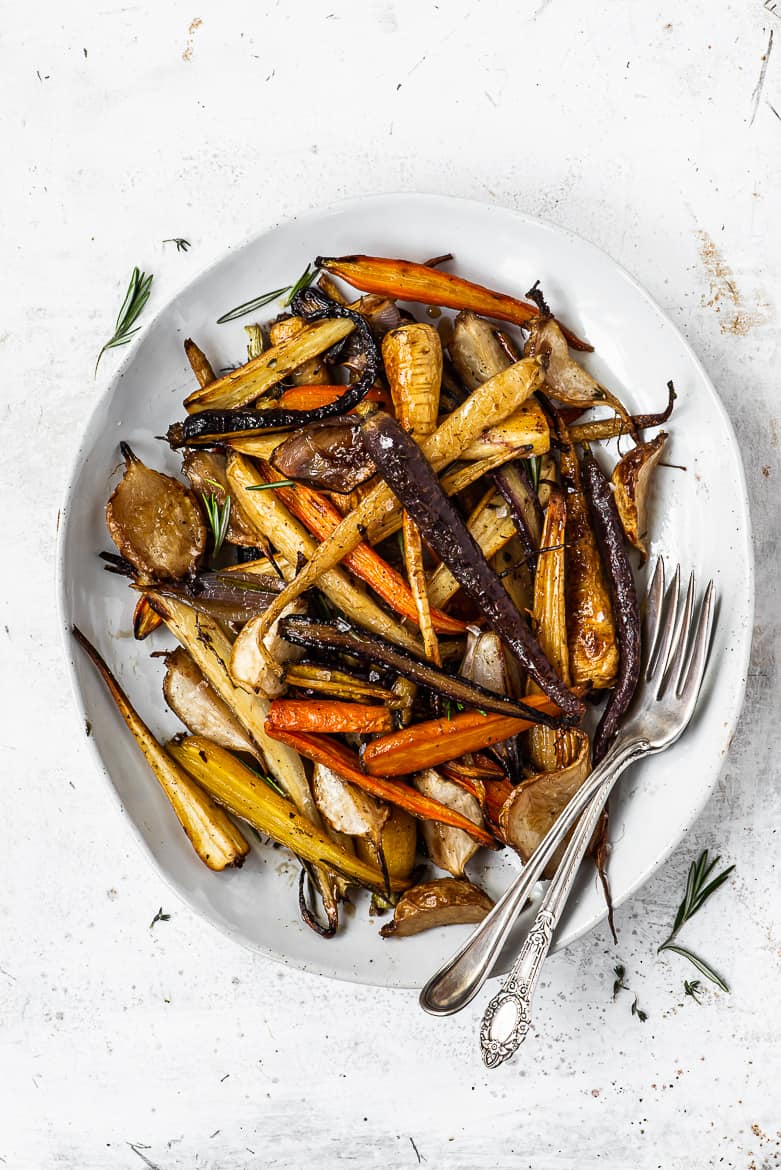 December is here which means it is time for cookies, eggnogs and lots of holiday feasting! All perfectly acceptable indulgences for this time of year, if you ask me. However, when you start to yearn for something healthy in-between, or you need a knockout holiday dish, may I suggest these roasted root vegetables with maple sherry glaze? Roasted vegetables are incredibly flavourful on their own, but even more outstanding with a slightly sweet and tangy, maple-sherry glaze.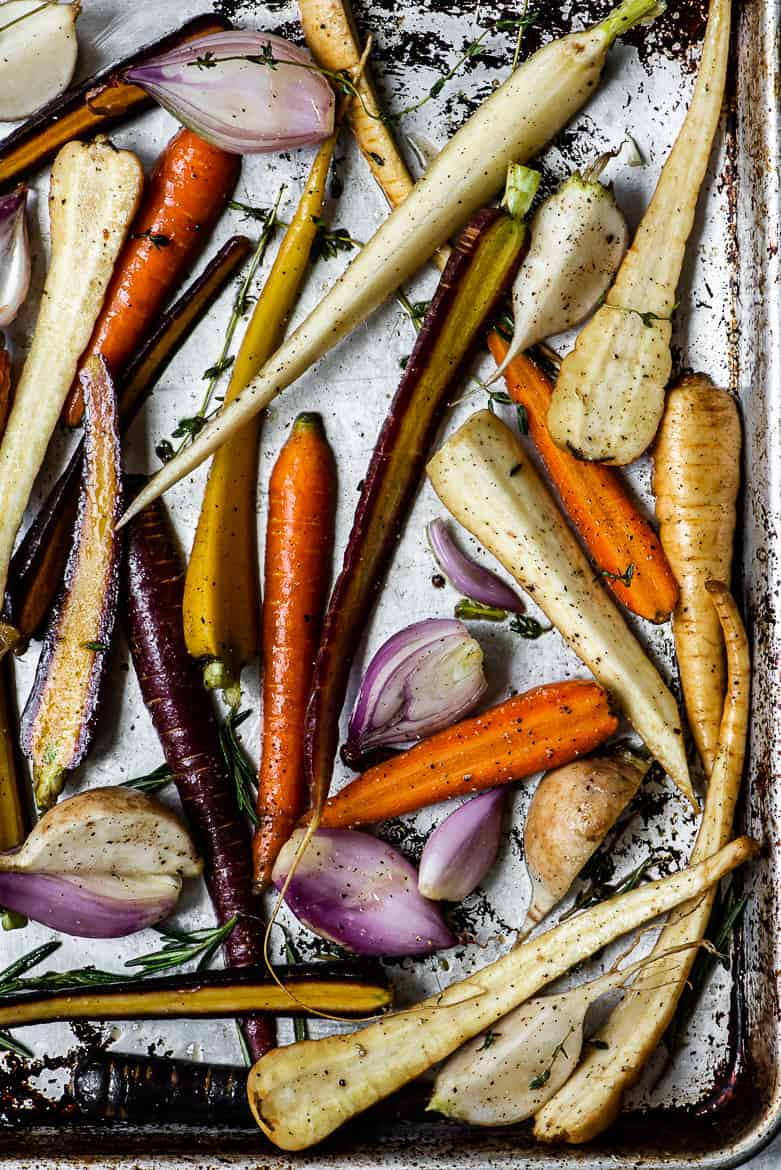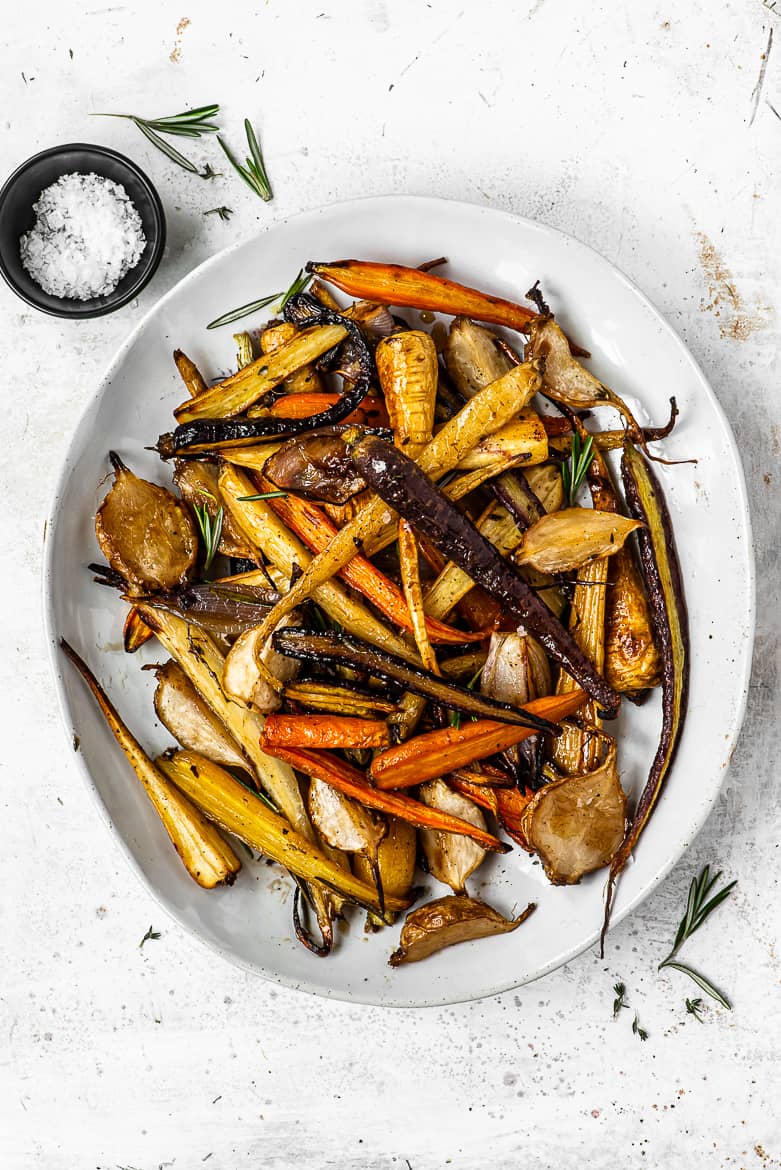 Root vegetables are high in starches and natural sugars which is why they lend themselves so beautifully to roasting. The heat of the oven caramelizes the vegetables, intensifying their flavour and sweetness. Here I have used heirloom carrots for their beautiful rainbow colours, parsnips, and turnips. I always add shallots to the pan which also sweeten and become tender and more delicious when roasted. You could also use red onions. Feel free to swap in other vegetables of your choice — sweet potatoes, rutabagas, beets, etc, will all work.
SIMPLE ROASTED ROOT VEGETABLES WITH MAPLE SHERRY GLAZE
This dish could not be more simple. Toss the vegetables with olive oil, salt and pepper. Because of the season, I like to add herbs like rosemary and thyme which lend delicious festive aromas to the veggies. Next, roast the vegetables until they get tender and the edges caramelize.
While the vegetables roast, reduce some maple syrup and sherry vinegar on the stove top, until slightly thickened. This combination is so flavourful — the maple syrup adds just enough sweetness and the sherry vinegar adds a wonderful complexity to the glaze and a really nice bite. The glaze is poured over the just-roasted vegetables. So easy, so incredibly delicious, and so beautiful — I could eat these every night.
A good quality sherry vinegar has a softer, less sweet flavour than other wine vinegars. It is my absolute favourite wine vinegar but it can be a little tricky to find. If you can't find it, you can use balsamic, or white wine vinegar.
WHAT TO SERVE WITH ROASTED ROOT VEGETABLES
Roasted vegetables are the best side dish to a cozy roasted chicken or roast beef. But I also love them them folded into wraps, over creamy polenta, and alongside hefty green salads. The next day, leftovers will be screaming at you to be thrown into an omelet or frittata. You'll see.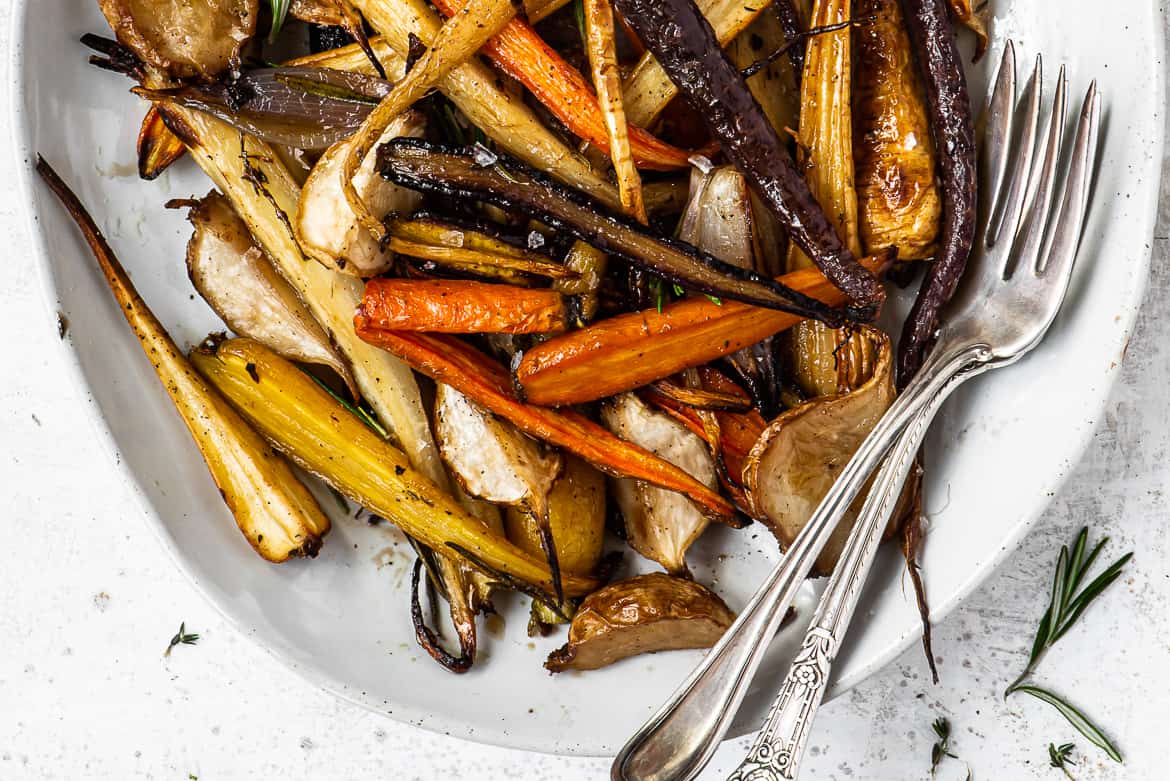 Hope you're all staying warm! Be sure to keep checking in because I have a lot more holiday goodness for you in the coming weeks. Have a wonderful week, friends.
Print Recipe
Pin Recipe
Roasted Root vegetables With Maple Sherry Glaze
These sweet and tangy roasted vegetables are so good you will want to eat them every night. The maple-sherry sauce is particularly delicious. No need to peel the vegetables - just scrub them well to clean.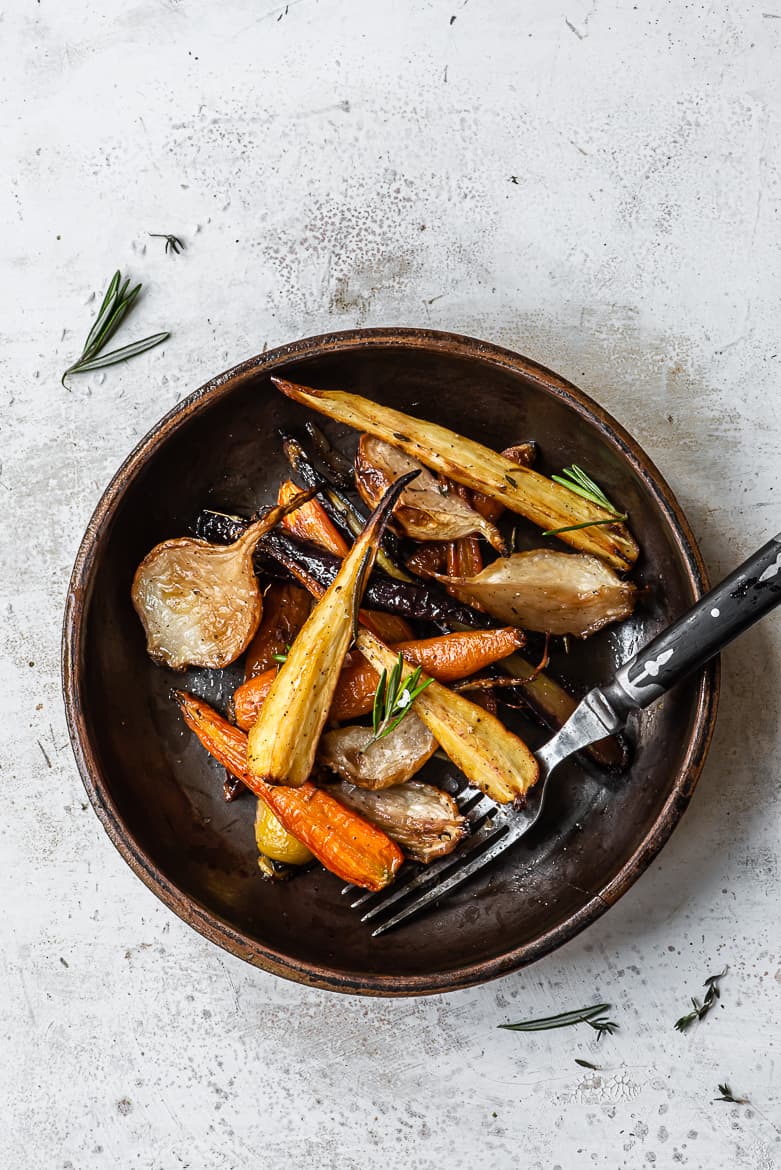 Ingredients
1

pound

small multicoloured carrots

or any colour, trimmed and halved, or quartered, lengthwise

4

parsnips

trimmed, and halved lengthwise

6

small turnips

trimmed and halved or quartered lengthwise

6

medium shallots

peeled and halved or quartered

4

Tablespoons

extra-virgin olive oil

Kosher salt and freshly cracked pepper

2

sprigs fresh rosemary

4

sprigs fresh thyme

1

teaspoon

kosher salt

1

teaspoon

freshly cracked black pepper

1/4

cup

pure maple syrup

6

Tablespoons

sherry vinegar

or balsamic or white wine vinegar

Flaky sea salt

for serving (optional)
Instructions
Preheat the oven to 425°F.

Arrange the carrots, parsnips, turnips, shallots and herbs on a large baking sheet and drizzle them generously with oil (use two baking sheets if necessary to not overcrowd the vegetables).

Season with salt and pepper and toss until the vegetables are evenly coated.

Roast the vegetables for 25 to 30 minutes, without stirring, until tender and caramelized.

While vegetables roast, combine maple syrup and vinegar in a small saucepan over medium-high. Bring to a boil, then lower heat and simmer, without stirring, until mixture is thickened, 6 to 8 minutes. (You should have about 1/2 cup of liquid.) Remove from heat, and let cool slightly; sauce should thicken to syrupy consistency upon cooling.

Remove vegetables from oven and drizzle with almost all of the maple syrup glaze, reserving about 1 tablespoon. Arrange the vegetables on a platter, and drizzle with remaining glaze.

Finish with flaky sea salt, if desired, and serve immediately.