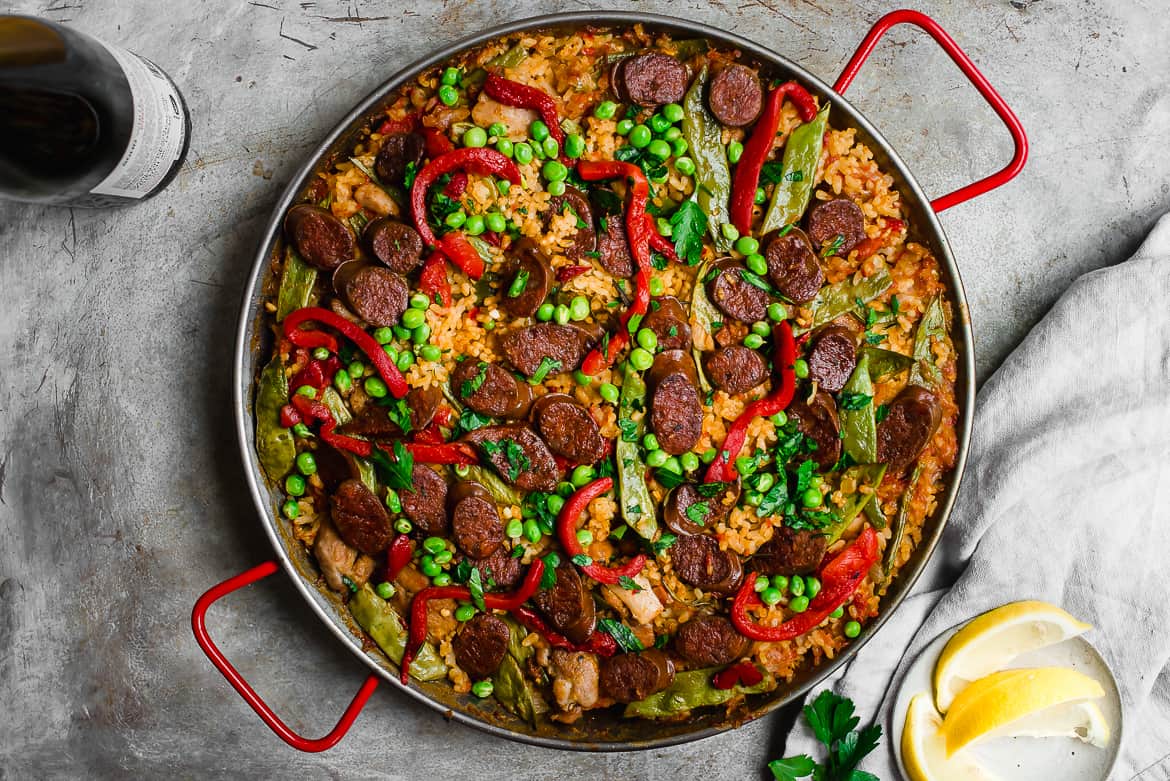 A few years ago, when I set out to make my first Chicken and Chorizo Paella I didn't think much of it. I found a few recipes that looked good and proceeded to make it with pretty good results. Without the addition of seafood it is very similar to our Dominican arroz con pollo, so it didn't intimidate me in the least. Then friends started asking for the recipe and I started to do some serious research on authentic, traditional paella. Well, apparently, I had a lot of it wrong.
The Makings Of An Authentic Spanish Paella
There is a lot of debate as to what exactly qualifies as an authentic paella. Turns out Valencians, disgusted with the butchering of their beloved and global-claim-to-fame paella, have even created a website where they explain the do's and don'ts of a true, authentic paella. To a Valencian, aside from the rice, paellas should stick with the traditional classic combination of snails, rabbit, and broad beans. Chicken is somewhat tolerated but seafood? That is out. Garlic, debatable. Lemons, no way. Chorizo, well that happens to be the worse offender of all with a very terrifying near-revolt from the Spanish. Lucky for Yotam, they must have missed the pancetta in his beautiful seafood paella recipe. And if you have some time, I recommend you read all about the epic paella emoji debate. Hysterical.
At any rate, suddenly I felt my paella did not even qualify as a paella and I certainly dared not publish a recipe for it. Not because I thought wikipaella would ever find my little corner of recipes here, or call me out on it, but because I felt I had no right to label my dish as "paella" and I didn't know what else to call it. However, after about a year of making paella in the shadows — no shared recipes and definitely no instagram pics of the vibrant medallions of chorizo displayed on top of my paella — I got over it. If you follow these basic steps to making a traditional paella, you can add whatever you want to it and not only will it be delicious but I give you permission to call it a paella because with all due respect to the Valencians, live your life, I say. So here it is; my paella with chicken and chorizo, which I promise is an easy, one-pot fabulous dish that is fun, crowd-pleasing, and pretty darn good. Let's get started.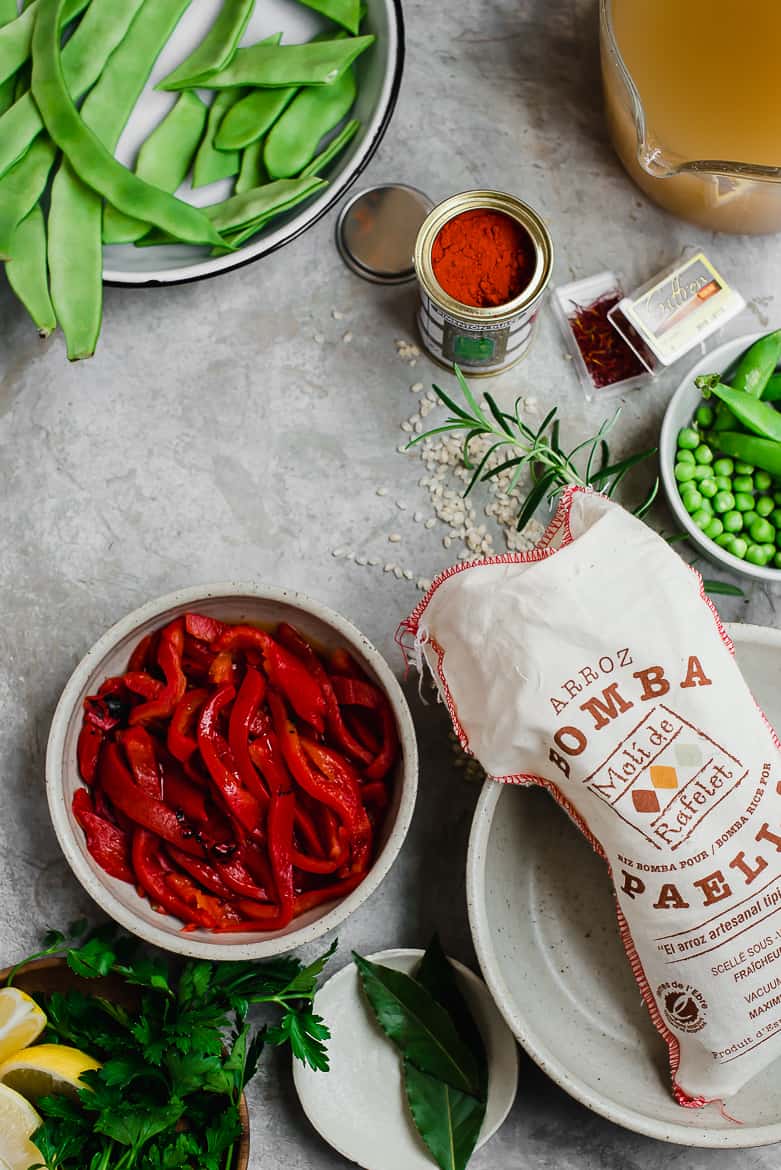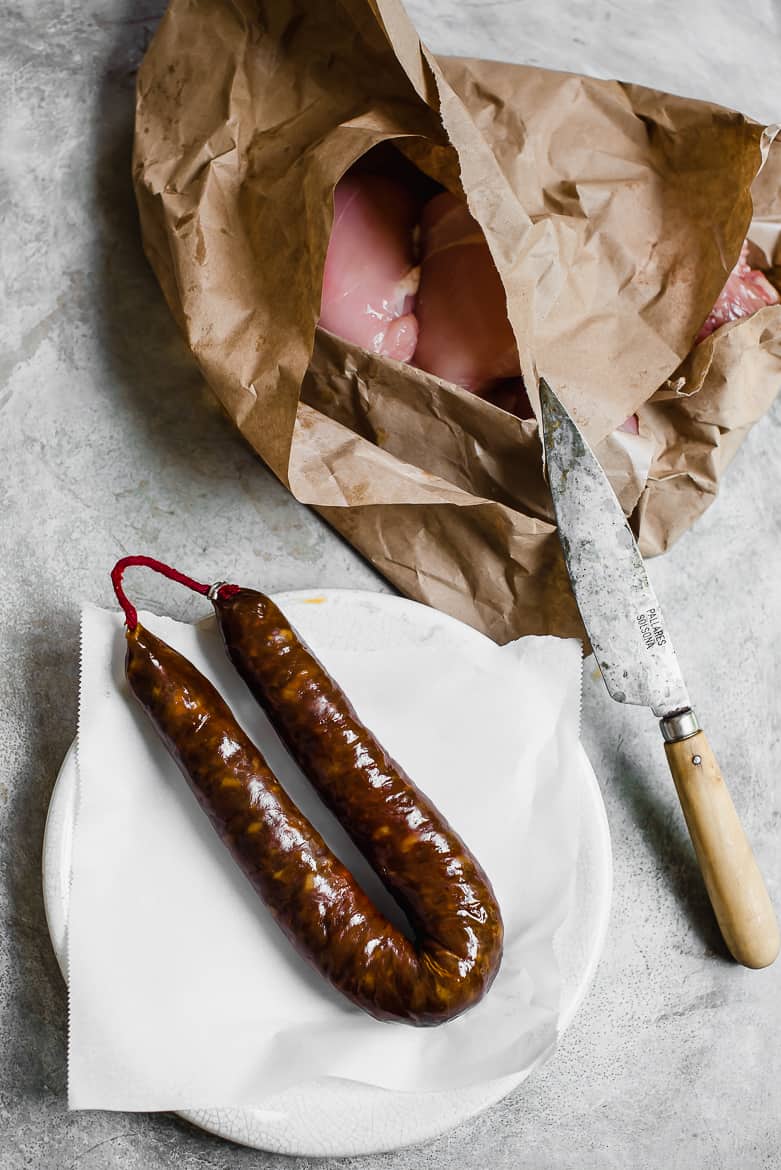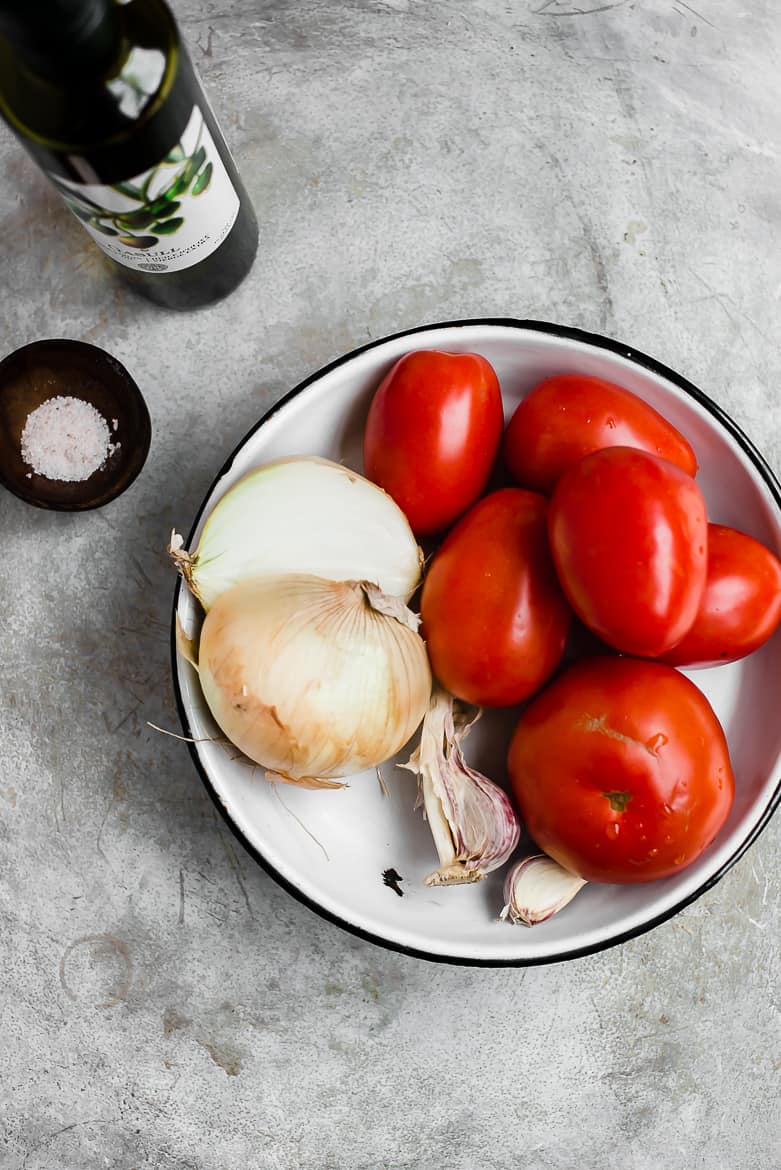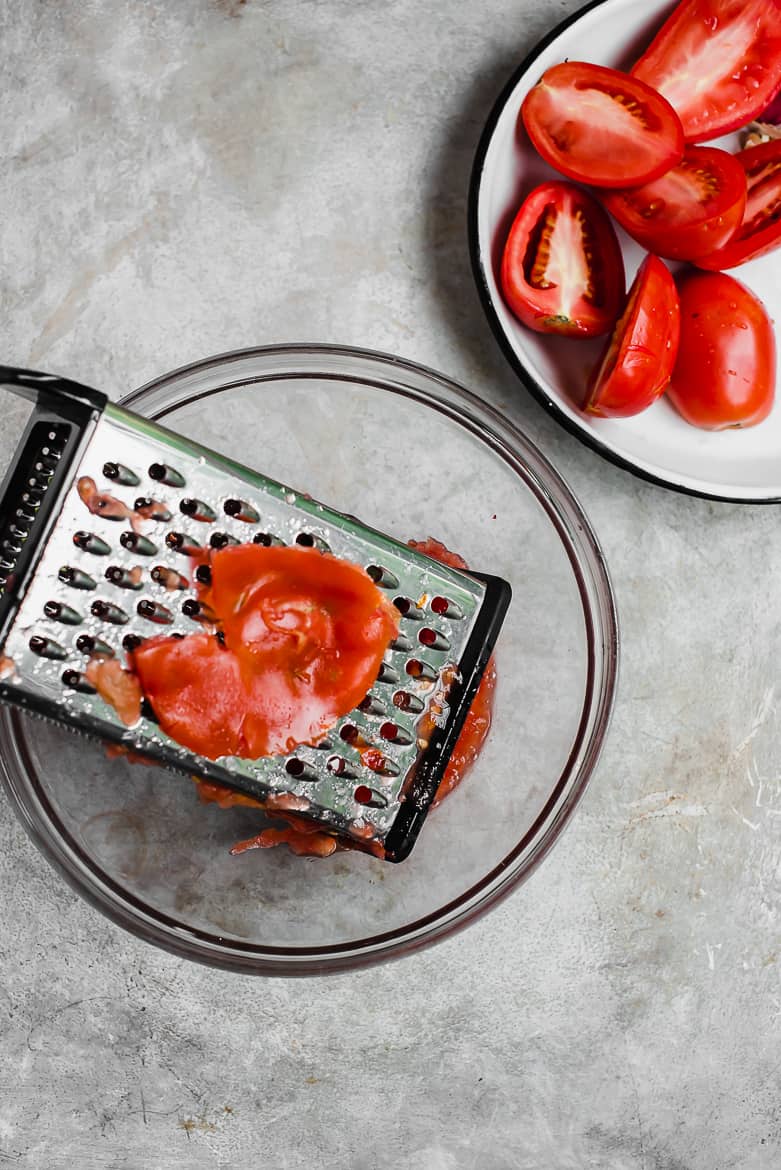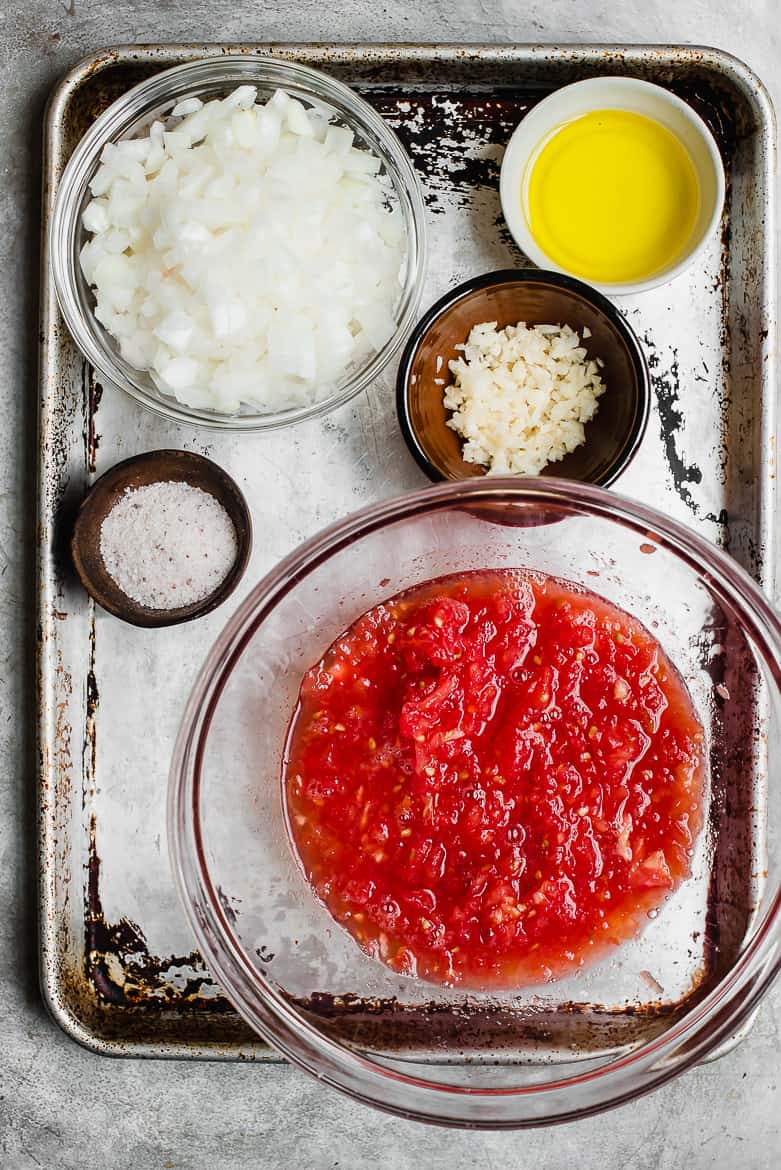 The Best Paella Pan
I have more paella pans than I care to admit to. Though most have been purchased under the guise of research, I really do make it a lot. What is a lot? Well this summer alone I have already made it about 10-12 times, and as soon as I'm done writing this post I will be making a large batch of sofrito to have ready for the weekend. Traditional paella pans are not expensive and you can order them from many websites online or if you live in my area, you can purchase here. Before I owned a traditional paella pan, or this pan which I also love to make paella in, I used a regular cast iron skillet. Basically, any round, wide and shallow pan will work. For size, a 15-inch (38cm) is the most popular and, depending on how deep the pan is, it can hold about 2 1/2-3 cups of rice which feeds about 8-10 people. To make smaller amounts use a 12-13-inch pan.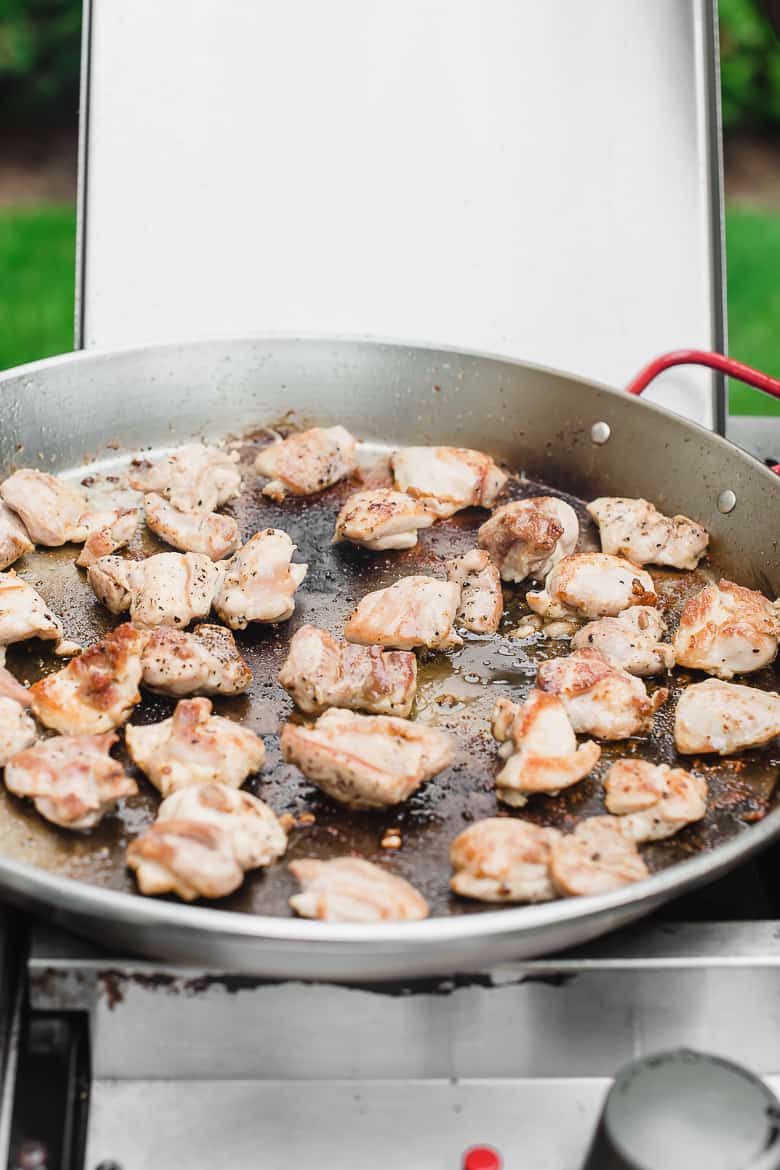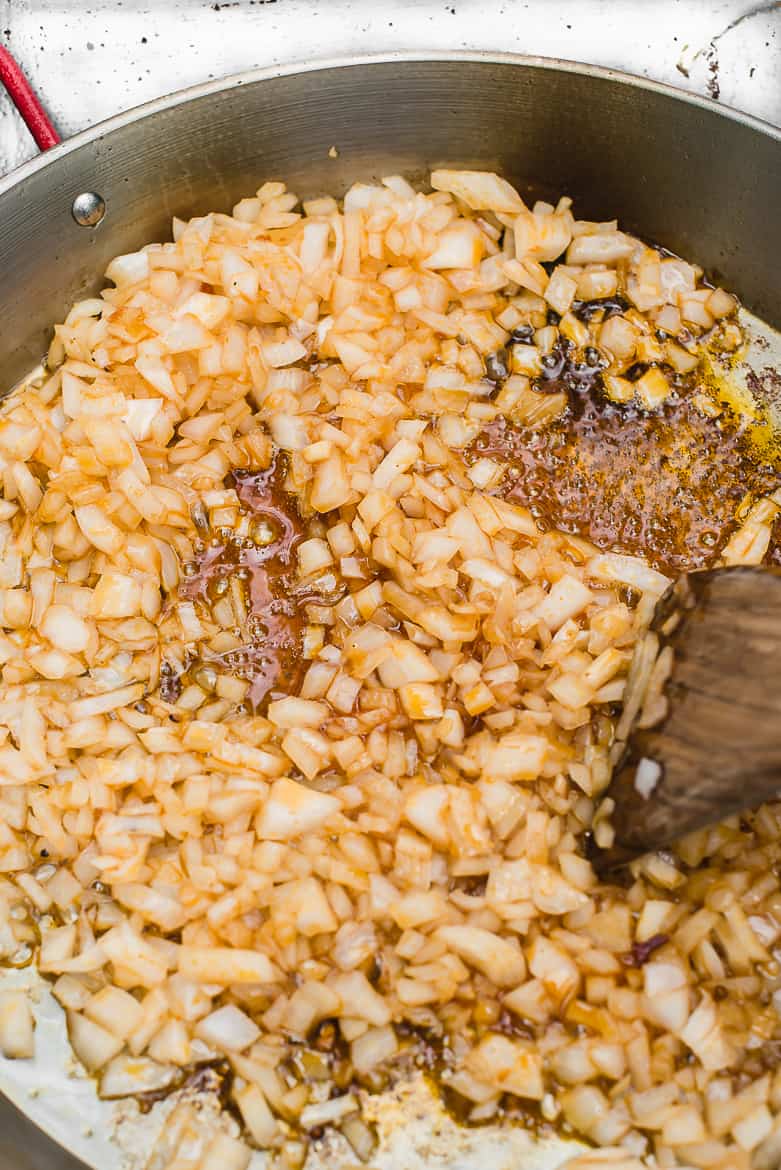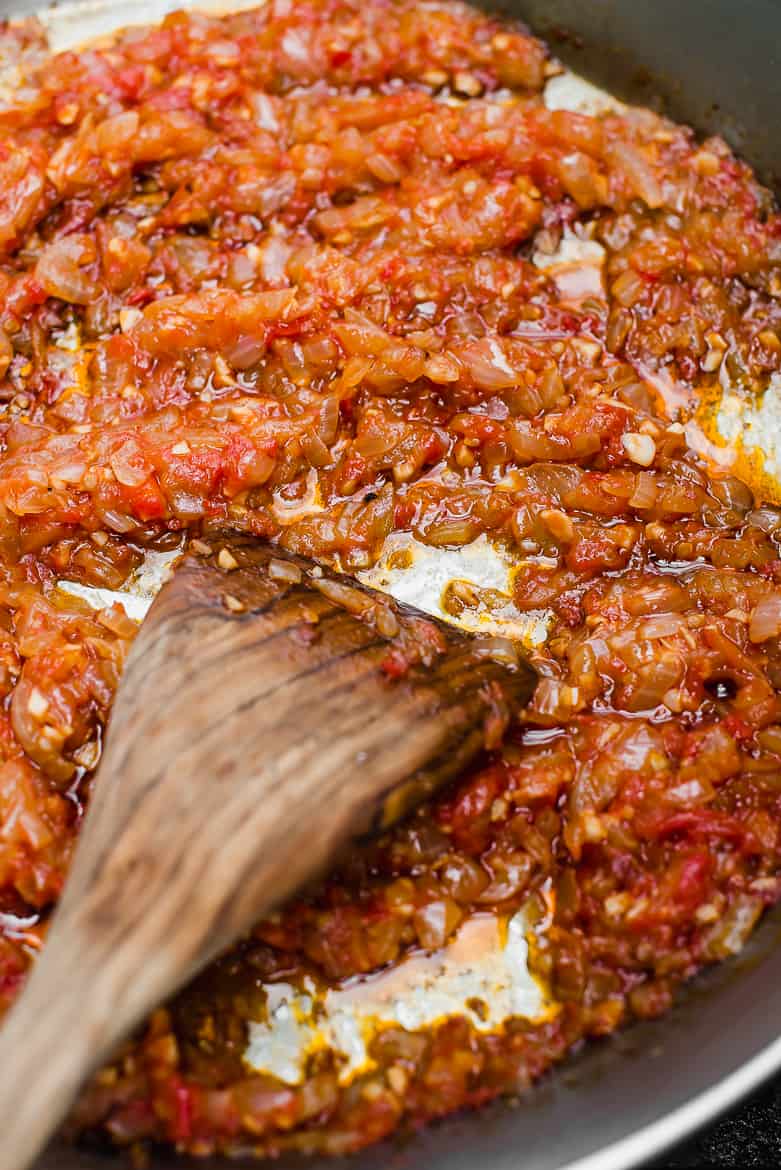 The Sofrito
The sofrito is the very important base that adds wonderful flavor and depth to all paella's and is super simple to make. It consists of sautéed onions, garlic and tomatoes cooked in a generous amount of olive oil until softened and thickened. According to this recipe from the very popular Spanish restaurant in Toronto Patria, the sauce should cook long enough to become almost jam-like. This will take about 30-40 minutes. However, I have found it takes less time to thicken if you use tomatoes from a can. I try and use fresh tomatoes whenever possible but canned tomatoes will work just as well. Use whatever is available or easiest for you. The real beauty of sofrito is that you can make it way ahead of time and have it in your fridge for when you are ready to make the paella. It keeps well in the fridge for up to 5 days or freeze it for up to 2 months.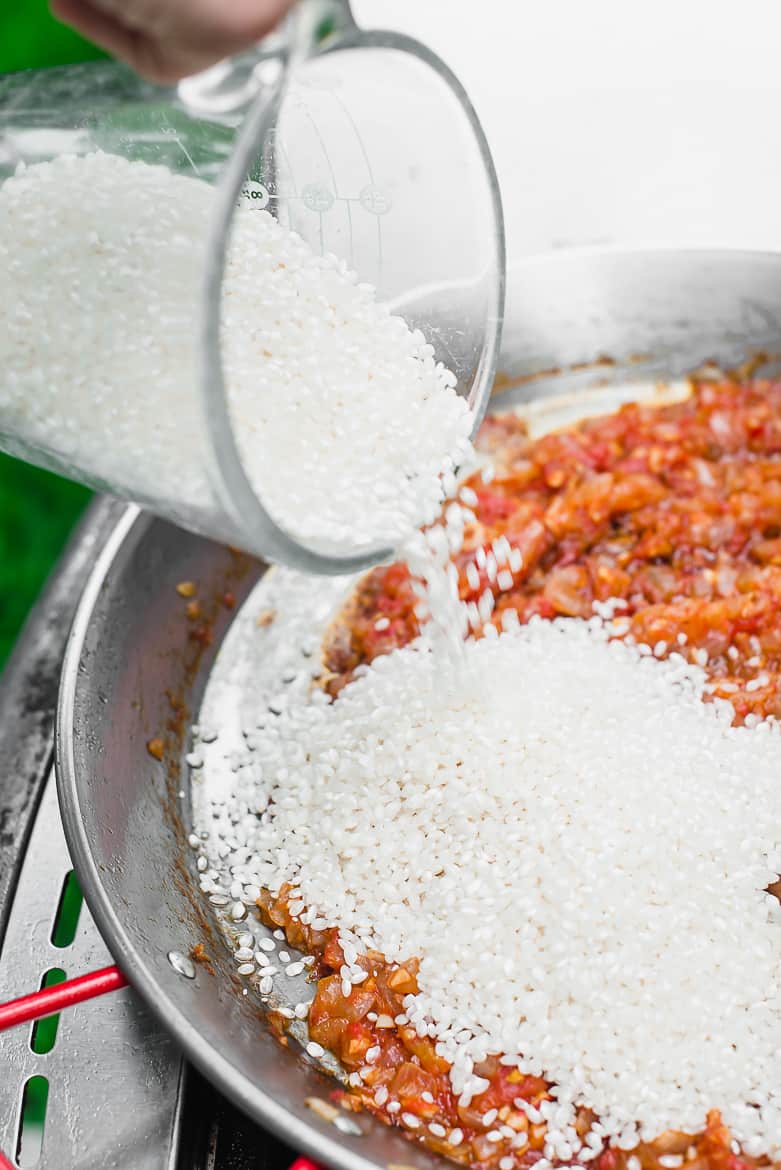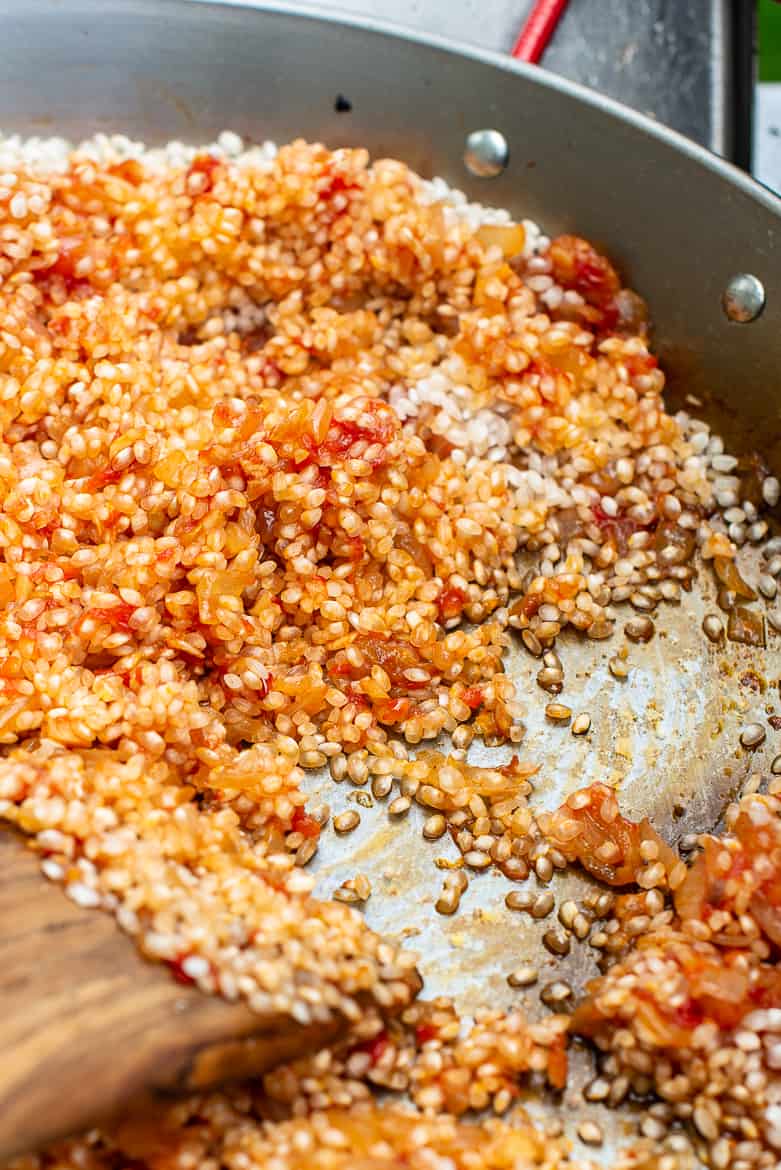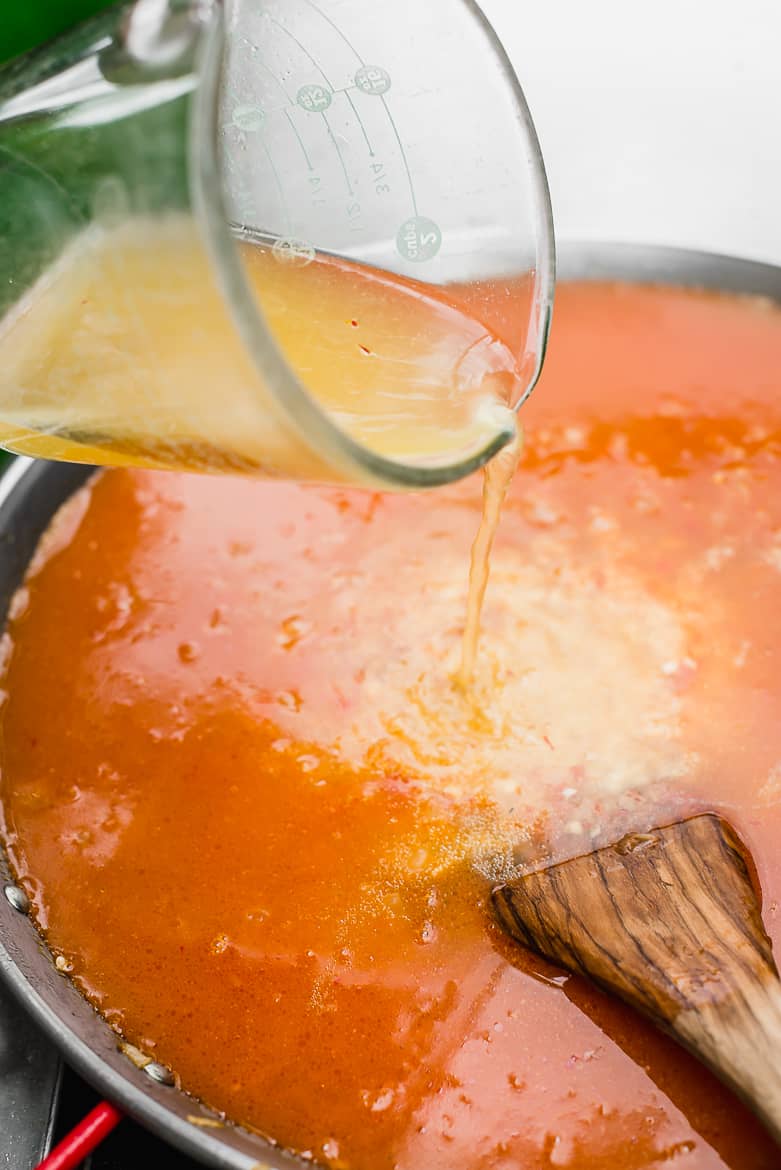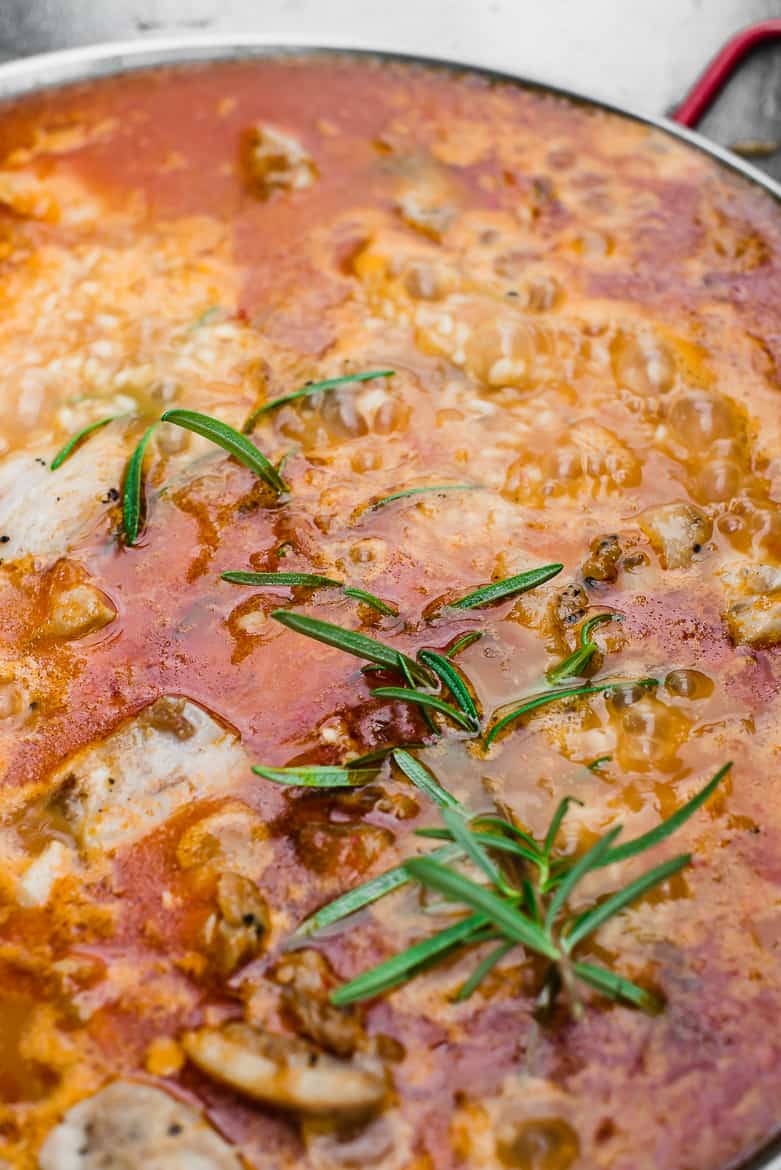 The Best Rice for Paella
There is a little-known secret to making an exquisite paella — paella is all about the rice. You need to have the right one and the best variety to make a good paella. You are looking for a short grain rice that absorbs a lot of liquid and will not stick together. The best rice for this is Spanish Bomba, also known as Valencian rice. Though many recipes will say you can use arborio to make paella, you will not have the best results with it. This is because arborio releases a lot of starch when cooked and will only absorb twice it's volume in liquid as opposed to Bomba which absorbs three times it's volume. Calasparra is another good Spanish short grain rice to use in a paella.
Bomba rice used to be hard to find but is now available in most well-stocked grocery stores or if you live in my area, you can find it here. In fact, all of the Spanish ingredients I use for this paella, I get from there. Unfortunately, Bomba rice that is imported from Spain is quite expensive but because typically paella's have a lot of other ingredients that bulk it up, 2 cups of rice will feed a very large crowd.
Tip: Unlike risotto, you are never ever to stir the rice in a paella once the liquid starts boiling – you want plump dry rice, not creamy and mushy.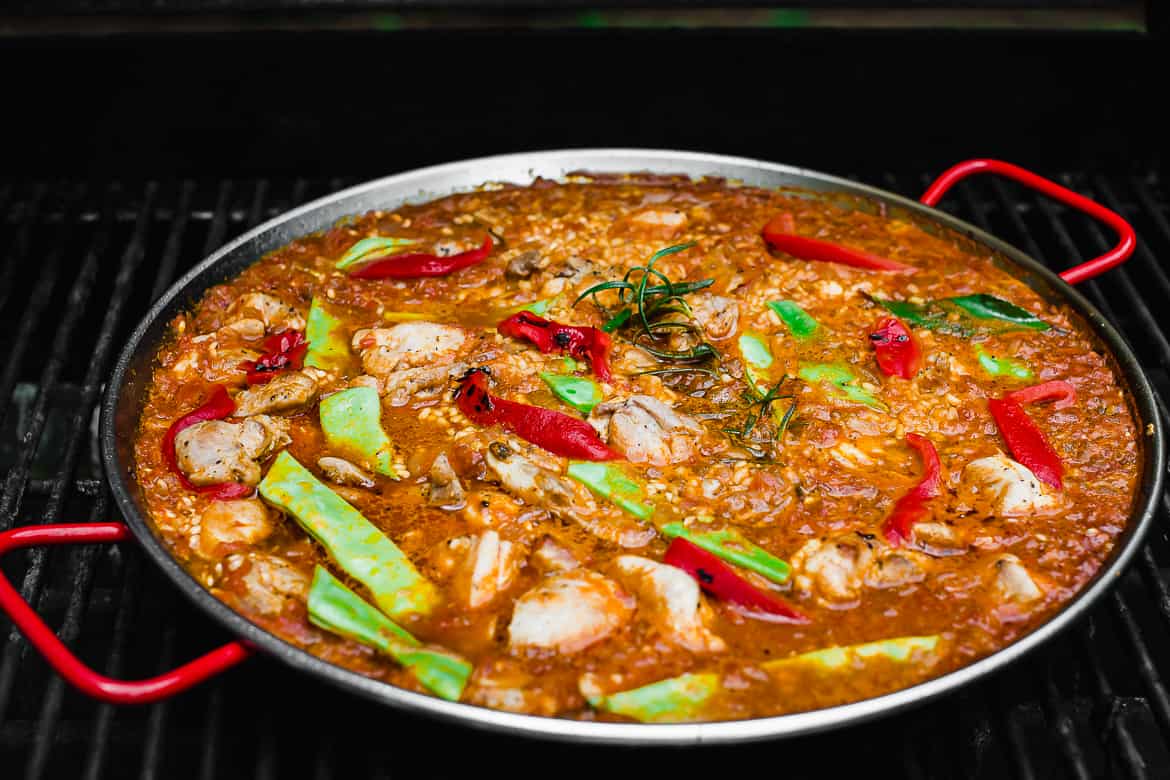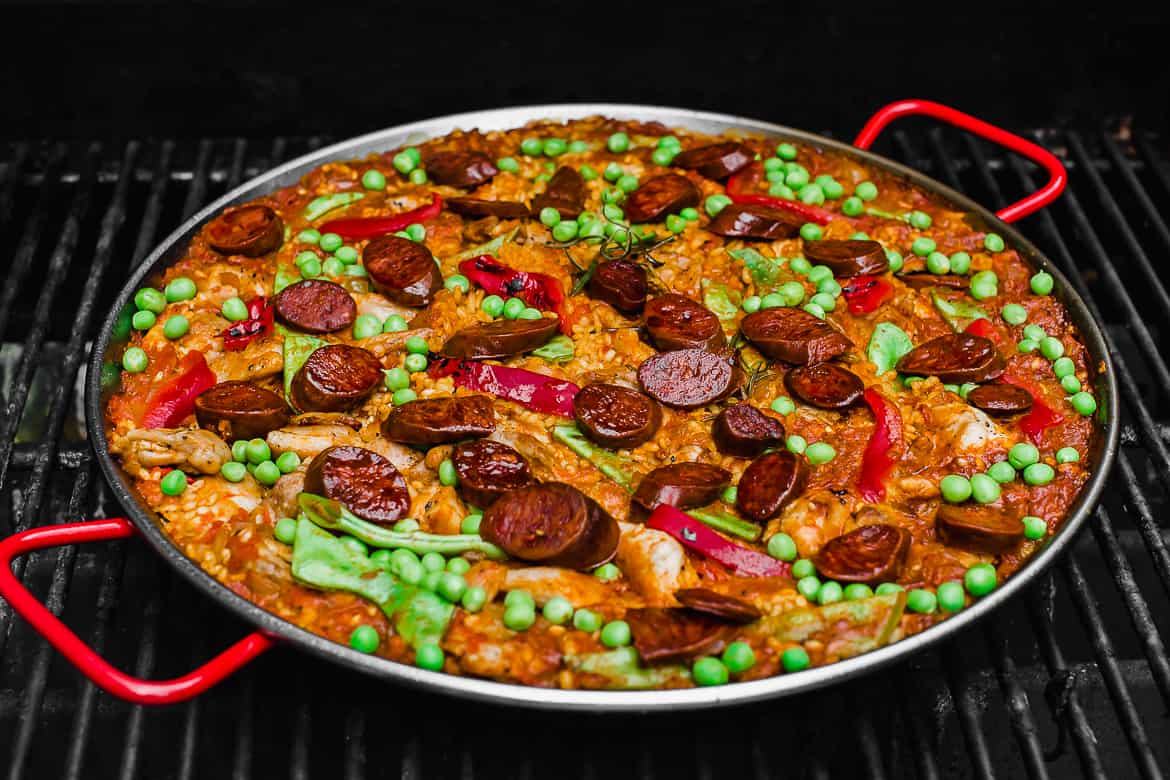 Essential Ingredients in a Spanish Paella
Stock: All paellas require a good stock (preferably homemade). For a store-bought chicken stock, I don't mind using this one.
Saffron: Always found in a Spanish paella, saffron is what gives the rice its beautiful golden hue and adds a mild, but very distinct, perfume-y flavour. Though not cheap, a little goes a long way and you will only use a small amount of it. Please, please do not substitute with turmeric. That will completely change the flavour profile.
Spanish pimnetón: Pimentón, or smoked paprika, is commonly used in most Spanish dishes and is one of the most important seasonings when making paella. You can use sweet or hot pimentón, or a mix. Again, a little goes a long way so don't overdo it, you don't want it to overpower the paella.
Aside from that, the ingerdient adaptations can be endless. If adding chorizo, you need to find the dry-cured, not the raw chorizo that is sold with casings. If adding chicken, try and stick to chicken thighs because it will not dry out like chicken breast. For the vegetables, broad beans and peas seem to be the traditional ones to top your paella but use whatever you have on hand that will cook fairly quickly. Marinated artichokes are great in lieu of the chicken or in addition to. Unfortunately, I have a seafood allergy and cannot add any shellfish to my paella but if I make a paella for guests, I will make some Spanish-style garlic shrimp (gambas al ajillo), and/or mussels cooked in white wine, and serve them separately.
The Socarrat
If you are cooking your paella over an open flame you will almost certainly achieve the prized socarrat – the toasty crust the rice forms at the bottom of the pan and what some claim to be an intrinsic part of paella. If, like me, you are cooking over a gas flame, you will have to turn up the heat at the very end but this will take some practice to get right because you don't want to overcook the rice or the rest of the ingredients. Don't focus too much on it if you are new to paella making — if my paella turns out socarrat-less, no one misses it. Eventually, when your paella skills are honed, you can move on to the socarrat quest.
Aside from being beautiful and insanely delicious, this chicken and chorizo paella is perfect for a dinner party or to feed a crowd. Experiment, be daring, and have fun with it!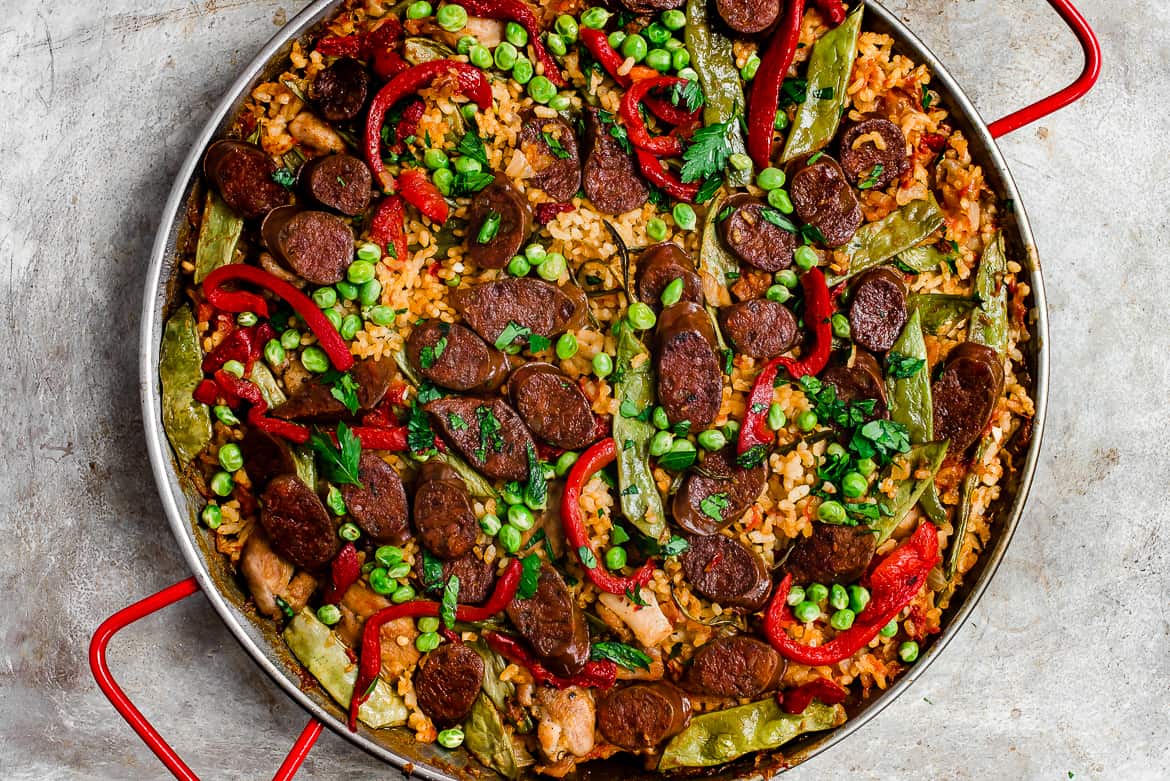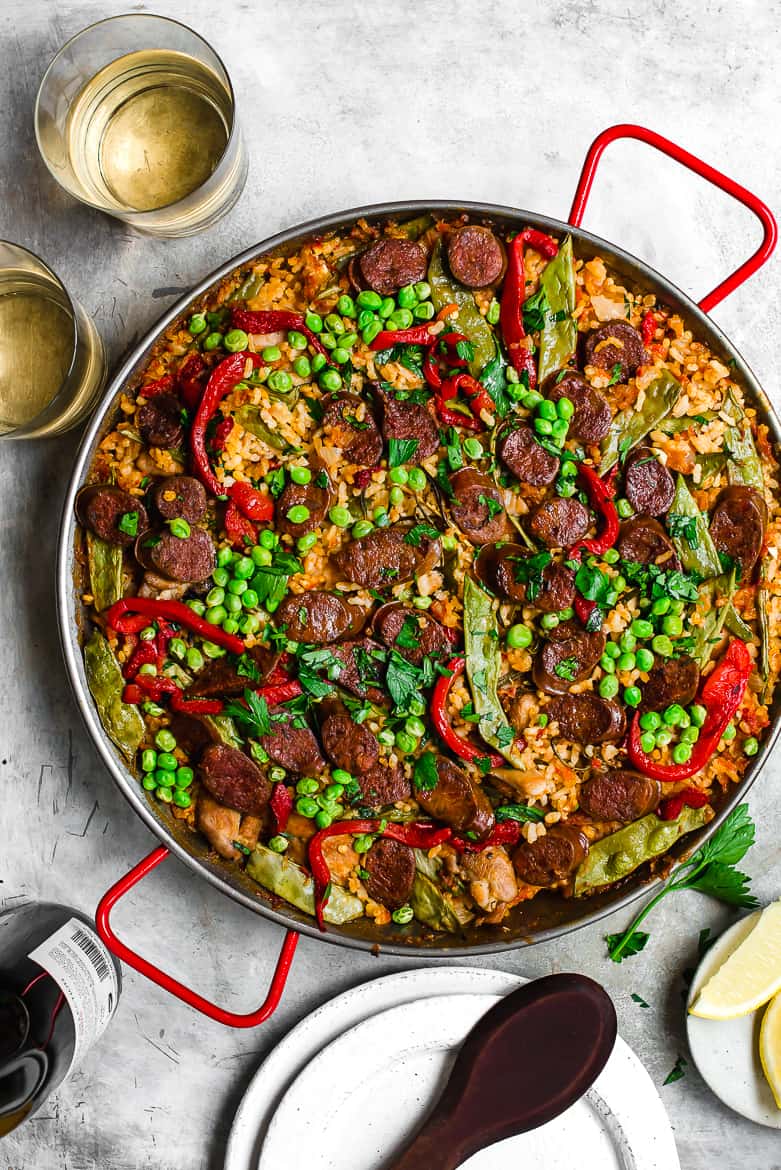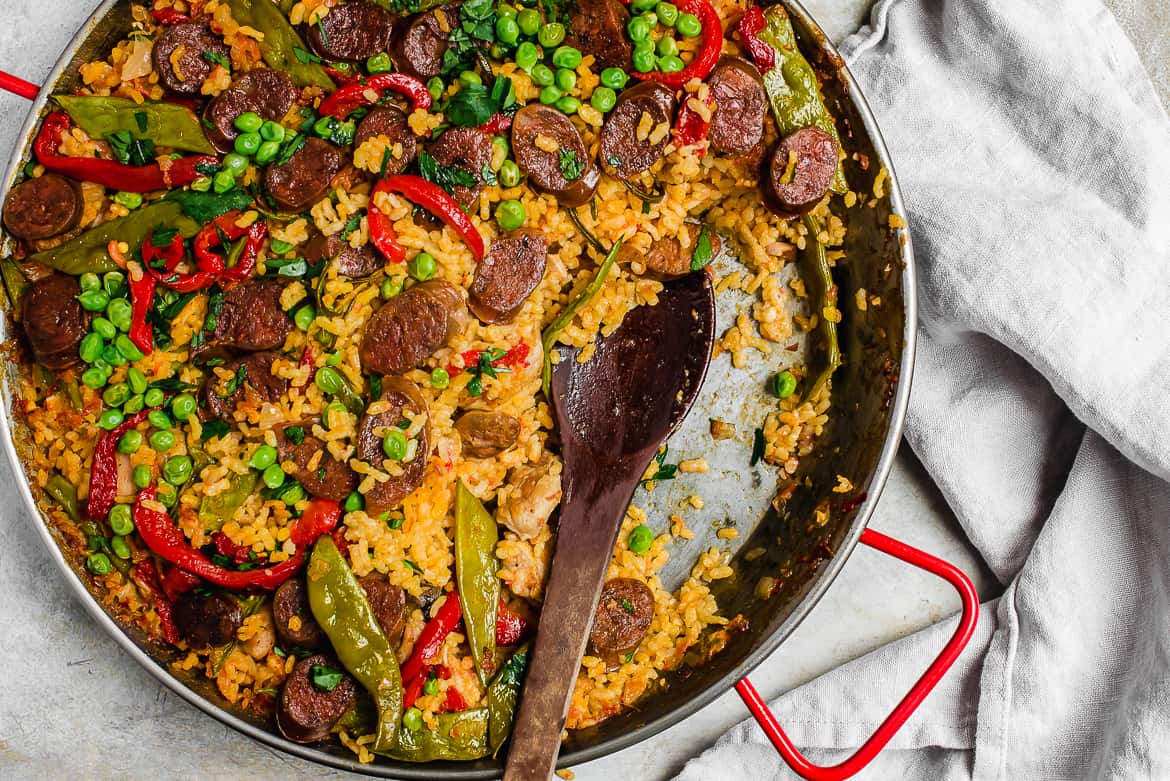 Ingredients
1/4

teaspoon

saffron strands

crushed gently with your fingers

1/4

cup

boiling water

1 1/2

pounds

skinless

boneless chicken thighs, cut into 1 1/2-inch pieces

Kosher salt and freshly cracked black pepper
 to taste

1/4

cup

extra-virgin olive oil

4

ounces

dry-cured Spanish chorizo

sliced into 1/4-inch thick coins

1

onion

diced

3

cloves

garlic

minced

3

large tomatoes

halved crosswise and grated on the large holes of a box grater until only skins remain; discard the skins, OR 1 28- ounce can of whole tomatoes, crushed with your hands

2

teaspoons

pimentón de la Vera

smoked sweet, or hot, Spanish paprika

2 1/2

cups

Bomba rice

Kosher salt and freshly cracked black pepper
 to taste

7

cups

homemade chicken stock

or low-sodium broth, warmed to a simmer

1

large rosemary sprig

1/4

pound

broad beans or green beans

cut into 2-inch lengths

1

jar roasted red bell pepper

sliced into strips, divided

1

cup

fresh or thawed frozen peas

1/4

cup

chopped parsley

lemon wedges

to serve.
Instructions
Preheat the oven to 450°. In a small heatproof bowl, mix the saffron with the boiling water, set aside to cool.

Season chicken generously with salt and pepper.

In a 15-17-inch paella pan, heat 2 tablespoons of the olive oil over high heat until shimmering. Add half the chicken and cook, stirring occasionally, until well browned but not cooked through, about 6 minutes. Transfer to a plate and repeat with remaining chicken.

Add chorizo and cook until it is golden and oil is released, about 2-3 minutes. Transfer to a small plate and set aside.

To make the sofrito, over medium-low heat add 2 tablespoons olive oil to the pan. Add onions and cook gently, without browning, until translucent and soft, about 5-7 minutes. Add the garlic and cook for 1 more minute. Stir in the tomatoes and a few pinches of salt. Simmer gently, over very low heat, stirring occasionally, until the tomatoes begin to dry out and get deeply coloured and slightly jammy, about 20-30 minutes. At this point, if you're making the sofrito ahead, allow to cool, then store in the refrigerator, until ready to use. Otherwise, continue with the recipe.

To the pan of sofrito add the pimentón and reserved saffron with water, stir and cook for 1-2 more minutes.

Add the bomba rice and stir to coat well with the sofrito.

Raise the heat to medium-high and add 5 cups of hot stock and a few more pinches of salt and pepper. Stir gently to make sure the rice is evenly distributed. Nestle in the chicken pieces and place rosemary sprig on top. From this point on, DO NOT STIR the paella again. Bring to a gentle boil and cook for 5-7 minutes, without disturbing.

Slowly add the remaining 2 cups of broth. If there is no room in the pan, let the liquid boil down a few more minutes before adding the rest of the liquid. Without stirring, scatter the beans and half the sliced peppers evenly over the paella and transfer paella to preheated oven.

After 10-12 minutes, add the peas and nestle in the chorizo and cook for 3-5 minutes more.

Remove paella from oven. If there is still liquid in the pan, place the pan on the stove over high heat and cook for a few minutes or until liquid is absorbed.

Allow paella to sit for 10 minutes before serving.

Garnish with remaining sliced red peppers and chopped parsley. Serve with lemon wedges, if desired.
Notes
The paella pictured here, was cooked outside on a gas barbecue. If you have a burner on your barbecue, you can cook it exactly as if it were cooking on a stove top and oven; start the paella on the burner and as per recipe, transfer it to the barbecue and close the lid for the remainder of the cooking time.