Delicata squash with pesto, hazelnuts and sage is an easy, insanely addictive, and healthy fall side dish! This is a delicious recipe that is gluten free and vegan-adaptable.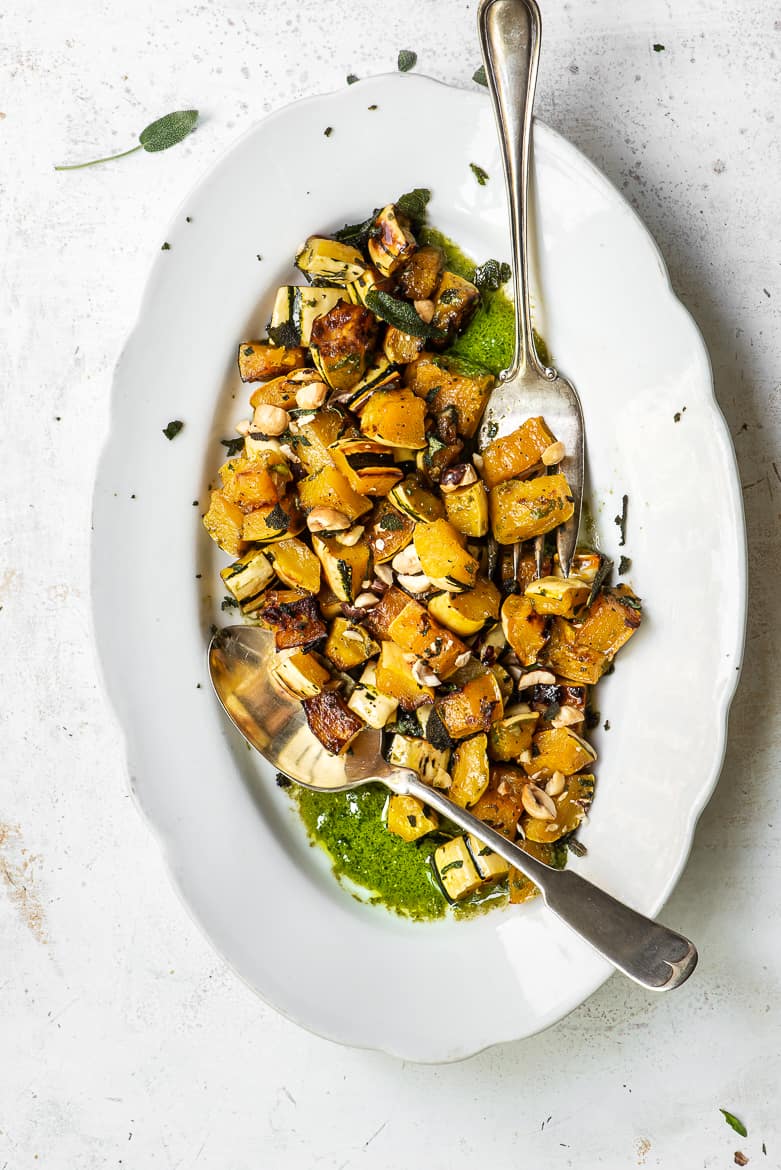 Recently, I taught a vegan class and on the menu was this Agrodolce Delicata Squash recipe. I almost didn't include it because I felt it was so simple and it already lived on my blog. Well much to my surprise not a single person in the class had ever had delicata squash. Whaaa?? Needless to say, it was a huge hit and everyone's favourite dish of the evening.
If you are unfamiliar with delicata squash I would like to once again encourage you to give this darling cute, scalloped-edge squash a try. Soon though. Because unlike butternut squash, and other winter squashes which are available almost year-round, delicata squash is only available through Fall and very early winter.
WHAT IS DELICATA SQUASH
Also known as sweet potato squash, delicata squash has a mild flavour with a creamy, sweet flesh that will remind you of butternut squash with a hint of apple. Quite frankly, its natural sweetness requires very little embellishment to taste delicious. True to its name, it has a delicate, edible skin which means no peeling required! This not only makes it incredibly easy to prepare, but when roasted, the skin becomes crunchy, crispy and absurdly addictive.
How to pick a good delicata squash: When buying delicata squashes, pick the ones with smooth unblemished skin. They should also feel firm and heavy. Ripe delicata squash is yellow or light orange in colour with green stripes along the ribs. If it is a very dark orange colour, it may be too ripe so stick with the light yellow. Avoid the squashes that are light green which means they will be hard and unripe.
HOW TO PREPARE DELICATA SQUASH
Delicata squash is very versatile and can be cooked in many different ways. Roasting the squash with a simple oil and maple syrup (or honey) mixture, is my favourite method to cook it. This beautifully caramelizes the squash and enhances the sweetness. For a basic and easy preparation, it is best to trim the ends and halve the squash lengthwise. Then with a melon scooper, or a spoon, scoop out the seeds and stringy flesh. From here, depending on the recipe, you can roast the halves, cut the squash halves into thin half moons, or cube it. A little fussier, but prettier, presentation, is to cut the squash into rings. To do this, you can once again refer to this post.
Delicata squash can also be diced and sautéed, stuffed and baked, steamed for soup, and, in a pinch, even microwaved.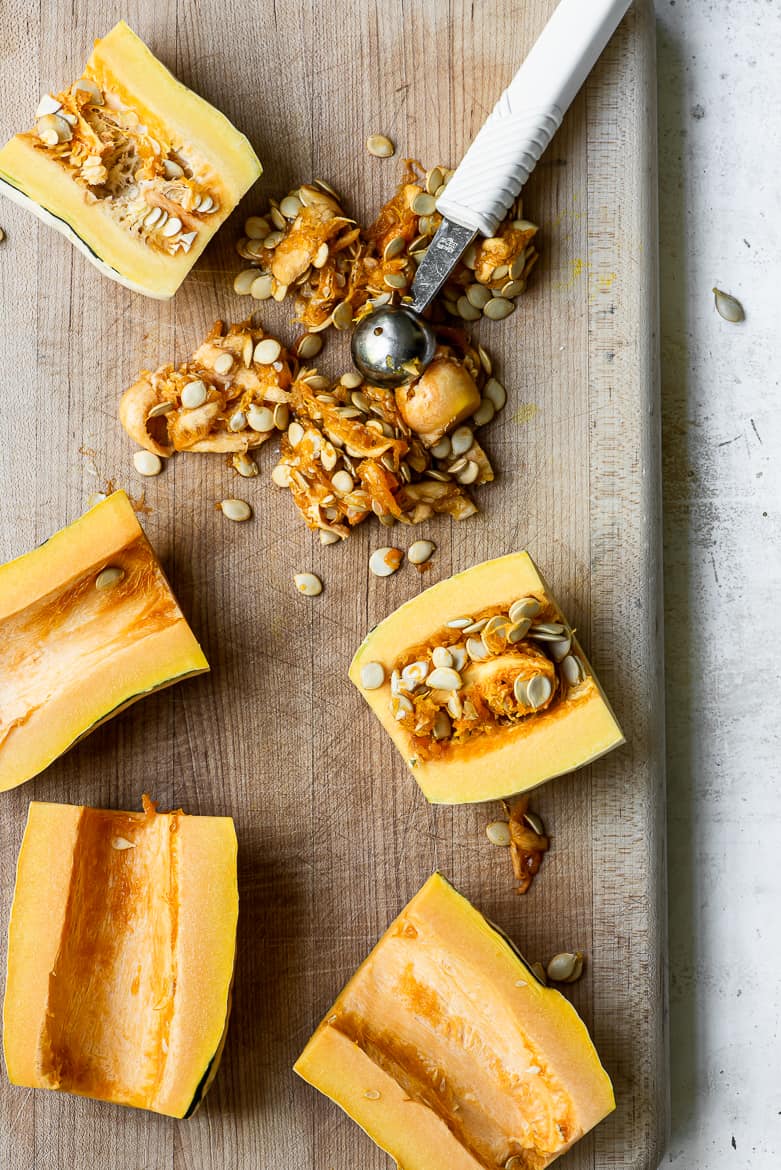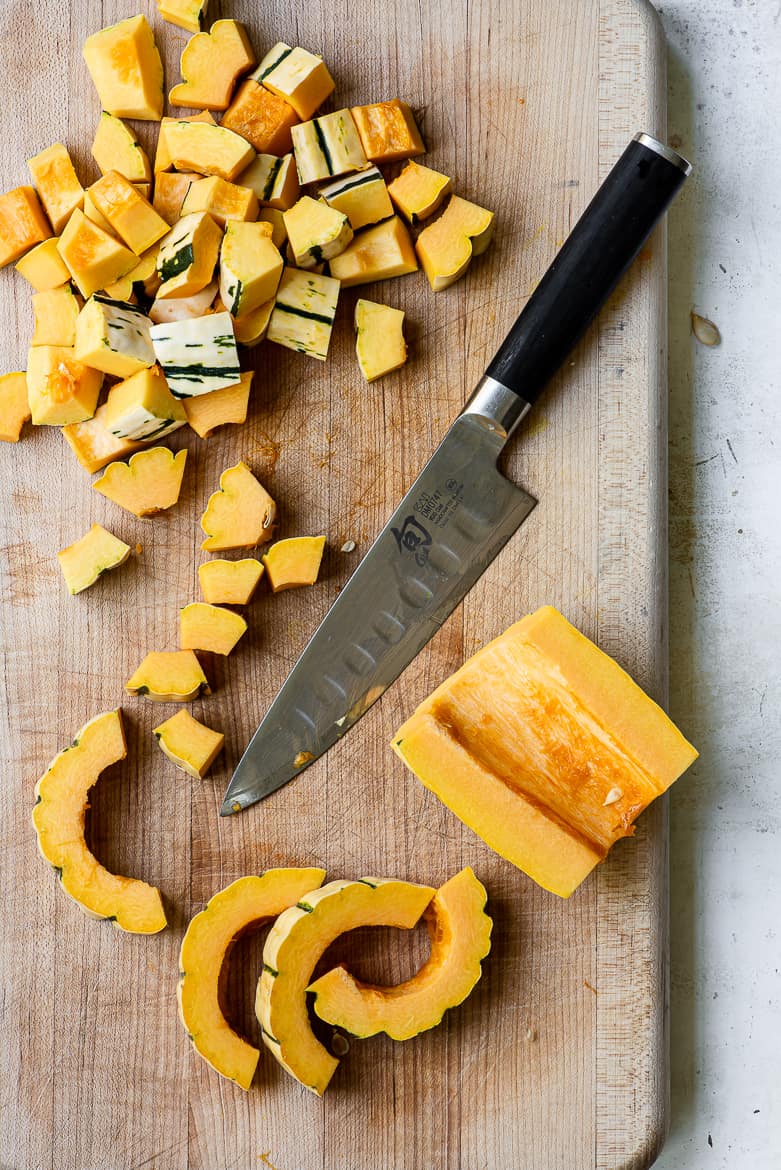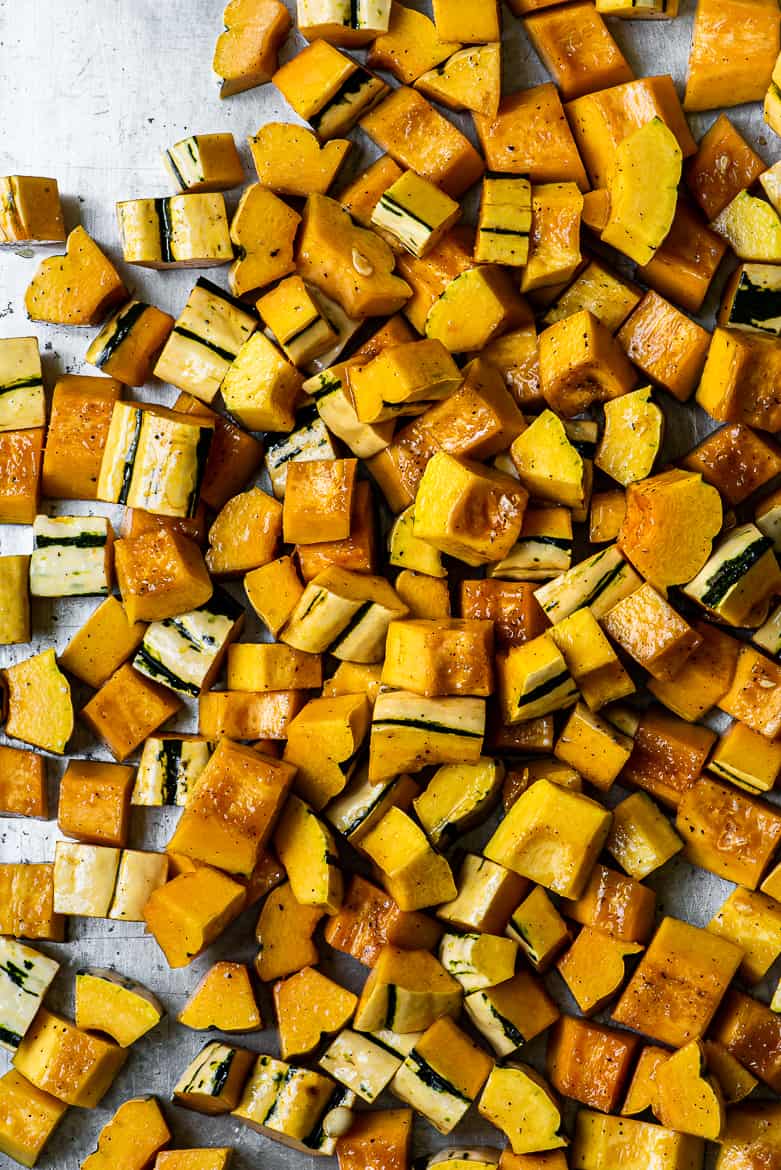 HISTORY OF DELCIATA SQUASH
The delicata squash variety has been around as early as the late 1800's. It became unpopular in the early 1900's because it was so prone to crop disease. After virtually disappearing for years, in the early 2000's, a variety resistant to most squash diseases was developed. Thankfully, delicata squash has since made quite a comeback and become increasingly popular due to its rich flavour and softer skin.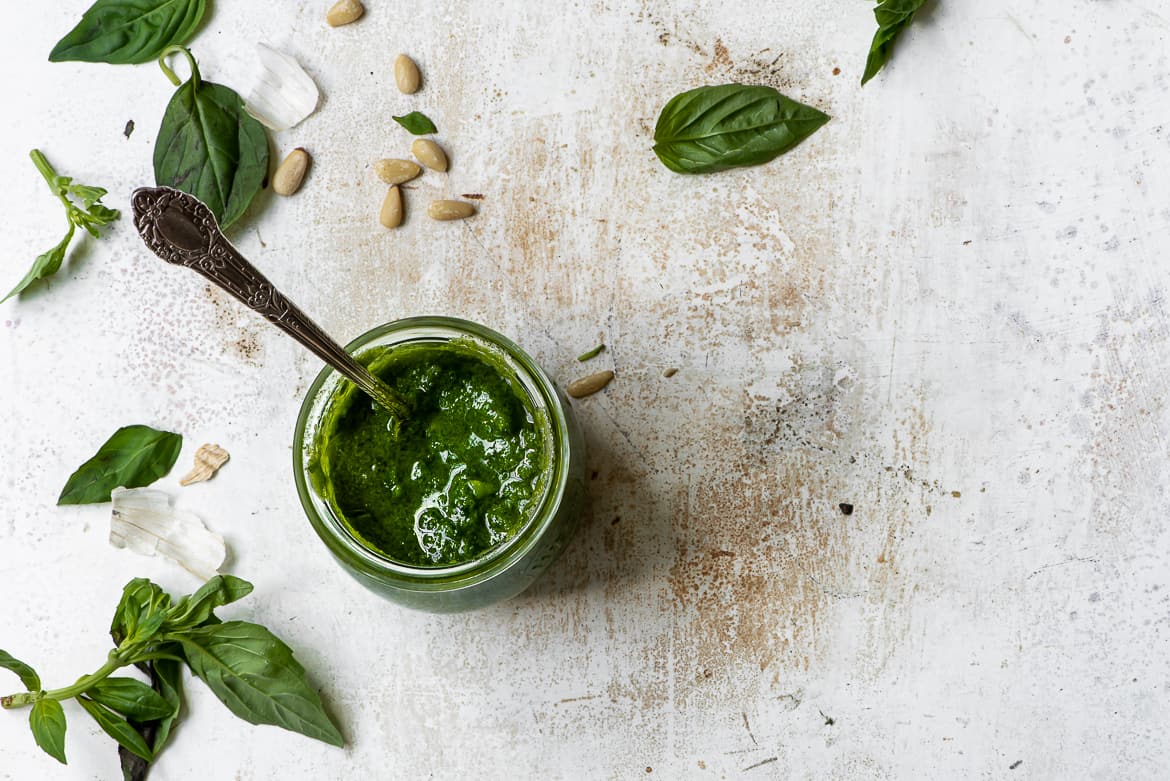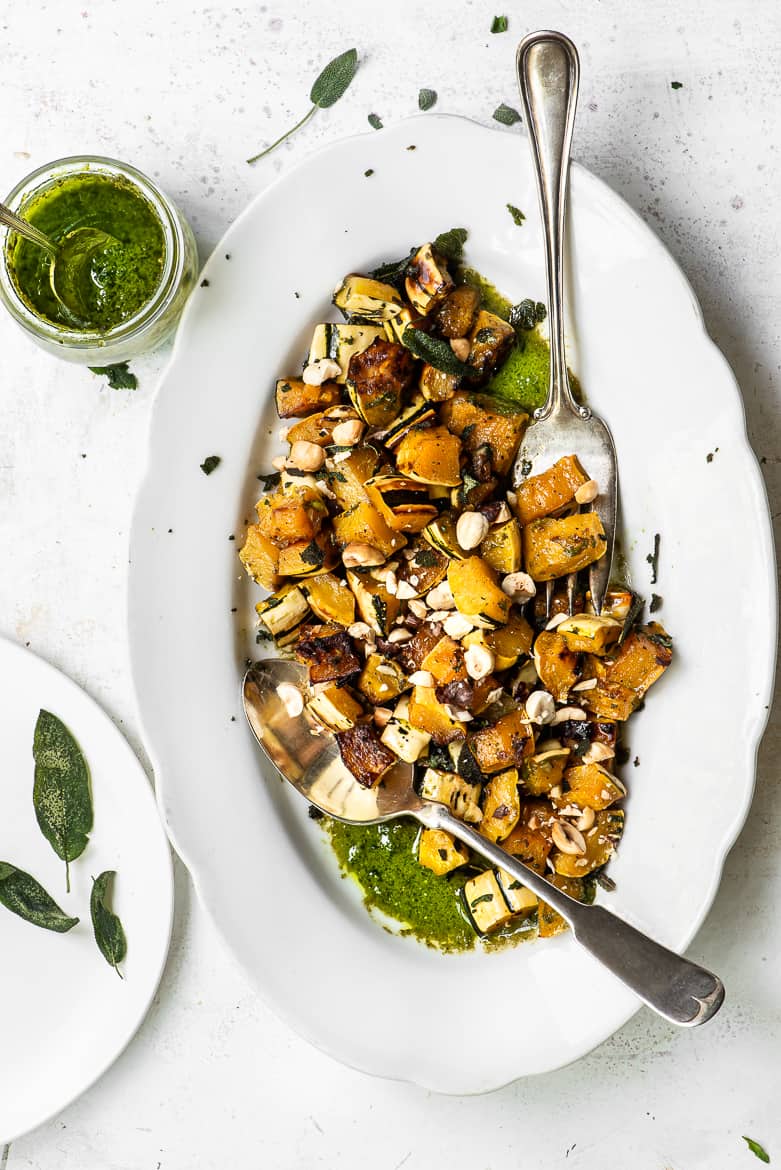 WHERE TO BUY DELICIATA SQUASH
All the farmers markets and most large grocery stores will be selling delicata squash during the Fall and early winter season. Unfortunately, most markets seem to lump delicata squash with the little Fall gourds which could explain why a lot of people can't find them or don't realize that they are edible.
If and when you find them, buy more than you need. They last a really long time — as in 2-3 months long — stored in a cold, dry spot (not the fridge). You will love roasting 1 or 2 up with your meals during the chilly months ahead.
Ingredients You'll Need
This recipe for delicata squash with pesto, hazelnuts, and sage was inspired by a dish we enjoyed recently at a restaurant in Toronto. It was a combination of ingredients that I would not have thought of but worked so well. Cubed and roasted delicata squash was served with a bright pesto sauce that was rich and fragrant but not overpowering. It was then flared out with chopped hazelnuts and crispy sage which added depth and a welcome crunch factor. It was so good. One order of this dish was definitely not enough for four of us to share so I couldn't wait to come home and make a doubled (quadrupled?) version.
Here's a few notes on the ingredients:
Pesto: I loved how the herb-y, garlicky flavours of the pesto nicely complemented the sweetness of the squash. As with most sauces, there is nothing better than making it yourself. If you don't have time to make it, a store-bought pesto will also work. Because pesto oxidizes so quickly, don't add it to the squash until ready to serve.
Delicata squash: For this recipe I have cubed the delicata squash but feel free to cut it into half moons or rings. Remember that with delicata squash you will be eating the peel so make sure you wash it well before cutting it. To achieve a really nice caramelization on the squash, try not to overcrowd the sheet pan when roasting. Use two pans if you needed.
Hazelnuts: I love hazelnuts this time of year but any nut will work. Toasted pumpkin seeds would also be delicious. To toast and remove the skin from the hazelnuts, preheat oven to 350 degrees and place the nuts on a baking sheet in one layer. Bake for 10-12 minutes then wrap the nuts in a kitchen towel and let them steam for 1 minute. Use the towel to rub the nuts vigorously until most of the skins come off.
Sage: Fresh sage can be a bit overpowering so quickly frying the leaves slightly tones down their pungency and they become deliciously crunchy. Frying the sage takes less than 5 seconds and you only need about 1 tablespoon of oil so it's not messy at all.
ROASTED DELCIATA SQUASH SERVING SUGGESTIONS
I served this recipe as a side at our Thanksgiving dinner and it was the perfect addition to our spread. You can easily turn it into a main with the addition of a fried egg, quinoa, chickpeas, a hearty salad, or a protein of your choice.
Delicata squash also makes the best leftovers! The next day, add it to salads, grains, or enjoy as a side. For those of you haven't yet given delicata squash a try, I hope this post inspires you to run out and buy some before they are gone for the season. Guaranteed, no matter how you cook it, you are going to fall in love with delicata squash.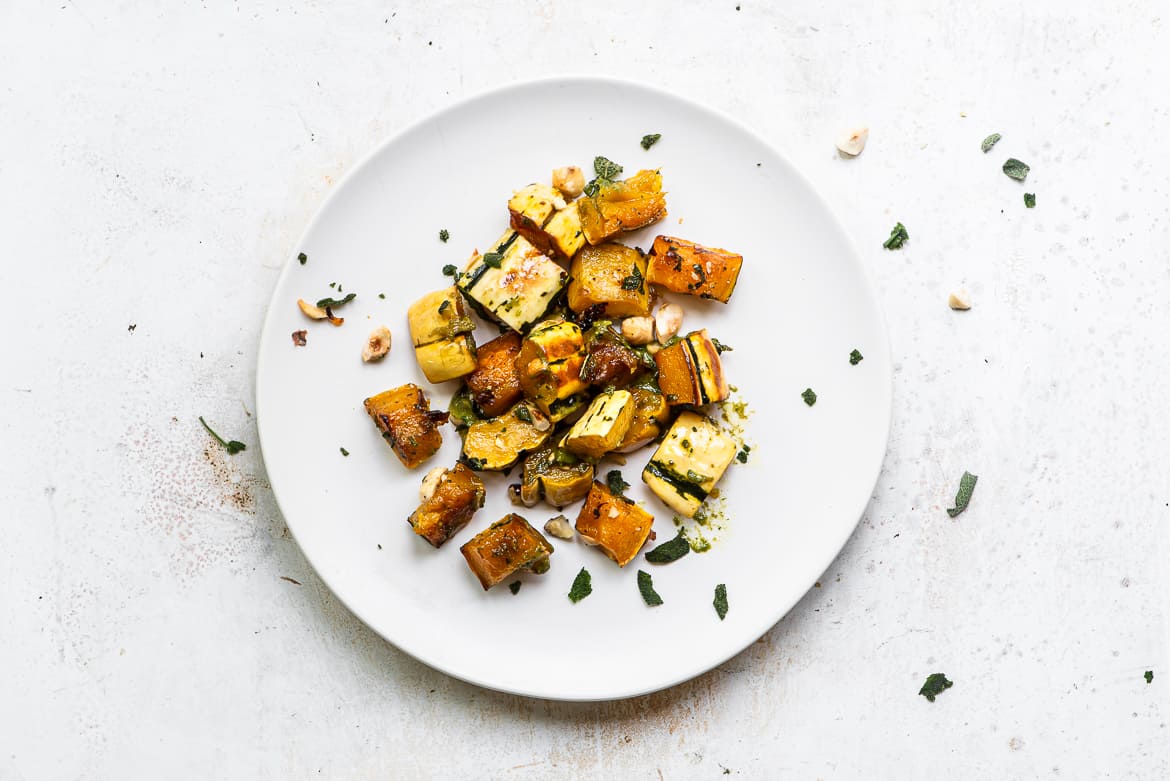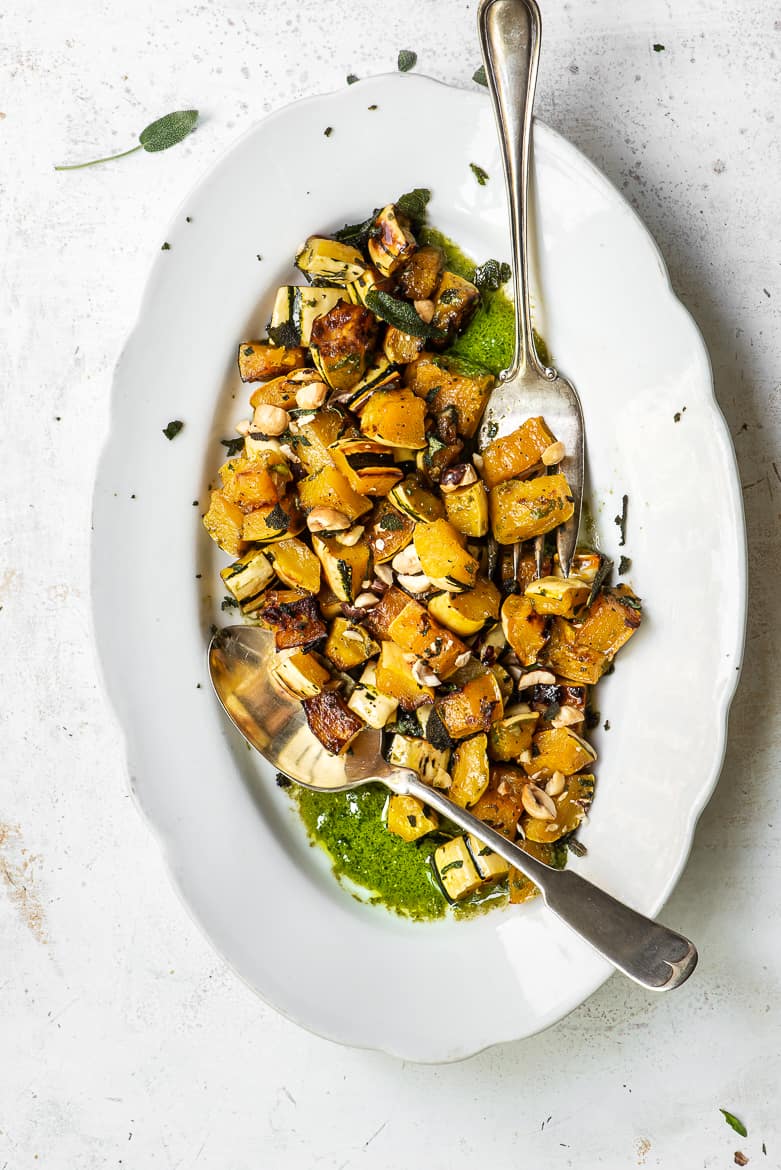 Ingredients
2

Delicata squash

washed well

2

Tablespoons

unrefined coconut oil

melted (or extra virgin olive oil)

1

Tablespoon

maple syrup

or honey

1/2

teaspoon

Kosher salt

freshly ground black pepper

to taste

1/4

cup

skinned hazelnuts*

6-8

sage leaves

1

Tablespoon

extra virgin olive oil

flaky salt to finish

optional

For the pesto:

2

cups

fresh basil leaves

lightly packed

2

Tablespoons

pine nuts

3

garlic cloves

peeled

1/2

teaspoon

each salt and freshly cracked pepper

½

cup

grated Parmesan cheese

1/2

cup

olive oil
Instructions
Preheat the oven to 425 degrees Fahrenheit. Line a sheet pan with parchment paper.**

Trim the ends of the delicata squash and slice them in half lengthwise. Using a melon scooper, or spoon, scoop out the seeds and discard. Cut each half into 1-inch squares or 1/2-inch, half-moon slices and place in a large bowl. Toss together the squash, oil, maple syrup, salt, and pepper, and then spread it out on prepared sheet pan. Roast until caramelized and golden, tossing once, 20 minutes if cubed, 25-30 minutes if sliced in half moons or rings.

Make the pesto: Combine basil, pine nuts, garlic, salt and pepper, and Parmesan in the bowl of a food processor. With the motor running, add olive oil in a slow stream until emulsified. If making ahead, store in an airtight container in the refrigerator for up to 1 week.

Fry the sage leaves: Line a small plate with a paper towel. In a small pan, heat 1 tablespoon of extra virgin olive oil over medium-high heat until hot. Fry the sage leaves in the oil until crispy (this only takes 2-3 seconds). Transfer the leaves to the plate. Set aside.

Just before serving, thin 1/4 cup of the pesto with a few tablespoons water. Spread the pesto on a large platter and place the roasted squash on top. Top the squash with the hazelnuts and crumble the fried sage leaves over top. Sprinkle with flaky salt, if using, and serve immediately.
Notes
*To toast and remove the skin from the hazelnuts, preheat oven to 350 degrees and place the nuts on a baking sheet in one layer. Bake for 10-12 minutes until lightly golden. Wrap the nuts in a kitchen towel and use the towel to rub the nuts vigorously until most of the skins come off. Don't worry if some of the skin remains - that is fine.
**The squash will need space on the sheet pan to caramelize and brown nicely. Use two sheet pans if you need to in order to not crowd the squash pieces.
Make-ahead instructions:
You can roast the squash up to 4 hours ahead of time and leave cool to room temp. When ready to reheat, preheat oven to 425 degrees and cook for about 10-12 minutes. Proceed with recipe.