This colourful Instant Pot barley minestrone soup, hearty with beans, barley, and vegetables, is brimming with flavour and perfect for chilly nights.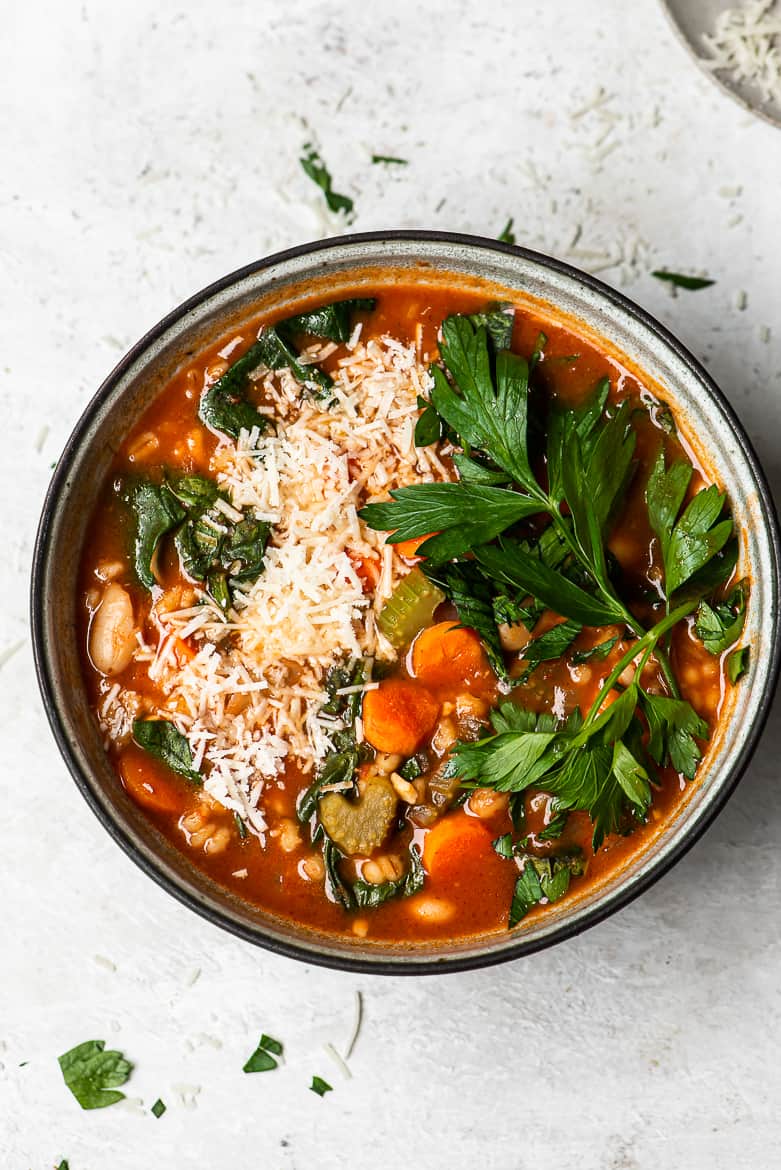 To me, few things are as comforting as a minestrone soup. Full of vegetables that are good for you, it is nourishing and healthy yet robust enough not to leave you wanting more. Versions of this soup are everywhere and mine is ever-changing depending on what vegetables I have in the fridge. I have a stove-top version of minestrone soup that I make as often in the winter as I do in late summer when zucchinis and carrots are plentiful. The Instant Pot version I offer you today has a little more bite and substance with the addition of pearl barley making it a very satisfying, and downright delicious soup.
You might wonder why you should bother cooking this soup in an Instant Pot when the cooking time is not much shorter than the stove-top version. Well, hear me out. In this post I explain that the instant pot does not really cook food in a shorter amount of time. It does, however, make the cooking process easier — chuck everything in to one pot, seal it, walk away. In less than an hour you have a delicious dinner on the table that practically cooked itself. To be honest, if I were making minestrone soup without the barley, I would likely just make it on the stove. When adding grains to the soup, however, the instant pot does a brilliant job of cooking everything together quickly and sealing in all the flavours.

Ingredients for Instant Pot Barley Minestrone Soup 
The ingredient list for this soup may seem a little daunting, but other than a little arduous vegetable chopping (good for the soul, I say) the rest comes from jars, cans, and tetra packs. Easy peasy. Below I address the main ingredients for this soup, but really, this is a soup where you can feel free to play with the ingredients as you see fit.
Vegetables: Minestrone is all about the vegetables. Here I've used the classics; onions, celery, carrots, and garlic. A lot of instant pot recipes will have you skip sautéing the vegetables. I like to make good use of the sauté mode on the instant pot and let the vegetables cook down to release all their wonderful flavours into the broth. As mentioned, the fun thing about this soup is its easy adaptability. Cubes of zucchini, sliced fennel, potatoes, and green beans would also be right at home in here. Be mindful, however, not to exceed 4-5 cups totals if using the instant pot.
Barley: Barley is an ancient grain that imparts a distinct nuttiness and wholesome flavour when cooked. It adds great texture and complexity to soups, but is also terrific as a base for salads, cereals, and grain bowls. Barley is known to be high in fibre and protein and to help lower cholesterol. Note that this recipe calls for pearl barley which cooks quicker, and is a little less chewy than hulled barley. Hulled barley has had less of the outer hull removed than pearled barley, however, fibre is still present in both forms of barley. If you prefer to use hulled barley, cook it separately as the longer cooking time it requires will turn the other vegetables to mush. This is a good article that explains the differences between hulled and pearled barley, if you're interested.
Tomato Sauce: A good jarred marinara sauce adds incredible flavour to this soup – I like this one, or use your favourite. You can use a can of diced tomatoes, if that is what you prefer. If you do, consider increasing the amount of herbs and salt to enrich the flavour of the broth.
Broth: I like to use a mix of water and chicken broth for this soup. You can use all water or vegetable broth to keep the soup vegan. It all works since most of the flavour is coming from the veggies and marinara sauce. Store-bought broth is fine to use here, just be sure to always (always, always) but low-sodium.
Cannellini Beans: If you know me, you know I like to cook my beans from scratch. However, dried cannellini beans are hard to find so I simply go for the canned ones. Try and find a good-quality (preferably BPA-free) brand — I like this one. Here, I like to add them after the pressure has been released so they keep their shape nicely.
Spinach: It is common to use spinach in minestrone soups and it is what my family prefers. Sometimes, I will use kale which is a little heartier and does not wilt as much as spinach. Use whichever you prefer.
Pesto: Adding a few tablespoons of pesto to the minestrone soup will brighten up the flavours immediately. If you have a lot of basil make your own. If not, buy your favourite pre-made pesto. Alternatively, simply add a lot of chopped fresh basil before serving.
Parmesan cheese: A must to sprinkle over the finished soup. And if possible, toss a piece of the rind into the pot. It adds an incredible deep-flavour. If vegan, omit the parmesan and add 1 tablespoon nutritional yeast.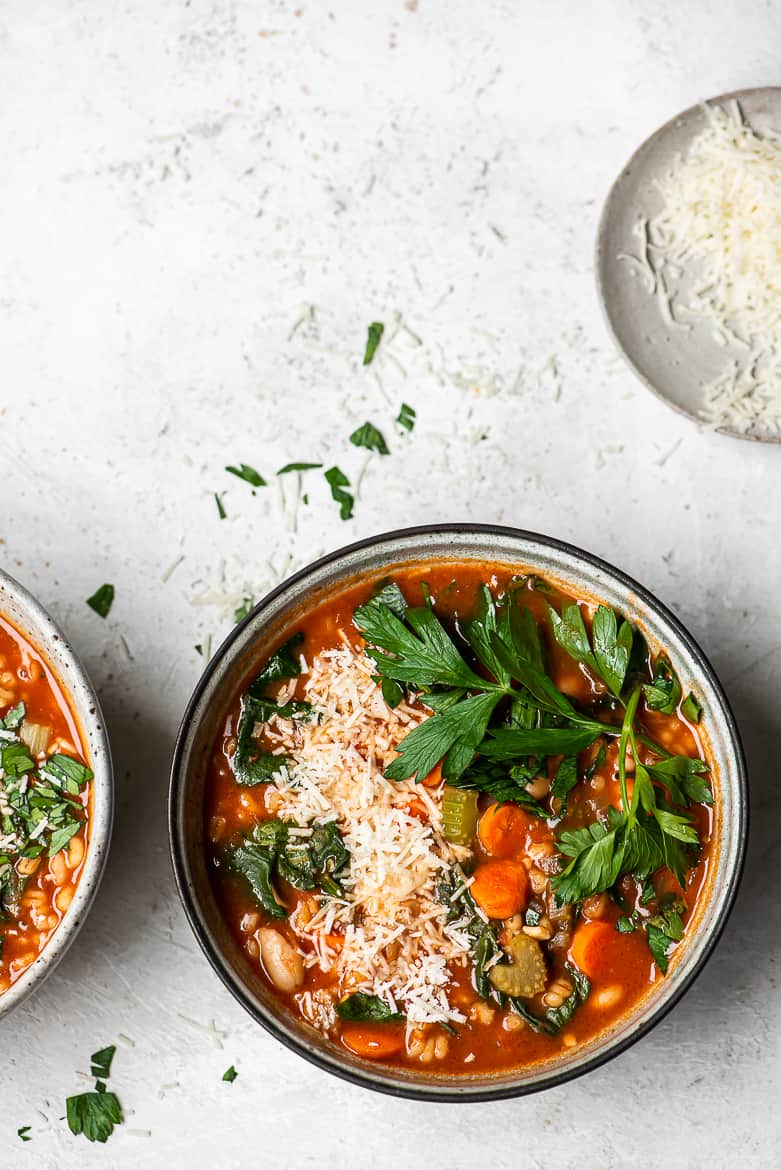 To Serve
To increase the depth of flavour in the finished soup, add a dollop of store-bought pesto. Alternatively, chop and/or smash a good amount of fresh basil and stir that in. A drizzle of good olive oil, and generous sprinkles of parmesan will also add a lovely deep and rich note to this hearty soup.
I try not to always serve this barley minestrone soup with toasted crusty bread on the side. Haven't succeeded, though often a green salad also makes an appearance. Enjoy!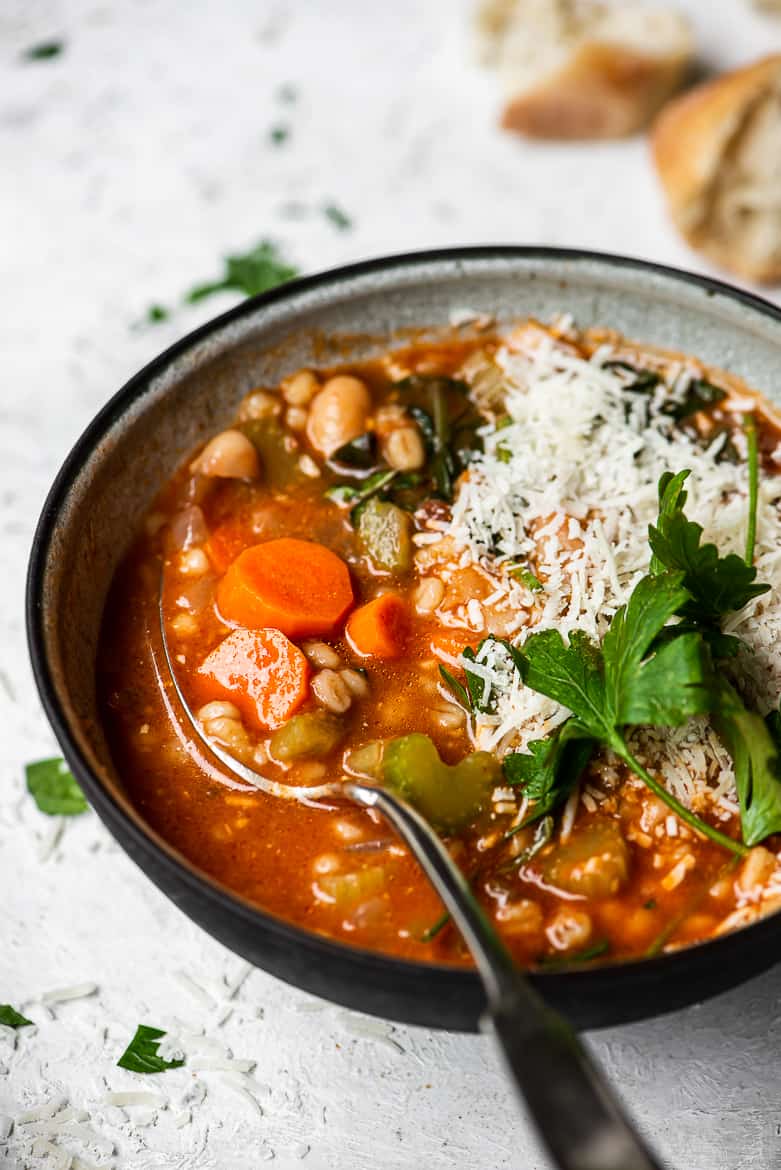 Print Recipe
Pin Recipe
Instant Pot Barley Minestrone Soup
The barley will soak up a lot of the broth. If you prefer it more brothy, add 2 cups of water or broth after it has pressure cooked.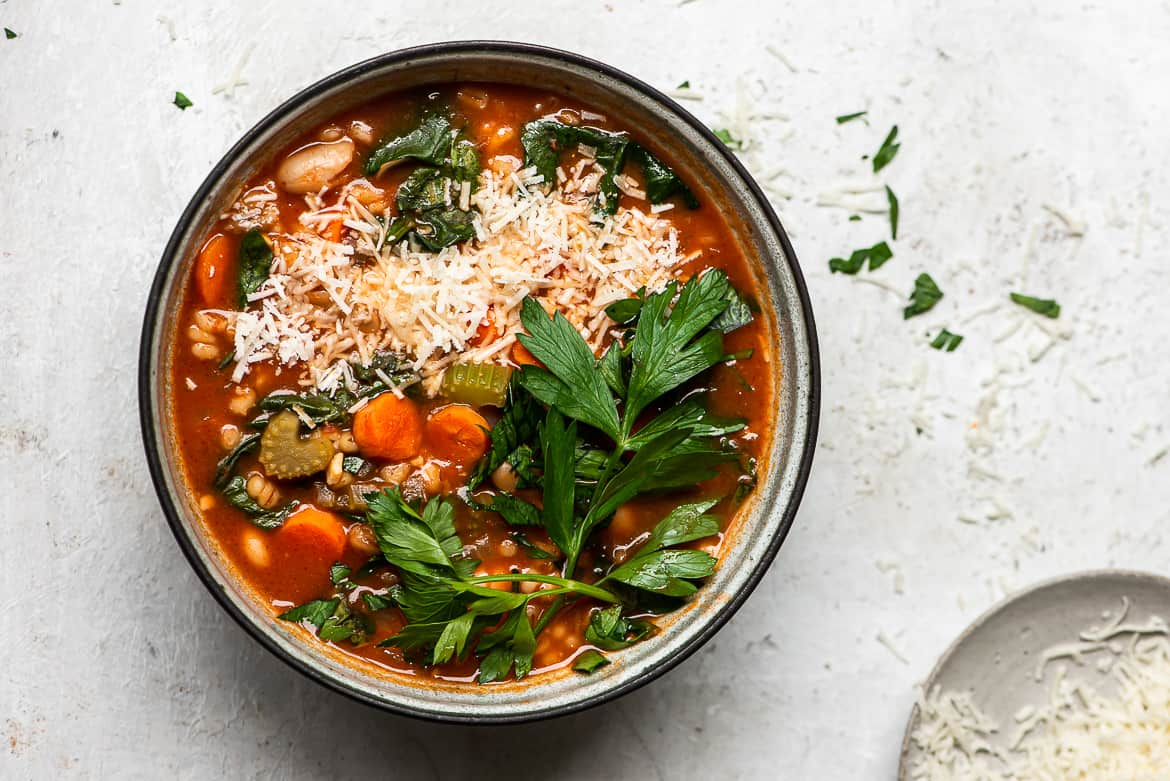 Ingredients
2

Tablespoons

extra virgin olive oil

1

medium onion

diced

4-5

carrots

cut into 1/4-inch coins

4-5

celery stalks

diced

4

medium garlic cloves

minced

3/4

cup

pearl barley

rinsed

1 24-

ounce

680 grams jar marinara sauce (or use a 28-ounce can of whole tomatoes)

4

cups

chicken broth

or vegetable broth

2

cups

water

1

teaspoon

crushed red chile flakes

more to taste

2

bay leaves

1

teaspoon

each kosher salt and freshly ground pepper

1

3-inch piece of Parmesan rind, (optional)

To finish:

4

cups

baby spinach

1 14-

ounce

can cannellini beans

or other white bean, drained and rinsed well

2

Tablespoons

homemade or store-bought pesto

optional

Optional toppings:

parmesan cheese

chopped fresh parsley, chopped fresh basil
Instructions
Set the Sauté function button to high and heat the olive oil for 1 minute. Add the onion, carrots, celery and garlic. Cook, stirring occasionally, until softened but not browned, about 4-5 minutes.

Add the barley, marinara sauce, chicken broth, water, chile flakes, bay leaves, salt and pepper, and parmesan rind, if using.

Secure the lid and set the Pressure Release to Sealing. Press Cancel to stop the Sauté function. Select Pressure cook or Manual setting; adjust pressure to high and set time for 18 minutes. When finished cooking, quick-release pressure and open the lid. Remove the bay leaves. Stir in cannellini beans, spinach and pesto, if using. Let warm for about 2 minutes or until spinach is wilted. Taste and add more salt and pepper, if necessary.

Serve immediately, garnished with grated Parmesan and chopped parsley and basil, if desired.
Notes
For this recipe I use a 6-quart Instant Pot.
To freeze: Let the soup cool completely and then freeze individual portions in freezer bags or glass containers. Thaw in the refrigerator and warm gently in a pot adding a bit more liquid if necessary.