A wonderfully creamy Thai green curry with chicken and vegetables that has brightness, heat, and funk. Best of all, it comes together in a flash!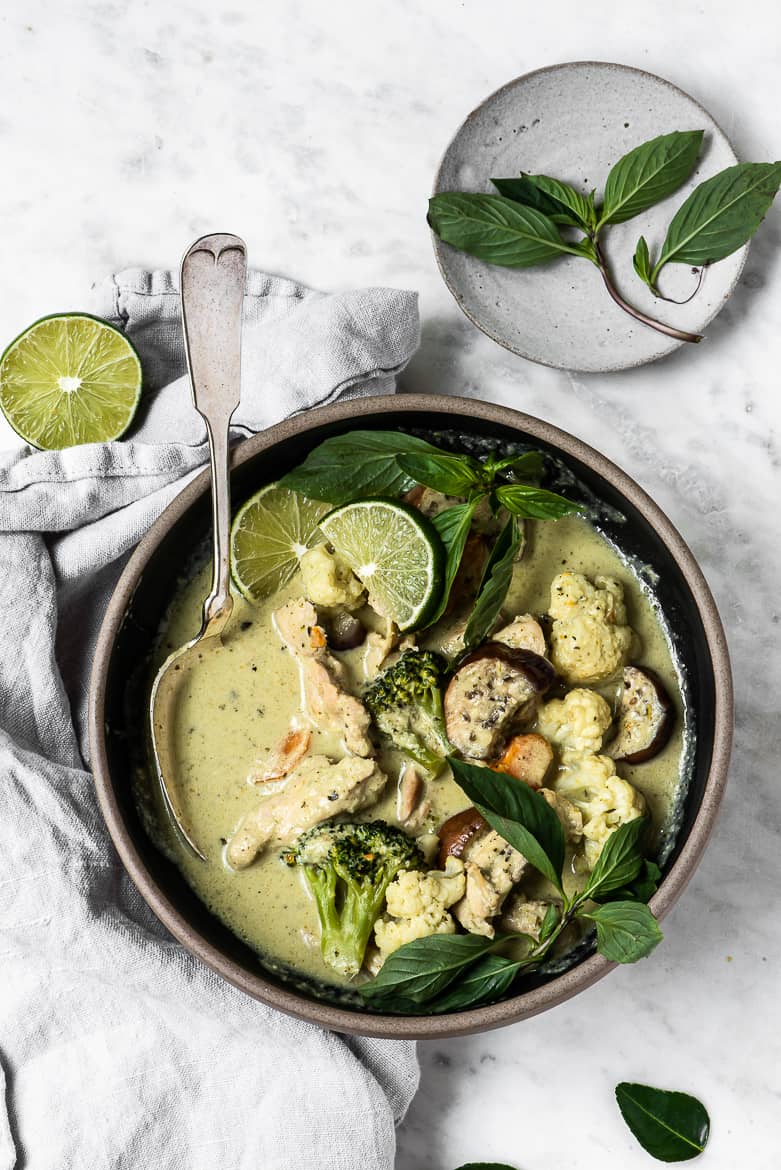 Ok, so apparently, everybody wants quick meal ideas. Let me rephrase that, they want quicker than quick, faster than fast, barely lift a finger, barely dirty a pot, meal ideas. Believe me, I asked around and that was the very passionate plea. Uff. I'm trying. I can't promise all of the recipes posted here will be uber easy but this spicy and warming Thai green curry with chicken and vegetables is definitely a good start.
It has been cold around here. Not bitter cold, but cold enough to make me want to find some warm comfort in food. I'm  holding off on the heavy stews for a bit and enjoying instead bowls of curry which I find perfect for this time of year. I love any and all iterations of Thai curry's where the coconut milk is infused with pungent and perfumed ingredients such as lemongrass, ginger, fish sauce, and of course green chillies. This quick-to-make, one-pot, Thai green curry has the perfect balance of spice, salt, and sweet coconut flavours. Light and refreshing, you won't feel sluggish but happily satisfied.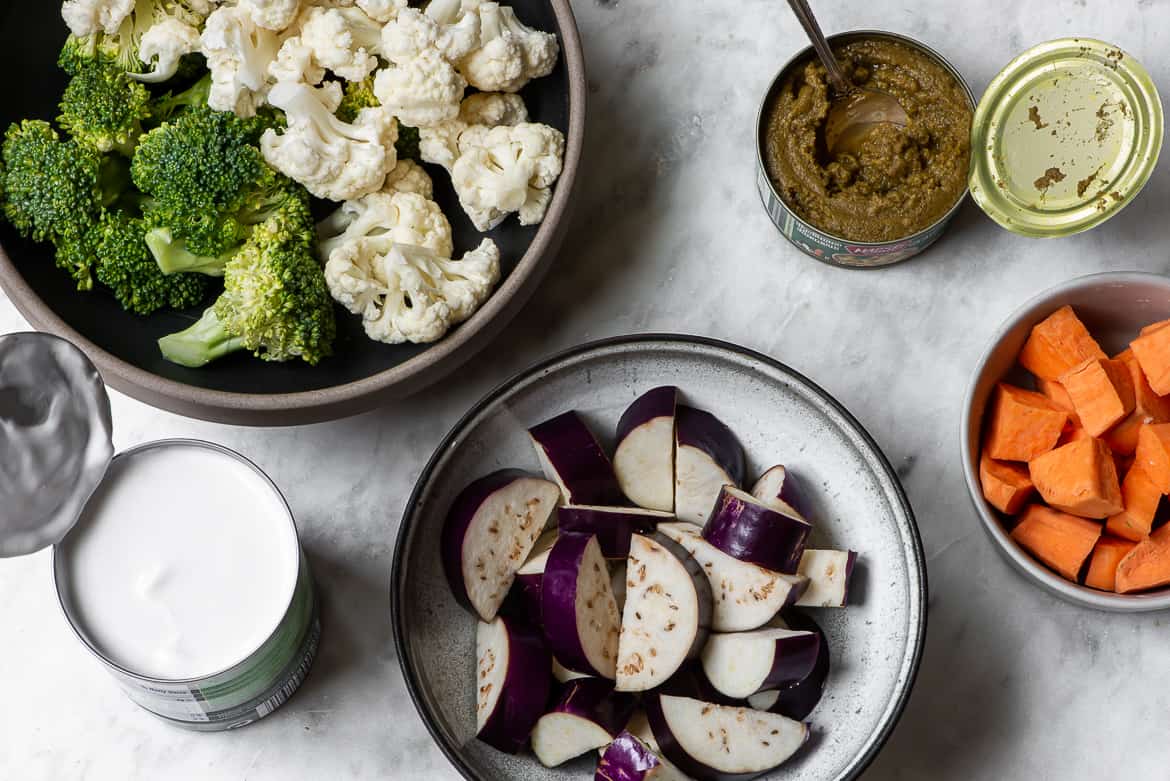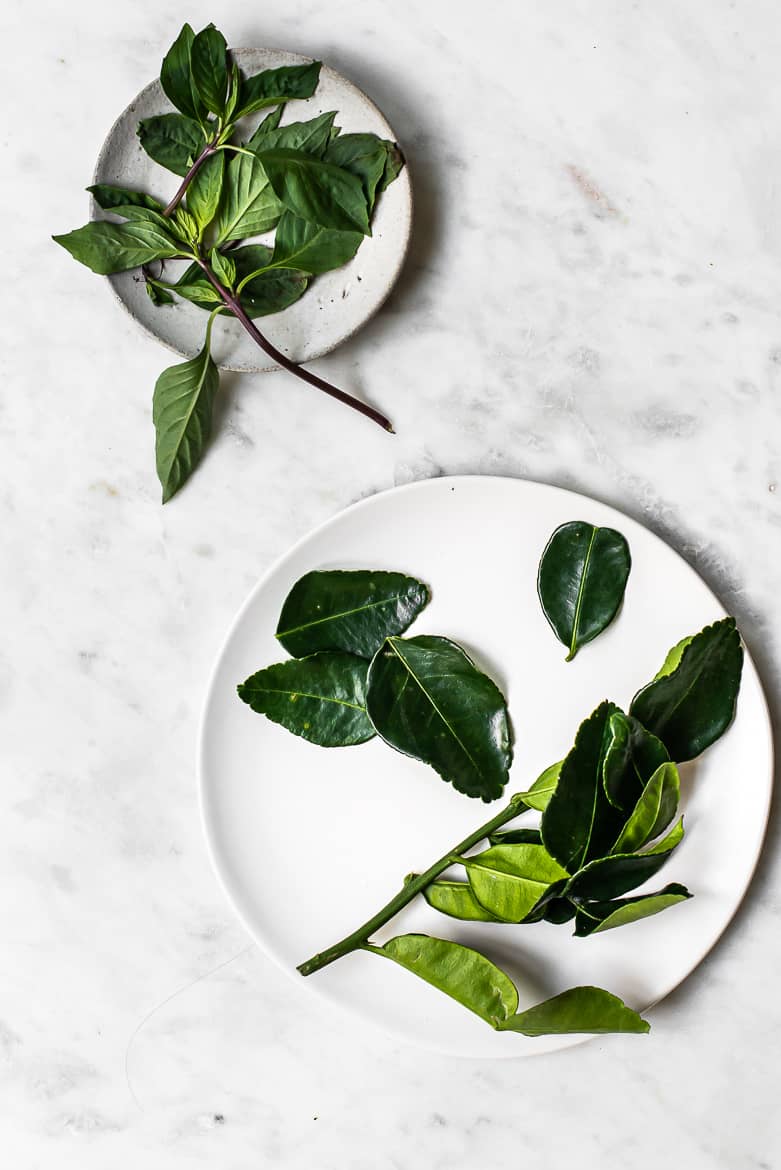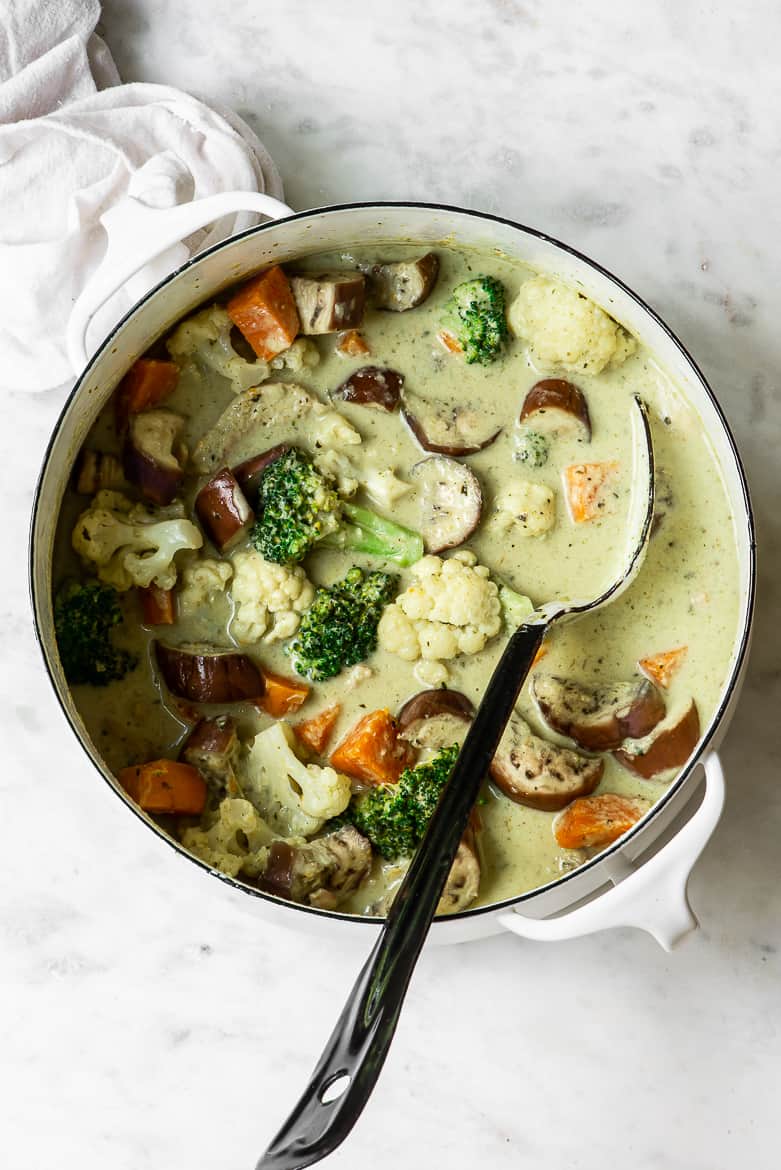 INGREDIENTS TO MAKE A QUICK THAI GREEN CURRY SAUCE
Galangal, lemongrass, fresh kaffir lime leaves, Thai basil, garlic, shallots, and of course green Thai chillies, are the main ingredients that give pungency and depth to a green Thai curry paste. Ingredients that I know are not stocked regularly in most pantries. So why am I touting this as an easy, quick recipe? Well, because all those lovely ingredients are conveniently packaged in a little can to help you whip up this delicious curry in a matter of minutes. Great news, right?
And now the slightly bad news. To make this curry, you will have to quickly swing by an Asian store. Most curry pastes sold at regular supermarkets do not come close to replicating a homemade green curry paste. But the Maesri brand does, and almost all Asian stores stock it. If you can't find it, look for Mae Ploy — it is a pretty good alternative. I strongly dislike the Thai Kitchen brand and would not bother using it to make this curry even if that is all you can find.
You can make this curry using only the store-bought paste. However, since you are already at the Asian store, may I urge to go one tiny step further, and grab a few more ingredients. Adding a few fresh lime leaves, fresh ginger, and fresh thai basil, will bolster the flavours in the curry sauce making it more complex and infinitely better. The lime leaves are usually sold in large packages but they freeze beautifully so you can always have some ready to use. Along with the Thai basil, they add a wonderful, lime-scented fragrance to the curry sauce that I find irresistible.
In Southeast Asian cooking, a coconut-based curry sauce will always have fish sauce added. It is what gives the curry its luxuriously, much-needed saltiness and funk, or umami. Asian stores will stock fairly good ones but if you can find this one, I highly recommend it.
VEGETABLES AND PROTEINS TO USE IN A THAI GREEN CURRY
Most traditional Thai green curries will have chicken. I like to use chicken thighs because they have more flavour and won't dry out by the time the veggies are cooked. If you prefer chicken breasts, refer to my notes for adjustments. Shrimp is another fantastic protein for a Thai curry. To make your curry vegetarian, add tofu, and use a good, low-sodium, vegetarian broth. As well, omit the fish sauce and replace with a few splashes of low-sodium soy sauce or Tamari.
I like my curry with a lot of veggies, and typically use whatever is leftover in my fridge. This recipe calls for japanese eggplants, cauliflower, broccoli, and sweet potatoes but the creamy curry sauce goes well with pretty much anything so switch up the vegetables and protein however you please. Other vegetable options are zucchini, bamboo shoots, snow peas, peas, asparagus, tofu and red or green peppers.
Important to note, the more veggies you add to the curry sauce, the less sauce you will have. Potatoes and eggplants especially, like to quickly drink up all the sauce. If you prefer a very brothy curry (I do), don't go overboard with the quantity of vegetables (4 cups should be plenty) and keep them slightly undercooked. Alternatively, stick to less spongy vegetables such as peas, asparagus, green beans, etc.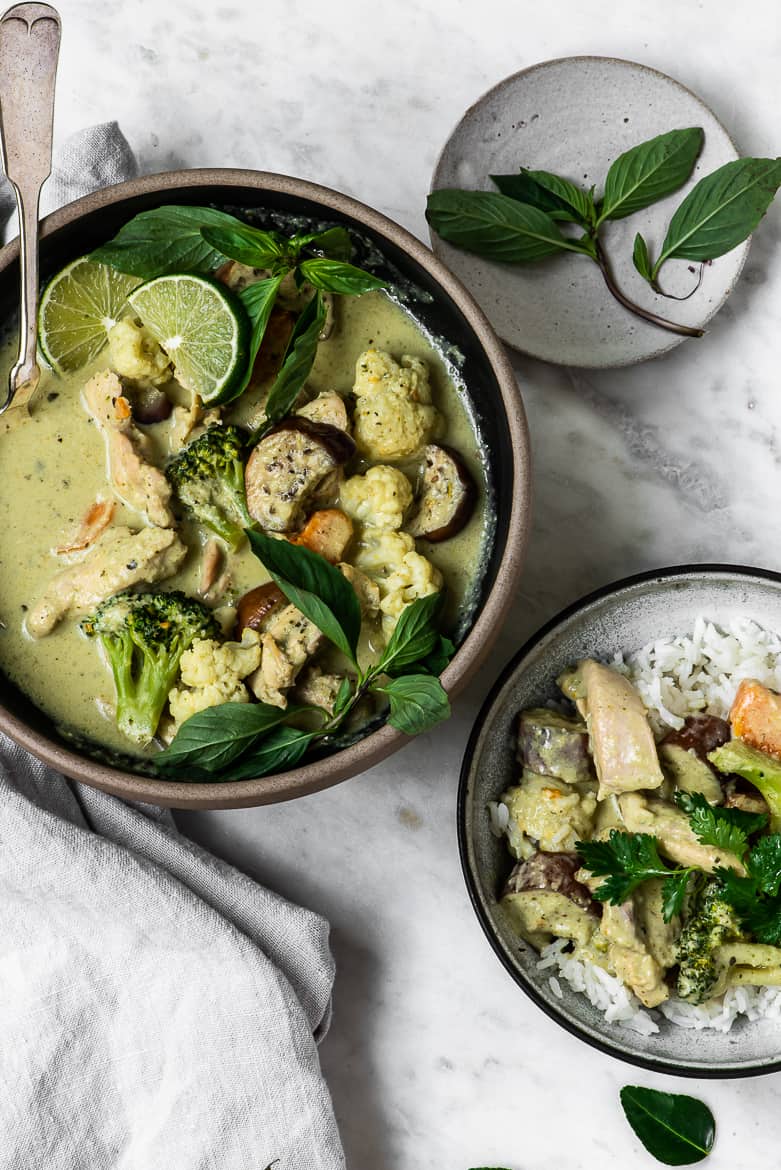 HOW TO MAKE A QUICK THAI GREEN CURRY WITH CHICKEN AND VEGETABLES
I realize all the above information makes this curry sound a lot more complicated than it is. I promise, it is not. Once you have all the ingredients, this curry comes together in a flash.
This chicken and vegetable Thai green curry starts out with cooking down the curry paste in a little bit of vegetable oil to intensify the flavour. If you have fresh ginger, chop it up and use it — it will add brightness and freshness to the sauce. Not in the recipe, and not something I always do, but if I have a few shallots laying around, I chop them up and add those too. To this, I add the coconut milk and once those flavours meld for a few minutes, I add in the chicken and then all the other ingredients.
Give it all a quick stir, and in 15 – 20 minutes you will have turned out a quick and simple, yet wonderfully luscious meal, without much effort. Squirt the curry with some lime juice, garnish with fresh Thai basil or cilantro, and serve it over jasmine rice. Hello Thai curry heaven. Enjoy!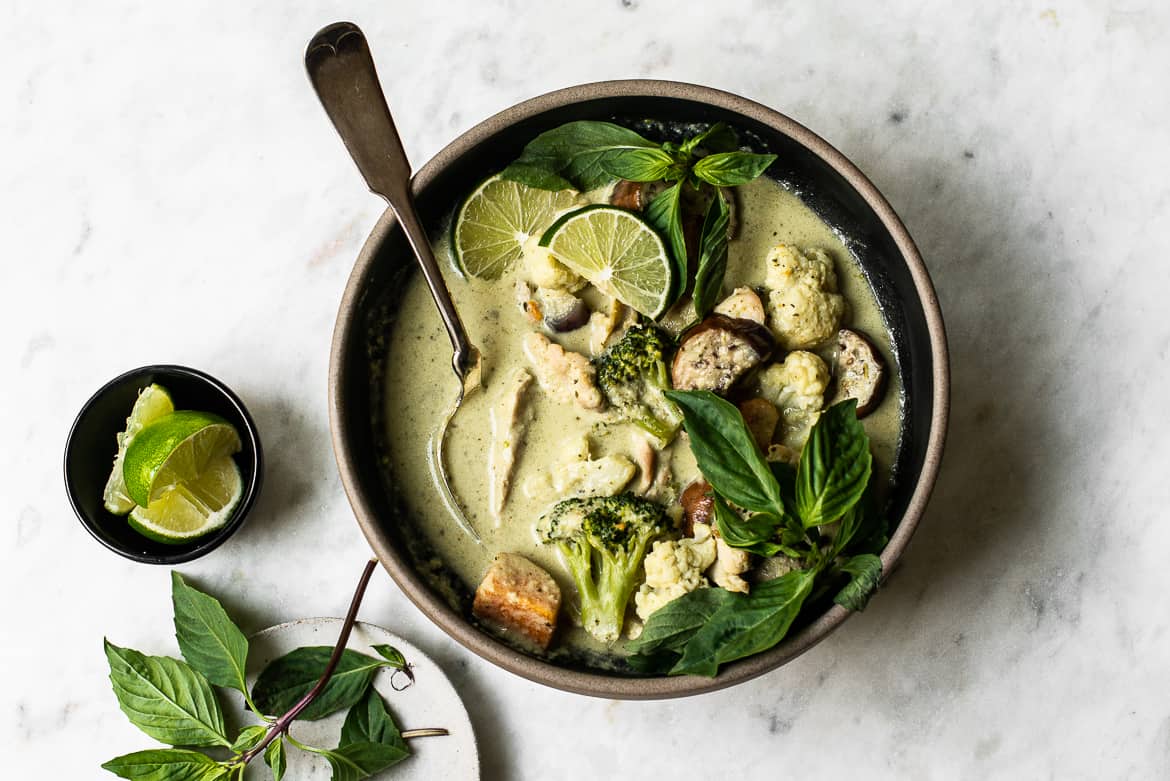 OTHER THAI-STYLE RECIPES YOU MAY ENJOY:
Print Recipe
Pin Recipe
Quick Thai Green Curry with Chicken and Vegetables
Green curry is meant to be quite spicy. This recipe calls for 3 tablespoons green curry paste which I find perfect for our tastes - spicy, but not pass-the-jug-of-water-asap spicy. If you prefer a milder curry, add a little less curry paste and/or add 1/2 cup more coconut milk. That said, keep in mind that the curry paste is what is flavouring the sauce so if you reduce it too much the sauce will be bland.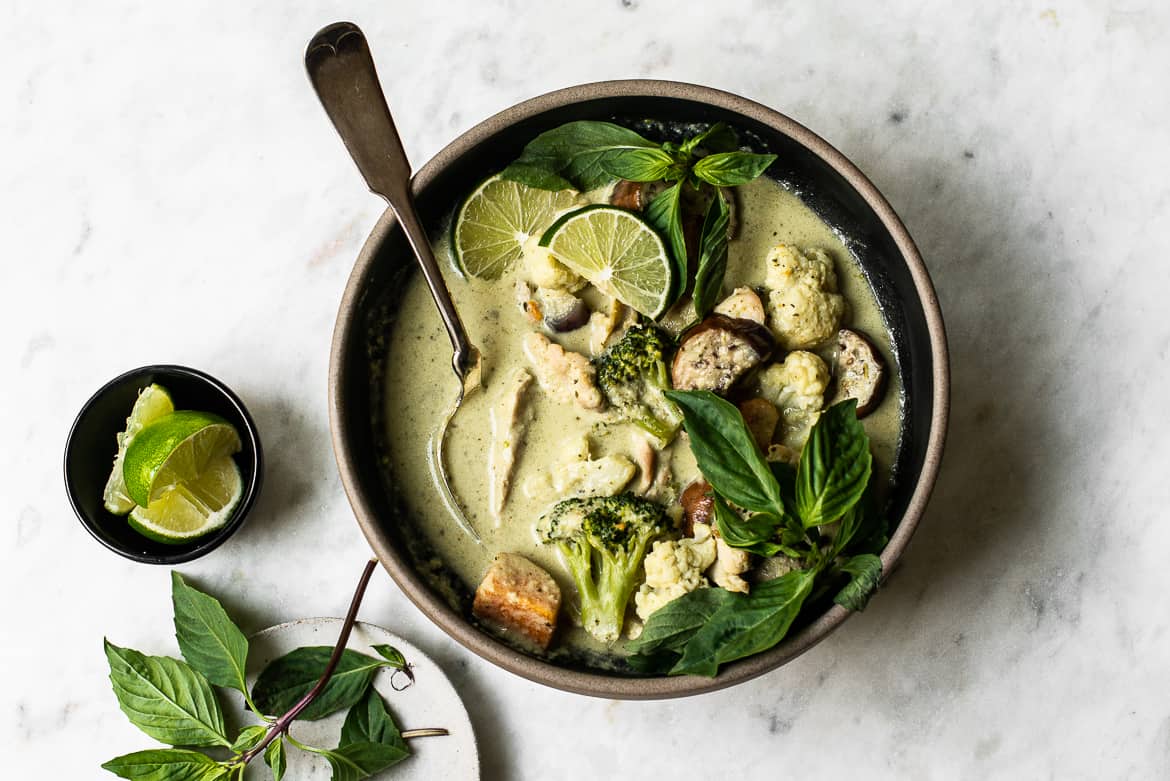 Ingredients
2

Tablespoons

vegetable oil

I use coconut or avocado

3

Tablespoons

Thai Green Curry Paste

I recommend Maesri

2

tsp

fresh ginger

finely grated or minced (optional)

1

14-ounce can full-fat, unsweetened, coconut milk

2

Tablespoons

fish sauce

1

cup

low-sodium chicken broth

2 - 4

kaffir lime leaves

bruised and torn (optional, but highly recommended)

1 1/2

pounds

skinless

boneless chicken thighs or breast, cut in 1-inch strips

4

cups

chopped vegetables

suggestions: cauliflower, japanese eggplants, broccoli, sweet potatoes, zucchini*

1

Tablespoon

sugar

I use coconut or cane sugar

Lime wedges

to serve

Optional garnish:

Fresh Thai basil leaves and/or cilantro

roughly chopped
Instructions
Melt the coconut oil in a large saucepan over medium heat. Add the curry paste and ginger and cook, stirring for a minute, until fragrant. Stir in 1/4 cup of the coconut milk, increase the heat, and whisk constantly until smooth for about 30 seconds.

Add remainder of can of coconut milk, fish sauce, chicken broth and lime leaves, if using. Stir in the chicken and simmer over medium heat for about 5 minutes. Add the vegetables and cook for another 5-10 minutes until chicken is cooked through and vegetables have softened.

Stir in the sugar. Taste and add a pinch of salt and pepper, if necessary. (You can also add additional curry paste, if you like).

Serve over white jasmine or basmati rice, garnished with basil and/or cilantro leaves and lime wedges for drizzling
Notes
*If using vegetables that cook quicker (such as asparagus, sugar snap peas, etc) add these after the chicken has been cooking for about 10 minutes.