Naturally sweetened and full of heart-healthy nuts and seeds, this Maple Pecan Granola Recipe is easy to prepare, crunchy, delicious, and oh-so-addictive. Guaranteed, you will be eating it straight off of the sheet pan.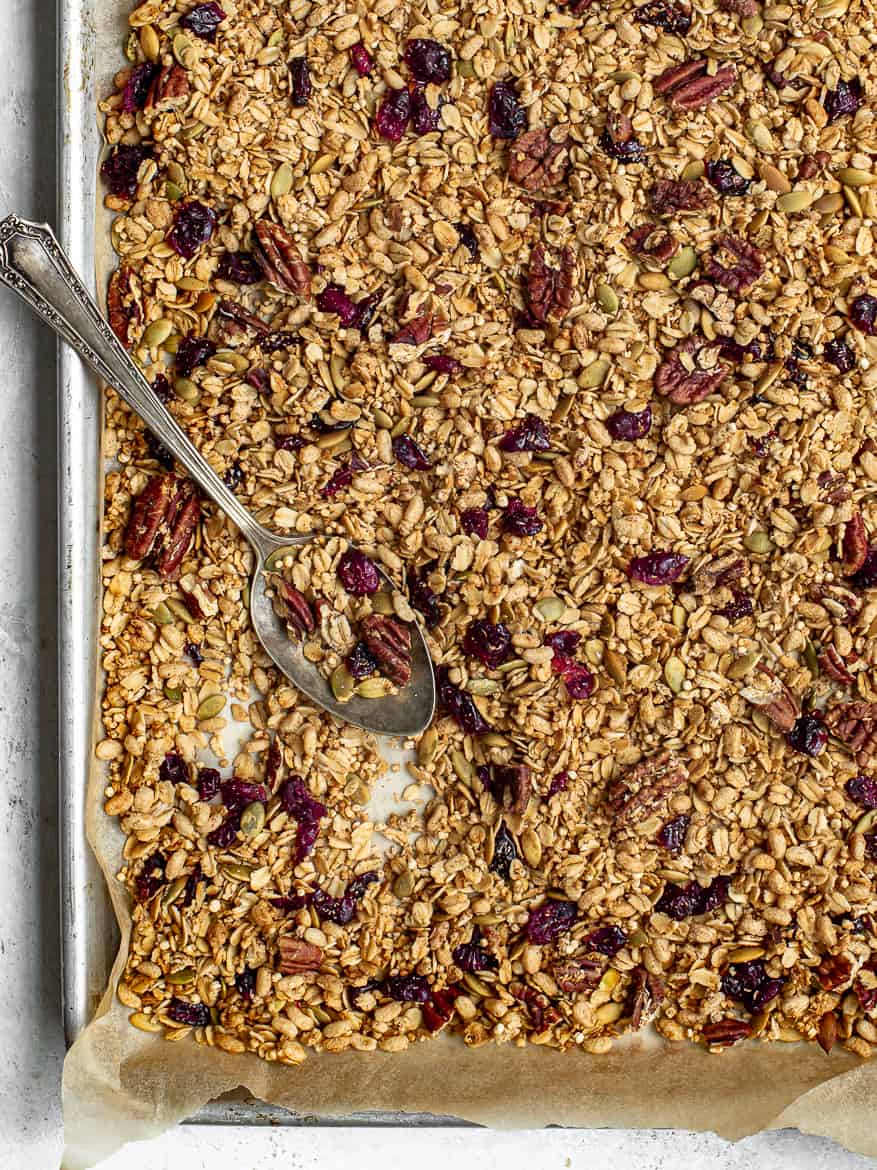 Happy Friday, friends. I hope yet another granola recipe on the internet doesn't make you run for the hills. I mean, I get it, there are so many out there and the granola craze is so '90's. But quarantine life has inspired and facilitated a resurgence of many basic recipes that we didn't think needed revisiting — hello, banana bread — and I have fallen back on the morning yogurt/granola/berry addiction. As in I start to panic when the granola jar is getting low.
Fortunately, this maple pecan granola is super easy to make, with pantry ingredients you can easily adapt to what you have on hand. It's a straightforward recipe that through the years I have tweaked, and I believe perfected, to be ultra toasty with a lightly sweet flavour and a wonderful combination of crunchy and chewy textures.
I love having a big jar of it in on my counter, to enjoy with coconut milk for breakfast, in a yogurt bowl drizzled with honey and topped with berries, or as is straight out of the jar when I need a little snack. When I am really organized, I make glorious parfaits the night before so we can just grab them in the morning and feel like a million bucks.
Maple pecan granola ingredients
I don't enjoy anything too sweet, especially not in the morning. So I keep the sweetness in this granola relatively low. Low enough that a drizzle of honey when served, will not tip it into the too-sweet category. That's not to say I am claiming this to be an uber healthy granola. It still has a good amount of coconut oil and maple syrup which to me, prevents it from being marketed as a health food. But because it is homemade, we are leaving out all the unwanted horrible ingredients you find in most store-bought granolas, and controlling the sweetness significantly.
It is important to note that the relatively low ratio of "sticky-liquid" to oats, nuts, and seeds in this recipe, makes a looser granola without clumpy clusters. If you are more in the clumpier-granola camp, you can add a whipped egg white to the mixture, or increase the oil and maple syrup by at least 1/4 cup.
Oats: You will want old-fashioned rolled oats for this granola recipe. If you can find jumbo ones get those, they work great in granolas.
Additional grains: If I happen to have rice puffs, quinoa flakes, or these  rice crispies on hand, I like to add them for a more interesting granola base. Feel free to leave them out if you don't have them.
Nuts: Pecans are my favourite nuts in granola and I buy the massive bags from Costco and freeze them so they last longer. Walnuts, almonds, pistachios, hazelnuts, etc are also fantastic, and if you love tham all, use them all! I like to chop the larger nuts so that there will be some in every bite, but I also leave some whole for some major crunch.
Seeds: I almost always have a bag of pumpkin seeds in my pantry. I love how they smell and taste when toasted and top so many things with them. Sesame seeds and sunflower seeds are other great options.
Fruit and spices: Dried fruit should be added only once the granola has cooled to the fruit will harden and dry out. To keep things on the savoury side, any fruit I add has to have a little sour note: cranberries, sour cherries, or blueberries. If you don't mind a sweeter granola, you can add raisins or chopped dates. For a little extra flavour, a little cinnamon goes a deliciously long way.
Salt: I considered making the title of this recipe "sweet and salty granola" then thought that could be misleading because it's not thaaaat salty. But you get the drift — my recipe calls for a little more salt than the norm. Feel free to scale it back to taste but do always include it — it adds great dimension to granola.
Sweetener: I definitely recommend a liquid sweetener for making granola which helps bind the dry ingredients. Maple syrup, honey, agave, or even brown syrup are all great choices. I prefer the flavour of maple for my granola but feel free to use your preference.
Oil: Again, oil or some sort of fat, will help bind the ingredients. Melted unrefined coconut is what I always use because I love the mild nutty flavour it lends to granola. If you prefer, you can use avocado oil, or a mild tasting olive oil. I like to mix the melted coconut oil with the maple syrup really well before adding it to the granola mixture. This makes it easier to mix into the dry ingredients and it also helps prevent the syrup from burning.
Other add-ins: When I have it, I like a handful (or two) of unsweetened coconut flakes. Cacao nibs add a touch of nutty bitterness to the granola that I sometimes like. If you're feeling it, chocolate chips, a la David Lebovitz, can be added once the granola has cooled. Not really my thing, but my son always adds them to his bowl for a late-night treat.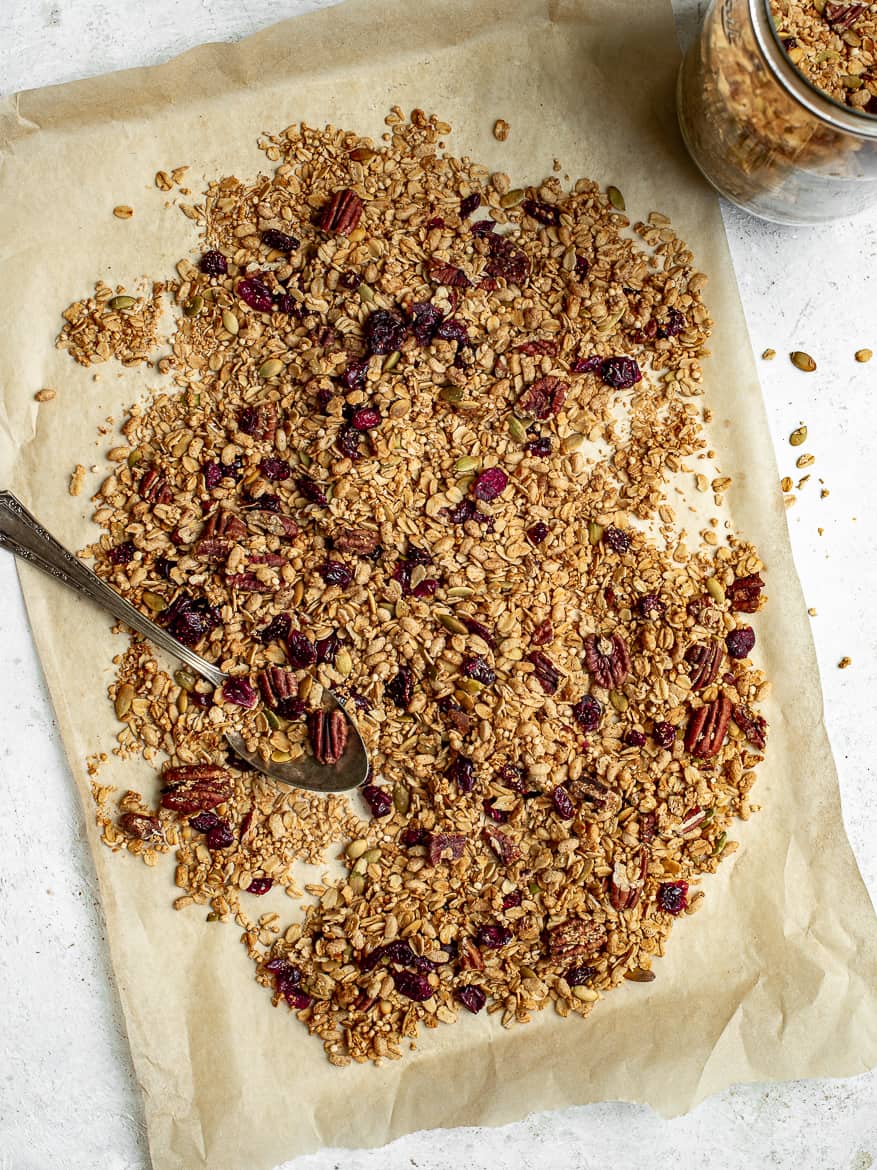 Maple pecan granola recipe tips 
Bake the granola in a low-heat oven which will help prevent your granola from burning and encourage more clumping.
The parchment-lined baking sheet you use should be fairly full with granola and pressed down tightly, otherwise the loose ingredients will burn. Likewise, don't let the edges be too thin or they will burn.
Do not over bake your granola. Granola continues to toast and crisp-up after you pull it out of the oven so it is important to take it out just before it has browned too much. This may take a bit of practice since all ovens are different and cooking times will vary. Err on the side of caution and if it seems too pale after it has sat out for a bit, you can always put it back in the oven for a few more minutes.
Once baked, allow the granola to cool completely before stirring it, or transferring it, to a storage container. This will ensure the granola remains crunchy and crispy.
Storing and serving maple pecan granola
Store this granola in an airtight container. It will keep for up to 2 weeks on your countertop or in a cool dry place. To freeze, place the granola in a freezer-friendly container or ziplock bag. The granola will keep fresh and crispy for up to 3 months.
To serve, add the maple pecan granola to your favourite milk to eat it like cereal. Sprinkle (or dump, if you are me) over yogurt and top with berries or any other fresh fruit of your choice. If you wish, drizzle it all with a little honey and tiny sprinkle of flaky salt. Divine.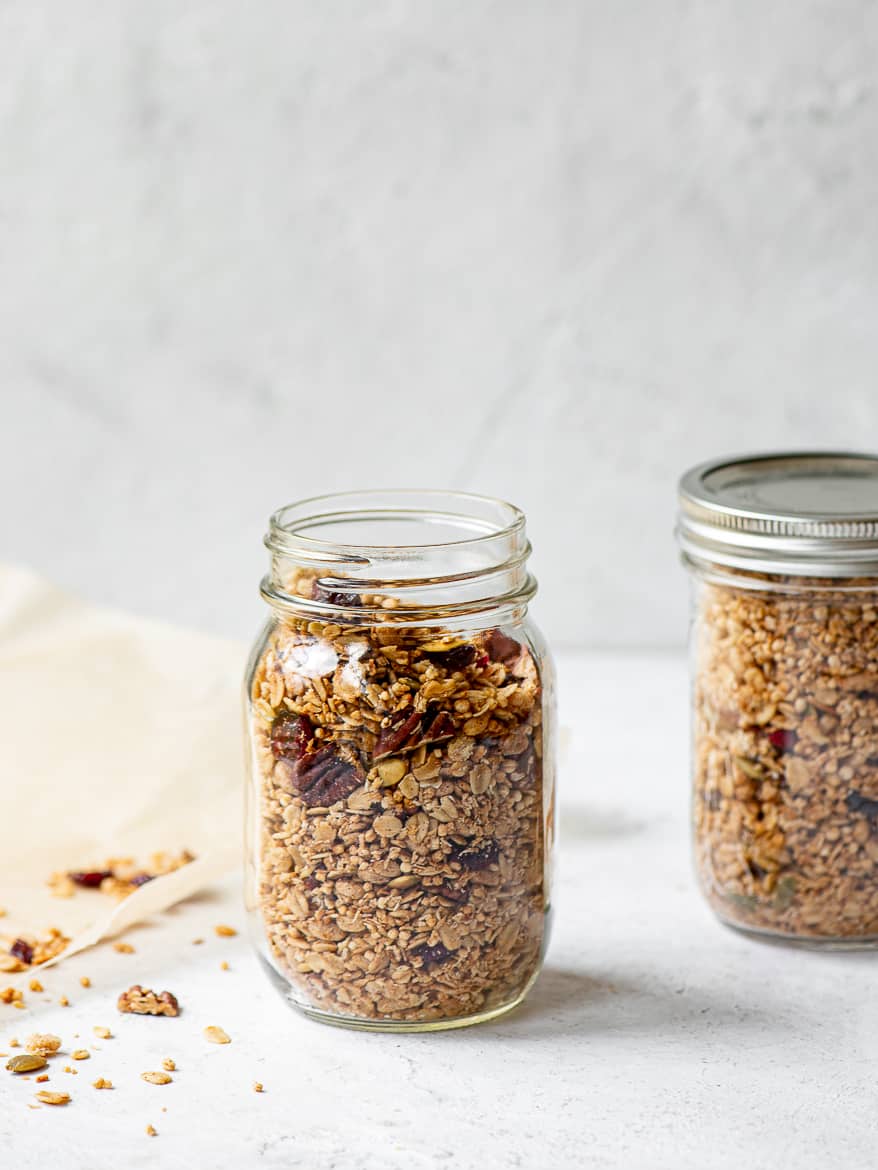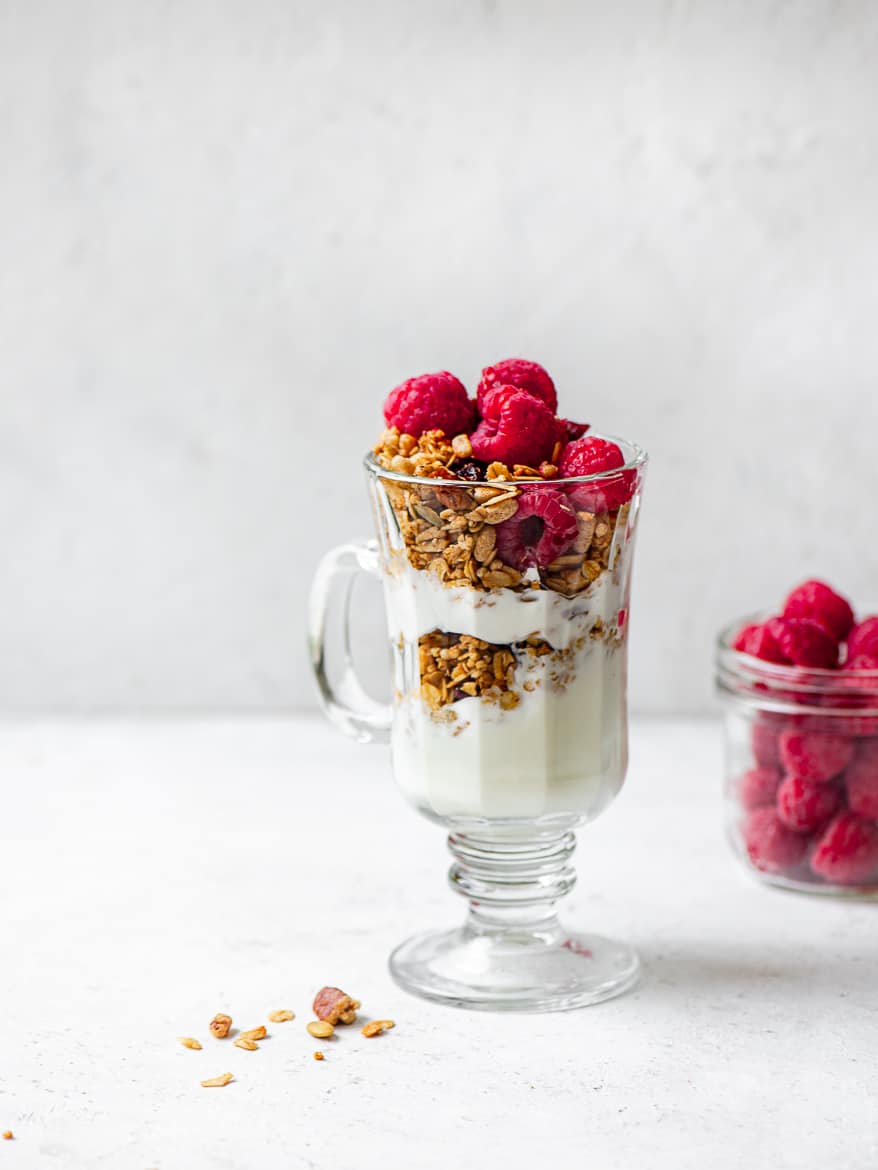 This homemade maple pecan granola is so darn irresistible, I cannot be left in the same room with it. I hope you give it a go and if you do, please let me know how it turned out for you in the comments. I love to hear from you!
Similar recipe you might enjoy: Baked Oatmeal with Berries
Print Recipe
Pin Recipe
Homemade Maple-Pecan Granola
Naturally sweetened and full of heart-healthy nuts and seeds, this Maple Pecan Granola is easy to prepare, crunchy, delicious, and oh-so-addictive. Guaranteed, you will be eating it straight off of the sheet pan. Make it nut-free by using all seeds.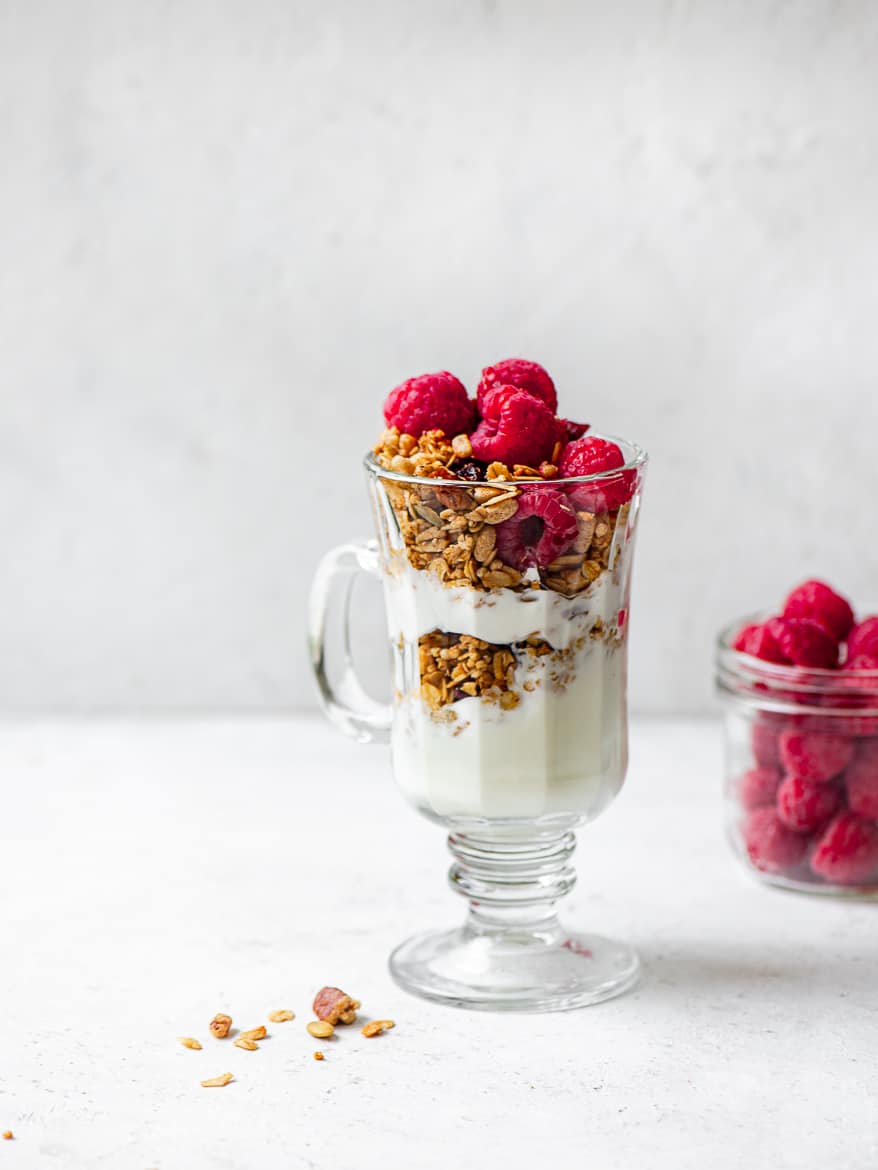 Ingredients
4

cups

old-fashioned rolled oats

use certified gluten-free oats, if needed

1/4

cup

shredded unsweetened coconut

optional

1

cup

pecans

or walnuts, almond, pistachios, or a combo

1/2

cup

rice crispies, puffed quinoa, or puffed rice

optional, *see notes

1/2

cup

pumpkin seeds

or sunflower seeds

1

teaspoon

ground cinnamon, or more to taste

1 1/2

teaspoon

kosher or sea salt

½

cup

melted coconut oil or olive oil

½

cup

maple syrup

or honey

1

teaspoon

vanilla extract

1

cup

dried cranberries, or sour cherries

or other dried fruit such as chopped apricots or dates
Other optional add-ins
cacao nibs

added in the last few minutes of baking

chia seeds

hemp seeds

chocolate chips

added only once granola has cooled
Instructions
Preheat oven to 325 degrees. Line a large rimmed baking sheet with parchment paper.

In a large bowl stir together the oats, coconut flakes, pecans, rice crispies (if using), pumpkin seeds, cinnamon and salt.

In a small bowl, whisk together the melted coconut oil, maple syrup, and vanilla. Mix really well then add the oil and syrup mixture to the oat bowl and toss until everything is well coated.

Transfer the oat mixture to the prepared sheet pan. Bake for 25-35 minutes (ovens vary so you need to keep a close eye) stirring once half way through until granola is golden brown.

Once baked, allow the granola to cool completely before stirring then add the dried fruit and any other optional add-ins.

Transfer granola to an airtight container and store at room temperature for up to 2 weeks or freeze for up to 3 months.
Notes
*This is an optional addition that adds a little extra crunch and interest to the granola that I really love. I use these rice crispies, but quinoa puffs or flakes, or other puffed rice brands, are available at almost all major grocery stores. If you can find puffed millet, it is fabulous in granola.