Delicious Steak Street Tacos with Mexican Rice make the base for this fun and simple Cinco de Mayo feast. Pico de gallo and guacamole with chips are of course obligatory accompaniments. Ditto for the ubiquitous Margarita!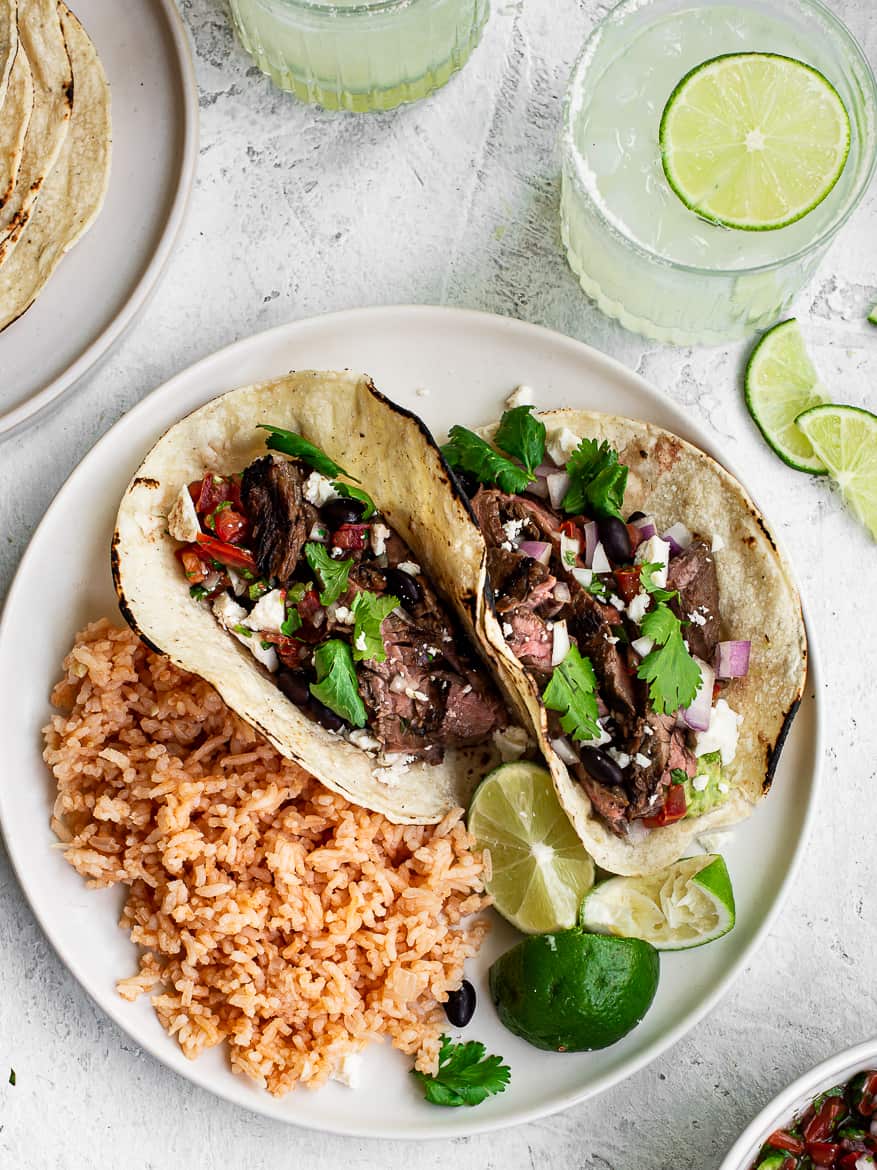 Here in Canada we don't celebrate Cinco De Mayo much. In fact, it seems to be a mostly American celebration as it is not even an actual Mexican holiday. So I have always had misgivings on whether to tout recipes for this event or not. This year, however, Cinco de Mayo lands on Taco Tuesday which the entire planet does seem to celebrate, so I thought it would be fun to create a little Mexican feast. Plus, Mexican food is irresistibly appetizing and I welcome any distraction right now that breathes some life into our everyday. Hello Margaritas!
A Mexican fiesta
For our Mexican fiesta we are serving juicy and tender steak street tacos served alongside a deliciously fluffy Mexican rice, guacamole and pico de gallo with chips, and lots of extras such as black beans, queso blanco, and cilantro leaves.
To finish strong, Margaritas should most definitely be a part of your Mexican feast. And if you have room for a little dessert, consider this delicious avocado ice cream. So easy and so good.
How to make Mexican Rice
Incredibly simple to make, Mexican rice, or arroz rojo, requires only a few basic ingredients that you likely already have on hand. The key to making an excellent Mexican rice is to coat the grains in oil until they turn lightly golden before adding the other ingredients. I love having tacos with rice on the side but this Mexican rice is so delicious I often ditch the tacos and eat the rice with avocados and beans. So good!
The ingredients:
Long grain rice
Onions
Garlic
Tomatoes (I use passata)
Chicken, water, or vegetable stock
Start by heating the oil in a good rice pot, then add the rice and cook until the grains begin to turn slightly golden and crackle a little.
Add in the onions, garlic and passata (or tomatoes) and cook for a few more minutes until fragrant. Add in the chicken stock (or water) and bring to a boil.
Lower the heat to the lowest setting, cover and cook for 20 minutes exactly. Remove form heat and let sit for 5 minutes before uncovering and fluffing the grains with a fork.
The rice will absorb all the lovely flavours and turn a beautiful orangey-red hue.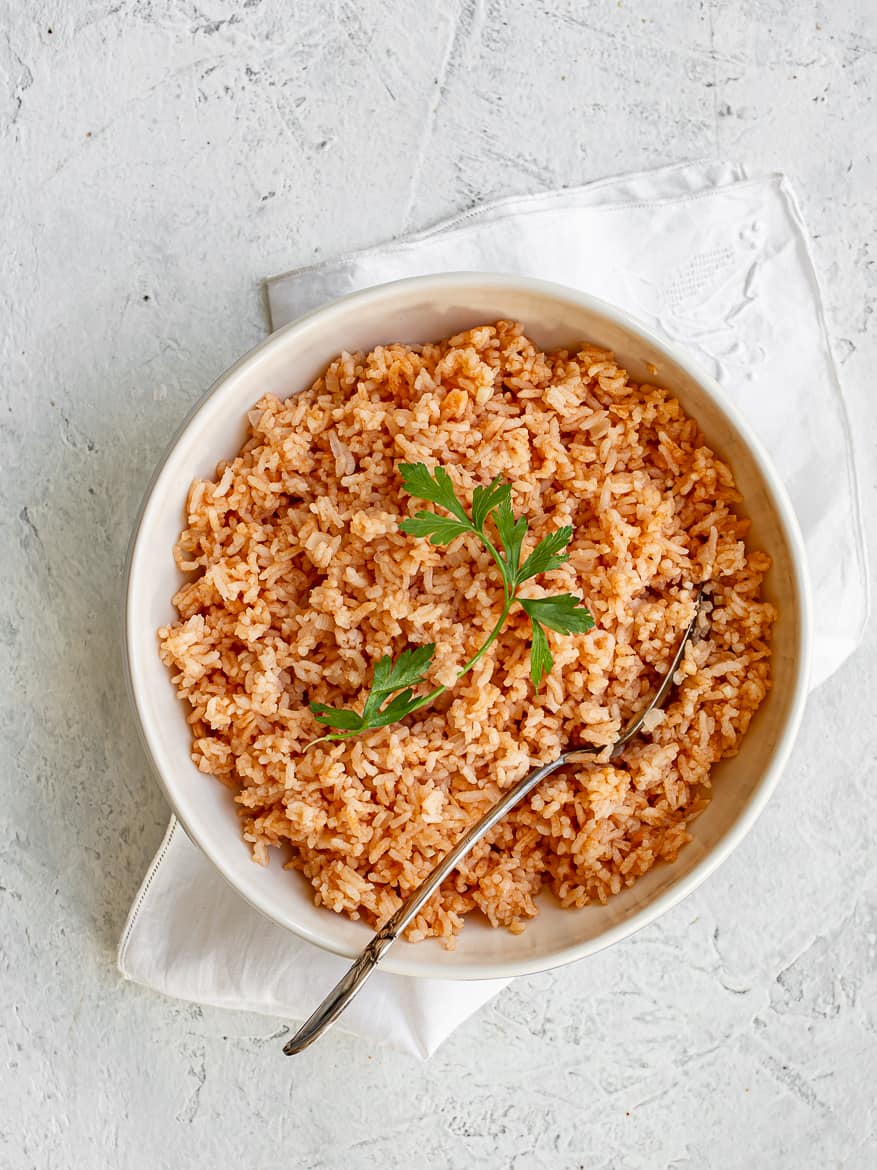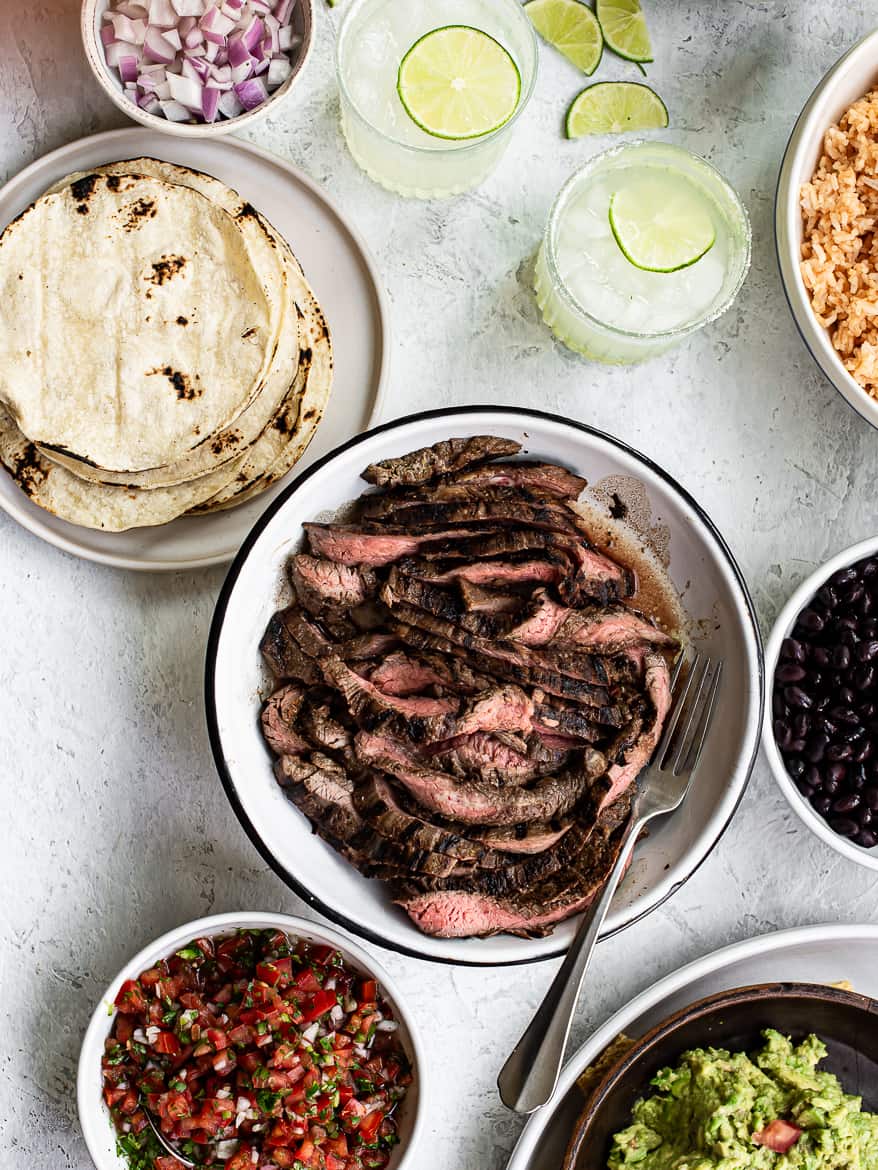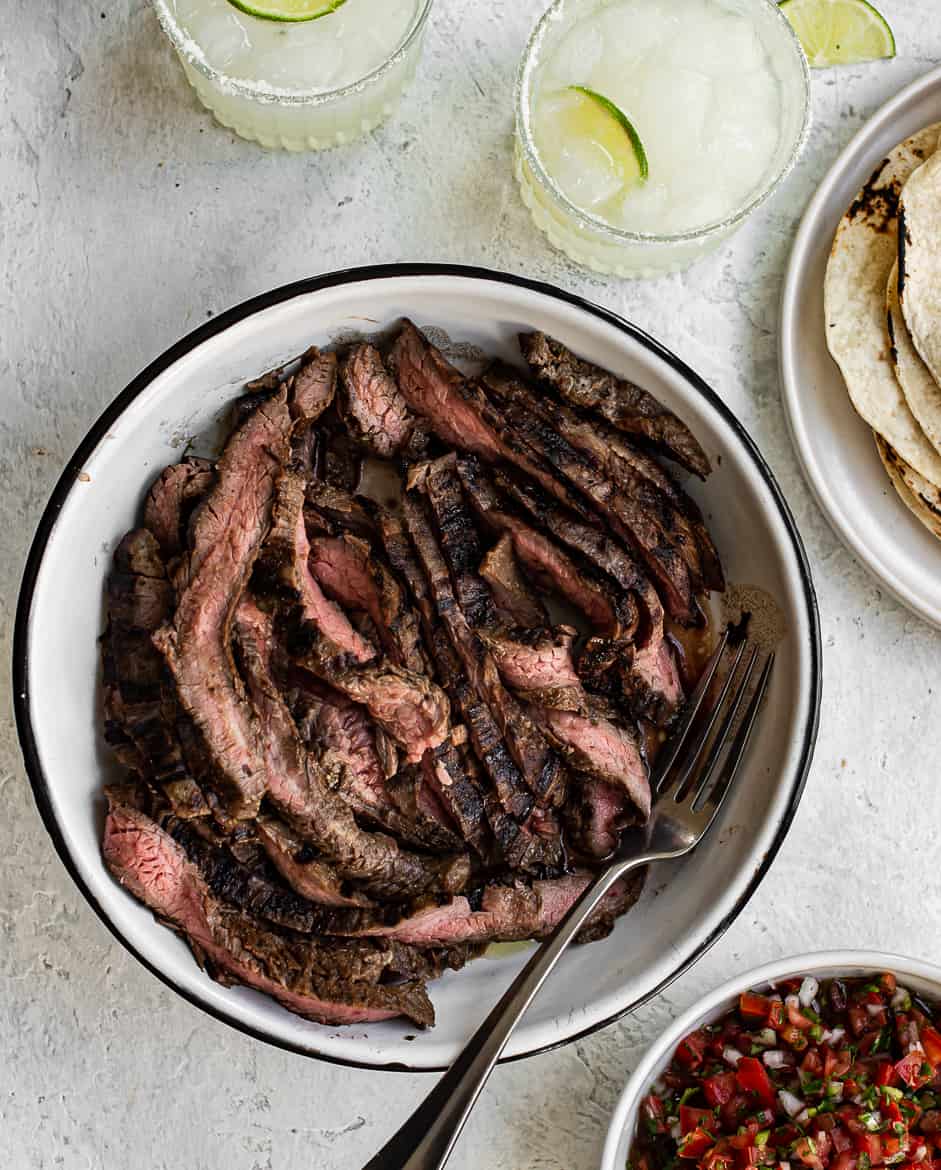 Steak street tacos
Steak street tacos are delicious skirt, or flank, steak tacos sold by the taqueria street vendors in Mexico. The meat starts off with a simple and nicely balanced orange juice and lime-based marinade and then gets grilled over very high heat for a nice char.
Skirt steak is most commonly used to make street tacos but it is not as easy to find as flank. I find they both work great so use whichever you can find.
The beauty of these steak tacos is in the simplicity of how they are served — typically with only a salsa cruda like pico de gallo and not much else. That doesn't mean, however, that you can't serve it with all the sides your heart desires. Which I hope you do :))
The marinade for steak street tacos
The marinade for the steak helps tenderize and add flavour to the meat. However, I like the meat to retain it's beef flavour so I use a marinade with simple ingredients and let it marinate for only 1 hour, 2-3 at the most.
The ingredients for the marinade:
Lime juice
Orange juice (from a fresh orange)
Garlic
Cilantro
White wine vinegar (or any light coloured vinegar such as apple cider or distilled white vinegar)
Kosher salt and Freshly cracked black pepper
Olive oil
Chop and mix these by hand or with a little food processor. If you don't have a fresh orange on hand, just omit it from the marinade. Truth be told, if I'm feeling lazy, I often just use this recipe to make steak tacos and skip the marinade all together.
How to cook the steak
Aside from the marinade that helps make steak so tender and tasty, the meat also needs a nice charred, smoky flavour from the bbq. I prefer to use the bbq but a really hot grill pan, or cast iron skillet will also work.
Whichever method you use, make sure to use the highest heat you possibly can to get that nice char on your meat which is what steak street tacos are known for.
If using skirt steak, the meat will take only 3 minutes a side to cook. Flank steak will take about 6 minutes a side. It is important not to overcook the meat or it will be tough. Most importantly, let the meat rest for at least 5 minutes once it comes off the grill, then slice it against the grain. In other words, slice perpendicular to the obvious lines that appear on the meat. Otherwise, your meat will be rubbery and tough.
Assembling the tacos
Corn tortillas are a little more authentic for street tacos but I have a hard time finding good ones. La Tortilla Factory has tortillas that are a blend of both corn and flour which I really enjoy.
As previously mentioned, steak street tacos are not typically loaded with toppings. Keep it simple with only diced onions, a little pico de gallo, and some Mexican cheese such as cotija or queso blanco, if you can find it. But when having a little Mexican fiesta, these are some great optional sides:
Mexican Rice
Black beans
Guacamole
Tortilla chips
Lime wedges
Chopped romaine lettuce
Margaritas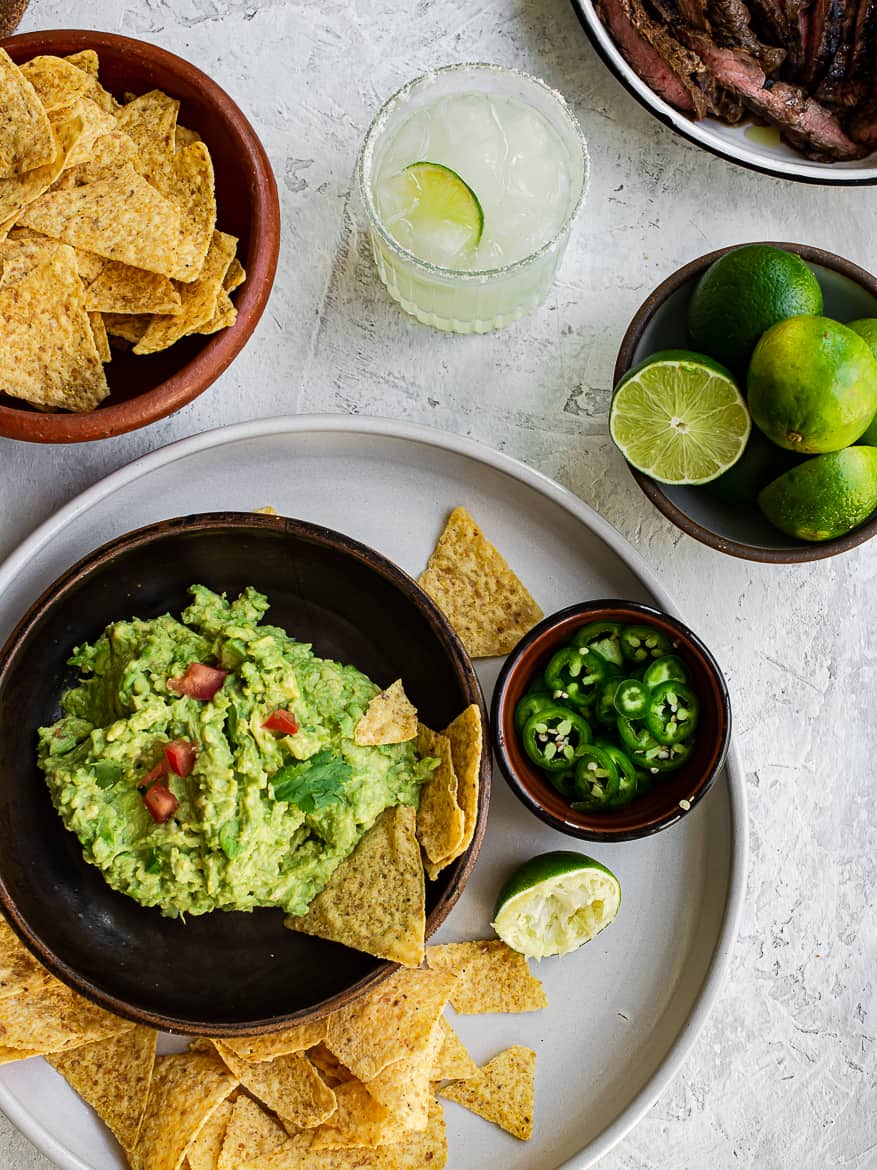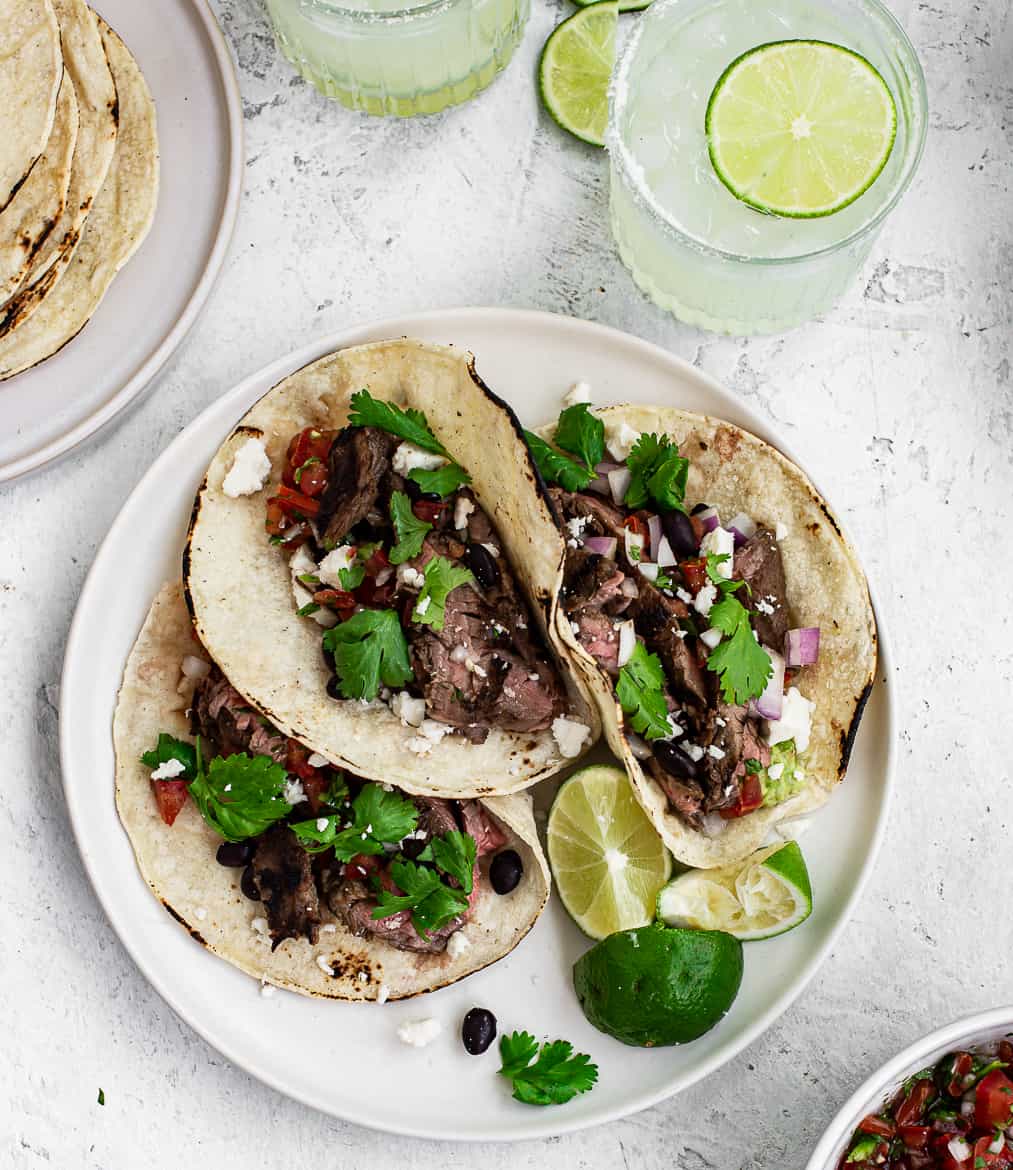 This little Mexican fiesta does not require a ton of preparation and it is all a cinch to prepare. You can of course include as much or as little as you'd like. Just take inspiration from here and then go your way.
Similar recipes you might enjoy:
Grilled Chicken Tacos with Tomatillo Salsa Verde
Instant Pot Chicken Tinga Tacos
Weeknight Chicken Enchilada Verde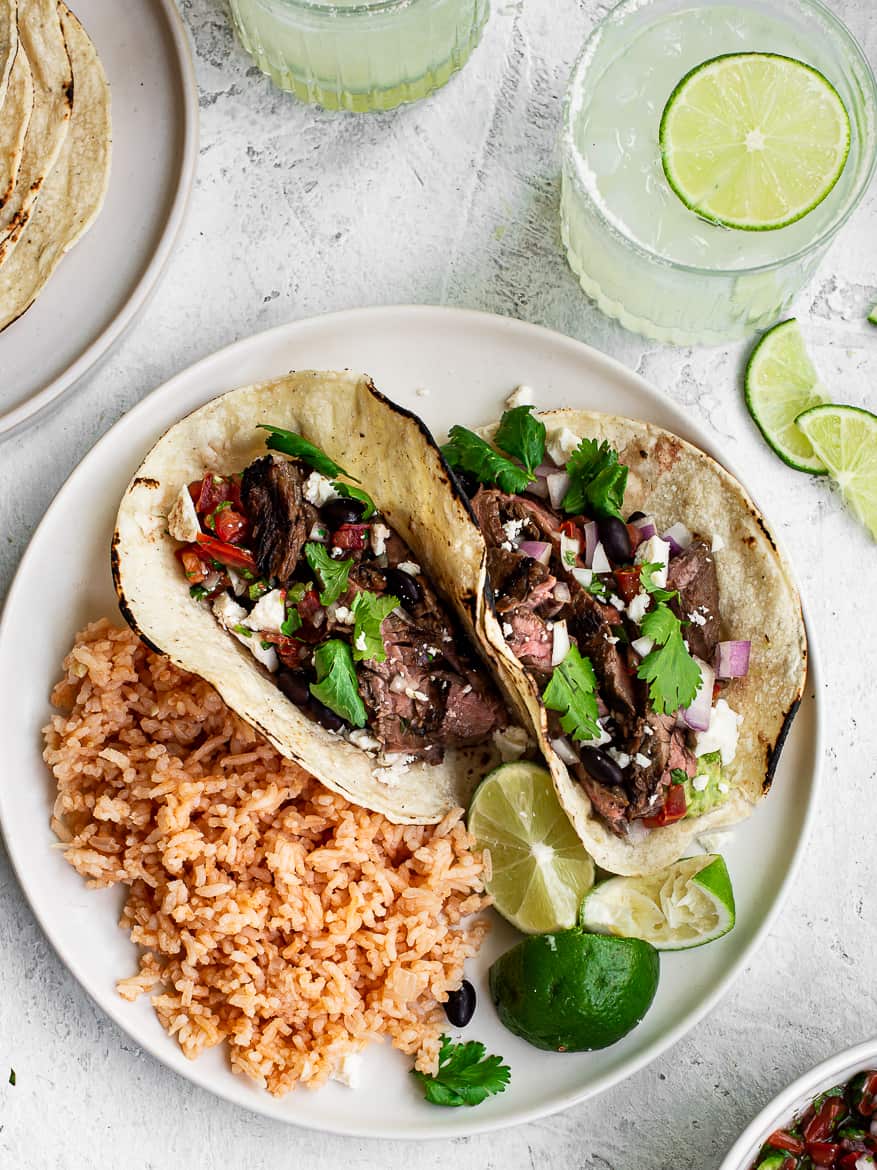 Ingredients
2

pounds

flank or skirt steak
For the marinade
1

orange, juiced

2

limes, juiced

4

garlic cloves

minced

1

handful

handful cilantro leaves, finely chopped

2

Tablespoons

white wine vinegar

or any light coloured vinegar

1

teaspoon

each kosher salt and freshly cracked black pepper

or more to taste

1/3

cup

extra virgin olive oil
For the tacos
12

corn or flour tortillas

1

small white or red onion, finely diced

1/2

cup

cilantro leaves, finely chopped

1

cup

queso blanco, or cotija cheese

crumbled
Other suggested accompaniments
Mexican rice (recipe follows)

Guacamole

*Pico de Gallo (see notes for the recipe)

Tortilla chips

Sliced jalapeños

black beans, drained and rinsed
For the Mexican Rice
2

cups

long grain white rice

3

tablespoons

avocado oil

or extra virgin olive oil

1/3

cup

passata

**or 4 plum tomatoes seeded and diced

1

small white or yellow onion

finely diced

2

larghe garlic cloves

finely minced

1 1/2

teaspoons

kosher or sea salt

or more to taste

3 1/2

cups

chicken or vegetable broth

or water
Instructions
In a medium bowl whisk all of the marinade ingredients really well.

Place the steak in a ziploc bag or in a baking dish and pour the marinade on top. Seal or cover and place in fridge if marinating longer than 1 hour. Remove from fridge a half hour before you are ready to grill and discard the marinade.

If making guacamole and pico de gallo, make them now.

Meanwhile, make the rice. In a large bowl or measuring cup, soak the rice in hot water for about 5 minutes. Rinse with cold water 3 timnes or until the water runs clear. Drain well in a sieve.

Heat the oil in a heavy-bottomed pot over medium high heat. Add the rice and sauté, stirring often, until the rice is lightly golden, about 5 minutes.

Stir in the onions, garlic and passata. Mix gently and let it cook until the rice mixture has turned a bright red-orange, about 3 more minutes. Stir in the chicken broth and 1 1/2 teaspoon salt and bring to a boil. Reduce the heat to the lowest setting, cover and cook for 20 minutes.

Remove the pot from heat and let the rice sit covered for at least 5 minutes before you fluff with a fork and serve.

While the rice cooks, grill the steak. Heat a grill to very high heat. Place the steak on the hot grill and cook for 5-7 minutes on each side for flank, and 3 minutes a side for skirt. Remove the steak to a cutting board and let it rest for another 5 minutes. Slice the steak at an angle against the grain into 1/4-inch strips.

Assemble the tacos: Warm the corn tortillas on the grill or on a cast iron skillet until pliable and slighly charred, a few seconds a side. Tuck a few steak strips into the warm tortillas and top with with diced onions, chopped cilantro, and crumbled queso blanco or cotija cheese. Serve the tacos alongside the Mexican rice and with more of the suggested accompaniments, if desired.
Notes
*This pico de gallo recipe saved in my stories is a great one! 
**Most recipes for Mexican rice blend the tomatoes so I just bypass this step and use passata, a strained tomato sauce.