In this classic Shakshuka recipe, tomatoes, onions, and a lot of garlic, form the base for the lovely poached eggs that sit on top. A delicious dish for breakfast, brunch or dinner that you will absolutely love.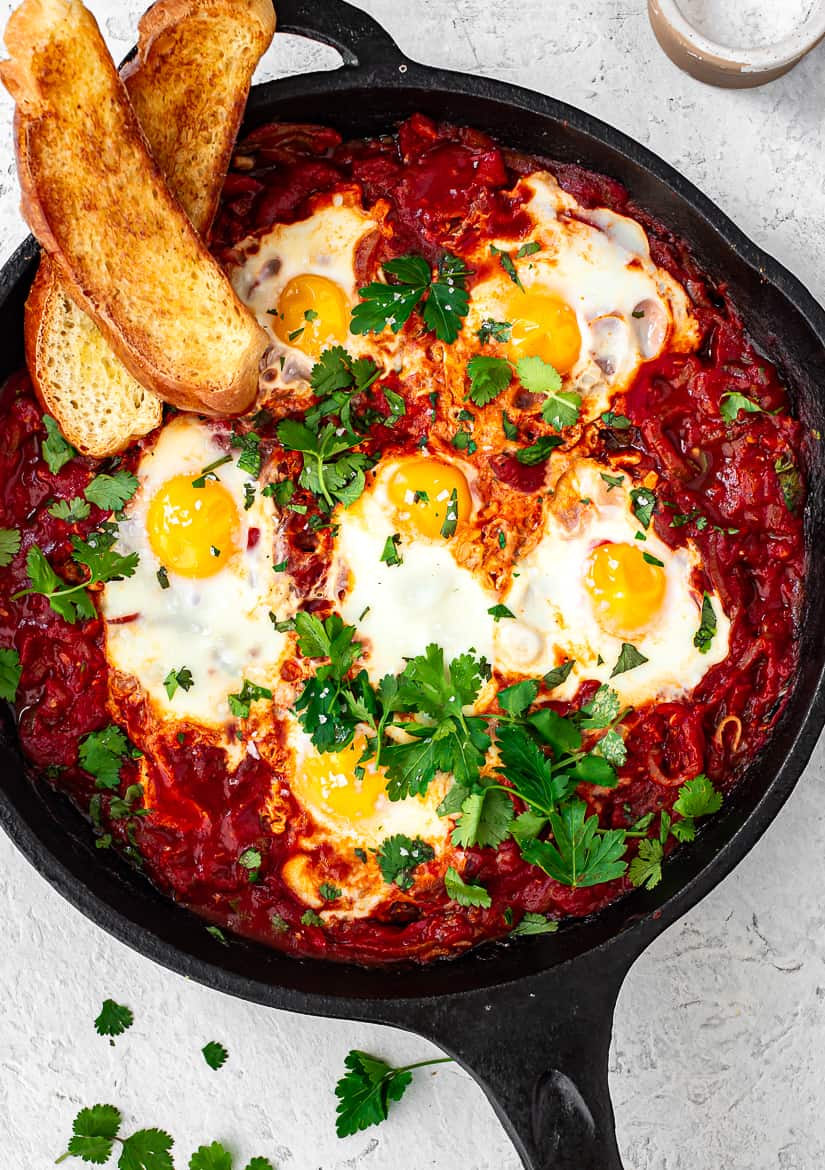 A few years ago I was lucky to experience eating shakshuka at Jack's Wife Freda, a Middle Eastern-American bistro in New York. Lured by the thousands of instagram photos of their food, it was first on my list of food/restaurants to try. In particular, I was going for the green shakshuka with challah, the brunch dish that is their claim to fame. Made with tomatillos instead of the traditional tomato-based, it is a dish I will never forget. It is worth going there for the challah alone, simply divine.
It didn't take long for the recipe to surface all over the internet so it was easy to repeat the magic in my own kitchen. Sadly, my challah is no where near as life-changing as theirs but it does keep improving over time. As delicious as green shakshuka is, however, tomatillos are not that easy to find so a tomato-based shakshuka is what I most often make.
What is Shakshuka
Shakshuka is a dish of eggs poached in a tomato-garlicky sauce with lots of onions and peppers and a few spices. Originating from North Africa, it quickly became a popular breakfast/brunch dish all over the Middle East. Some sort of soft bread, like challah, should most definitely accompany this comforting and insanely tasty dish.
How to make Shakshuka
Shakshuka would likely not be one of the most loved brunch dishes if it weren't so easy to make. Essentially, you are sautéing onions, garlic and red peppers before adding chopped tomatoes with a bit of cumin, paprika and cayenne. Once the sauce has cooked down and thickened slightly, you gently crack a few eggs over the mixture and cover with a lid. Depending on your preference, the shakshuka is ready when the egg whites are set and the yolks remain fairly runny. That's basically it. A scattering of fresh parsley and cilantro is optional but adds a wonderful freshness to the dish.
As with all popular dishes, there are many versions of shakshuka. The recipe I share today has been tweaked to my liking but do feel free to make it your own. I like the sauce heavy on the garlic with a little kick of heat from cayenne or red pepper flakes. I also prefer my shakshuka sauce to not be very thick so I add a little water to keep it on the side of bread-dunking sauciness. More often than not I stray from tradition and add a little crumbled feta to the finished dish, so good.
Here is the step by step:
Start by sautéing thinly sliced onions and red peppers in a little olive oil. I like the onions browned and a little charred but not caramelized.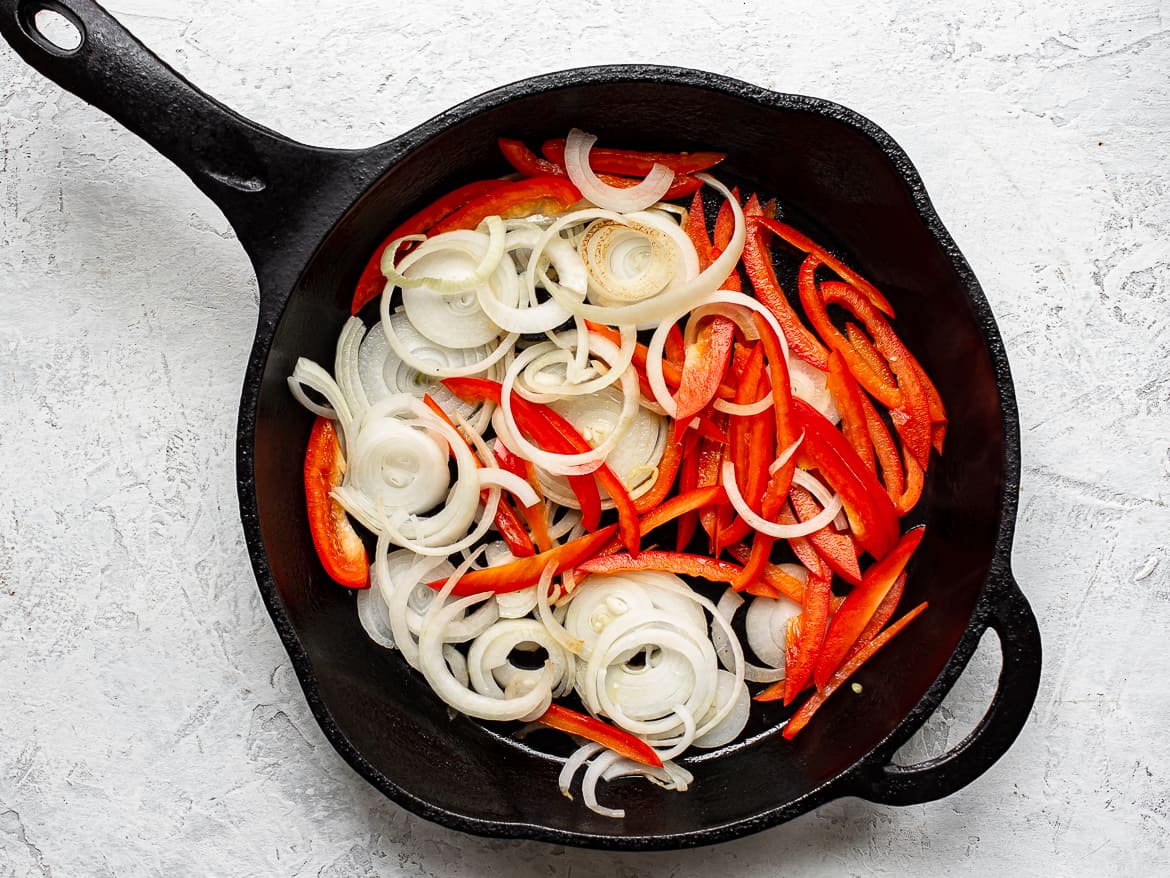 Add the garlic and sauté for a 30 seconds before adding cumin, paprika and cayenne (optional).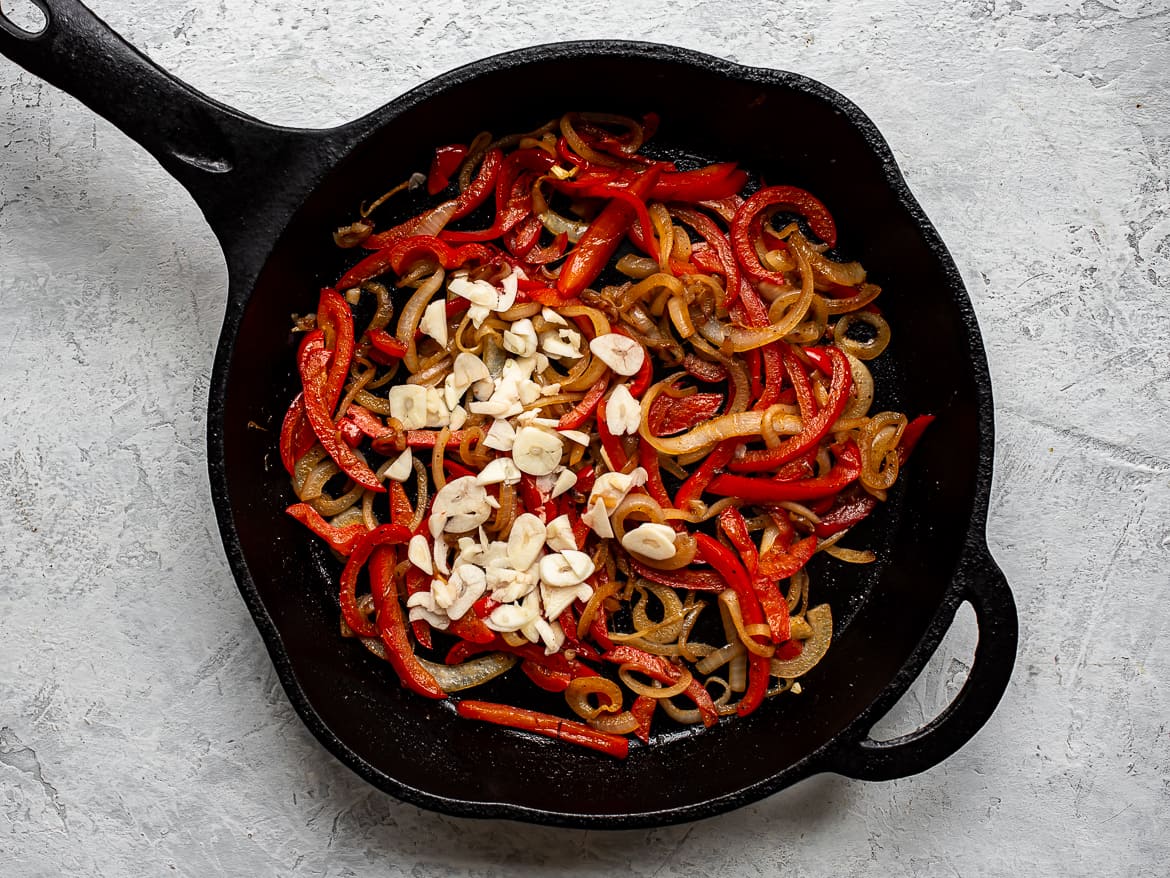 Add the tomatoes and a little passata (or tomato paste) and cook until tomatoes have softened and the sauce has slightly thickened, about 10-15 minutes.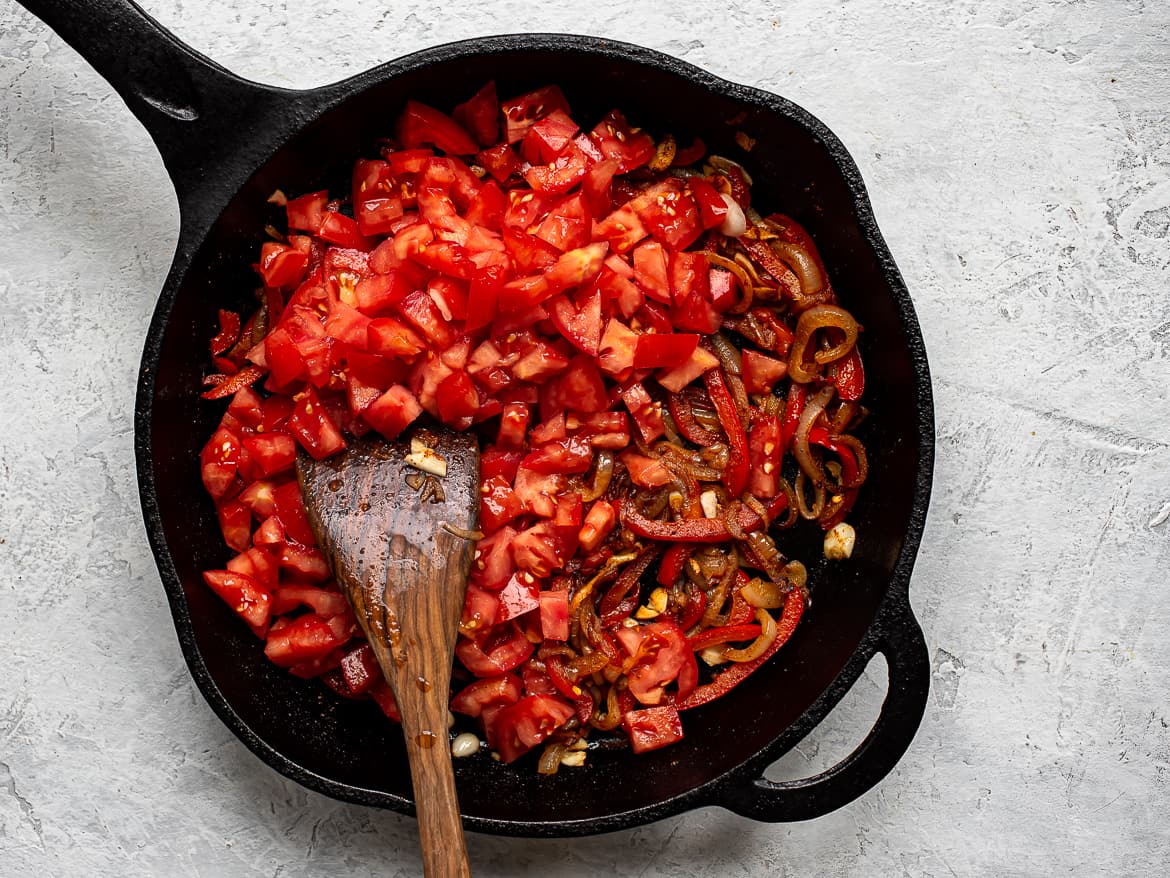 Once the mixture is ready, reduce the heat to low and make a little well for each egg you will be using.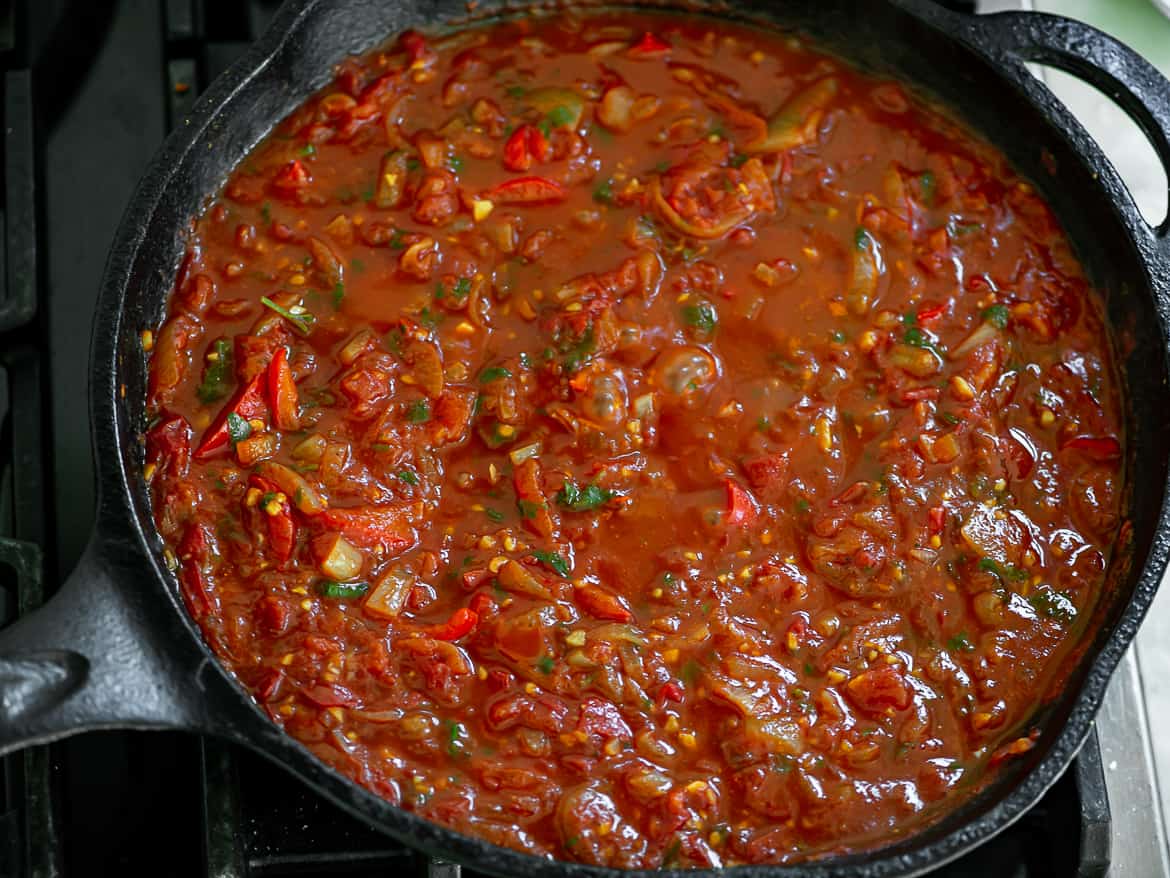 Crack the eggs into the wells and cover the skillet with a lid to gently poach the eggs for about 7-9 minutes. The whites should be set and the yolks still a little jiggly. Cook a little longer if you prefer your eggs well done. If you don't have a large lid, place the skillet in a preheated 400 degree oven for about 8-10 minutes.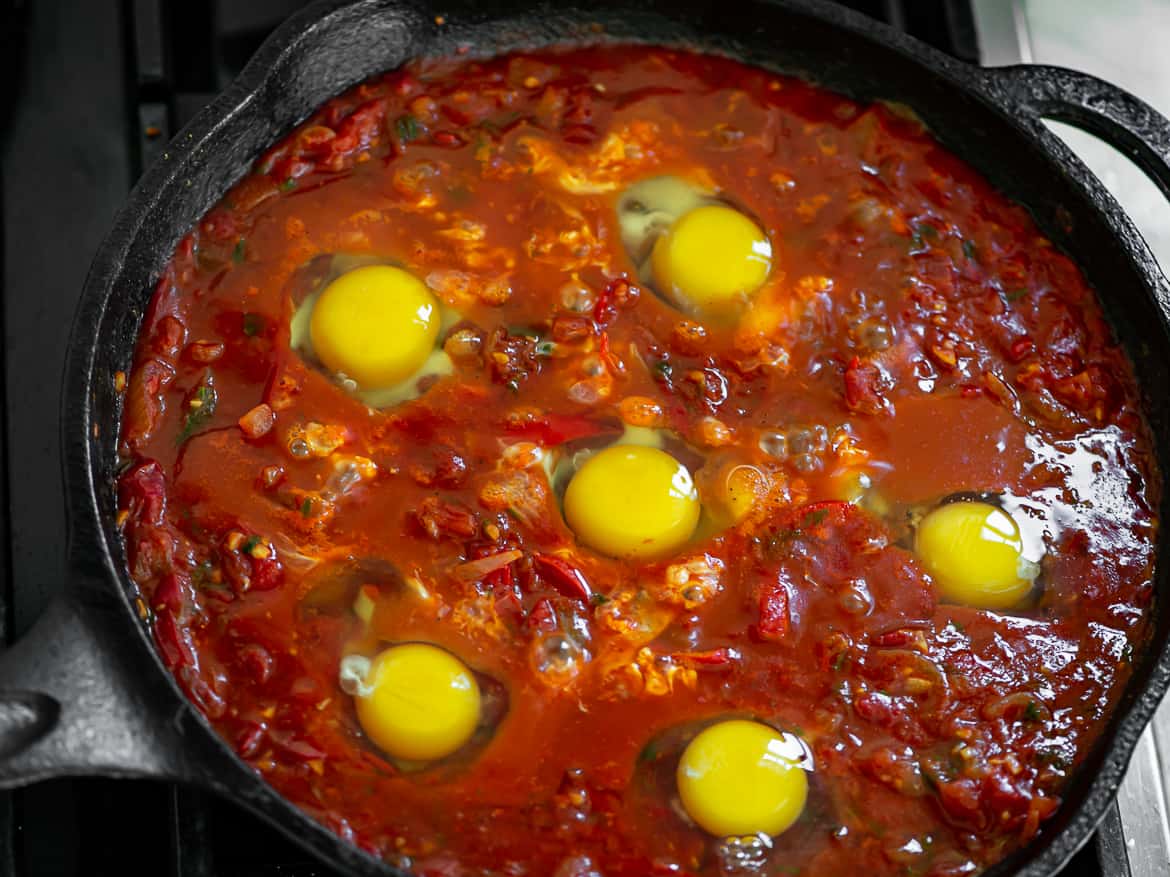 Sprinkle with chopped parsley and cilantro. This is optional but the herbs add fantastic flavour and freshness to the shakshuka.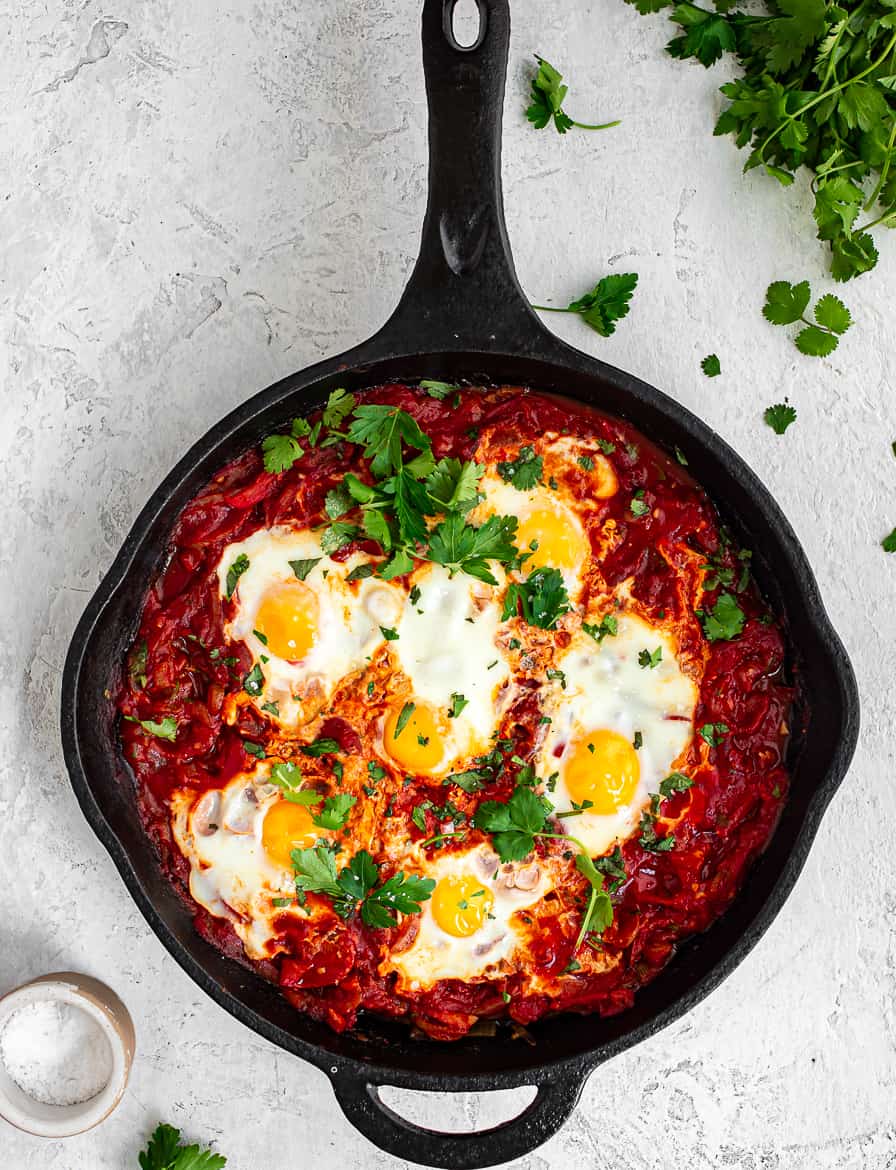 Can I use canned tomatoes
The simple answer is yes. I often do if I have no fresh tomatoes on hand. However, in my opinion, canned tomatoes overpower the flavour of the onions and peppers which are so important in this dish. If using canned tomatoes, use whole tomatoes if possible and break them up well while they cook.
How to serve shakshuka
You can serve shakshuka for breakfast, brunch or enjoy it as a light breakfast-for-dinner. Shakshuka is meant to be eaten family-style straight out of the skillet. That doesn't really fly in my family and especially during covid times. Once the skillet is out of the oven, I use a large spatula, or spoon, to serve one or two eggs with lots of sauce in a bowl.
As I mentioned previously, you will really be missing out if you serve your shakshuka without some bread to mop up the lovely sauce. Since everyone is baking bread now, this shouldn't be a problem. Alternatively, make shakshuka when you find a really nice store-bought challah or favourite bread.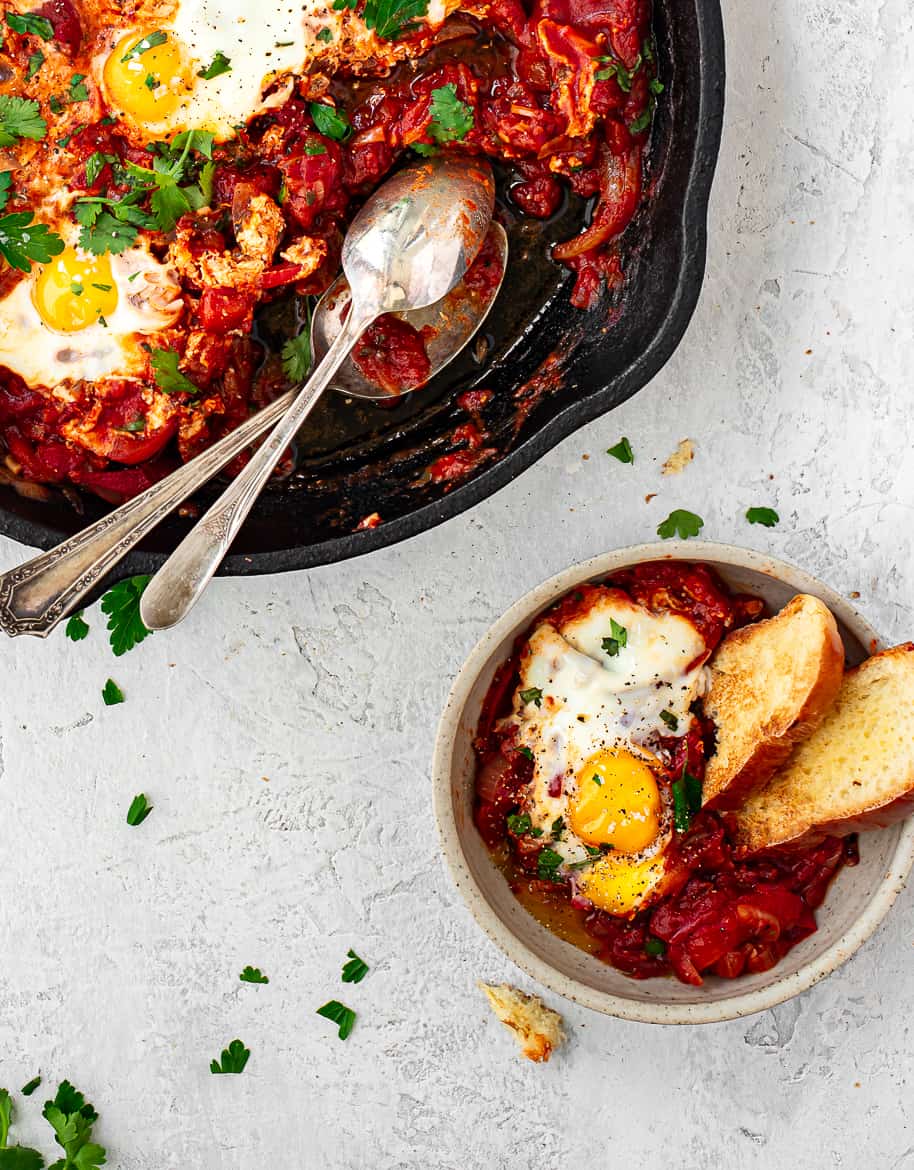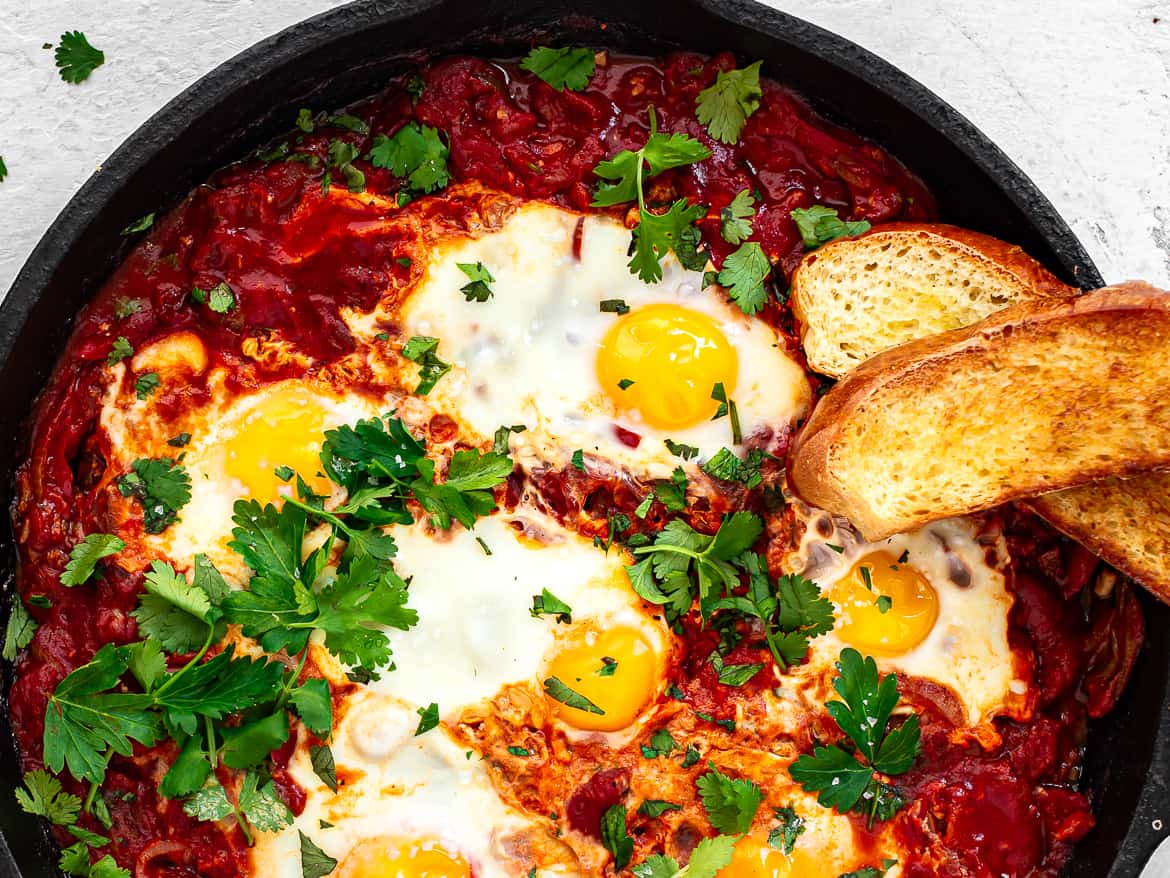 If you haven't yet tried shakshuka, you really shouldn't wait any longer. It is a wonderfully easy vegetarian dish to serve your family or friends. Also perfect for solo cooking to eat blissfully while watching your favourite show. As always, I would love to hear if you give it a try so please leave a comment below. Enjoy!
Print Recipe
Pin Recipe
Shakshuka Recipe
Shakshuka translates to "mixed" and in this classic North African-Style Shakshuka, tomatoes, onions, and a lot of garlic, form the base for the lovely poached eggs that sit on top. A most delicious dish for breakfast, brunch or dinner that you will absolutely love.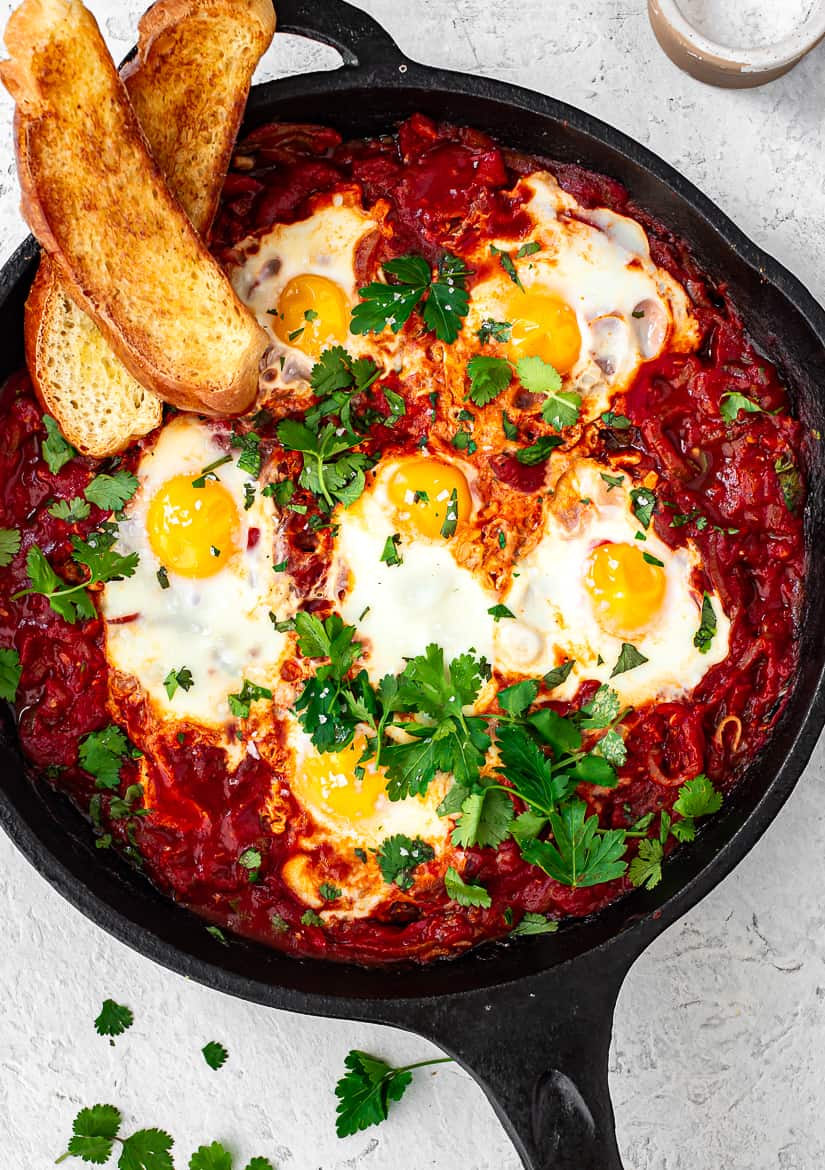 Ingredients
3

tablespoons

extra-virgin olive oil

1

large yellow onion

thinly sliced

1

large red bell pepper

thinly sliced

1

teaspoon

kosher or sea salt

4

cloves

garlic

thinly sliced or minced

1

teaspoon

ground cumin

1

teaspoon

sweet paprika

¼

teaspoon

cayenne or red pepper flakes

optional, or add more to taste

6

medium tomatoes, chopped

or 1 28-oz can whole tomatoes, crushed by hand

1/3

cup

passata

or 1/4 cup tomato paste

2

tablespoons

chopped fresh cilantro or flat-leaf parsley

plus more for garnish

Freshly ground black pepper

to taste
Optional accompaniments
½

cup

crumbled feta

Challah or pita

for serving
Instructions
Heat the olive oil in a large, oven-safe skillet (preferably a well-seasoned cast iron pan) over medium heat. Once shimmering, add the onion, bell pepper, and salt. Cook, stirring occasionally, until the onions are soft and starting to get colour, about 5 minutes.

Add the garlic, cumin, paprika and red pepper flakes. Cook, stirring often, until the garlic is fragrant, 1 to 2 minutes.

Stir in the tomatoes and passata. Bring the mixture to a steady simmer, cover and cook for 10-15 minutes or until the tomatoes have become pulpy and the sauce has slightly thickened.

Reduce the heat to low. Taste and add a pinch more salt and pepper as necessary. Use a spoon or spatula to make a shallow well for each of the eggs, and crack the egg directly into it. Cover and cook on low until the eggs are set to your desired doneness. If your skillet does not have a lid, see notes for oven option.

Uncover and garnish with fresh cilantro and parsley, if using. Serve in bowls with bread on the side and crumbled feta, if desired.
Notes
*If your skillet does not have a large lid, use the oven:
When starting to cook the shakshuka, preheat the oven to 375 degree F. Once you add the eggs to the mixture, carefully transfer the skillet to the oven and bake for 8 to 12 minutes, or just until the eggs are set. The egg whites should look opaque white and the yolks slightly jiggly and soft. 
Recipe adapted from Serious Eats