These Salmon Cakes with Lemon Yogurt Sauce come together in a flash! Moist and tender on the inside and lightly crispy on the outside, they make the perfect main or side dish on busy weeknights. Add a simple salad and you have a complete meal.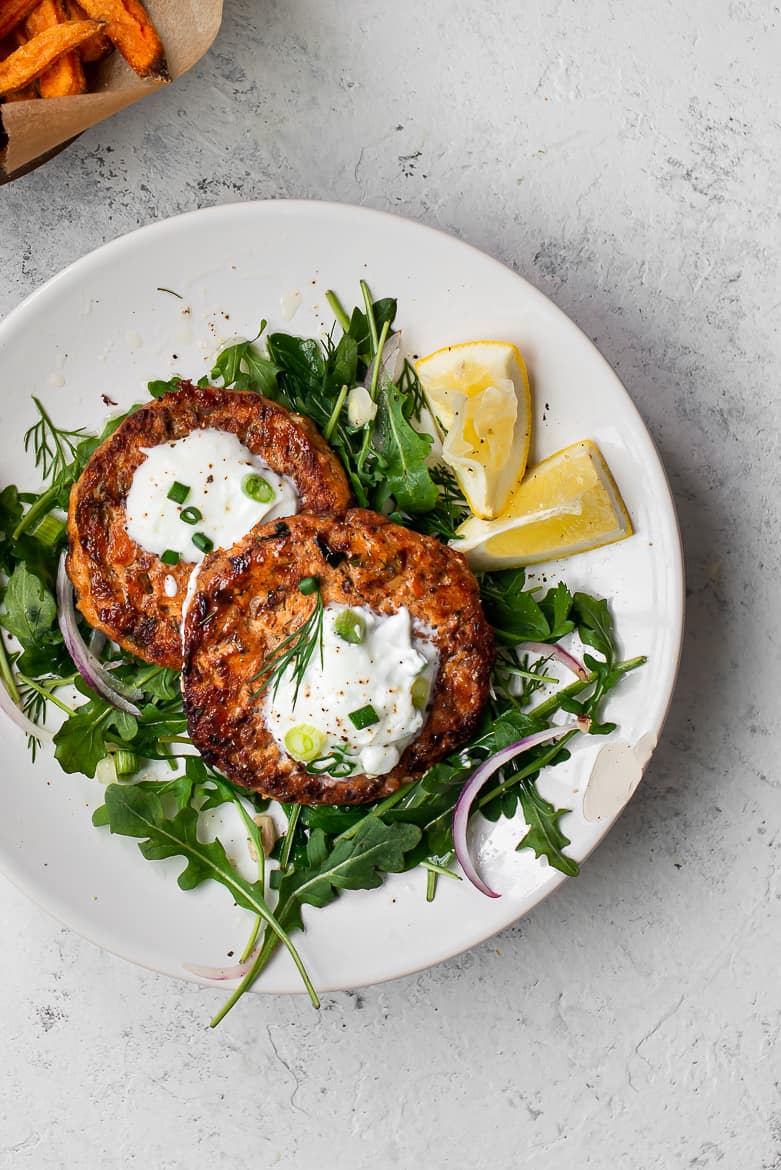 You would think that because I cook and photograph food all day my weeknight dinner game would always be on point, and planned well in advanced. Sadly, not the case. Tired or not, I love to cook but I'm not a planner. Even on days when I'm not working from home, I forget to plan what to make for dinner and, like many of you, find myself driving home, starved, tired, and wondering what the heck I can come up with fast.
On days like this, when I can barely be bothered to cook, I turn to a pantry staple of mine. Canned fish. Chances are, you have some stashed away too. If you haven't thought of using canned fish to make dinner, or a really great lunch, I urge you to try it soon. So easy and so good.
You may be surprised to know that canned salmon is just as nutrient-rich as fresh salmon. An excellent source of heart healthy omega-3 fatty acids, good-quality canned salmon is also low in toxins.
EASY WEEKNIGHT SALMON CAKES
Salmon cakes can be made with fresh or canned salmon. As much as I would like to always have fresh salmon on hand, that is just simply not realistic. When using canned salmon, half the prep has been done for you — the fish is cooked to perfection, and perfectly preserved. The convenience is really hard to beat and it makes these salmon cakes perfect for a busy weeknight. Moreover, I have a really hard time taking a beautiful fresh salmon fillet and chopping it up to make salmon cakes.
HOW TO CHOOSE THE BEST CANNED SALMON
To make these salmon cakes, I like using good-quality, sustainable, and ethically sourced canned salmon. Here's what I look for when purchasing any canned salmon:
Wild-caught, sustainably-harvested fish. Pink and sockeye canned salmon is usually wild-caught but not always. It will be a little pricier than farmed salmon but it's worth the price difference. If you're interested, you can read here why I avoid farmed salmon. This is the brand I buy and is available at most large supermarkets.
BPA-free cans: Most good quality canned fish is packed in BPA free cans but check the label to be sure.
Boneless, skinless: I personally do not mind buying canned salmon that still has the bones and skin. When mixed, the skin and bones will be virtually undetectable and they provide extra calcium. If seeing the skin and bones bothers you, seek the cans that are labeled boneless and skinless. You will, however, pay a bit of a premium for this. Alternatively, pick out the skin, and the more visible bones, with a fork.
Few ingredients: Regardless of which canned salmon you choose to buy, make sure you read the ingredients. Salmon and sea salt should be the only two ingredients listed on the can.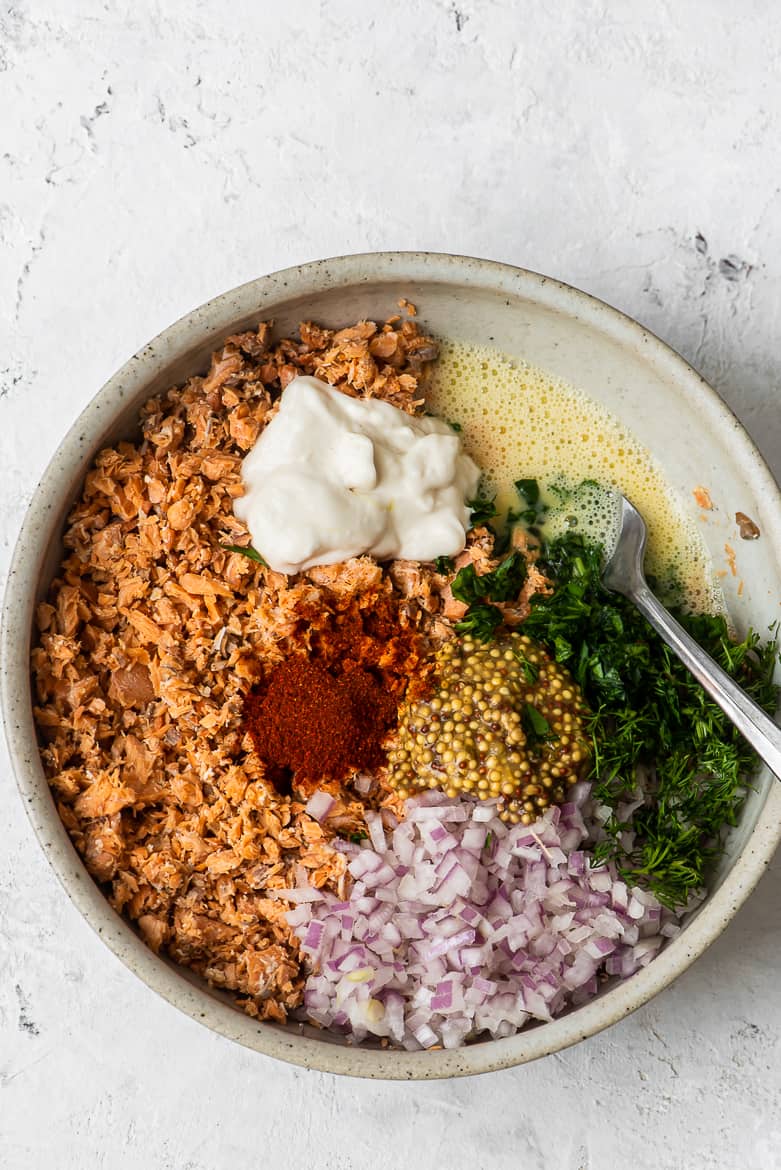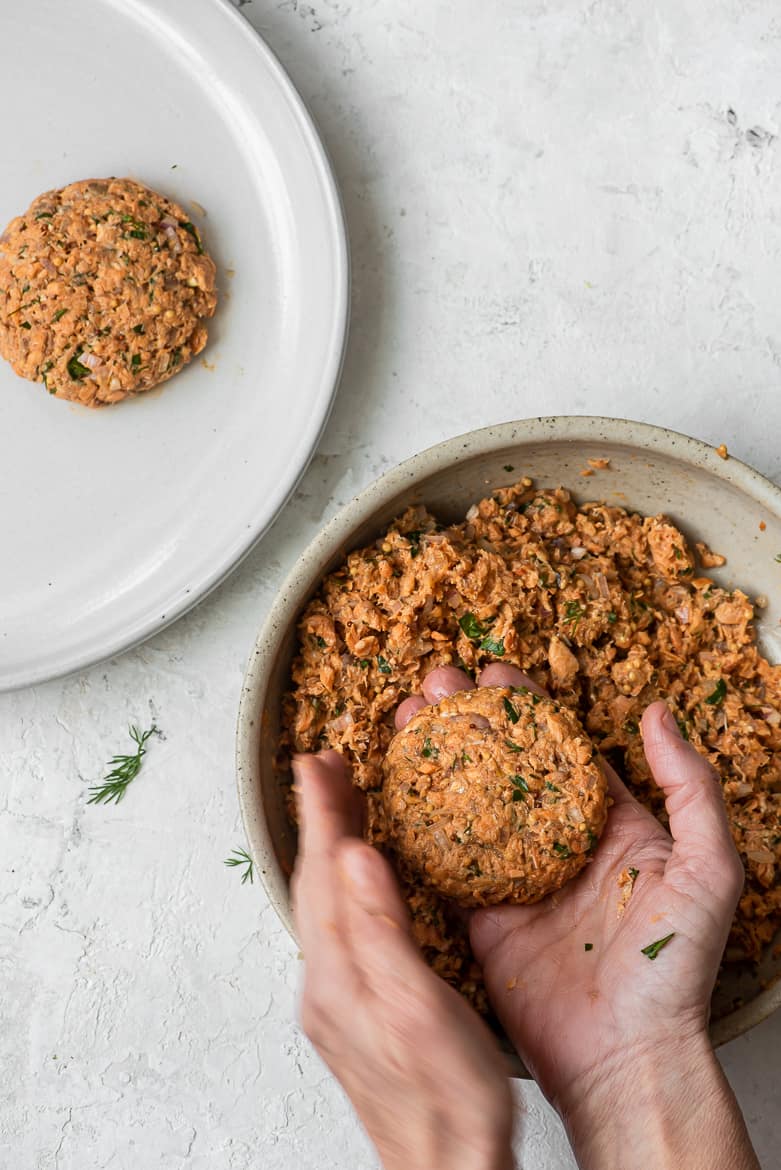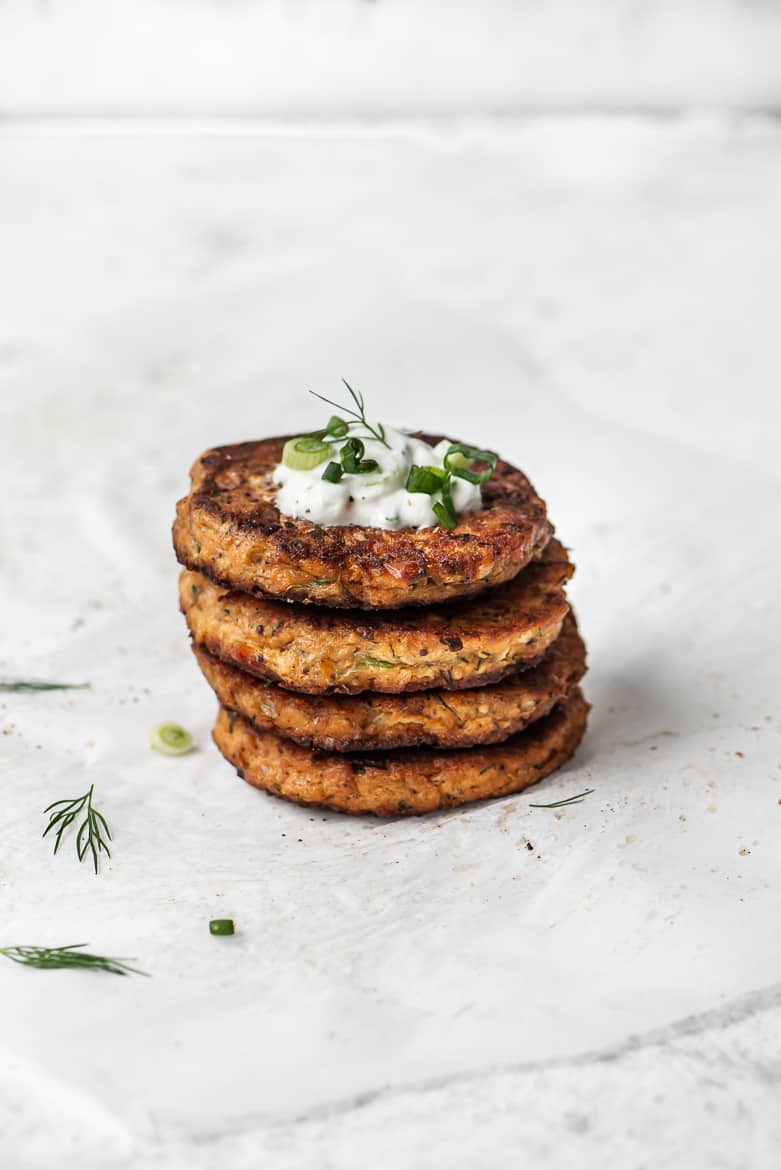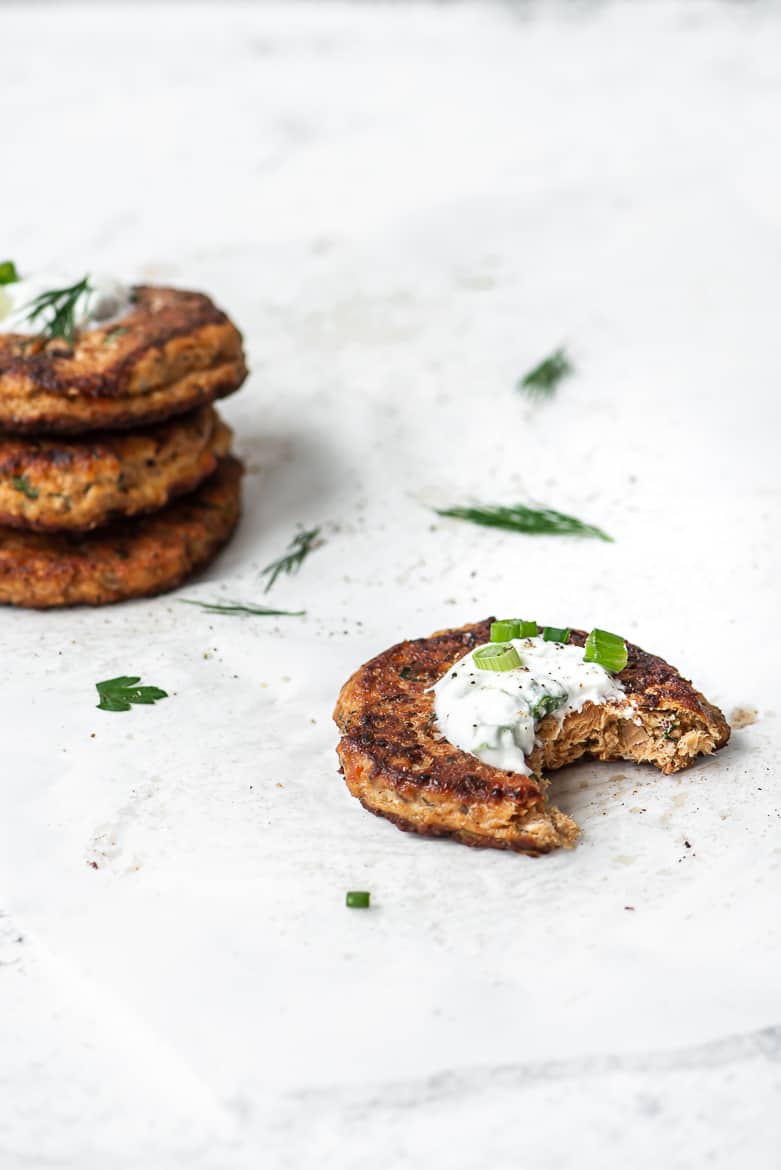 INGREDIENTS FOR SALMON CAKES
These salmon cakes are tender, super flavourful and do not rely on breadcrumbs for binding. This recipe calls for two eggs which is what helps bind the mixture. If you are only making half of this recipe, use only one egg or the mixture will be too wet.
Here's a bit on the ingredients I use to bind and flavour the salmon cakes:
Canned salmon: Most canned salmon is available in sockeye and pink. I prefer sockeye which has more flavour but pink is a lot more affordable. Both work for these salmon cakes but if using pink salmon consider adding a little extra spices to boost the flavours.
Eggs: Add moisture and are the binding component for these salmon cakes.
Red Onions: I love red onions with salmon but you can use any onion you have on hand. It is important to chop the onions very tiny as chunkier pieces could make the salmon cakes fall apart.
Green onions: I love adding green onions to these salmon cakes for their sharp, somewhat-spicy, peppery flavour. If you don't have any on hand, feel free to leave them out or use chives if you prefer.
Dijon mustard: I used grainy dijon mustard for a little extra punchy flavour but regular dijon mustard is also great.
Dill: Because fish and dill make lovely partners. Swap out the dill for parsley if you don't like dill.
Parsley: For a little more herby greens, but feel free to leave it out if you prefer.
Vegenaise or Mayonnaise: I add a few tablespoons to ensure the patties are not dry. Don't add too much or the patties might become too soft.
Paprika: I use regular sweet paprika but smoked paprika would also be fantastic.
Lemon zest: For bright citrus flavour — lemon juice could make the cakes too soft.
Cayenne pepper: For a subtle kick, but optional.
As always, use this recipe as a base but feel free to use other ingredients you may prefer. Other ingredients you could add are garlic, chopped cilantro, capers, sriracha, smoked paprika, etc.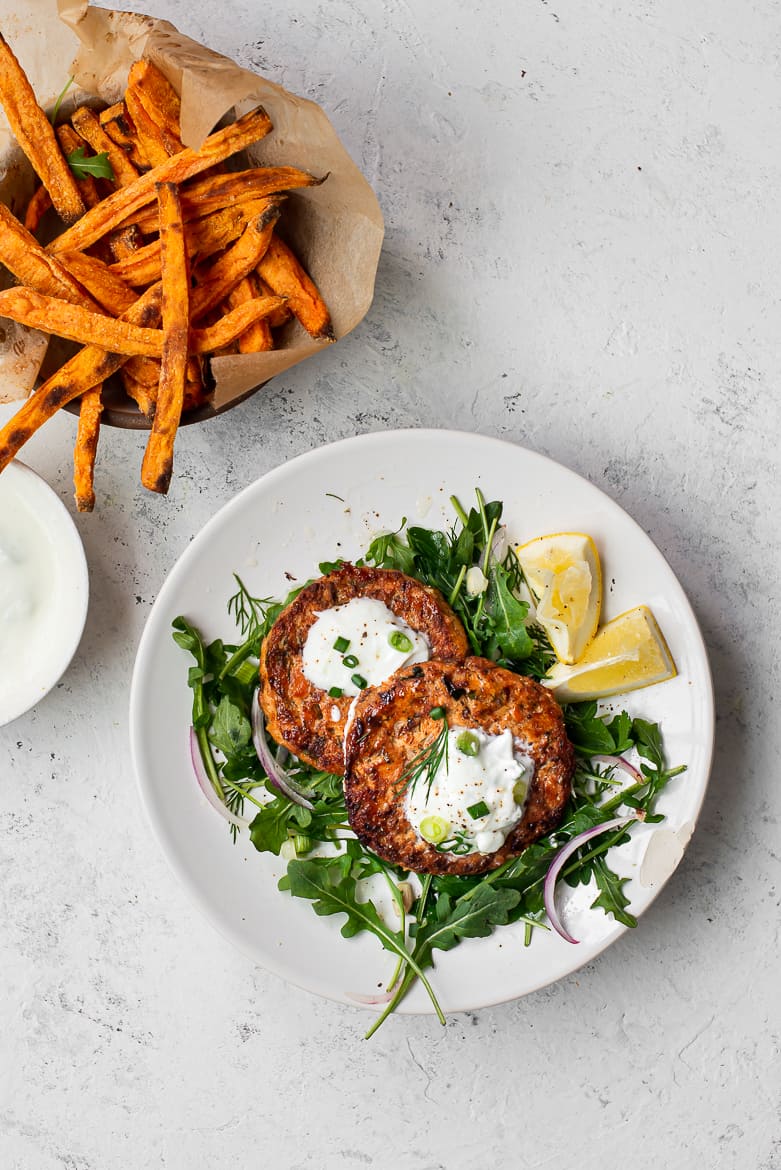 MAKE AHEAD SALMON CAKES
These salmon patties take very little time prepare and are also great to make-ahead. Prepare the patties the night before, or in the morning, then cover and refrigerate them on a tray until ready to cook.
HOW TO COOK SALMON CAKES
A quick pan-fry creates a nice crust on the salmon cakes. Cook them in batches to allow plenty of room to flip the cakes. The salmon is already cooked so it takes only a total of about 6 minutes to cook and heat them through.
If you prefer to bake them, I have given instructions in the recipe notes section. They will take a little longer to cook, and they might not get as crispy on the outside, but it is less messy and the cakes will be just as good.
HOW TO SERVE SALMON CAKES
The lemony yogurt sauce is fantastic with these salmon cakes and I can't imagine eating the cakes without it. A tartar sauce would also be heavenly. Keep it simple and serve the salmon cakes with a hearty salad or even in a bun, burger style.
I also love (love!) sweet potato fries with my salmon cakes which I make when I have a little more time.
The salmon cakes are also delicious with riced cauliflower, or cauliflower purée, especially if avoiding gluten and grains. Truly, the sky is the limit. There really isn't much these delicious salmon cakes won't go with.
HOW TO STORE AND REHEAT SALMON CAKES
Leftover salmon cakes make the most terrific lunches. Once cooked, salmon cakes can be stored in an airtight container and refrigerated for up to 3 days. I don't mind them slightly cold, or reheat in a lightly oiled skillet over low heat.
You can also shape the salmon cakes and freeze them uncooked for up to 2 months. Thaw in the fridge overnight then cook as directed in the recipe.
With very little effort, these easy salmon cakes will make a very satisfying, delicious, and respectable dinner indeed. I would love to know if you give them a whirl!
OTHER SALMON RECIPES YOU MAY ENJOY 
Slow Cooked Salmon with Lemons, Capers, and Dill
Baked Salmon with Red Chimichurri sauce
Print Recipe
Pin Recipe
Salmon Cakes with Lemon Yogurt Sauce
This recipe calls for a red onion in both the salmon cakes and the black lentils but you can use any onion you have on hand for both recipes.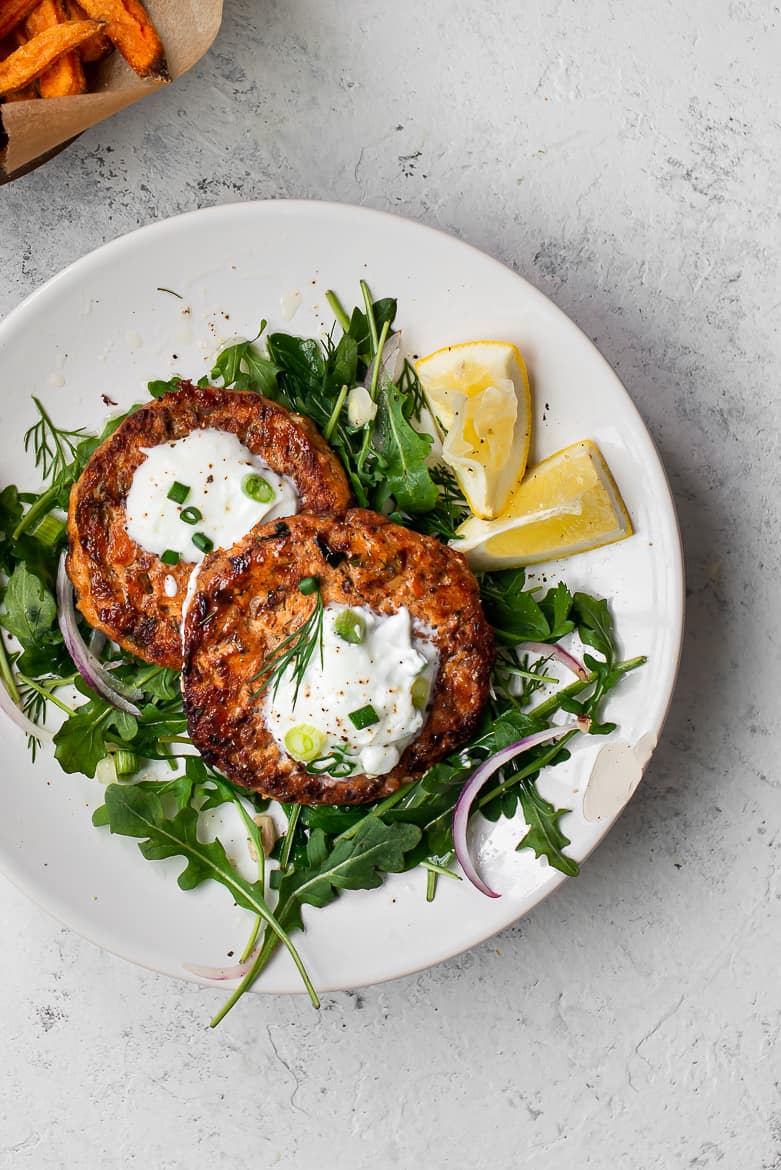 Ingredients
2

large eggs

beaten

3

cans

160 grams each or 6 ounces each wild-caught salmon, drained well

2

teaspoons

grainy Dijon mustard

or regular Dijon

1/4

cup

red onion

minced

1/4

cup

green onion

minced, divided

zest of 1 lemon

1

teaspoon

paprika

1/4

teaspoon

cayenne pepper

optional

1/3

cup

fresh dill

roughly chopped

1/4

cup

fresh parsley

roughly chopped

1

teaspoon

sea salt

freshly ground black pepper to taste

2

Tablespoons

avocado oil

coconut oil, or olive oil

1

lemon

sliced for garnish
Optional for serving:
1

cup

full-fat plain yogurt

2

Tablespoons

lemon juice

2

Tablespoons

green onions

Pinch

of kosher salt
Instructions
Make the Yogurt sauce: In a small bowl, mix the yogurt, lemon juice, green onions, and salt. Set aside.

To a large mixing bowl, add the drained salmon and break it up with a fork. Add the mustard, red onion, green onions (reserve 2 tablespoons for the yogurt sauce or for garnish), lemon zest, paprika, cayenne, dill, parsley, and salt and pepper. Gently mix until salmon is completely broken up and combined with all the ingredients.

Using your hands, form into 6-8 patties that are about a 1/2 inch thick. Arrange on a plate and if possible chill in the fridge for about 20-30 minutes.

In a large skillet, heat 2 tablespoons oil over medium. Swirl to coat the entire skillet. Cook patties in batches until golden and crispy, 3 minutes per side (a fish spatula works best for gently flipping the patties).

Serve the salmon cakes with a dollop of lemon yogurt, and lemon slices, if desired.
Notes
To Bake The Salmon Cakes:
Preheat oven to 400 degrees and line a baking sheet with parchment paper.
Spread 1 tablespoon of cooking oil with your hands all over the parchment paper. Place the salmon cakes on prepared baking sheet.
Bake about 12-15 minutes on each side, or until golden brown.