These super juicy chicken and zucchini burgers are a welcome change to the regular ol' beef patty. Easy and quick to make, serve these burgers with a feta and yogurt sauce for the most delicious flavours.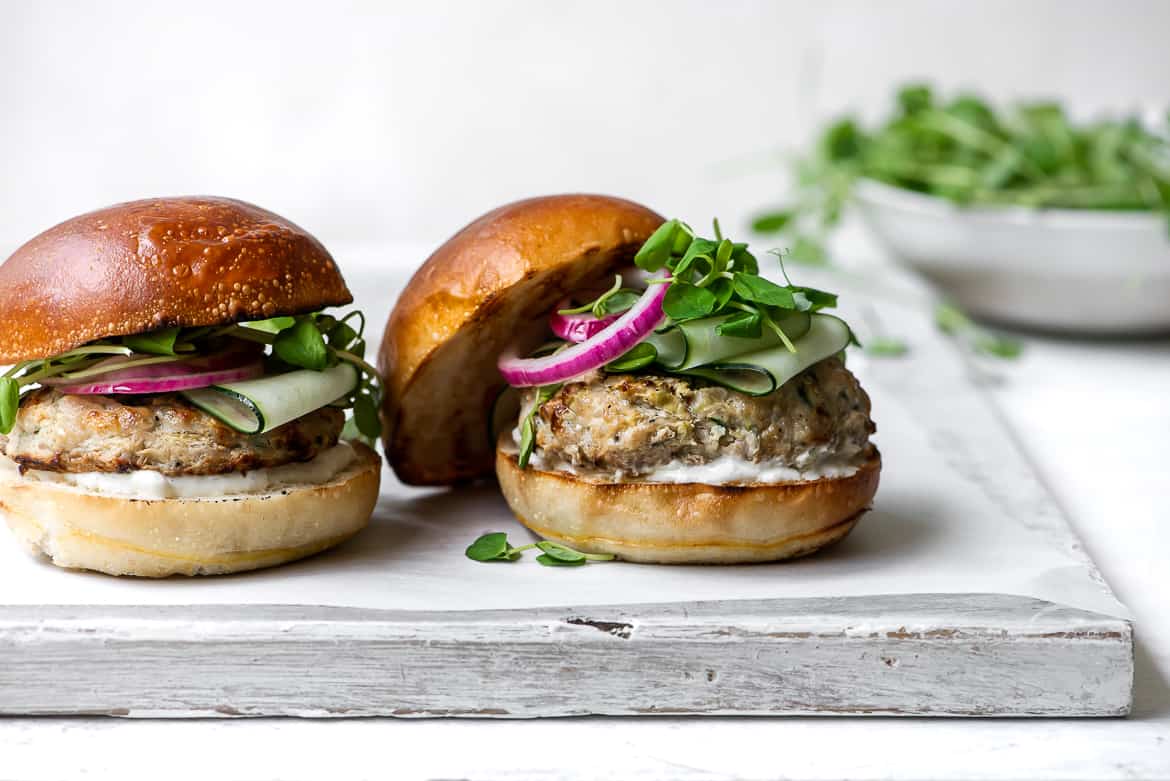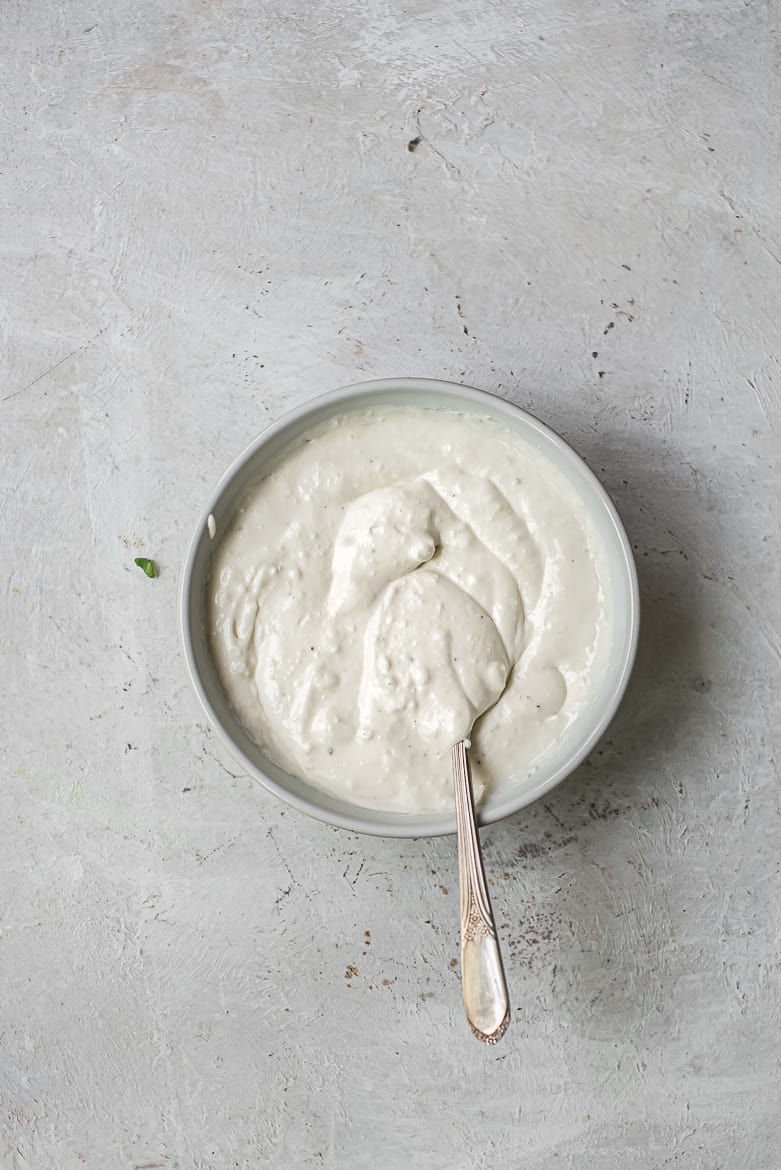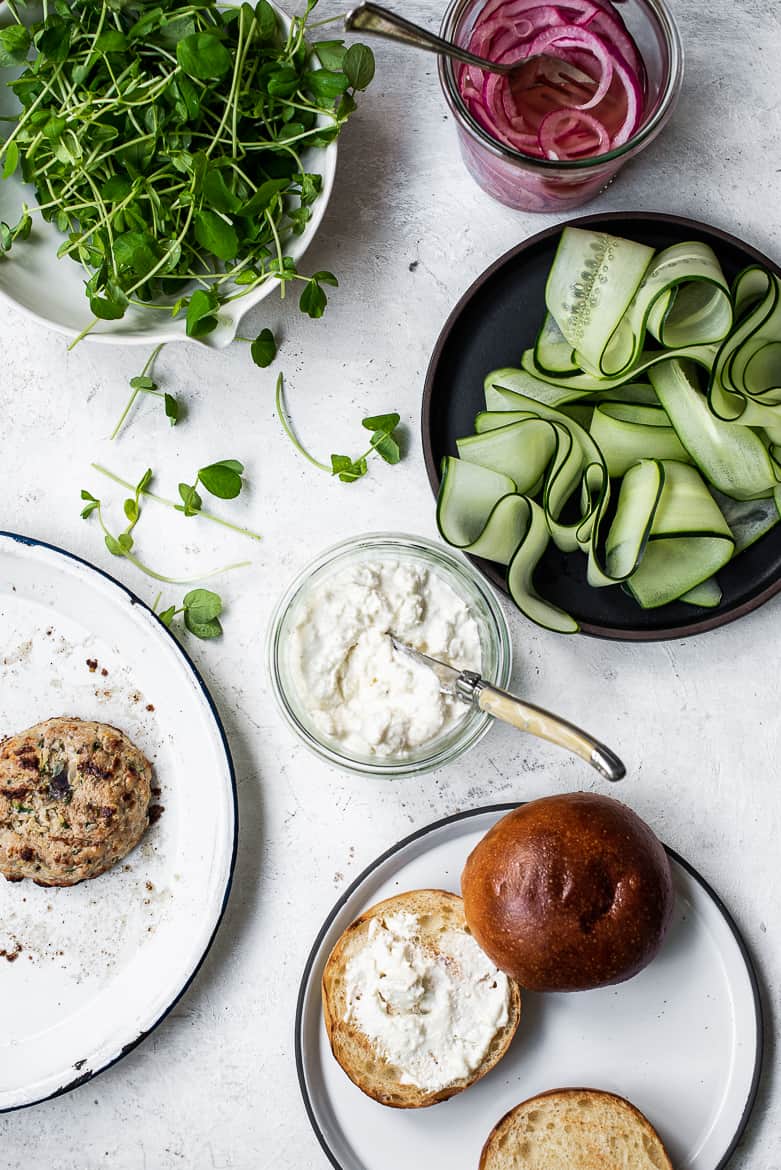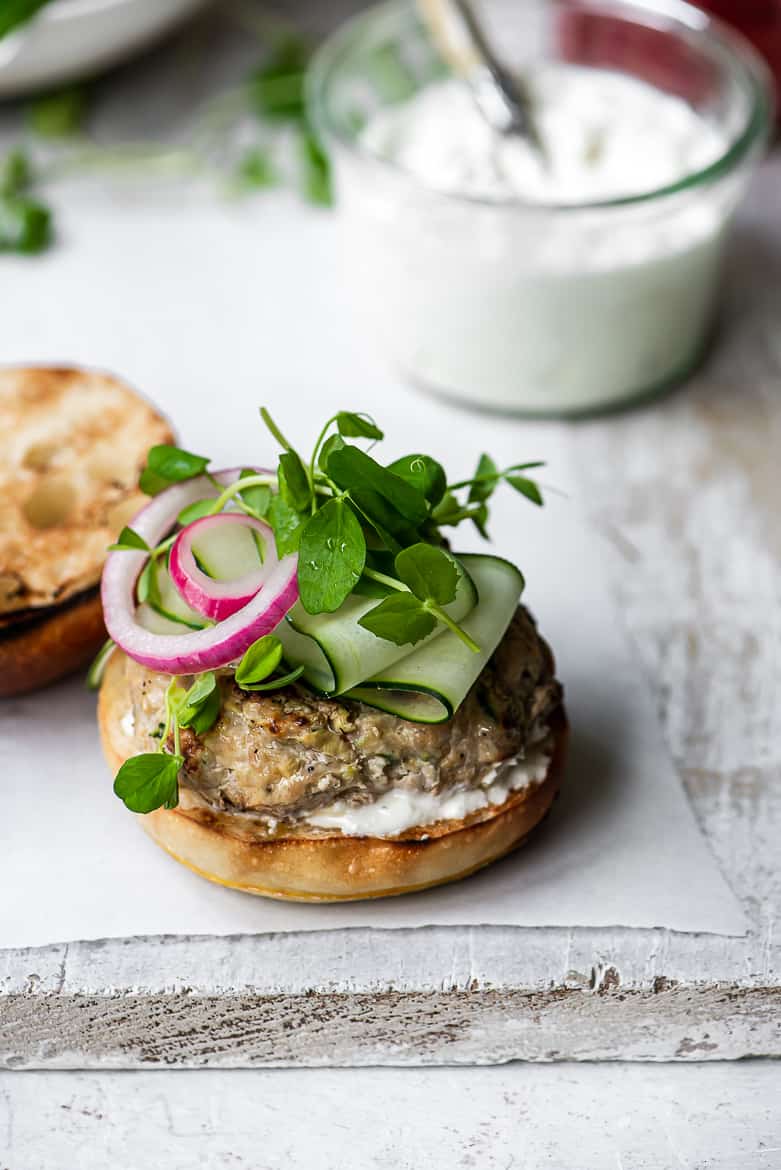 Hi all! How amazing have these less humid days been? I would rejoice except the sun is also setting a little earlier, the evenings are getting chillier and September is not too far away. It's kind of insane, really — in the blink of an eye the leaves will be falling and we will be stuffing turkey for Thanksgiving (at least here in Canada). Yikes.
I am not completely dispirited that summer is almost over, there is always something to look forward to — slow-cooked stews and hearty soups come to mind. But before we haul out our dutch ovens, let the summer vibes continue for just a bit longer with some great recipes like this one for juicy chicken and zucchini burgers. Now I know what you're thinking. It is hard to come by a chicken or turkey burger that doesn't taste like cardboard. Most chicken burgers are, in fact, destined to be a failure — lean and low-fat tends to mean dry and low flavour.
These chicken and zucchini burgers, however, are anything but dry. Red onions, garlic, olive oil and grated zucchini all help deliver a lot of flavour and add plenty of moisture and freshness. I serve these burgers with shaved cucumbers for a cooling, crunchy texture and a crazy delicious whipped feta and yogurt sauce – yum!!!
GRILL OR PAN-FRY CHCIKEN BURGERS
Because ground chicken has a lot less fat than beef, pan-frying does help keep the burger juicy. However, I can't stand the mess that pan-frying burgers creates. Nor do I like to be stuck inside while everyone is outside enjoying themselves. The zucchini helps keep the burgers moist and juicy, so as long as you don't overcook the burgers on the grill, they will be perfect.
If you don't have access to a grill, or simply prefer to cook your burgers in a skillet, I do provide the instructions for that as well.
TIPS TO MAKE JUICY CHICKEN AND ZUCCHINI BURGERS
Don't use ground chicken that has been frozen. The meat will have too much moisture and make the burgers way too soft to shape.
Squeeze out the moisture from the shredded zucchini. The excess water in the zucchini will make it difficult for the chicken patty to stay together otherwise.
Ensure the meat is cold before shaping the patties. Furthermore, if grilling, make sure the shaped patties are cold from the fridge so they keep their shape.
Oil the grill grates. There is nothing worse than your patty sticking to the grates so make sure you clean and oil them thoroughly.
Generously season the chicken burgers. Chicken meat is very bland and can take an aggressive seasoning of salt and pepper and other spices.
A few more things. All burgers benefit form a good saucy accompaniment. Lean chicken or turkey burgers in particular will be so much better with a good sauce. I highly recommend you try the whipped feta and yogurt sauce recipe I provide here. It adds a cool and tangy, cheesy flavour that makes the chicken burger come alive — seriously good. This pimentón aioli, also delicious.
In addition, the bun you use will make a difference. Nothing makes a burger taste drier than a massive bun that is simply too big for the patty. Try and find small artisanal buns for these chicken burgers or cut them down to size. Alternatively, serve them in a lettuce wrap – healthier and oh so good.
Lastly, I find pickled onions to be an essential topping to any and all burgers — they add the perfect zing and take no time to make. Make a double batch — it's a treat to have a few pint jars and they keep indefinitely in the fridge.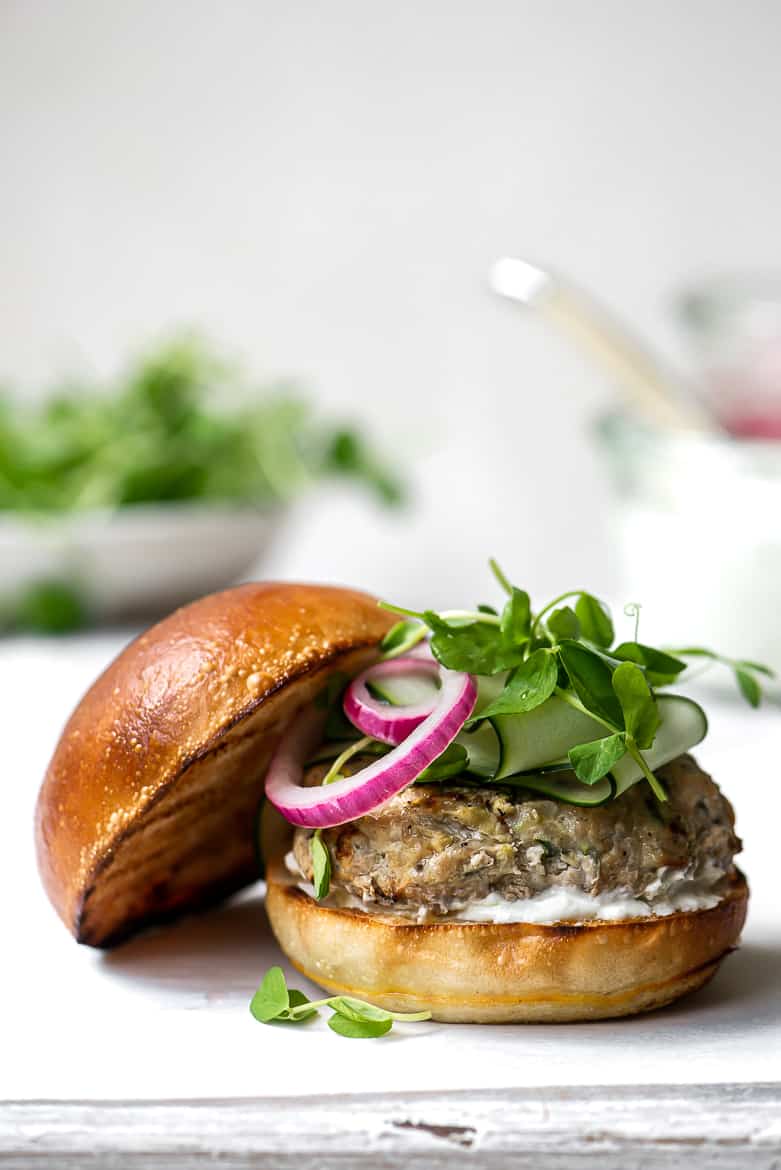 If you are a beef burger aficionado, try expanding your burger repertoire. These juicy chicken and zucchini burgers are a welcome change to the regular ol' beef patty and perhaps a little more virtuous (health-wise) as well. And don't doubt for one second that these chicken burgers are any less tasty than beef burgers — they are so tender and flavourful I would choose them over beef every single time.
Simple and unfussy to make, they are also fantastic for entertaining: Just place the grilled burgers and buns on a platter, lay out all the toppings at the table and let everyone have at it while you sit back with a cold beer or glass of rosé. A most wonderful way to enjoy the last bit of summer.
OTHER RECIPES YOU MIGHT ENJOY
Print Recipe
Pin Recipe
Juicy Chicken And Zucchini Burgers
These super juicy chicken and zucchini burgers are a welcome change to the regular ol' beef patty. Easy and quick to make serve these burgers with a feta and yogurt sauce for the most delicious flavours.
Ingredients
1

large zucchini

grated (scant 2 cups)

1/2

red onion

grated or finely diced

2

cloves

garlic

peeled, grated or finely minced

1

large egg

2

Tablespoons

extra-virgin olive oil

2

teaspoons

kosher salt

1

teaspoon

freshly ground black pepper

or more to taste

2

pounds

ground chicken

8

hamburger buns

currently loving these
Optional Garnishes: shaved cucumbers

micro greens, kimchi, pickled onions*

For the Feta & Yogurt Sauce:

1/2

cup

full-fat Greek yogurt

1

cup

good-quality feta

I like this one

1

small clove garlic

grated or minced

2

tablespoons

extra virgin olive oil

1/2

teaspoon

kosher salt

a few grinds of freshly ground black pepper
Instructions
Place grated zucchini in a few paper towels, or a clean tea towel, and wring out as much water as possible.

Place zucchini in a medium bowl with red onion, garlic, egg, olive oil, salt and pepper, and mix well. Add the ground chicken and mix until just fully combined.

Form into 6-8 patties. Refrigerate for 30 minutes, (or up to overnight) to help patties firm up.

Meanwhile, make the feta yogurt sauce: Combine the yogurt, feta, garlic, olive oil, salt and pepper in a small bowl. Place in fridge until ready to serve.

To Grill: Preheat grill over medium heat and lightly oil grill grates to prevent burgers from sticking. Grill burgers for 4-5 minutes per side, until golden brown and cooked through. Let rest 10 minutes before serving.

To Pan-fry: Heat a large skillet over high heat. When hot, add 1 tablespoon neutral oil, such as avocado or grapeseed. Add burgers to the pan and reduce the heat to low. Cook on one side until browned, then flip. Flip over a few more times to prevent burning and to make sure the burgers are cooked all the way through, about 10-12 minutes total.

To assemble, spread feta mixture on toasted buns, add chicken burgers and garnish of choice. Serve and enjoy!
Notes
*Quick Pickled Onions:
1/2 cup apple cider vinegar
1 Tablespoon sugar
1/4 cup water, or more to cover onions
1 small red onion, finely sliced
1/2 teaspoon kosher salt
Freshly ground black pepper to taste