This yellow watermelon and feta salad is a revelation of delicious flavours. Perfect on its own as a filling snack, it also works beautifully alongside any grilled meat.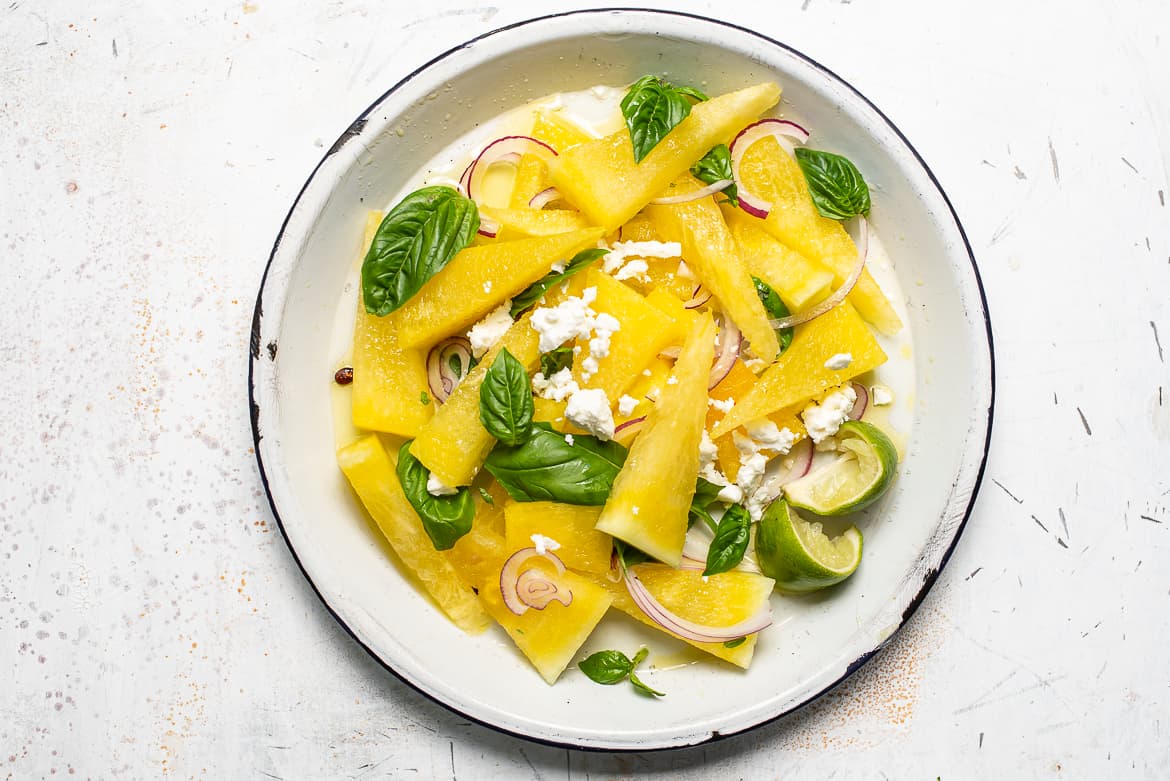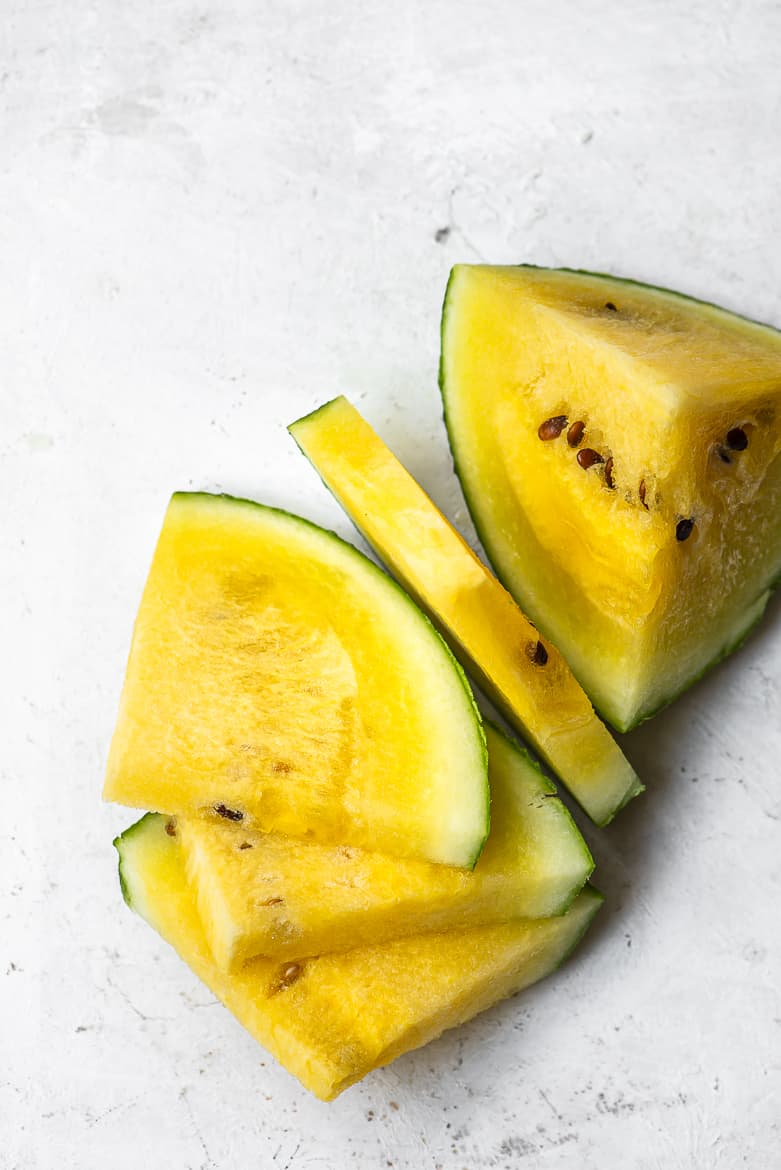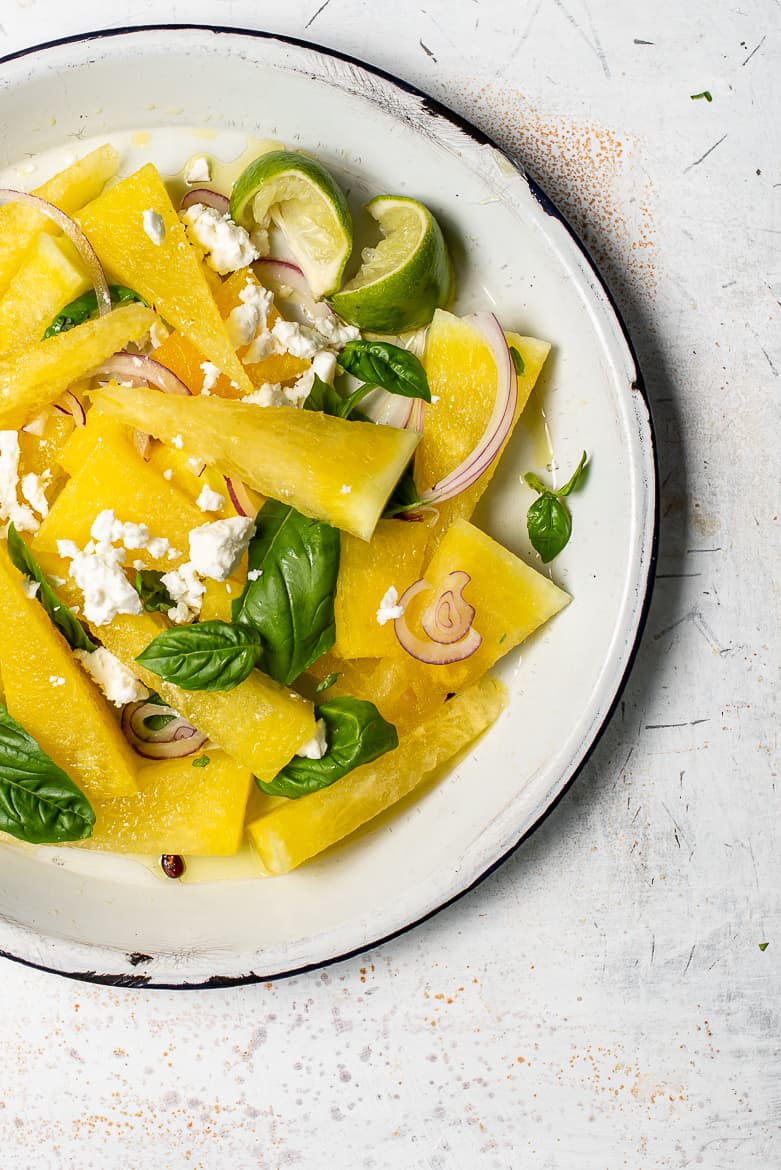 Though I adore watermelon, I sometimes refrain from buying it. There's a few reasons. Once I crack open a huge watermelon, I need to make sure there are plenty of bodies around to eat it — I like watermelon the day it is sliced, next day tops. Furthermore, I have never ever seen a soul in my household prepare the watermelon and eat it. If I don't slice it and dice it, it will go bad. The nerve.
Yellow watermelon, however, is quite smaller than red watermelon, making it a little more manageable. Though I am still the only one that seems to take the initiative to prepare it, it is devoured within hours. If you haven't had the pleasure of eating yellow watermelon, I urge you to seek it out. Not as easy to find as the common red watermelon, but trust, the search is worth it. In my area you can find it here and here during the summer season.
Yellow watermelon is delicious as is. Intensely sweet, with a beautiful sun-yellow hue, it just screams summer. However, much like it's red-ruby cousin, yellow watermelon is sublime when combined with briny feta and bright fresh lime juice. I have been making this yellow watermelon and feta salad for a few years now and decided that despite its simplicity, it was time I should share.
WHAT IS YELLOW WATERMELON
On the outside, yellow watermelons look identical as red watermelons with the same striped green rind. The colour difference on the inside is because unlike red watermelon, yellow watermelon varieties lack lycopene, the chemical that makes vegetables, such as tomatoes, red. A fun fact is that yellow-fleshed watermelons have been around longer than the more common red watermelons. After centuries of cross-breeding with higher amounts of lycopene added, many yellow watermelon varieties naturally became redder.
Surprisingly, and the reason I love them so much, yellow watermelons are also much sweeter than red watermelons with a honey-apricot flavour, and an almost sugar-cane sweet undertone. Oddly enough, I have never found a seedless yellow watermelon, though apparently they do exist. Don't let this deter you. Spitting out the seeds is half the fun – ha.
ARE YELLOW WATERMELONS HEALTHY
Not only is yellow watermelon delicious, but it has many health benefits as well. Both red and yellow varieties of watermelon are low in calories, rich in dietary fiber, and high in vitamins A and C. However, unlike red watermelon, yellow watermelon is also high in beta-carotene, the powerful antioxidant found in carrots.
TIPS TO BUY WATERMELON
There is nothing worse than dragging home a 5-pound watermelon only to discover it is under-ripe and flavourless when you crack it open. These few tips should help you find the perfect one.
Whether big or small, look for a watermelon that is heavy for its size which means meaty, juicy flesh.
Knock on the surface. It should sound hollow and be pretty firm. Under-ripe or over-ripe melons will feel soft and sound dull.
Look for the yellow spot. A dark yellow spot means the watermelon was left to ripen on the vine. If it has a white-ish spot, or no yellow spot at all, put it back.
Pick a dull-coloured melon. A vendor at the farmers market gave me this tip and it has never failed me. Look for stripes that are lighter in colour and have less contrast between each other.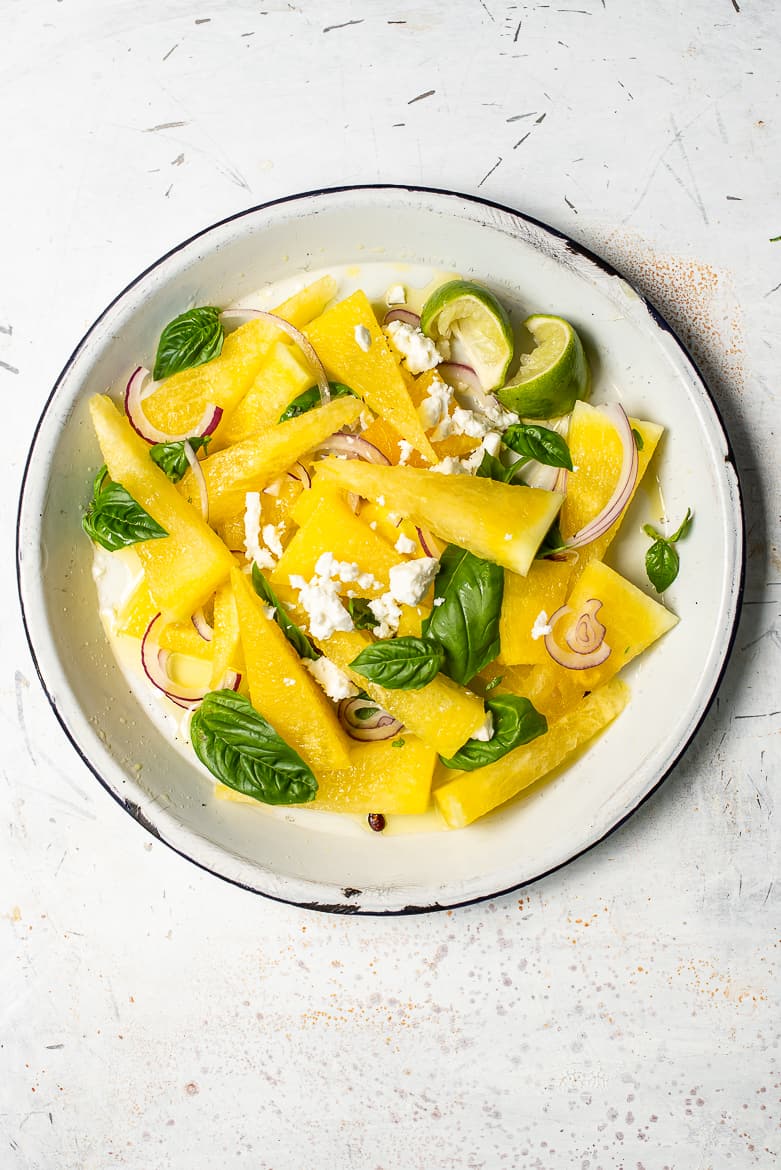 Assemble the salad only when ready to serve. The saltiness of the feta cheese will draw out the watermelon juices if left sitting for too long. Speaking of feta, your salad will be so much better if you use the best feta you can find. A feta that has a goat and sheep's milk combination is a good start. I love the Dodoni brand (in my area you can find it here and here) but Krinos is a good second choice and is more readily available.
Sadly, we are approaching the end of summer and you won't have a lot more time to find yellow watermelon. But keep this recipe close, come next year you will be so happy to have it all summer long.
Let me finishing by singing praises for this yellow watermelon salad one more time. It is clean, bright, vibrant, beautiful and so so sweet and juicy. The sweetness of the yellow watermelon emphasizes the savouriness of the feta. Adding pungent red onions, fresh lime juice, a handful of basil leaves, and good olive oil will undoubtedly make you want to eat this every day. We do. At least while yellow watermelons are around.
PS Serve this salad as a snack or with anything that is coming off the grill such as this Spatchcocked Chicken with Cilantro and Lime.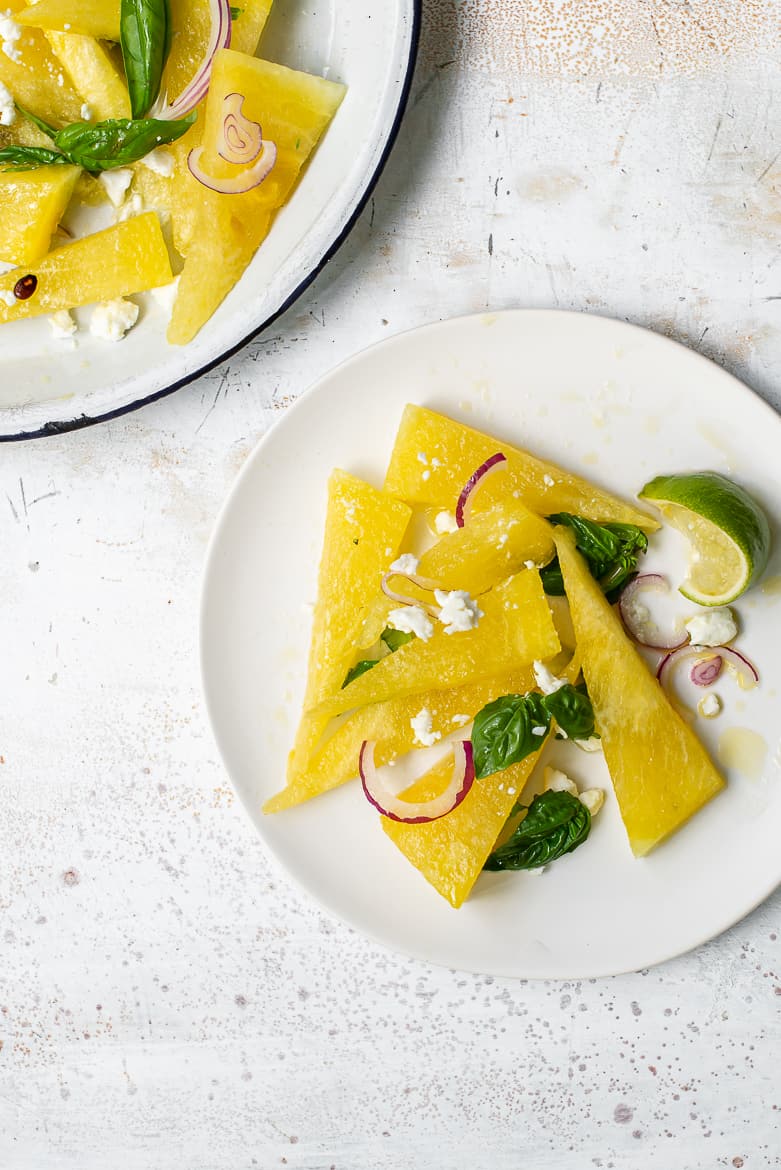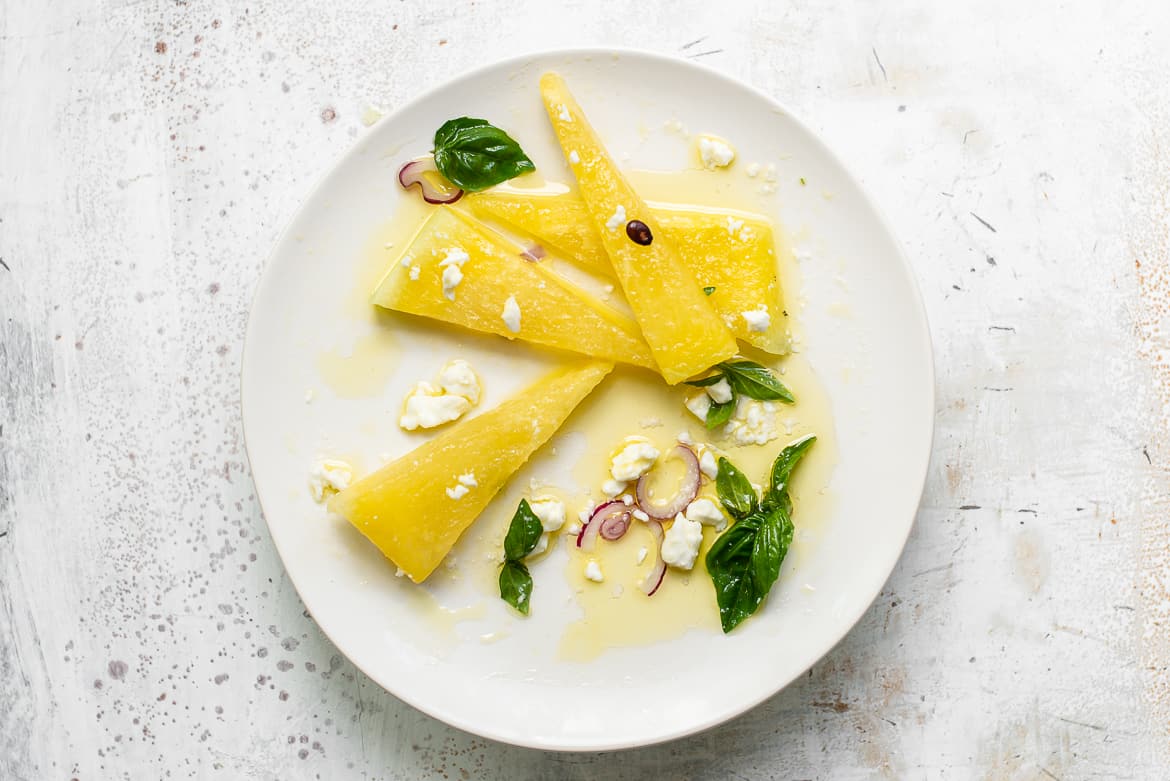 Ingredients
1

small yellow watermelon

or 1/2 of a large one, sliced into bite sized pieces

2

tablespoons

extra virgin olive oil

1

tablespoon

fresh lime juice

or more to taste

Red onion

thinly sliced, to taste

4

ounces

Feta

½ cup crumbled

10

fresh basil leaves

torn
Instructions
Place sliced watermelon on a large platter or in a shallow bowl.

Drizzle watermelon with olive oil and lime juice. Add sliced red onions, crumbled feta, and basil.

Serve immediately.