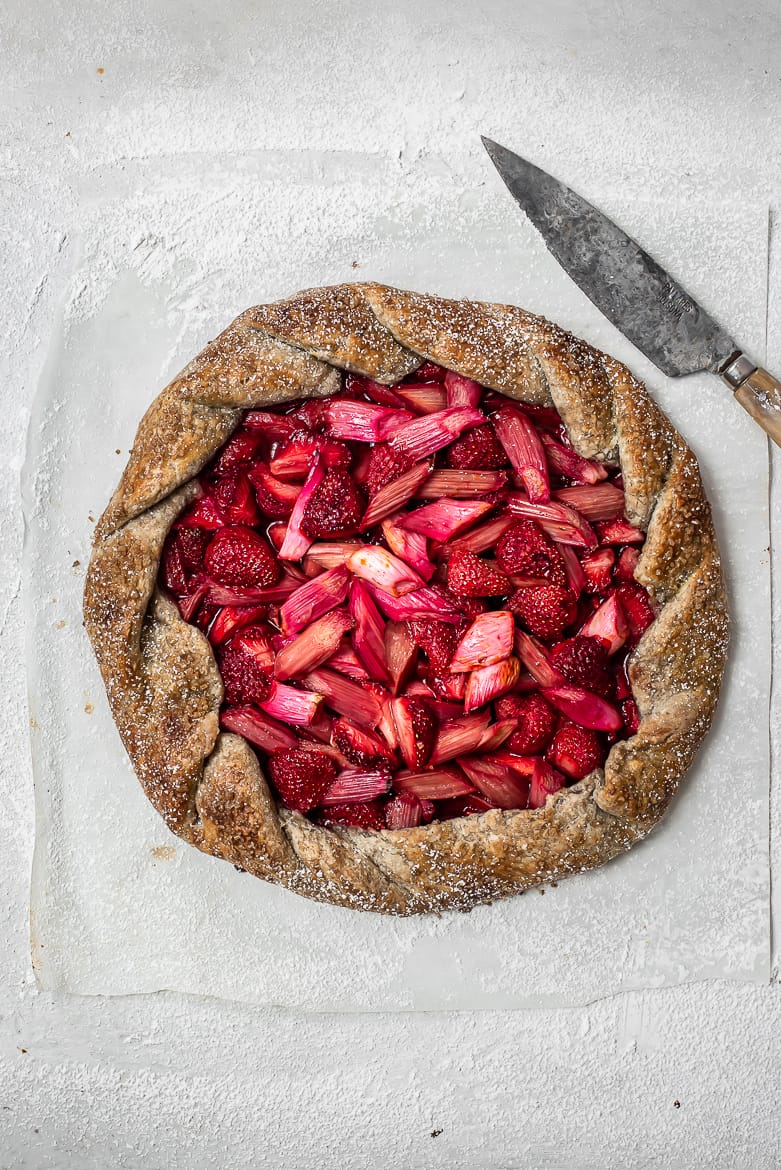 I will never shy away from tackling a difficult or fussy recipe, unless it is a dessert. If I am going to attempt to bake, it better be easy and straightforward and it better have the promise of tasting spectacular. This strawberry rhubarb galette recipe is a mouthwatering, show-stopping dessert, yet couldn't be more effortless to make.
WHAT IS A GALETTE
A galette (also known as crostata in Italian) is an open-faced tart that is free-formed and baked on a baking sheet without the need of a pie plate. The edges of the dough are folded around a simple seasonal filling which can be sweet or savoury. Galettes are a novice-bakers dream; no fussing with top and bottom crusts, no blind baking, and no worries if the pastry tears and juices leaks. In fact, any imperfections will add to the galette's appeal. The only caveat? Whatever filling you choose must be good. As in the fruit or vegetable must be in season, or at the very least bought in season and promptly frozen.
BEST FILLING FOR A GALETTE
The classic combination of strawberries and rhubarb is truly delightful. The sour-fruity rhubarb and sweet-grassy strawberries just make the best partners. However, galettes are very versatile and offer the perfect opportunity to use up any bounty of seasonal fruits you may have on hand. As long as the fruit tastes good on its own, your galette will be fantastic.
Likewise, savoury galettes, made with seasonal vegetables are equally delicious — think tomato and goat cheese galette, or asparagus and peas. So good.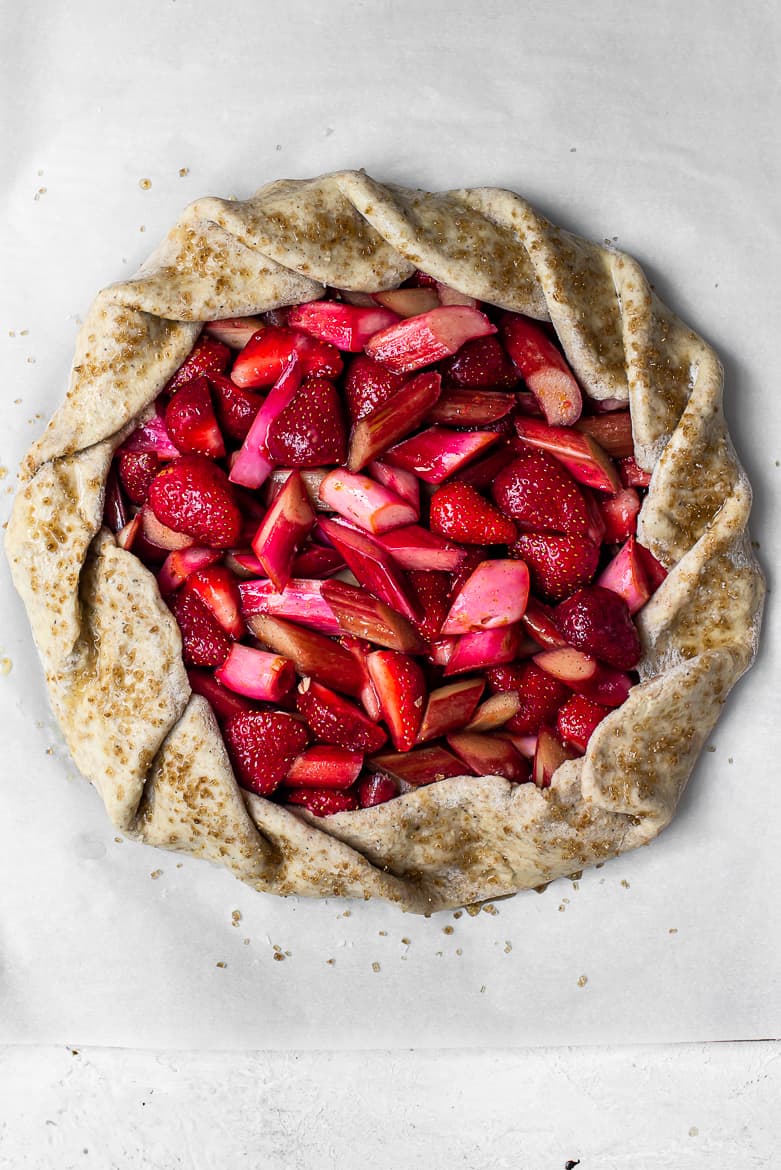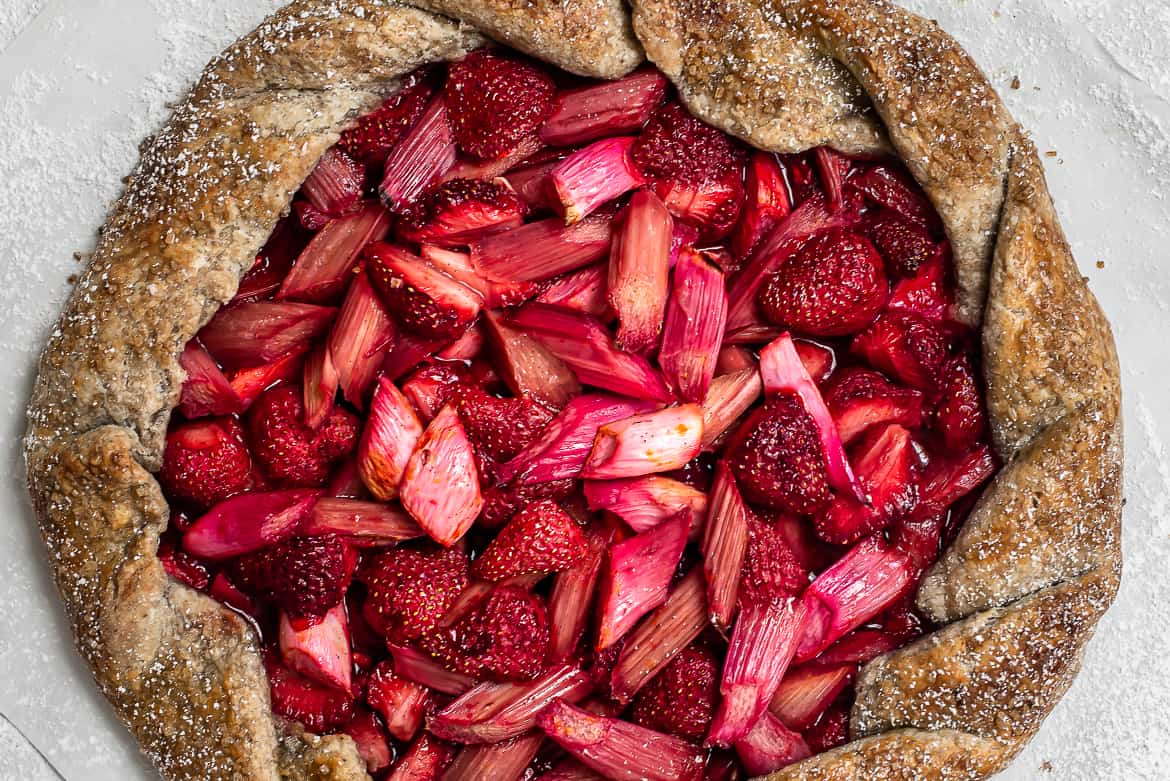 BEST FLOUR TO MAKE A GALETTE
You can use all-purpose flour, or a mix of flours, to make a galette. I haven't attempted a gluten-free crust yet, but I love the mix of all-purpose, spelt and buckwheat flours which give the crust a hearty texture and more pronounced flavour. I will reference the exact measurements in the recipe notes. Because a galette is so forgiving, feel free to play with other mixes such as equal amounts of all-purpose and whole wheat flour.
MAKE DOUGH BY HAND OR USING A FOOD PROCESSOR
I prefer using my hands to make the dough instead of a food processor. It requires a tiny bit more work but using your hands gives you better control to keep the butter pieces larger which results in a flakier crust. However, if you prefer using a food processor, I have included instructions in the recipe notes.
A FEW TIPS FOR THE BEST GALETTE
After making a few batches of this strawberry rhubarb galette in the last week, I found these tips very helpful:
Don't toss the berries and sugar mixture until the galette dough is completely ready for them. The sugar mixture will immediately draw out the juices in the berries which could make the crust too soggy.
Don't roll out the dough too thick or too thin. If your galette dough is too thick, it could be difficult to shape. A thick dough can also result on the chewier side instead of flaky. Too thin and it could burn too quickly or tear and you will lose all the lovely juices. Try rolling your dough to an even 1/8-inch thickness.
Chill the rolled out dough for a few minutes but not too long. If the rolled out dough seems too soft, place it on the sheet pan and transfer to the fridge or freezer until just chilled enough. Don't over-chill or it will become too hard to shape and it will crack.
If using very juicy berries, use a thickener. I don't love using cornstarch (or any thickener) in pie fillings but unfortunately if using juicy fruits like rhubarb and strawberries it is hard to avoid. Another great tip to keep the juices controlled is to dust the galette dough with a few tablespoons of almond or semolina flour before adding the filling. I have been using a scant 1/4 cup of rolled oats and it also works perfectly. You can omit this step all-together — a juicy, messy galette will taste just as lovely.
If you are using very sweet berries, use a little less sugar. If your fruit is not quite ripe enough, mix it with a 1/4 cup apricot jam, or your favourite jam, to boost the flavour.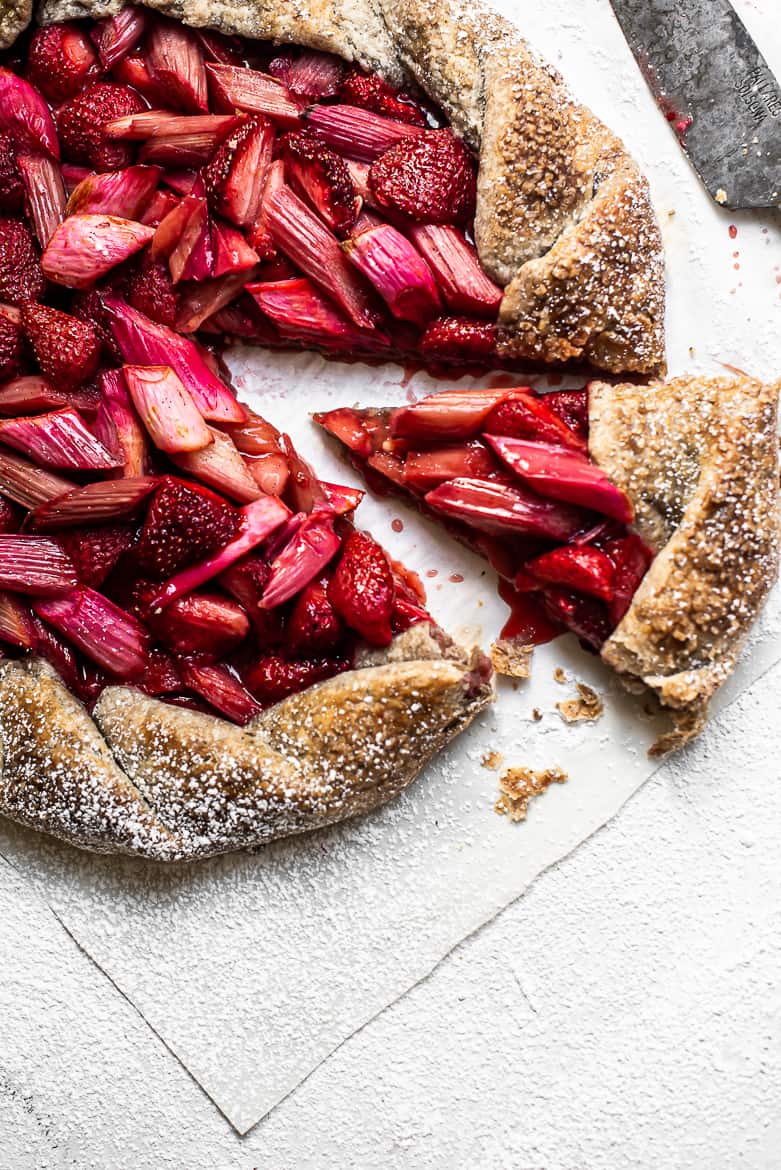 Strawberries are at their peak right now but they have started saying their goodbyes to their best friend rhubarb. Hopefully you have time this week to grab some while they are still lingering. If you don't have time to make a galette soon you can freeze your rhubarb and berries for later. They freeze wonderfully.
That's it for now. I hope all you enjoy making this strawberry rhubarb galette as much as I do!
If you like this galette, you might also enjoy this Strawberry Rhubarb Polenta Crisp
Print Recipe
Pin Recipe
Strawberry Rhubarb Galette Recipe
The recipe for the pastry dough makes 2 pie crusts. If making only 1 galette, store the remaining dough in freezer for up to 3 months.
Ingredients
For the pastry dough

2 1/2

cups

all-purpose flour

or a mix (*see notes)

1/2

teaspoon

salt

10

Tablespoons

ice water

plus more if needed

1

Tablespoon

apple cider vinegar

1

cup

very cold unsalted butter

cut into 1/2-inch cubes

For the filling

3

cups

diced rhubarb

trimmed and cut into 1/2-inch, 2cm pieces

2

cups

strawberries

hulled and quartered

zest of 1 lemon

or orange

1/4

cup

sugar

I use cane

1

teaspoon

vanilla paste or vanilla bean seeds

optional

1

Tablespoon

corn starch

pinch

of salt

1

egg

for egg wash

1

Tablespoon

milk

or water

1/4

cup

rolled oats

or almond flour (optional)

turbinado or granulated sugar

for finishing
Instructions
For the pastry dough:

Whisk the flour and salt together in a large bowl. Mix the apple cider vinegar and ice water in a measuring cup.

Add the cold diced butter to the flour and toss to coat all the butter cubes. Using only your finger tips, press each cube of butter into a flat shard the size of a dime. Keep tossing and pressing the butter pieces gently until the dough starts to look and feel crumbly. If the mixture gets too warm, place in freezer for a few minutes before continuing.

Start adding the ice water-vinegar mix a few tablespoons at a time to the flour mixture and use a fork or pastry cutter to bring together. Keep adding liquid 1 tablespoon at a time, ensuring you drizzle some over the dry bits at the bottom of the bowl. Stop adding liquid when the dough holds together when you give it a squeeze. I almost always use the full 10 tablespoons but you may not need to. If the dough seems dry, add more cold water, 1-2 teaspoons at a time. **See notes if you prefer to use a food processor to make the pastry crust.

Tip the dough onto a work surface, press it all together and split in half. Shape each piece into a 6" disk, wrap in plastic, and refrigerate for at least 30 minutes, preferably 1 hour.

Make the galette:

Position a rack in the lower third of the oven and preheat to 400 degrees. Line a baking sheet with parchment paper.

Combine the sugar, vanilla paste or vanilla bean seeds (if using), lemon zest, cornstarch, and pinch of salt in a bowl. Add the fruit to a large bowl and sprinkle the sugar mixture over the top, but don't stir quite yet.

Beat egg with milk, or water, and set aside.

Roll out dough on a lightly floured surface to about a 14" round. Carefully transfer to prepared baking sheet and sprinkle the oats over the dough, if using.

Mix the fruit mixture until well combined and place the fruit into the centre of the galette, spreading gently with a fork and leaving a 2-3-inch space between the fruit and the edge of the dough.

Fold the edges of the dough up and over the fruit, overlapping slightly and press the folds gently to seal. Brush folded border with egg wash and sprinkle with sugar. Bake until crust is golden brown and bubbling, 30-40 minutes. Let cool slightly before serving.

Serve the galette warm on its own or topped with vanilla ice cream.
Notes
*Flour variations for pastry:
I like to sub some of the all-purpose flour with spelt and buckwheat because I like the texture and flavour it lends to the crust. I use 1 1/4 cup all purpose, 1 cup spelt, and 1/4 buckwheat. Note that you may need to add a few teaspoons more ice water when using different flours.
**Make pastry with food processor:
In the bowl of a food processor, pulse the flour and salt together. Add the cold diced butter to the food processor. Pulse about 10 quick pulses until butter is the size of peas. Sprinkle all of the ice water and pulse again about 10 times until the mixture is crumbly but holds together when squeezed.
Proceed with recipe.