Wholesome, satisfying and absolutely delicious, this Khichdi with Vegetables recipe is an Indian one-pot meal that is truly food for the soul.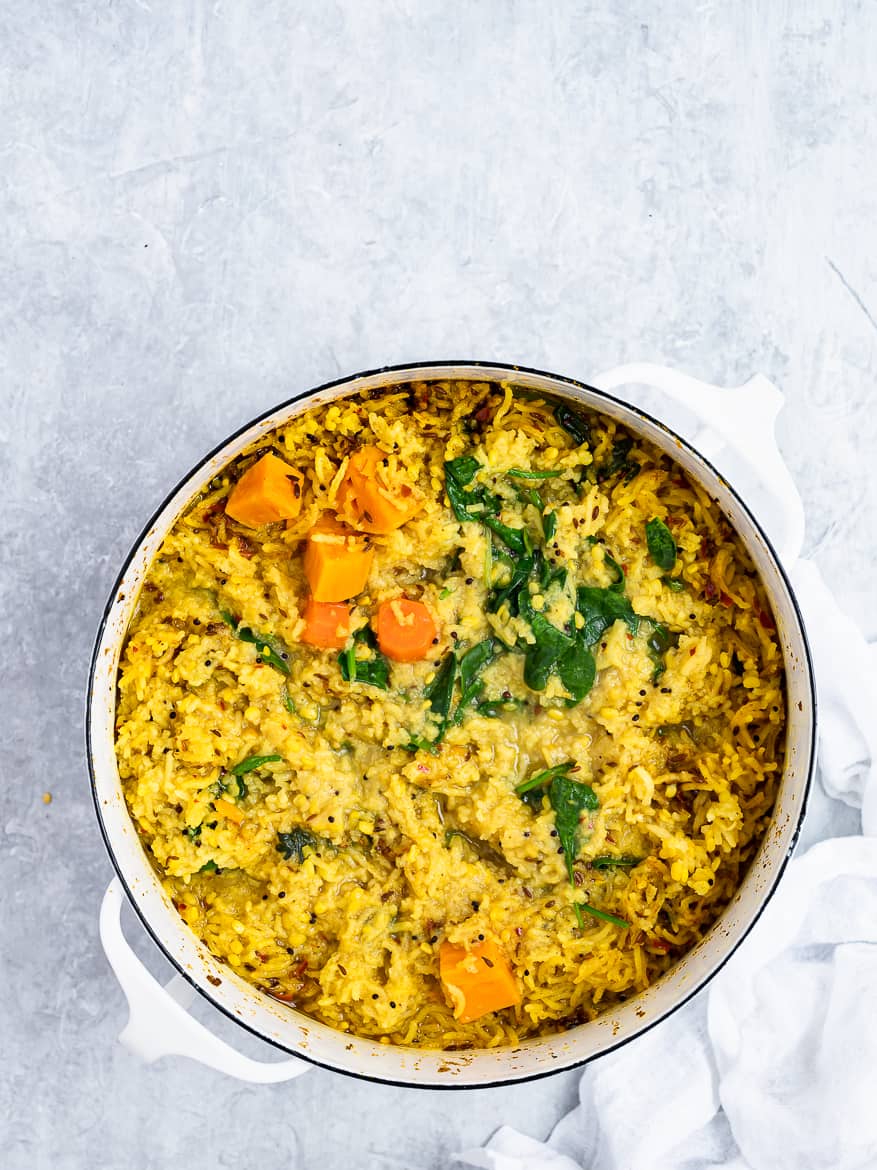 As I joyfully greet 2021, I thought I would ease into things very gently with a recipe that is not only comforting but good for you, too. As per usual, our holiday was filled with too many potato casseroles, cheesy-bomb dips, and roasted meat. All delicious, all acceptable excesses, especially given the circumstances. However, somewhat predictably, my digestive system could now use a little break. This khichdi is what I always turn to when I feel a reset is needed. Light, yet completely satisfying, it is the ultimate comfort food and I love to eat it for days, often multiple times a day. So healthy, so delicious, I just never tire of it.
What Is Khichdi?
Khichdi, sometimes pronounced, or spelled, kitchari, or kitcheree, is a one-pot Indian dish that is made with white rice, mung dal (split mung beans), and sometimes vegetables. Flavoured with earthy Indian spices that are cooked in ghee, the mixture is cooked until deliciously creamy and soft which makes it very gentle on digestion. Due to its cleansing and healing benefits, khichdi is well-known in Ayurvedic cooking.
In the Western world, khichdi has been somewhat appropriated as part of a cleansing or detox diet. However in India, khichdi has been a staple for centuries, enjoyed throughout the week as a vegetarian complete meal that is both nourishing and soul-soothing. Everyone in India, from grandmas to the young college student, make this for a meal. It is also commonly served to babies as a first food and to anyone feeling under the weather.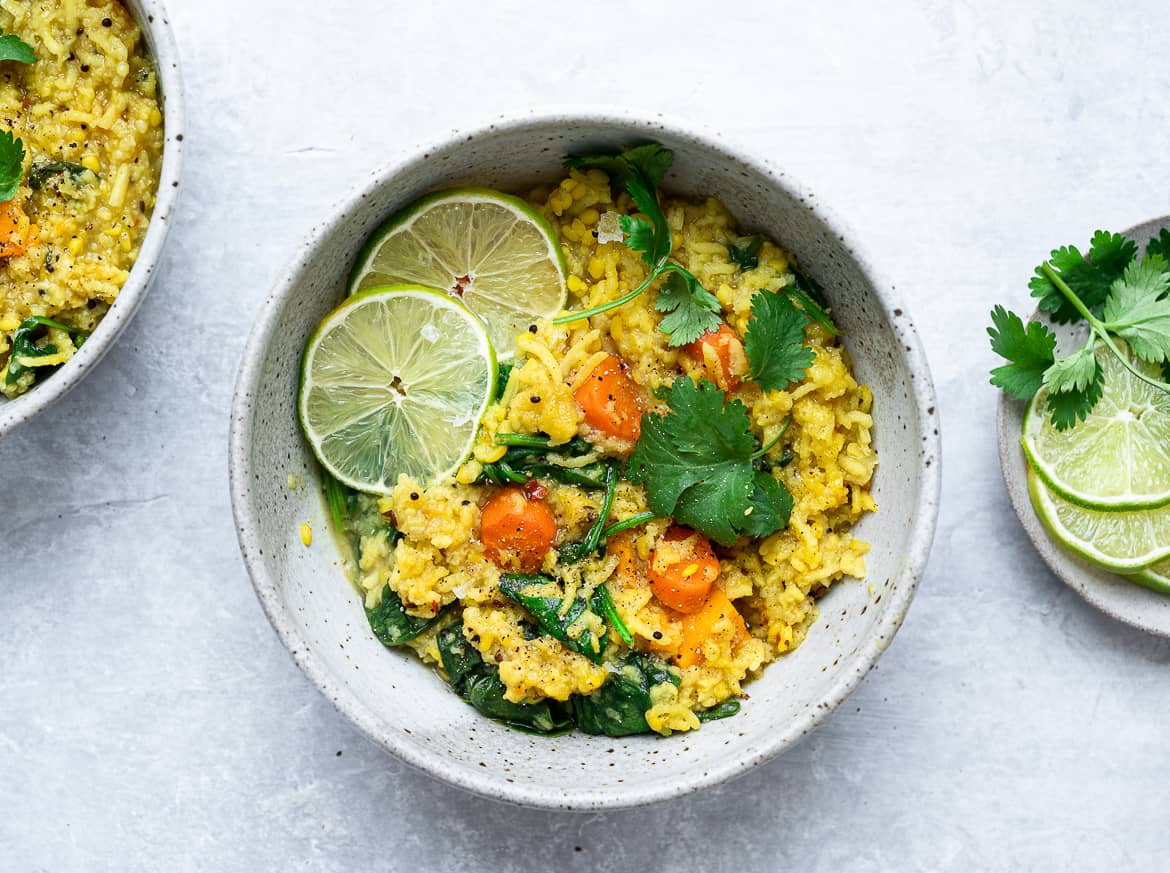 For me, khichdi is not a detox food but simply a dish I throughly enjoy especially during the cold winter months. The fact it also makes me feel really good, is a welcome bonus. There are many versions of this gut-healing, porridge-like, dish and I suspect I would love all of them. The version I share with you today has leafy greens and vegetables added and relies mostly on pantry ingredients. Best of all, its ease of preparation makes it a perfect weeknight vegetarian meal.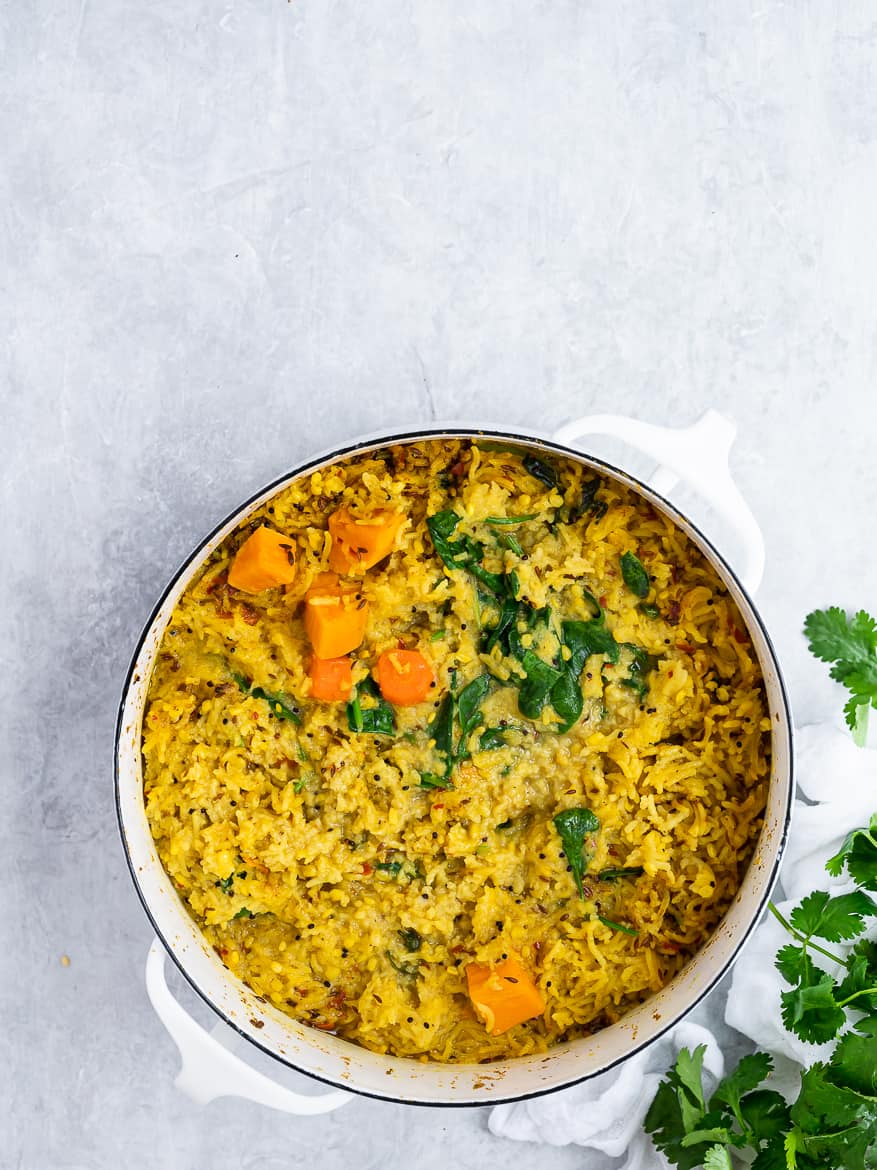 What is Mung Dal?
Dal refers to a split version of a legume. Mung dal is made from whole mung beans that have been hulled and split and resemble a lentil-like legume. Split mung dal is quick to cook and very easy to digest. It is high in fibre and an excellent source of protein making it a healthy choice for plant-based dishes.
Traditionally khichadi is made with split legumes such as yellow split mung dal which are easy for the stomach to digest. Yellow split mung dal is often sold as "Moong Dal" and you can find it at all Indian markets and most well-stocked supermarkets.
For khichdi, you can use also use whole mung beans but you will have to soak them overnight so they cook in the same amount of time as the rice. Sprouted mung beans, if you can find them, are exceptionally good for you.
To make this khichdi recipe, you can also use red split lentils, or split pigeon peas.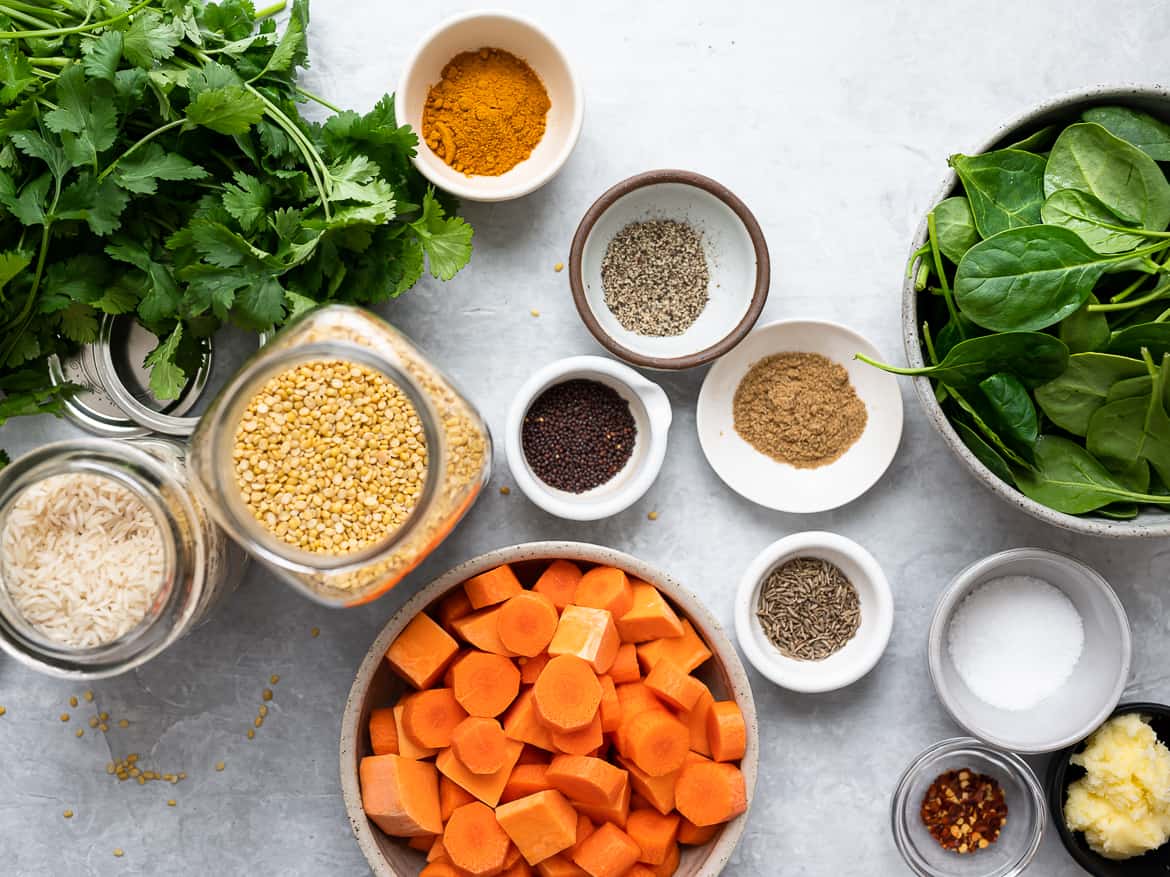 Best Rice To Make Khichdi
For this khichdi recipe you can use any white long-grain rice such as basmati, or jasmine. I try and buy basmati rice that is imported from India because it is less sprayed than rice grown in North America, especially the US.
Brown rice can be used but it is harder to digest than white rice so I don't recommend it for making khichdi.
Whichever rice you use, be sure to rinse it well before cooking.
Does The Mung Dal Need To Be Soaked?
When legumes are soaked they are easier to digest so if you have the time, it is always a good idea. I don't usually remember to soak too far in advance but even a 15 minute soak is beneficial. Rinsing however, especially the rice, is always recommended so don't skip this step.
The Spices 
This khichdi is not meagre or frugal on flavour. Earthy spices such as turmeric, cumin seeds, whole mustard seeds, and coriander seeds all lend deep complex flavours to the dish. Ground spices are fine to use just be sure they are fresh for maximum potency. Other spices you can use are fenugreek, whole peppercorns, cinnamon, and fennel seeds.
I like my khichdi with a little kick of heat so I also add a few pinches of red chili flakes.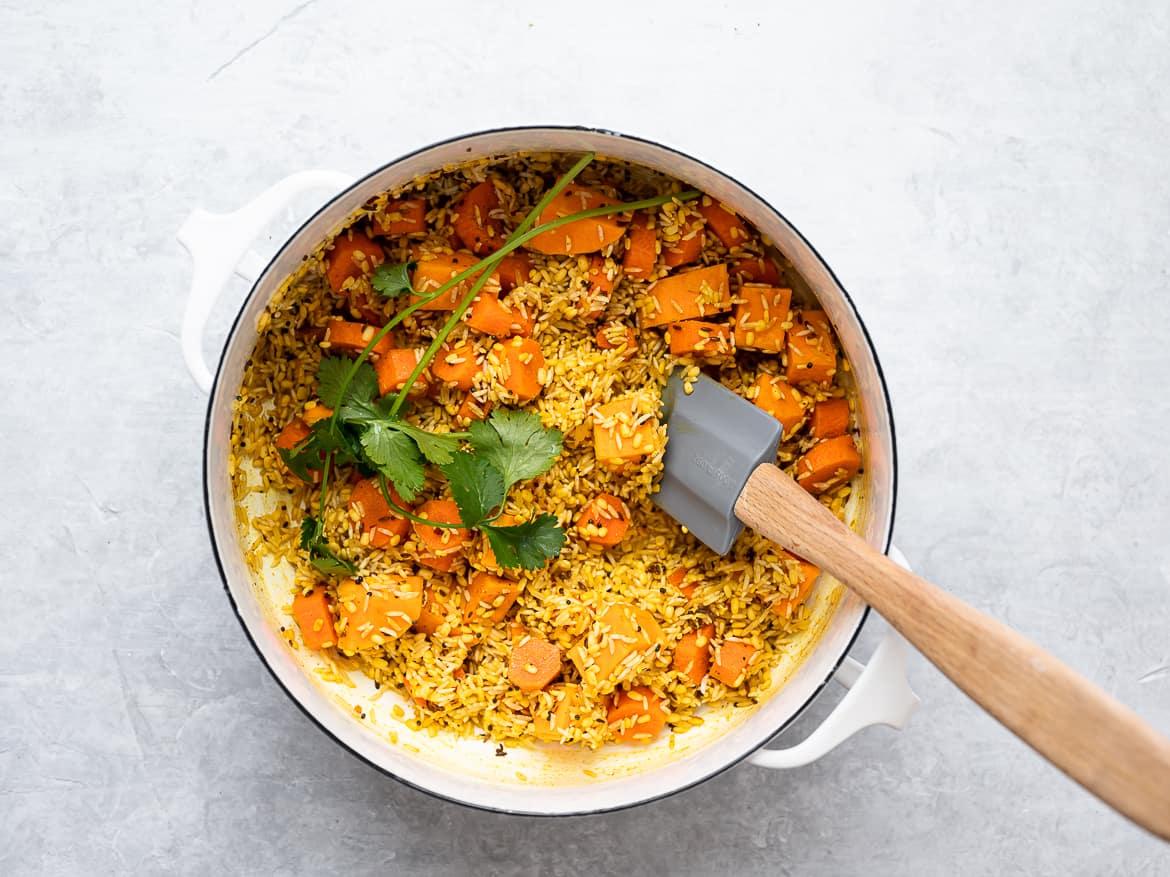 The Vegetables 
Adding vegetables to khichdi is not essential but I like that it makes the dish heftier and more filling. I love to add root vegetables which can stand up to a reheating or two. My favourites are carrots and/or sweet potatoes. Green beans also work nicely. A few handfuls of baby spinach break up the yellow monotony and I also love the taste and added nutrition. Kale or swiss chard would also work.
Since we are all avoiding too many grocery runs right now, this is the perfect time to go through your freezer and pull out any frozen vegetables you need to use up. Frozen peas would be great to stir into your pot of khichdi.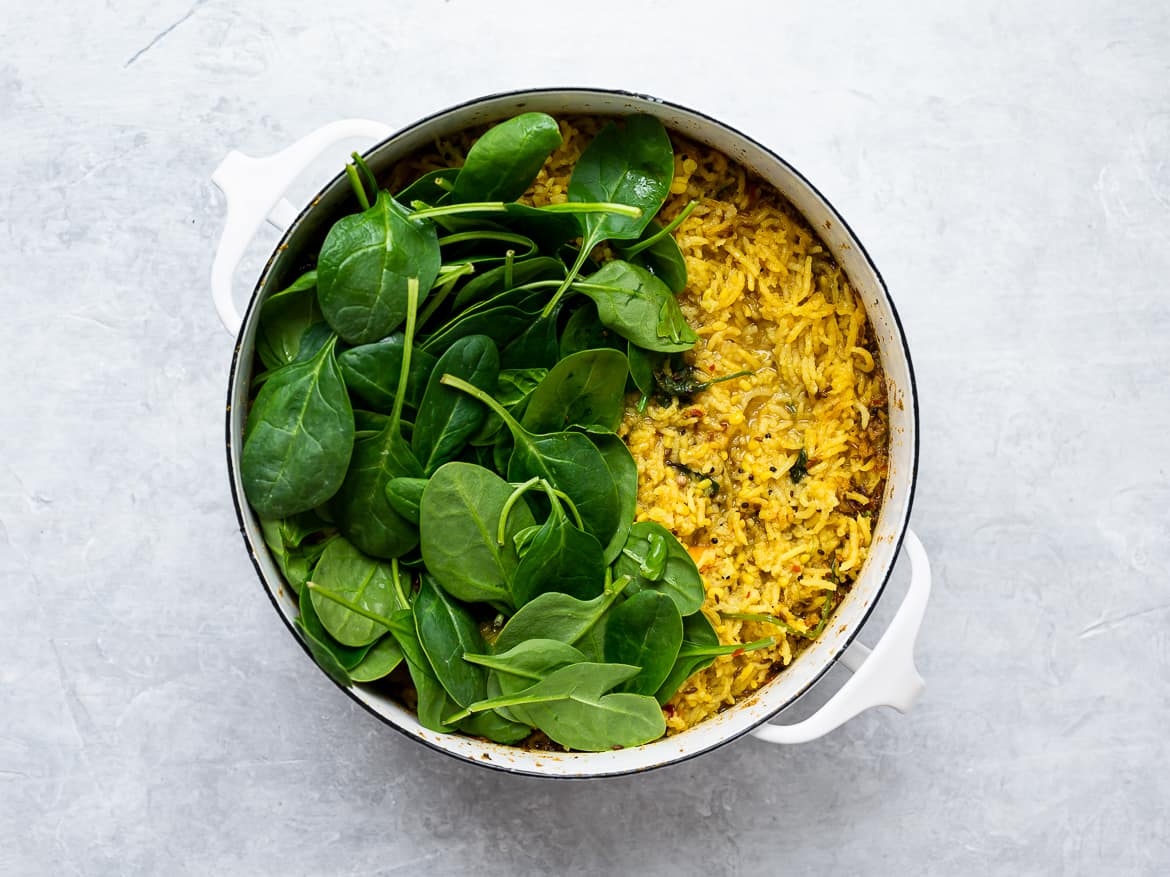 How To Make Khichdi
Traditionally Khichdi is the consistency of a loose porridge, or a stew. If you prefer it drier, you can add less water but do note that khichdi should be perfectly soft and even mushy.
Khichdi is a comforting one-pot meal that is not only delicious but incredibly easy to make.
Here is the simple how-to:
Rinse the rice and mung dal really well. Soak for at least 15 minutes, if possible.
In a large pot, melt some ghee or coconut oil.
Toast the cumin and mustard seeds for a minute or two until the mustard seeds start to pop.
Add the rice and mung dal and stir to coat. Add the remaining spices, the vegetables, salt and pepper, and water.
Bring to a boil, cover and simmer on low for about 20 – 25 minutes.
Once the rice and dal are cooked, if the mixture seems dry, add another 1/2 to 1 cup water. If the mixture is too wet, let it simmer a few more minutes uncovered.
Stir in the spinach and adjust seasoning if necessary. Serve warm in bowls garnished with fresh cilantro, if desired.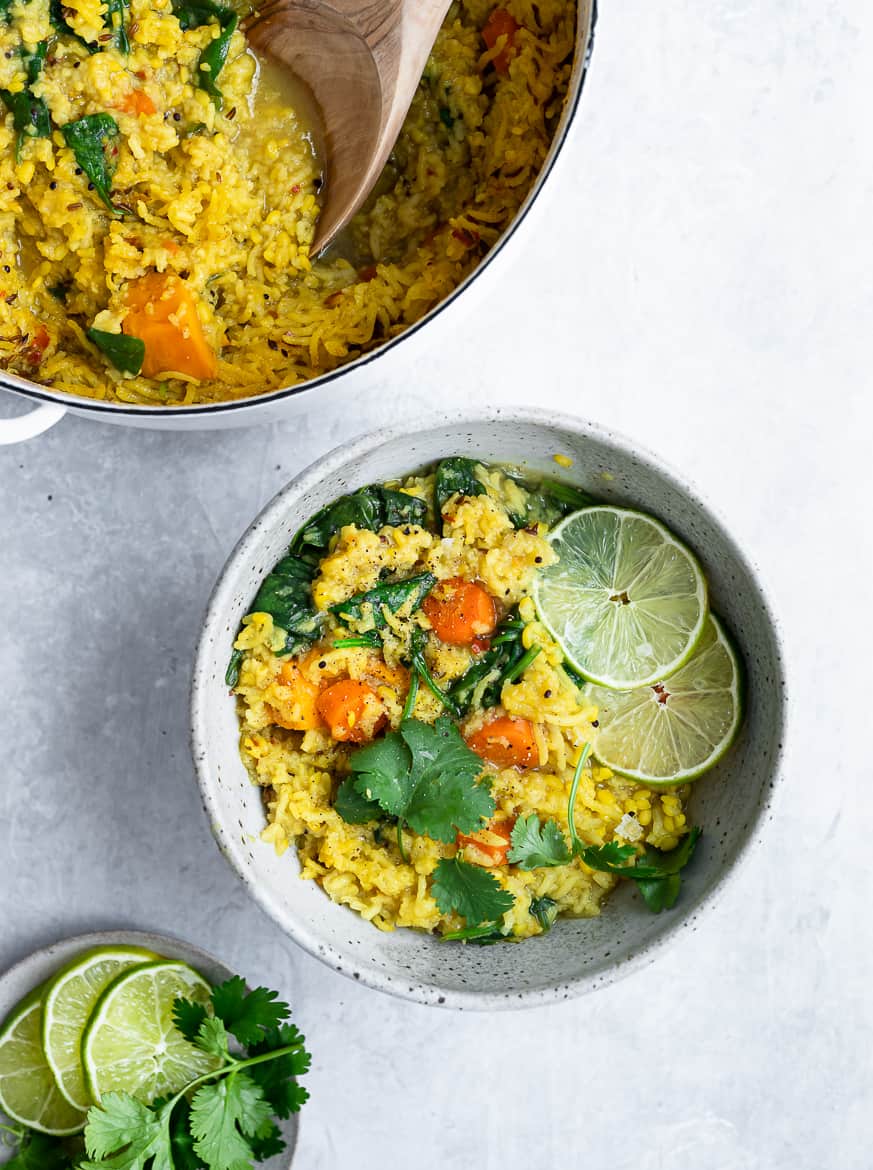 A Word On Khichdi Variations
I typically like to offer adaptations to recipes I share on this blog. For this khichdi, however, variations could turn it into a completely different dish with a different name, and with less beneficial properties.
Khichdi is beneficial and light to the system precisely because of the specific ingredients used, and the combination of the ingredients. When mung dal and white rice are combined, they provide a complete meal with all the fibre, protein and nourishment the body needs in a very soothing way to the digestion system. If you substitute the rice with millet, for example, the dish is called Bajra Kichdi. Delicious, I'm sure, but it is no longer a complete meal and it is no longer khichdi.
That said, although I feel a responsibility to inform you of the true origin and traditions of a dish, you at home can obviously feel free to adapt it to your tastes, dietary restrictions, and to what you have on hand.
To Serve Khichdi
Serve the khichdi in a bowl as is, or flare it out with toppings such as pickled ginger, sautéed onions, kimchi, or even a fried egg.
I also love to serve it with a cucumber raita or a dollop of yogurt.
Store And Reheat Leftovers
This recipe makes a pretty big batch which is perfect to eat for days. Simply transfer the leftovers to a tight-lid container and place in the fridge for up to 4 days.
To reheat: The kitchari will continue to thicken as it cools and chills. To reheat, add a bit of water (start with 1/4 cup) in a saucepan over medium heat then stir in a portion of the khichdi. Add more water if necessary and cook gently until heated through.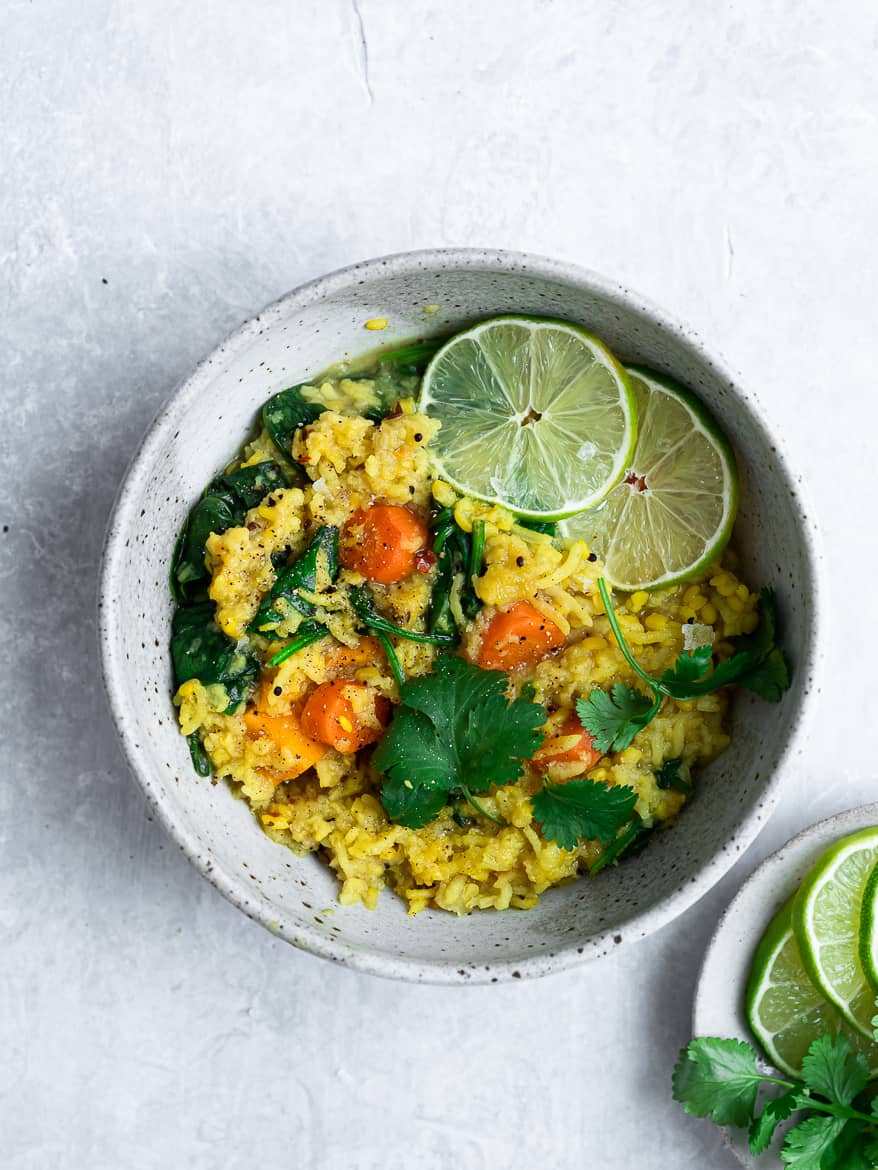 Other Healthful Recipes You Might Enjoy
Print Recipe
Pin Recipe
Khichdi with Vegetables
Wholesome, satisfying and absolutely delicious, this Khichdi with Vegetables recipe is an Indian one-pot meal that is truly food for the soul.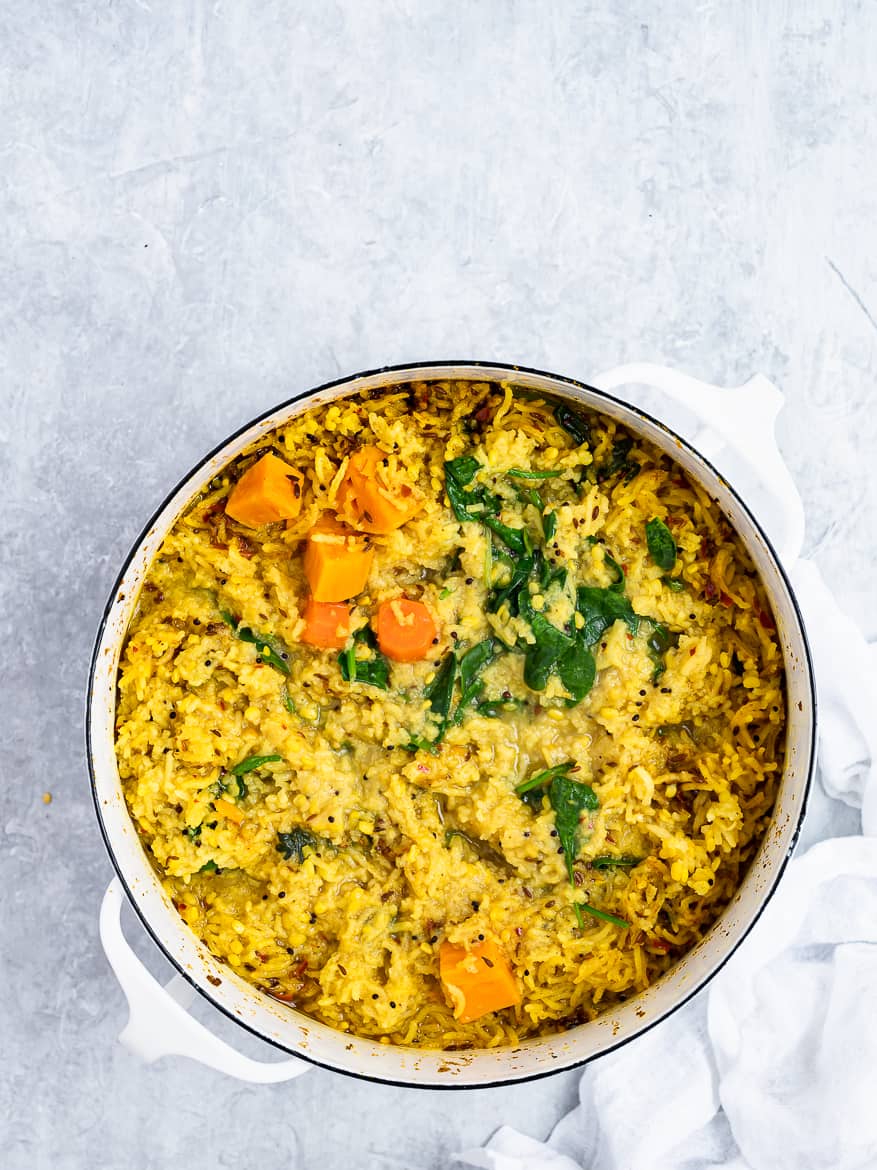 Ingredients
3

Tablespoon

ghee or coconut oil

2

teaspoons

cumin seeds

1

Tablespoon

mustard seeds

yellow or brown

1

cup

yellow mung dal*

3/4

cup

white long-grain rice**

(I use basmati)

3

large carrots

peeled and cut into 1-inch chunks

1

small sweet potato

peeled and cut into 1-inch chunks

2

teaspoons

ground turmeric

1

teaspoon

ground cumin

1

teaspoon

ground coriander

1 1/2

teaspoons

Kosher salt

or more to taste

freshly cracked black pepper

to taste

pinch

or two of crushed red chili flakes

optional

6 - 7

cups

water

2

cups

baby spinach

or chopped kale, or Swiss chard

1/4

cup

chopped cilantro, for garnish

lime wedges

optional, for serving
Instructions
Combine the mung beans and rice in a fine-mesh sieve and rinse under cool running water until water runs almost clear. If time allows, soak for 15-30 minutes in cold water. Otherwise, set aside and proceed with recipe.

Heat oil in a large pot over medium heat. Add mustard seeds, cumin seeds, and gently sauté until the mustard seeds begin to pop, about 1-2 minutes.

Stir in the rinsed dhal and rice and stir to coat in the ghee and spices. Add the carrots, sweet potatoes, turmeric, ground cumin, ground coriander, salt, pepper, and chili flakes, if using. Give it all a quick stir. Add 6 cups of water and bring to a boil over high heat, then reduce heat to low and cover pot. Cook for 20-25 minutes. If the mixture seems dry, add another 1/2 to 1 cup water. If the mixture seems too soupy, let it simmer, uncovered, another few minutes.

Add the spinach and stir to mix it in. Remove form heat and let sit, covered, for about 2-3 minutes or until spinach has wilted. Taste and add a little more salt if necessary.

Serve the khichdi warm in bowls, garnished with chopped cilantro and lime wedges, if desired.
Notes
*You can use whole mung beans, just be sure to soak them overnight so they cook in the same amount of time as the rice. 
**You can use brown rice, just be sure to add 1 more cup of water, and give it about 20 minutes additional cooking time.