Moro de Habichuelas Negras ~ One-Pot Rice and Beans, is a simple but flavourful Latin American dish that will have everyone licking their plates and going back for more.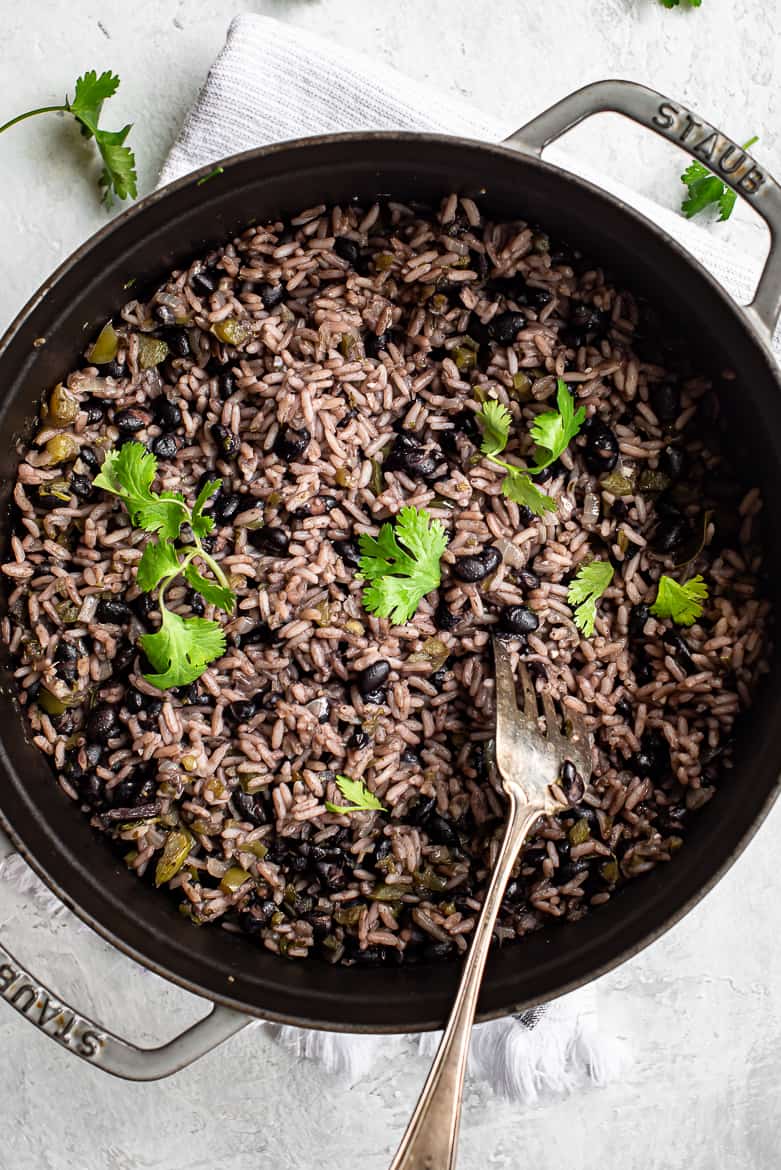 I would love to tell you all about why this is a dish that is so close to my heart. How it is so loved in almost every Latin American country and the many different ways each country makes it. Why it took me so many years to perfect it to my liking. The different names this simple rice dish is known by – Moros y Cristianos, Congrí, Moro negro, or Moro de Habichuelas or just simply moro – and the history behind them all.
But given the pandemic circumstances we all find ourselves in, I think all you need to know is that this is a dead simple dish to prepare with simple pantry ingredients. It also feeds a crowd and makes great leftovers. Truly, it's the most exquisite rice and bean combination you will ever taste.
I may return to the post at a later date and fill in all those blanks – this beautiful bean dish deserves it. For now, let's
What Is Moro de Habichuelas 
A version of moro de habichuleas, a comforting dish with a strong Afro-Caribbean presence, is rarely missing from a celebratory feast at a Latin American table. At its basic, moro de habichuelas is a combination of rice and beans cooked in the same pot. For this recipe, we are using black beans, hence the name moro de habichuelas negras (black beans). When combined, the rice drinks in all the lovely broth from the beans turning a beautiful dark purplish-brown shade. Other ingredients, such as onions, peppers, garlic, spices, contribute to the lovely flavours of the dish.
The beans used in the moro will depend on which Latin country, or even which region of the country, you are in. In the Dominican republic, I grew up eating moro that was made mostly with pinto beans, which I love just as mush as this one with black beans. The base recipe is the same for any beans, or legumes, you use.
Ingredients You'll Need
Long-grain white rice – You will need 2 cups of long grain white rice. See all my best tips on rice in the section below.
Onion, garlic, green pepper, cilantro – This is the sofrito; the aromatic ingredients that give many Latin American dishes their great flavour.
Bay leaf – Optional, but I always add a bay leaf to my beans. I like the subtle aroma it lends stews and bean dishes.
Spices –  Most Latin American bean dishes call for adobo seasoning which has a unique mix of spices. Adobo is hard to find so we are keeping it simple by adding just cumin and oregano. If you happen to have adobo, go ahead and add a few shakes.
Salt and pepper – Be generous. Beans need to be well-seasoned to they will taste bland.
Vinegar – A little acidity brightens this earthy dish.
Cilantro – Chopped cilantro for garnish is optional but really delicious.
What Beans To Use For Moro de Habichuelas?
As previously mentioned, a moro can be made with any variety of cooked beans. My preference is pinto or black beans but any other variety such as red kidney, cranberry, adzuki, etc, will also work.
If at all possible, cook the beans from scratch which will give you a richer, deeply-flavoured broth to add to the rice. I suspect you may have some stashed dried beans in your pantry. If you do, now is the time to bring them out. I have a recipe to make them in the Instant pot here, and stovetop here. Both methods require very little effort and absolutely no challenge to make perfectly. If you can make them a day ahead, even better – the flavour and colour of the beans becomes more intense with an overnight rest.
That said, for busy weeknights, or if canned beans are multiplying in your pantry, they will make a perfectly acceptable substitute.
Rice Tips
Surprisingly, or maybe not surprisingly, rice is the primary reason your moro could turn out slightly disastrous. Let me explain. An excellent moro de habichuelas, one which everyone you serve it to will be cleaning off their plates, needs to have perfectly cooked fluffy rice. Easier said than done, but easy nonetheless if you follow my cooking instructions precisely.
For starters, try and use a rice that is labeled long-grain white rice. In a pinch, you can use Jasmine or Basmati. Though both are considered to be a long-grain variety, there are significant differences. Jasmine has more aroma and is a little starchier and therefore stickier. Basmati also has a distinct aroma and takes a little less time to cook. If you wish to learn more about their differences, this article gets into more detail.
Avoid arborio, or any medium to short grain rice. Those will all be too starchy and you will end up with a pot of mushy moro. No bueno.
Lastly, and here is where I must get a little bossy, the rice needs to be thoroughly rinsed. I will go as far as to say that if you skip this step you should not make the moro. You need to wash out as much of the excess starch as possible and this requires at least 3-4 rinses until the water runs almost clear. You can find more tips for cooking white rice here.
How To Make Moro de Habichuelas Negras
To make any moro you need to first have cooked beans on hand. Once you have the cooked beans, the dish comes together in no time.
Here is the step-by-step:
First drain the cooked beans, reserving the broth. You will need 4 cups of liquid so if you don't have enough bean broth add water.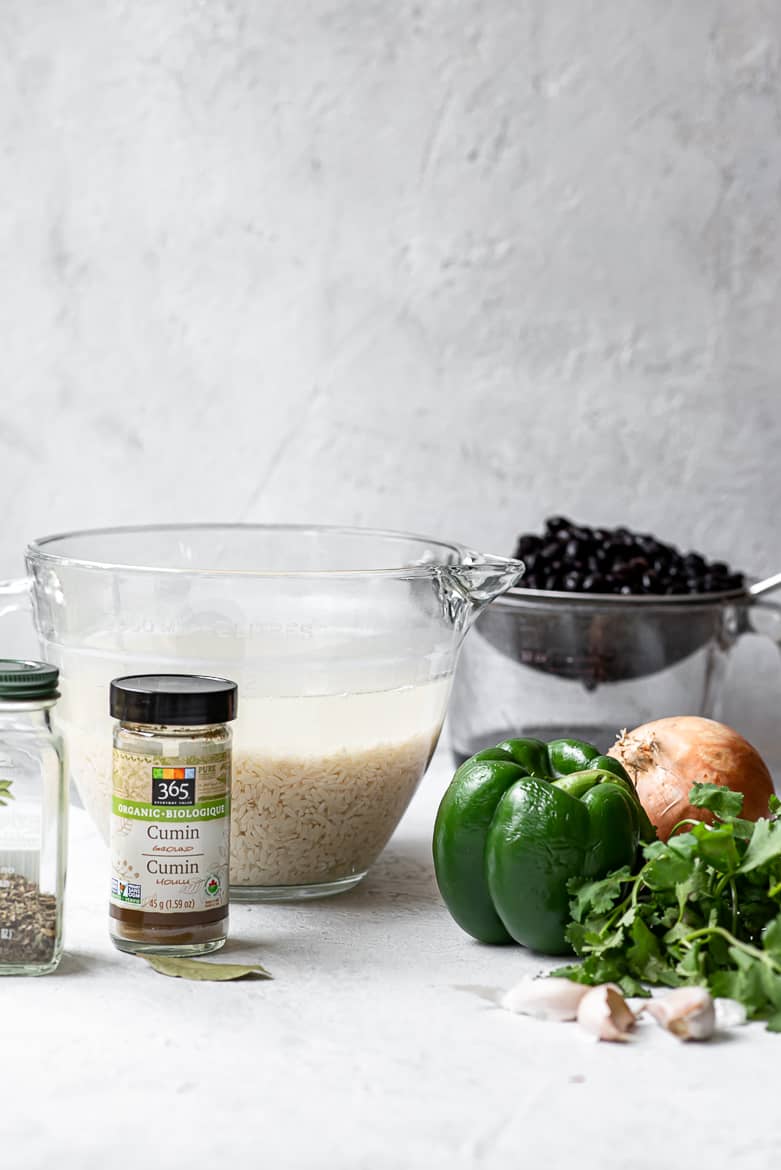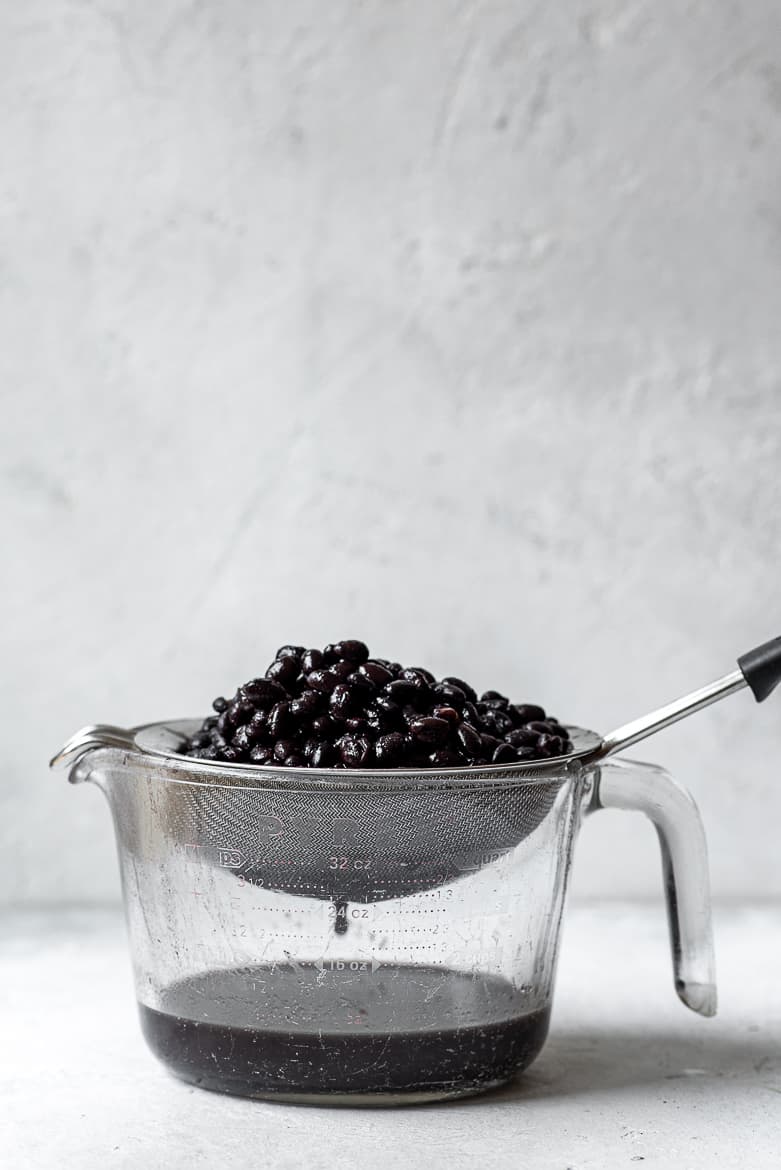 Sauté the chopped onion, green pepper and garlic until soft and translucent, about 5 minutes.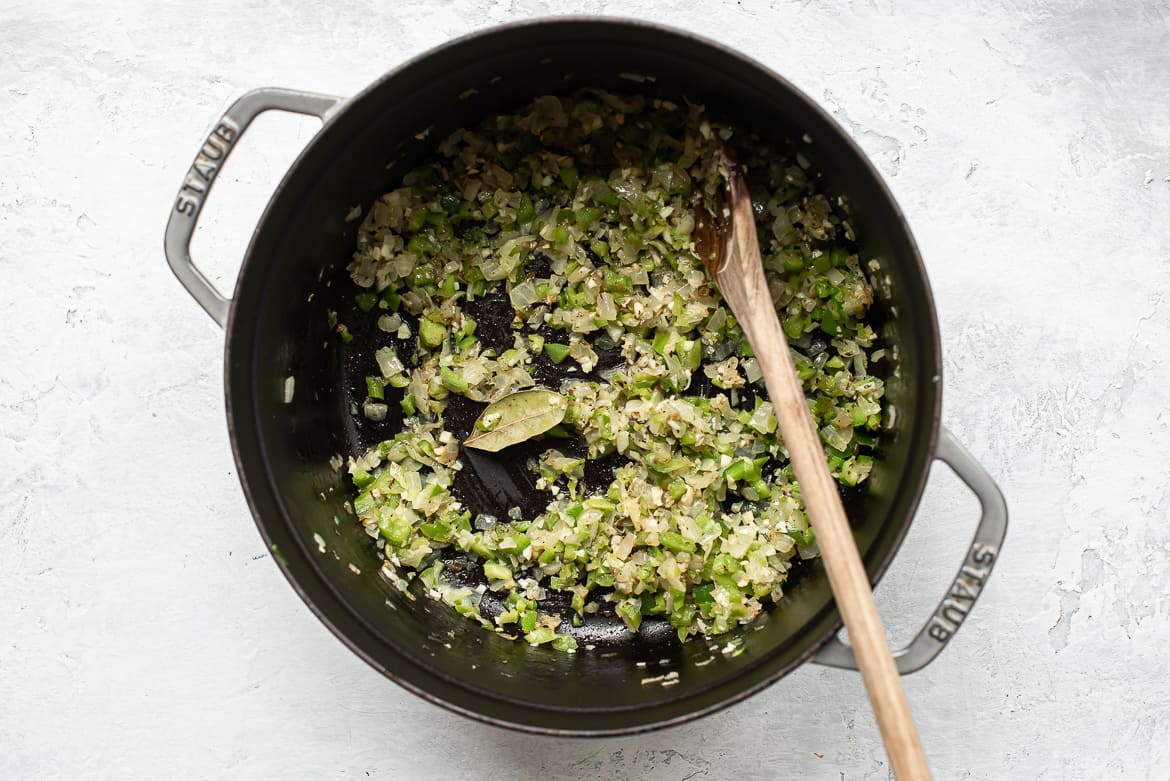 Stir in the rice, bay leaf, cumin, oregano, salt and pepper. Toss the rice in the oil and vegetables until all the grains are lightly coated with oil.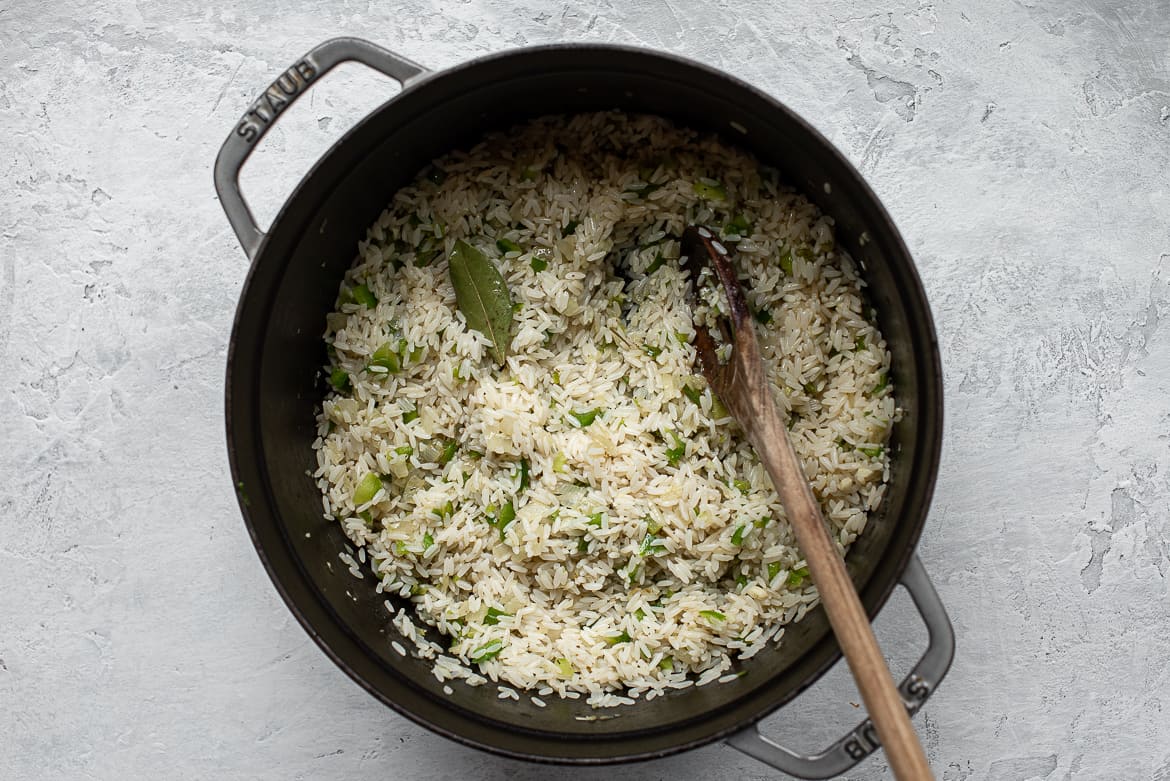 Stir in the drained black beans and toss gently.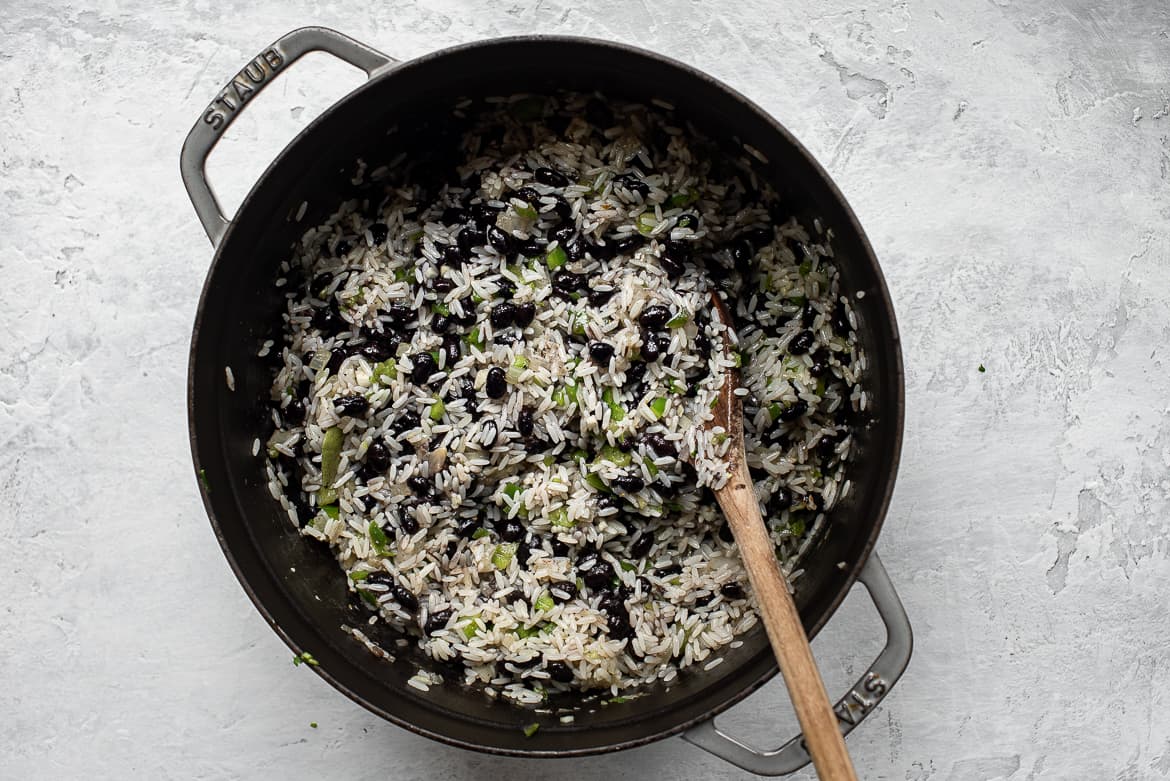 Pour in the mix of bean broth and water, vinegar and the chopped cilantro if using. Bring to a gentle boil.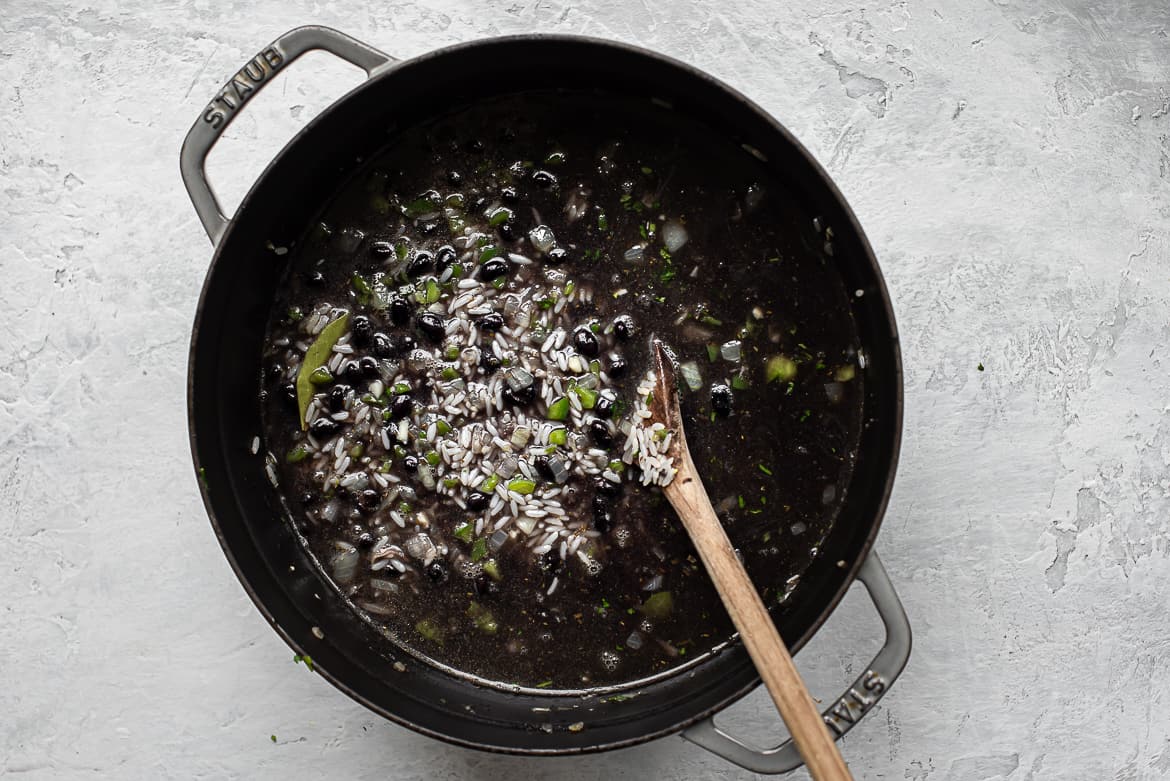 Cook the rice and black beans, uncovered, until small bubbly craters start to form on the surface and most of the liquid has been absorbed, about 15 minutes.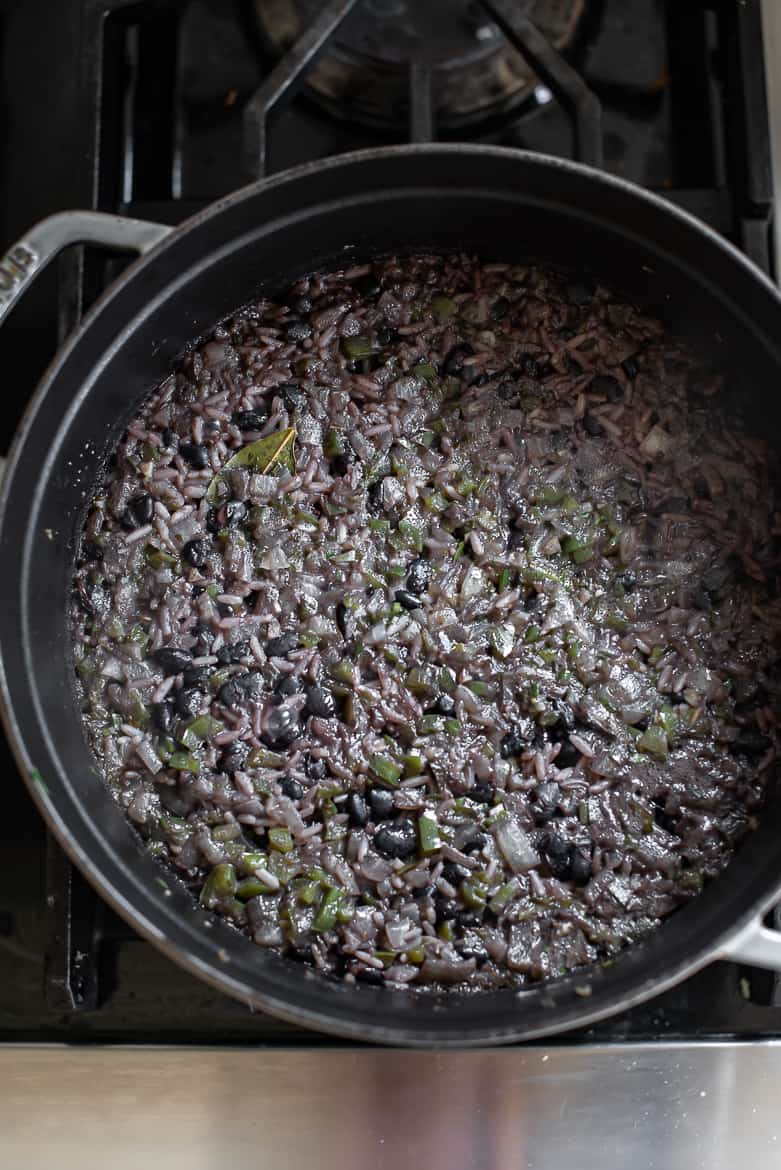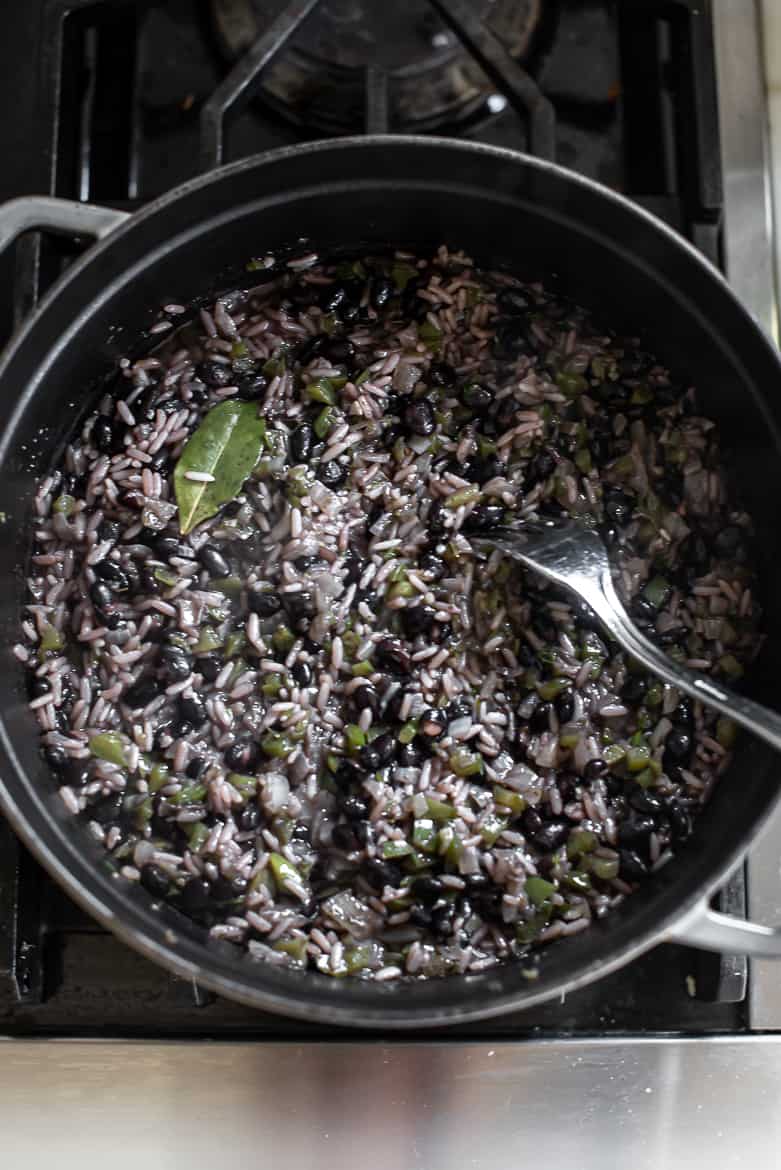 Fluff gently with a fork, then cover the pot and cook for another 20 minutes on very low. Do not lift the lid and any time.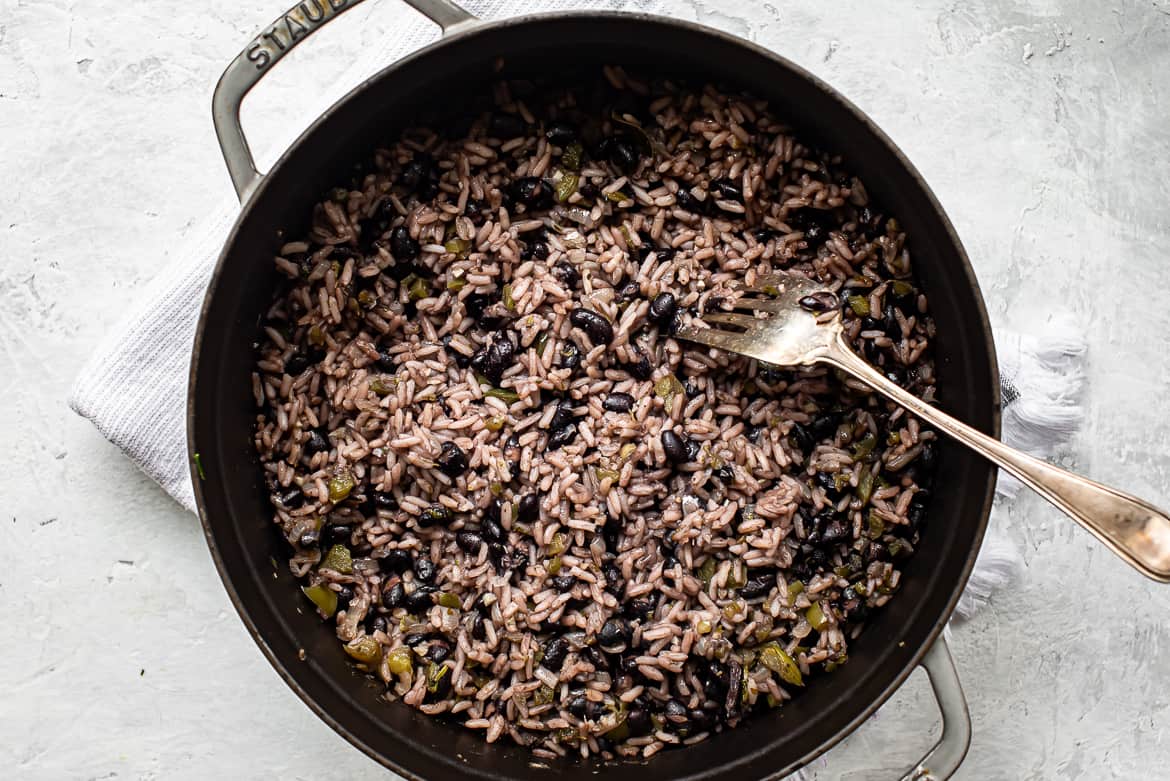 Off the heat, let the moro sit uncovered for 5 minutes before fluffing with fork. Taste and season with a bit more salt and pepper, if needed. Garnish with chopped cilantro, if you wish.
What To Serve With Moro de Habichuelas Negras 
In Latin America, moro is a dish that is traditionally served with tostones (fried plantains) or some maduros (sweet plantains) and a saucy meat stew of some sort. We love it alongside these albondigas guisadas or these saucy Instant Pot chicken thighs.  Any roasted chicken, grilled meat, or fish would also be delicious.
The dish is robust and nutritious enough to be served as a vegetarian main with just a salad alongside such as an avocado salad or this simple tangy cucumber and hearts of palm salad. Or make it heartier with some plant-based sausage or roasted vegetables.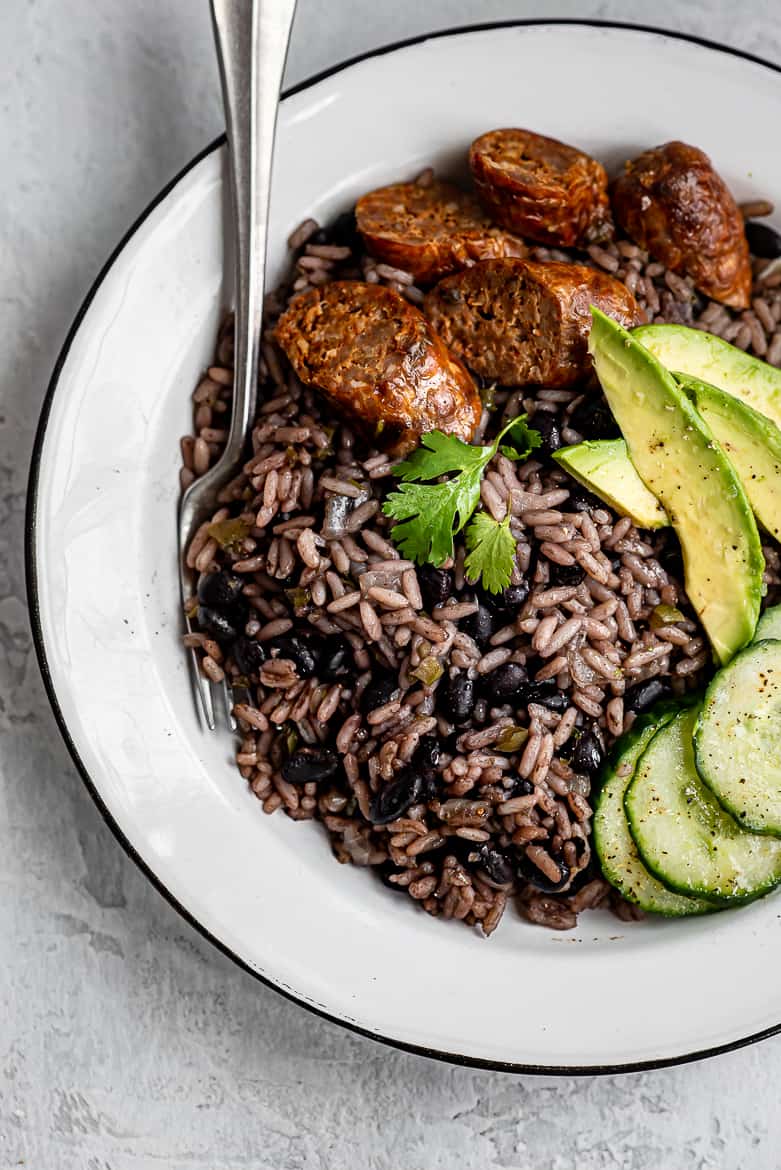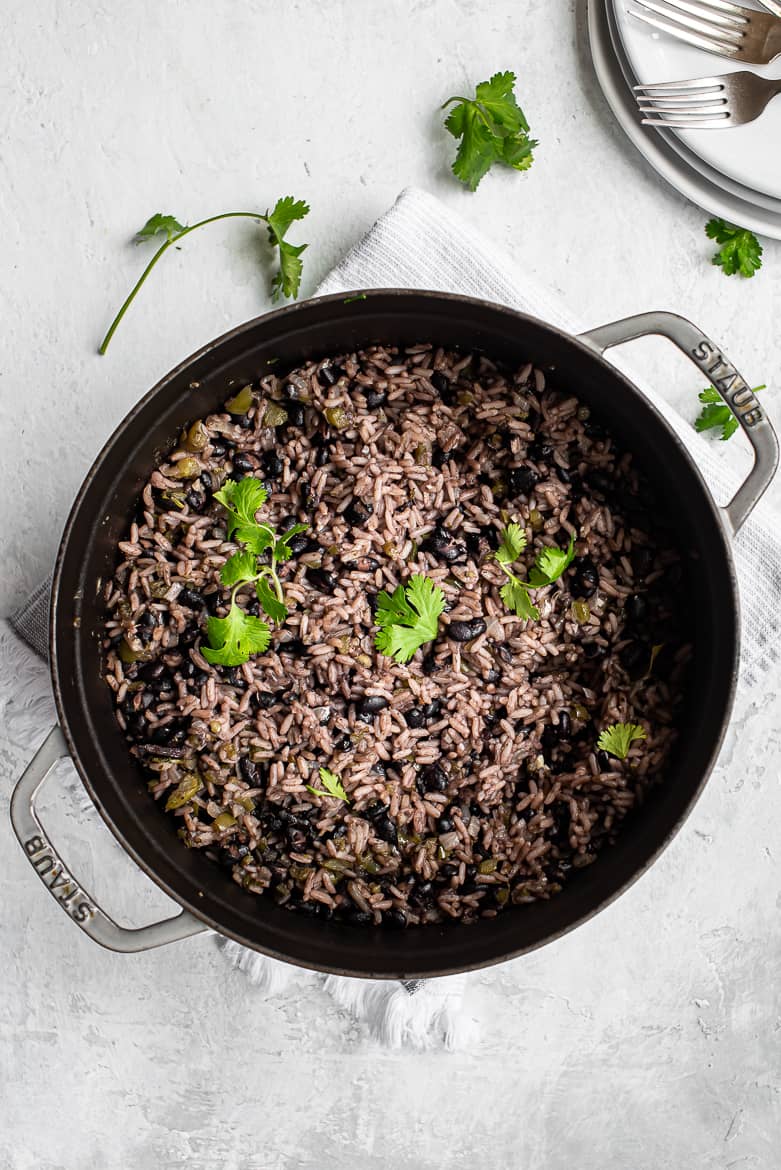 If  you give this Moro de Habichuelas Negras recipe a try, please feel free to leave a comment and/or a star rating below. We appreciate and welcome all your feedback. Thank you!
Print Recipe
Pin Recipe
Moro de Habichuelas Negras (One-pot Rice and beans)
This rice and bean dish truly benefits from the full-bodied broth of dried beans. If canned beans is all you have, go ahead and use them. But do bear in mind the results will not be the same. The rich and dark, flavourful broth you get from cooking dried beans is absorbed by the white rice giving it a wonderful aroma and dark colour.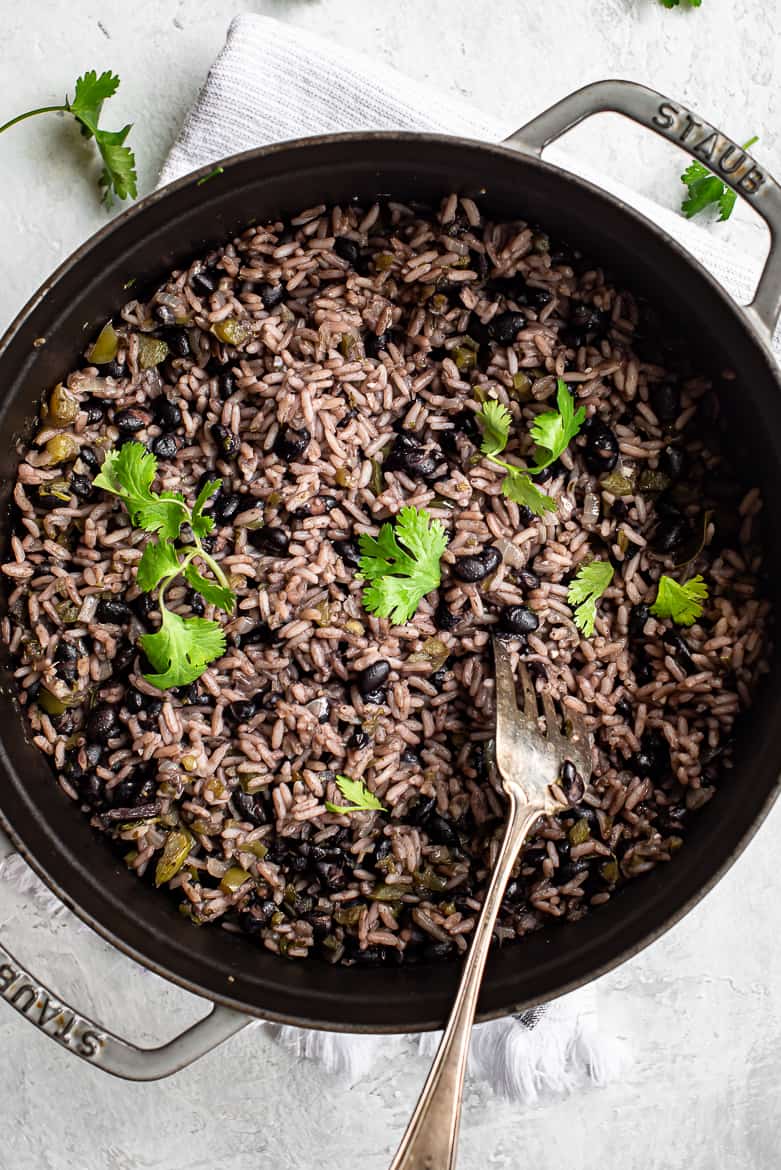 Ingredients
2

cups

long-grain white rice

2

Tablespoons

extra-virgin olive oil

1

medium yellow or red onion

finely chopped (about 1 cup)

1

large green bell pepper

seeded and finely chopped (about 3/4 cup)

4

cloves

garlic

peeled

2

teaspoon

ground cumin

1

teaspoon

dried oregano

1

bay leaf

3

teaspoons

salt, divided

or more to taste

freshly cracked black pepper to taste

2 - 3

cups

cooked beans, drained in a sieve or colander placed over a bowl

*reserve the broth

4

cups

liquid

from drained bean broth or use water if needed to make a total of 4 cups liquid

1

Tablespoon

white distilled vinegar

or apple cider vinegar, or red wine vinegar

2

Tablespoons

cilantro leaves and tender stems, finely chopped plus more for garnish

optional
Instructions
Rinse the rice: Place the rice in a medium bowl or large measuring cup, cover with cold water. Using your hand swirl the rice around giving it a "wash" the drain, holding the rice in place with your hand (you don't have to drain all the water so you don't lose any rice). Repeat this process at least 3 times, or until the water runs almost clear. Drain well in a colander or sieve.

Set a large pot over medium-high heat and add the olive oil. Once shimmering, add the onion, green pepper, and garlic and sauté until the vegetables are soft and translucent, about 5 minutes.

Add the cumin, oregano, bay leaf, rinsed rice, 2 teaspoons of salt, and freshly cracked pepper to taste, and stir for 1 minute until well mixed and all the rice is coated in oil.

Add the drained beans along with 4 cups of their broth (or water if needed to make the 4 cups) to the pot. Stir in the vinegar, chopped cilantro, and 1 more teaspoon salt. Taste the broth; it should be flavourful and tasty, if not, add a splash more vinegar and a few more pinches of cumin, oregano and salt. 

Bring to a boil, then simmer, uncovered until most of the liquid is absorbed for about 15 minutes or until small bubbly craters begin to appear on the surface. Using a fork, gently stir the rice, reduce the heat to the lowest possible setting, cover tightly, and cook for 20 minutes.

Allow the pot to sit uncovered, off the heat, for 5 minutes. Fluff the rice with a fork and serve.
Notes
*

If you are using canned beans and do not want to use the liquid from the canned black beans, just use all water. The moro will not have the distinctive dark colour but it will still be good.
Do not be tempted to add larger amounts of onions or peppers. This would add too much liquid to the moro and result mushy.
Make ahead: Moro can be made ahead and served at room temperature. It also reheats beautifully: drizzle about 1/4 cup of water over the rice and heat gently, in a covered pot, over medium heat until warm.