This lightly sweetened quick skillet cornbread recipe has a crunchy texture with a delicious tender-crumb. Buttery, moist, and crispy, it is the cornbread recipe you have been looking for.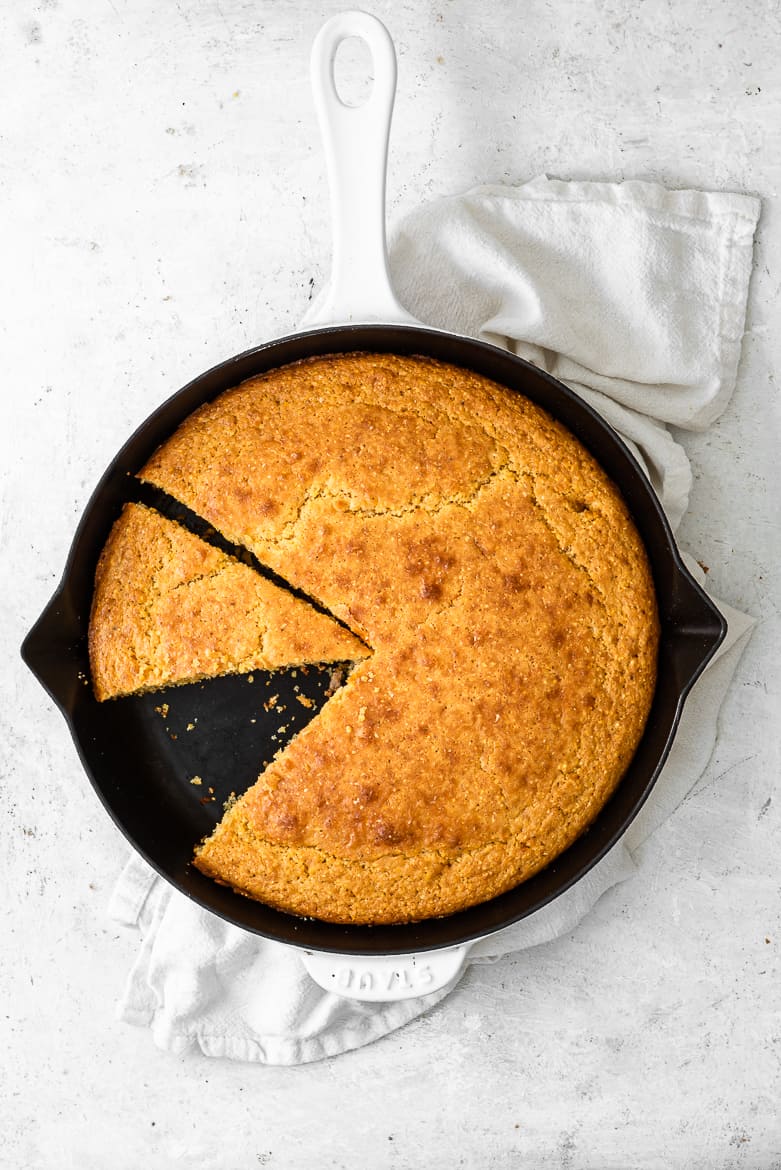 I feel like I have owed you this cornbread recipe for a long time, despite the fact you weren't even waiting for it. The thing is, if you don't already make cornbread every time you make chili, or stew, or ribs, or hearty soups, then you are missing out. This time of year it is smart to freeze a batch ahead of time to cube up and use in stuffings, or to have at the ready for said chilis and stews.
This cornbread recipe takes less than 15 minutes to mix up, and about 20 minutes in the oven. It's rustic and hearty, and perfect when toasted the next day (or day of) then topped with a fat smear of your best butter. If you can make pancake batter, you can make this cornbread with your eyes closed. Really.
HOW TO MAKE QUICK SKILLET CORNBREAD
As alluded above, preparing the batter for this basic cornbread recipe is a breeze. If you have cornmeal, you will likely have all the other ingredients on hand — eggs, butter, buttermilk (or milk), flour, baking soda, baking powder and a sweetener of your choice. Next, you are simply mixing the wet ingredients separately from the dry, then combining the two without over mixing. Super easy.
Cornbread bakes beautifully in a hot cast iron skillet. When you pour the batter into the hot skillet, the cornbread gets a crispy bottom and edge with a moist interior. If you have one, I highly recommend you use it here. I like to preheat the skillet on the stovetop, brush it with a little butter, then carefully add the batter. Into the oven it goes and 20 minutes later you will have a moist, beautifully golden, delicious cornbread with a crunchy texture.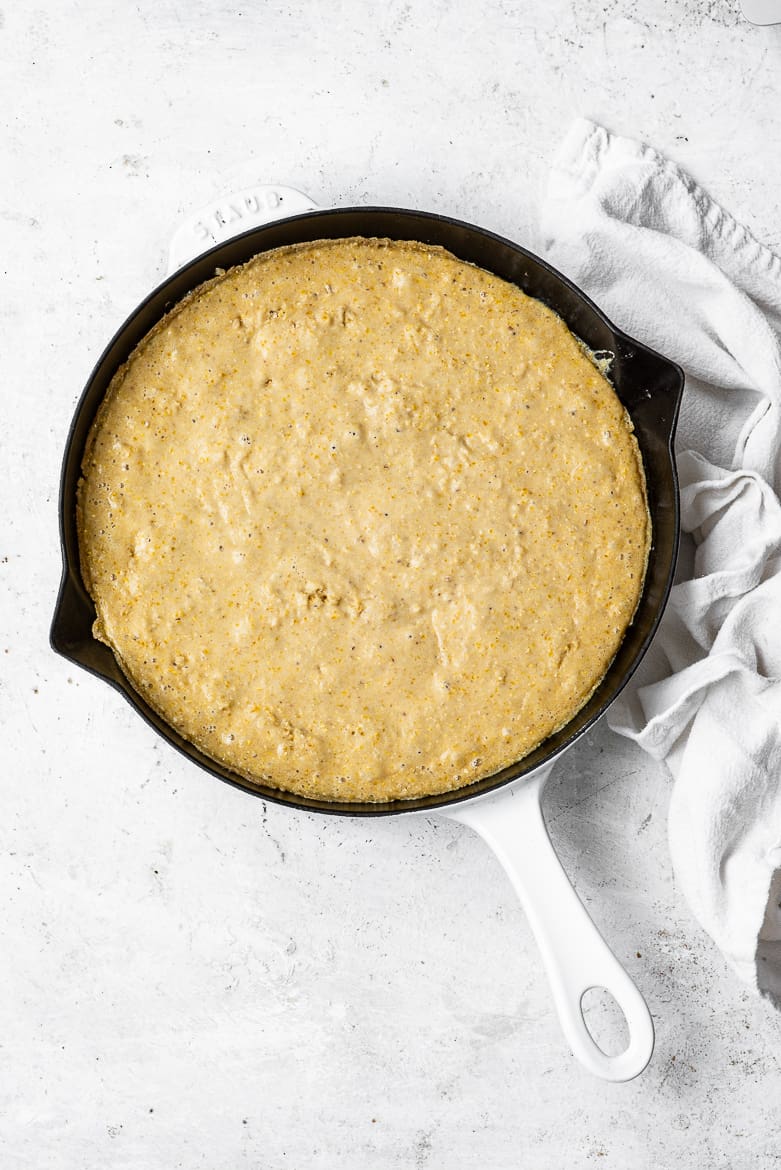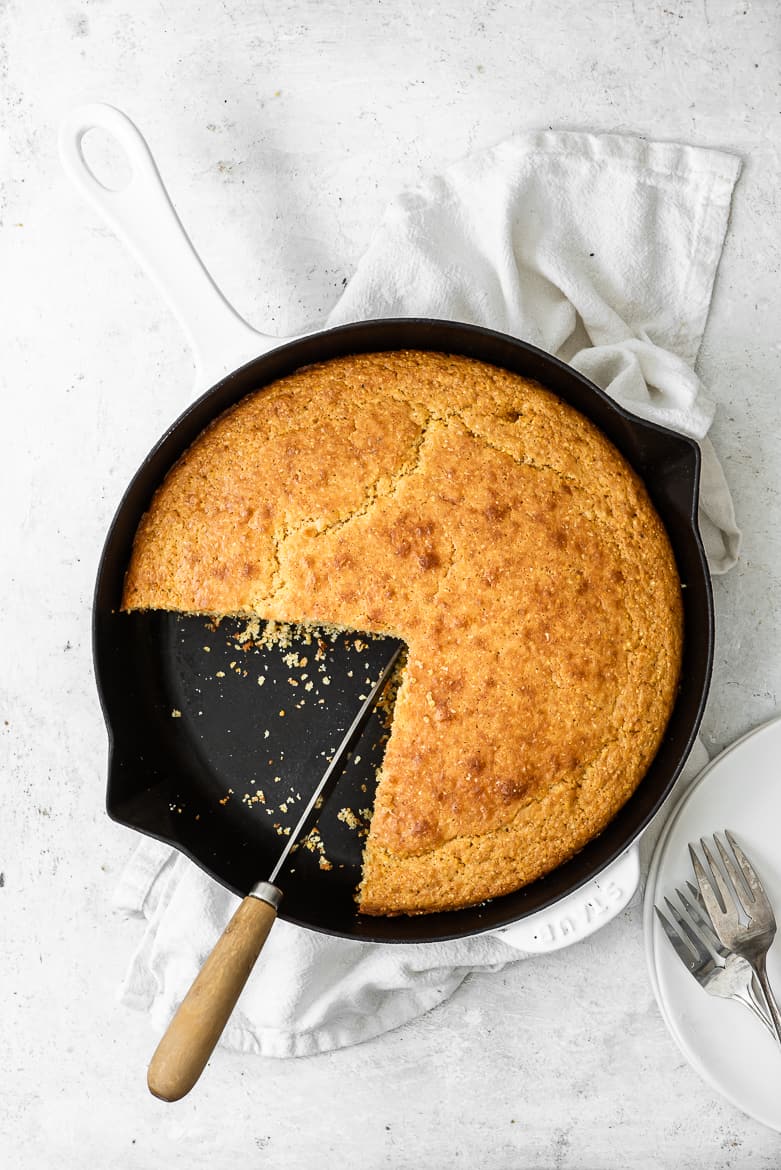 VARIATIONS
What you get with this quick skillet cornbread is a simple and basic version. I skipped any add-ins so you could have a base recipe to suit different uses for the cornbread. However, you can have a lot of fun jazzing up your cornbread with an endless amount of variations and add-ins.
Flour: I like to use wholewheat pastry flour but it is sometimes hard to find. I have made it with all wholewheat flour which I find a little too dense for the already coarse cornmeal. If you cannot find wholewheat pastry flour, use exclusively all-purpose flour or only a 1/4 cup of wholewheat with the rest all-purpose. Cormeal is naturally gluten-free, so it easy to make this cornbread free of gluten. Simply replace the wheat flour with a gluten-free, all-purpose mix.
Sweetener: Cornbread is not supposed to be a very sweet bread. In fact, a true Southener would be appalled if served an even slightly sweetened cornbread — you have been warned. However, with no disrespect to the South, we enjoy ours lightly sweetened. I use maple syrup to sweeten my cornbread with great success. Honey would also be great or use brown sugar, coconut sugar, or any other sweetener of your choice.
Buttermilk: I love the tangy flavour of buttermilk in cornbread. I am slightly obsessed with this one which my nephew introduced me to years ago. If you prefer, you can use regular milk or make a quasi-buttermilk version by adding a few tablespoons of white vinegar to a cup of warmish milk.
Butter: I do cringe a little at the amount of butter used here. Unfortunately, using less butter tends to make the cornbread stale quickly. I often cut the amount of butter by half if I know the cornbread will be eaten within a day (which is almost always). You can use oil if you prefer. Oil does tenderize the crumb but butter tenderizes it AND also adds a richer flavour.
Add-ins: For even more deliciousness, add a handful of your favourite melty cheese into the mixed batter – gruyere, cheddar and even goat cheese will work. If you are adding cheese, and you like some heat, jalapeños (seeds-in), are a no-brainer. So good.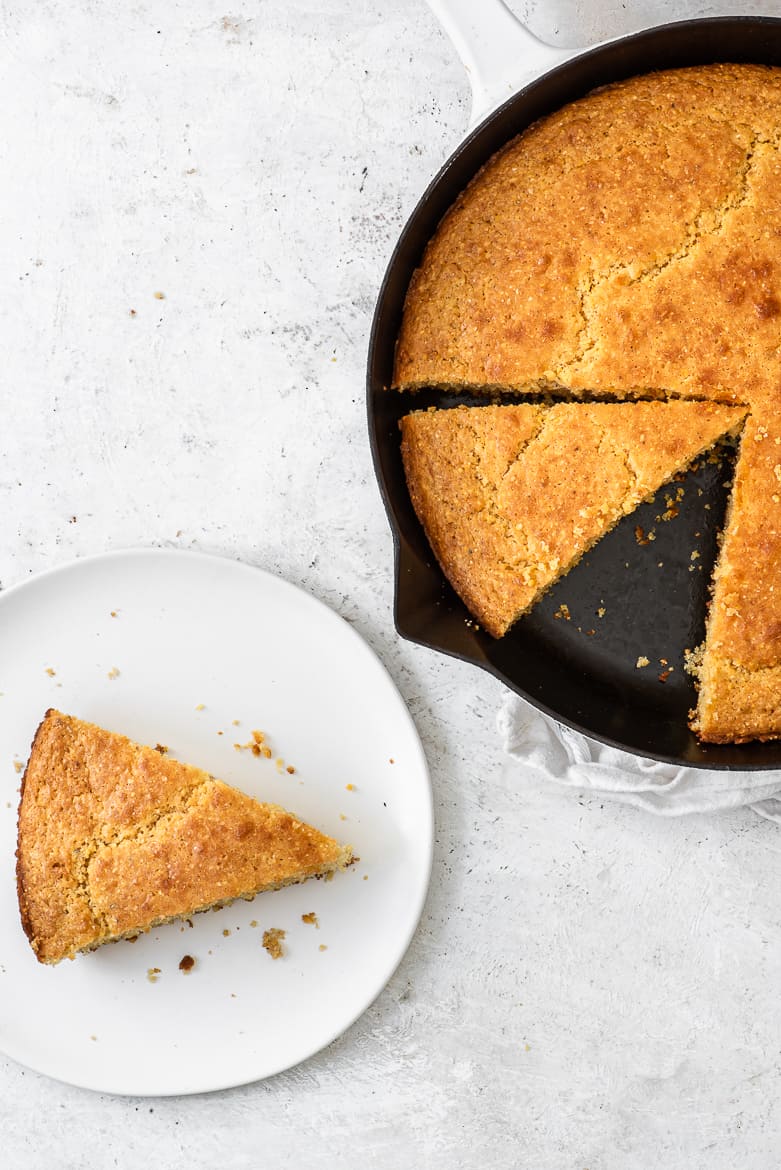 I hope you give this cornbread recipe a go. We like ours warm from the oven, a very doable feat due to the short amount of time it takes to make it. The next day, we are usually fighting for the leftovers to have with coffee or alongside a fried egg. Yum. O.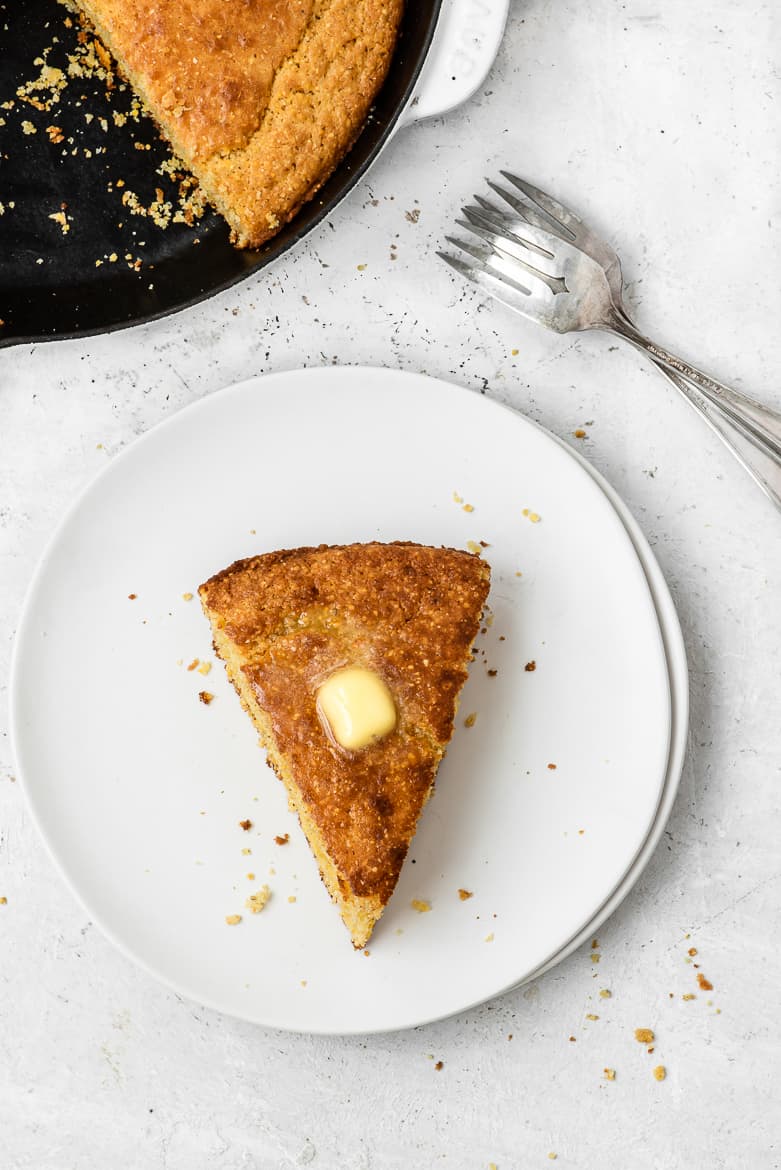 WHAT TO SERVE WITH CORNBREAD:
Ingredients
1

cup

whole wheat pastry flour

or all-purpose flour

1

cup

yellow cornmeal

preferably stone-ground (I like this one)

2

teaspoons

baking powder

½

teaspoon

baking soda

½

teaspoon

fine grain sea salt

2

large eggs

1 1/4

cup

buttermilk

3

Tablespoons

pure maple syrup

or honey or sugar

½

cup

unsalted butter

1 stick, melted and slightly cooled, or avocado oil or olive oil
Instructions
Preheat the oven to 375 degrees.

In a large bowl, whisk together the flour, cornmeal, baking powder, baking soda and salt. In a medium bowl, whisk the eggs, buttermilk, and maple syrup until well blended. Whisk in almost all of the melted butter, reserving about 1 tablespoon for the skillet later on. Pour wet ingredients into dry ingredients and stir until just combined.

Place a 10-inch, oven proof skillet (preferably cast iron) on the stovetop over high heat. Brush the skillet with remaining butter. Once hot, but not smoking, carefully pour in the batter and quickly smooth the top evenly, if necessary.

Transfer skillet to preheated oven and bake for 20 - 25 minutes or until the top is golden and a toothpick inserted in the center comes out clean. Note: if using a cast iron skillet, the cornbread will continue to cook once out of the oven. I almost always take mine out at 22 minutes.

Alternatively, bake the cornbread in a greased 8 x 8 pan for 25 minutes.

Cool in the skillet for 10 minutes before slicing.