This Mexican Chopped Salad with Chipotle Pepitas is the perfect hearty salad to accompany any grilled meat or fish, or served as a light lunch. So delicious and satisfying you will want to dig into it immediately!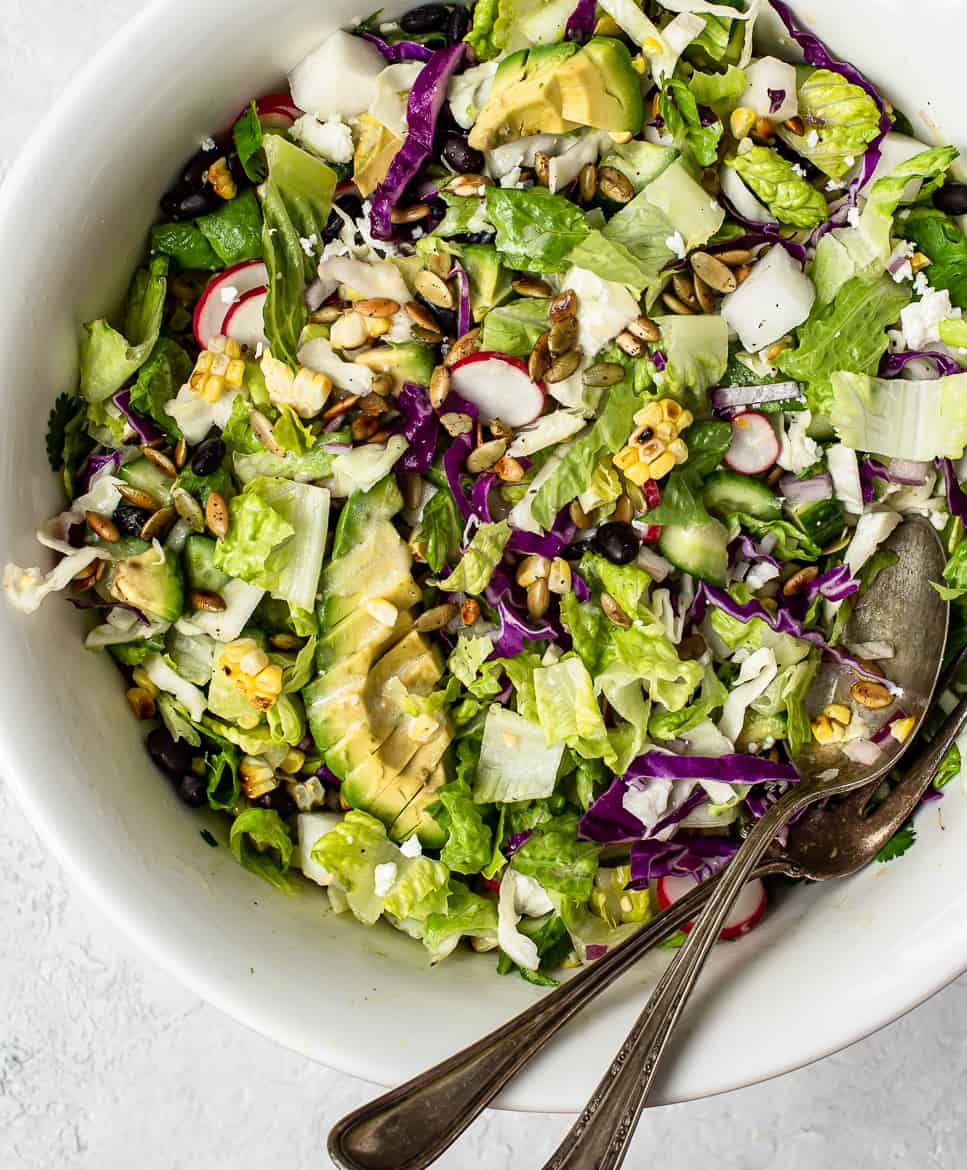 Hi there, hope you are all keeping well and enjoying a lovely weekend. In honour of all the gorgeous weather we have been having lately, and because beautiful spring produce is starting to pop up, we have been on a salad craze here at Casa Valvassori. Also, I have been working on a "sensational salads ebook" which means the past week has been salads for breakfast, lunch, and dinner. Thankfully, we all love salads so no one is complaining. I left out this Mexican chopped salad with chipotle pepitas from the ebook because it is one of our favourites and I needed to share it with you immediately.
It is not surprising that everyone loves a chopped salad — full of contrasting textures and flavours, there is something going on in every single bite. This Mexican chopped salad has freshness from the lettuce and is loaded with crispy veggies like cucumbers, radishes, onions, and jicama. Cabbage, in both green and red, and chipotle pepitas, offer a much needed substantive crunch to the salad. Black beans and grilled corn provide a delicious sweet flavour which contrasts beautifully with the salty feta. To finish, creamy avocados and a limey-creamy dressing make it one of the most delicious and satisfying salads you'll ever have.
Ingredients in this Mexican chopped salad
I like a Mexican chopped salad that doesn't have any one ingredient as the dominating base. In this salad, there is almost equal amounts of greens to veggies which add a lot of interest and delicious flavours. That said, feel free to add more or less of any ingredient to your liking or depending on what you have on hand.
Lettuce and cabbage: Romaine lettuce and red cabbage are great for this salad because they are sturdy enough to hold up to the creamy dressing. I like to use red cabbage for the pretty colour but green or a mix works fine.
Fresh Corn: I like to use 2-3 ears of corn, which you can quickly grill or even cook in the microwave. Alternatively, you can use frozen corn if fresh is not yet available (cook according to package instructions).
Black beans: Canned black beans or pinto beans make this salad tastier and even more filling. Rinse and dry the beans well before adding them to there salad.
Cilantro leaves:  A 1/4 cup of cilantro leaves adds more freshness and dimension to the salad. You could also use mint or parsley or a mix of all three.
Jicama: The jicama plant is native to Mexico and is commonly used in Mexican cooking. I love to use it in salads for its slightly sweet crunch, and because it doesn't lose its crispness for days. You can find jicama in many well-stocked grocery stores but if you can't find it, simply leave it out and perhaps add more radish.
Radish, cucumbers, red onions: These veggies add much of the crispness and bright colour to the salad. You can also add quartered cherry tomatoes for more colour and flavour.
Avocados: I almost can't imagine any salad that doesn't benefit from the addition of creamy avocados. This one is no exception.
Chipotle pepitas: Pepitas (pumpkin seeds) are found all over Mexico. For this salad, I toast the pepitas then add a little coconut oil, salt and chipotle powder. Not only do the pepitas add a lovely dramatic garnish to the salad but the flavour and crunch is ridiculously addictive. Do try not to leave them out.
Feta cheese: Though I usually subscribe to the mantra that feta makes everything better, I am going to say for this salad it is optional. There is truly enough deliciousness going on that you will not miss it if you leave it out. For this reason, I like to serve it in a separate bowl and let everyone top their salad with it if they wish.
Ingredients for the dressing
This delicious dressing is simple but strong. The assertive garlicky-lime punch in the dressing is toned down by the honey and the creamy mayo.
Lime juice: A 1/4 cup of fresh lime juice may sound like a lot, but trust, it adds incredible brightness to this salad. If you wish, you could use any white (light) coloured vinegar instead.
Garlic: I add a grated garlic to almost all my dressings and vinaigrettes. So good and punchy.
Honey or maple syrup: A bit of sweetener balances out the lime or vinegar.
Vegenaise or Mayo: I love a bit of extra creaminess in this salad but feel free to leave it out if you don't. The dressing, and salad, will be just as delicious without.
Extra virgin olive oil: For more flavour and creaminess.
Kosher salt: Never forget a bit of salt in your dressings and vinaigrettes. In my opinion, it practically makes or breaks a good salad.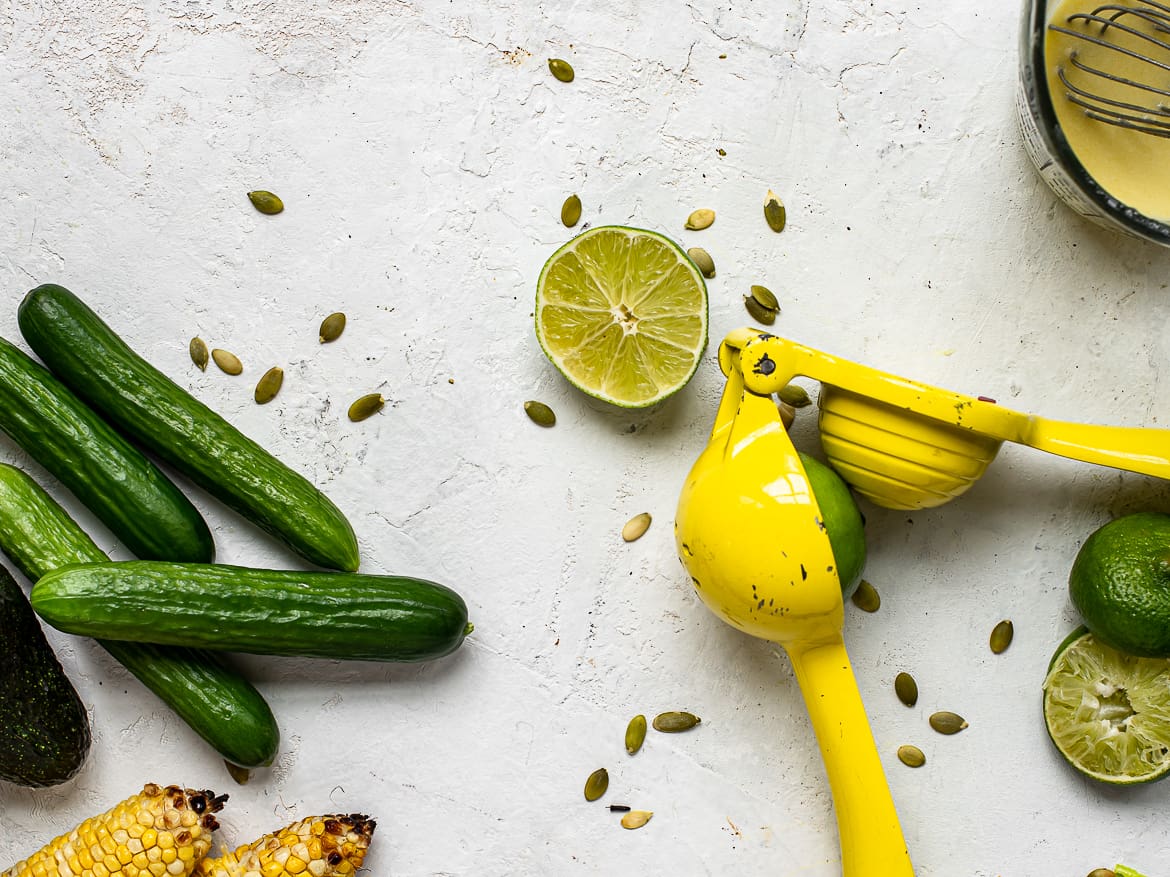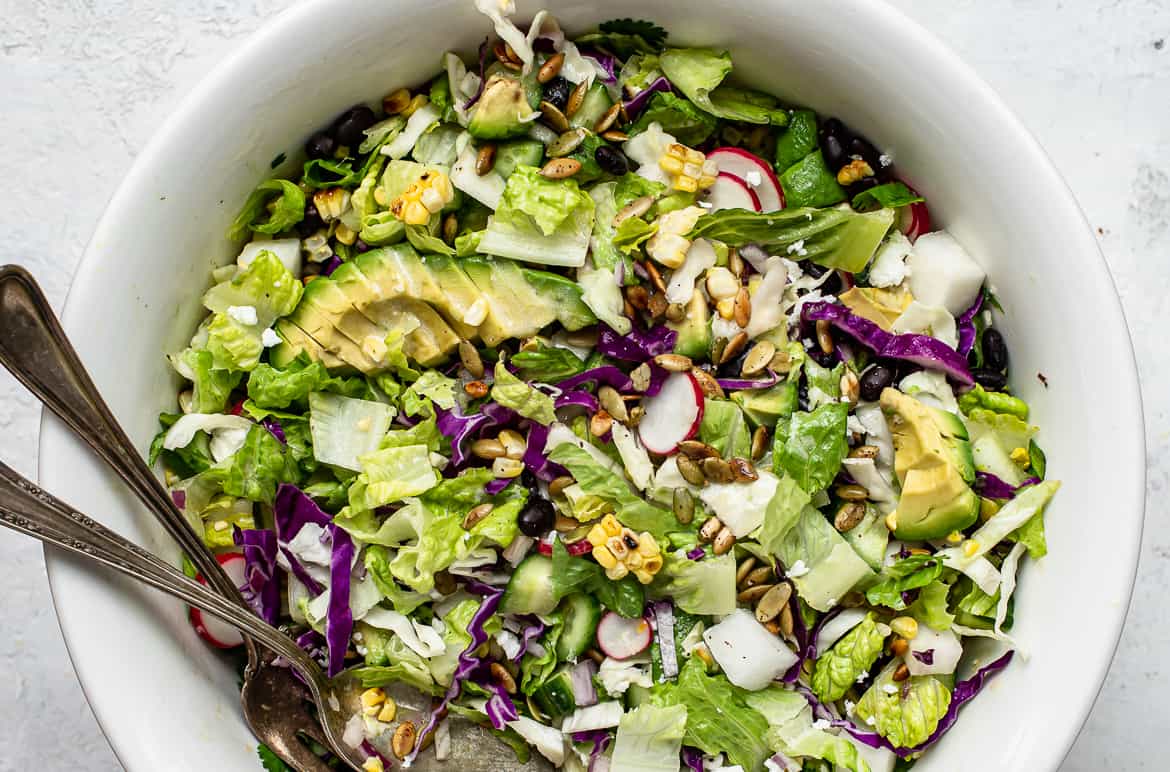 Tips for making Mexican chopped salad
Grill the fresh ears of corn for 15 minutes to add a bit of smokiness and char to the salad. If you prefer an easier step, you can microwave it. See the directions in the recipe notes.
Make it look pretty. No this won't make it taste better but a pretty presentation seems to make everyone enjoy it that much more. Try and chop all the ingredients about the same size and remember to add a lot of colour for maximum, natural vibrancy.
Mix the salad well before you add the dressing. This way, you will only need to give it a gentle toss once you add the dressing without having to over-handle the salad.
For even more crunch add crushed tortillas to the salad just before serving. Blue corn tortillas are my favourite.
Ways to serve this Mexican chopped salad
This salad will be a welcome reprieve to the summer heat. It is designed to be made in a big batch, then served alongside what you are already making.
Here's a few ideas:
As a side next to your favourite Mexican entree such as enchiladas, burritos, tacos, etc.
Fantastic with burgers such as these veggie burgers, or these chicken burgers.
Pair it with grilled fish or meat.
Perfect as a vegetarian light lunch. This chopped salad is super hearty and satisfying and we love it as lunch. To make it more of a meal, serve it alongside this Mexican rice and/or a grilled veggie platter or with a warm bowl of quinoa. So tasty!
If you omit the greens and add some chopped tomatoes, you can even serve it as a salsa.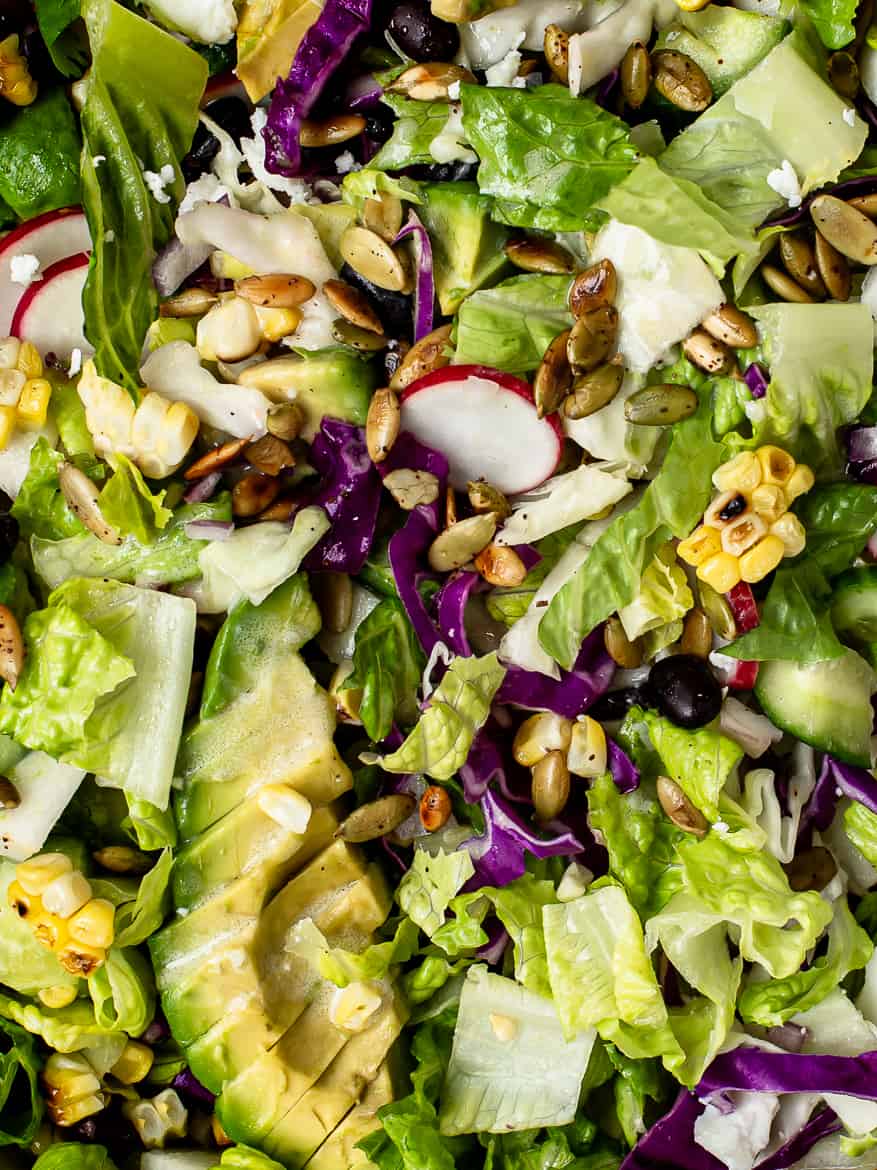 For sure there is a bit of chopping required for this salad but it goes fast and the minimal effort is super worth it. I assure you, this is the kind of salad that is so loaded with flavour and so gorgeously vibrant, it will make people sprint over to grab some. To all of you celebrating Memorial Day weekend, may you have a very safe and happy holiday!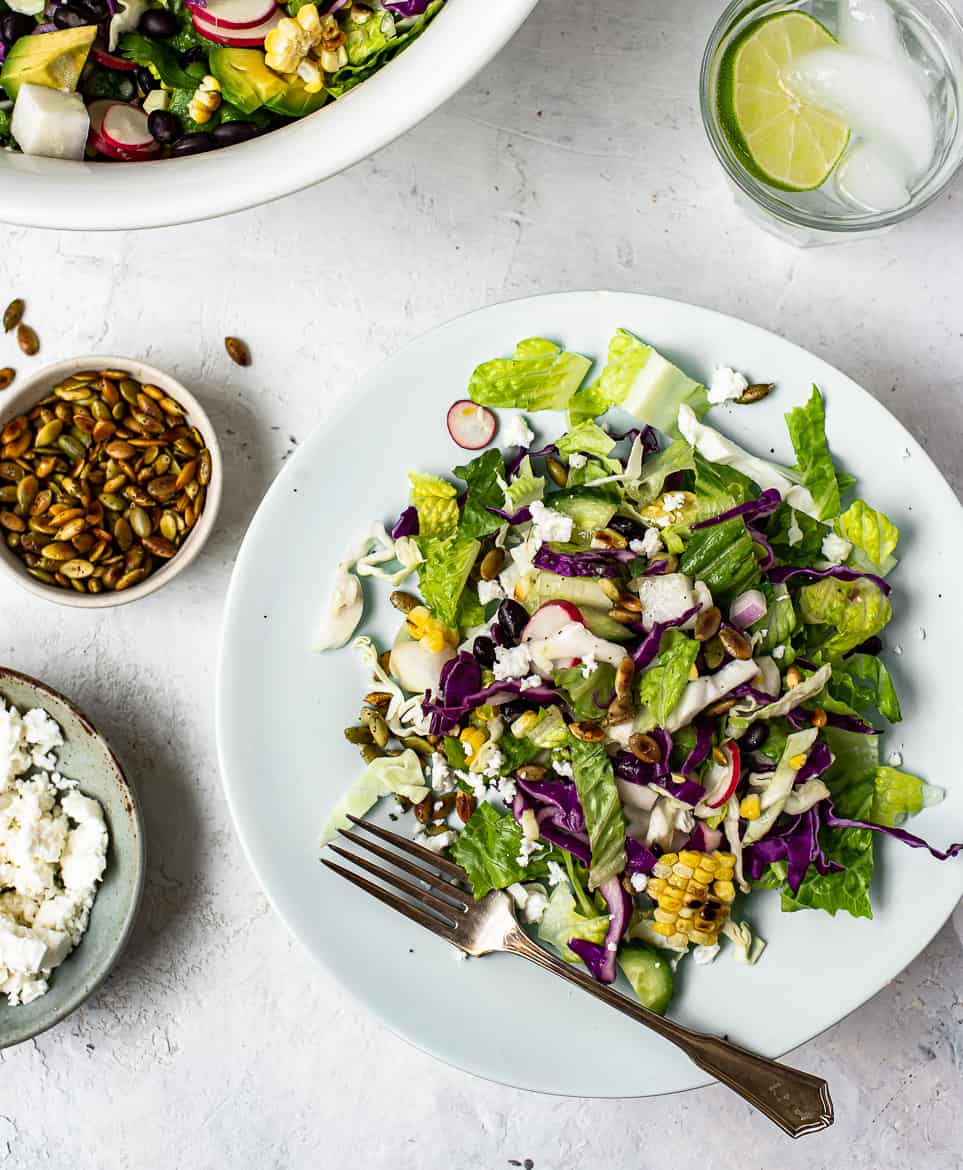 If you enjoyed this recipe, please consider leaving a star rating and review! It is always helpful for myself and for other readers to hear your thoughts and suggestions. 
Print Recipe
Pin Recipe
Mexican Chopped Salad with Chipotle Pepitas
This Mexican Chopped Salad with Chipotle Pepitas is a perfect hearty salad to accompany any grilled meat or fish, or served as a light lunch. So delicious and satisfying you will want to dig into it immediately!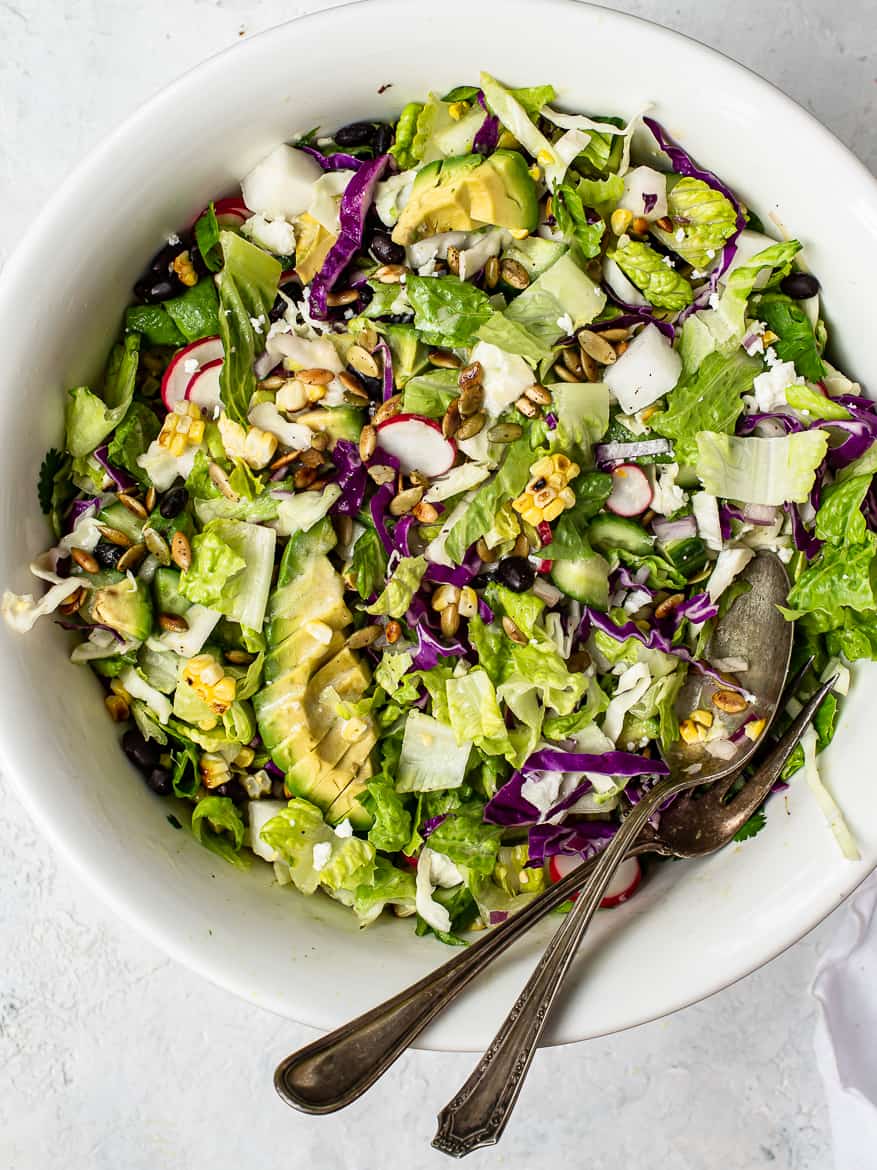 Ingredients
For the Dressing
¼

cup

fresh lime juice

2

tablespoons

honey

or maple syrup

1

garlic clove, grated or finely minced

2

Tablespoons

vegenaise or mayo

6

tablespoons

extra virgin olive oil

½

teaspoon

salt

freshly ground black pepper
For the Chipotle Pepitas
1

cup

raw pepitas (pumkin seeds)

1

teaspoon

coconut oil

1/2

teaspoon

chipotle powder

1/4

teaspoon

salt
For the Salad
1

medium head romaine lettuce chopped in approximately 1/2 inch pieces

4

cups

chopped cabbage

red or green or a mix

½

medium red onion, diced

1/2

english cucumber, chopped small

4-5

radish, thinly sliced or chopped

½

medium jicama, peeled and chopped small

1 1/2

cups

corn kernels, grilled or cooked from frozen

*see notes for grill instructions

1

can

black beans, drained and rinsed well

1

ripe avocado, chopped small

1/2

cup

finely chopped cilantro plus whole cilantro leaves for garnish

1/2

cup

crumbled feta

optional
Instructions
For the Dressing
Whisk lime juice, honey, garlic, vegenaise (or mayo), olive oil, salt and pepper in a medium bowl until smooth.
For the chipotle pepitas
 In a saucepan over medium heat, lightly toast the pepitas, tossing constantly, until fragrant and golden brown. Turn the heat off and add the coconut oil, chipotle powder and salt; toss well, transfwer to a bowl and set aside. 
Assemble the salad
Combine the lettuce and other salad ingredients in a large bowl. Toss gently to combine. Drizzle about half of the dressing and toss carefully to coat all ingredients. Garnish with cilantro leaves and chipotle pepitas, if using. Taste and drizzle with a little more dressing if needed. Top with feta cheese, if desired.
Notes
To grill corn:
3-4 ears corn, husks removed
Olive oil, for brushing
½ teaspoon salt, or to taste
Brush the corn with a light coat of olive oil and sprinkle over salt to taste. Cook the corn over a grill or grill pan heated over high heat until the corn is charred and tender on all sides, 6 to 8 minutes. Remove from heat and cut the kernels from the cobs. You should have about 1 1/2 cup corn kernels.