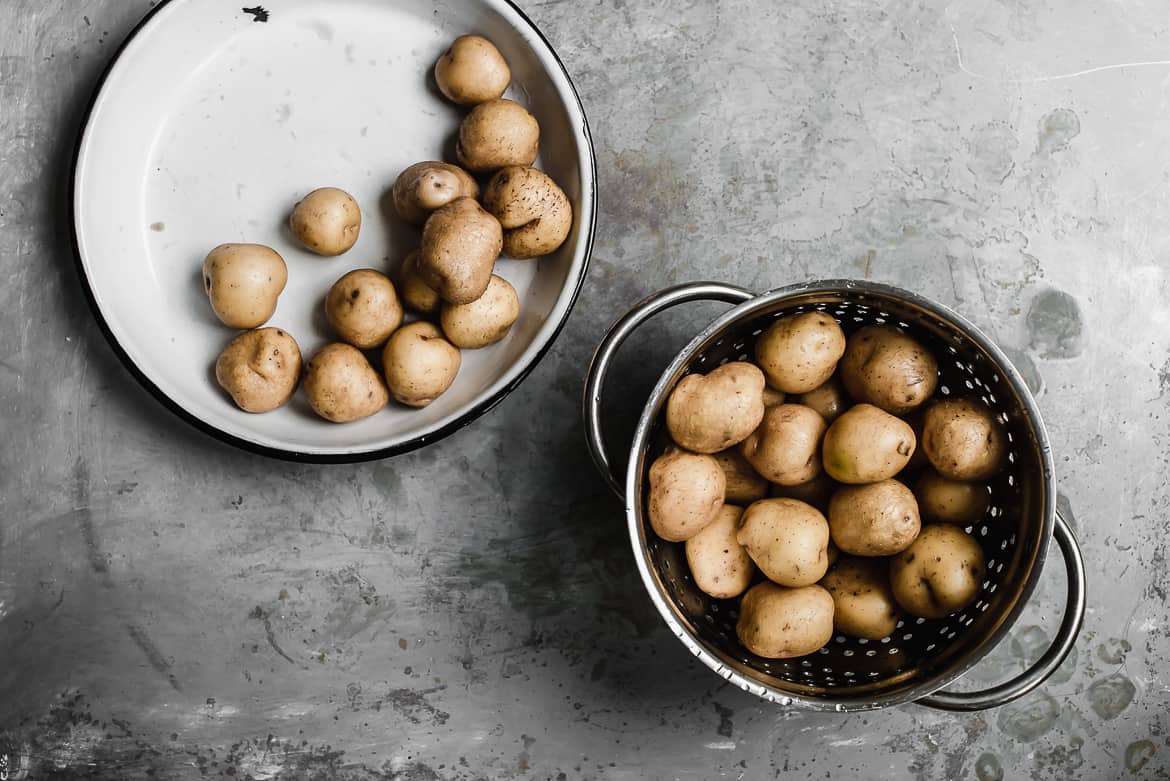 At the farmer's market, attached to a bucket of new potatoes, there was a handwritten, dirty and wet little cardboard sign that read "just dug up". Hard to believe there were any left with a sign like that but lucky for me there was. It seems  unfortunate that lately so many people have been excluding regular potatoes from their diet, believing claims that they are high in carbohydrates, sugars, starch, and generally not good for us. I mean I don't think we have to go full-on Matt Damon in The Martian but potatoes are in fact a very nutrient-rich whole food and, when eaten with skin-on, a great way to consume vitamins, minerals, and fibre.
Perhaps things are changing though because it seems that every new cookbook that is released, includes a recipe for crispy smashed potatoes. I myself have already posted one here. But the thing is, they really are utterly delicious; with a quick par-boil, a quick smash, and a quick pan-fry or roast, you will have the crispiest little potatoes to dress with aioli's, dip into sauces, or as I show you here, sprinkled with an herb-y salt. A great tip is to boil large amounts of fresh new potatoes, store them in the fridge, then the next step of smashing and roasting is a breeze. Or skip the smashing and chop the par-boiled potatoes into a frittata, or make a quick, mayo-less, potato salad or add them to a green salad. These little boiled gems are very versatile.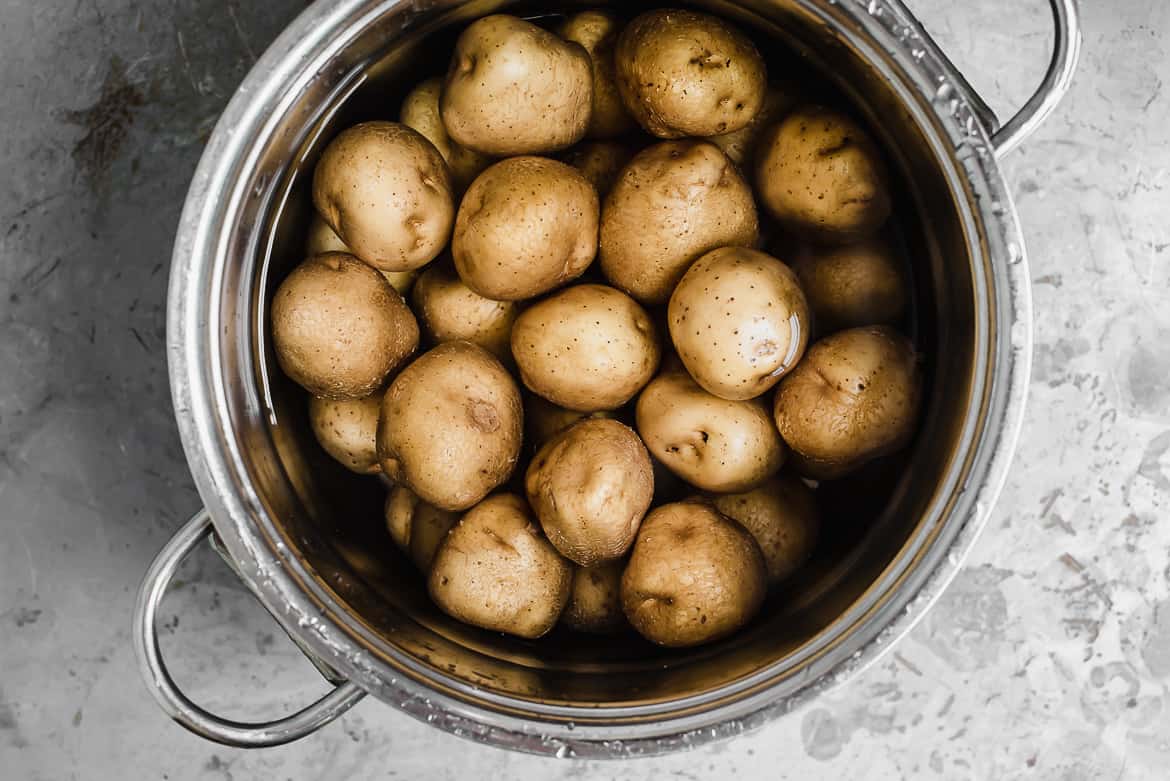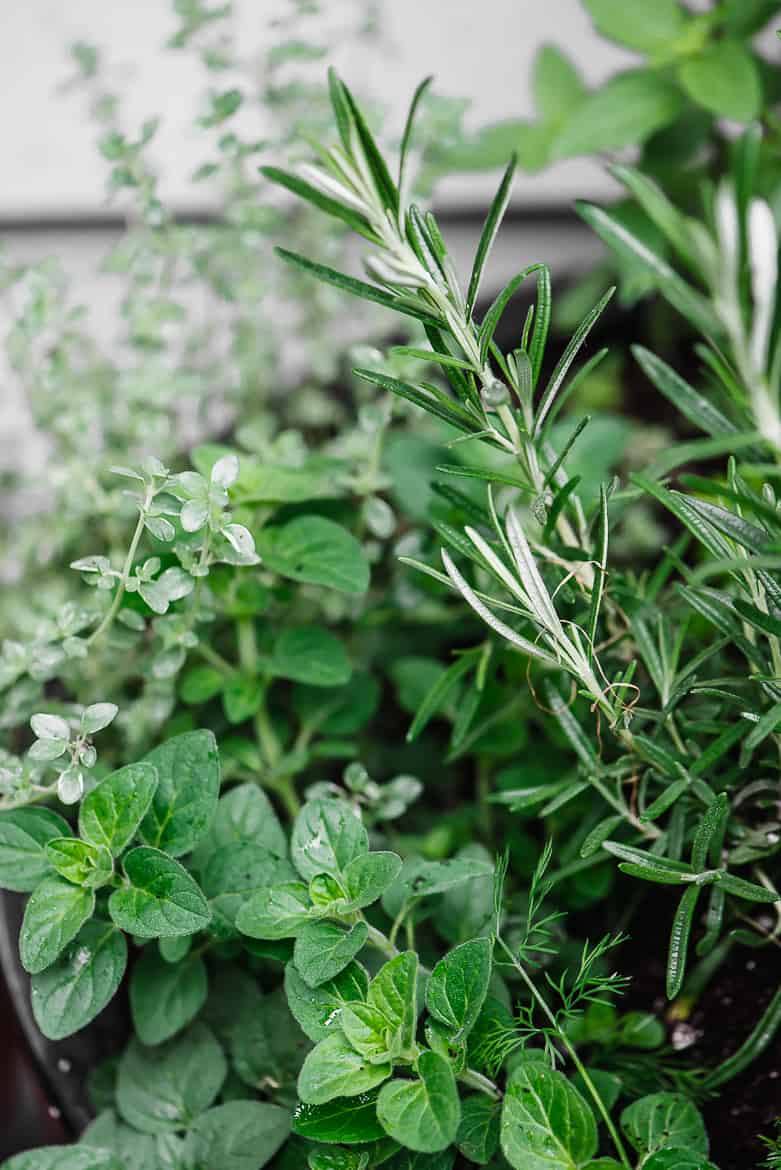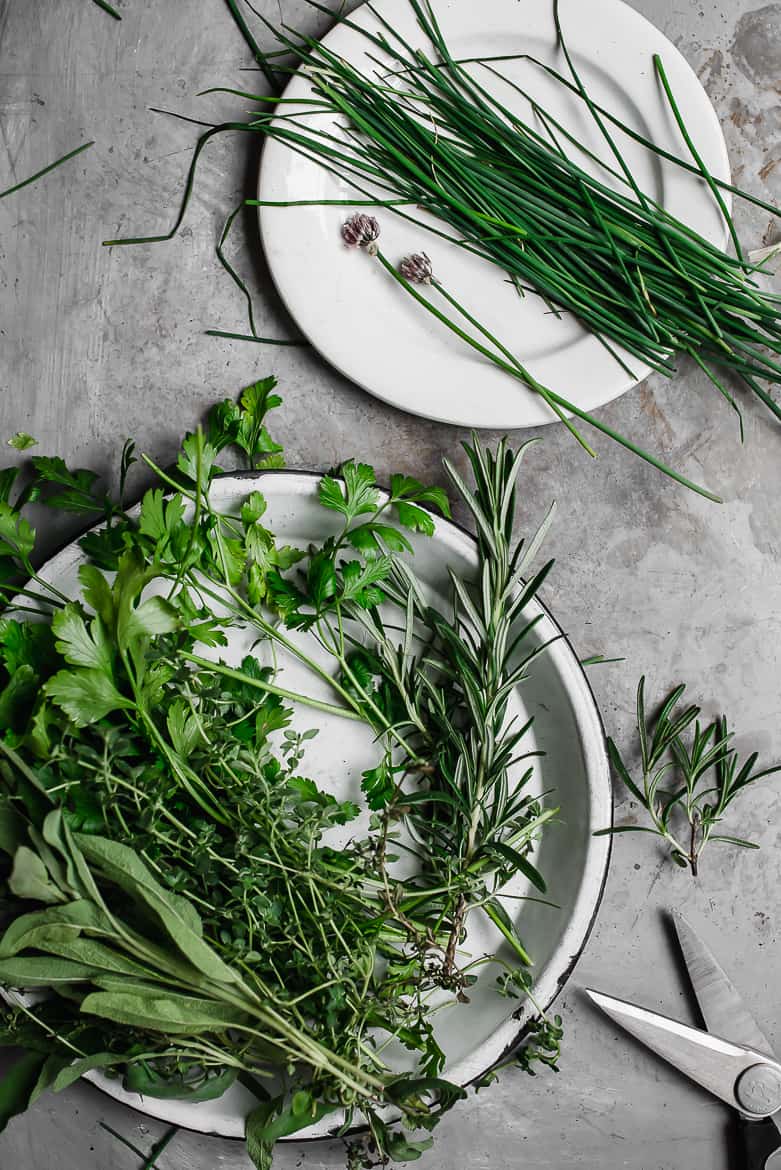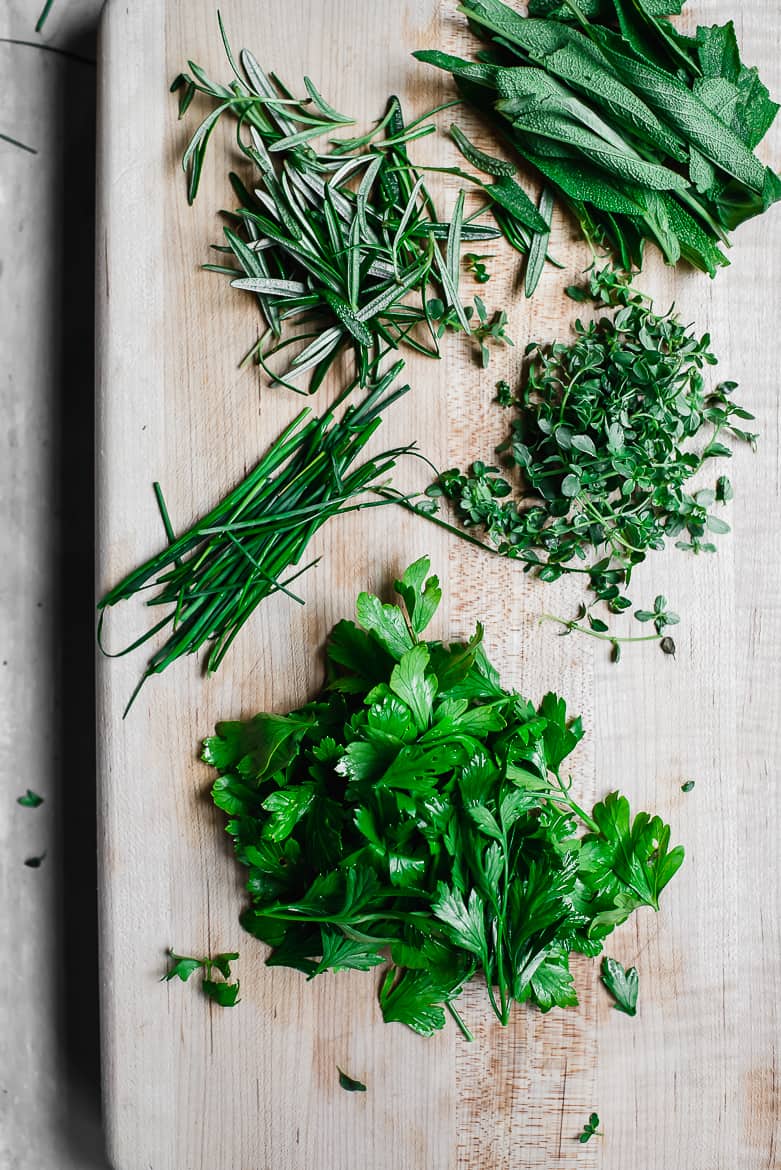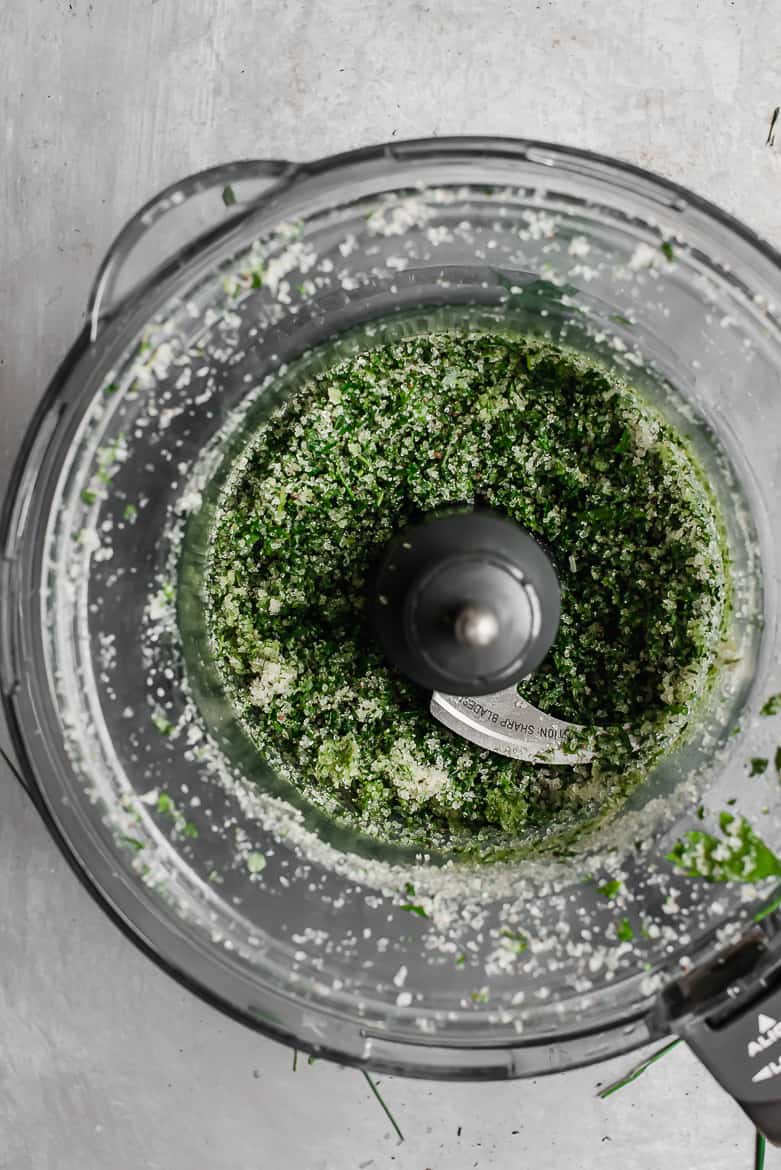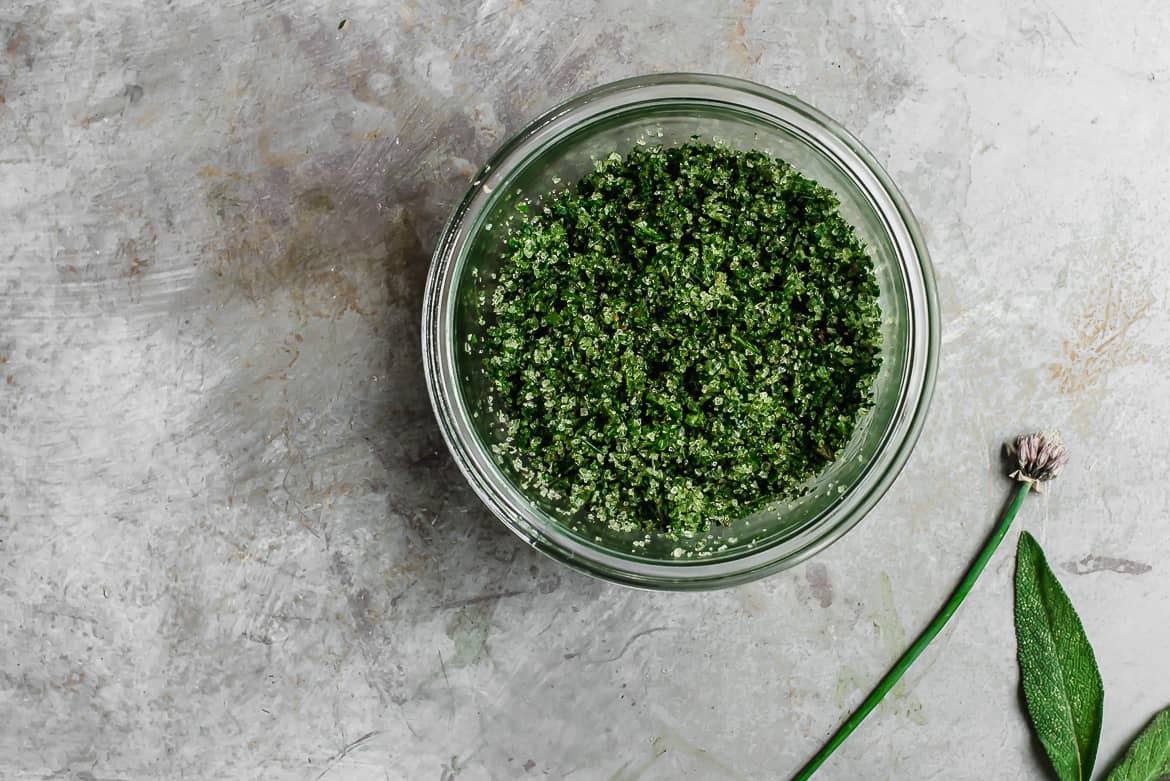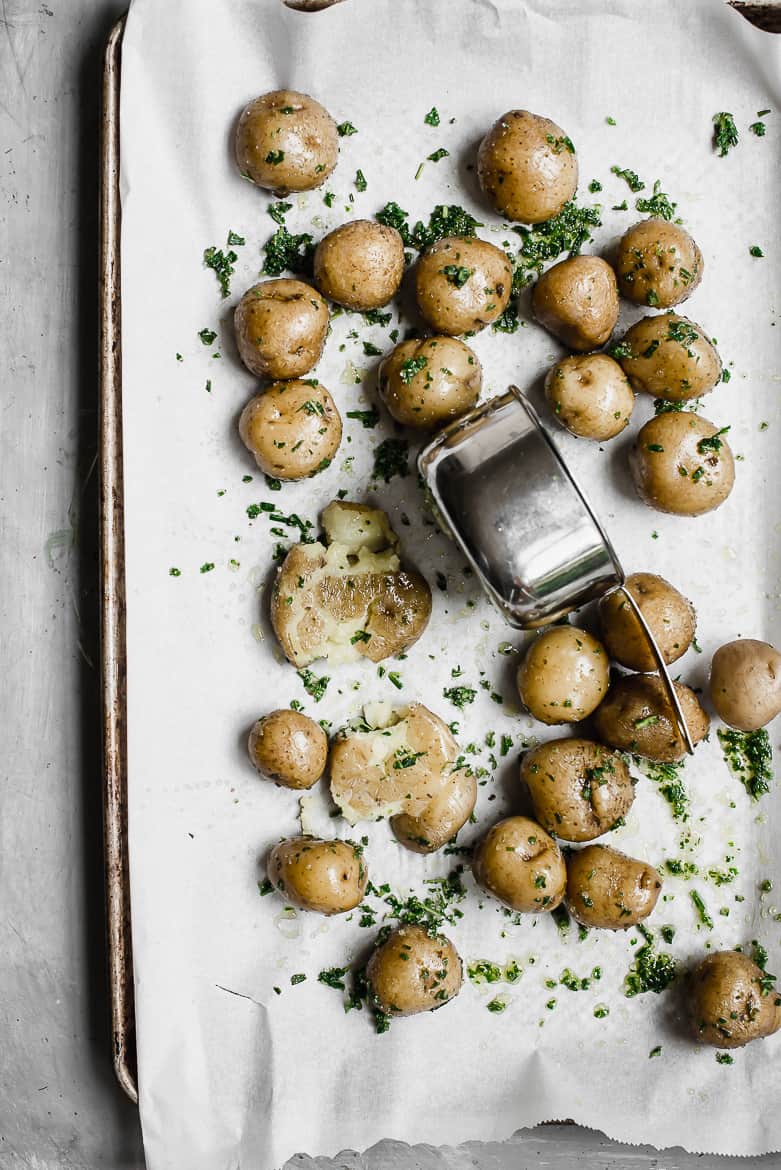 This recipe however, is not so much about the smashed potatoes as it is about the herb salt. I saw the recipe for it on the Kitchn website via the cookbook Shaya which I have just ordered because the reviews for it are very compelling. The aromatic flavour-bomb salt is fantastic sprinkled on smashed potatoes but it is also great to finish grilled meat or fish and also wonderful on roasted sweet potatoes or any roasted veggies for that matter.
Somehow I was able to get my act together this summer and potted-planted lots (lots!) of herbs. They must like something in the air this time around because they are growing like crazy and for once I am not envious of my neighbours beautiful herbs on steroids. The thai basil abundance in particular is creating all kinds of pressure for me to keep up with the Asian inspired dishes, something I'm not upset about at all given my love for anything and everything Asian (here and here). Use any herbs you have on hand or whichever herb-combo, or herb-ratio you prefer, you can't go wrong. The recipe calls for Morton Kosher salt which is not an easy brand to find so I used Diamond Crystal which is what I use exclusively to cook with. You can use sea salt but you may have to adjust quantities to taste since not all salts have the same degree of saltiness. I increased the amount of herbs from the original recipe but use my recipe as a guideline and again, adjust to your preference. Keep a jar in the fridge and replenish it throughout the summer — you will love rubbing and sprinkling this beautiful and vibrant herb-y salt on everything.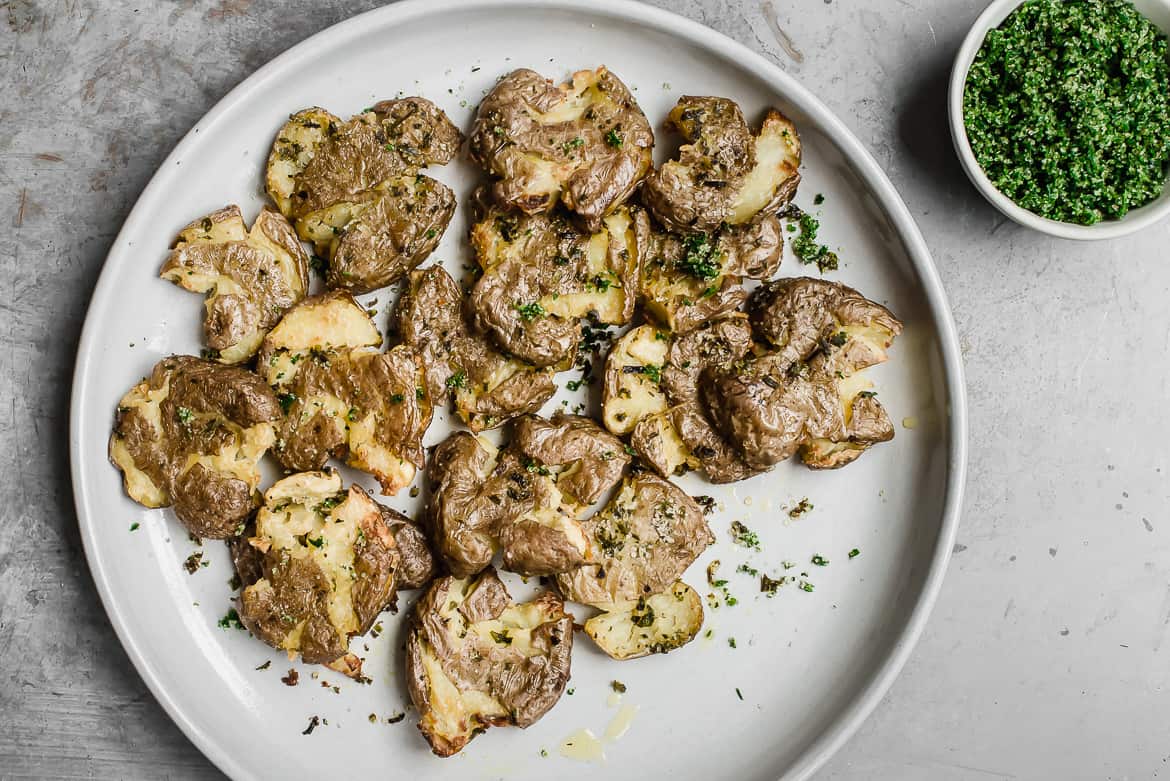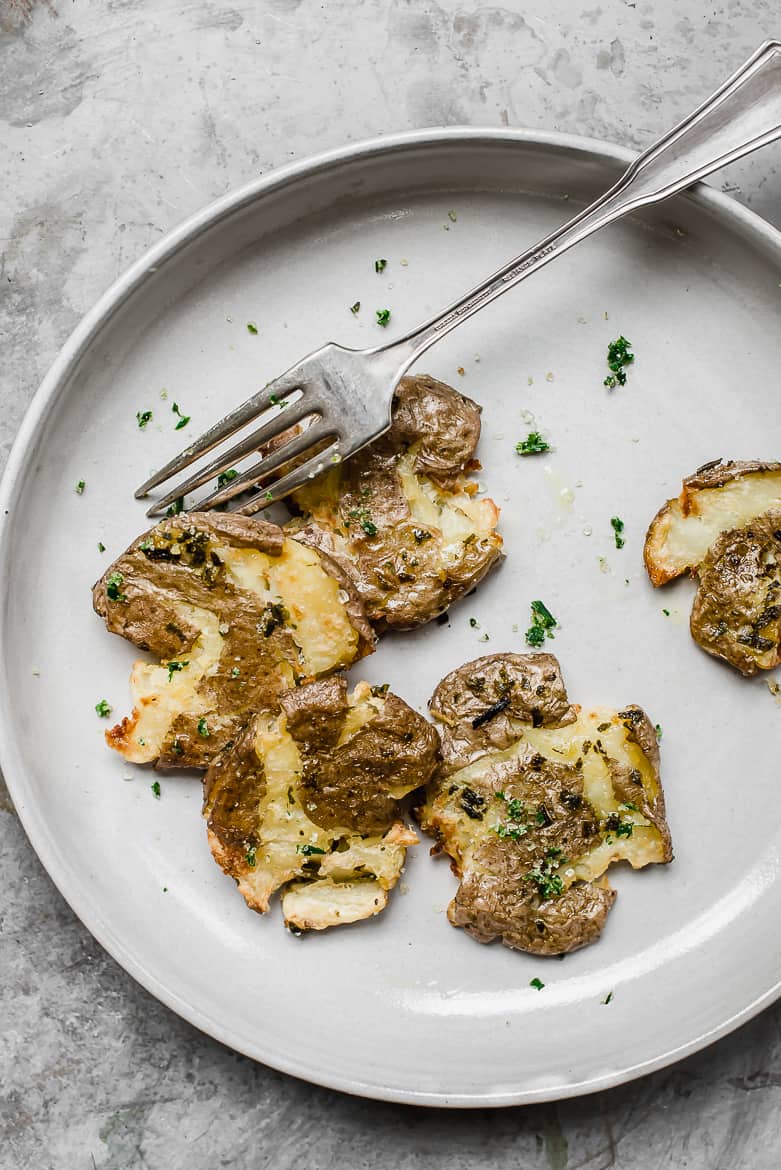 Ingredients
3

pounds

new potatoes

such as yukon gold, red, white, fingerling or a mix

1

Tablespoon

kosher salt

to boil

4

Tablespoons

extra virgin olive oil

or ghee, or fat of choice

3

teaspoons

herb salt

or to taste (recipe follows)

Herb Salt

Makes about 1/2 cup

1/2

cup

kosher salt

I like Diamond Crystal

2

cups

lightly packed fresh parsley leaves and tender stems

1/2

cup

lightly packed fresh rosemary leaves

1/4

cup

lightly packed fresh thyme leaves

1/4

cup

lightly packed fresh sage leaves

1/4

cup

chopped chives

optional

*see notes for tips on how to store your herb salt
Instructions
Preheat oven to 425° and line a large rimmed baking sheet with parchment paper.

Scrub any dirt off the potatoes and place in a large pot. Add water to cover by 1 inch, add 1 tablespoon salt and bring to a boil. Reduce heat to medium-low, and simmer until potatoes are just cooked through and pierced easily with a small sharp knife, about 15 minutes (time will vary depending on the size of your potatoes). Do not to overcook as they'll fall apart when smashed.

Meanwhile make the herb salt; wash the herbs and dry thoroughly. Place all the ingredients in a food processor and process until it's all finely and evenly chopped.

Drain the potatoes and let dry and cool slightly in the same, still hot, pot. While still warm, transfer potatoes to prepared baking sheet, add the olive oil and the herb salt and toss them gently to coat well.

Flatten each potato gently using the bottom of a measuring cup or a clean tea towel. Try your best to keep them in one piece but it's okay if they fall apart a bit.

Roast for 25 to 30 minutes, rotating the pan about halfway through (no need to flip the potatoes), until deep golden and crispy all around the edges. Serve warm sprinkled with more herb salt, if desired.
Notes
To store Herb Salt, place the prepared herb mixture in a glass jar. Herbs will keep in the fridge up to 6 months.
Alternatively, store the salt in a ziplock bag and place in freezer.
Use the herb salt cautiously as it is very salty. Start with very small amounts and go from there. Use it in any recipes that would benefit from an extra punch of salty aromatics; rub on meat and fish before or after roasting or grilling. Sprinkle it in soups and stews, or over grilled or roasted vegetables.