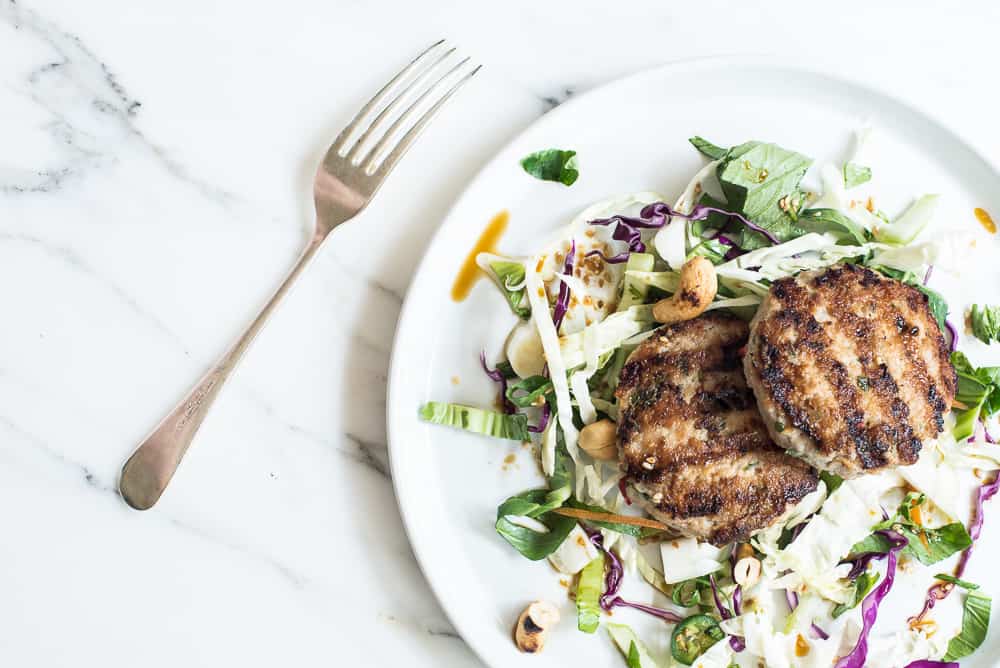 I am always horrified amazed at how excited everyone gets to be done with summer and start welcoming Fall. Yes, the lazy days of summer are over, and pretty soon, I too will be craving stews, warm soups, and roasted root vegetables. Just not quite yet. I still want to squeeze in a few more light, al fresco dinners and ignore the unmistakable signs of Fall that are starting to creep in late in the day. Enter the Thai Chicken Burger.
I have become a little obsessed with anything and everything Thai so this recipe makes me really happy. Fish sauce gives these chicken burgers the perfect umami flavour so try not to skip it. The salad that accompanies these chicken burgers makes the most of the cabbages and greens of all kinds that are still abundant at the markets right now. I like to use a mix of red and green cabbage for colour but use only green if you wish; the mix of green with more green layered with green, is also lovely.
Heirloom carrots that come in a full spectrum of beautiful reds, yellows, orange and creamy white, are perfect for this salad. Getting carried away with this salad is a good thing; add watercress, thai basil, daikon, red peppers, and pretty much anything else you desire. Do your best to not omit the cashews. They provide a spicy and delicious, crunchy bite that is worth the extra step. To be sure, this meal is very refreshing on a hot day, but once the inevitable string of gloomy, gray winter days arrive, it will wake you up and bring a little brightness to your day.
Packed with antioxidant-rich cabbages and vitamin-rich carrots, this dish is obviously healthy, but, it's so flavourful and delicious, that's almost beside the point.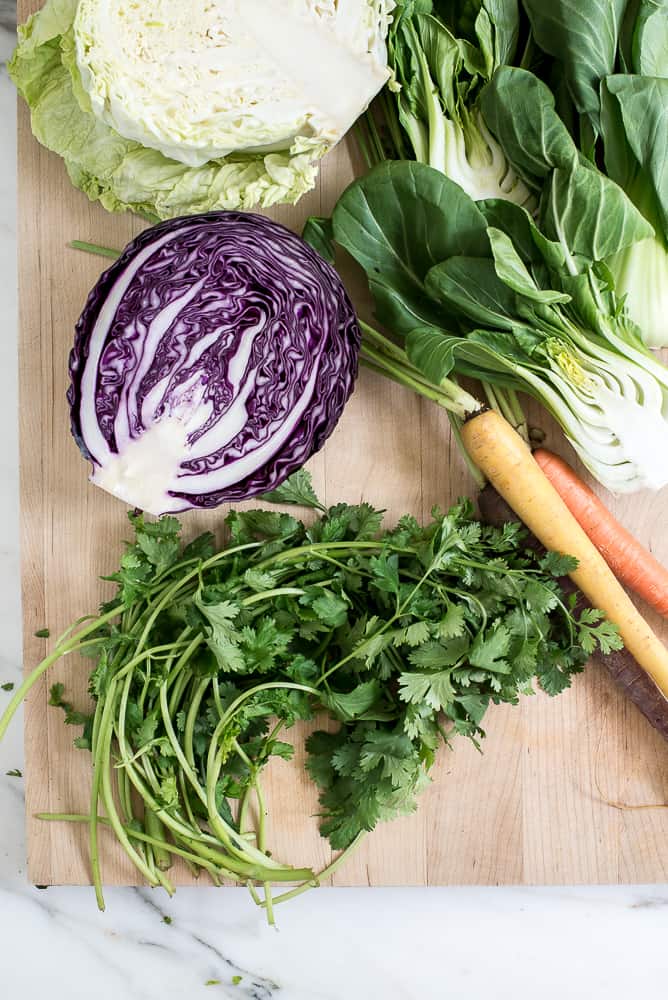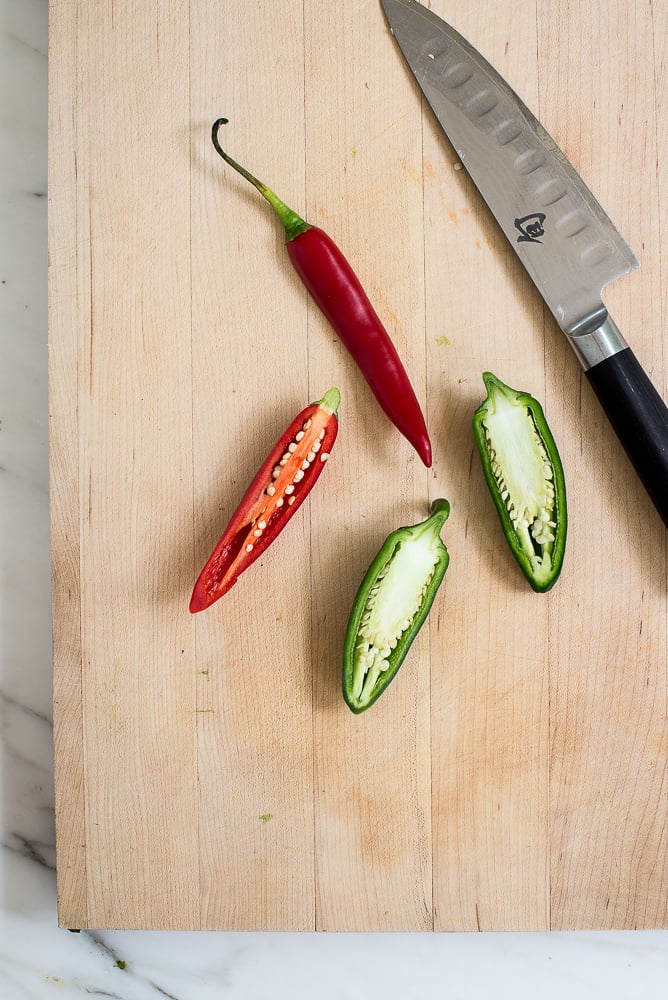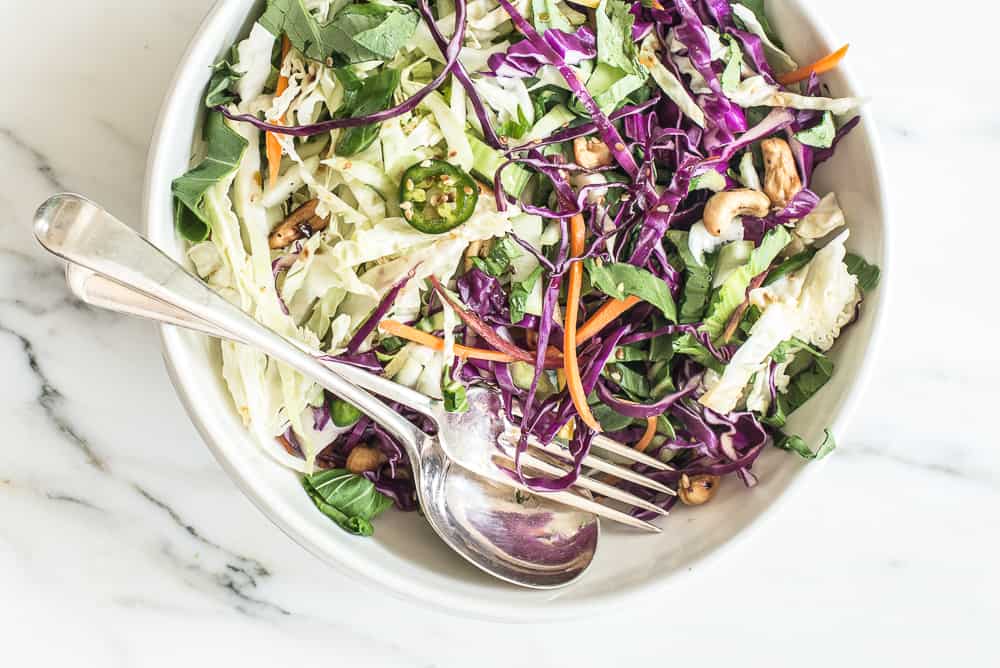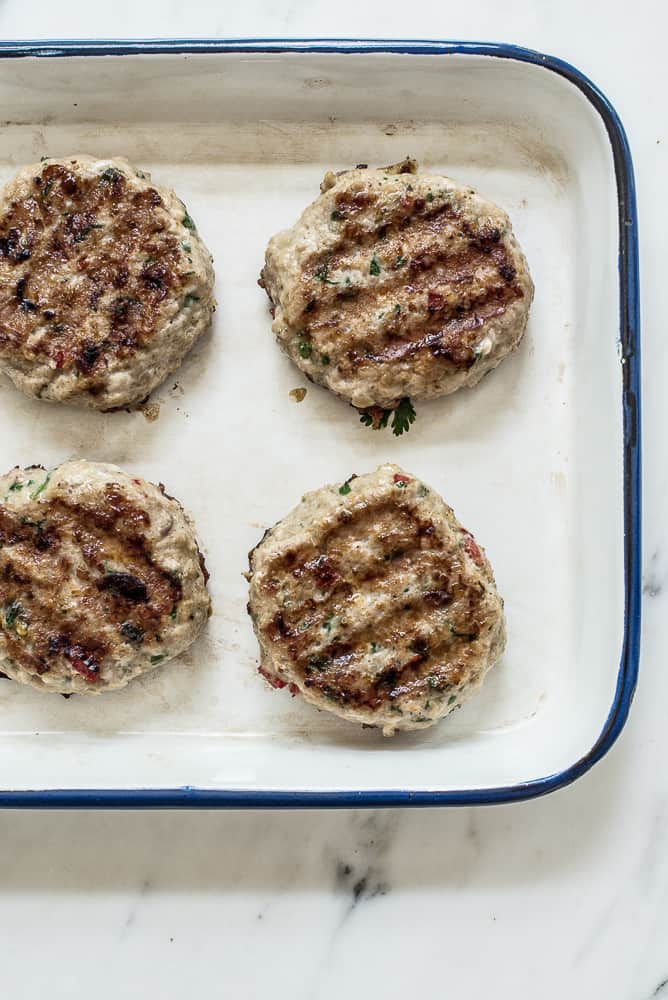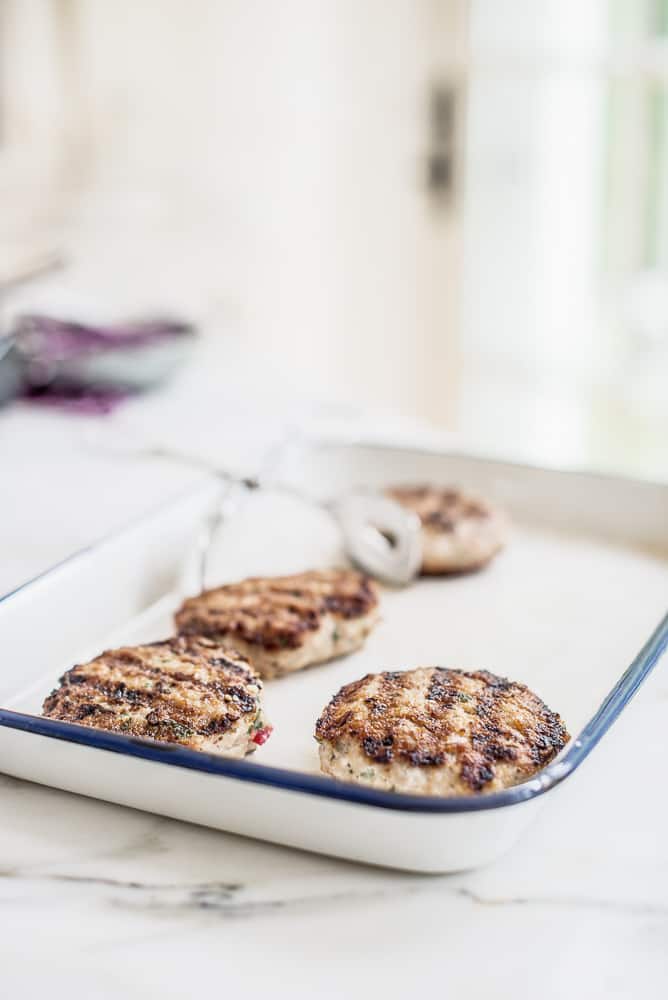 Print Recipe
Pin Recipe
Thai-Style Chicken Burger with Thai Salad
Don't let the long-ish list of ingredients put you off. Aside from a fair bit of chopping, there are relatively few steps, all straightforward and easy to execute.
Ingredients
For the Burger:

1

pound

ground chicken

2

garlic cloves

finely minced

2

shallots

finely minced

1/2

cup

chopped cilantro

2

teaspoons

fish sauce

optional, but delicious

1

teaspoon

red chili flakes

or less to taste

1/2

teaspoon

Kosher salt

or 1 teaspoon if omitting fish sauce

1/2

teaspoon

freshly cracked pepper

2

Tablespoons

neutral oil

like avocado or grapeseed

For the Dressing:

1

large shallot

finely sliced or minced

1

teaspoon

garlic

finely minced

1

teaspoon

fresh ginger

finely minced

1/4

cup

lime juice

1

Tablespoon

rice vinegar

2

teaspoons

light soy sauce

2

Tablespoons

fish sauce

optional, but delicious

1

Tablespoon

raw honey

1

teaspoon

sesame oil

a few dashes hot sauce

For the Cashews:

1/2

cup

cashews

1

teaspoon

coconut oil

1/4

teaspoon

salt

1/8

teaspoon

cayenne pepper or to taste

For the Salad:

1/2

head Napa cabbage

shredded

1/2

head red cabbage

shredded

4

large bok choy

rough bottoms cut and discarded

2

large carrots

peeled and cut into matchsticks

1

jalapeño

seeded and sliced

2

scallions

thinly sliced

Chopped cilantro to taste
Instructions
For the Burger:

In a medium bowl, mix the ground chicken with all the other ingredients. Do not over mix.

Form mixture into 4 patties, about 5 inches in diameter.

Heat a grill or grill pan to medium heat.

Brush the grill or grill pan with the oil.

Cook the patties for 7-8 minutes on one side (without moving them) then flip and cook for another 4-5 minutes, or until cooked through.

For the Dressing:

Combine all ingredients in a blender and mix until smooth. Alternatively, whisk all ingredients in a small bowl.

For the Cashews:

Heat a small saucepan to medium and lightly toast the cashews until golden brown. Add the coconut oil, cayenne, and salt. Toss for a few seconds then set aside.

For the Salad:

Toss all the salad ingredients in a large bowl. If making ahead, cover and refrigerate until ready to use.

Add enough dressing to coat salad and top with cashews.