These heavenly Sweet Potato Gnocchi are as light as a cloud thanks to the addition of whole milk ricotta. Once cooked, they are lightly crisped in a simple brown butter sauce with sage for a tantalizingly delicious and cozy fall meal.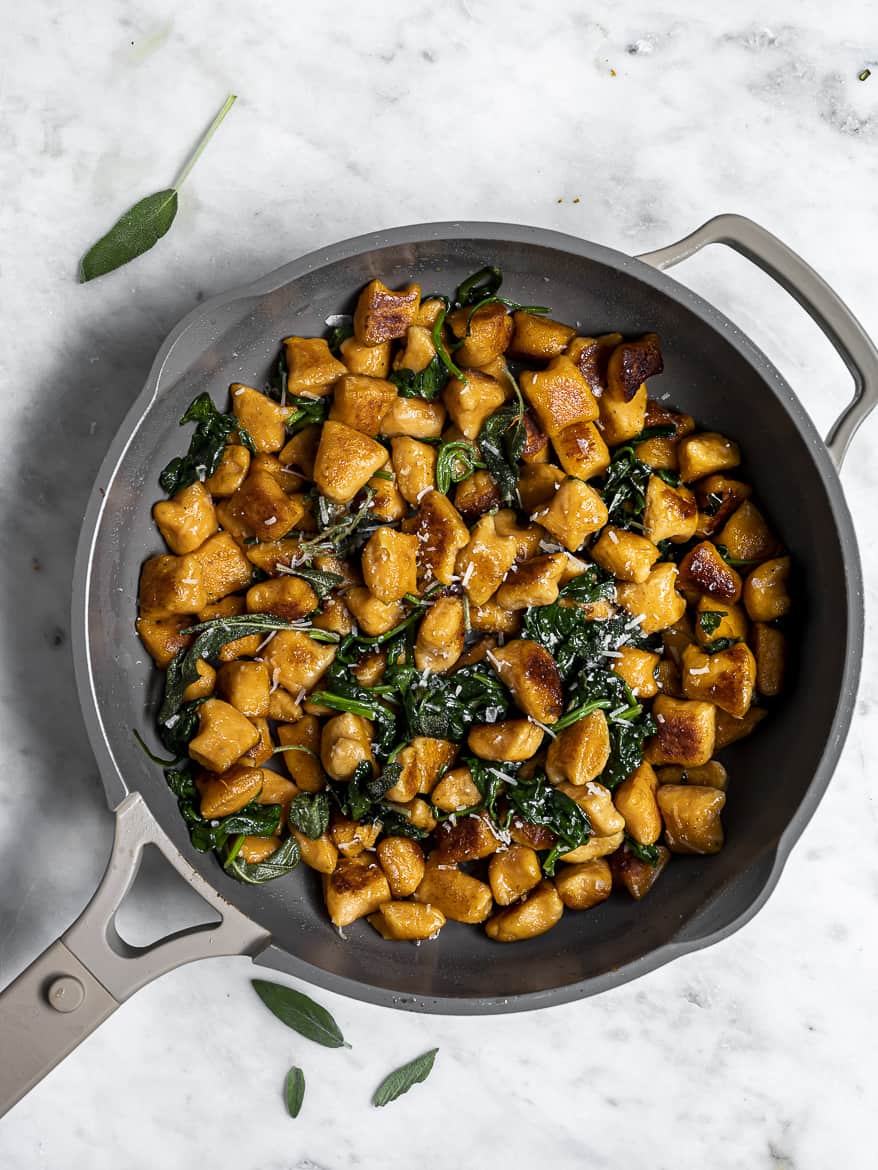 It's not looking good for the rest of 2020 and if, like me, you're back to needing comforting carbs in all their glorious forms, these tender, ricotta-filled, sweet potato gnocchi will delight you. Here I have paired them with a heap of spinach and crispy sage to help cut through all the starch. Butter is all we use for sauce, which is of course, delicious. Cozy up with a bowlful. It will feel like a warm hug through food to get you through these very trying times.
But, before we get started, I must come clean with the dark side of gnocchi. These pillowy-soft gnocchi have only 3 ingredients (not counting salt and pepper). Amazing. The sweet potato gets microwaved, or can be baked ahead of time. Easy peasy. Gnocchi are fun to shape and cut up and boil way faster than pasta. Delightful. So what could possible go wrong? Well, just about everything. You can end up with gnocchi that is dreadfully gummy or hard. And even worse, after all your hard work, they could disintegrate in the pot of boiling water.
Sorry, I don't mean to post a recipe then try and convince you not to make it. Just being honest here so you go in with the right expectations. The good news is I have a lot of practical tips for you in this post that can make this task an almost guaranteed success. Up for the challenge? I sure hope so, because just look at that skillet full of melt-in-your-mouth, soft, and fluffy gnocchi. Once you get the hang of it, you'll wonder what all the fuss was about.
The trouble with gnocchi 
In general, a classic gnocchi recipe will call for 1 (maybe 2) potato. The problem with that, is that not all potatoes are created equal. Even if you find the exact variety, the exact weight the recipe calls for, your potato could have more, or less, moisture than others. Therefore, the amount of flour you use should be adjusted accordingly. That right there turns off all the science-y type cooks and bakers that need exact measurements. Much like homemade pasta, where you have to feel how much flour to add to the dough without adding too much or too little, gnocchi is best made with the very least amount of flour. Go overboard and you end up with little hard lumps. Not enough and your gnocchi will dissolve into mush at the bottom of the pot.
So basically, making gnocchi is an intuitive endeavour. No matter how many recipes you read, or videos you watch, you must get the feel for it through trial and error. That said, I find these sweet potato gnocchi the least intimidating of all and though I have now made them repeatedly, I was successful on my first try.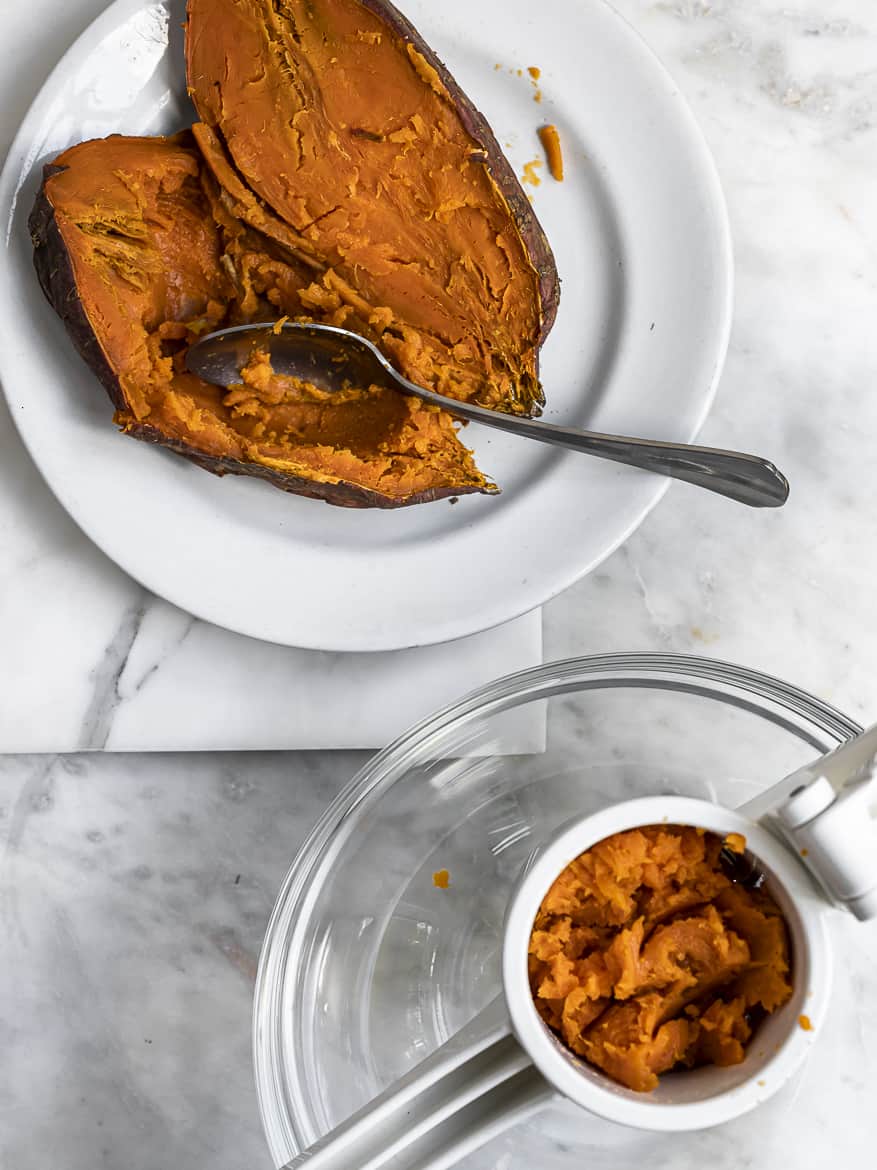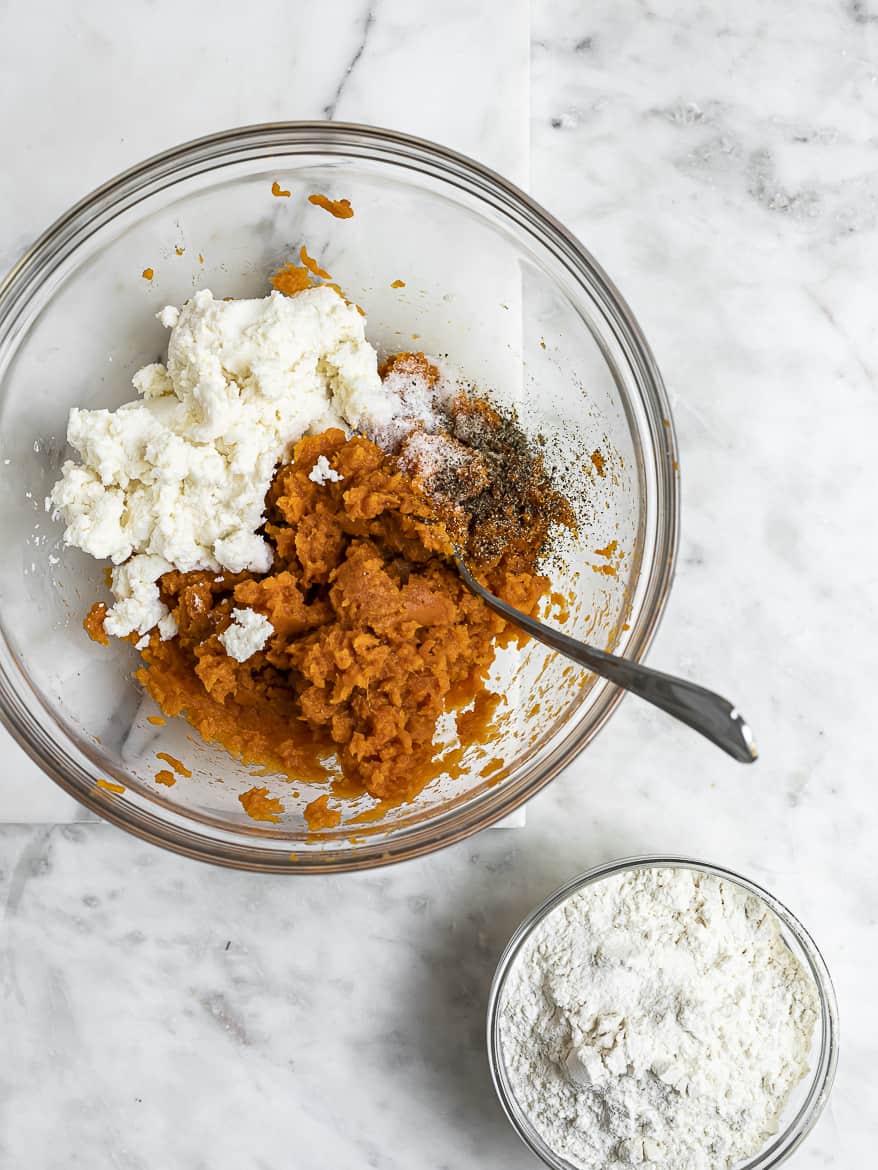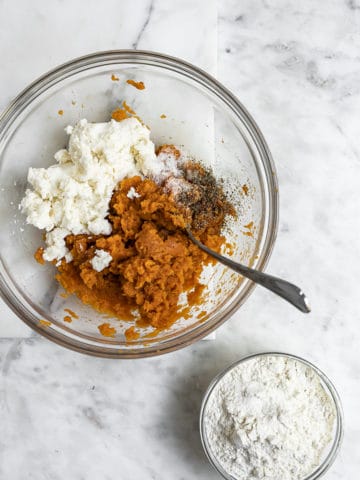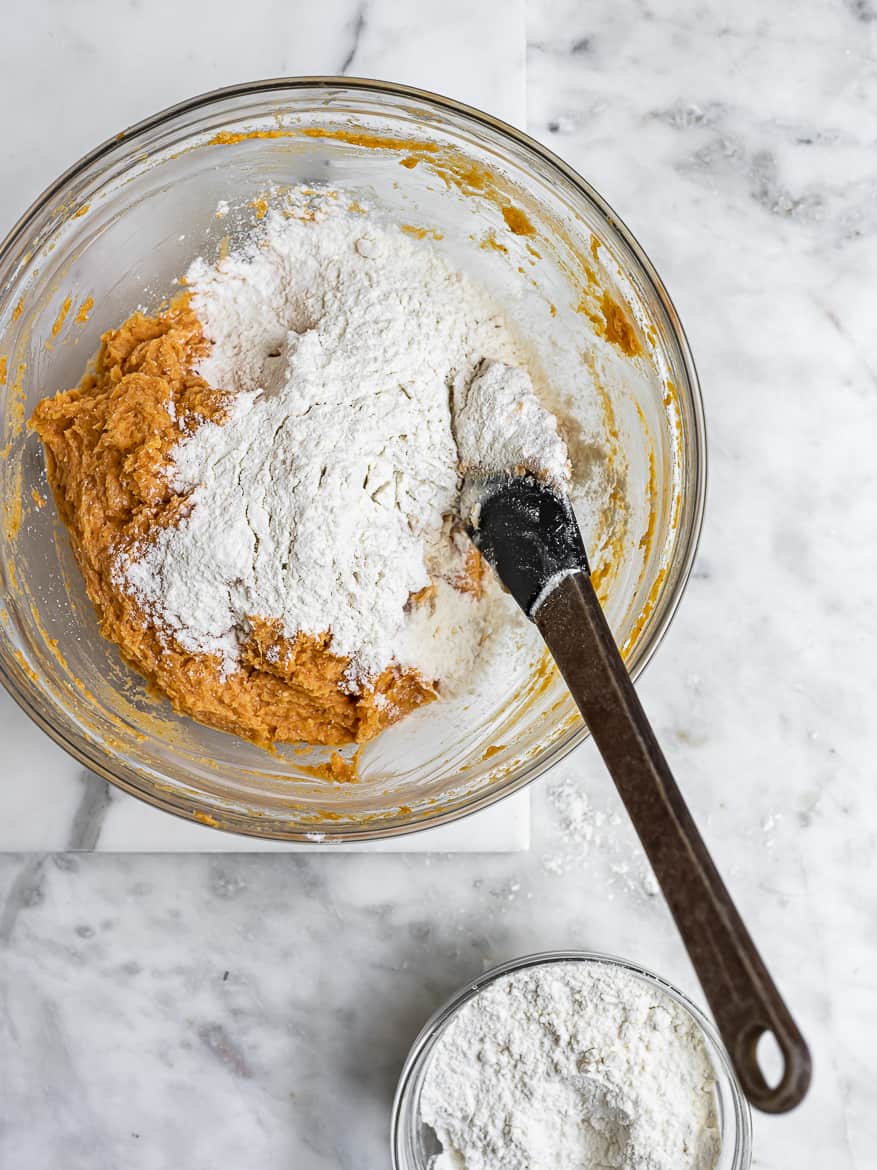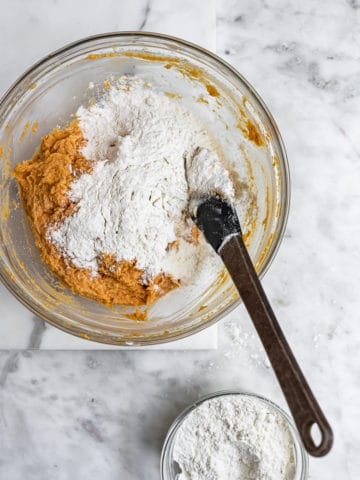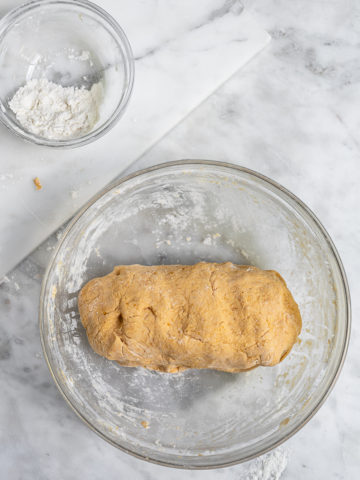 Why sweet potato gnocchi
I do love a classic, regular potato gnocchi. But it's fall and sweet potatoes are looking particularly gorgeous right now at the market. To me, the mildly sweet gnocchi they make is absolutely delicious. Combined with crispy sage, browned butter, and spinach, it just couldn't be a cozier dish. So good.
You can use a regular potato if you wish, without altering any of the recipe. If you're going that route, I would use a starchy potato such as a Russet, or Yukon Gold.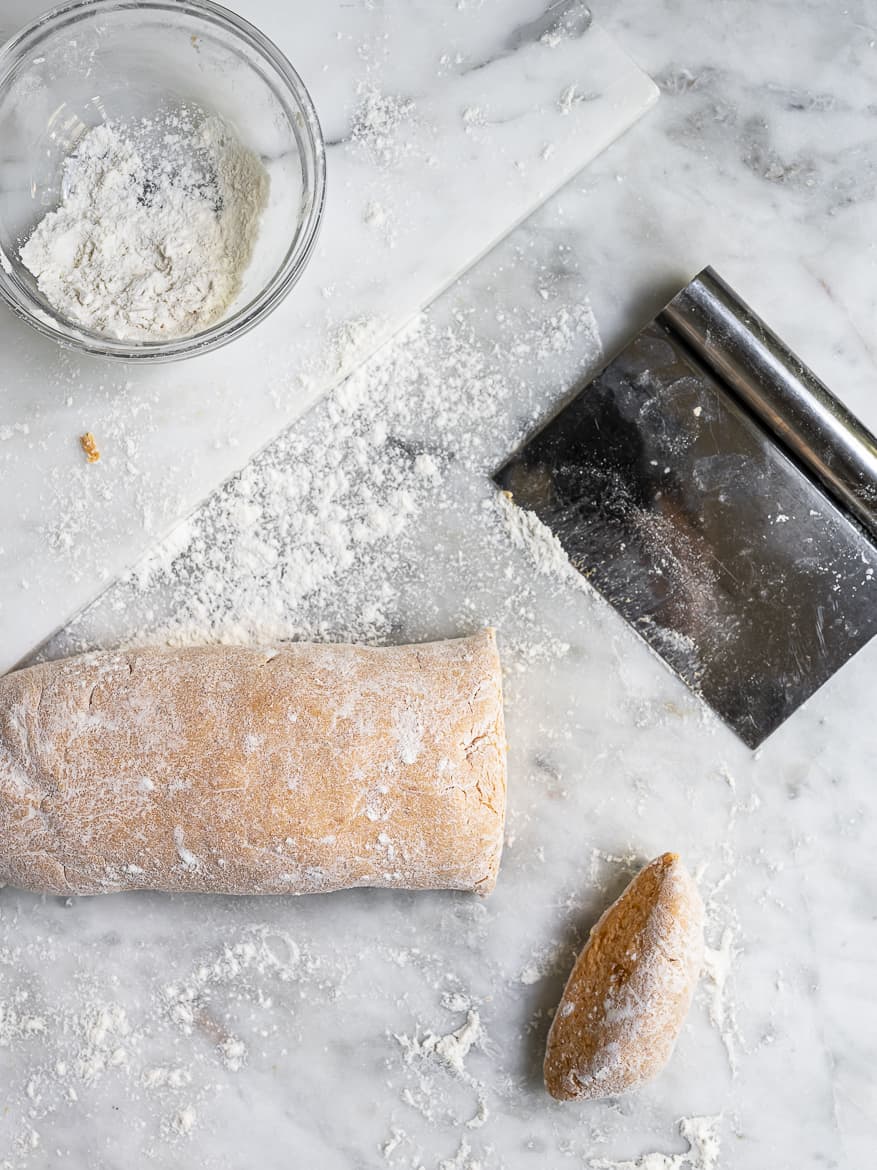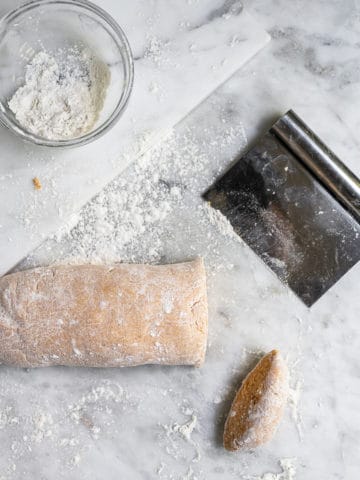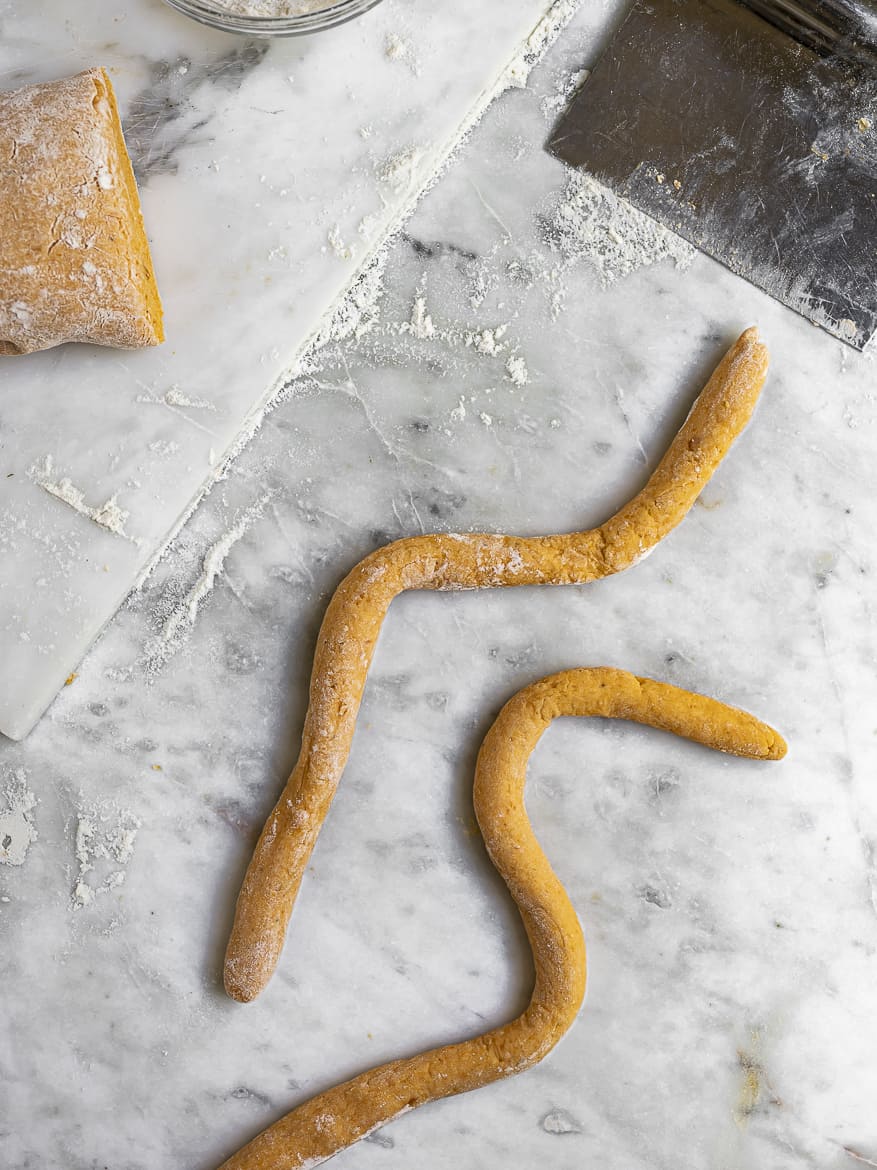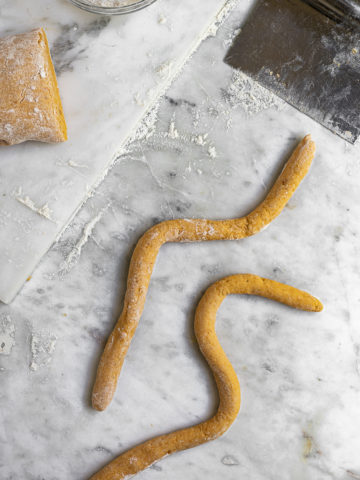 Best way to cook the sweet potato
For no real, backed up by science, reason, I avoid using the microwave as much as possible. For this recipe, I couldn't love it more. I despise having the oven on for an hour just to bake one or two sweet potatoes. In the microwave, they are cooked perfectly in about 10 minutes, depending on the size. Also, their beautiful orange colour seems to stay brighter when microwaved, as opposed to when it is baked.
If you don't have a microwave, wrap the potato(es) in tinfoil to bake. Though I haven't tried it, you could also cook them in an Instant Pot which I hear works wonderfully.
Do not boil them. Regular potatoes can be boiled, skin-on to make gnocchi but a sweet potato will absorb too much moisture resulting in a very wet gnocchi batter.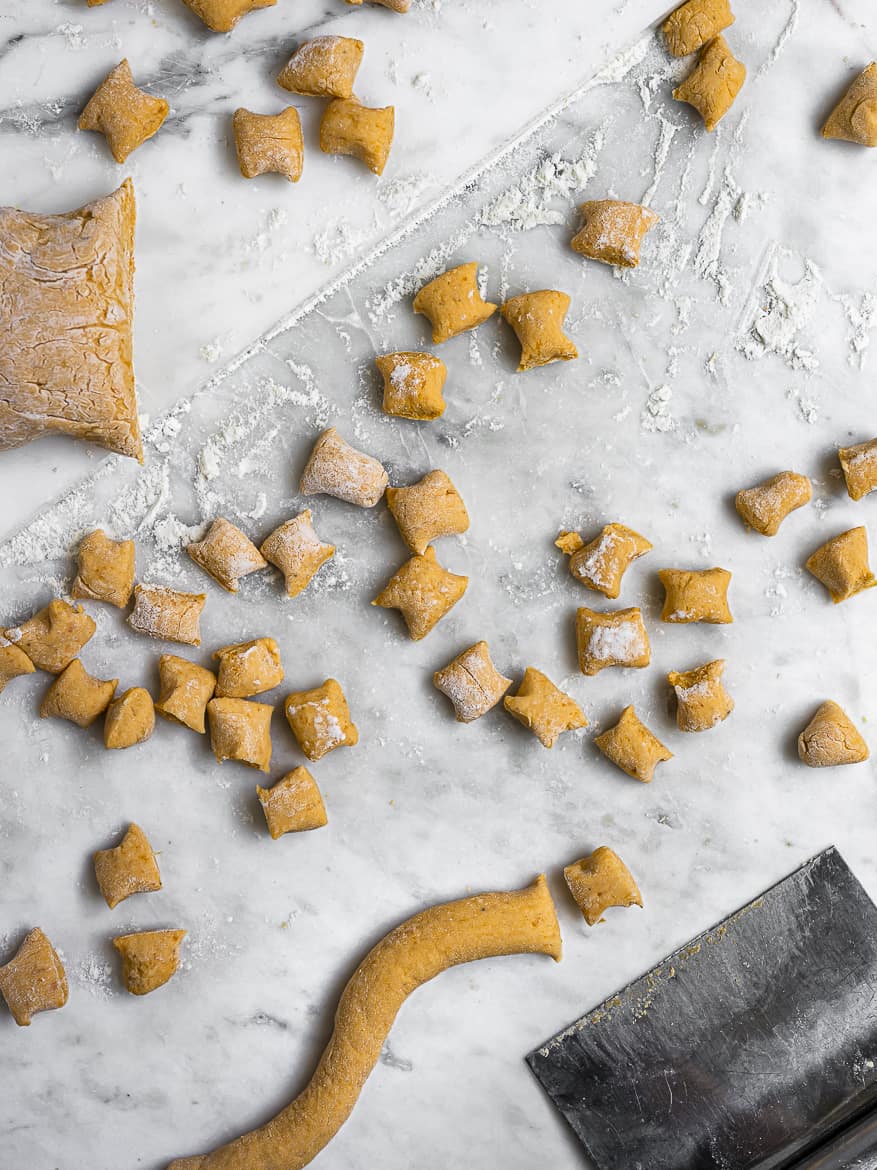 The best flour to make gnocchi
You would be hard pressed to find an Italian that doesn't swear by using the Italian Tipo 00 flour to make gnocchi. It is a finer flour with slightly less protein which is fantastic in pasta and pizza dough recipes. It's not a flour we can find that easily here, and though I do like using it, I can't say there is enough of a difference to warrant the search. An unbleached, all purpose flour works just fine.
Egg or no egg
No egg. I know, eggs are a safety blanket for gnocchi. But trust me. You don't need it, and while it can provide structure to your gnocchi, it can also make it dense. Eggs add more moisture which means more fiddling with the flour to get the proportions right. If you are like heck no, I need to add an egg, then go ahead. But next time try it without and I promise it will all work and your gnocchi will be so much lighter.
The Ricotta
For this gnocchi, ricotta is our egg. Ricotta is deliciously creamy and binding which is why you don't need the egg. I have made sweet potato gnocchi with just the sweet potato and flour and it turns out great. But I way prefer it with the ricotta. Full fat ricotta is best but a light ricotta can also be used.
Parmesan cheese is also delicious in gnocchi but I recommend you hold off on adding it until you become more comfortable with working with gnocchi dough. Don't worry, we add lots when we serve the gnocchi so you won't miss it.
Note: If the ricotta you buy is very wet, leave it to drain in a sieve over a bowl for a few hours.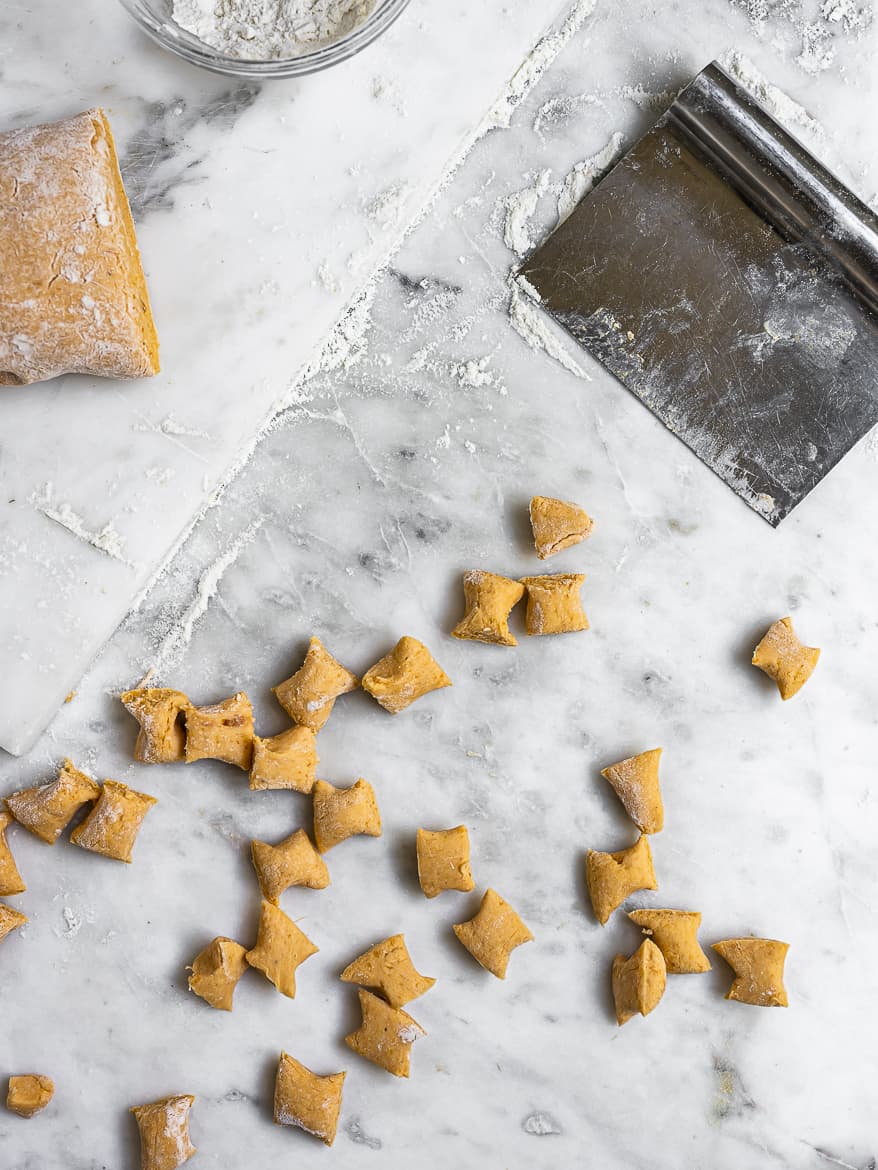 Make the sweet potato gnocchi
Still with me? Good, because once you get over the bit of hurdle with dough, you will love how easy these are to make.
Here is the step-by-step:
Cook the Potatoes. The sweet potatoes are microwaved, or baked, until completely soft and tender.
Mash the sweet potatoes. Once the potato are cool enough to handle, use a fork, or potato ricer to mash them until smooth, with as few lumps as possible.
Mix the sweet potato with ricotta cheese. Add the ricotta, salt, and pepper to the sweet potato mash and whisk until smooth. It is important to mix the ricotta in before you add the flour.
Add the flour bit by bit. Do not go by any measurement here. Add the flour 1/2 cup at a time and mix lightly. Stop when the mixture feels manageable enough to shape, but is not too sticky or too dry. Dump the mixture onto a lightly floured surface and shape into a uniform log or ball without kneading the dough too much. It should remain fairly shaggy looking on the inside of the log.
Shape the gnocchi. Lightly flour a large baking sheet (for holding gnocchi). Cut a small chunk from your dough. On the floured surface, roll it out into a rope. Using a metal bench scraper, or sharp knife, cut the rope into roughly 1-inch pieces. Place the cut gnocchi on the baking sheet and repeat until all the dough is used. I don't bother making marks on the gnocchi but feel free to do so if you wish.
Boil the gnocchi. Add the gnocchi in batches to a large pot of water that is set to a gentle boil. They will immediately sink to the bottom and when ready they will pop up to the surface. This only takes about 2-3 minutes.
Prepare the sauce. Place a large skillet over medium high and melt 2 tablespoons butter. When it starts to brown, add 16 sage leaves and let the leaves get crispy, for about 1 minute. Remove the skillet from the heat and set aside. Transfer a few of the leaves to a plate for garnish.
Toss the gnocchi in sauce. Once the gnocchi are bobbing on the surface, wait a few seconds then scoop them out. Place them in a well-oiled bowl so they don't stick. Alternatively, add them directly to the hot skillet to toss and brown in the prepared sauce. The latter becomes a little tricky to manage alone so it is best to do this if you have another person helping you. Add them in batches to the skillet so they have room to brown nicely.
To serve. Once the gnocchi are crispy and brown add the spinach and cook until wilted, 1-2 minutes.  Divide among bowls, top with Parmesan cheese and a few sage leaves for garnish.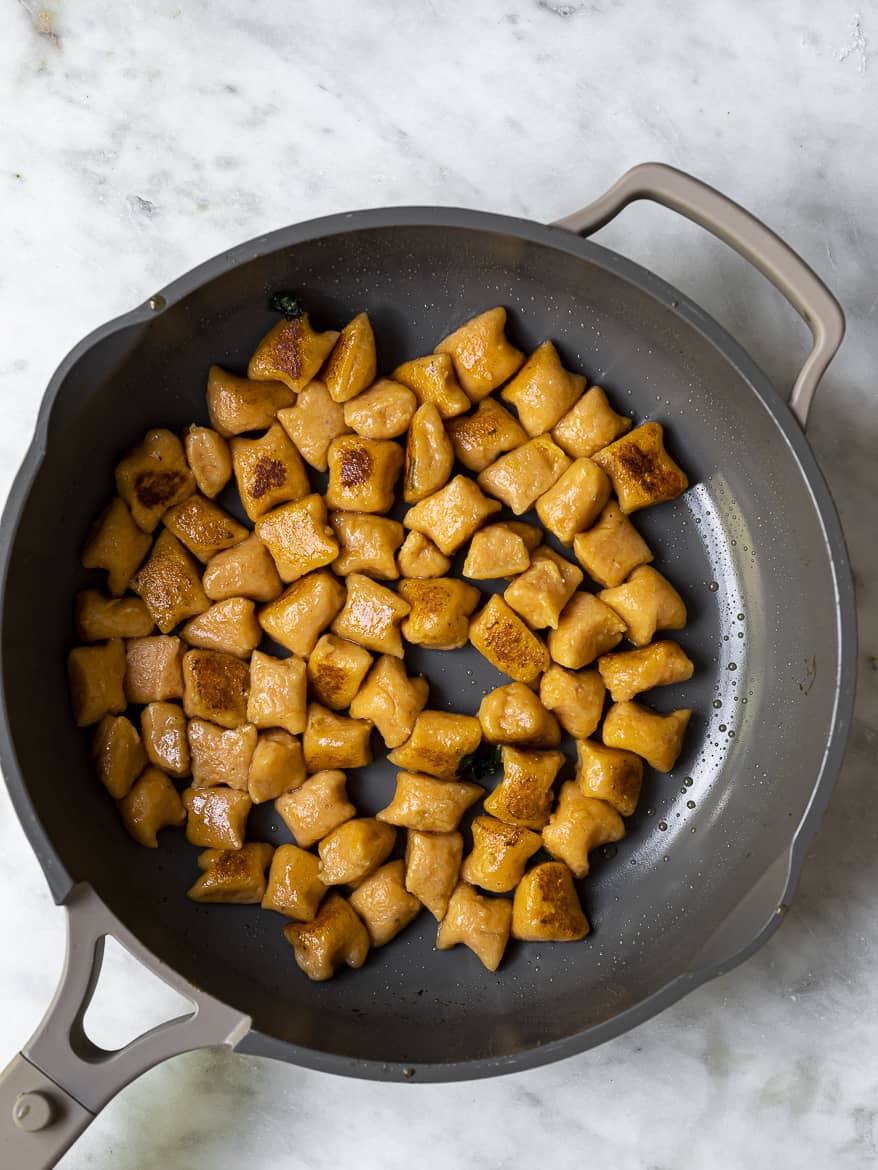 Tips to make the best sweet potato gnocchi 
Use as little flour as possible: This may be the most important tip of all. As previously mentioned you want the dough to be just a little bit sticky. If you use too much flour and the dough loses its stickiness, your gnocchi will most certainly turn out dense. That said, it is best to go use just a little too much flour than not enough. It's better to have a slightly dense gnocchi than a disintegrated, inedible one.
Mash the sweet potato while still warm: Warm and dry potatoes yield a fluffier mixture.
Keep the dough simple: You can get really creative when making gnocchi by adding spices, cheese, etc. creative possibilities. But I highly recommend you become familiar and comfortable with making this basic recipe. Once you have made it a few times, feel free to add other ingredients.
Don't use any mixers: This is not a dough that need kneading and it definitely should not be over mixed. Use your hands to mix the dough so you can get the feel of how sticky, or how dry the dough is. Once you make gnocchi a fe time, you will get the feel for it.
Don't boil the water aggressively: If the water is at a rolling boil, you risk the gnocchi falling apart. The water should be at a very gentle boil which will still cook the gnocchi quickly.
Don't overwork the rolled out dough: If you spend too much time rolling out the ropes, you will overwork the dough. When you roll the dough into thin ropes, spread your fingers and start at the centre of the dough portion, rolling and gently working out toward the ends. You don't need to smooth out the cracks.
Brush off excess flour: If the gnocchi have too much flour on them before cooking, the water will turn cloudy and starchy. Don't use too much flour when shaping the gnocchi and brush off as much s possible.
Cook the gnocchi in small batches: Gnocchi need space to float up when ready.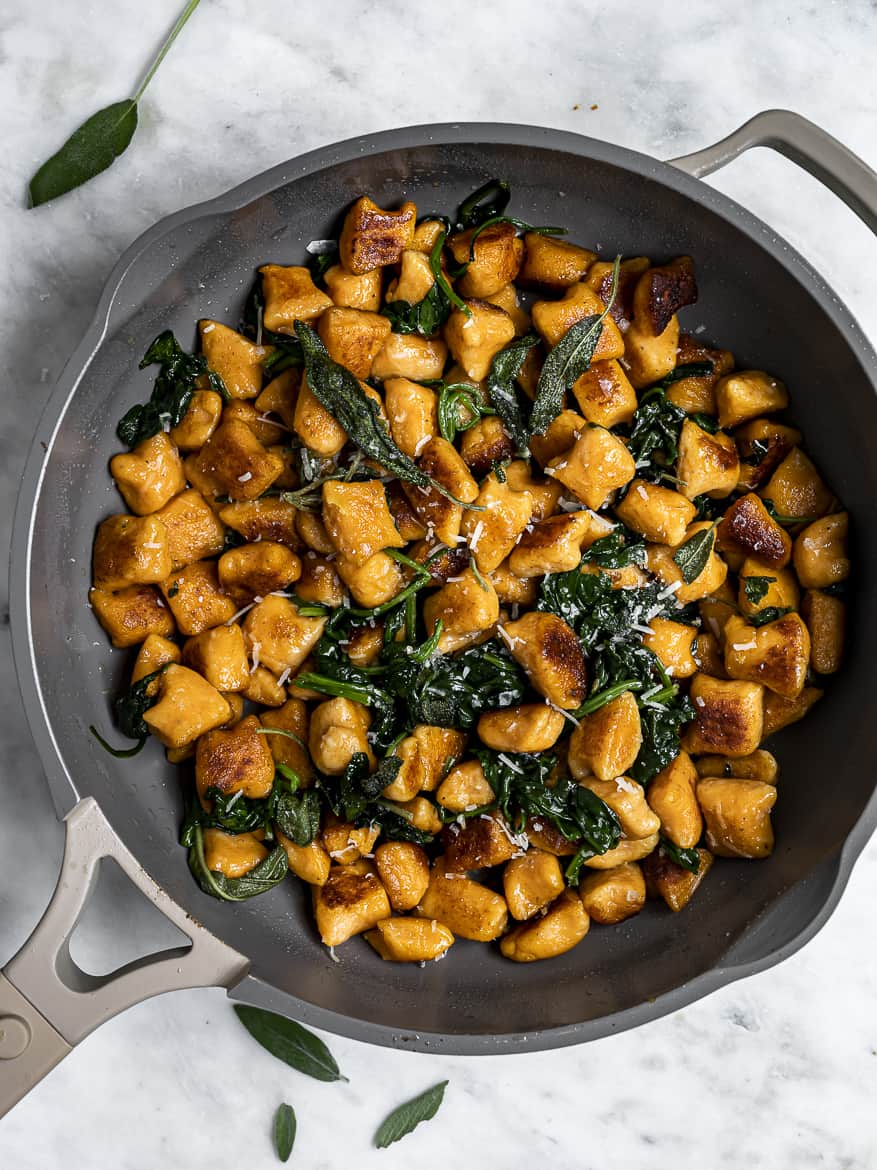 How to serve sweet potato gnocchi
Sage and sweet potato have a legendary flavour affinity. I love to make a simple sauce by infusing the melted butter with the assertive flavours of sage. We love this dish with sautéed spinach to help lighten the sweetness and starchiness of the gnocchi. Swiss chard or kale would also be great. Feel free to use your favourite pesto or add a little cream to the sauce.
Serve the sweet potato gnocchi as a main dish, or as a starter (or a side) to a lighter main meal. It is excellent the next day for lunch, reheated gently. If you like, top the gnocchi with a meaty mushroom ragú – yum!
Can you freeze gnocchi?
Yes! It is best to freeze the gnocchi, uncooked, as soon as they are shaped. Arrange the shaped gnocchi in a single layer on a baking sheet and place it in the freezer. Freeze until solid, about 2-3 hours. Transfer the frozen gnocchi into resealable freezer bags, or a freezer-safe container with a tight lid for up to 2 months.
There is no need to thaw the gnocchi before cooking them.
These sweet potato gnocchi with spinach and sage are deliciously light and hold up beautifully to your favourite sauce. Yes they can be a little tricky and may require a bit of practice. But I urge you to embrace the challenge and give them a go. Even if they don't turn out as perfect as you wish the first time around, I promise they will still be really, really good.
Similar fall recipes you might enjoy:
Print Recipe
Pin Recipe
Sweet Potato Gnocchi with Brown Butter and Sage
Gnocchi can be a little tricky to get right but don't let that stop you from giving this recipe a try. With a little patience and practice you will soon be a pro at making these heavenly little dumplings that are as light as a clouds. Once cooked, they are lightly crisped in a simple sage brown butter sauce for a hearty and cozy Fall meal.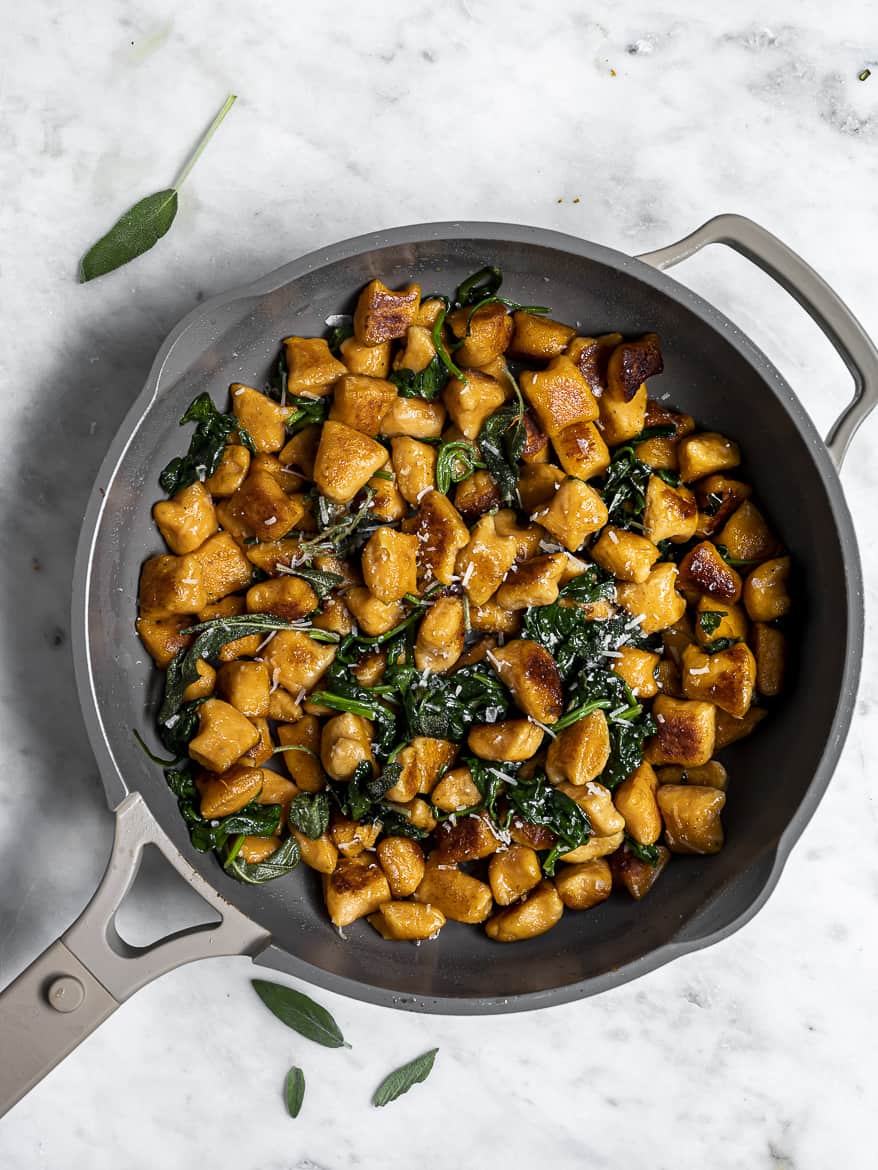 Ingredients
For the Gnocchi
2

medium sweet potatoes, or 1 large

(about 650 - 700 grams)

3/4

cup

whole-milk ricotta cheese

1

teaspoon

Kosher salt

½

tsp

freshly ground black pepper

2

cups

unbleached all purpose flour

(you may not use it all) plus more for flouring counter
For the Sauce
4

tablespoons

unsalted butter

(or more to taste)

16

fresh sage leaves

3

cups

fresh baby spinach

or chopped chard or kale

1/2

teaspoon

Kosher salt

freshly ground black pepper

to taste

1/2

cup

finely grated Parmigiano-Reggiano cheese

for serving

flaky salt, to finish

optional
Instructions
Pierce the sweet potatoes all over with a fork, wrap in a damp paper towel, and microwave on high until it is very soft, 10 to 13 minutes. Cut in half lengthwise and set aside to slightly cool.

When the sweet potatoes are cool enough to handle, peel and scoop out the flesh into a medium bowl. Mash the flesh with a potato ricer or fork until smooth and no visible lumps are left. Using a fork, stir in the ricotta, 1 teaspoon salt, and pepper and vigorously whisk to combine into a smooth mixture.

Slowly strat adding the flour into the mixture, about 1/2 cup at a time. Using your hands, combine the flour with the sweet potatoes. Continue adding the flour, kneading the dough very gently after each addition, until combined. Be careful not to over-mix the gnocchi dough, it should remain slightly shaggy and loose but not too sticky.

Once the dough is fairly smooth and easy to handle, transfer it to a floured surface and without kneading it too much, shape into a log that resembles a small bread loaf. Add a few more sprinkles of flour if it seems to sticky, but remember that the less flour you use, the more tender the gnocchi will be.

Fill a large pasta pot with water and bring to a boil over high heat. Once boiling add 2 tablespoons salt and reduce heat so the water remains at a gentle boil.

Lightly flour a large baking sheet (for holding gnocchi). 

Shape the gnocchi: Cut 2" thick slices from the log and roll each slice into a long rope that is about 10-12-inches long. Using a metal bench scraper or a sharp knife, cut the rope crosswise into 1" pieces. Transfer the gnocchi to the prepared pan and keep them in an even layer. Repeat with all the remaing dough.

Cook the gnocchi: Once all the the gnocchi is shaped, add a few handfuls to the pot of gently boiling water. Very gently stir after 1 minute to make sure they aren't sticking to the bottom of the pot. Cook until they float to the surface, about 3-4 minutes. Once they float to the surface, wait 30 seconds then scoop them out with a slotted spoon or drain if making a small batch. Tip: Transfer the cooked gnocchi to a large bowl and toss with a little oil so they don't stick while you cook the rest.

Prepare the Brown Butter Sage Sauce: Place a large skillet over medium-high heat and add the butter. When the foam subsides, lower the heat to medium-low, add the sage leaves and cook until the sage is crispy and the butter is browned, about 3 minutes. Transfer a few of the leaves to a plate for garnish, if desired.

To finish and serve: Add the cooked gnocchi in batches to the skillet. Toss to coat in the butter and cook until browned and crispy on the outside. Once all the gnocchi is done, add the spinach, season with 1/2 teaspoon salt and freshly cracked black pepper to taste. Cook for 2 minutes until spinach is wilted. Divide among bowls and top with Parmesan cheese.
Notes
To freeze the gnocchi
It is best to freeze the gnocchi, uncooked, as soon as they are shaped. Arrange the shaped gnocchi in a single layer on a baking sheet and place it in the freezer. Freeze until solid, about 2-3 hours. Transfer the frozen gnocchi into resealable freezer bags, or a freezer-safe container with a tight lid for up to 2 months.
There is no need to thaw the gnocchi before cooking them.