Arroz con Pollo — a deeply comforting one-pot chicken and rice dish that is adored all over Latin America. Succulent pieces of chicken top golden rice that is bursting with flavour. This is a deceptively simple dish with time-honoured flavours that are sure to seduce you.
*Note: This post includes some personal words. If you are just here for the recipe, please click on the "jump to recipe" button above.
Hi everyone, it has been a while and I hope you are all doing well. I cannot imagine anyone not being impacted by the monumental events that have taken place globally in the last few weeks/months. Some, so gut-wrenching they have left me shattered to pieces. Others, so inspiring they restored my faith in humanity. Social media by nature requires a lot of over sharing. But as much as we share, there is a lot we leave out for fear of retaliation, or losing followers. But now is not the time for that fear to prevent us from speaking out or from sharing where we stand.
A few days ago I wrote an instagram post which best explains my thoughts, feelings, and actions moving forward and I will share a version of it here.
Like most of you, I have been spending a lot of time learning, listening, and accepting my complicity in the unforgivable systemic racism towards Black people that has existed for hundreds of years. I cannot fathom the anguish and pain they have endured but I have been educating myself on how to do better and to be useful without being careless or disingenuous. Most importantly, I am making sure whatever interest and energy I feel right now to fight against these injustices continues long after the spotlight fades.
I believe cooking has the power to bring people together. It binds and weaves our traditions and cultures together bringing authenticity to our stories. Racism affects opportunity in our communities and this includes the food world. Support Black businesses, purchase cookbooks written by Black authors, spread the word. Let's work harder at finding the kitchens in our community that are offering something a little different. Let's be curious to learn their stories, to enjoy their offerings and unfamiliar flavours. Let's seek out and explore immigrant or black-run grocery stores so we can bring ingredients home to re-create those flavours. Soon, your own home will smell like you travelled around the world but most importantly our support, celebration, and acceptance of these businesses will contribute to positive changes in our communities. And that is a really great place to start.
Arroz con Pollo
This brings me to my beloved Arroz con Pollo. If I had to choose a dish that had the greatest impact in forming my sense of family and culture, this would be it. With rice and beans a close second. I have been wanting to share the recipe for a long time but I kept going back to it, changing things, making it a little easier, and (to me) a little better.
As a child, growing up in the Dominican Republic, I was a very picky eater and for the most part, at home, my mom always accommodated my very limited palate. When we were invited to large family or social gatherings, however, I was never worried if there would be something I could eat because there was always Arroz con Pollo. Some had peas, which I of course would pick off, some were a little brighter in colour than others, but the delicious familiar flavours, the tender chicken, the perfectly cooked rice, was always the same no matter where it was served.
Sometimes I feel like I romanticize a dish because I am so emotionally attached to it. It makes me start to question if it really is that good? Is it perhaps too foreign to share here? Will anyone else love it or even care to make it? This is one of those dishes. And I have decided that yes, Arroz con Pollo is that good, it's not too foreign, you will love it, and you really should make it.
What is Arroz con Pollo
Arroz con Pollo is a fragrant one-pot, deeply comforting, chicken and rice dish well-loved throughout Latin America. Its origin, like most Latin dishes, is continually up for debate. The argument that it is an adaptation of the Spanish paella introduced to Latin America through their colonization, makes the most sense to me.
But one thing is for sure, pretty much every country from South America, and the Caribbean, has developed their own variation of it. In Cuba, and Puerto Rico, they often add beer to make their Arroz con Pollo which results in a saucier dish. Dominicans refer to their Arroz con Pollo as locrio de pollo, locrio meaning a rice dish made with any kind of meat.
What rice to use for Arroz con Pollo
Again, the rice used for Arroz con Pollo varies from country to country. Cubans like to use medium grain rice, Dominicans use long grain. For this recipe, I would stay away from basmati or jasmine rice, which would result too mushy for the cooking time.
I believe the most important consideration when making Arroz con Pollo is to use a rice you are familiar with. If a par-boiled rice is what you feel comfortable with, go ahead and use that. A reliable medium grain rice is Calrose which seems to be available at most large grocery stores. I like to use long grain but during Covid I have had a hard time finding it.
What chicken to use for Arroz con Pollo
Bone-in, skin-on chicken pieces are most commonly used to make Arroz con pollo. For the sake of shortening the cooking time, my version calls for boneless chicken thighs. If you prefer bone-in chicken, which undoubtedly adds more moisture and flavour to the rice, refer to my recipe notes for alternate cooking instructions.
How to add colour to the rice
Here is where it gets tricky. Arroz con Pollo is known for its golden-coloured rice but most traditional recipes rely on some very unnatural ingredients such as bijol, which has a lot of food colouring, to add the colour. Achiote paste or annatto seeds work great but depending on where you live, aren't that easy to find.
To make this recipe a bit more Covid/pantry friendly, I have used turmeric, sweet paprika, and a bit of tomato paste to colour the rice. You could also use a pinch of saffron mixed with a little hot water, if you wish.
Ingredients for Arroz con Pollo
The ingredient list may seem long but do note they are very familiar, mostly pantry ingredients.
Chicken: As stated above, I like to use boneless-skinless chicken thighs. I provide instructions for bone-in pieces in the recipe notes if you prefer to go that route.
Lime juice and white wine vinegar: I can't remember a chicken dish from my childhood that didn't marinade in vinegar and/or lime juice before being cooked. Here I use both because I love the familiar smells and flavours they add to the chicken and rice.
Sofrito: The base of most Latin dishes; onion, green bell pepper, and garlic.
Spices: Turmeric, paprika, oregano, garlic powder, and of course salt and pepper.
Sugar: Dominicans like to brown the chicken in oil with a little sprinkle of sugar. It can be a little fussy because the sugar burns quickly but it really adds a lot of colour to the chicken without having to cook it for very long. The small amount of sugar will not make the dish taste sweet at all but do skip the sugar if you wish.
Tomato sauce: I like to use passata but you can also use canned chopped tomatoes.
Tomato paste: This adds a little more colour to the dish.
Long-grain rice: You can also use a medium grain rice such as Calrose.
Chicken stock or water: I almost always use water.
Green olives and capers: Not optional ingredients for my arroz con pollo but leave them out if you prefer.
Frozen peas: A classic finishing touch that to Latins, always makes this rice dish a little more special.
Pimiento peppers (roasted red peppers): An optional garnish and any jarred roasted pepper will work. When I photographed this recipe I roasted my own red pepper because I was all out of the jarred.
How to make Arroz con Pollo
Here is my version, which integrates a few short-cuts with traditional techniques and ingredients to create the familiar and endearing dish so loved across Latin America.
Start by marinating the chicken with lime juice, distilled white vinegar (or apple cider vinegar), garlic powder, oregano, paprika, salt and pepper. Let marinate 15-30 minutes on the counter while you chop the vegetables. If preparing ahead, or marinating overnight, omit the lime juice.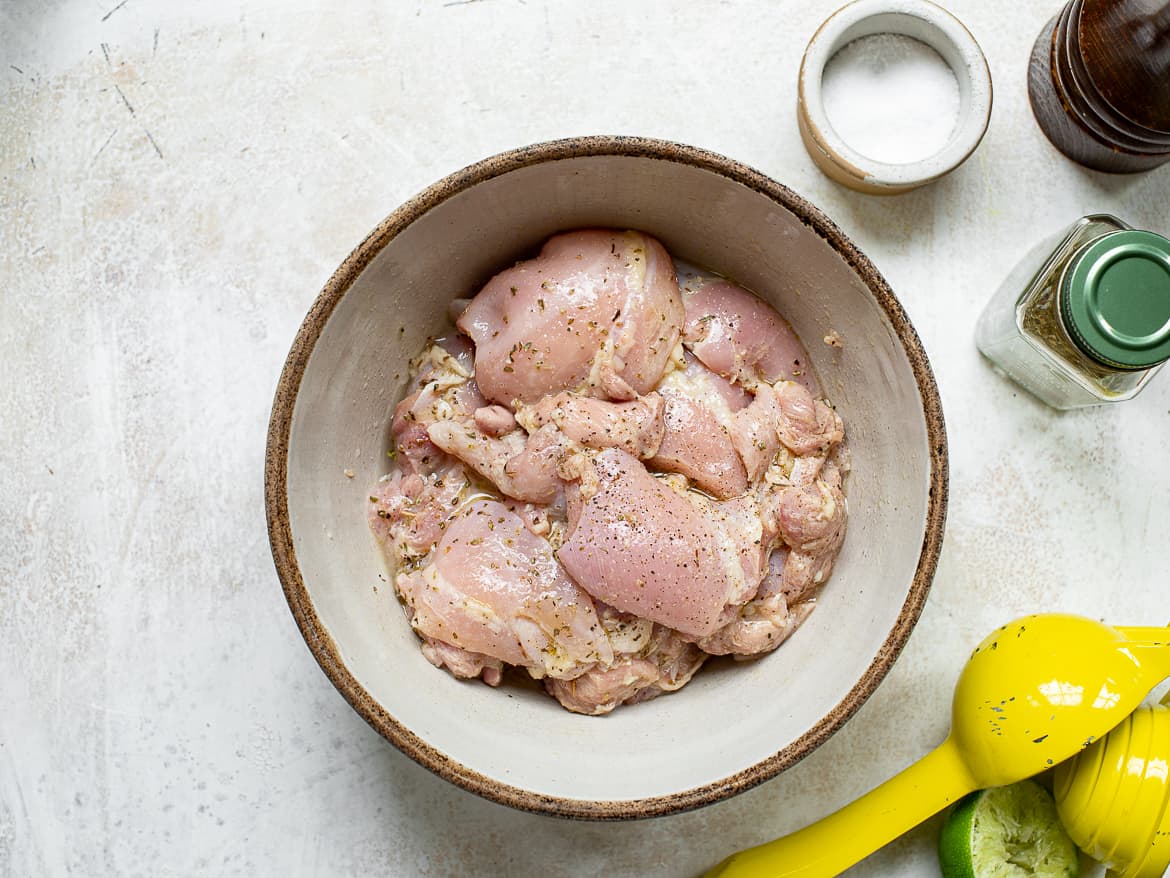 In a Dutch oven, or a deep, large skillet, warm the oil.  Once hot, add the sugar in one spot. Once the sugar turns dark, spread it a little by using one of the chicken pieces, then continue to add the other chicken pieces.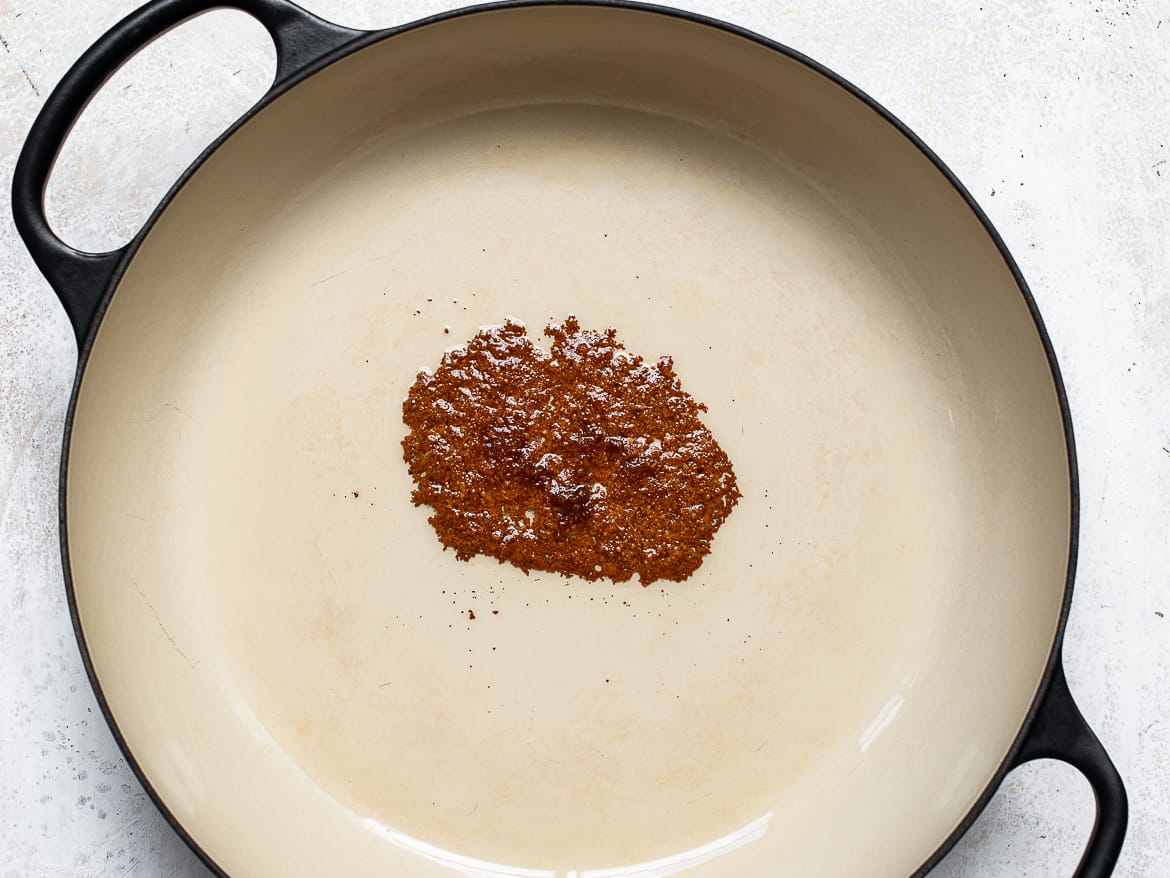 Brown for only 2-3 minutes on each side then transfer the chicken to a plate.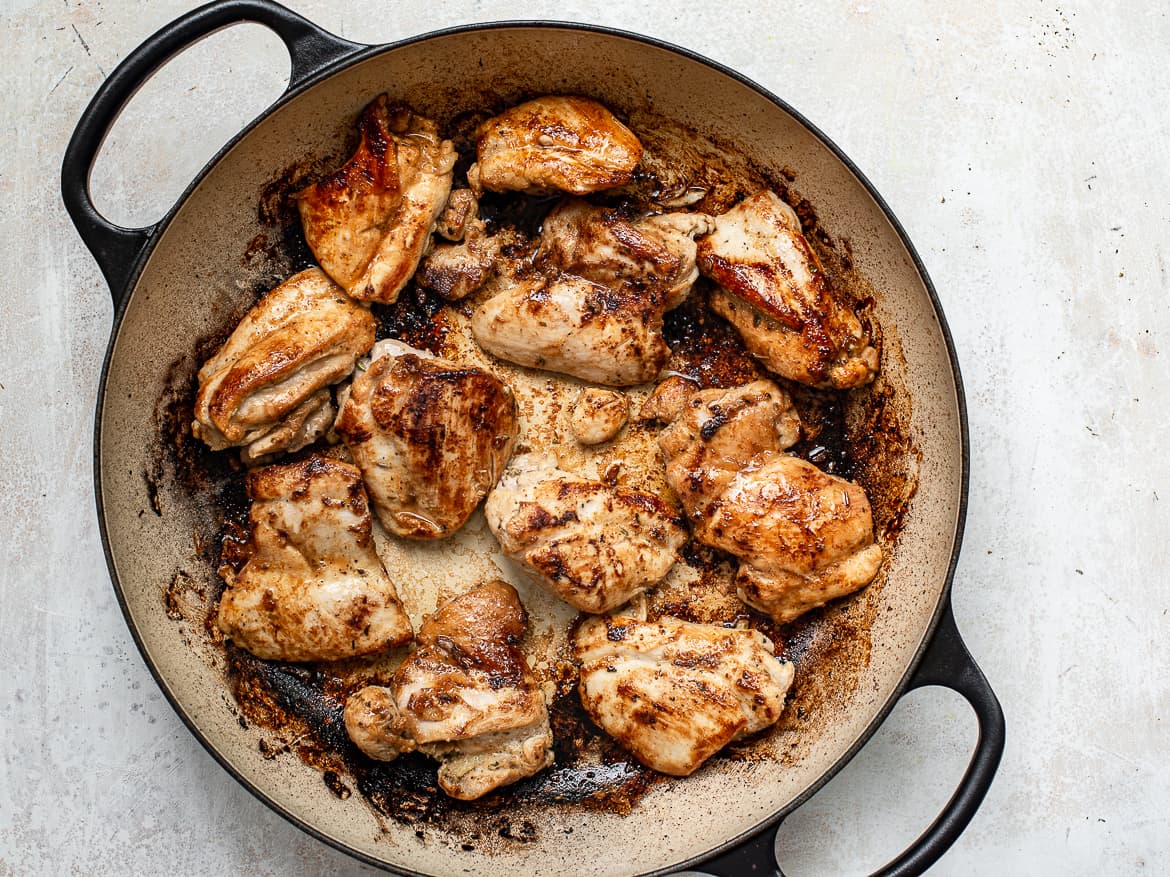 Add the onion and green pepper to the pan and sauté until onions become soft, about 5 minutes. Stir in the garlic and 1 teaspoon salt and cook until fragrant, about 1 minute more.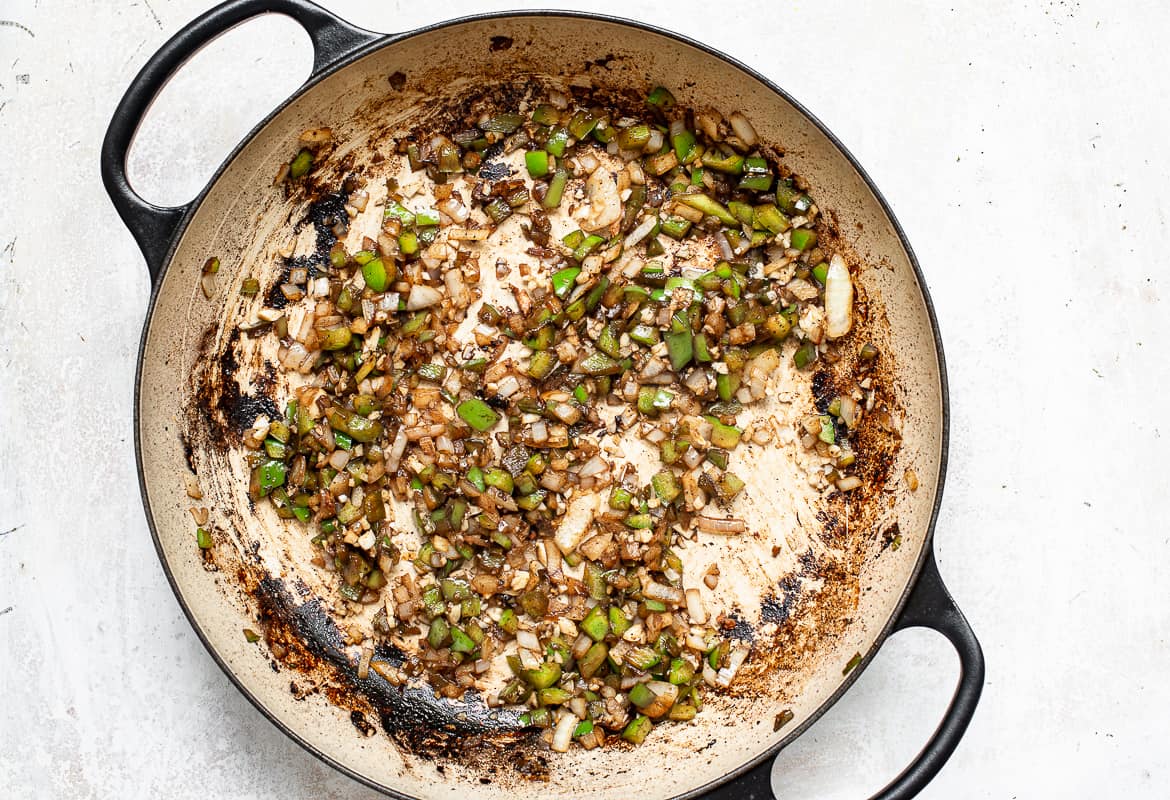 Stir in the tomato sauce and tomato paste to the pan and cook for about 2 minutes, scraping any brown bits on the bottom.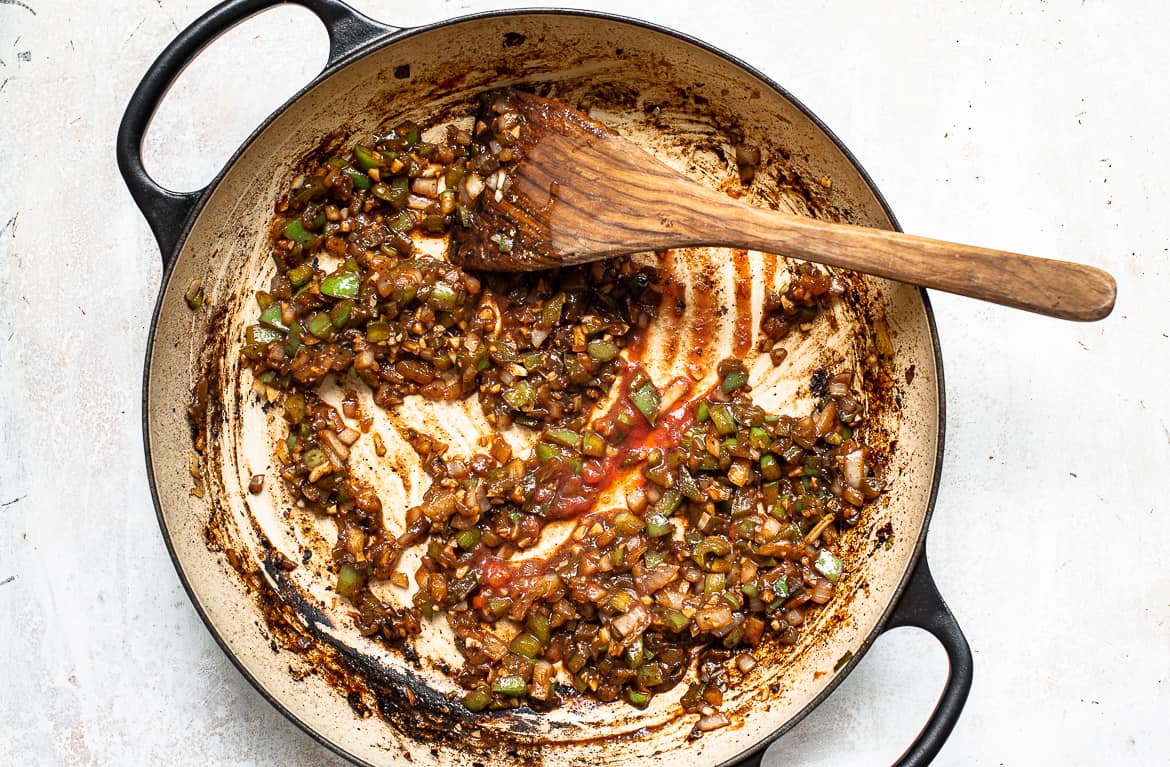 Add the rice, bay leaf, and turmeric and stir to coat well in the oil and juices.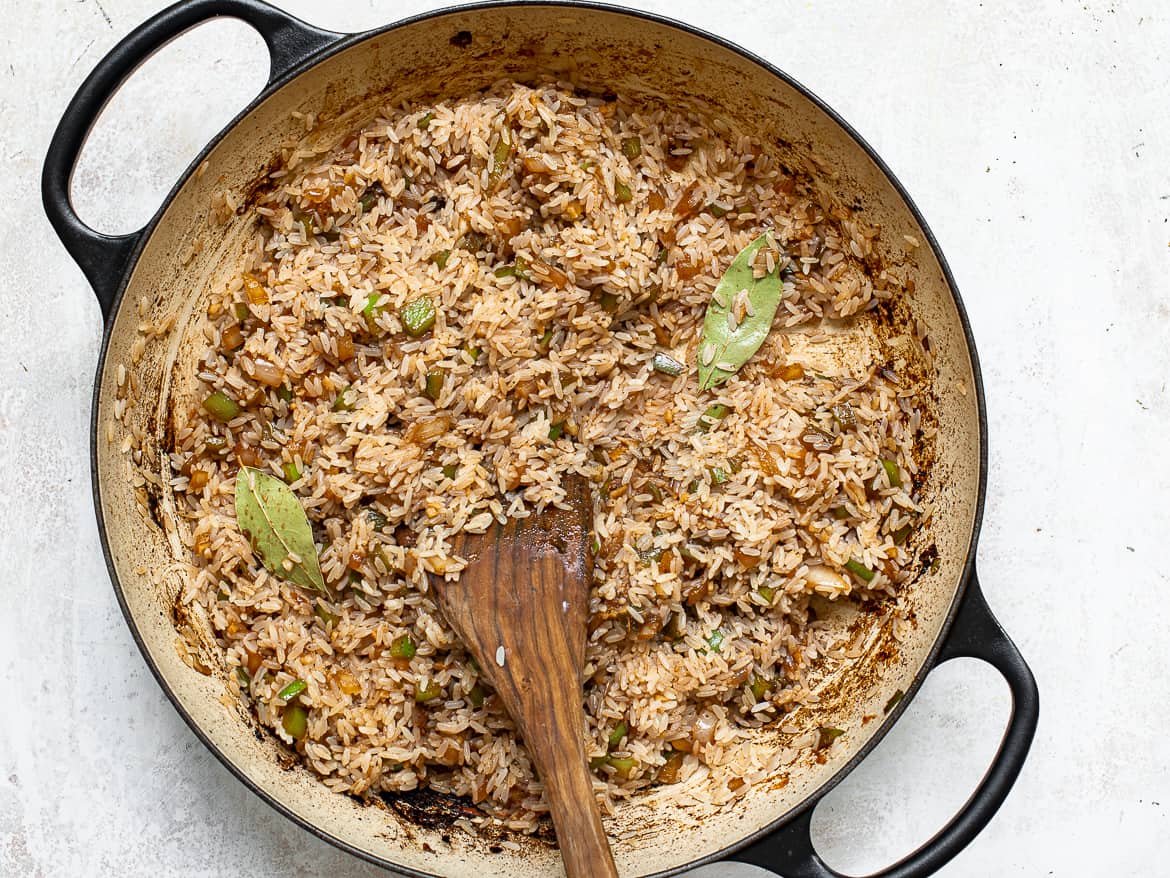 Add the broth or water, olives, and capers and bring to a boil over medium heat. Nestle the chicken pieces on top of the rice and lower the heat to a very low simmer. Cover tightly, and cook for 20 minutes.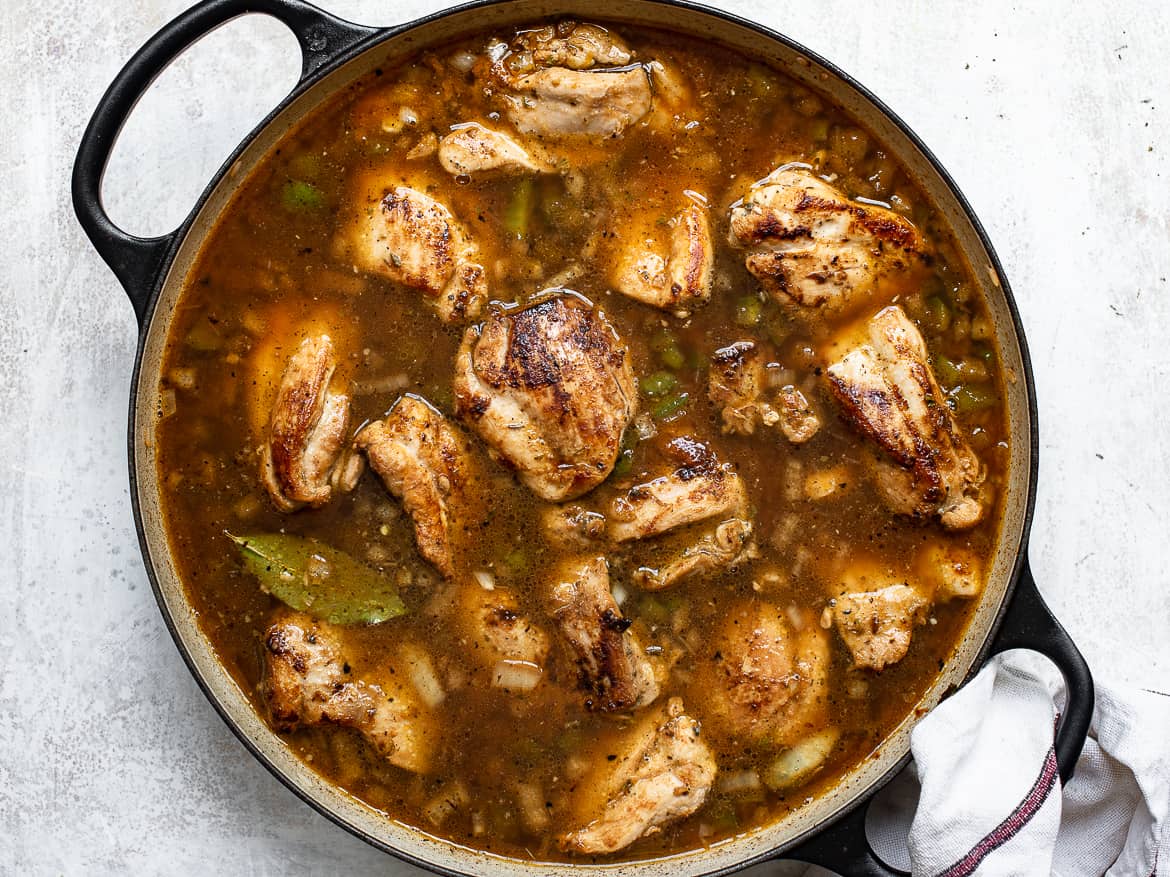 Uncover, quickly fluff the with a fork and add in the peas. Cover again and cook for another 5 minutes. Remove from heat and let sit for 10 minutes.
Garnish with pimiento peppers, if using, fluff with a fork and serve.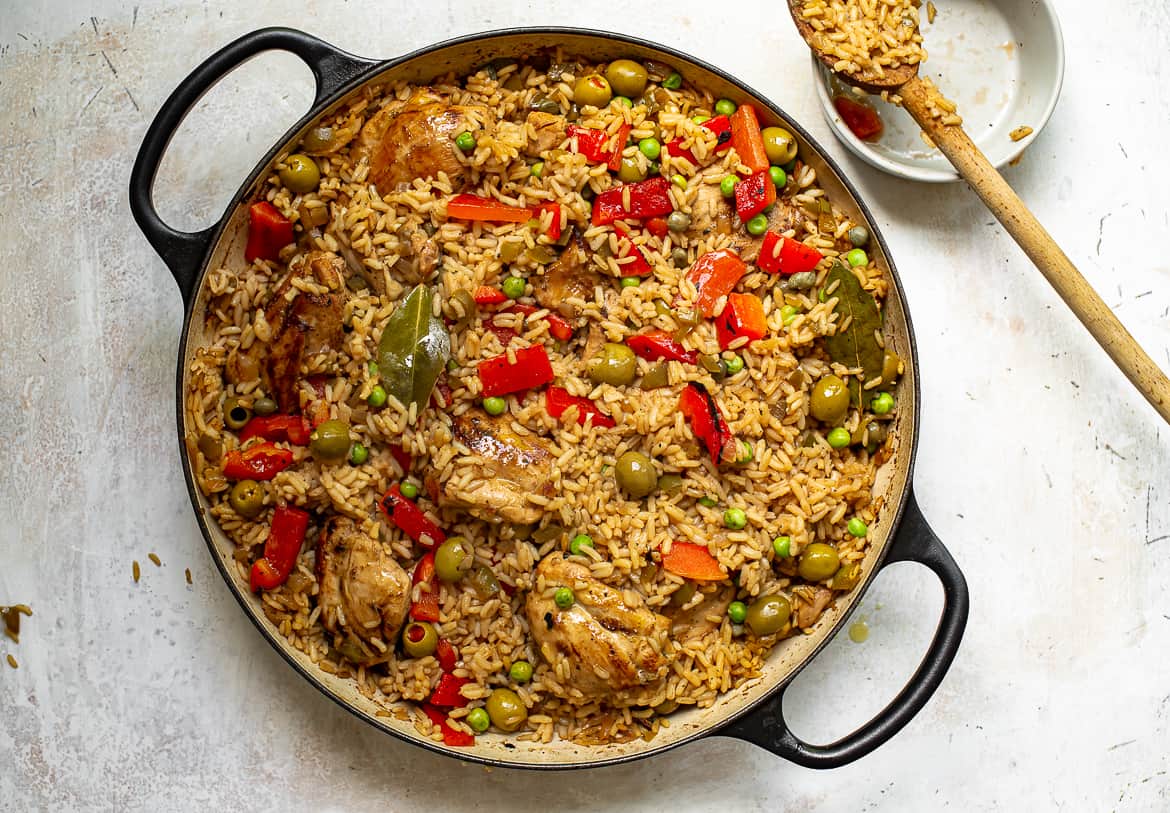 To serve and store
A simple green salad goes really well with Arroz con Pollo. If you have leftovers, they will keep well in the fridge for up to 3 days. Reheat by adding a little water covered in a pan on the stovetop or microwave.
Other Latin American recipes you might enjoy:
Peruvian Chicken with Aji  Green Sauce
Moro de Habichuelas Negras (One-Pot Rice and Beans)
Albondigas Guisiadas (Stewd Meatballs)
Print Recipe
Pin Recipe
Arroz con Pollo (One-pot Chicken and Rice)
Arroz con Pollo -- a deeply comforting one-pot chicken and rice dish that is adored all over Latin America. Succulent pieces of chicken top golden rice that is bursting with flavour. This is a deceptively simple dish with time-honoured flavours that are sure to seduce you. 
Ingredients
1

lime

juiced

2

teaspoons

distilled white vinegar or apple cider vinegar

2

teaspoons

garlic powder

1

teaspoon

dried oregano

2

teaspoons

paprika

3

tablespoons

neutral oil or olive oil

divided (I use avocado oil)

2

teaspoons

Kosher salt

divided

Freshly ground black pepper to taste

1

teaspoon

sugar

(I use coconut sugar)

2

pounds

*boneless, skinless chicken thighs

pat chicken dry cut each thigh into 3 pieces.

1

onion

diced

1

green bell pepper

diced

4

garlic cloves

minced

3/4

cup

tomato sauce or chopped tomatoes

I use passata

2

tablespoons

tomato paste

2

cups

**long-grain white rice

1

bay leaf

1

teaspoon

turmeric

3

cups

chicken broth

or water

1

cup

pimento-stuffed green olives

such as Spanish Manzanilla

2

tablespoons

capers, drained

½

cup

fresh or semi-thawed frozen peas

1/2

cup

jarred pimientos

sliced (optional)
Instructions
In a medium bowl, mix together the lime juice, vinegar, garlic powder, oregano, paprika, 1 tablespoon olive oil, 1 teaspoon of salt, and a few grinds of black pepper.  Add the chicken pieces and toss to coat well. Let sit for 15 - 45 minutes at room temperature or place in fridge if making ahead of time. Omit the lime juice if marinating overnight.

Rinse the rice thoroughly until water runs clear. Drain well in a sieve or strainer.

In a Dutch oven, or large skillet with a tight fitting lid, heat the remaining 2 tablespoons oil over medium heat. Add the sugar to the oil without stirring. Once the sugar starts to melt and turn a little dark, add the chicken pieces in one layer. Cook until lightly browned, about 2-3 minutes each side. Transfer the chicken to a plate.

Add the onion and pepper to the skillet and sauté until softened about 5 minutes. Add the garlic and 1 teaspoon salt and cook until fragrant, about 1 minute. Stir in the tomato sauce and tomato paste and cook for about 1 minute, scraping any brown bits on the bottom.

Add the rice, bay leaf, and turmeric and stir for about 1 minute to coat the grains well. Add in the chicken broth (or water), olives and capers and bring to a boil then lower the heat to medium-low, or low if your pot is not heavy-bottomed. Arrange the chicken pieces on top, cover tightly and cook for 20 minutes. 

Uncover the pot and quickly fluff the rice a little with a fork. taste the rice, if it seems undercooked, drizzle 1/4 - 1/2 cup more water. Stir in the peas, cover again and cook for 5 more minutes. Remove from the heat and let sit for 5 minutes. Garnish with pimientos, if using, and serve.
Notes
*Instructions for Bone-in Chicken:
Increase the browning time for the chicken to 5-6 minutes on each side. Once browned, add 2 tablespoons water to the pan, cover the chicken and cook for an additional 8-10 minutes over low heat. Remove the chicken to a plate and proceed with recipe. 
**I have not tried making Arroz con Pollo with a medium grain rice. If that is the rice you use, check the package for rice to liquid ratio and cooking time, and adjust my recipe accordingly.