This fajita seasoning is made up of a garlicky, earthy, herbaceous, blend of spices that carries just a little kick of heat. Quick to make and absolutely glorious to use in many of your favourite Mexican-inspired dishes.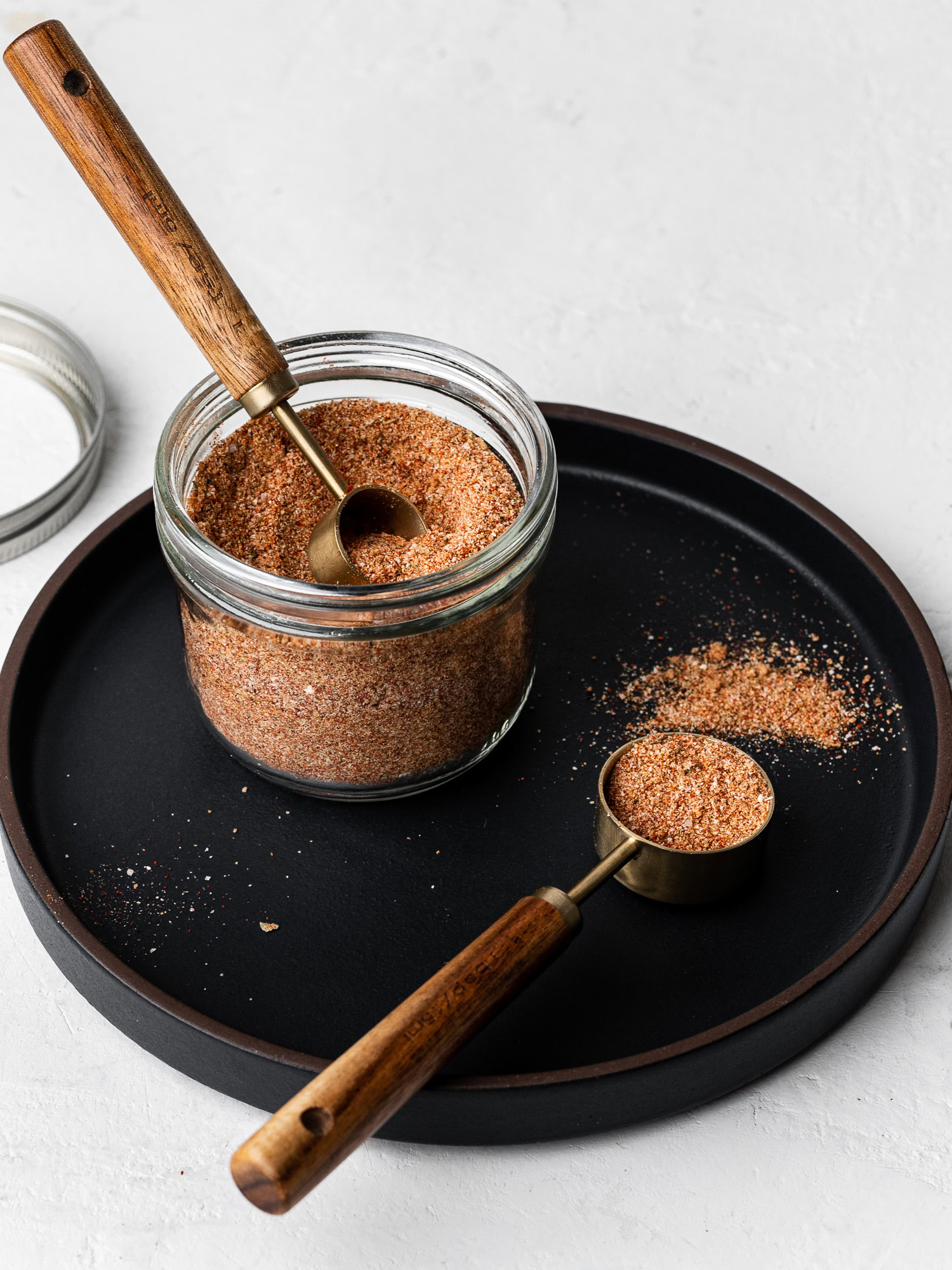 Seasoning packets are a super handy way to add flavour to food. The problem is, most of the commercially available options have a high sodium content, fillers, additivies, and artificial flavours. Making your own blend at home using pantry staples couldn't be easier and infinitely better than store-bought.
I've never bought pre-packaged seasonings but I've also never had the patience to measure out an exact "recipe" for a spice blend. But we make fajitas so often I wanted to have an exceptionally good, and large, batch ready for whenever I needed it.
This blend I came up with is the perfect flavour enhancer to sprinkle onto almost any Mexican dish. Filled with the classic earthy flavours, it's fresh tasting, mildly spicy, super flavourful and versatile. So easy and so good, you'll never go back to store-bought again.
Ingredients
It probably goes without saying, but the fresher your spices are, the more fragrant and tasty your fajita seasoning will be. It will also last longer.
Chili Powder – The heat level of chili powders varies greatly according to the brand. Use a chili powder you are familiar with so you have an idea of how spicy the fajita seasoning will be.
Ground Cumin – In my opinion, this is the most important spice when making fajitas and I use equal parts cumin and chili powder for this seasoning. Feel free to use less or more to taste.
Garlic Powder – Essential for the tastiest fajita.
Onion powder – If you don't have onion powder you can omit it but it does add some nice extra depth of flavour to the seasoning.
Paprika – Here it does double-duty by adding colour to the mix as well as some piquant flavour.
Mexican oregano – Worth seeking out, Mexican oregano is a little more floral and citrusy than regular oregano. If you can't find it, regular oregano will do.
Kosher salt – Here we add just a bit of salt. I cook exclusively with Diamond Crystal Kosher salt. If you are using a different brand, it may be saltier so start out with less and adjust accordingly.
Cayenne – Optional, but not only does it add a bit of heat, it also adds great flavour.
Brown sugar – The addition of a small amount of sugar may surprise you but here but it helps caramelize the chicken while also adding a bit of heft to the spice blend. I promise the fajitas will not taste sweet but feel free to leave it out if you prefer. You can also use coconut sugar, if you wish.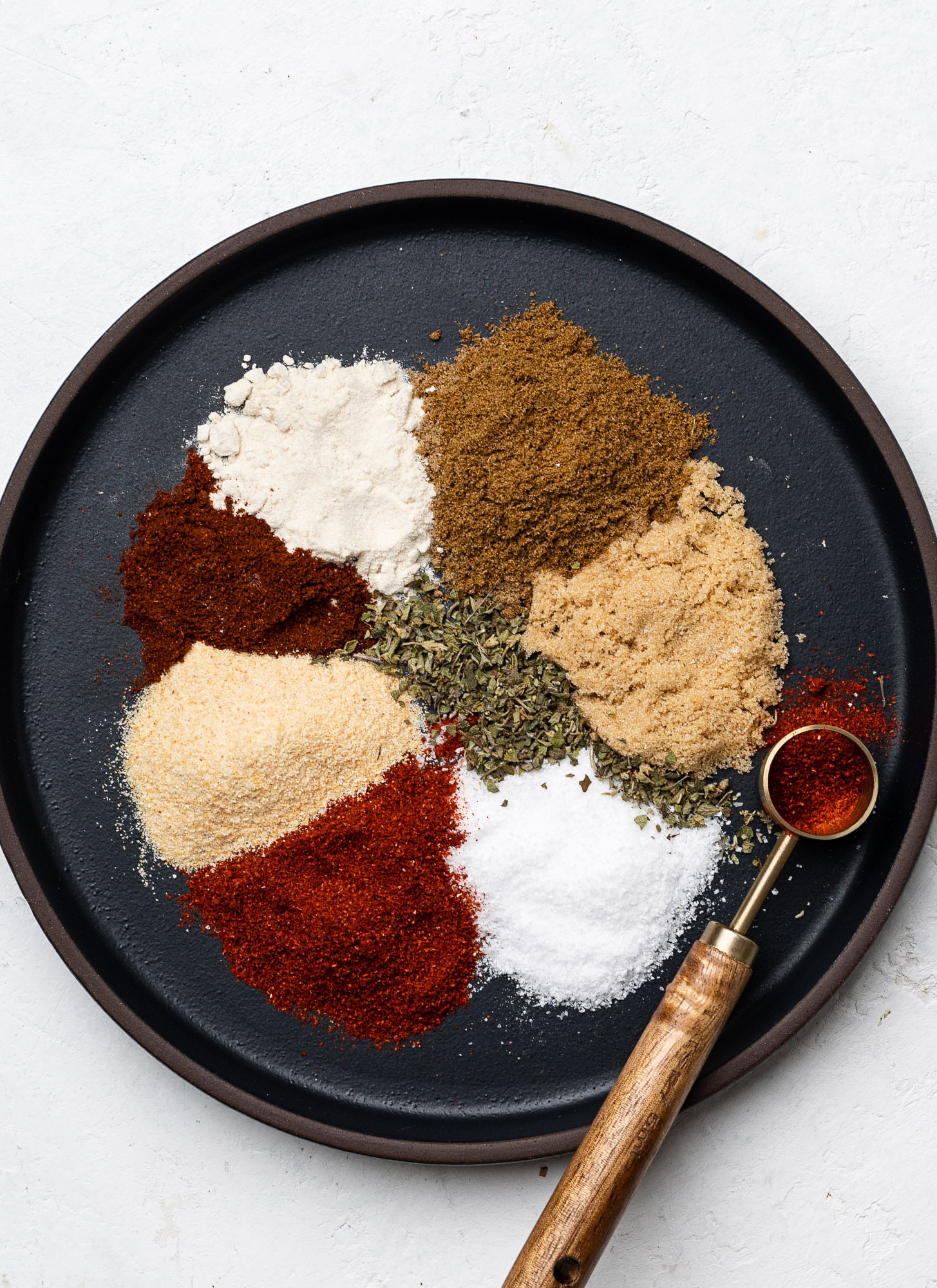 How To Make Fajita Seasoning
This recipe makes a little over 1/2 cup of fajita seasoning which is enough to use in 3-4 batches of a chicken (or beef or shrimp) fajita recipe. This recipe is easy to cut in half for a smaller batch or feel free to double or even triple the ingredients for an even larger batch.
Start with fresh spices.
Add all the spices to a small bowl and stir to combine.
Use immediately or store in a jar or container with a tight fitting lid.
How Long Will Homemade Fajita Seasoning Last?
I keep my pre-mixed spice blends about 6 months. After that, they are still okay to use for up to a year but they will lose some oomph.
I make fajitas often so we go though it pretty quickly. If you find yourself with more than you think you need, you can also store it in the freezer.
FAQ's
How much seasoning do you need to flavour chicken?
I use 1- 1 1/2 tablespoons of fajita seasoning per pound of chicken.
Is fajita seasoning spicy?
Unless you are using a very spicy chili powder, this fajita seasoning has only a hint of heat.
What is the difference between fajita seasoning and taco seasoning?
Fajita seasoning is very similar to taco seasoning. In general, fajita seasoning will have less oregano, less chili powder, and a generous amount of cumin. Because fajitas are usually made with seared meat, a bit of sugar in the seasoning helps brown the meat and caramelize it. All that said, this fajita seasoning would be fabulous to use for flavouring taco meat as well.
Do You Have A Really Great Fajita Recipe?
I do—I have two in fact! Use your fajita seasoning for this reader favourite sheet pan chicken fajita, or this brand new recipe for Grilled Chicken Fajita Bowl. You're going to love them!
Storage Tips
Store your homemade fajita seasoning in a small jar or container with a tight fitting lid. Small mason jars, or old glass spice containers are perfect for storing.
As with all spices, this seasoning mix keeps best in a cool-ish dark place.
Ways to Use Fajita Seasoning
Aside from the obvious fajita dishes, you can use your fajita seasoning to add flavour and complexity to many other foods.
Sprinkle it into scrambled eggs, black beans, chilis, ground meat tacos, mushroom tacos, fish tacos, and even on corn on the cob.
This fajita seasoning is also great for sprinkling over roasted veggies such as mushrooms, cauliflower, and chickpeas.
More Mexican Inspired Recipes To Try
If you give this Fajita Seasoning recipe a try, please feel free to leave a comment and/or a star rating below. We appreciate and welcome all your feedback. Thank you!
Print Recipe
Pin Recipe
Fajita Seasoning
This fajita seasoning is made up of a garlicky, earthy, herbaceous, blend of spices that carries just a little kick of heat. Quick to make and absolutely glorious to use in many of your favourite Mexican-inspired dishes.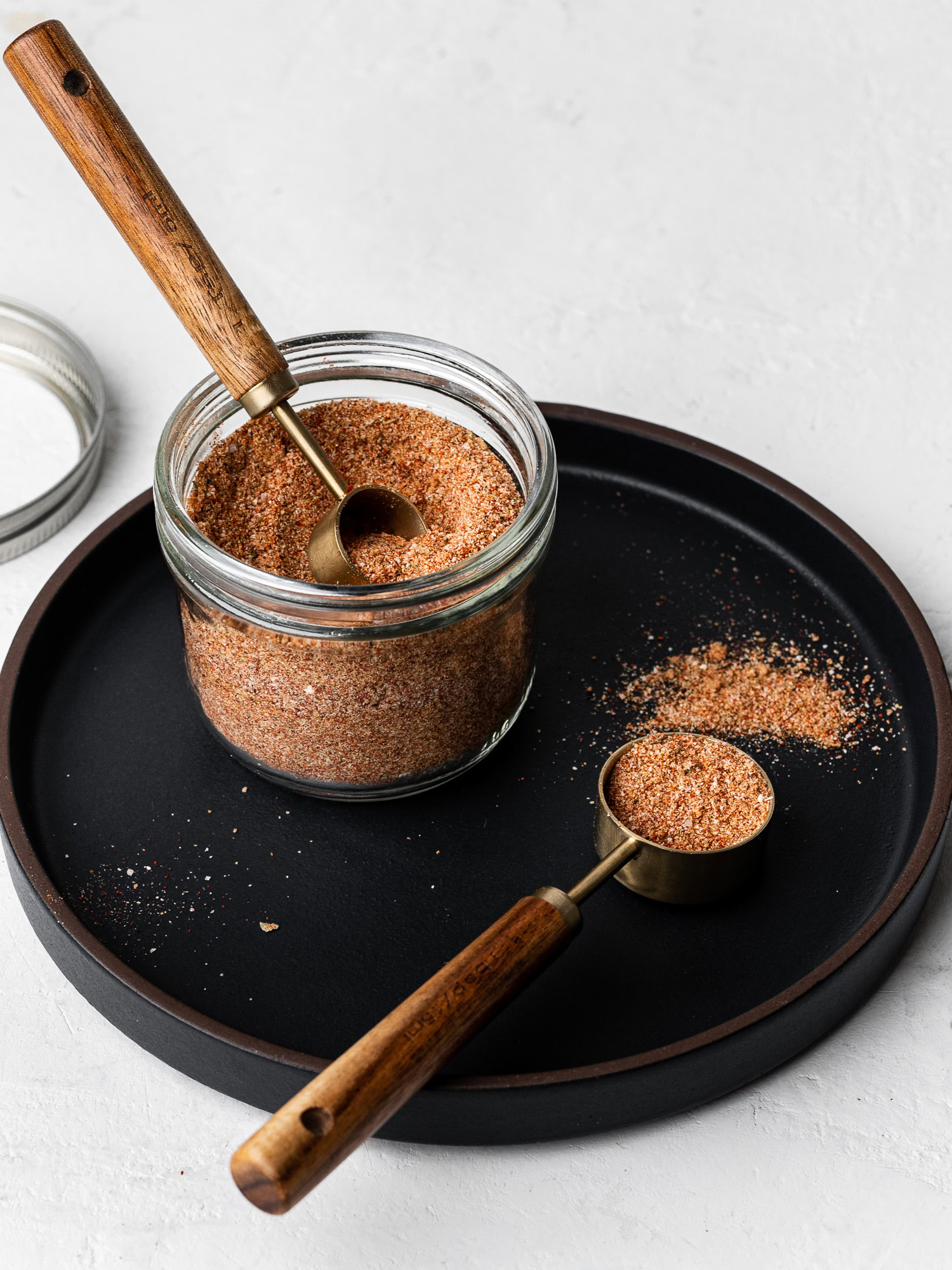 Ingredients
3

tablespoons

chili powder

3

tablespoons

cumin

2

tablespoons

paprika (not smoked)

2

tablespoons

onion powder

2

tablespoons

garlic powder

1 1/2

teaspoon

Mexican oregano

(or regular oregano)

2

tablespoons

kosher salt

1

teaspoon

brown sugar, optional

(or coconut sugar)

optional: 1 teaspoon cayenne pepper
Instructions
Add all ingredients to a medium-sized mason jar, or mixing bowl. Stir until fully combined.

Cover tightly and store at room temperature in a dark place for up to 6 months.

For making fajitas, use 1 – 1 1/2 tablespoons per pound of chicken, beef, or shrimp. Or sprinkle to taste to flavour many other dishes.