This recipe for Grilled Mushrooms with Mediterranean Couscous Salad makes for a quick and wonderfully filling side or main meal. This summer-tasctic nutritious salad is loaded with fresh in-season vegetables and is exactly what you want to be making right now.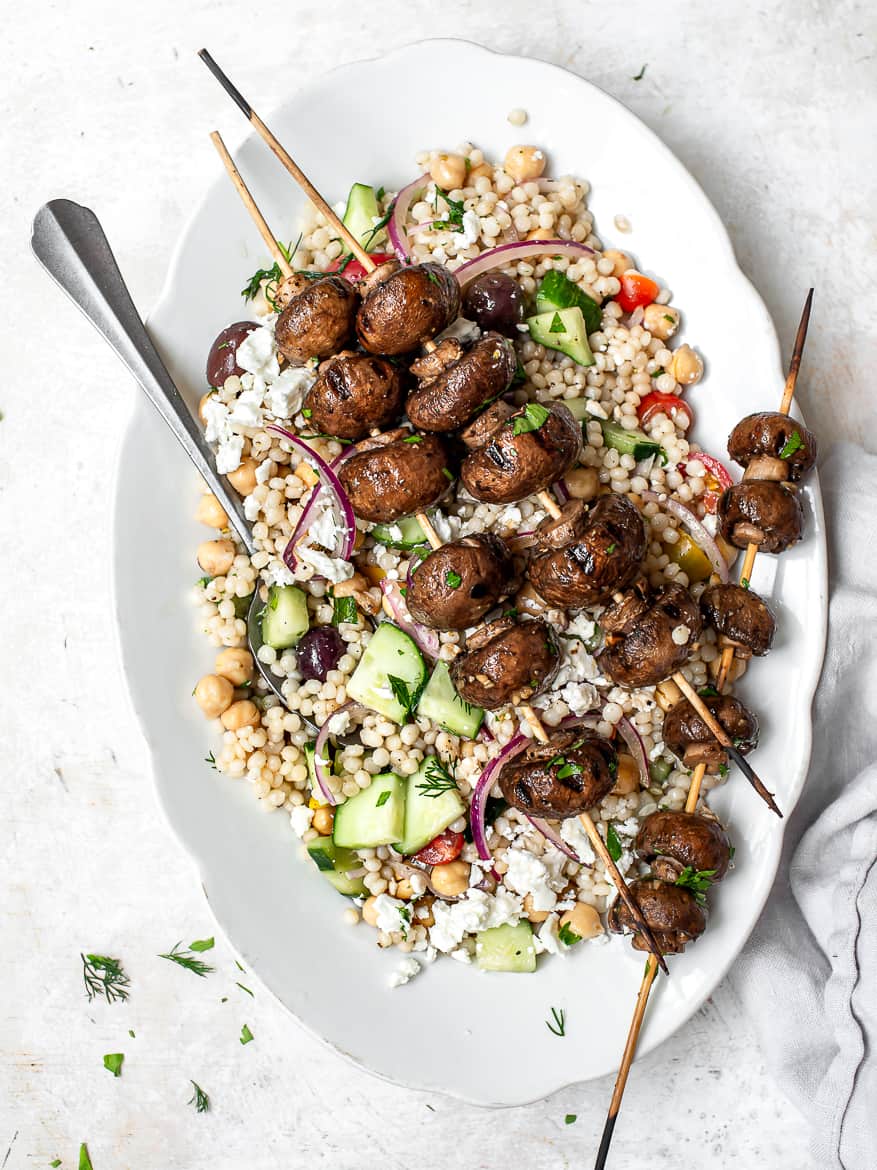 There is a lot of flavour in this one. Mushrooms have always been a popular vegetable on the grill, but here they are the star of the show. Marinated in a garlicky, sweet and tangy balsamic vinegar mix, then skewered up as kabobs, the hot grill works magic to quickly bring out the intense umami flavour of the mushrooms. Topped on a bed of the perfect summer salad – loads of vibrant, herby, fresh summer veggies mixed with pearly round, soft and chewy couscous, and a zippy lemon vinaigrette – you will have the most fabulous hearty lunch, or light dinner that comes together in no time.
Also perfect for making in advance should you be wanting to take advantage of the most picnic-worthy weather we have had in years. It holds up perfectly at room temp for hours and the flavours only get better with time.
The couscous 
You can make this Mediterranean couscous salad with regular couscous or the larger pearled shape couscous. Pearl couscous, known as ptitim in Israel and as Israeli couscous in North America, is made from a simple wheat paste that gets shaped into small pasta granules. These granules are then dried and toasted and need to be cooked a little differently, and a bit longer, than the smaller couscous. If you're interested, you can find a nice summary of the history on how this pearled couscous came to be here.
Pearl couscous is my favourite. The larger grains are pillowy soft and tender with a hint of nutty flavour and just a little chewiness. They are also great at absorbing any and all of the flavours you throw at them. Delicious warm or at room temperature it pairs well with almost any vegetable or protein.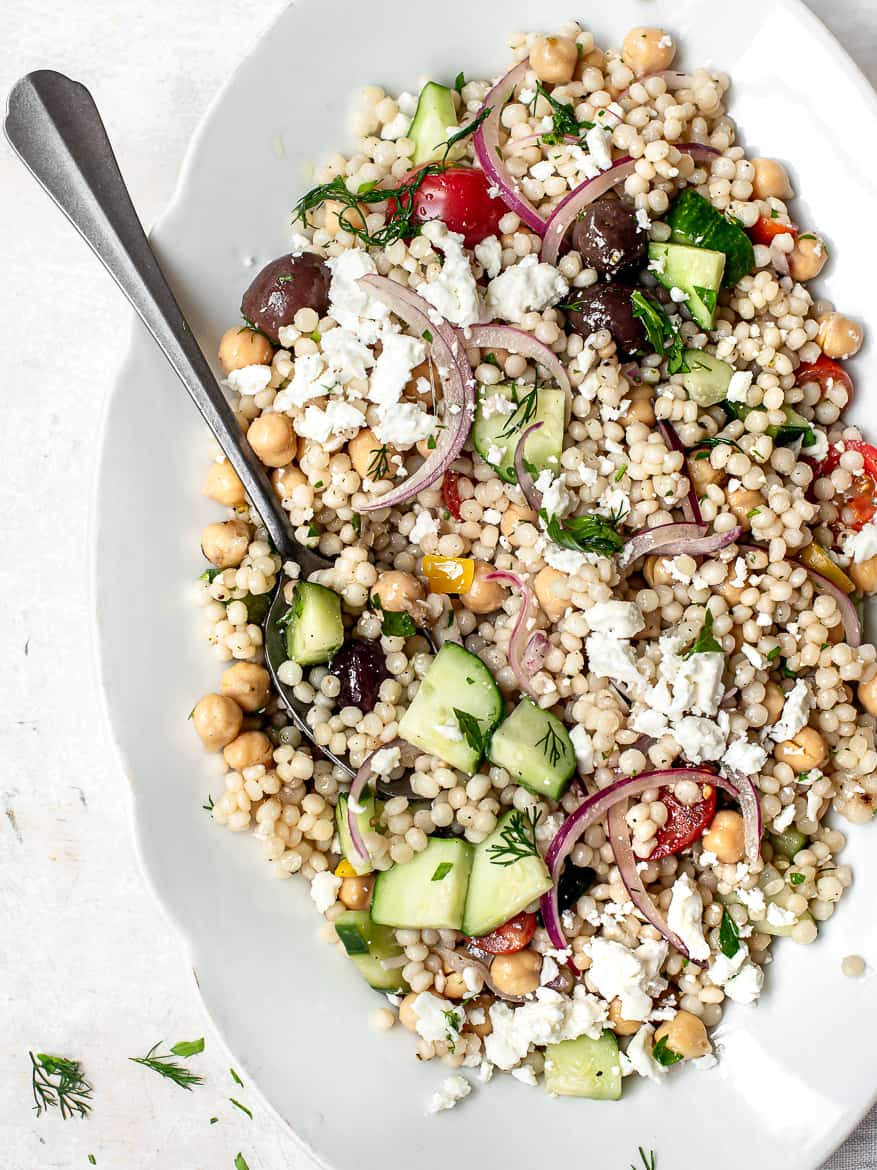 The mushrooms
I absolutely love mushrooms with all their damp, turfy aroma and flavours. They can vary greatly in texture but all are excellent at absorbing flavours and can stand up to anything bold. I find them particularly lovely when cooked over a smoking hot grill where they become tender and caramelized in mere minutes.
For grilling, I like to use medium-sized cremini mushrooms which become little flavour bombs when grilled. White mushrooms also work but the brown coloured cremini have a little more flavour. Like all fungi, cremini's enjoy a special relationship with garlic. For this recipe they get drenched in balsamic vinegar with an assertive amount of garlic. Once the mushrooms hit the grill, they develop a beautiful caramel colour and a deep, but mellowed out, garlicky flavour. A shower of chopped parsley or thyme finishes them off beautifully.
Mushroom tips:
Choose same-sized mushrooms. To ensure even cooking it is ideal if you can bulk-buy so you can pick similar sized mushrooms. Cello-wrapped mushrooms vary a lot in size and are also not as fresh as the mushrooms sold in bulk.
To clean the mushrooms. The debate to wash or simply wipe the mushrooms to clean them continues. Personally, if the mushrooms are very dirty I will wash them. If dried quickly and properly, I do not find this impacts the end result. Most of the time, however, a quick wipe with a cloth gets them clean enough. Contrary to popular belief, commercial mushrooms are grown in farms under very sanitary conditions.
Don't over cook them. Depending on their size, mushrooms only need about 5-7 minutes total on the grill. Though they will still taste good, mushrooms will shrink considerably if you over cook them and lose some of their meaty texture.
How to make the grilled mushrooms
Marinate the mushrooms. Because mushrooms are so porous they will quickly soak up a marinade. Here, they sit in a simple olive oil, garlic, and balsamic vinegar marinade for just 10 minutes or so.
Skewer the mushrooms. It really takes no time to skewer up the mushrooms and it will make grilling them so mush easier. If you go with portobello mushrooms, you do not need to skewer. If using wooden skewers, make sure you soak them in water for at least 10 minutes so they don't flame up on the grill.
Grill on high heat. Mushrooms have a high percentage of water so high heat will not dry them out, especially if they have an oil based marinade. The mushrooms will lose some moisture, and size, with the high heat which only intensifies their natural flavour and any flavours they soaked in.
Season well. As soon as the mushrooms come off the grill, season with a little salt, pepper and some chopped parsley or thyme.
Tip: The grilled mushrooms are fantastic served as an appetizer with grilled bread.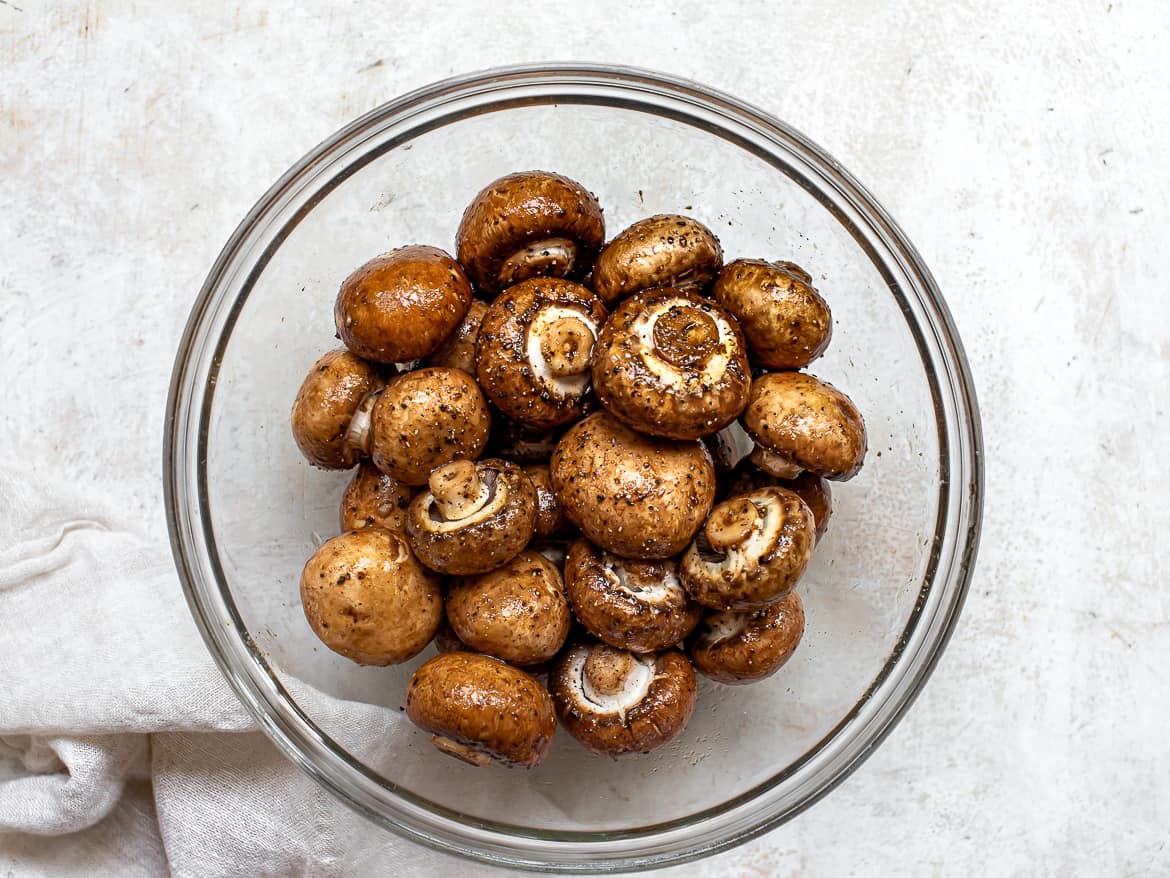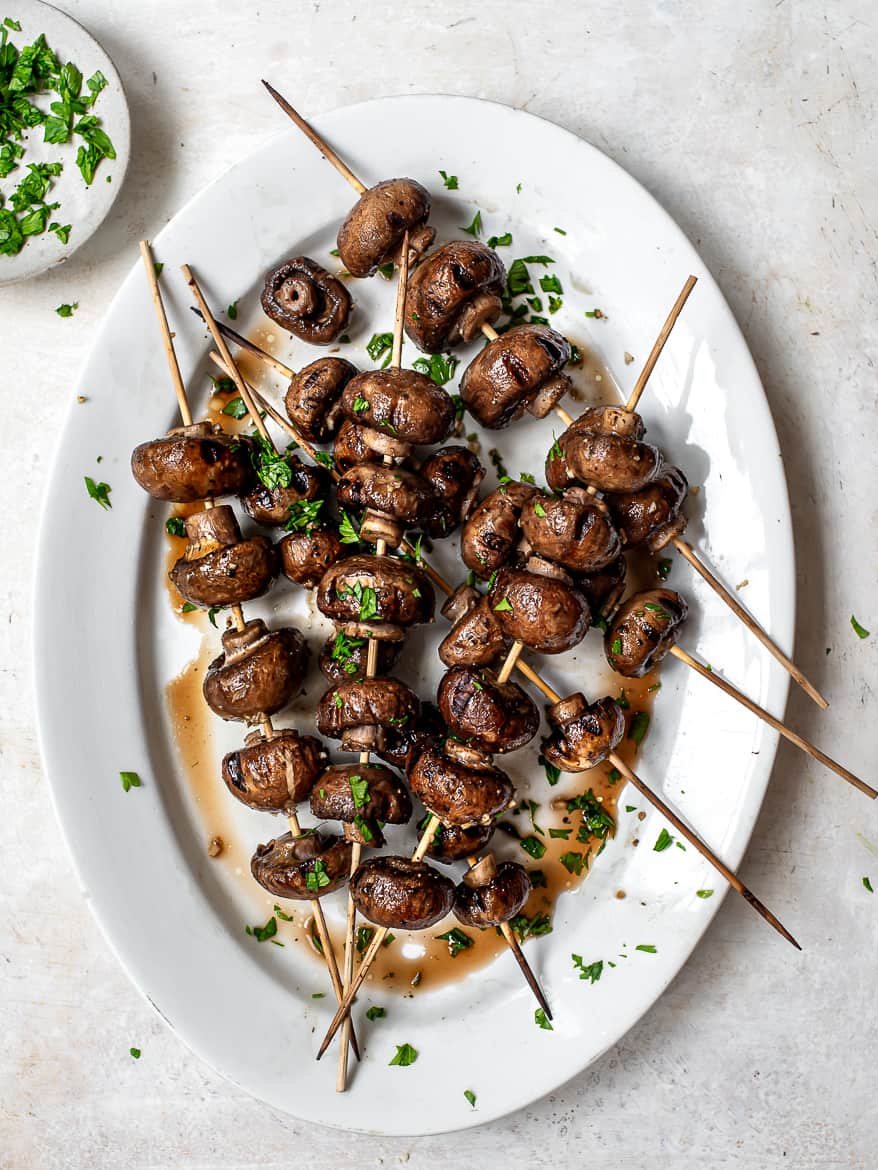 How to make Mediterranean couscous salad
Cook the couscous. Pearl couscous takes a little longer to cook than the regular tiny couscous but it still cooks in under 10 minutes. Just follow the instructions on the package then rinse quickly with a little warm water to avoid clumping. I skip this step if I am serving immediately.
To the cooked couscous add:
Cherry tomatoes
Cucumbers
Red onions
Chickpeas
Black olives
Parsley and/or dill
Feta
Make a vinaigrette. Mix together red wine vinegar, lemon juice, garlic, salt and pepper and of course the nicest extra virgin olive oil you have.
Toss it all together and serve warm or at room temperature. Top with the grilled mushrooms which transform this salad from a side dish into a filling entrée. Or if you wish, substitute with grilled fish, meat or tofu.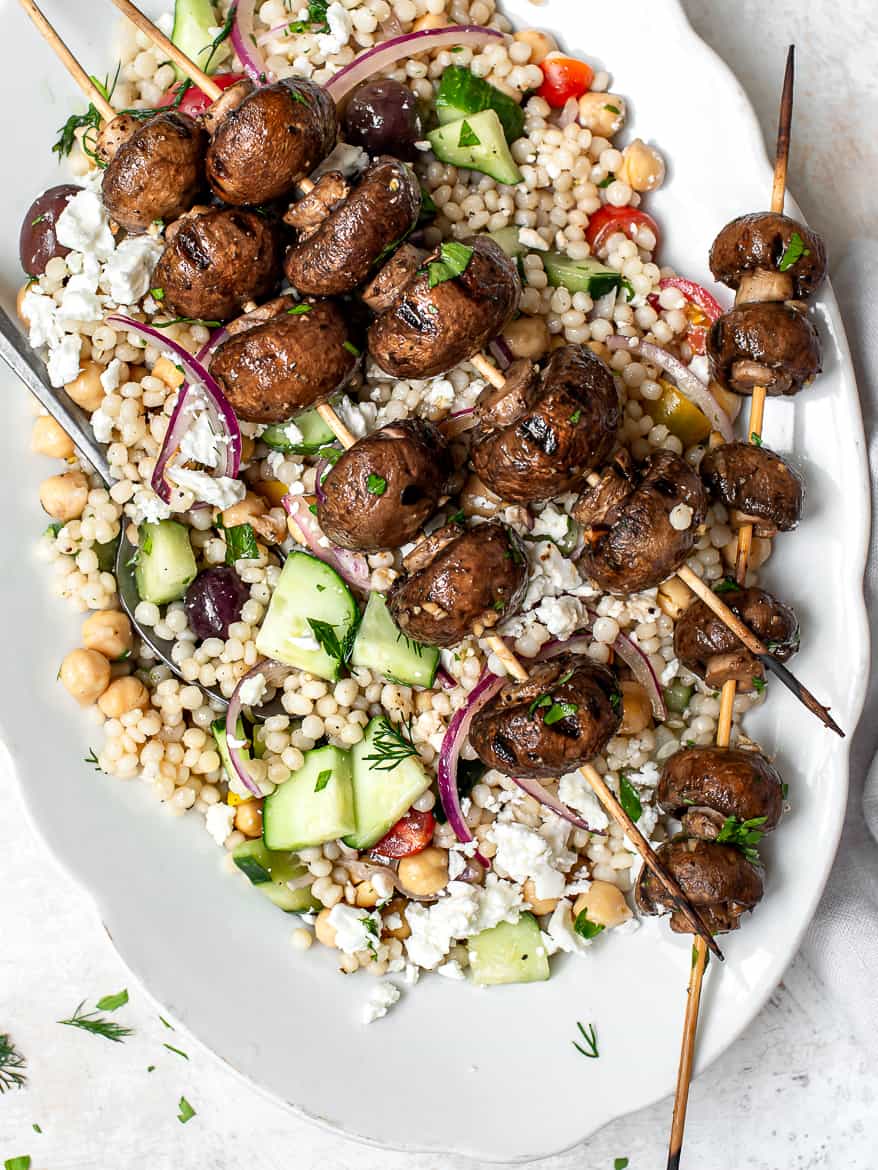 Similar recipes you may enjoy:
Warm Orzo and Chickpea Salad with Spinach 
Tuna and White Bean Salad with Cherry Tomatoes
Print Recipe
Pin Recipe
Grilled Mushrooms with Mediterranean Couscous Salad
This recipe for Grilled Mushrooms with Mediterranean Couscous Salad makes for a quick and wonderfully filling side or main meal. This summer-tasctic nutritious salad is loaded with fresh in-season vegetables and is exactly what you want to be making right now.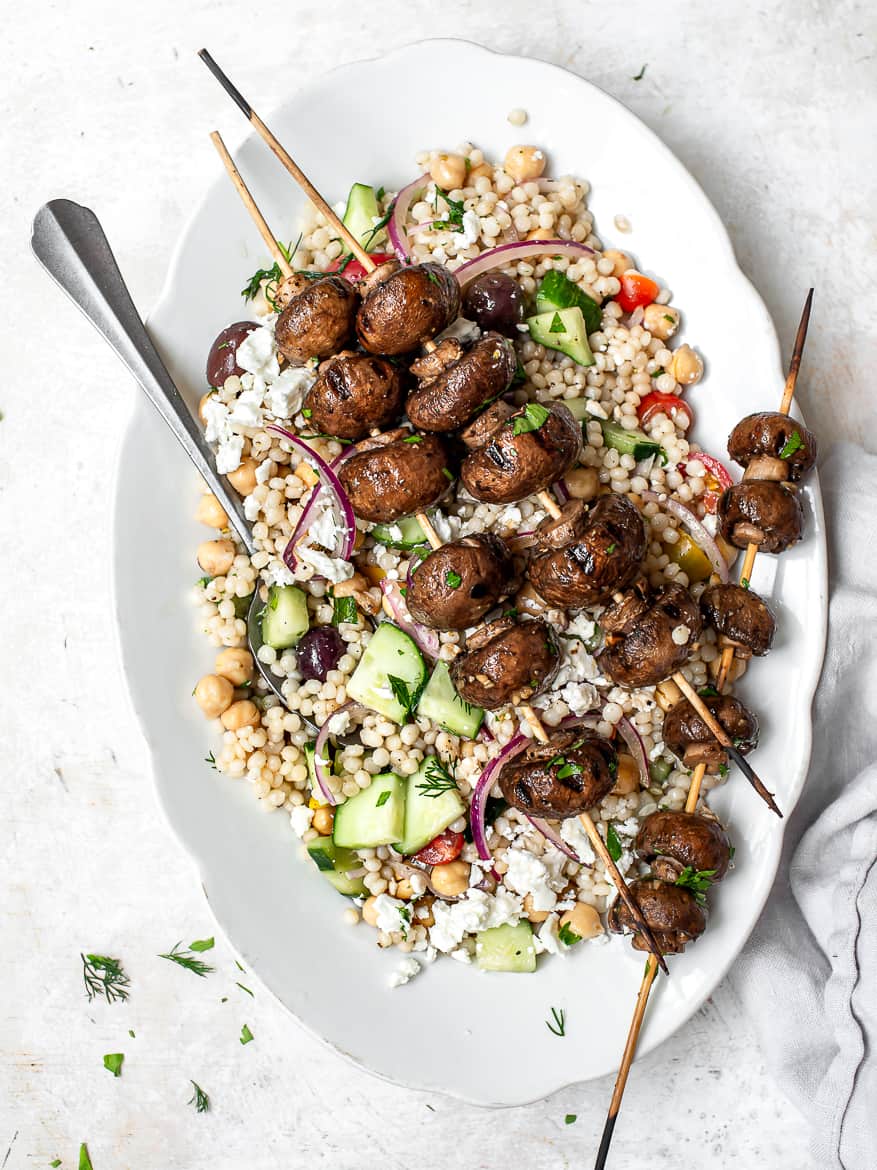 Ingredients
For the vinaigrette
3

tablespoons

red wine vinegar

2

tablespoons

fresh lemon juice

1

garlic clove, minced

1

teaspoon

kosher salt

or more to taste

freshly cracked black pepper

to taste

1/3

cup

extra virgin olive oil
For the Couscous Salad
2

cups

uncooked pearl couscous*

(also known as Israeli Couscous)

2

cups

cherry tomatoes

halved

1/3

cup

finely sliced red onions

1/2

English or 1 small cucumber

finely chopped

1

15-oz

can chickpeas

drained and rinsed

1/2

cup

pitted kalamata olives

handful chopped parsley and/or dill

roughly chopped or torn; more for garnish

4

oz

feta cheese, crumbled

optional
For the Mushrooms
3

tablespoons

balsamic vinegar

2

garlic cloves, minced

2

tablespoons

extra virgin olive oil

freshly cracked balck pepper

1 1/2

pounds

medium sized cremini mushrooms

Brush clean with a damp cloth

1/2

teaspoon

kosher salt

1/4

cup

chopped parsley or thyme
Instructions
Make the vinaigrette: Combine all ingredients in a large bowl. Set aside.

Cook the couscous: It is best to follow the package instructions. If there are no instructions, here is a reliable method: Place 2 cups of pearl couscous in a medium saucepan and add 2 1/2 cups of boiling water. Cook for 8-10 minutes or until tender. Drain and rinse quickly under cold water to remove some of the sticky starch.

Make the salad: Transfer couscous to the bowl with the vinaigrette. Holding back the feta, add in all of the remaining ingredients for the salad and toss until very well combined. Cover and refrigerate while you grill the mushrooms. When ready to serve, add the feta and gently toss to combine.

Make the grilled mushrooms: In a large bowl, whisk together balsamic vinegar, garlic, olive oil and a few cracks of black pepper. Add mushrooms and marinate 15 minutes. If using wooden skewers, soak them while mushrooms marinate. Heat grill to medium-high. Skewer mushrooms and grill 2 to 3 minutes per side. Season with salt and garnish with parsley or thyme. Serve the skewers over the couscous salad.
Notes
*Pearl couscous is sometimes hard to find. You can find it online or if you live in the Kitchener- Waterloo area you can always find it here. If you can't find pearl couscous, regular couscous will also work for this recipe. It will however cook differently so follow the package instructions. 
Keep Vegan: Omit the cheese or use a vegan feta. 
Make-Ahead. This recipe will last for 3 - 4 days in an airtight container in the fridge.