Smoky Grilled Romaine Caesar Salad, with leaves charred beautifully on the outside, warm and creamy on the inside, will without a doubt be your new favourite summer side dish.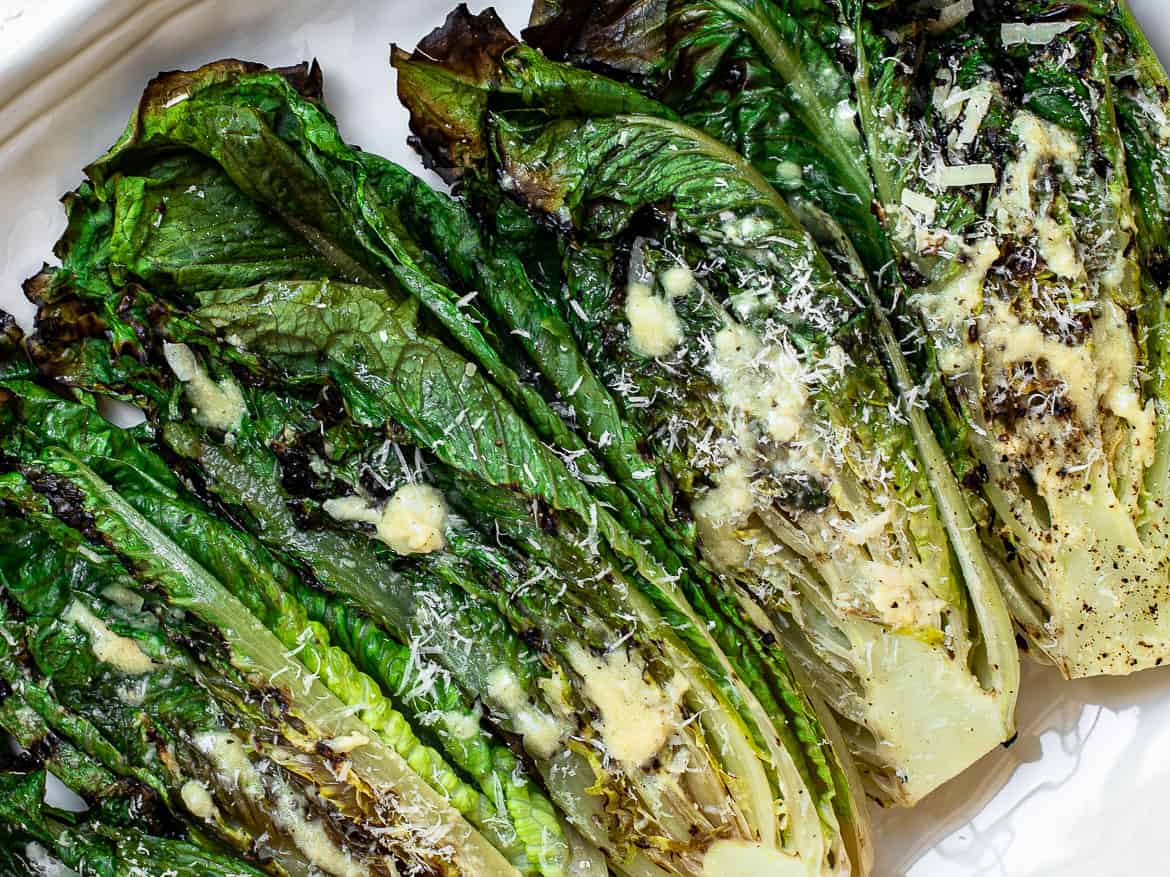 Is there anything better than cooking your entire dinner on the grill? If I lived in year-long warm weather  I probably wouldn't even need a stovetop. It just makes the dinner plans and the cleanup so much easier. Last night I grilled a whole salmon, about 10 pounds of asparagus (because yum!) and three hearts of romaine lettuce. Simple, fast, delicious.
A while back I mentioned how much I was enjoying chef Eric Ripert's quarantine cooking on Instagram. On one of his posts he broils Romaine hearts that he had brushed with a caesar-type dressing and it looked amazing. I had done something similar with radicchio on a grill pan so I knew grilling the romaine hearts would also work. If you haven't grilled lettuce before, you really have to give it a try. Much like vegetables, they become smoky and slightly nutty with lovely caramelized edges. And when you drizzle the hot charred lettuce leaves with a creamy caesar dressing, it's absolutely insanely delicious.
How to grill Romaine lettuce
Here's how easy it is to do:
Prepare a dressing. I am partial to a creamy ceasar included in this recipe, but any dressing will work.
Slice each head of romaine in half keeping the roots intact.
Brush both sides with a little olive oil and season with a little salt and pepper. .
If you are using a creamy dressing, brush a very thin coat of it on the cut side of the heart. Then sprinkle with a little bit of parmesan cheese — the cheese will melt and get crispy golden, yum.
Place the heads on the very hot grill, cut side down for about 2 minutes and no longer than 3. Flip and cook another minute or so.
Drizzle with your favourite dressing and serve immediately.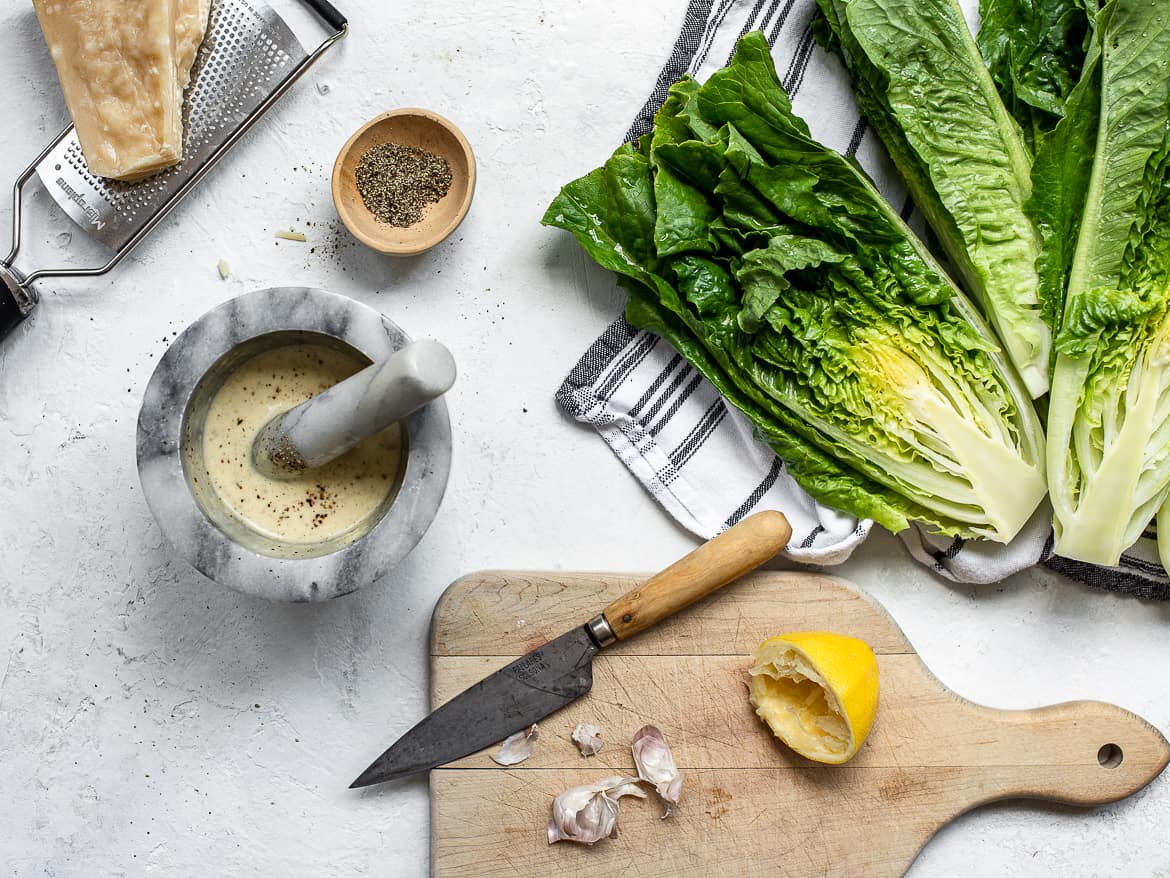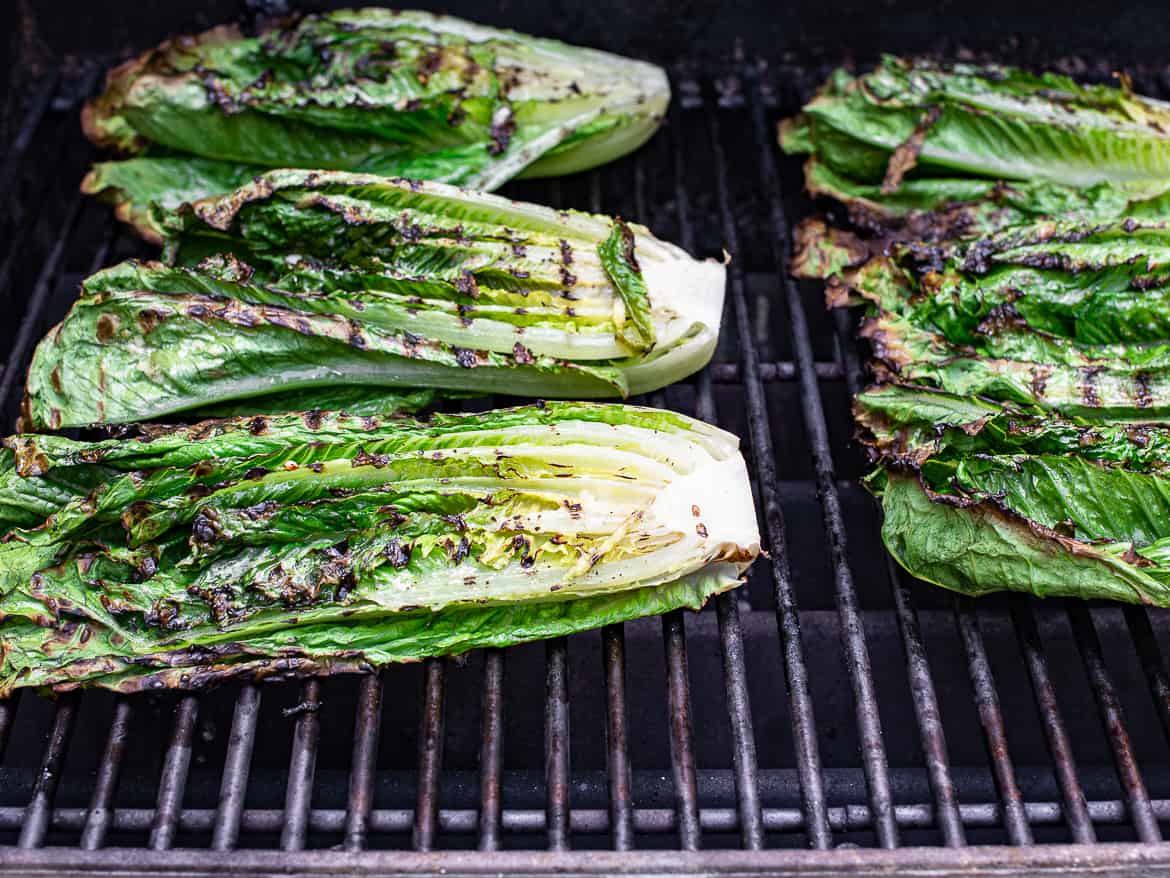 Can I use another lettuce?
Romaine lettuce works best for grilling because of its sturdier leaves and spine. You could use radicchio or endive though you may lose some leaves through the grates due to their smaller size.
Romaine lettuce is beautiful and huge at the markets right now. If your lettuce head is really big, you may have to quarter instead of halve it.
Can I broil it instead?
You can absolutely broil the Romaine lettuce. If you are going the broil route, I recommend you watch the fun post on Eric Ripert's instagram.
If you don't have instagram, place the cut heads on a baking sheet, cut side up, and follow the same preparation instructions for the lettuce heads as the grilling instructions. Preheat your broiler for about 10 minutes. Place the pan in the oven and broil for 3-4 minutes, without flipping, until lightly charred.
Tips for grilling Romaine lettuce
Oil the grill grates: Though the romaine hearts will brushed with oil, the soft lettuce leaves could still stick to the grill if the grates aren't oiled. Clean and oil the grates for a little extra precaution.
Dry the Romaine hearts really well: This is a little tricky since you can't use a spinner to dry the whole hearts of romaine. Once rinsed, shake all the excess water as best you can, then leave the hearts face down on a tea towel while you prepare the other ingredients. Use a few tea towels if necessary.
Make sure the grill is super hot: A quick two minute hot blast on each side is all the Romaine hearts need. The idea is to get a quick char on the outside of the leaves while keeping the inside nice and crisp.
Serve immediately: This is not a salad that keeps for very long because you want to eat the lettuce hearts while they are still nice and crisp. You can prepare all of it ahead of time then grill the hearts just before serving.
Small or large Romaine lettuce: Those 3-pack bags of Romaine lettuce work quite well here. They are the perfect size for cutting in half lengthwise. Cut in quarters if using larger lettuce heads.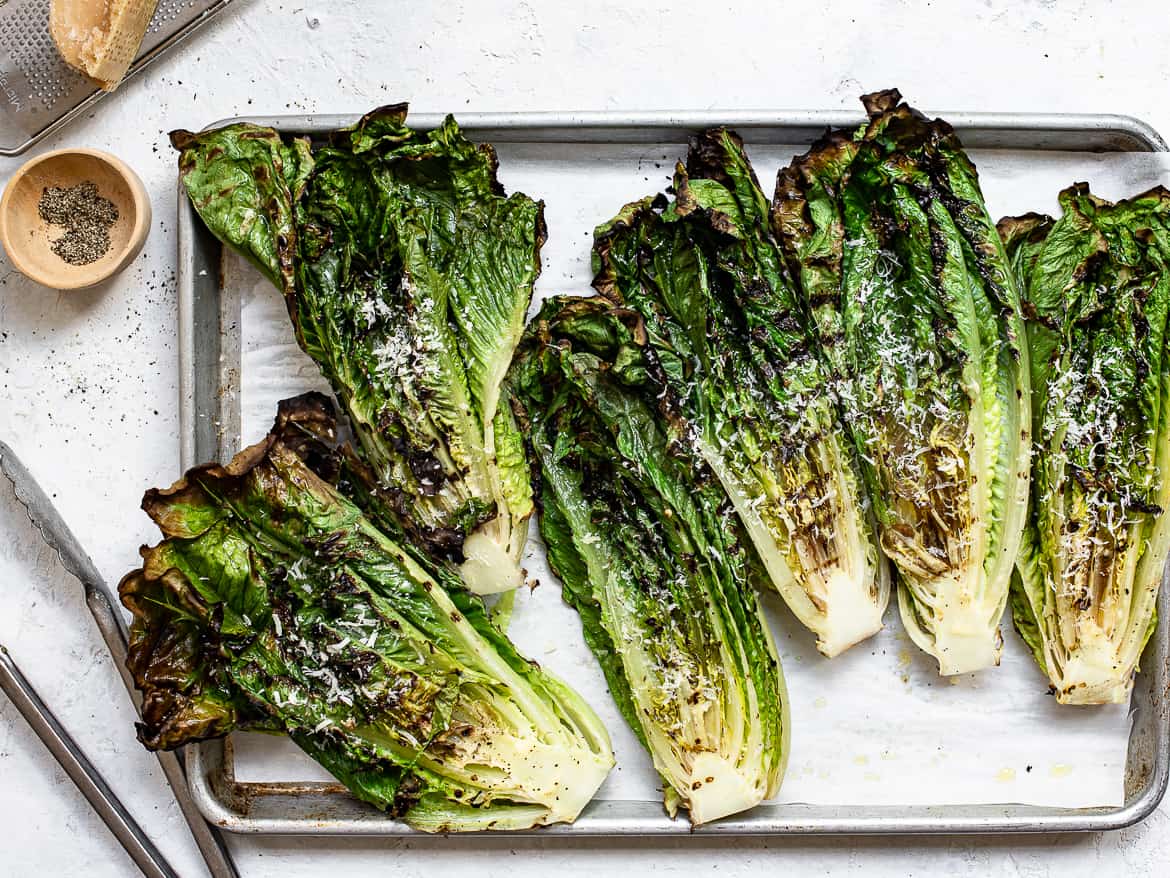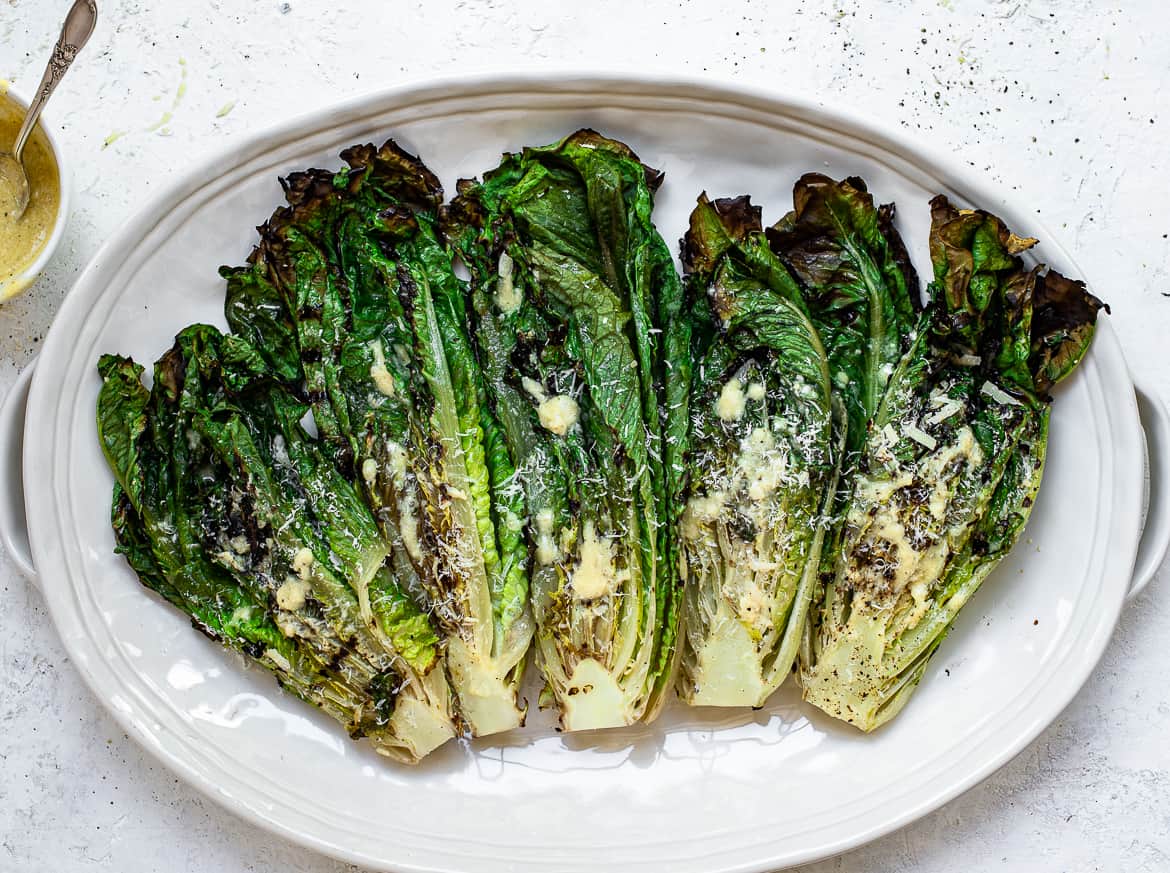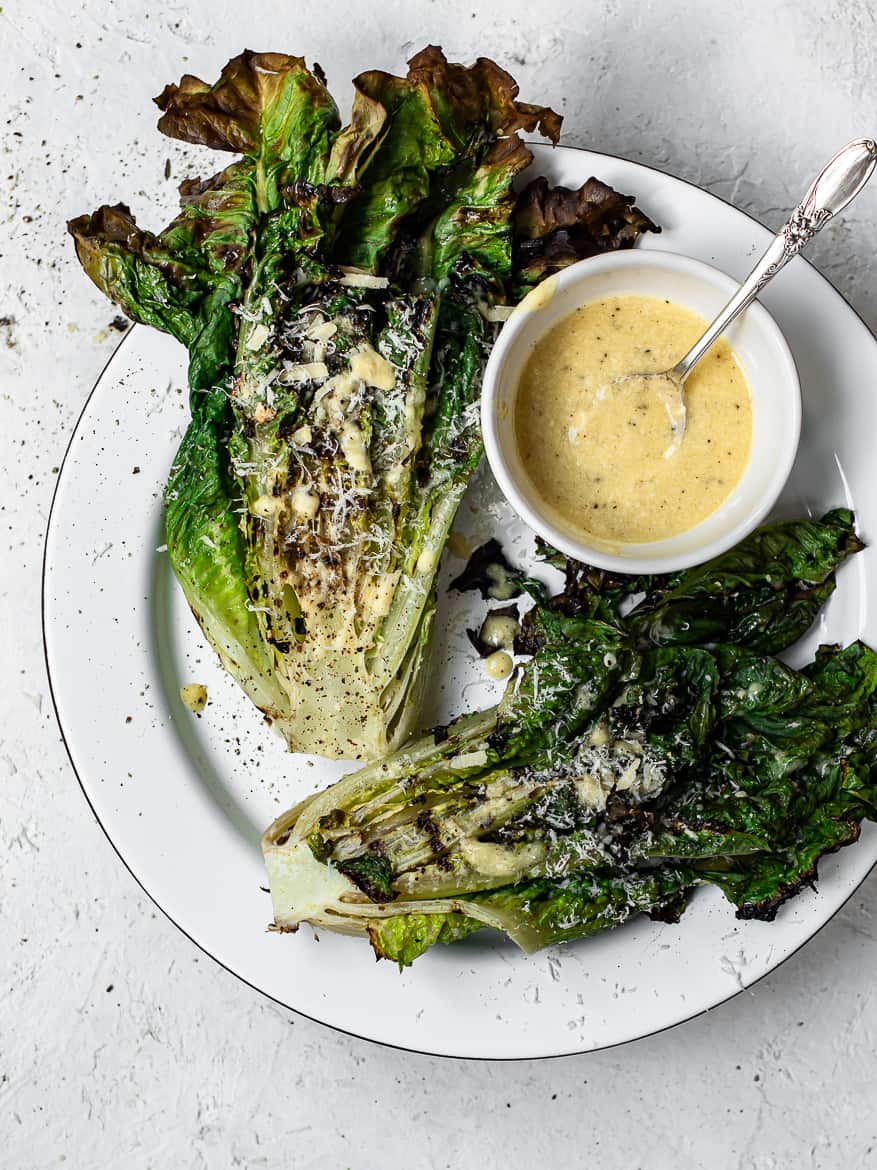 A few notes on the dressing
As previously mentioned, you can top the grilled Romaine with any dressing you'd like. My whole family loves it with a caesar dressing so I usually stick to that.
About the anchovies….if you hate them, leave them out! I don't mind them in a caesar dressing but I also don't miss them if they aren't there.
This caesar dressing recipe makes a smallish amount which eliminates the need for a food processor. If doubling the dressing (never a bad idea) you might want to use a food processor in order to emulsify the olive oil. Otherwise, use a mortar and pestle to mash the garlic or simply chop and combine the ingredients by hand. It is an easy dressing to prepare and it comes together really fast.
To serve grilled Romaine lettuce
As noted, I serve the grilled Romaine hearts with a creamy ceasar dressing. If you prefer something lighter, drizzle with a simple shallot vinaigrette.
Serve the grilled romaine hearts with any grilled or roasted protein such as this Grilled Skirt Steak Encebollado.
For a vegetarian hearty meal, serve with warmed chickpeas and grilled veggies, so so good.
If you're feeling a little extra, top the grilled romaine hearts with croutons and crispy bacon. Then please send me a note and let me know how delicious it was.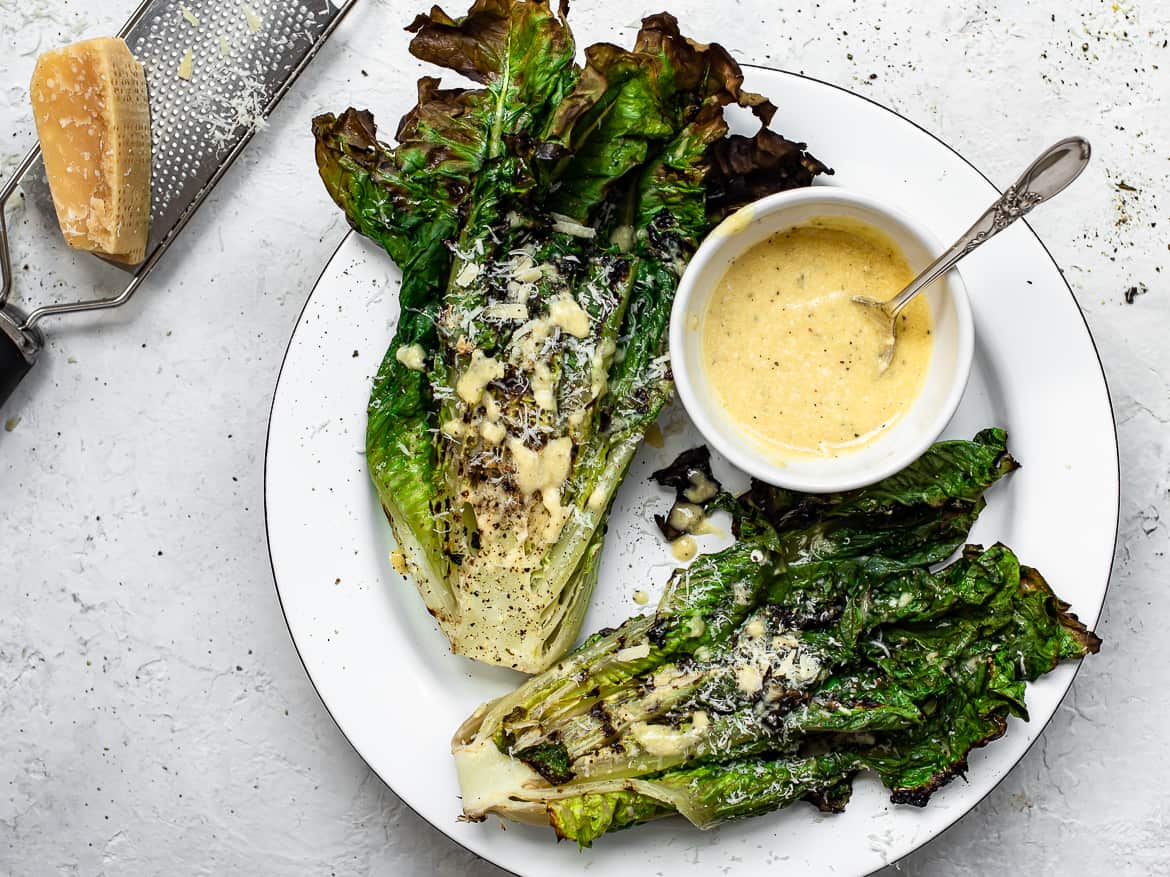 For all of you celebrating Canada Day, I wish you a peaceful and happy holiday. Stay healthy and safe, dear friends.
Other grilling recipes you may enjoy:
Grilled Cabbage Steaks with Walnut Caper Salsa
Grilled Moroccan Chicken Kebobs
Jerk-Spiced Chicken with Grilled Pineapple Salad
Print Recipe
Pin Recipe
Grilled Romaine Lettuce with Caesar Dressing
Smoky Grilled Romaine Caesar Salad, with leaves charred beautifully on the outside, warm and creamy on the inside, will without a doubt be your new favourite summer side dish.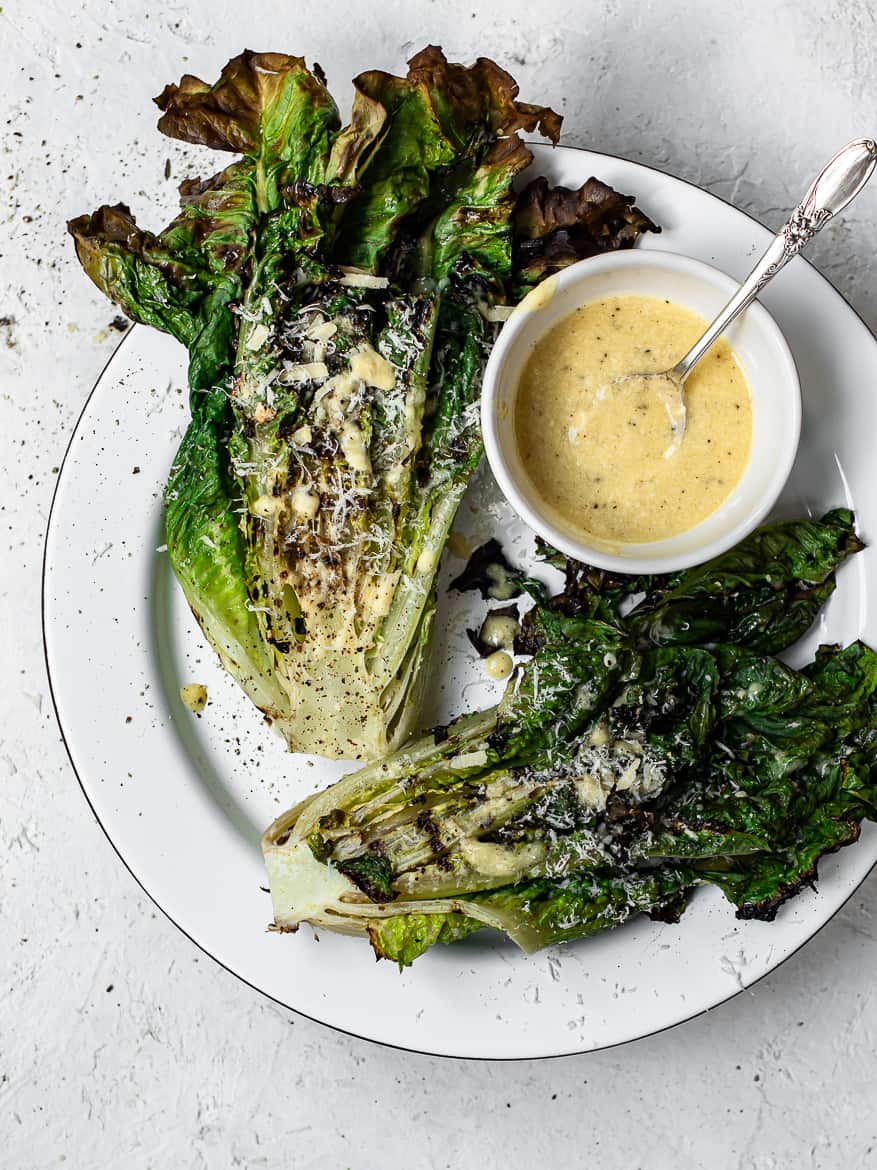 Ingredients
For the dressing
2

garlic cloves

finely minced or grated

1-2

anchovies

finely minced (optional)

1

tablespoon

Dijon mustard

2

tablespoons

good-quality mayo

I use soy-free vegenaise

2

tablespoons

fresh lemon juice

1/2

teaspoon

salt

freshly ground black pepper

to taste

1/4

cup

olive oil

plus more for brushing romaine lettuce

1/4

cup

grated pamesan cheese, divided

plus more for serving
For the Romaine Hearts
3

*hearts of Romaine lettuce, cut in half lenghtwise (or quarters if large) leaving the cores intact.

1-2

tablespoons

extra-virgin olive oil

Kosher salt and freshly cracked black pepper

to taste
Instructions
Heat a grill to high. Oil the grates with tongs using a paper towel dipped in oil.

Make the dressing: In a medium bowl, whisk together the garlic, minced anchovy (if using), mustard, mayo, lemon juice, salt, and pepper to taste. Slowly whisk in the oil until emulsified. Add the parmesan cheese, reserving about 2 tablespoon for later, and whisk to combine. Set aside.

Brush the heads on both sides with a little olive oil and season with salt and pepper to taste. Brush a very thin coat of the caesar dressing on the cut side of the lettuce (skip this step if using a vinaigrette - **see notes). Sprinkle with the reserved 2 tablespoons parmesan cheese.

Once the grill is really hot, place the Romaine lettuce cut side down on the grill. Cook until lightly charred, 2 to 3 minutes. Carefully flip to the other side and grill for about 1 minute more.

Transfer grilled lettuce heads to a large platter. Drizzle with dressing and top with more parmesan, salt and freshly cracked black pepper if desired. Serve immediatelty.
Notes
*Those Romaine lettuce 3-packs work quite well here. They are the perfect size for cutting in half lengthwise. Cut in quarters if using larger lettuce heads. 
**A vinaigrette, as opposed to a creamy dressing, will add too much moisture to the lettuce heads if added before, or during the grilling. This could prevent the lettuce heads from charring properly so add the vinaigrette after the heads have been grilled.