A well-organized fridge will drastically help reduce your food waste, use less plastic, be more visually pleasing, and overall bring you a lot of joy! Read on for a lot of inspiring tips on How To Organize Your Fridge – A 6 Step Guide.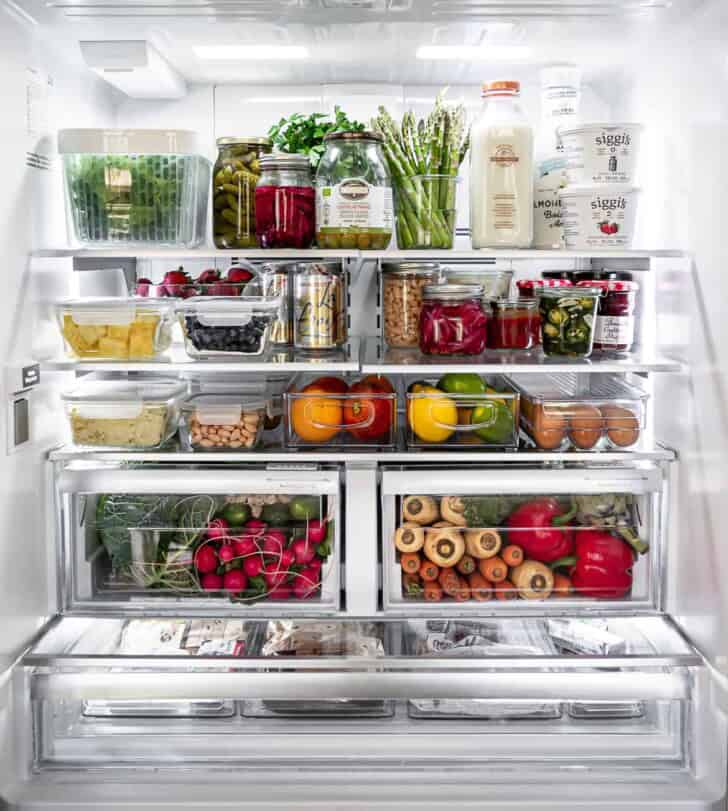 Why Organize Your Fridge
This past year many of us had a rude awakening on how important it is to keep a well-stocked pantry and fridge/freezer. When you think about it, we have all become so much more savvy. Even when a new shut-down order happens, no one is panicking. The pantry has been stocked, the fridge is almost always filled with favourite staples, and the freezer (if we are being honest) will see us through a lengthy apocalypse.
I dream of the days when this past year will be a distant memory, but there is no denying our habits will never be the same again. We will likely all be more home-bodies than ever before, continue to cook more than ever before, and try and be more organized than ever before. I will be the first to admit, an organized pantry or fridge/freezer, has never been my best skill. Things quickly got worse when I started going less often to buy groceries, and buying bigger amounts of groceries. I could barely fit anything in my fridge, food was going bad, and I was still using plastic, way too much plastic. In short, my fridge tormented me and something needed to be done.
As expected, my newly organized fridge has been life-changing. I drastically changed the way I buy, store, and consume food and I have to say, I couldn't be happier. Read on for all my helpful tips on how to have an organized, less wasteful, and more environmentally-friendly stocked fridge.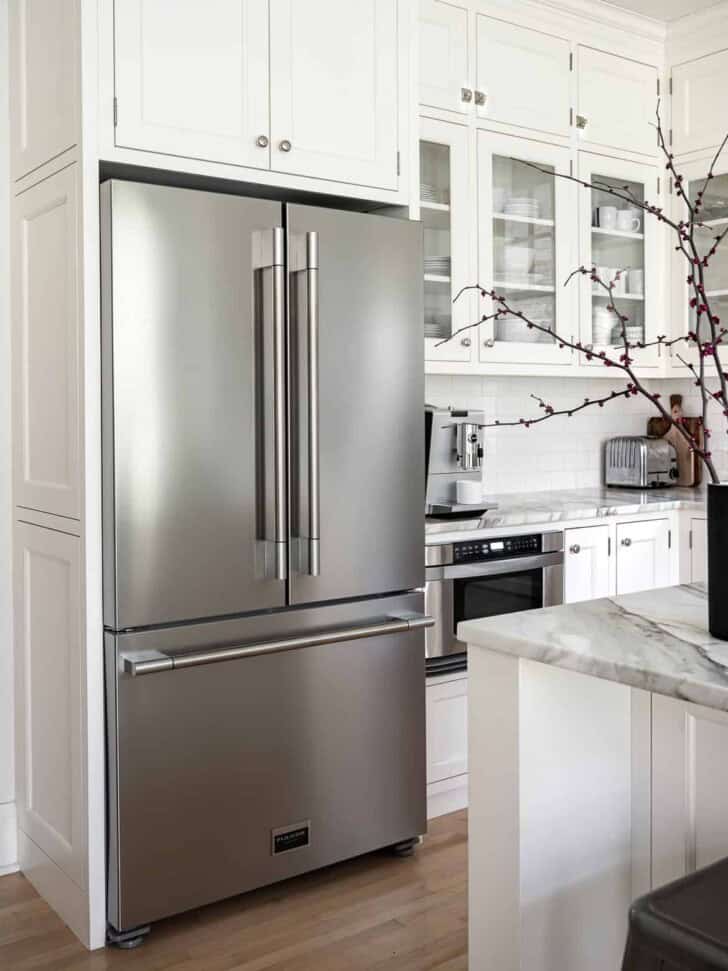 An Organized Fridge With Fulgor Milano French Door Fridge
When I partnered with Fulgor Milano a few months ago and received their beautiful 36″ Pro French Door Fridge, it was the perfect opportunity to start fresh and step up my fridge game. I read through hundreds of articles on how best to organize food in a refrigerator, and I also applied a lot of the rules and tips I learned in the Food Safety course I took a while back.
Organizing the Fulgor fridge was a dream. It opens really wide, delivers tons of storage space, has height adjustable cantilever shelves, and useful climate-controlled bins that help extend the life of produce. It is the same size as my old fridge but everything is much easier to access and it feels much bigger.
Other great features I love are an internal water dispenser and the interior theatre lighting with LED. It is so bright! But I especially love the FINGERPRINT-PROOF STAINLESS STEEL which is actually, amazingly, fingerprint proof and remains gleamingly clean for days. The large self-closing freezer drawer is easy to access and has a TON of storage with one basket drawer and an automatic ice machine that makes the cutest ice cubes.
Of course the inside of my fridge has been somewhat staged to look beautiful in these photos, and it likely won't look this organized in my day-to-day life. But, it has been about a month now since I re-organized it and I can honestly say I will never go back. Initially, it is an investment in time and money but it will be so worth it in the long run. A well-organized refrigerator is not just visually pleasing, it will drastically help reduce your food waste, use less plastic, and overall help you save money, time, and be better for the environment.
How To Organize Your Fridge – A 6 Step Guide
Ultimately, organizing a fridge will be a very individual endeavour. The size of your family, dietary restrictions, the types of food you eat, will all have an impact on how you organize your fridge. This is what has worked for me and my family (with no littles to feed anymore) so use this as a guide and adapt accordingly.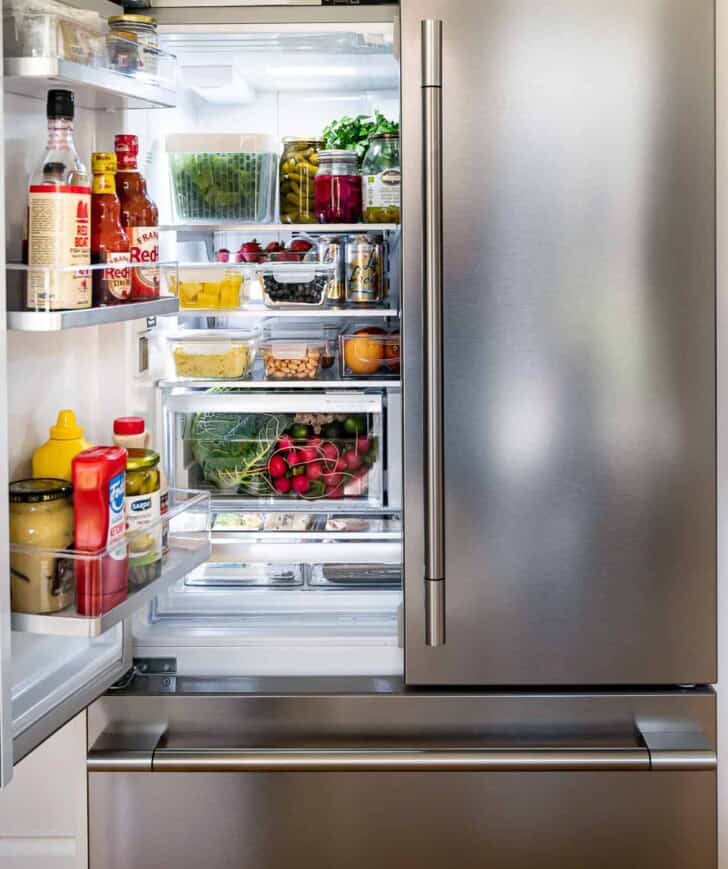 1. Invest in bins, glass containers, and re-usable food storage
Before you even start to clean out your fridge, you will need a few things to get, and keep, everything organized. I have listed and linked a lot of items that have made my fridge function so much better. Some are pricey, and you certainly don't need them all at once. Start with what you can and go from there.
Storage bins: I used to think bins would be so bulky and chew up too much real estate in my fridge. Now I'm a huge convert. These BPA-free food storage bins have had the biggest impact in my fridge organization. The long rectangular shape is great for utilizing the depth of the refrigerator and are so convenient for organizing food. No more limes or lemons decomposing behind the piled produce.
The bottom shelf where I store cheese, dairy and deli used to be a disaster zone with everything all mixed together. So I was thrilled to find these shallow bins that fit perfectly in the bottom drawer and keep everything sorted and divided. This one for storing up to 18 eggs is another favourite and I love that it has a lid so you can stack something on top. Tip: Make sure to measure your fridge depth and width so you buy the size of bins that will best accommodate your needs.
Produce bins: I was very hesitant to invest in these produce bins. They are pretty bulky, not cheap, and I just wasn't sure I would use them. But I have been blown away by how long it keeps the produce fresh and crispy. The built-in basket protects produce from too much moisture, and the lid vent is fitted with a slim carbon filter which helps reduce spoilage. I absolutely love them.
Re-usable, non-plastic storage bags: I do not know how I lived without these awesome (awesome!) cheese and food storage bags. The bags are made in France and Italy so again, they are pricey, but they last really long (note that you may be able to find them cheaper from local stores in your area). You can even reuse the same bag for the same type of cheese until the fat stains become visible through the paper. I buy the smaller ones designated for cheese, and these larger ones I use for cold cuts or for storing bagels, English muffins, etc. I haven't bought Stasher bags yet, but I have heard everyone really loves them. They are made of silicone so you can store and cook with them. I will be ordering some soon in the hopes of completely eliminating the need for ziplock bags.
Storage glass containers: So great for leftovers and for meal prep. I bought a few boxes of this brand at Costco and really love them. You can easily see what is in them and they are also great for the freezer. Mason jars are also fantastic for storing food in the fridge and freezer. I store homemade chicken broth, leftover soup, smoothies, granola, oat cereals, nuts, pickled veggies, seeds, and fruit. The smaller ones are fantastic for sauces and dressings.
Beeswax wraps: Pretty, healthy, sustainable, brilliant. I love using these wraps for covering up leftovers and storing all kinds of small odds and ends.
*If you live in the Kitchener-Waterloo area, my dear friends at Relish Cooking Studio sell many of my favourite storage containers, wraps, and re-usable bags that I have linked here. They have an excellent online shop and are also open for curb-side pick-up and would love your support!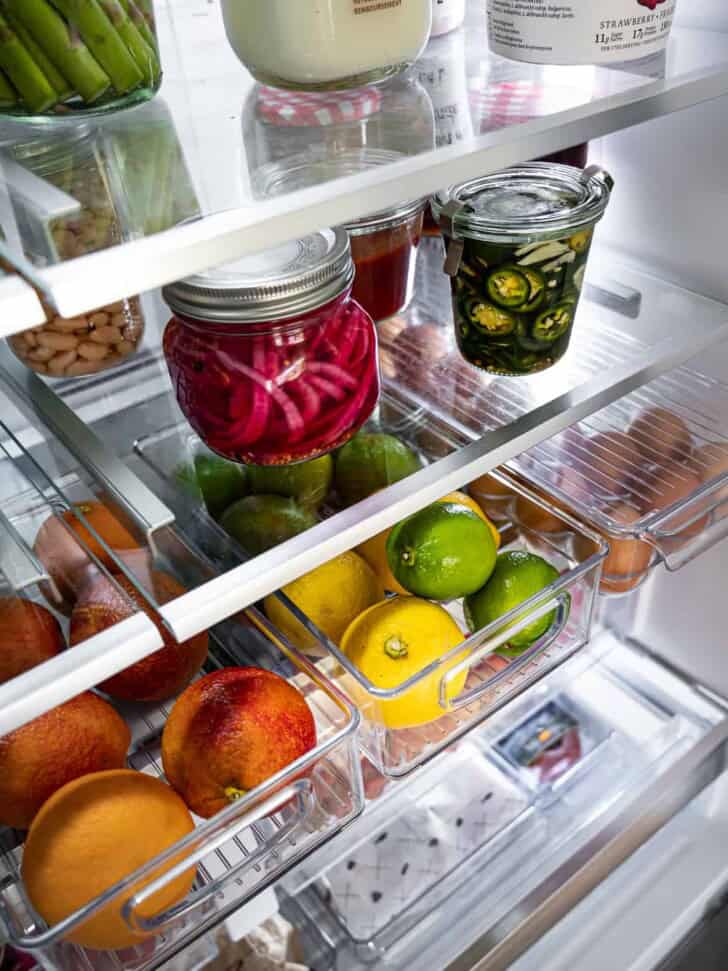 2. Clean out the entire fridge
Now that you have all the proper storage sorted out, it is time to clean out the fridge. Grab a large cooler (or two small ones) and take everything out, placing foods that perish quickly in the cooler. This is not something you want to do in stages – take absolutely everything out. This is the best way to deal with all the sauces you don't use anymore, and with any food that has gone bad. Once the fridge is empty, clean your fridge top to bottom with a rag or sponge. I use a solution of 1 part  water, 1 part vinegar and a few drops of dish soap.
Once your fridge is clean, do a thorough editing before you put anything back in. Be ruthless – get rid of those 6 jars of BBQ and dressing sauces that you're never going to use – and keep only what you know you will use.
3. Learn where to place your food in the fridge
Where you place your food in the fridge is super important. Different areas of the fridge have different temperatures and uses. Here is the breakdown of those areas so you can allocate your food accordingly.
Doors: The Fulgor fridge has very thick, insulated doors that keep items colder than most refrigerators. That said, items placed in the fridge doors experience the most temperature fluctuation from being opened and closed so often. I like to place items with the longest shelf life on the doors; non-dairy drinks, condiments, dried yeast, etc. Eggs should not be placed on the door either. They should go on the bottom shelf, which is the coldest, or the middle shelf.
Shelves: The top shelves are generally a warmer spot than the lower shelves. Because of this, the advice is to not place milk and dairy on the top shelves. However, I set my top shelves leaving a lot of room above for the air to circulate so they stay nice and chilly for yogurt or milk. If your top shelves have very little room, place your less perishables foods on them. Leftovers, raw meat, and more perishable foods should go on the lower shelves.
Crisper drawers: Because crisper drawers have humidity control, this is where you want to store your fruit and veggies. However, I buy more vegetables than fruit so my two deep crisper drawers are filled with vegetables only.
Cheese and deli drawer: Self explanatory, but here I also like to keep things like tortillas and butter.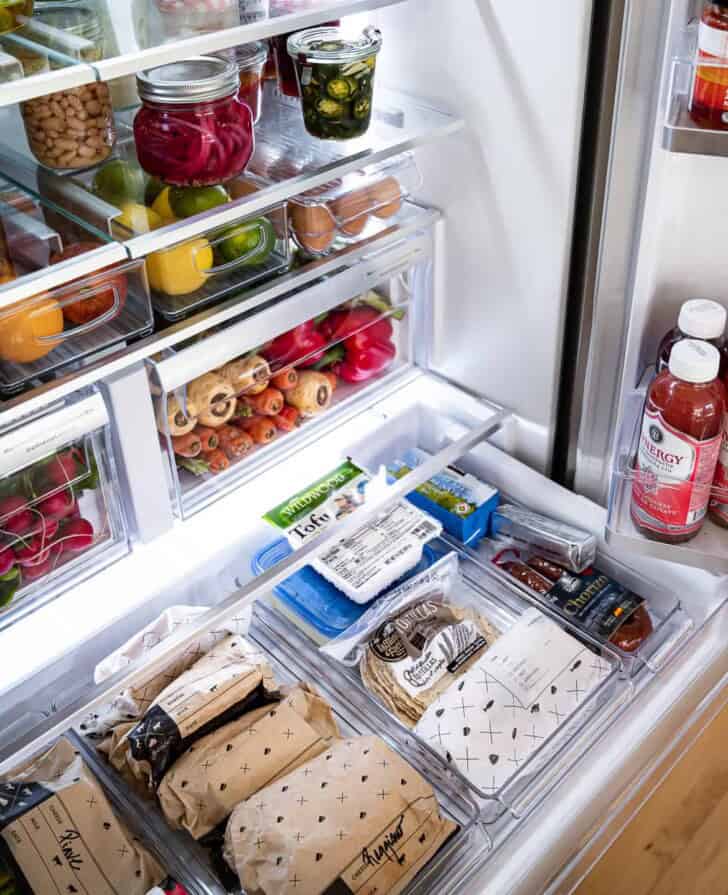 4. Organize your food properly
Now you want to think like a grocer and organize your food accordingly so you can prolong its shelf life for as long as possible. Group items together that require similar temperatures so they stay fresh longer and are easier to find. Separate those that should not be together. For example, vegetables and fruit should not be stored together. My vegetables go in the crisper drawers and I use bins to store larger fruits such as lemons, limes, and oranges/apples. Smaller fruit – berries, pineapple, or cut up fruit, can go in glass containers or large bowls. Lining the container with paper towel will prolong the life of more delicate berries.
As mentioned, the oxo storage bins are fabulous for giving all your produce a longer shelf life. Aside from greens, I use them for mushrooms and cut up veggies like carrots and celery.
Remember there are a lot of fruits and vegetables you can keep on the counter which helps keep your fridge from being too cluttered. I always keep tomatoes, squash, avocados, pears, apples, peaches, and bananas on my counter.
Unfortunately herbs are very fragile and perish quickly. If using within 1 day, you can place your herbs in a glass jar with a bit of water. Longer than that, they start to lose their nutritional value. Keep your herbs fresher in a tightly sealed bag. Many people report Stasher bags are great for helping herbs last longer.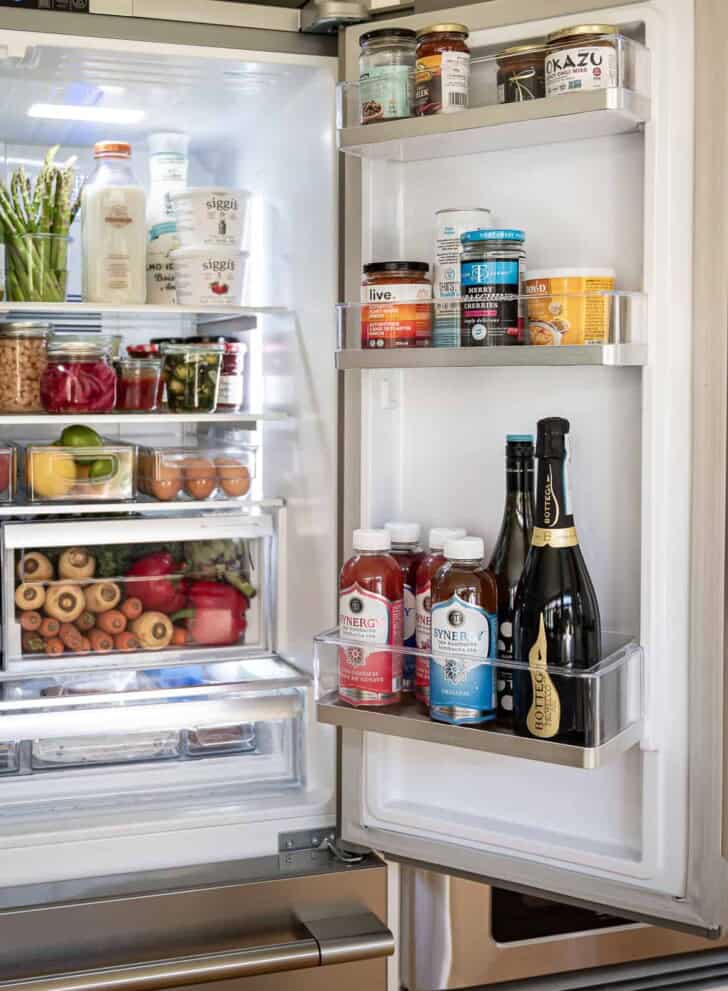 5. Create a system
It seems obvious but sometimes we (me, especially me) get lazy and just pile things into the fridge without thinking. Place things you reach for the most towards the front. Place larger, bulkier items behind smaller ones. Leftovers, older food, expensive food, for example, should always be placed at the front so you don't forget about them. Similarly, half-eaten containers of yogurt, dressings, sauces, and chopped produce should all be near the front.
I love that the Fulgor fridge has shelves that are very roomy but not so deep things will get pushed to the back and forgotten.
6. Use the Freezer!
I haven't properly tackled the freezer yet (hence the one lonely photo) but it is a great place to store food so your fridge doesn't get too cluttered. These are some staple foods I keep in my freezer all the time:
Bread
Tortillas
Sauces (from open jars or cans)
Leftover cooked beans
Lime leaves
ginger root
Leftover herbs, onions, veggies; to use for stock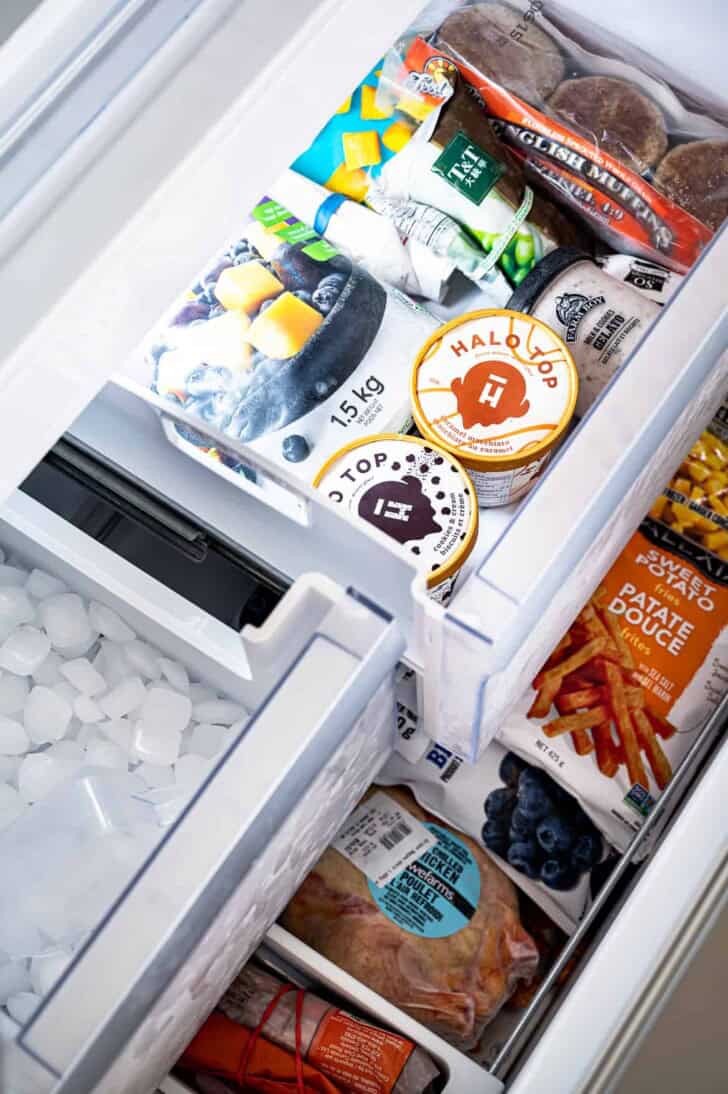 What I always keep in my fridge
I thought it might be fun to share a few things you will always find in my fridge – pretty much year round regardless of the season;
Lemons and limes: Especially limes. Pretty much everyday I am squirting lime juice over avocados, into dressings, or marinades. So many things tastes better with lemon juice – soups, pastas, salads, water.
Romaine lettuce: We love salads with dinner but I also like to chop up romaine without any dressing and add it to tacos, deli sandwiches, or pita sandwiches.
Vegenaise: Okay, so funnily enough I was all out when I photographed the fridge for this post. I only like the soy-free vegenaise and haven't been able to find it lately. I use it in place of regular mayo and like it so much more.
Parmigiano-Reggiano: AKA parmesan cheese. I'm not exaggerating when I say I start to panic as soon my chunk starts to get small. The real-deal is expensive but it really is the only one you should buy. I buy the big block of it at Costco which is a great deal and lasts really long. Tip: Keep the leftover rinds in the freezer to throw into soups and sauces.
Fresh hot chilis: Mostly jalapeños because we are addicted to pickled jalapeños, but also Thai red eye chilis which I chop bits of into everything.
Cilantro and parsley: I add these chopped herbs to everything. So good, and so good for you.
Tortillas: For tacos, of course, because we have them at least once a week. But also for enchiladas, and for this delicious tortilla soup. 
Eggs: So many eggs. I make batches of hard-boiled eggs and have egg salad toasts pretty much everyday.
Pickled something: In this household we are a little obsessed with everything pickled. I love to quick pickle radishes, red onions, and jalapeños. A jar of store-bought pickles or pepperoncini, is something we are also never without.
Olives: Currently go through a ridiculous amount of Castelvetrano olives which I buy them from Costco for a little good price. Have you tried them? SO good. Love them as is, in salads, or with chicken dishes.
Yogurt: We go through so much yogurt. My go-to snack with berries or bananas and for making these pancakes every single Sunday. I recently found the Siggy's brand in my area and please pardon me for using the word obsessed, yet again. If you love yogurt, it is worth seeking out. In the Kitchener-Waterloo area the only place I have found it is it here (I know, very surprising).
Sriracha, and other chili sauces: We love a little heat. Currently this chili sauce is always in my fridge – so good with ramen noodles and a hard boiled egg. Sambal olek is also a staple.
White wine: I add splashes of white wine to so many things when I'm cooking. It adds so much flavour to sauces and helps deglaze a pan.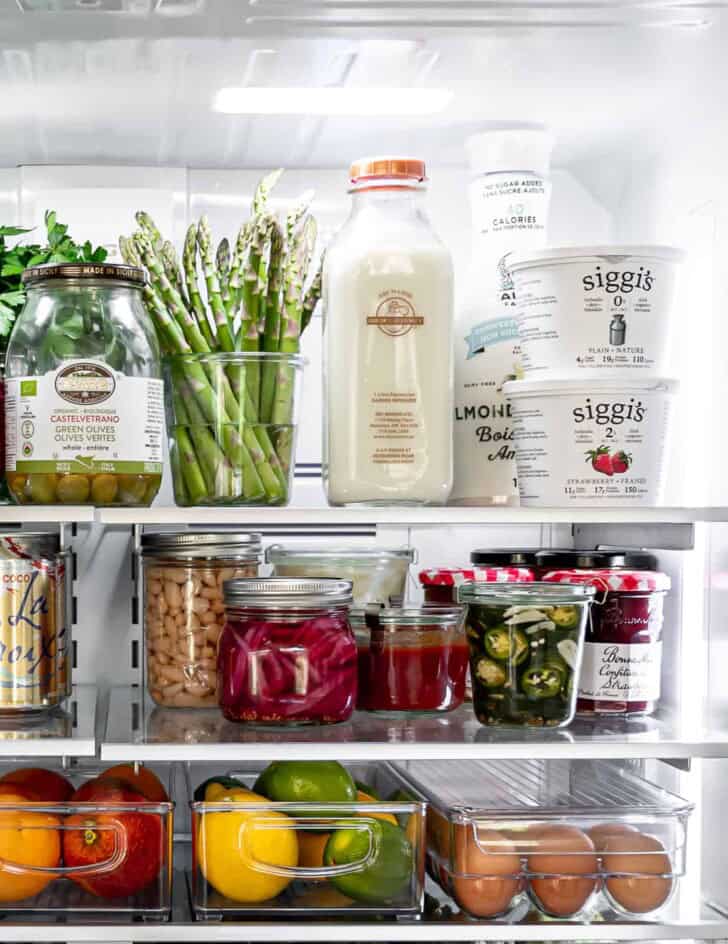 I sincerely hope this post has provided a few fun and inspiring ideas to organize your fridge a little more efficiently. I know it can seem overwhelming to dedicate so much time, money, and effort to organizing a fridge, but it will be so worth it in the end. Sometimes just one tip can make a huge change. Happy organizing!
This post was created in partnership with Fulgor Milano. All opinions expressed are 100% my own. Thank you so much for supporting the companies that support this blog.
Feel free to leave a comment and/or a star rating below. We appreciate and welcome all your feedback. Thank you! 
**Update: