This Quick Asian-Flavoured Beef with Rice is a super tasty dish the whole family will love. Serve with a quick pickled carrot and cucumber slaw for a more complete meal.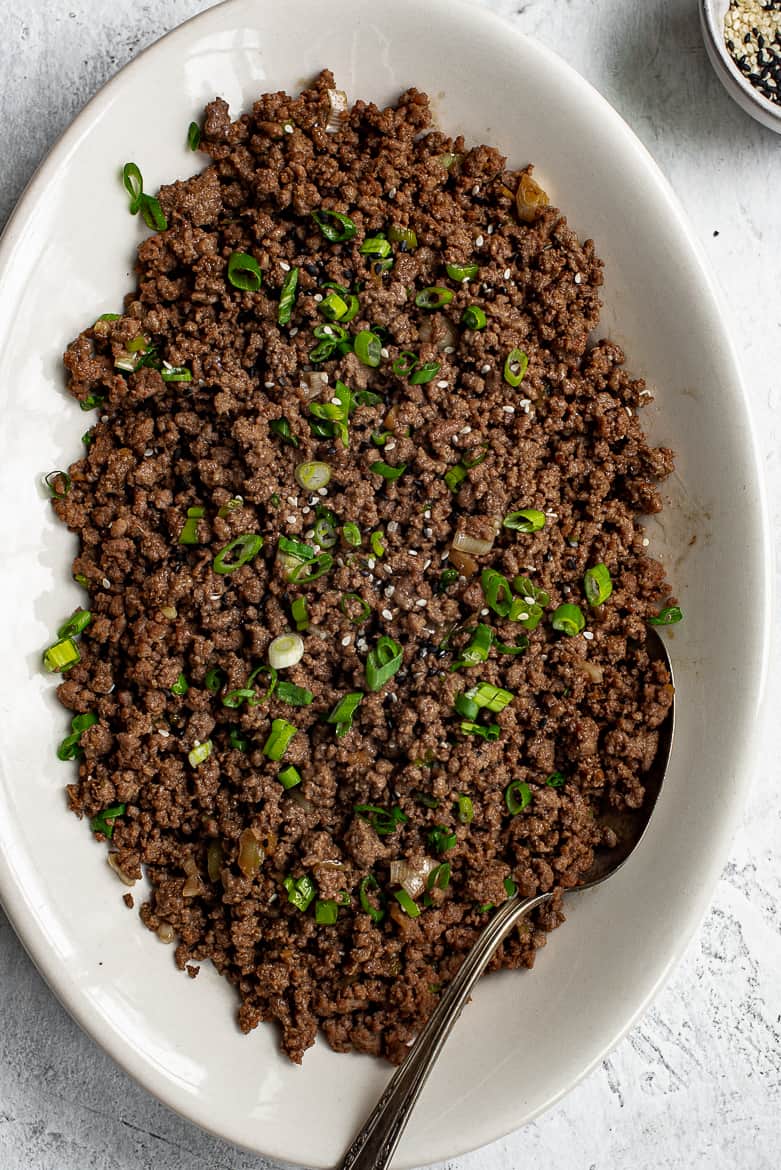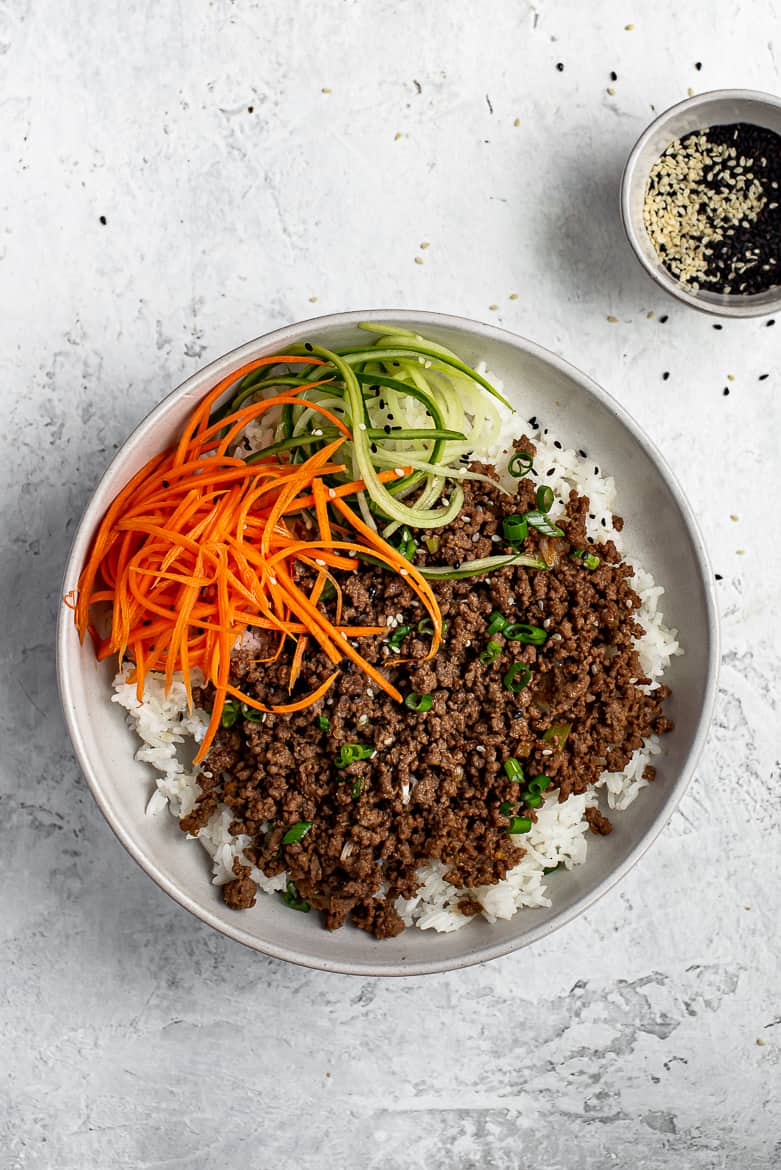 Happy Friday all, hope you're well. A few things have been lifting my spirits this week; zoom meetings with friends and family; cooking and baking still help a little; finally committing to dragging out a yoga mat every morning for an embarrassingly short session (better than nothing); the dogs insist on their many walks a day, thank goodness for that.
And of course, like the rest of the world, my screen time is up a crazy percentage but I have found some fantastic distractions. Eric Ripert, one of my all-time favourite chefs, making some very common-folk quarantine dinners on instagram — if you eat shrimp, this one looks sublime. Reading all of Carla Lalli Music's newsletters on the Bon Appetit website. This one brought me out of a cooking funk a few days ago. What else? Oh, this podcast with Samin Norstrat is simply wonderful. She talks everything beans and quarantine food – funny and helpful.
Now onto a meal that I think you should include in your menu of the week. Anything that is a rice based bowl is always comforting to me and this super quick Asian-flavoured beef with rice is so simple to make and really kind of addictive. Make a pot of jasmine rice, brown some ground beef then add garlic, ginger, scallions and a tasty soy-based sauce. Done. If you wish, make a quick pickled carrot and cucumber slaw to serve on the side. So good.
Here is the step-by-step:
Make the sauce; mix soy sauce, mirin, sesame oil, and coconut sugar in a small bowl. See recipe notes for variations on the sauce – as long as you have soy sauce, or even hoisin sauce, you can use whatever else you have on hand.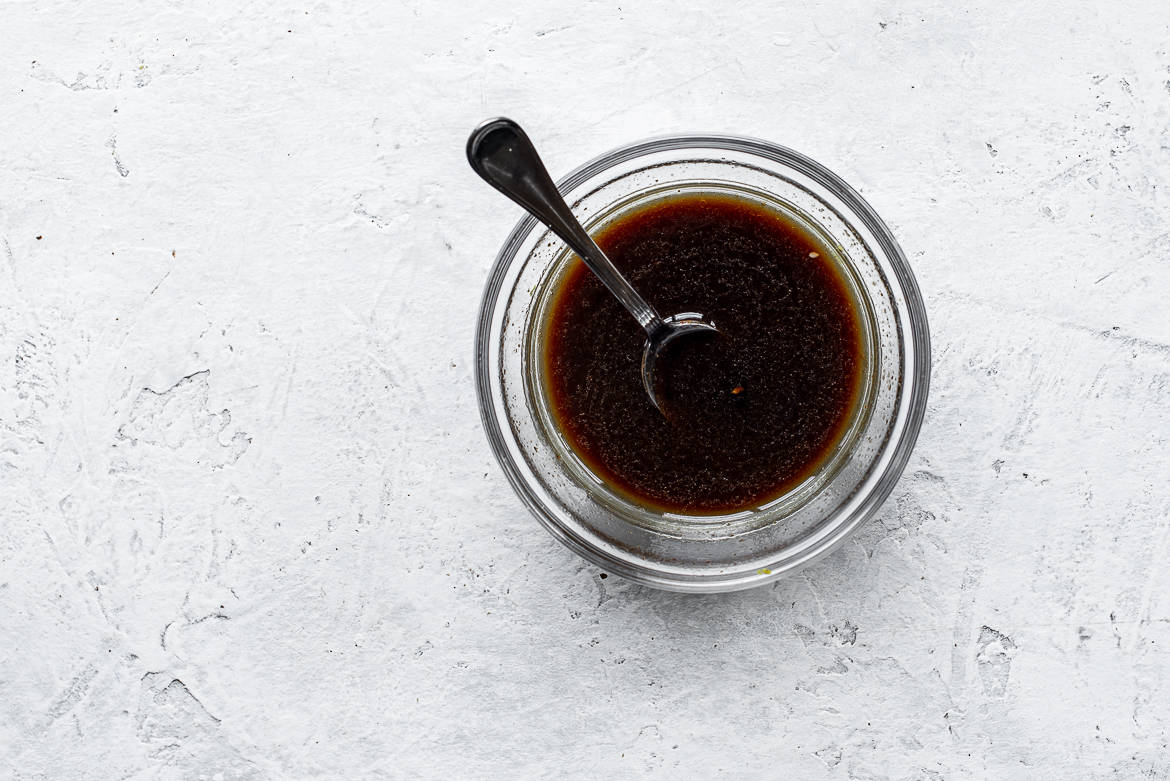 Chop one bunch of scallions and keep the light parts and dark green parts separate. Shred 2-3 carrots and mix with rice vinegar and  few tablespoons sugar. If you are using cucumbers, add to the bowl right before serving.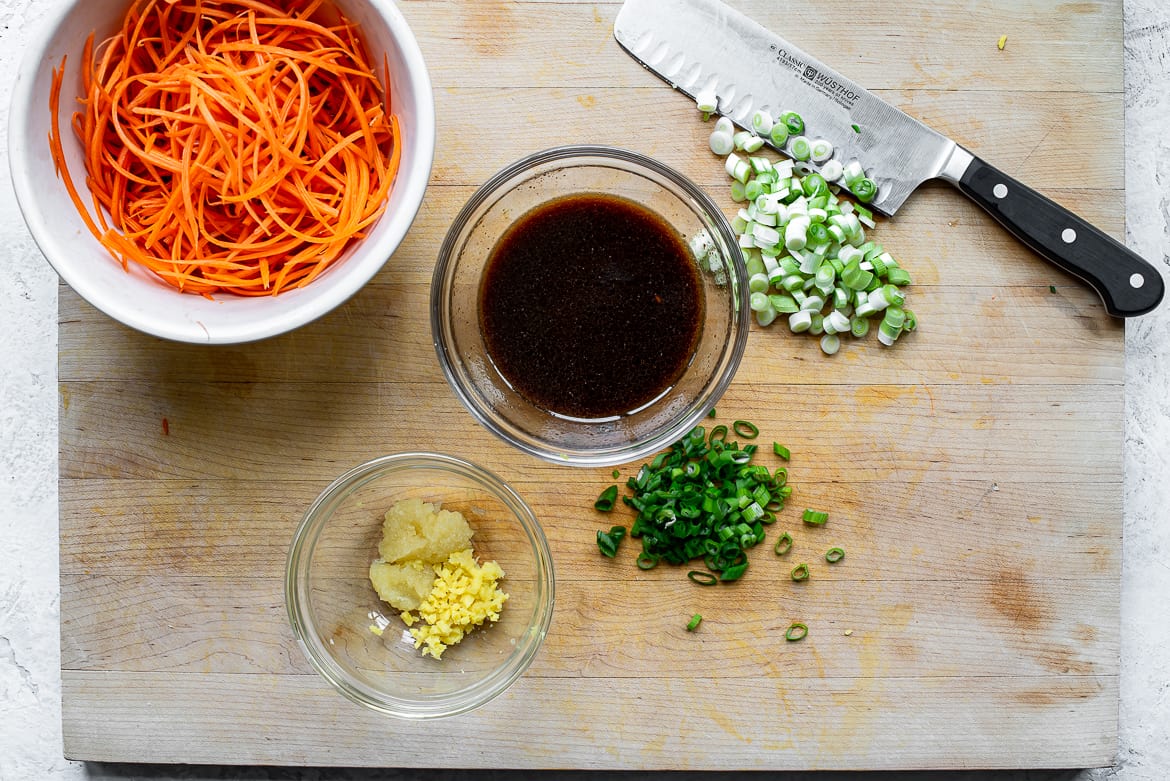 Brown the beef then add the scallions, ginger, garlic and sauce. See recipe notes for the optional step of marinating the beef with cream prior to cooking.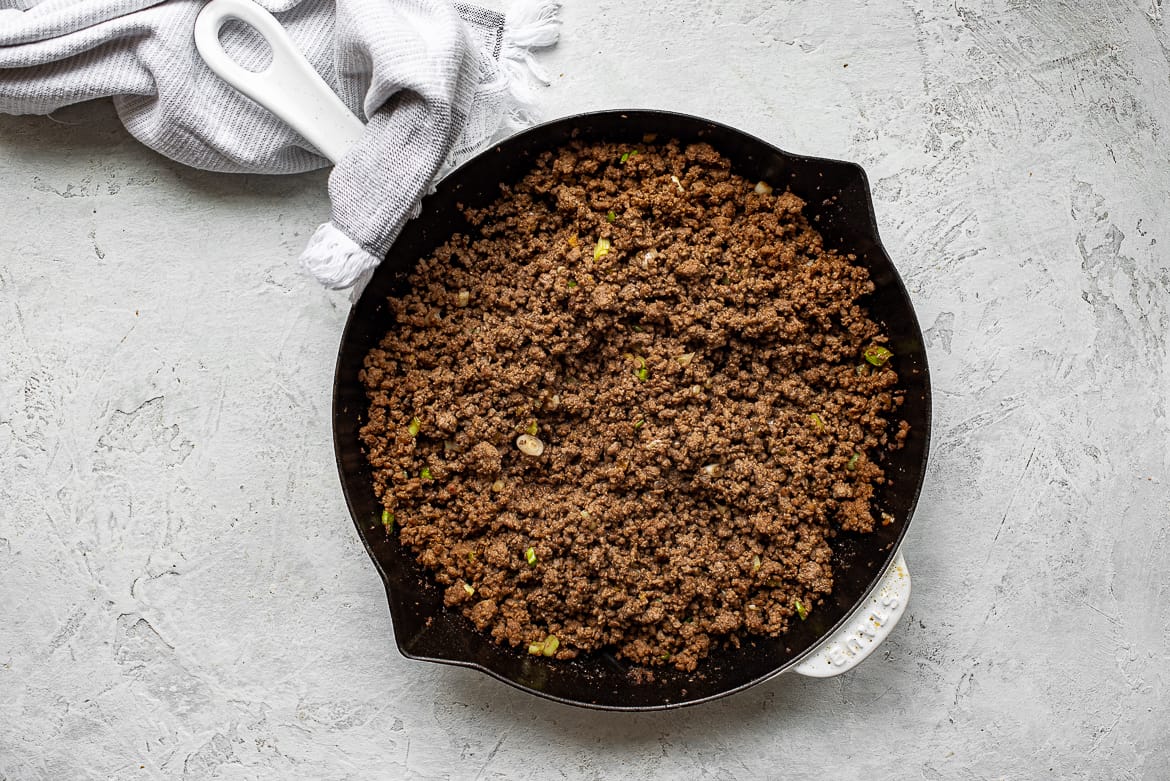 Serve over jasmine rice, or any rice, with pickled carrots and cucumbers on the side, if desired.
Similar recipes you might enjoy:
Print Recipe
Pin Recipe
Asian-Flavoured Beef with Rice
A quick recipe that is super tasty and the whole family will love. Serve with quick pickled carrots and cucumbers for a more complete meal. Rice instructions, if needed, are included in the recipe notes.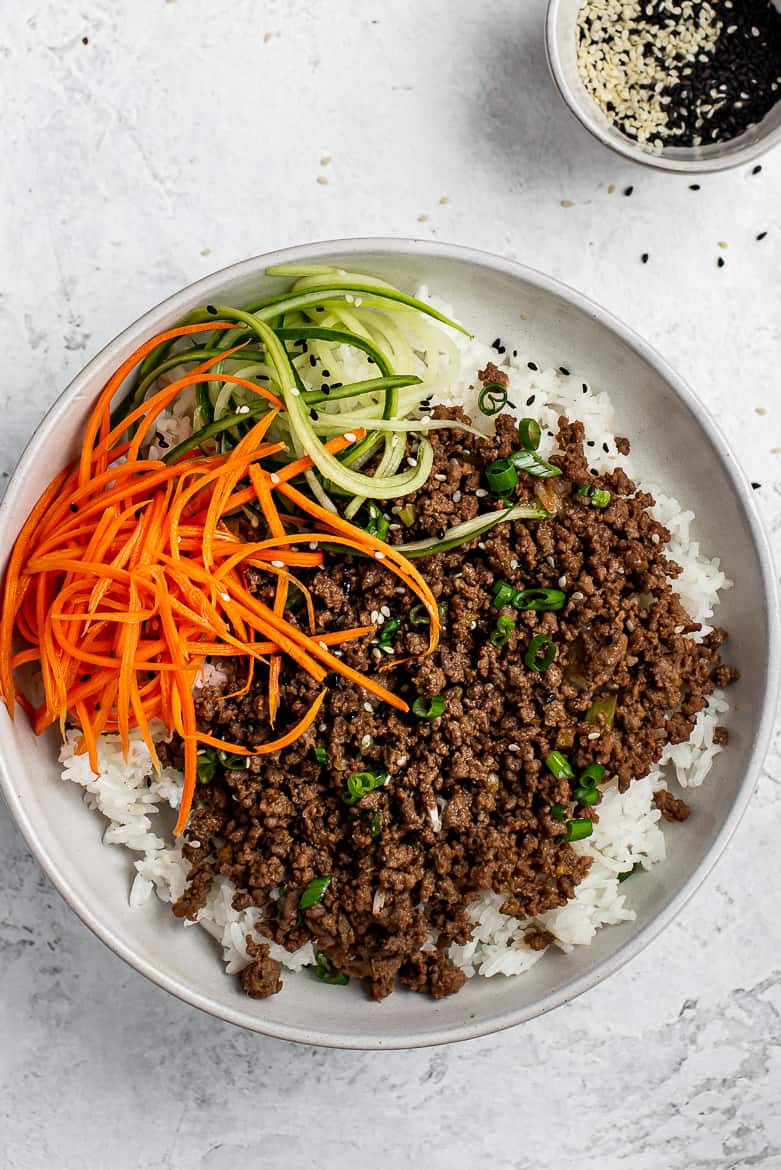 Ingredients
2

pounds

lean or extra lean ground beef

1/4

cup

low-sodium soy sauce

2

Tablespoons

mirin

or rice wine, or rice wine vinegar or white wine vinegar

2

Tablespoons

toasted sesame oil

2

Tablespoons

sugar or honey

I use coconut sugar

1

Tablespoon

sriracha, or more to taste

1

tablespoon

neutral oil

I use avocado oil

4

cloves

garlic, grated or finely minced

2

Tablespoons

fresh ginger, grated or finely minced

1

bunch

scallions, sliced thinly, light and dark parts kept separate

4

cups

cooked Jasmine, or white rice, to serve

see notes for cooking instructuons, if needed

2

Tablespoons

black or white sesame seeds

optional
Optional quick pickled carrots and cucumbers:
1/4

cup

rice wine vinegar

or white wine vinegar or apple cider vinegar

2

teaspoons

sugar

I use coconut sugar

2-3

medium carrots, julienned or grated

half

english cucumber, julienned or sliced into thin rounds
Instructions
INSTRUCTIONS

In a small bowl, stir together the soy sauce, mirin, sesame oil, sugar, and sriracha. Set aside.

At this point, if using, make the pickled carrots and cucumbers: In a medium bowl, mix the vinegar and sugar. Toss in the carrots and let sit for about 15 minutes. Just before serving, add the cucumbers to the carrot bowl.

Heat the oil in a large skillet or sauté pan over medium-high heat. Brown the beef, stirring frequently and breaking into pieces, until no longer pink, about 5 minutes. Drain most of the excess fat, if desired.

Add the garlic, ginger, and light green scallions. Cook, stirring frequently, About 2-3 minutes.

Add the soy-sauce mixture and cook until the beef is well-coated and cooked through, about 1-2 minutes. Taste and adjust seasoning if necessary by adding more sriracha, soy sauce, sugar, or vinegar to taste.

Top the beef with the remaining dark-green scallions. Serve the beef over white jasmine rice. Sprinkle sesame seeds over the beef and serve with pickled carrots and cucumbers, if using.
Notes
Variations and substitutes for the sauce:
Mirin is a type of rice wine, similar to sake, that is used to flavour many Asian dishes. Mirin has a sweet flavour which works well with salty ingredients like soy sauce. If you don't have mirin, simply replace it with any rice wine or vinegar and add an additional 1 teaspoon of sugar to the sauce.
This sauce can also be made with 4 tablespoons of good-quality hoisin sauce in which case omit the mirin and reduce the soy sauce to 2 tablespoons.  
To make Jasmine rice:
Bring 2 cups water, 1½ cups rice and ½ teaspoon kosher salt to a gentle boil, then reduce to very low, cover and cook for 18 minutes. Let sit covered, off heat, for 5 minutes then fluff with a fork.