Flaunting a collision of flavours, these smoky, slightly charred, Grilled Sweet Potatoes with Zhoug Sauce make an easy and lovely side dish that everyone will love.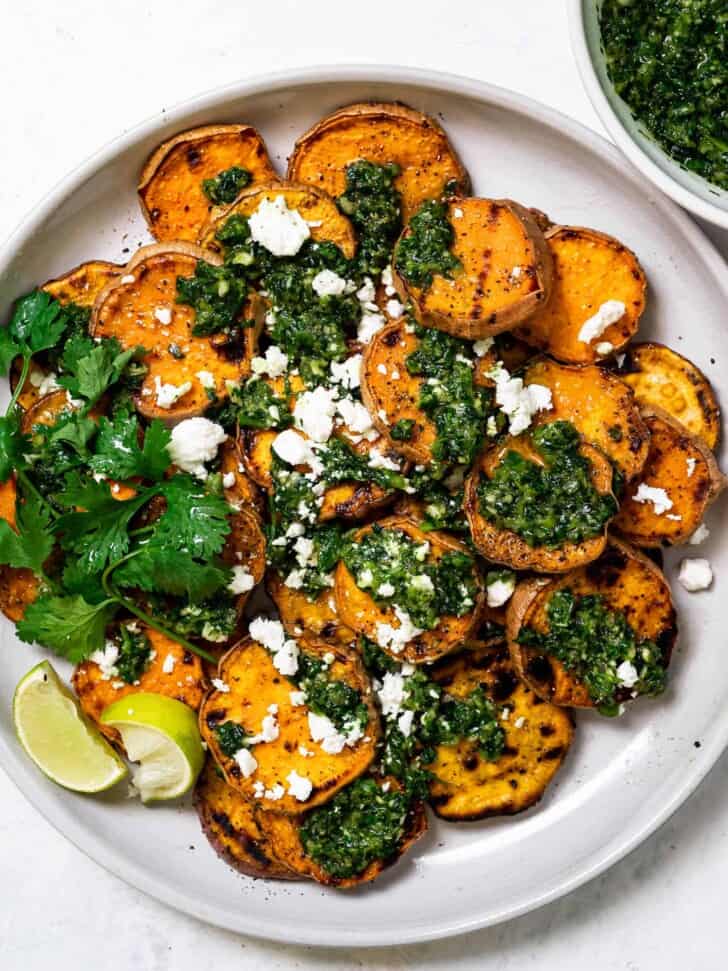 When I discovered Zhoug sauce, it quickly earned a favoured position in my sauce arsenal. A Middle Eastern condiment that not only tastes insanely good, but has many different purposes. It can be used as a sauce, dip, spread, or marinade. An absolute favourite combo is baked sweet potatoes slathered with tons of Zhoug and topped with crumbled salty feta. The combination of the zingy, spicy cilantro sauce with the roasted sweet potatoes is a match made in heaven. So, so good.
But many parts of the world are dealing with scorching high temps right now and I'm not about to ask anyone to turn their oven on for 1 hour. Luckily, we're at the height of grilling season and sweet potatoes are one my favourite root vegetables to grill. They come off the grill slightly smoky and charred with their natural sweetness deliciously intensified. You can serve them with other sauces, or even plain for that matter. But trust, you want to have them with Zhoug. In fact, you will want to have everything with Zhoug, except maybe your dessert 😉
Is It Easy To Grill Sweet Potatoes?
Sweet potatoes are an easy and delicious vegetable to grill and there are many different options on how to do this. You can bake them whole wrapped in tinfoil, sliced into thin, or thick wedges, or in thin rounds as I have done here. If you go the wedge route, I recommend you par-boil them for 7-8 minutes or they might burn before they cook through.
For this recipe we are slicing them into thin rounds so they cook fast, without the need to par-boil them. They emerge from the grill crisp on the outside, soft and warm on the inside. From there, you can take the grilled sweet potatoes in a thousand different directions with different sauces or served plain. But I implore you to give them a try just once with the Zhoug sauce. The spicy, herby element in this unique sauce makes these sweet potatoes something extra special. The Zhoug sauce recipe can be found here.
HERE'S WHAT YOU'LL NEED TO MAKE THEM:
For the Sweet Potatoes
Sweet Potatoes (about 3 large, or 2 lbs)
Extra virgin olive oil
Kosher sat and freshly ground pepper
Optional sauces and toppings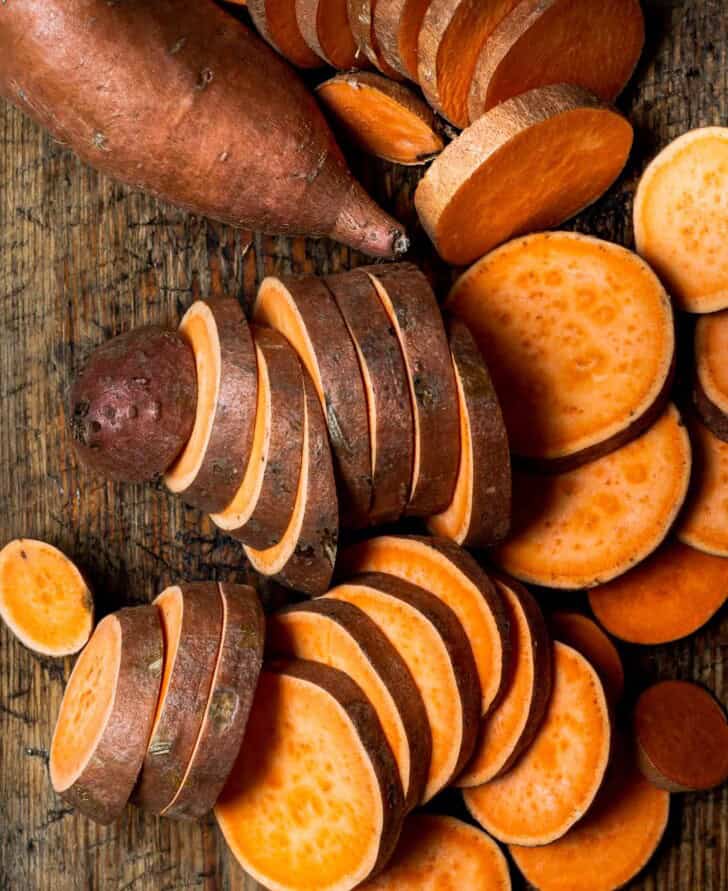 How To Grill Sweet Potatoes
Grilling the sweet potatoes rounds at a high temperature and then dropping it lower will ensure they become perfectly tender, and extra caramelized.
Heat the grill to medium-high, and lightly oil the grill rack.
Toss the rounds with some oil and salt, then place them directly on the hot grill. After 5-6 minutes flip them over, and cook 3-4 minutes longer. Lower the temperature of the grill, and cook until tender about 3-4 minutes longer, flipping one more time if necessary.
Serve with Zhoug sauce and crumbled feta, if desired.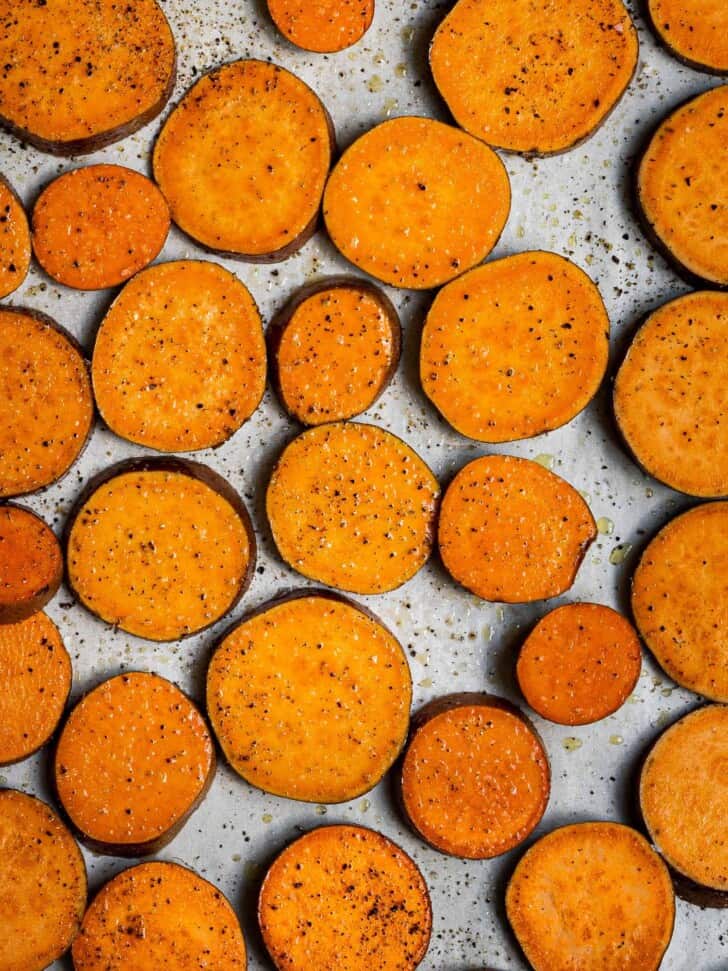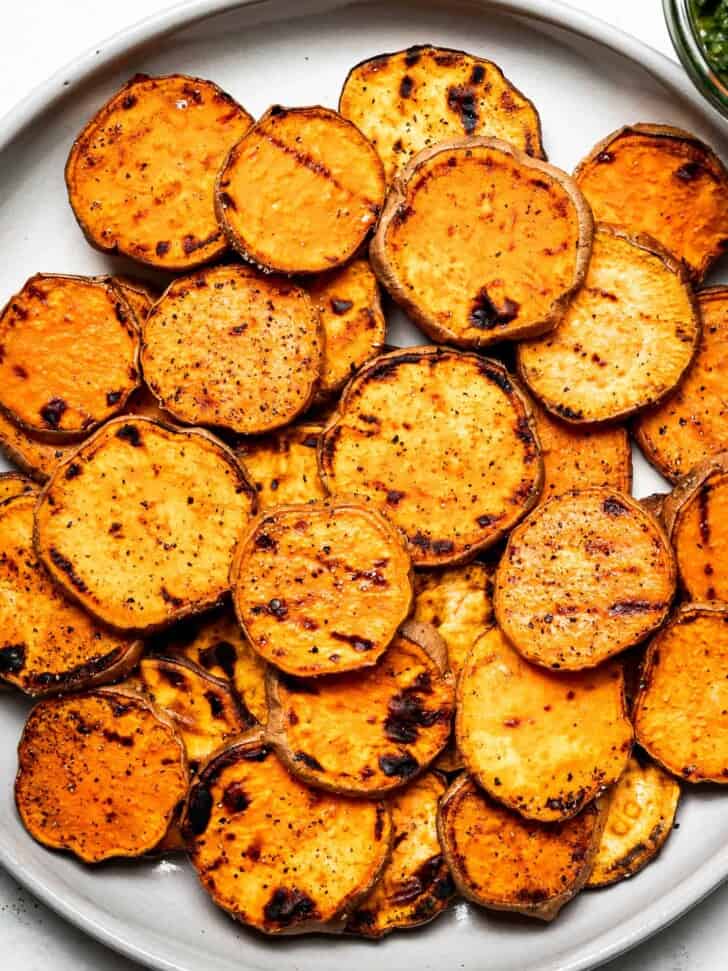 Tips and variations
Slice the potatoes evenly. This way your potato rounds will cook at the same time.
Wedges instead of rounds. Cut the sweet potatoes into thin wedges, if you prefer. If you have thick wedges, parboil them for 5 minutes.
Add some honey. If you like your sweet potatoes a little sweeter, drizzle with 1-2 tablespoons honey or maple syrup.
Peel or don't peel. I don't bother peeling my sweet potatoes but if you don't like the skin, go ahead and peel it.
Oil the grill. To ensure your sweet potatoes don't stick, make sure your grates are clean and oiled.
Serve the rounds chip-style. If you wish to serve the sweet potatoes as an appetizer, chip-style, omit the zhoug sauce and serve with a dip instead.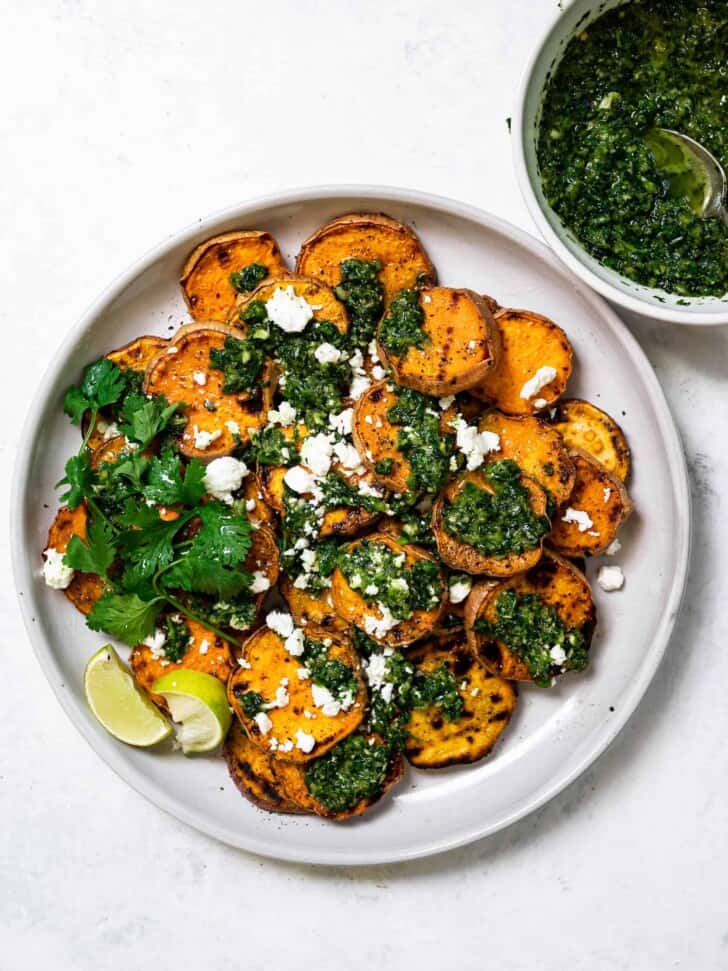 What To Serve With Grilled Sweet Potatoes With Zhoug
These grilled sweet potatoes with zhoug make the most delicious side to other grilled mains such as these veggie burgers, these chicken burgers, this easy grilled chicken, or these grilled turkey kofta (my favourite!).
For a light, but satisfying, vegetarian meal, they would be so good with this broccoli salad,  this easy quiche, or this warm orzo salad.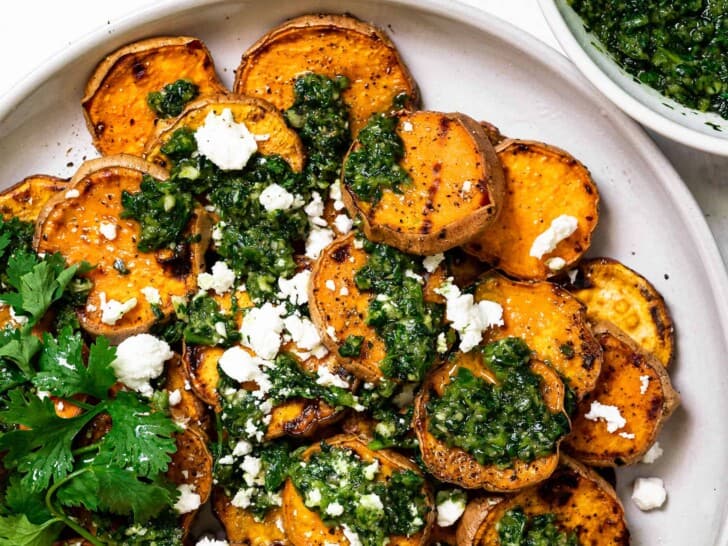 Other Grilling Recipes You Might Enjoy
Print Recipe
Pin Recipe
Easy Grilled Sweet Potatoes With Zhoug
Flaunting a collision of flavours, these smoky, slightly charred, Grilled Sweet Potatoes with Zhoug Sauce make an easy and lovely side dish that everyone will love.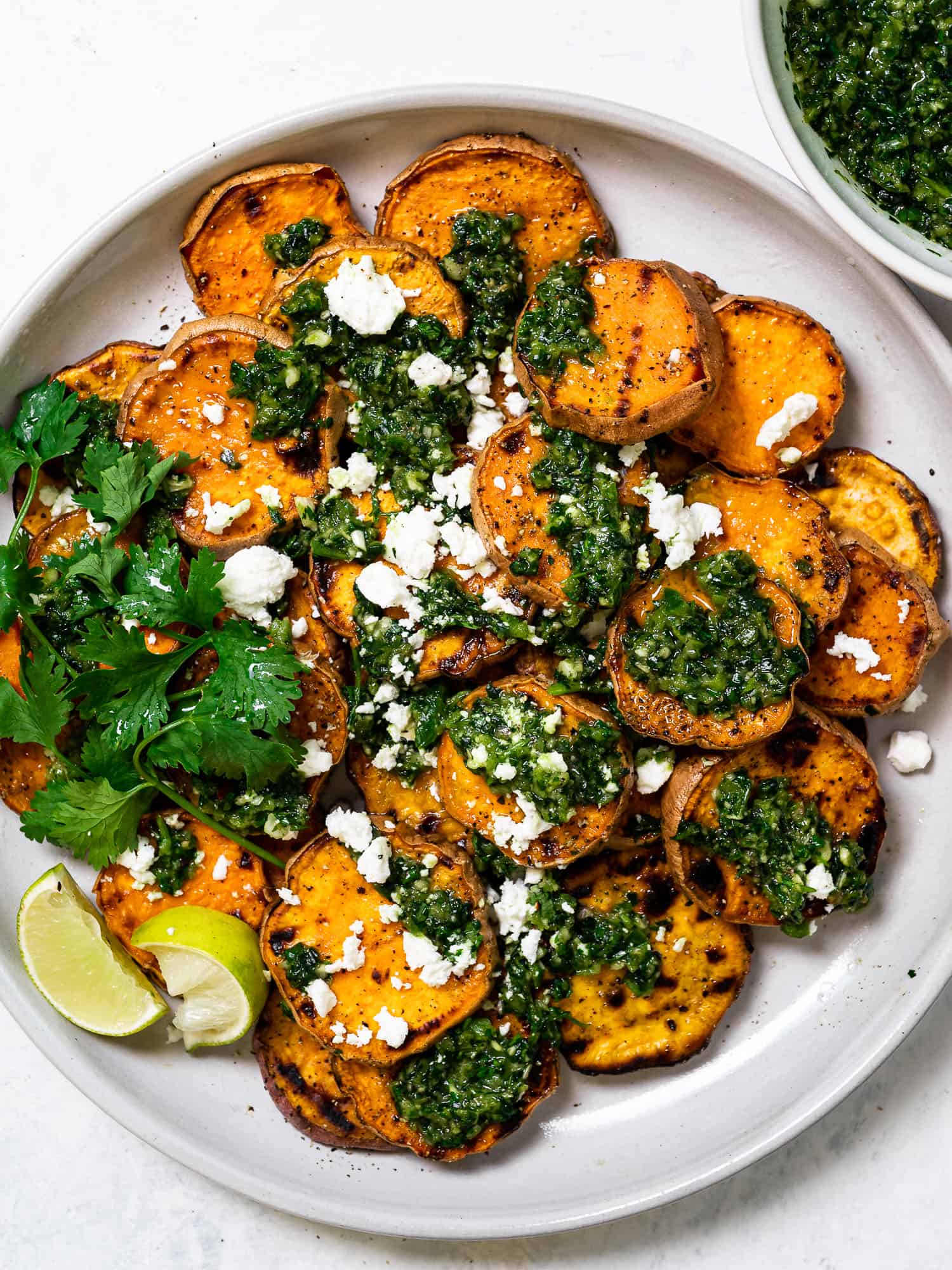 Ingredients
2

pounds

sweet potatoes

about 3 large, scrubbed and dried

2-3

tablespoons

Olive oil

Kosher salt and freshly ground pepper
Optional Toppings
1/4

cup

Crumbled feta cheese

lime wedges, to finish 
Instructions
If serving with Zhoug sauce, make it now and refrigerate until ready to use.

Heat an outdoor grill to medium-high. Cut the sweet potatoes on a slight diagonal into 1/4-inch thick rounds. Place in a large bowl and add the oil, salt, and pepper. Toss to combine.

Oil the grill grates, if necessary. Using tongs, place the sweet potato slices in a single layer directly on the grill. Close the lid and cook for 5 minutes, or until some grill marks appear. Flip the sweet potatoes, close the lid, and cook for about 4 minutes. Lower the heat to the lowest setting and cook until potatoes are tender when poked with a fork, about 4 to 5 minutes longer. You may need to flip them one more time if they are charring too much on one side.

Transfer the sweet potatoes to a serving platter, and serve topped with the zhoug sauce, crumbled feta, and lime wedges, if using.
Notes
Storage & Reheating:
Leftovers can be stored in an airtight container in the refrigerator for up to 3 to 4 days. Reheat on a hot skillet, or grill, for a few minutes a side.